Gumdrop Fudge
Creamy Vanilla Fudge filled with colorful holiday Gumdrop candy pieces! So pretty for gift giving!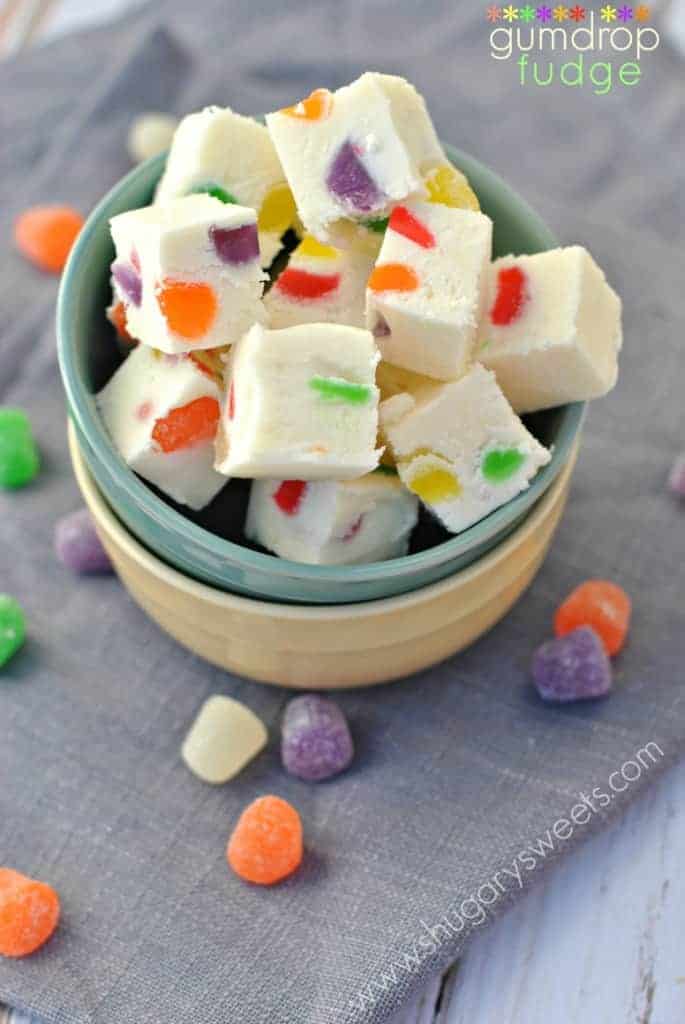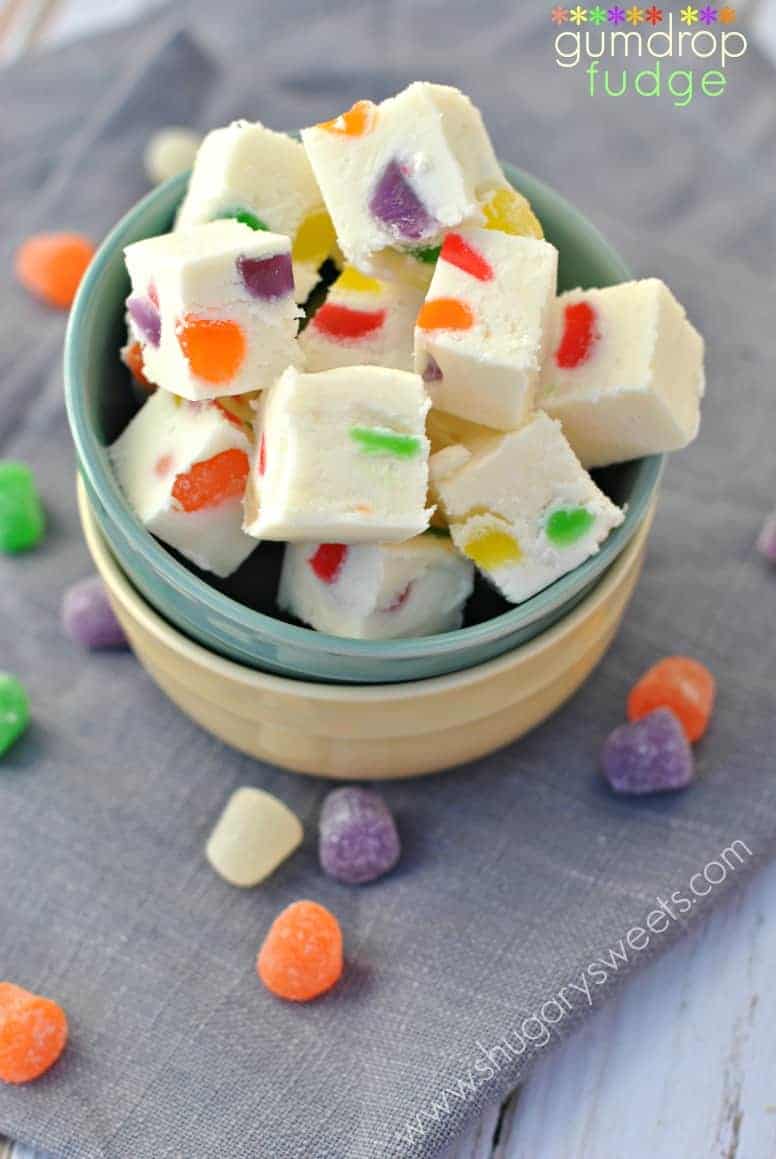 I seem to purchase the same holiday candy year after year. Of course, I usually purchase the candy I love, which means I'm always so tempted to eat it.
Sometimes, the candy I buy is one that only I enjoy, and nobody else seems to like it. Take gumdrops for instance.
I love gumdrops. I've tried to convince my kids they are just sugar coated jelly beans, but they refuse to touch the colorful candy. Which means every day, I grab a few here and there until they are devoured.
Once again for the holidays, I've been lured into buying several bags of gumdrops, only this year I thought I would do something different. I saw this recipe on Taste of Home several years ago and have tucked it into my brain for future use.
Using this recipe as inspiration, I added gumdrops to my favorite fudge recipe. I was a little concerned that chewy, fruity candy doesn't belong in fudge. Fudge should be filled with chocolate, and nuts, and dried fruit.
But guess what? I was wrong. Fudge is the PERFECT pair for your favorite fruity candy. Skittles, Mike and Ikes, throw them in! Or make some colorful fudge using gumdrops.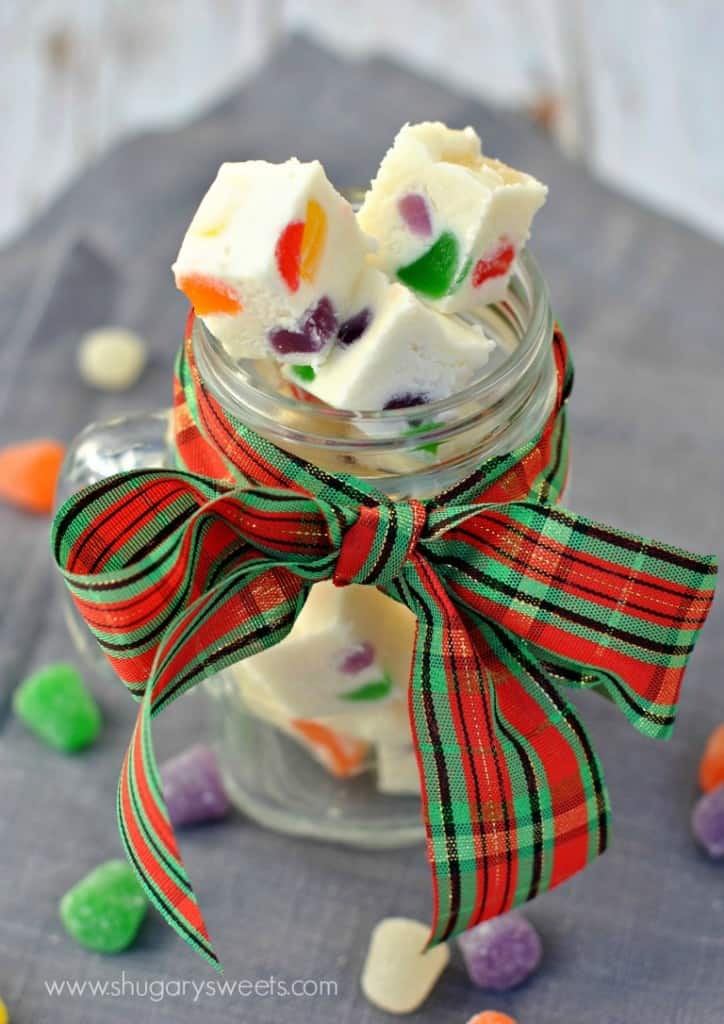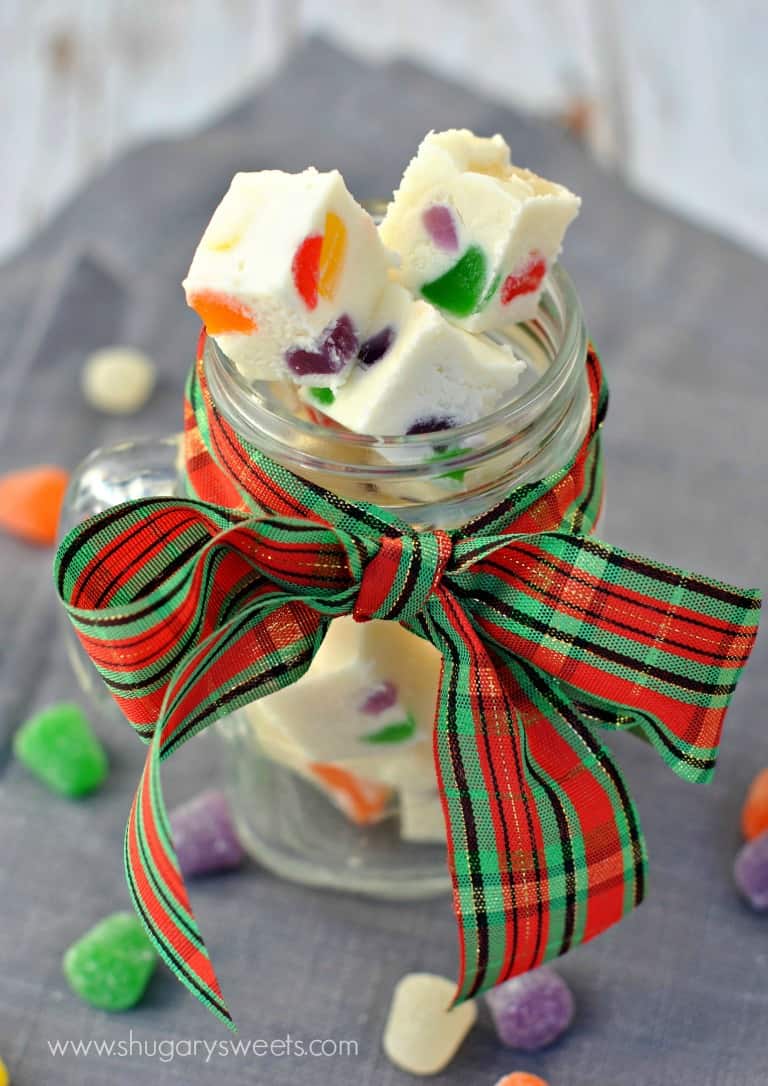 This would be a great gift to give to neighbors and friends. Fill a mason jar, add a lid, wrap some ribbon around it and give it away! Depending on the size of jar you use, you can make several jars of gifts. Add some whole gumdrops as filler and more color too! ENJOY!
Connect with Shugary Sweets! Be sure to follow me on my social media, so you never miss a post!
Facebook | Twitter | Google+ | Pinterest | instagram | Bloglovin'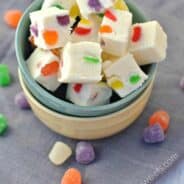 Gumdrop Fudge
Yield: 64 pieces of candy
Prep Time:2 hours, 15 minutes
Cook Time:10 minutes
Creamy Vanilla Fudge filled with colorful holiday Gumdrop candy pieces! So pretty for gift giving!
Ingredients:
2 cup granulated sugar
3/4 cup heavy cream
3/4 cup unsalted butter
pinch of salt
1 bag (11oz) white chocolate morsels
1 jar (7oz) marshmallow cream
1 1/2 cup gumdrops, chopped
Directions:
Prepare an 8inch square baking dish by lining it with parchment paper. Set aside.
Add white chocolate morsels and marshmallow cream to a large mixing bowl. Set aside.
In a large, heavy saucepan, add butter, cream, sugar and salt. Bring to a boil over medium high heat, stirring frequently. Once boiling, continue to boil for a full 5 minutes, stirring constantly. Remove from heat and pour over white chocolate and marshmallow cream. Using an electric mixer, blend for about one minute, until morsels are melted and mixture is smooth.
Add gumdrops and fold them in with a spoon, gently. Pour mixture into prepared baking dish and refrigerate for two hours (or overnight), covered with a piece of plastic wrap.
Once set, cut into bite sized pieces and store in an airtight container in the refrigerator for up to two weeks.
ENJOY.
MAKING THIS RECIPE? Share it with me on Instagram using the hashtag #ShugarySweets so I can see what you're cooking up in the kitchen!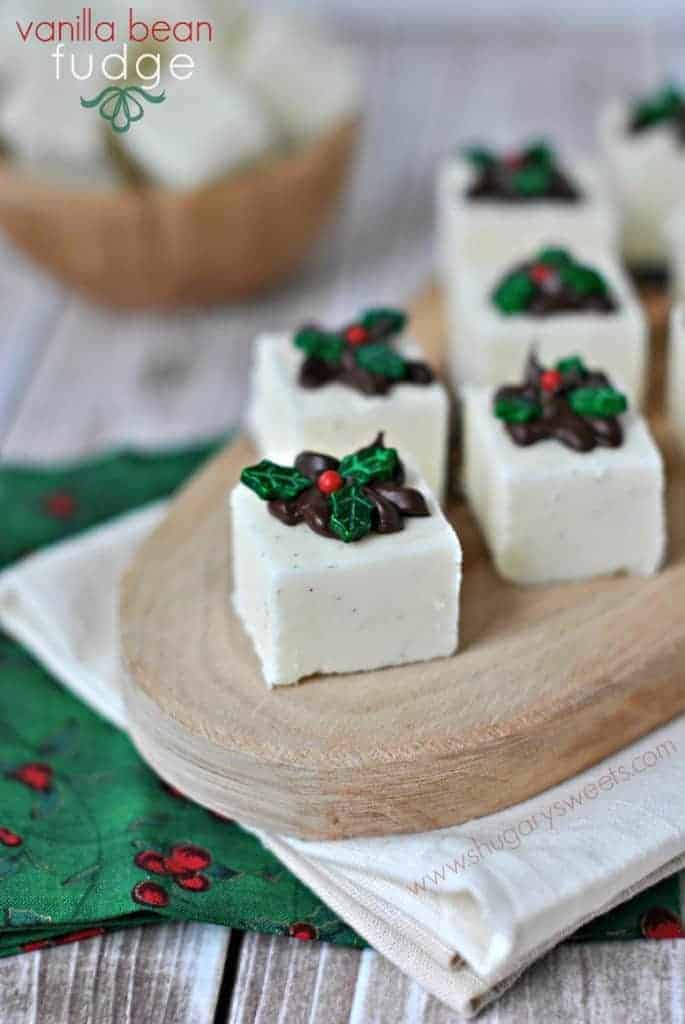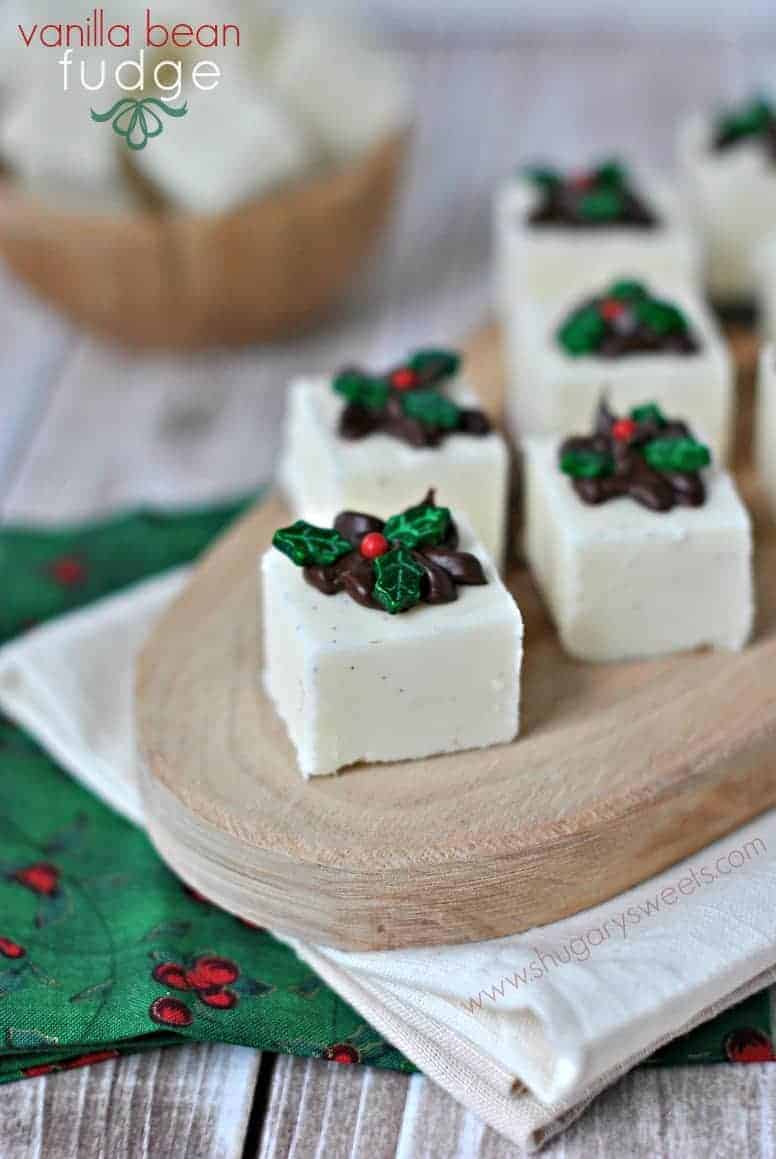 Vanilla Bean Fudge…another great holiday treat!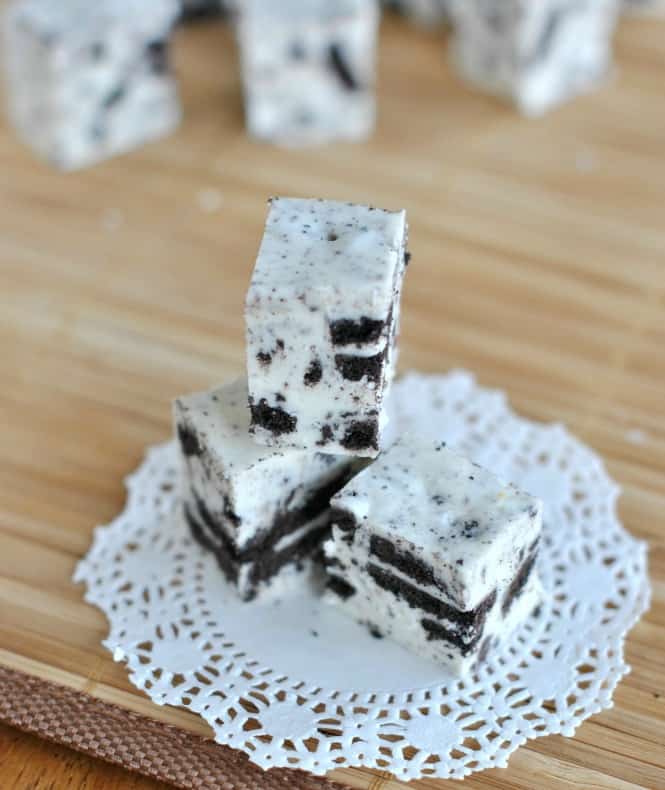 Cookies and Cream Fudge– my kids favorite!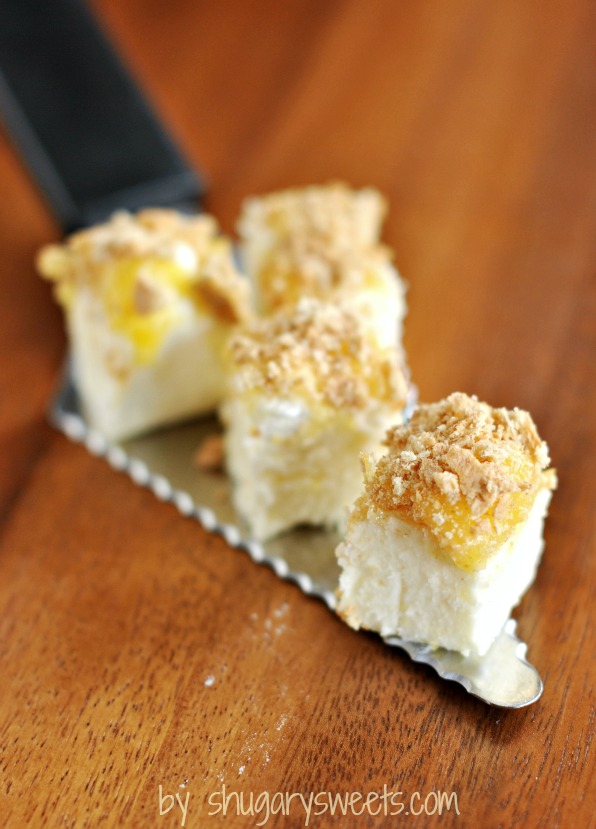 Lemon Meringue Fudge– gorgeous AND delicious!
Don't forget to follow my Fudge, Truffles and Candy Pinterest Board. Over 200 pins and counting!