A layer of creamy chocolate fudge swirled with a creamy peanut butter fudge layer is a treat no one will turn down! Make this classic Chocolate Peanut Butter fudge to enjoy with those you love.
If you LOVE making homemade candy, you'll want all the tips and tricks in my tutorial on how to make fudge. Looking for something even easier? Make a batch of tiger butter instead!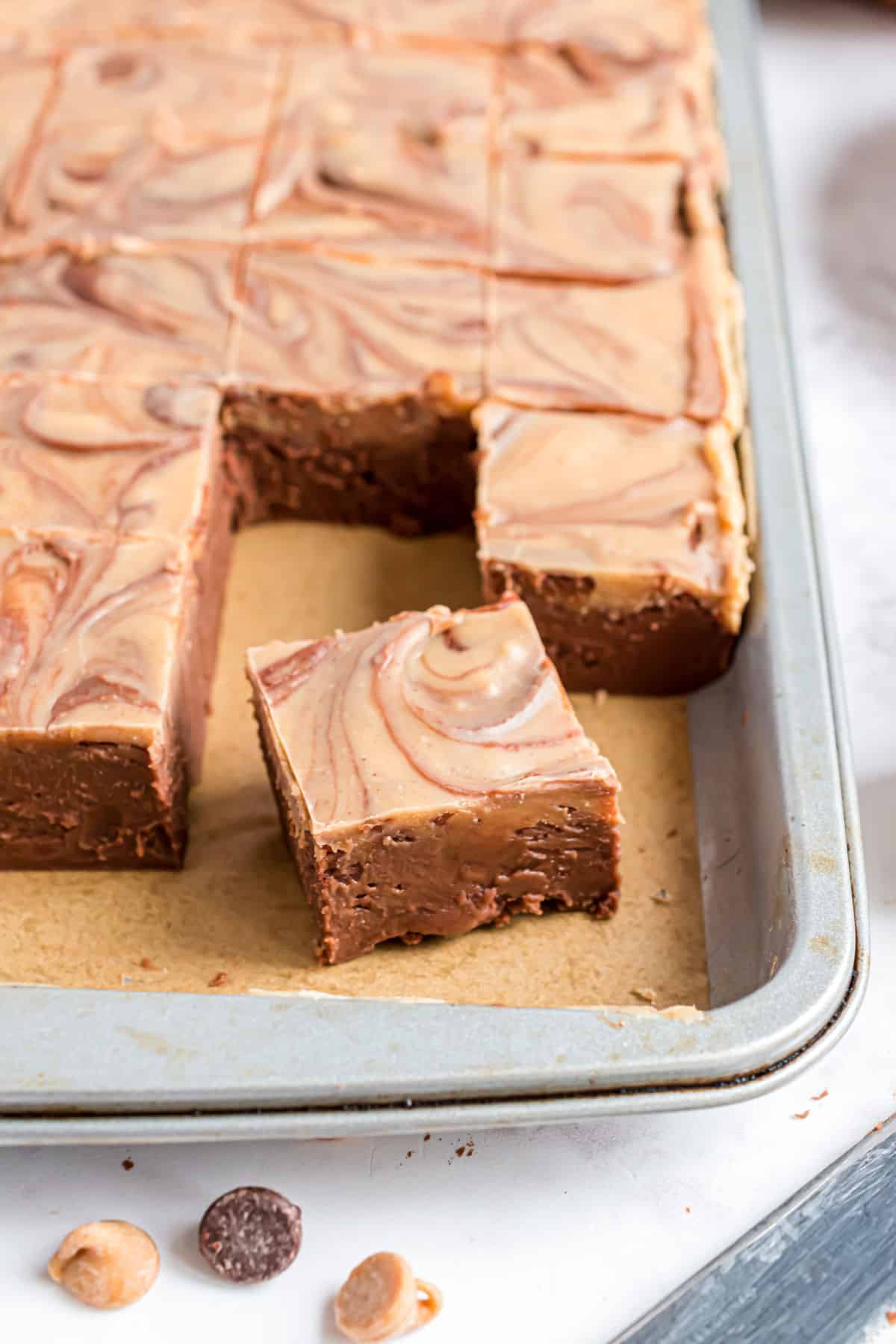 Why this recipe works
What's the only thing better than chocolate fudge? Chocolate fudge with peanut butter on top!
My mom gave me this recipe years and years ago for Fannie May Fudge, aka the BEST fudge in the world. I've been using it as a base for all kinds of fudgy creations.
This recipe makes fudge that's just as good, if not better, than the fudge you buy by the pound at the fancy candy stores. If you love peanut butter fudge, then you MUST try this!
No candy thermometer or special equipment needed.
Velvety soft texture (but not TOO soft) thanks to an ideal ratio of butter, cream, and chocolate.
Marshmallows melted in with the chocolate help the fudge stay smooth as it solidifies instead of getting crumbly like other recipes.
This recipe makes a TON of fudge, so you'll have plenty to go around (or freeze for later).
Still looking for more? I have a dozens of homemade candy recipes I think you'll love!
Love chocolate and peanut butter? Be sure to try our buckeyes. Homemade peanut butter balls are always a hit. Or give our no bake peanut butter pie a try next.
Ingredient Notes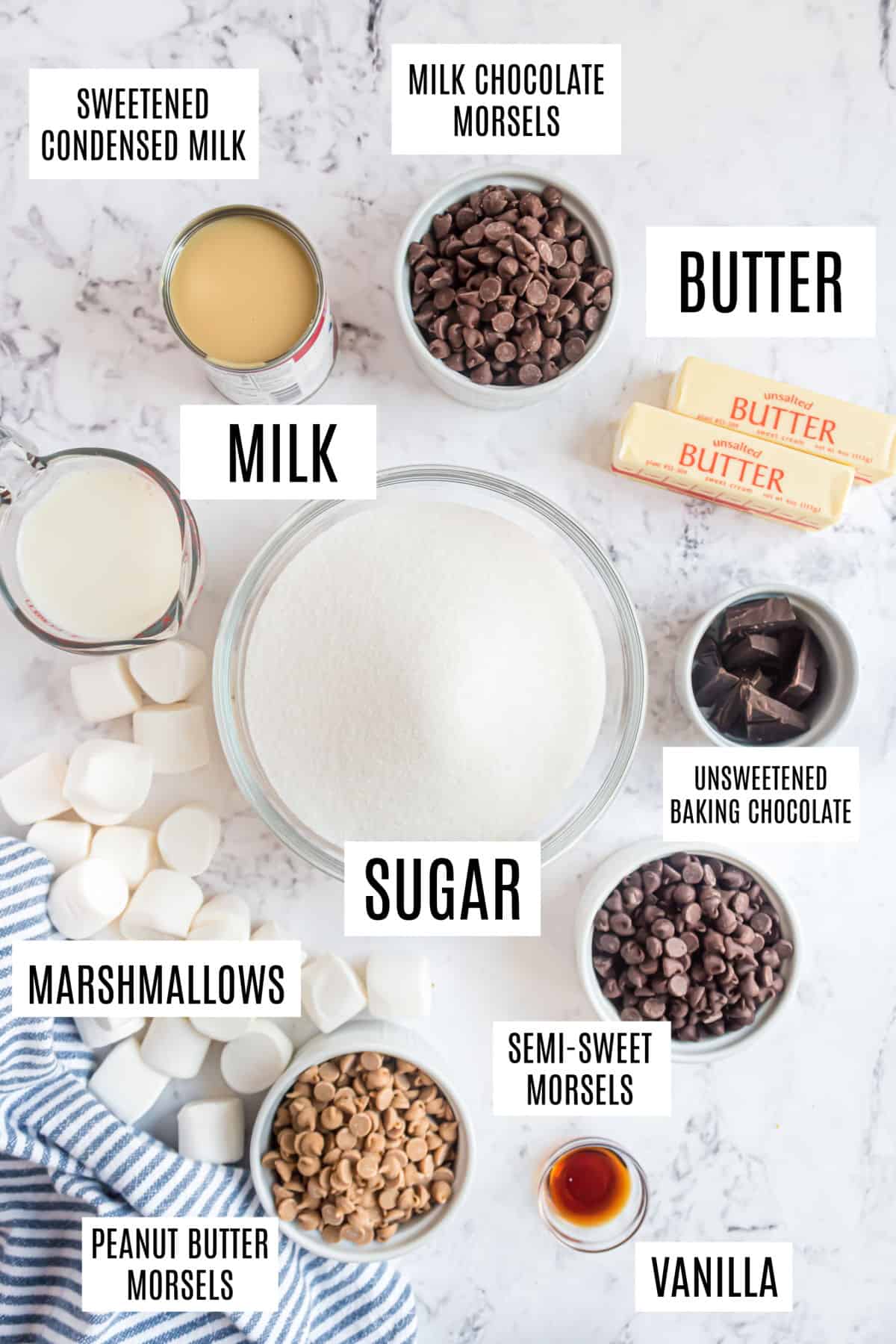 Butter & Sugar- the duo that starts the base for this perfect fudge.
Chocolate- A combination of milk and semi-sweet chocolate morsels is used, as well as unsweetened baking chocolate.
Peanut Butter layer- Make sure to use sweetened condensed milk, not evaporated milk in the peanut butter fudge layer.
Step by Step Instructions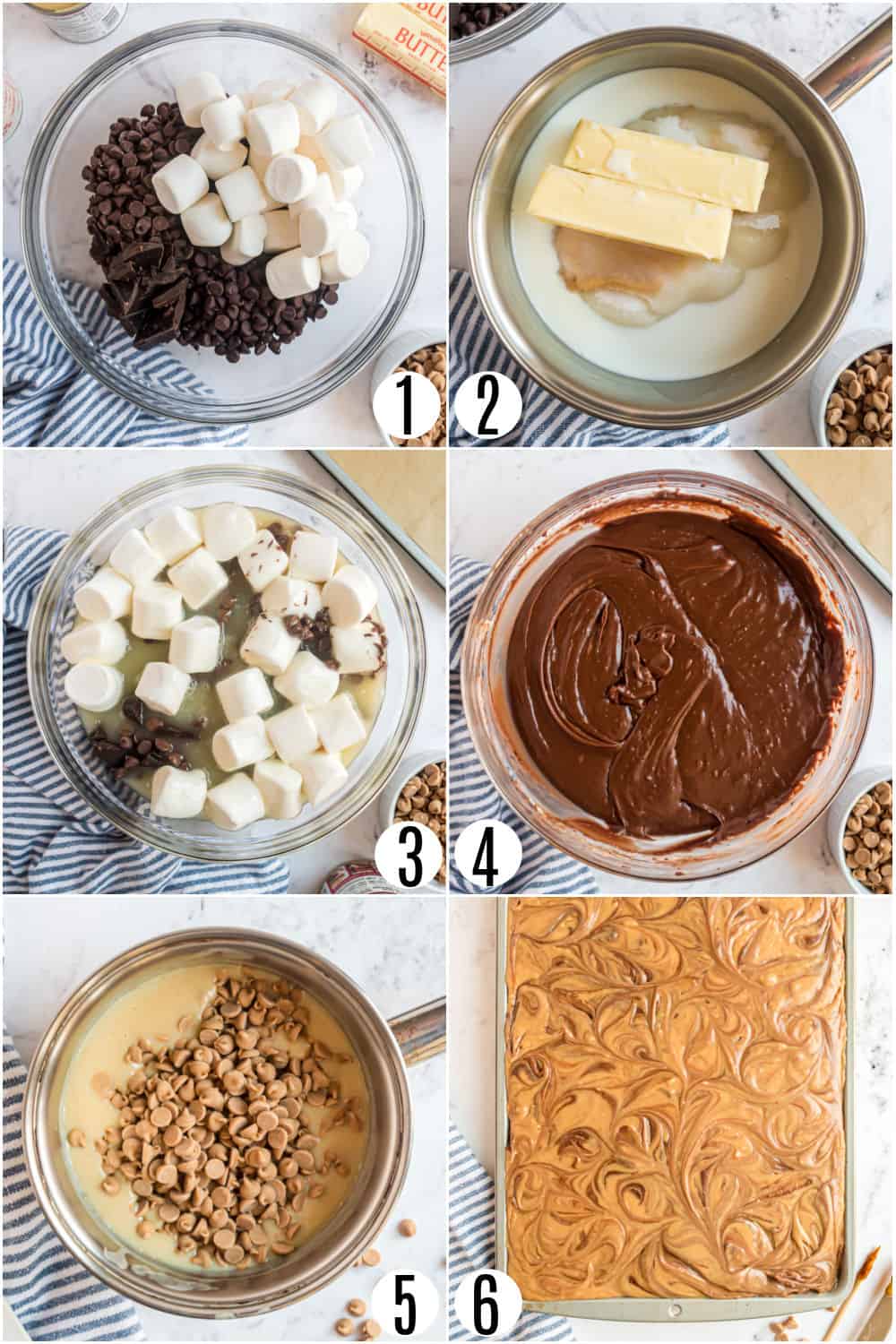 STEP 1. Make the chocolate fudge
Add marshmallows, both kinds of chocolate morsels and baking chocolate to a large mixing bowl. Set aside.
In a large pot, bring the sugar, milk, and butter to a boil over medium high heat. Boil for 2 minutes, stirring constantly, then remove from heat. Add vanilla extract.
Immediately pour the hot butter mixture over marshmallows and chocolate. Using an electric mixer, beat with whisk attachment until all the chocolate is melted and smooth. This may take a few minutes.
Pour into a baking pan lined with parchment paper.
STEP 2. Make the peanut butter fudge.
Heat the butter and condensed milk in a small saucepan until the butter is melted. Add in peanut butter morsels and whisk by hand until the butter is melted and the mixture is smooth.
STEP 3. Let set
Pour the peanut butter layer over the chocolate layer in the pan. Swirl with a knife until combined with chocolate layer. Let the fudge set for about 2 hours or until firm.
Cut into bite sized squares and enjoy!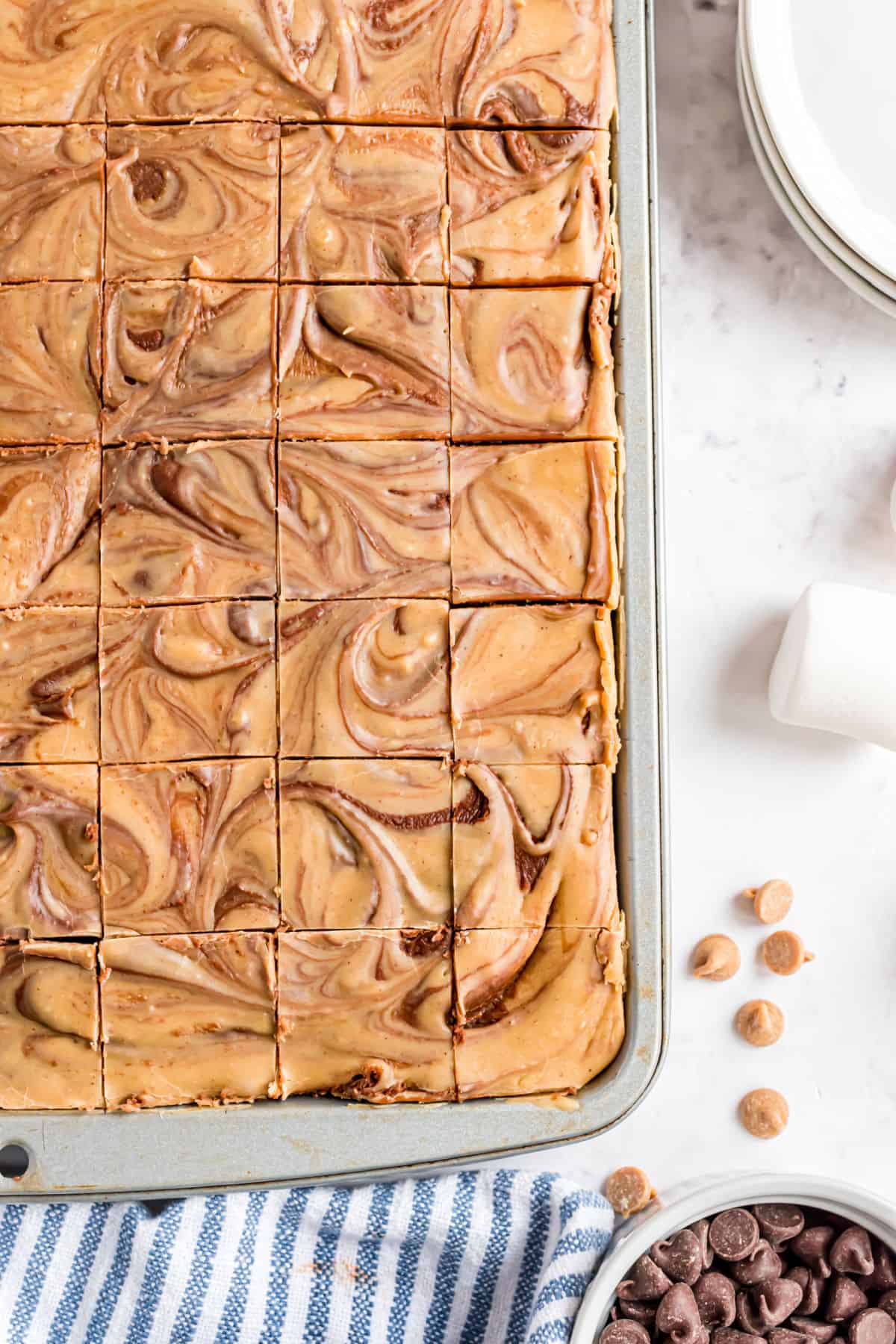 Tips & Tricks
How to store: No need to refrigerate this Chocolate Peanut Butter Fudge! Keep cut fudge in an airtight container at room temperature for up to a week.
Freezing: For longer storage, keep this fudge in the freezer in freezer safe bags. Let thaw at room temperature or in the fridge over night, any time a fudge craving strikes. I love having fudge in the freezer in case of unexpected company or emergency chocolate cravings!
This can be made without the peanut butter layer for a straight up decadent chocolate fudge.
I used a 15 x 10 inch baking pan with a 1 inch rim for this fudge. You could also make it in two smaller 8 x 8 square pans if necessary.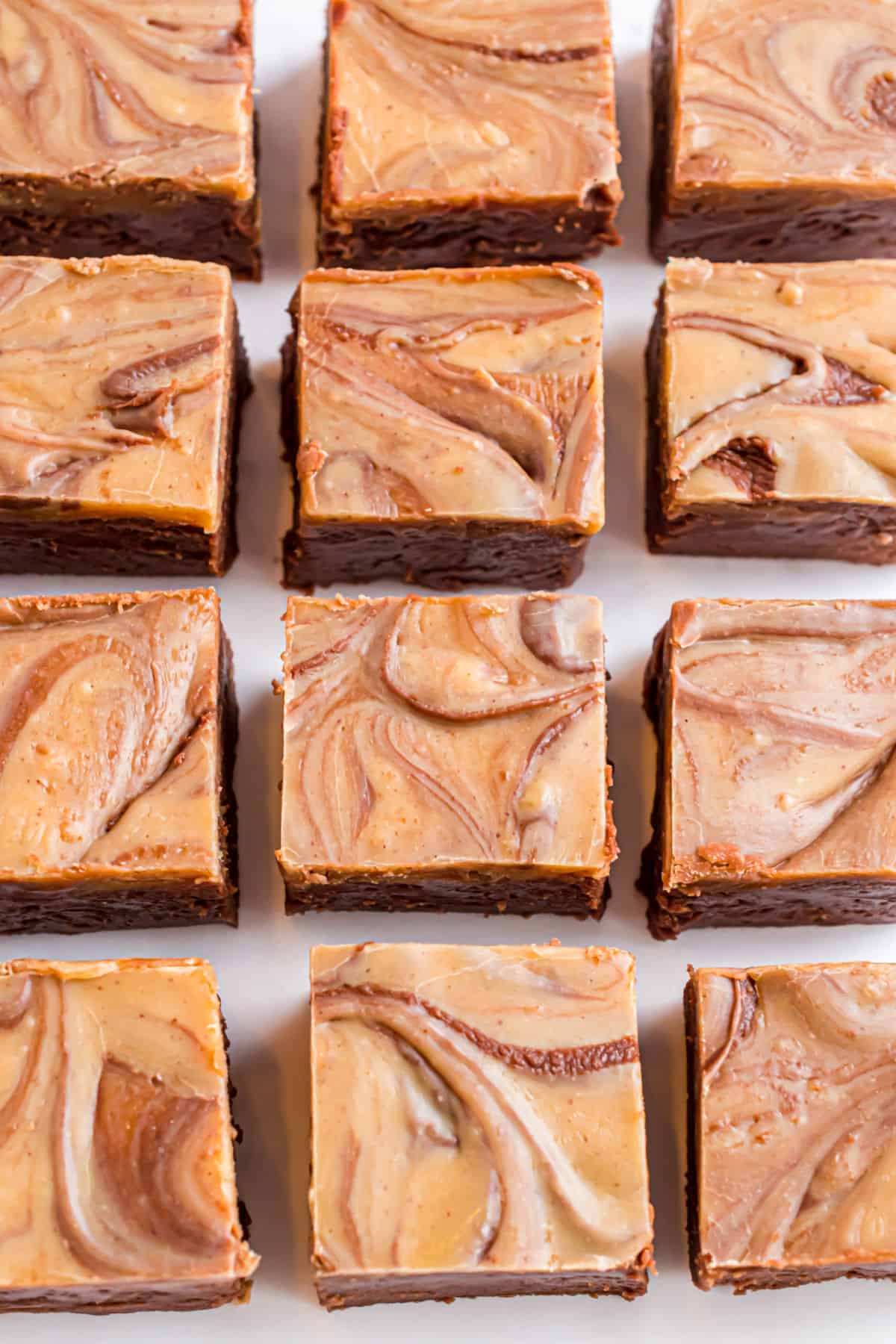 Recipe FAQs
What is the secret to making creamy fudge?
Good quality chocolate is important when making fudge. As well as boiling the butter and sugar mixture for a full 2 minutes.
Why is my fudge too soft?
If your fudge isn't cooked long enough it will turn out too soft. Be sure to start the timer when the fudge begins to boil, meaning there are bubbles on the surface.
Can I use margarine in fudge instead of butter?
Do not substitute margarine for butter in fudge. The water content is too high, and therefore your fudge may fail to properly set up.
More Fudge Recipes
Rich and indulgent Chocolate Peanut Butter Fudge is just perfect with a glass of milk or a cup of coffee. No chocolate and peanut butter lover will be able to resist it!