You don't have to be from Ohio to love Peanut Butter Buckeyes. These homemade candies have a soft peanut butter filling surrounded by rich chocolate. They're easy to make and always a hit!
People love chocolate. People love peanut butter. Put them together in a dessert and people love YOU! After you make these peanut butter balls, try our Chocolate Peanut Butter Fudge next.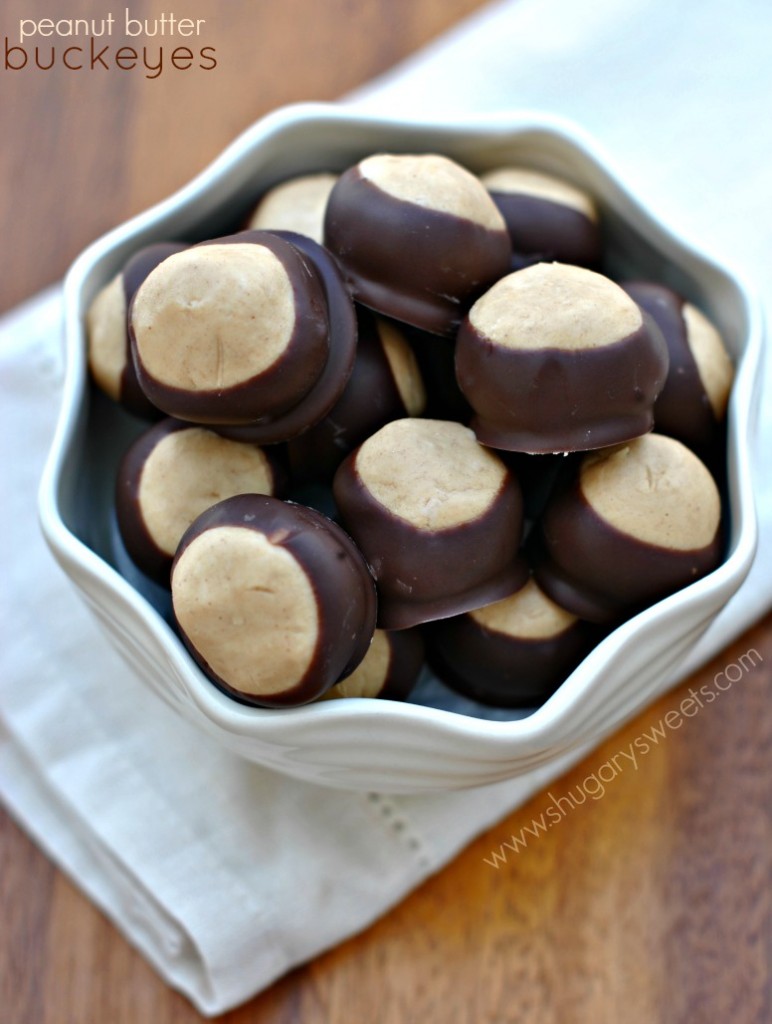 Why this Recipe Works
If you're not from Ohio or the Midwest, you've been missing out on Buckeyes!
They're similar to a Reese's peanut butter cup. A soft peanut butter mixture is rolled into balls then enveloped in melted chocolate.
This classic buckeye recipe only takes a few ingredients and no special equipment!
The candies are soft and tender in the middle with a crunch of chocolate coating.
Everyone raves over these treats when I bring them to a party or potluck! They keep well for a couple of weeks so Buckeyes make great gifts too.
You don't need any excuse to whip up a batch of these chocolate dipped peanut butter balls. Buckeyes are ALWAYS a good idea.
If you love today's candy, be sure to try our chocolate peanut butter pie recipe next! So easy, and no bake too. Add a delicious buckeye to our easy buckeye brownie cookies!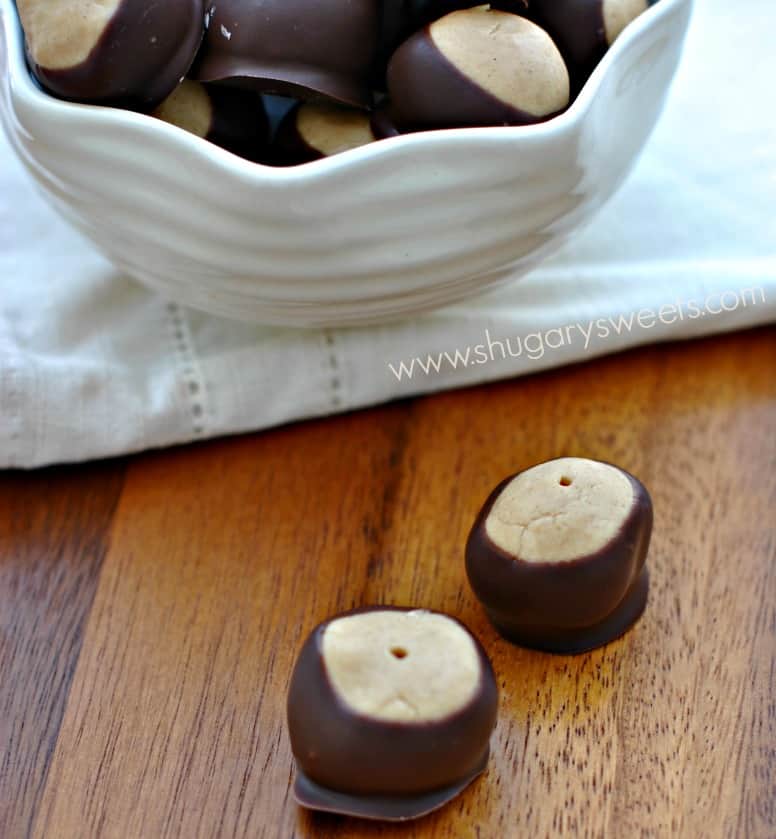 Ingredient Notes
Creamy peanut butter. You need regular shelf stable peanut butter for this Buckeye recipe. Do not use natural style peanut butters.
Chocolate melting wafers. These are the trick to candies with a perfectly smooth chocolate coating. I use the Ghirardelli brand. Melting wafers called "chocolate bark" or "candyquik" can also be used!
Easy Instructions
Make peanut butter filling:
Blend together the peanut butter ball ingredients to combine.
Roll the filling into evenly sized balls with your hands. Place on a baking sheet. Chill for about 1 hour in the refrigerator.
Dip in chocolate coating:
Melt the chocolate wafers according to package directions. Use a toothpick to dip the peanut butter balls into melted chocolate.
Leave the top of the peanut butter ball exposed for a classic Buckeye appearance! Excess chocolate can be wiped away with a spook or gently tapped on the side of the bowl.
Allow the chocolate to set on the Buckeyes. Pinch the toothpick marks on the peanut butter balls closed and smooth with your finger. Enjoy!
Tips and Tricks
Line the pan with parchment paper. This keeps the peanut butter balls from sticking and helps catch the mess of dripping chocolate.
Let an excess chocolate drip off the peanut butter balls over the bowl before placing them on the cookie sheet to set.
No need to refrigerate the Buckeyes after dipping them in chocolate. The chocolate will harden quickly at room temperature.
If you prefer the look of Buckeyes with the toothpick hole in the center, you can skip the step of pinching the holes closed. It's up to you!
Make buckeye bars instead!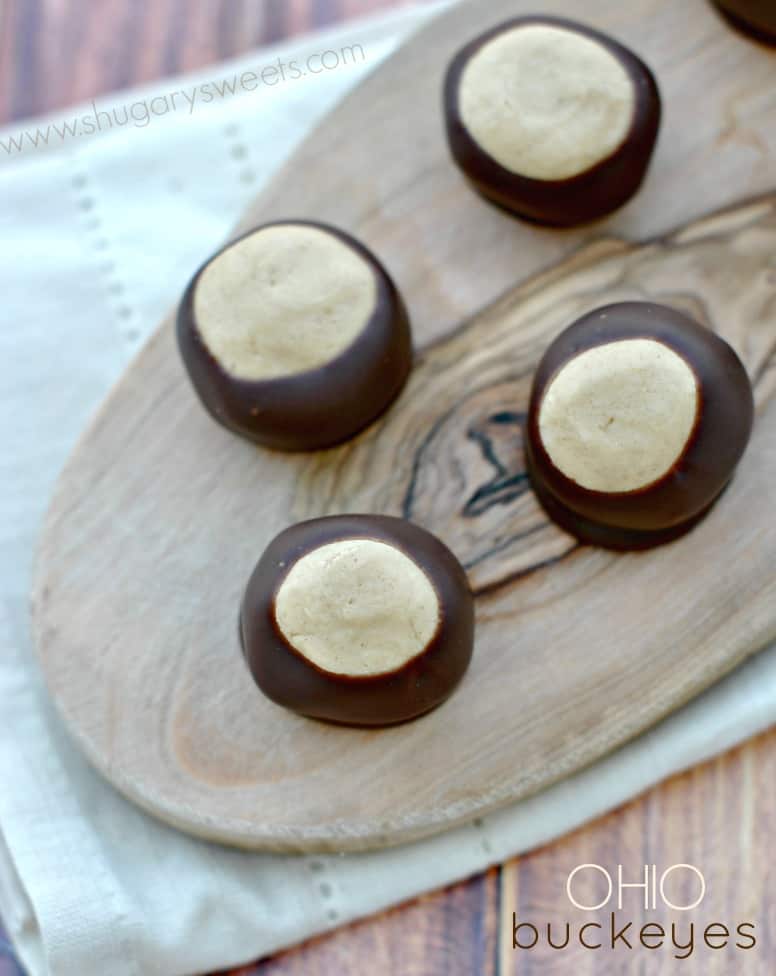 Recipe FAQs
Can you freeze peanut butter balls?
Yes you can!
After the chocolate has hardened, slide the peanut butter balls into a ziploc freezer bag or airtight container, in a single layer. Freeze for up to one month.
This is perfect if you want to make them ahead of time for the holidays.
How do you store homemade Buckeyes?
Store these in an airtight container at room temperature. They'll keep well for about 1 week.
While they don't need to be chilled, they do taste good cold as well! So feel free to pop them in the fridge if you prefer.
Do you use milk chocolate or white chocolate for Buckeyes?
You can use either one! Milk Chocolate is more common but dark chocolate tastes great with the peanut butter center too.
I don't have melting wafers. Can I use melted chocolate chips?
I don't recommend using melted chocolate chips for the coating. They aren't designed for melting so they create a harder, cakey coating when the chocolate sets.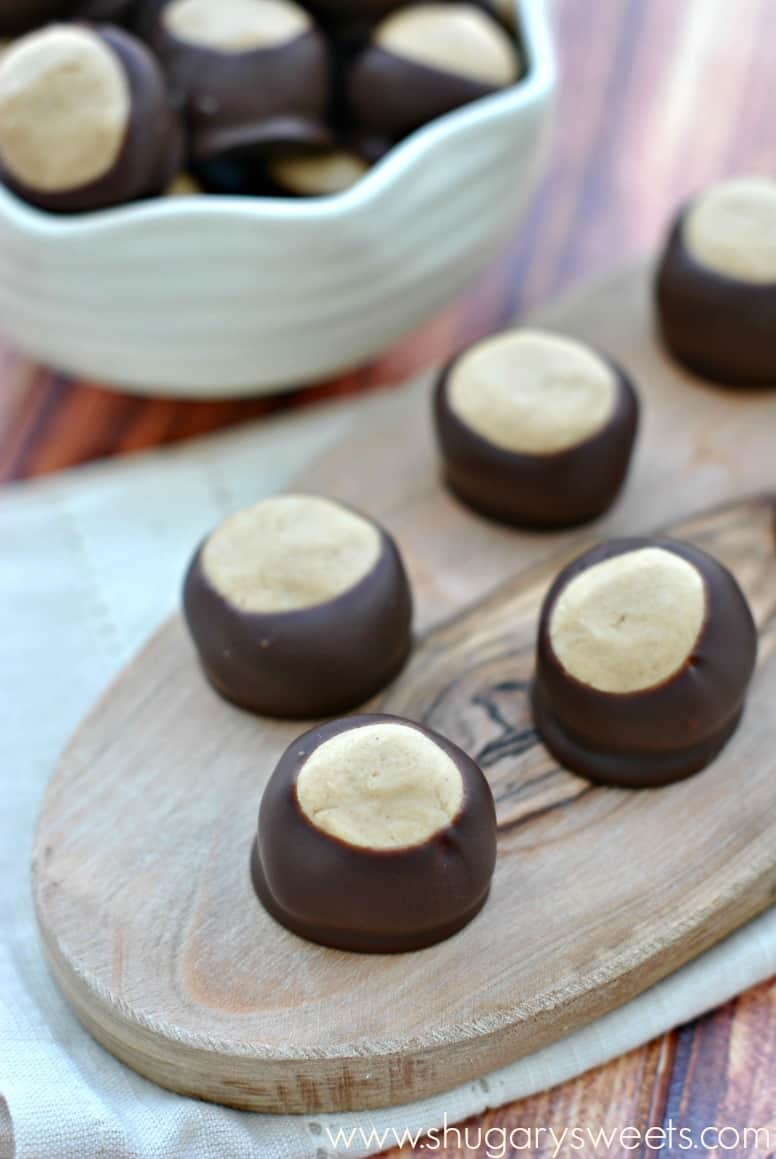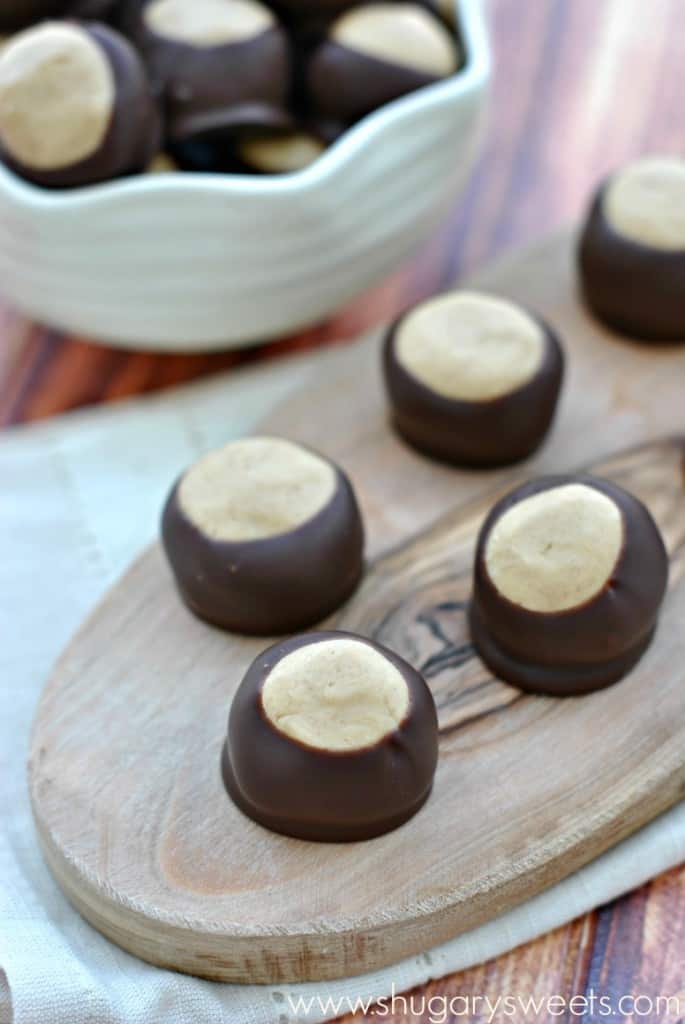 Peanut Butter Balls (Ohio Buckeyes) are a holiday treat that is easy to make. Even the kids can help you create this classic no bake dessert that even the kids can help you create!