Perfect Rice Krispie Treats
Get the secret tips and tricks to making the most PERFECT Rice Krispie Treats. Kid and adult friendly!
Be sure to sign up for my email…new recipes in your inbox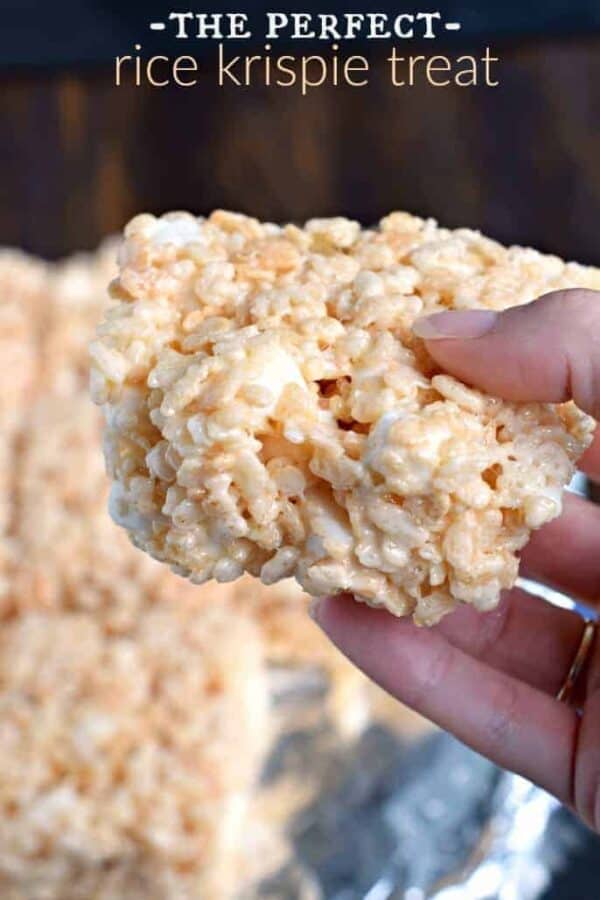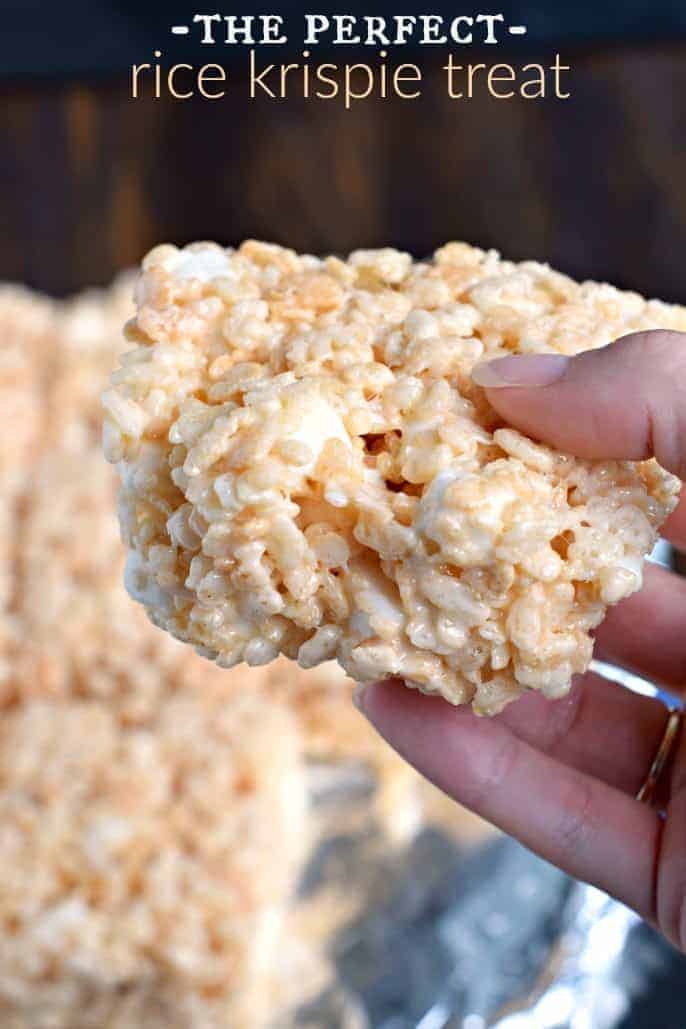 I spend days and days trying to come up with the perfect cake. Or the most beautiful cupcakes. Or to create the fudgiest brownies.
But, it's no secret, Rice Krispie Treats have always been the key to my heart.
Years ago I shared a story about my favorite treat. How sometimes when I make a batch of krispie treats I have eaten the whole 13×9 before my kids even arrive home from school. I've made myself sick many times overeating this treat.
I have no willpower. The lure of marshmallow  is too powerful. I am weak.
But, it's not ANY rice krispie treat that has this effect on me. For instance, store bought individually wrapped treats? YUCK. Barf. So fake tasting.
Or I'm sure you've experienced the Rice Krispie Treat that has been pressed into a crunchy square of grossness. Too hard to enjoy, not the soft and chewy treat you've come to love over the years!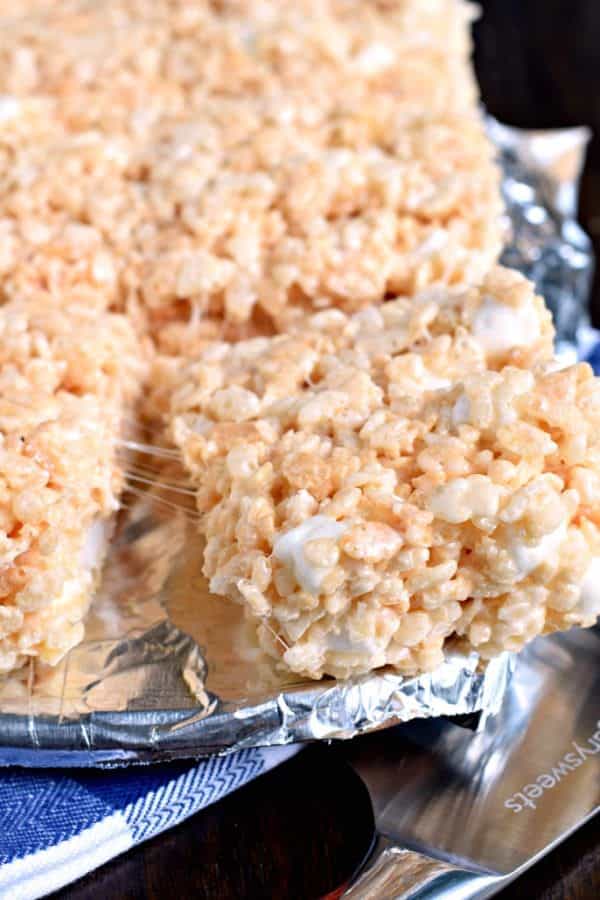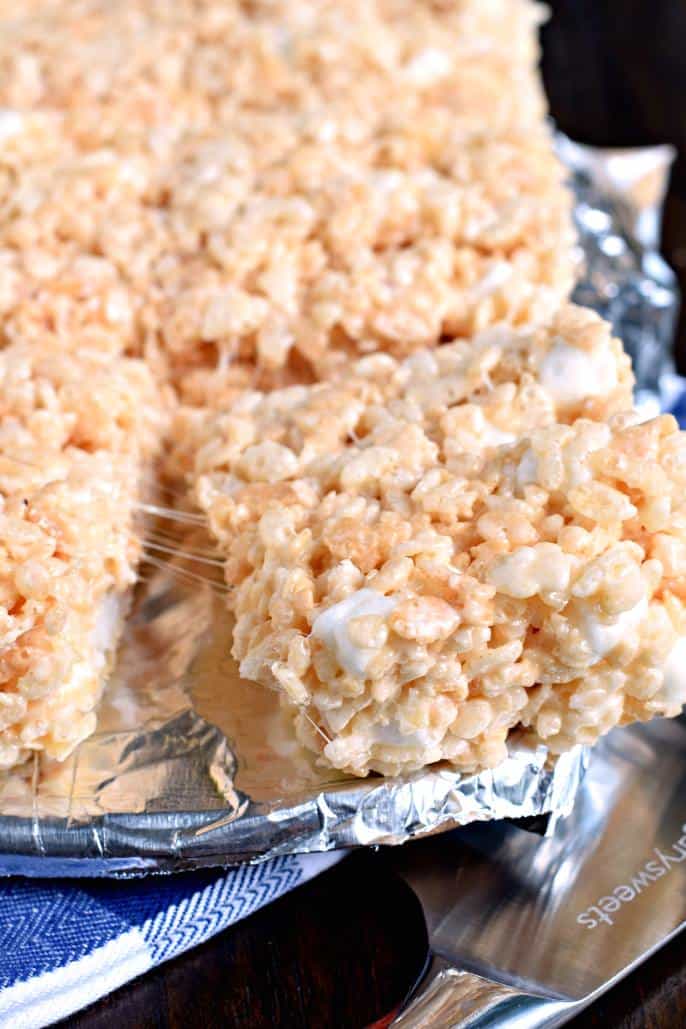 I love Rice Krispie Treats so much that I've created over a dozen flavors….from Fluffernutter, or Cherry, or Pistachio….to Peppermint, Cinnamon Roll, and PayDay. I've even got these adorable TURKEY Krispie Treats for Thanksgiving!
But, in the end, it's the classic RICE KRISPIE TREAT that draws me in. And there IS such a thing as the PERFECT Rice Krispie treat.
How to make PERFECT Rice Krispie Treats:
Line a 9-inch square baking dish with parchment paper. This way you don't have to worry about extra butter on your fingertips, or the other extreme of your bars sticking to the pan!
Use fresh marshmallows. Seriously, they make a difference. Don't grab that bag that's been in your pantry for months and months thinking it will be okay since you are melting them. It won't be okay.
Add my secret ingredient. VANILLA EXTRACT. Not imitation vanilla, but PURE VANILLA extract. It makes a difference in creating the illusion that you're using homemade marshmallows.
Toss in some extra marshmallows with your cereal. This adds a whole dimension of chewiness!
DO NOT (I repeat) DO NOT press these bars into your pan firmly. Using your fingertips, GENTLY press them in just until they are spread out. The harder you pack them in, the harder they are when it's time to eat them!
Store in an airtight container for two days. If they last that long, I'd be shocked! ENJOY
Check out some of my other favorite truffle and candy recipes! Stop over at Food Fanatic to print the Perfect Rice Krispie Treats recipe!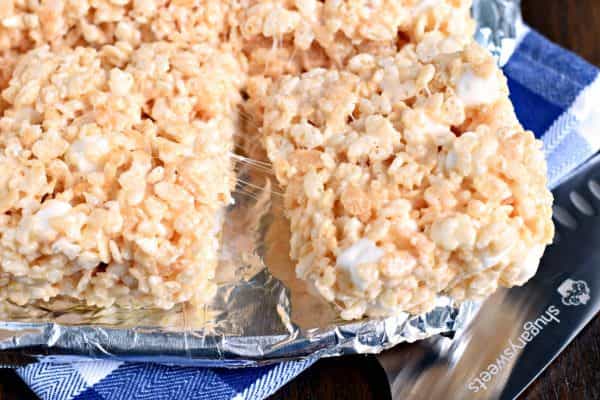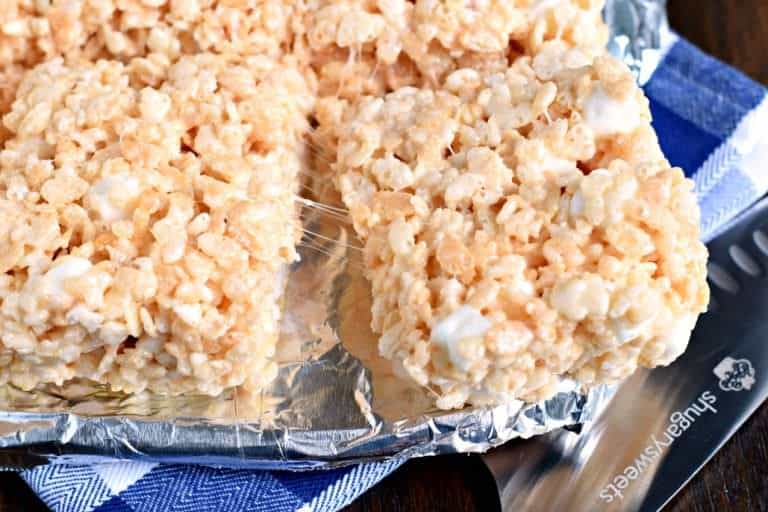 Be sure to follow me on Instagram and tag #shugarysweets so I can see all the wonderful SHUGARY SWEETS recipes YOU make!
Connect with Shugary Sweets! Be sure to follow me on my social media, so you never miss a post!
Facebook | Twitter | Google+ | Pinterest | instagram | Bloglovin'
Sign up to receive an email in your inbox for each new recipe: