Get the secret tips and tricks to making the most PERFECT Rice Krispie Treats recipe. From using fresh butter and marshmallows to adding vanilla extract, this is our favorite dessert.
Love easy cereal treats? Try our recipes for homemade puppy chow (muddy buddies)! Or make a savory snack like this Taco Chex mix!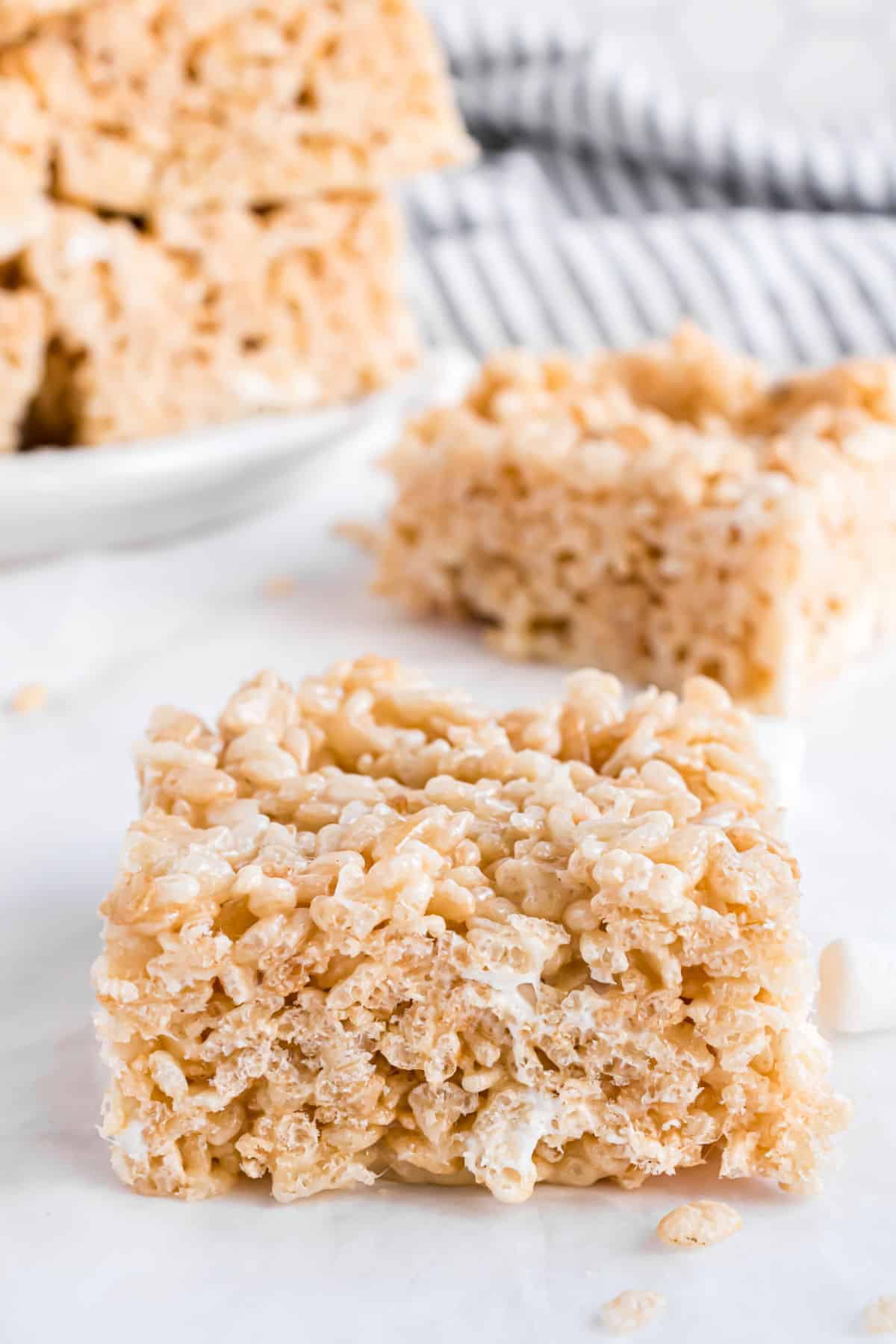 The Original Rice Krispie Treats
I spend days and days trying to come up with the perfect cake. Or the most beautiful cupcakes. Or to create the fudgiest brownies.
But, it's no secret, Rice Krispie Treats have always been the key to my heart. Knowing how to make rice krispie treats has gotten me far in life.
But, in the end, it's the classic, original, homemade RICE KRISPIE TREAT that draws me in.
The biggest question is how to spell it. Some people say Rice Crispy, Some say Crispy Rice, some say Rice Crispies. Either way, you get the point!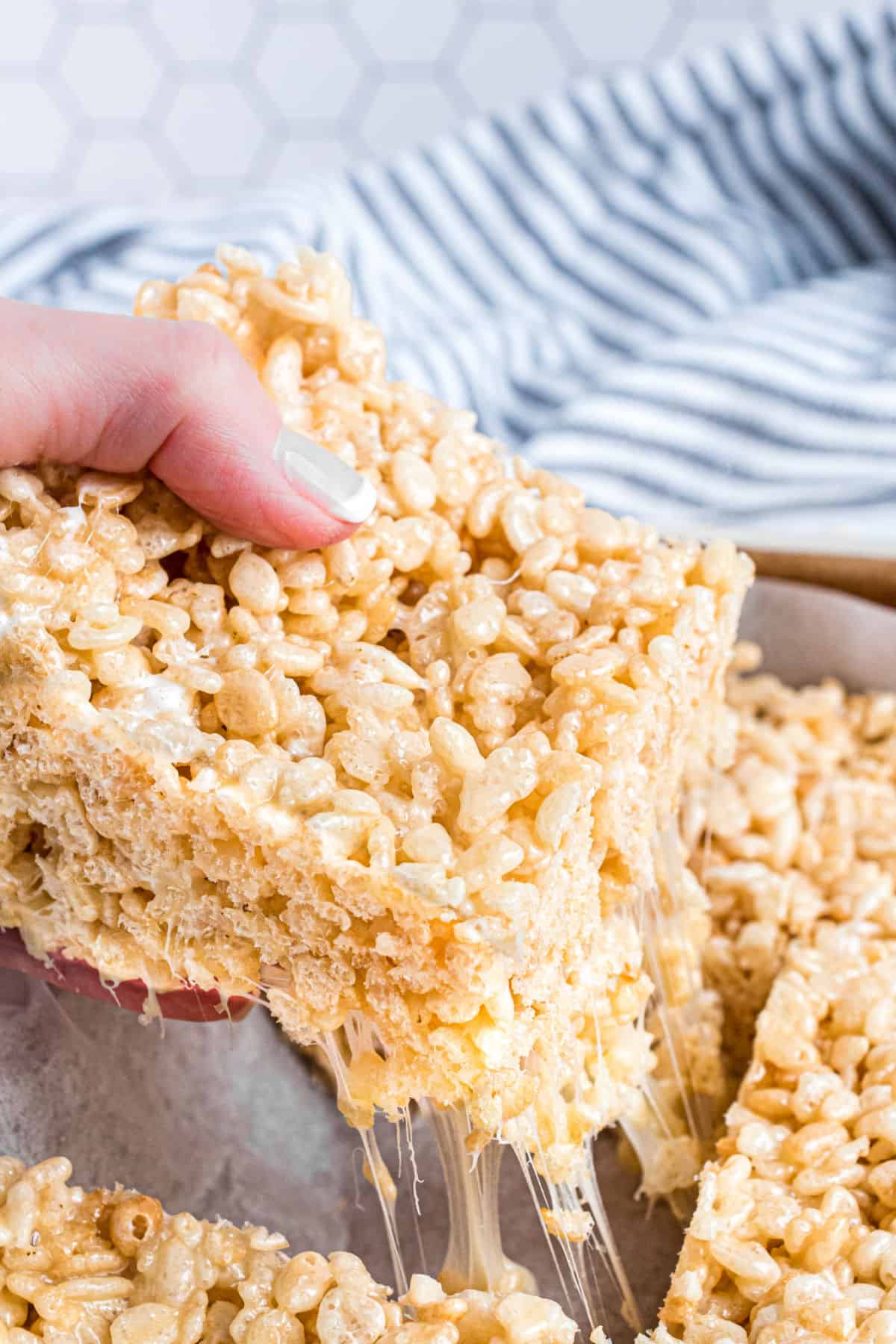 Why this Recipe Is Best
There are thousands of recipes for making this classic treat, and I'm putting it out there that my recipe is BEST. Why?
Only 4 ingredients
Thick and chewy
Vanilla flavor
Perfect ratio of cereal to marshmallows
We love that this classic treat can be changed up using different cereals too!
Ingredient Notes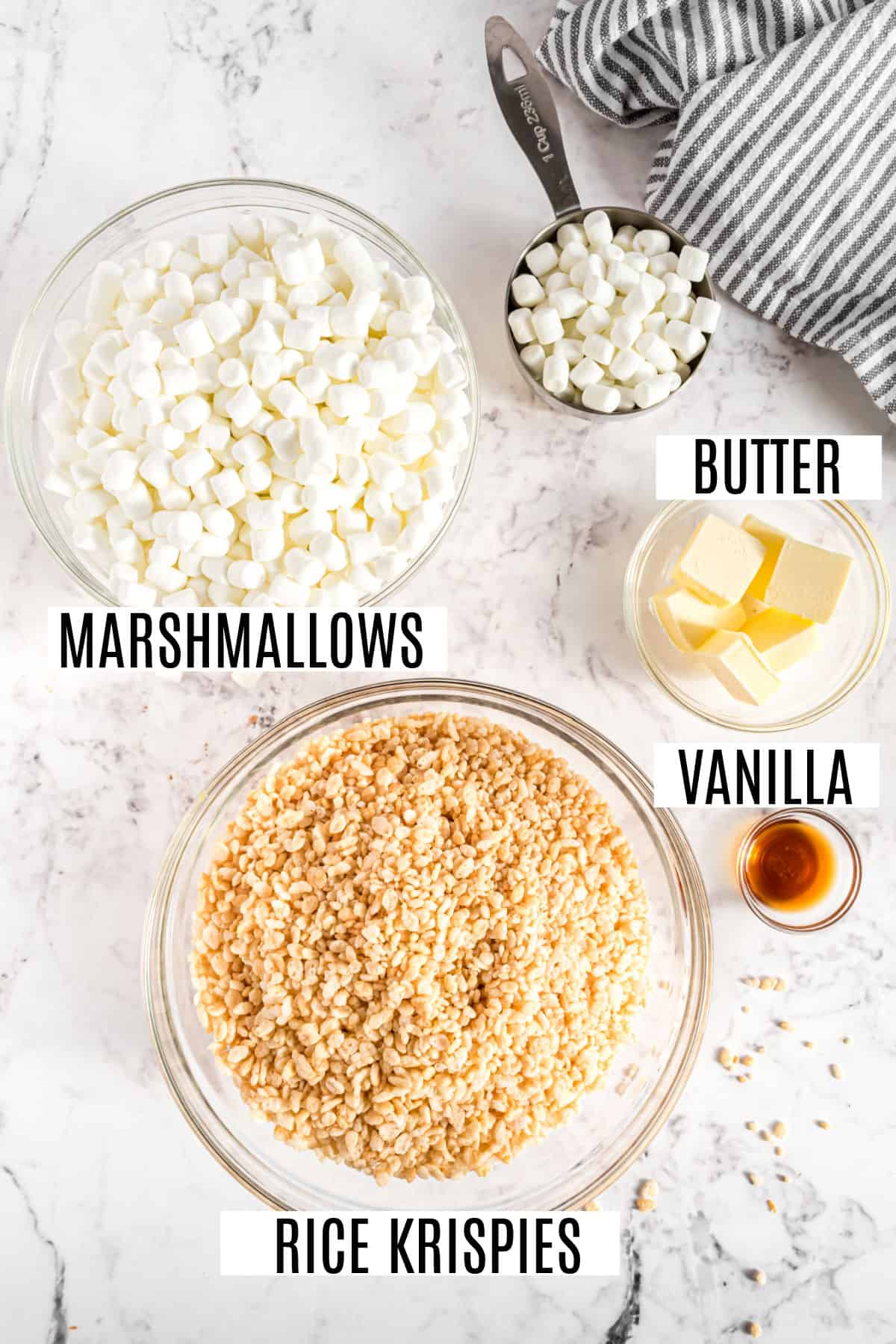 Butter- use salted butter for this recipe. Just trust me! Don't have any on hand? Use unsalted butter and a pinch of salt while melting. DO NOT use margarine.
Marshmallows- you'll need 9 cups of mini marshmallows, keeping about 1 cup aside to add in at the end!
Vanilla Extract- I love using my homemade vanilla extract for all my recipes, but just be sure to use PURE vanilla, not imitation. The flavor is far superior.
Rice Krispies Cereal- any brand of crispy rice cereal will work, just make sure it's FRESH.
Tips and Tricks
Line a 9-inch square baking dish with parchment paper. This way you don't have to worry about extra butter on your fingertips, or the other extreme of your bars sticking to the pan! Use binder clips to help the parchment paper stay in place.
Use fresh marshmallows. Seriously, they make a difference. Don't grab that bag that's been in your pantry for months and months thinking it will be okay since you are melting them. It won't be okay.
Add my secret ingredient. VANILLA EXTRACT. Not imitation vanilla, but PURE VANILLA extract. It makes a difference in creating the illusion that you're using homemade marshmallows.
Toss in some extra marshmallows with your cereal. This adds a whole dimension of chewiness!
DO NOT (I repeat) DO NOT press these bars into your pan firmly. Using your fingertips, GENTLY press them in just until they are spread out. The harder you pack them in, the harder they are when it's time to eat them!
The trick to pressing them in your pan without sticking to your hands is to run your fingers in water, shake off the excess, and press. Voila. No sticking!
Store in an airtight container for two days. If they last that long, I'd be shocked! ENJOY
Make these gluten free by choosing a crispy rice cereal labeled Gluten Free (and check your marshmallow labels too just in case).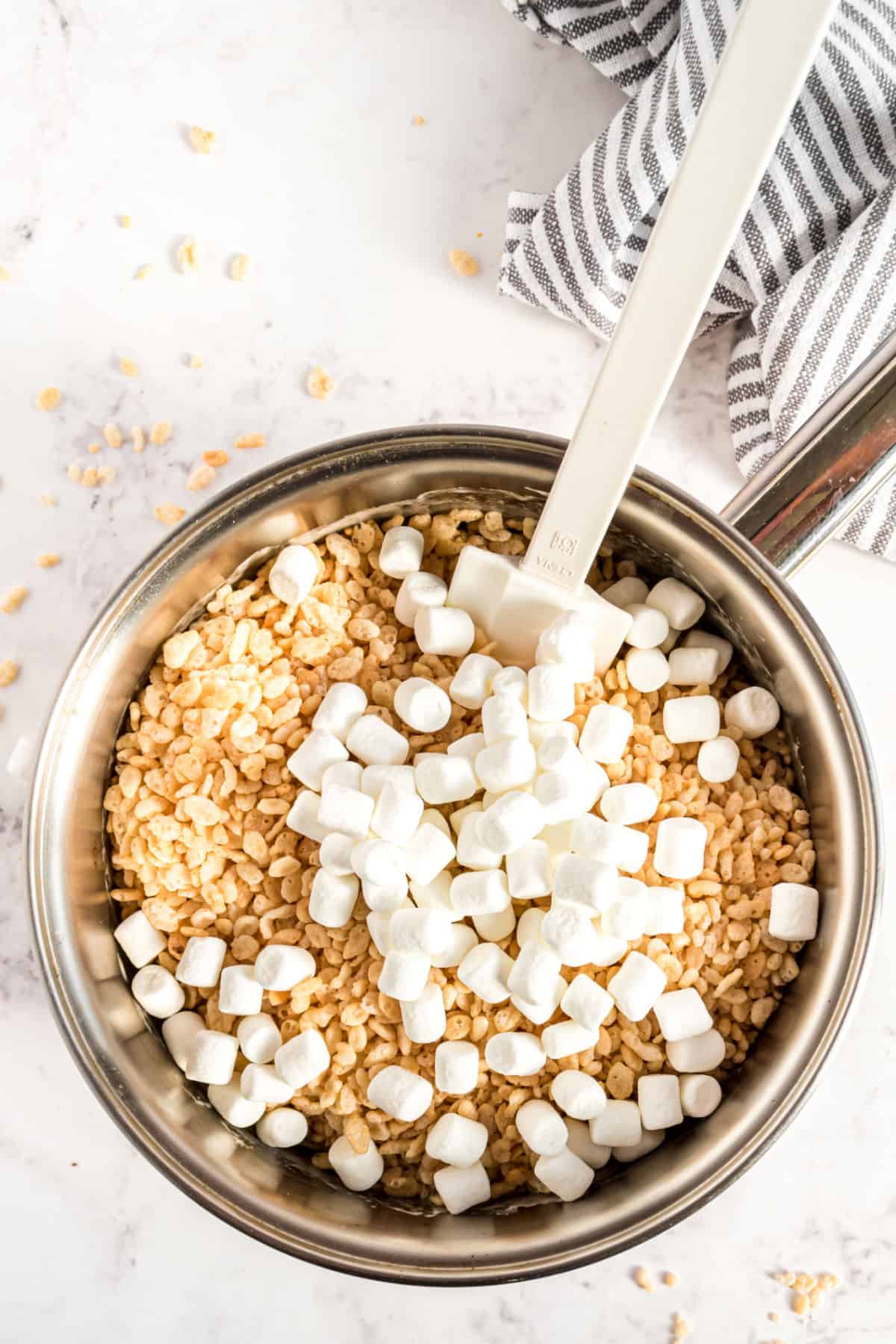 Recipe FAQs
Why do my rice krispies treats get hard?
Your krispies treats could be getting hard if you press the treats too firmly into the pan. Also, be sure to start with fresh marshmallows and cereal, not stale!
Do rice krispie treats need to be refrigerated?
Do NOT refrigerate rice krispie treats, as it can make the marshmallow very hard. Instead, store them in an airtight container at room temperature for best results.
Can you freeze rice krispie treats?
I do not advise freezing rice krispie treats. Fresh is best.
Can rice krispie treats be made in a 13×9 baking dish?
You can choose a 13×9 dish instead of a square dish if prefered for rice crispy treats. Just know that they will be thinner.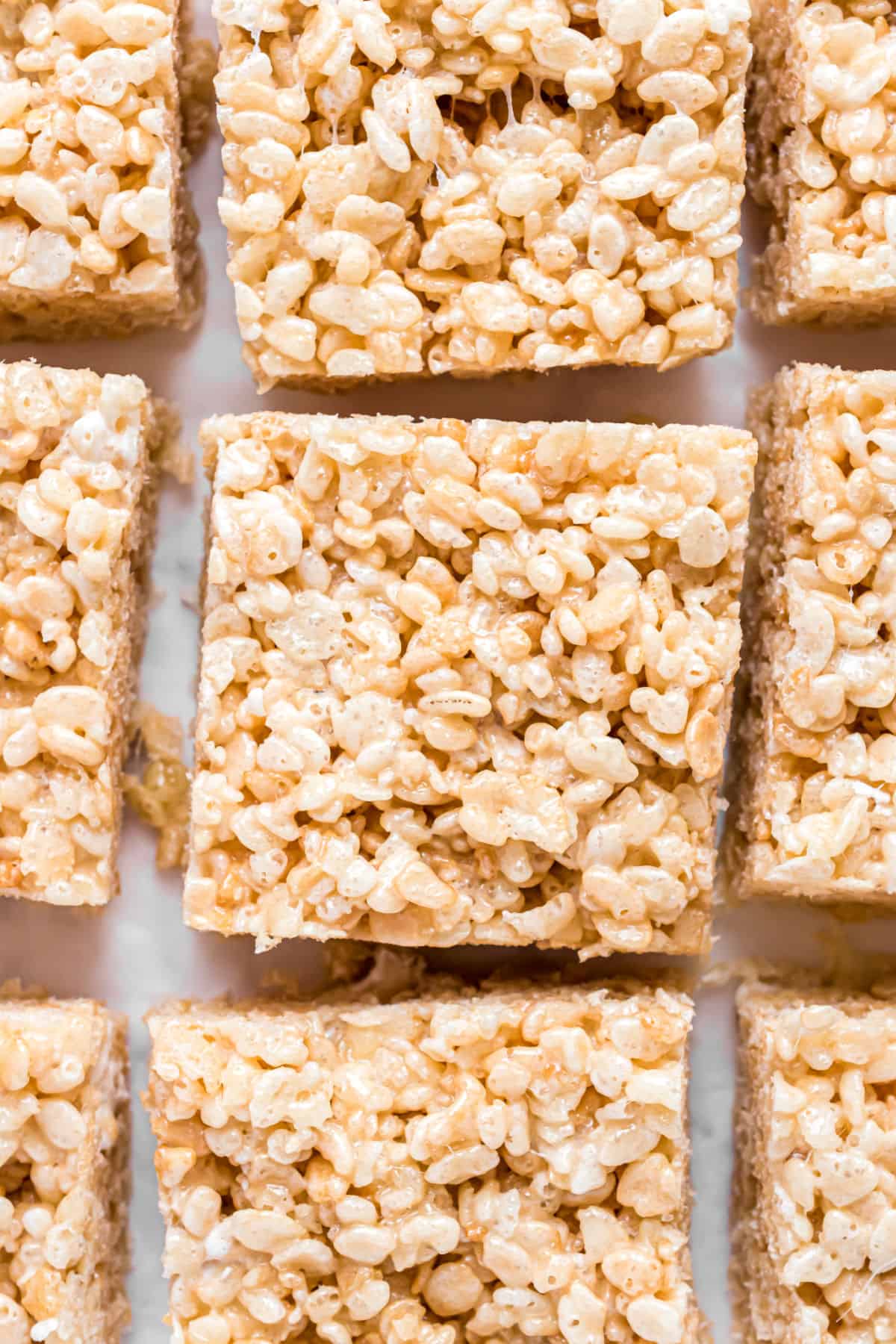 More Rice Krispie Treat Flavors
Add in some flavored gelatin (or pudding mix) to the melted marshmallow for a unique twist! Cherry Krispie Treats!
Make Lucky Charms Treats for a St.Paddy's Day dessert idea.
For best results, name brand cereal stays fresher longer and can hold up to the melted butter and marshmallows better
Always start with fresh marshmallows. If you use stale marshmallows in hopes that melting them will give you good results, you'll be disappointed!
More mix-ins: fold in some m&m's or Reese's peanut butter cups for a delicious dessert idea.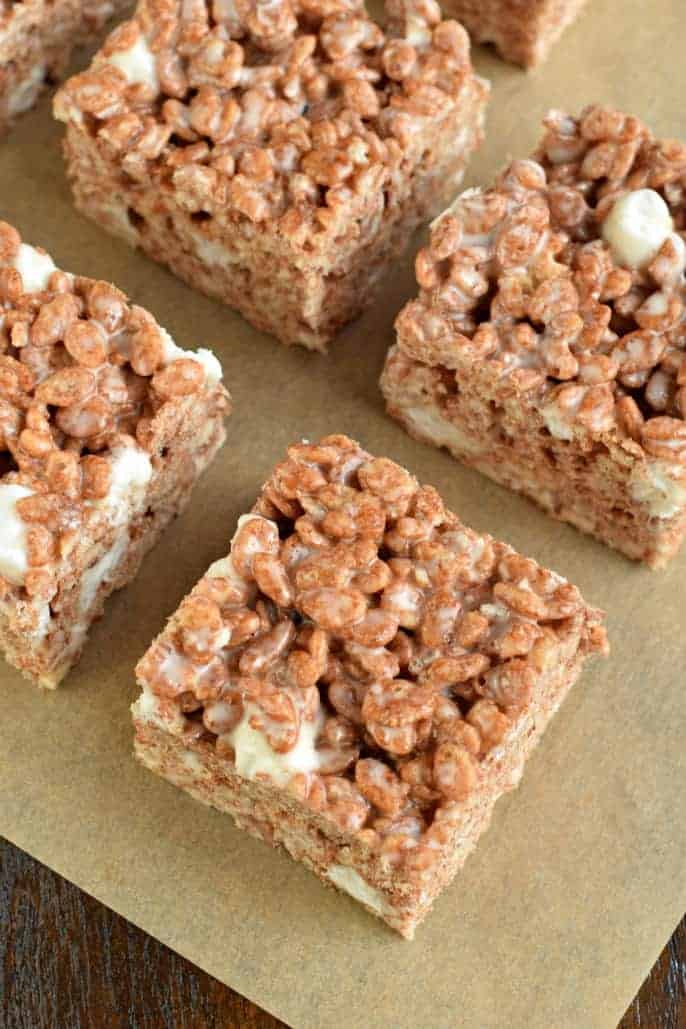 Original Rice Krispie Treats recipe with all the tips and tricks for making them thick and chewy!