Get the secret tips and tricks to making the most PERFECT Rice Krispie Treats recipe. Kid and adult friendly! THICK AND CHEWY!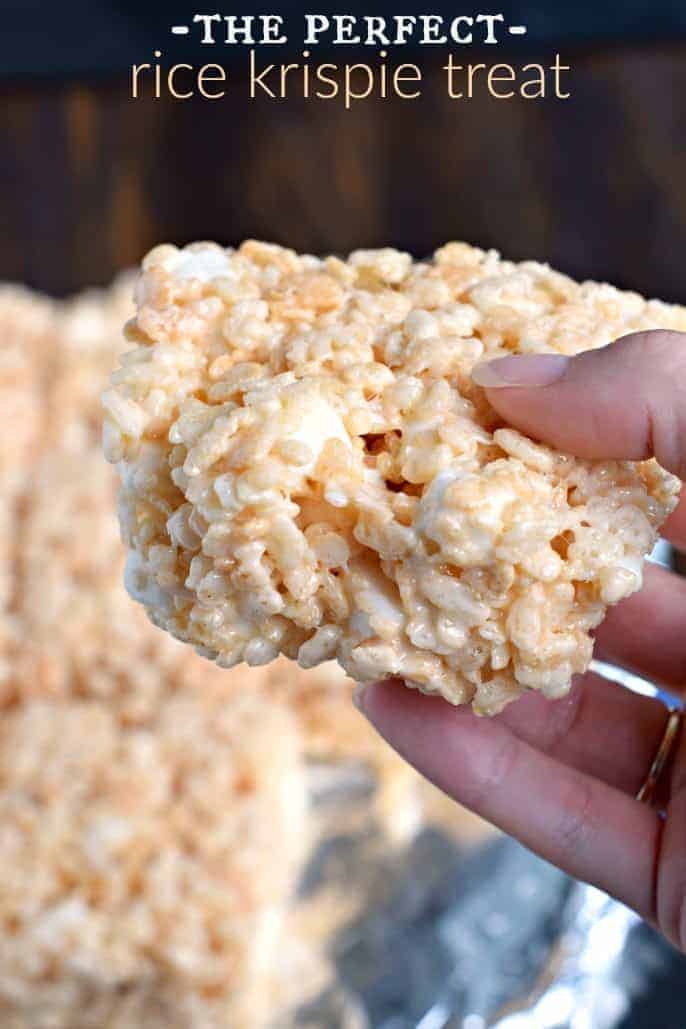 I spend days and days trying to come up with the perfect cake. Or the most beautiful cupcakes. Or to create the fudgiest brownies.
But, it's no secret, Rice Krispie Treats have always been the key to my heart. Knowing how to make rice krispie treats has gotten me far in life.
I have no willpower. The lure of marshmallow is too powerful. I am weak.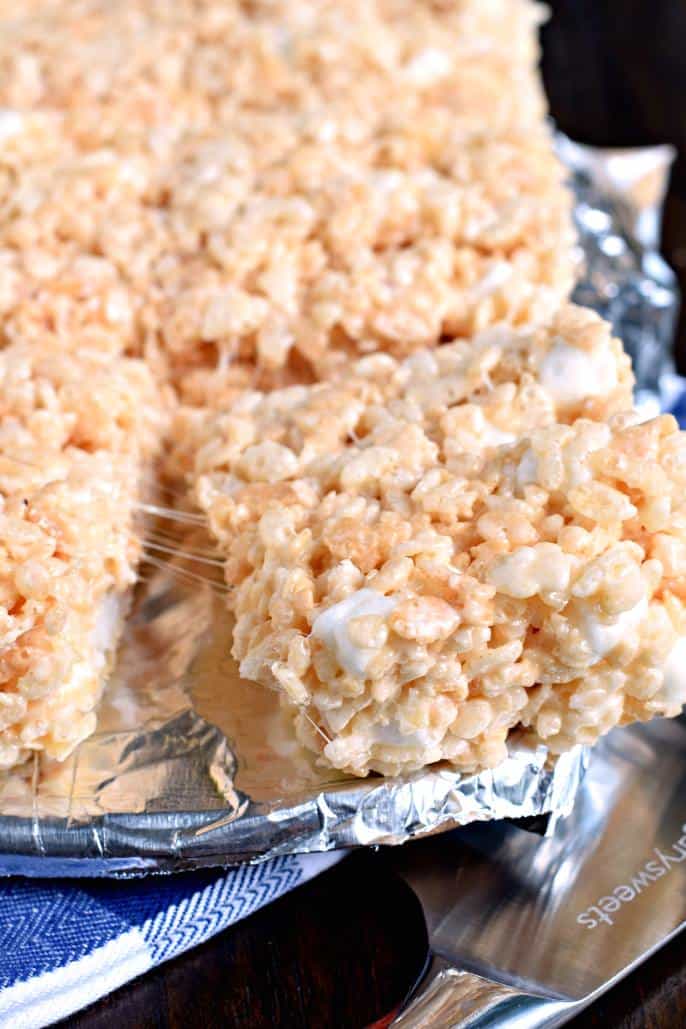 The Original Rice Krispies Treat Recipe
I love crispy treats so much that I've created over a dozen flavors….from Fluffernutter, or Cherry, or Pistachio….to Peppermint, Cinnamon Roll, and PayDay.
I've even got these adorable TURKEY Krispie Treats for Thanksgiving! And of course, easy Halloween Dessert Recipes too!
But, in the end, it's the classic, original, homemade RICE KRISPIE TREAT that draws me in.
The biggest question is how to spell it. Some people say Rice Crispy, Some say Crispy Rice, some say Rice Crispies. Either way, you get the point!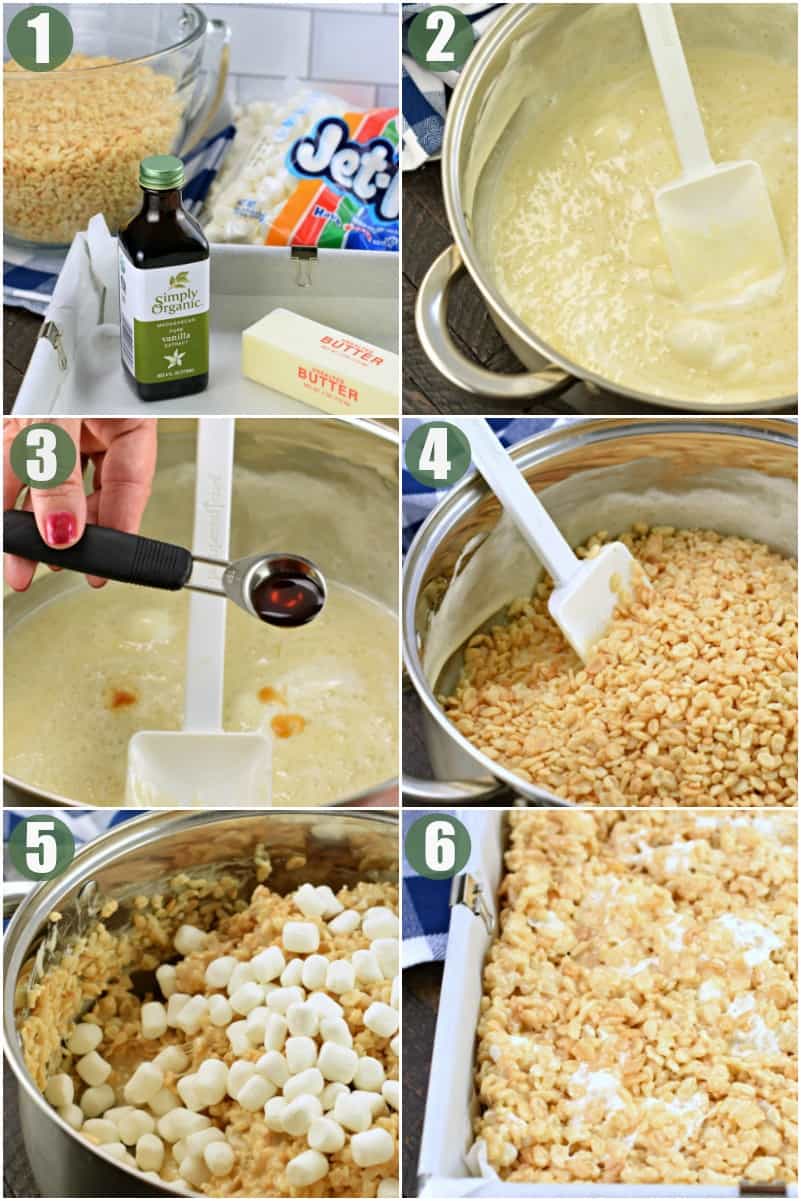 Step 1: Line an 8 or 9-inch square baking pan with parchment paper. Set aside.
Step 2: In a large sauce pan, on medium heat, melt butter. Once melted, turn heat to low and add in all but 1 cup of the mini marshmallows.
Stir constantly until marshmallows are completely melted.
Step 3: Remove from heat and stir in vanilla extract. Add cereal and the remaining mini marshmallows.
Step 4: Pour into prepared baking dish. Press gently with fingertips until spread. Set one hour. Cut and enjoy!
Tips and Tricks
Line a 9-inch square baking dish with parchment paper. This way you don't have to worry about extra butter on your fingertips, or the other extreme of your bars sticking to the pan! Use binder clips to help the parchment paper stay in place.
Use fresh marshmallows. Seriously, they make a difference. Don't grab that bag that's been in your pantry for months and months thinking it will be okay since you are melting them. It won't be okay.
Add my secret ingredient. VANILLA EXTRACT. Not imitation vanilla, but PURE VANILLA extract. It makes a difference in creating the illusion that you're using homemade marshmallows.
Toss in some extra marshmallows with your cereal. This adds a whole dimension of chewiness!
DO NOT (I repeat) DO NOT press these bars into your pan firmly. Using your fingertips, GENTLY press them in just until they are spread out. The harder you pack them in, the harder they are when it's time to eat them!
The trick to pressing them in your pan without sticking to your hands is to run your fingers in water, shake off the excess, and press. Voila. No sticking!
Store in an airtight container for two days. If they last that long, I'd be shocked! ENJOY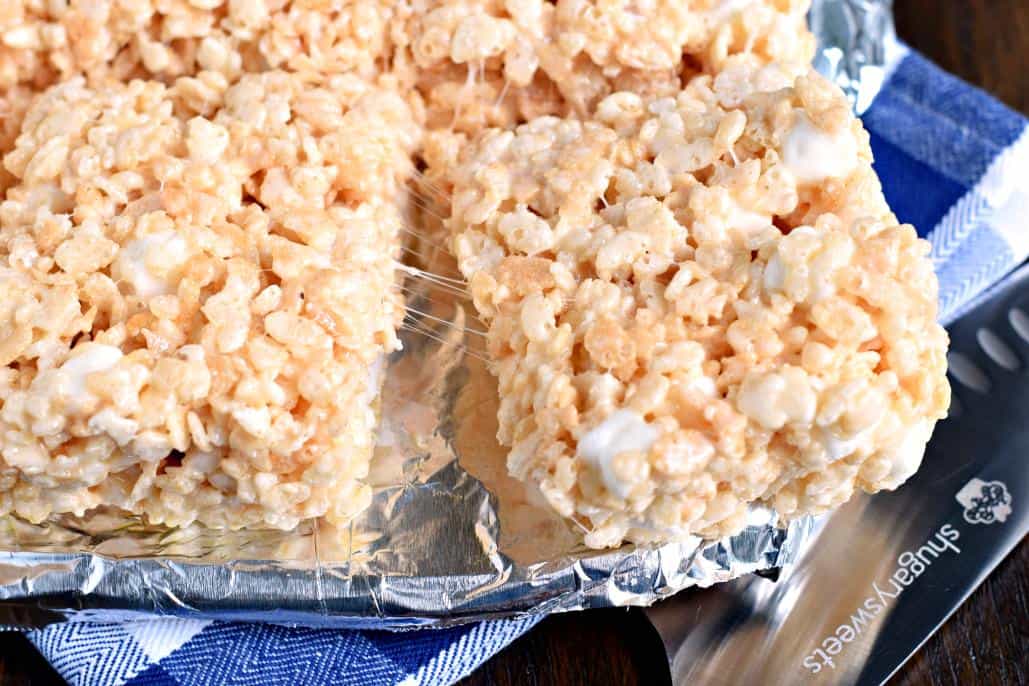 Frequently Asked Questions
Why do my rice krispies treats get hard?
A: Could be many factors. Starting with stale marshmallows or cereal. Keep heat on low while adding marshmallows. And finally, do NOT press too firm when you're adding the treats to the pan.
Do these treats need to be refrigerated?
A: Absolutely NOT. It actually could make them hard as well (see above question). Keep them covered at room temperature for best results.
Can I use other cereal?
A: Yes! Cocoa Krispies and Fruity Pebbles are both great options. You could also use Cheerios, Golden Grahams, and Cinnamon Toast Crunch!
Can you freeze them?
A: I would say no. While some people will tell you they have had success with this…I'm a purist when it comes to the rice crispy treat. I want it to taste amazing. And freezing it will result in a stale, less than stellar dessert.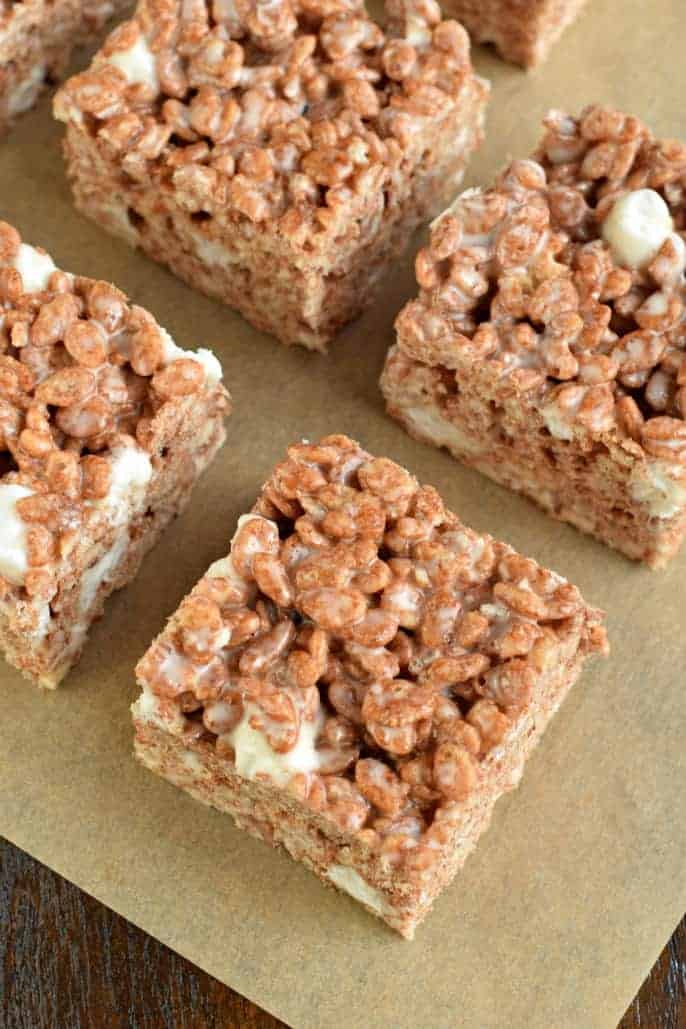 Original Rice Krispie Treats recipe with all the tips and tricks for making them thick and chewy!