Fruity Pebbles Treats are no bake dessert bars with only 4-ingredients. Easy to make and fun to eat, these gooey treats are a hit with the whole family!
Rice Krispies aren't the only cereal you can turn into a dessert. I love all kinds of cereal based treats, from Cheerio Bars to Lucky Charm Treats and now this fruity pebbles version.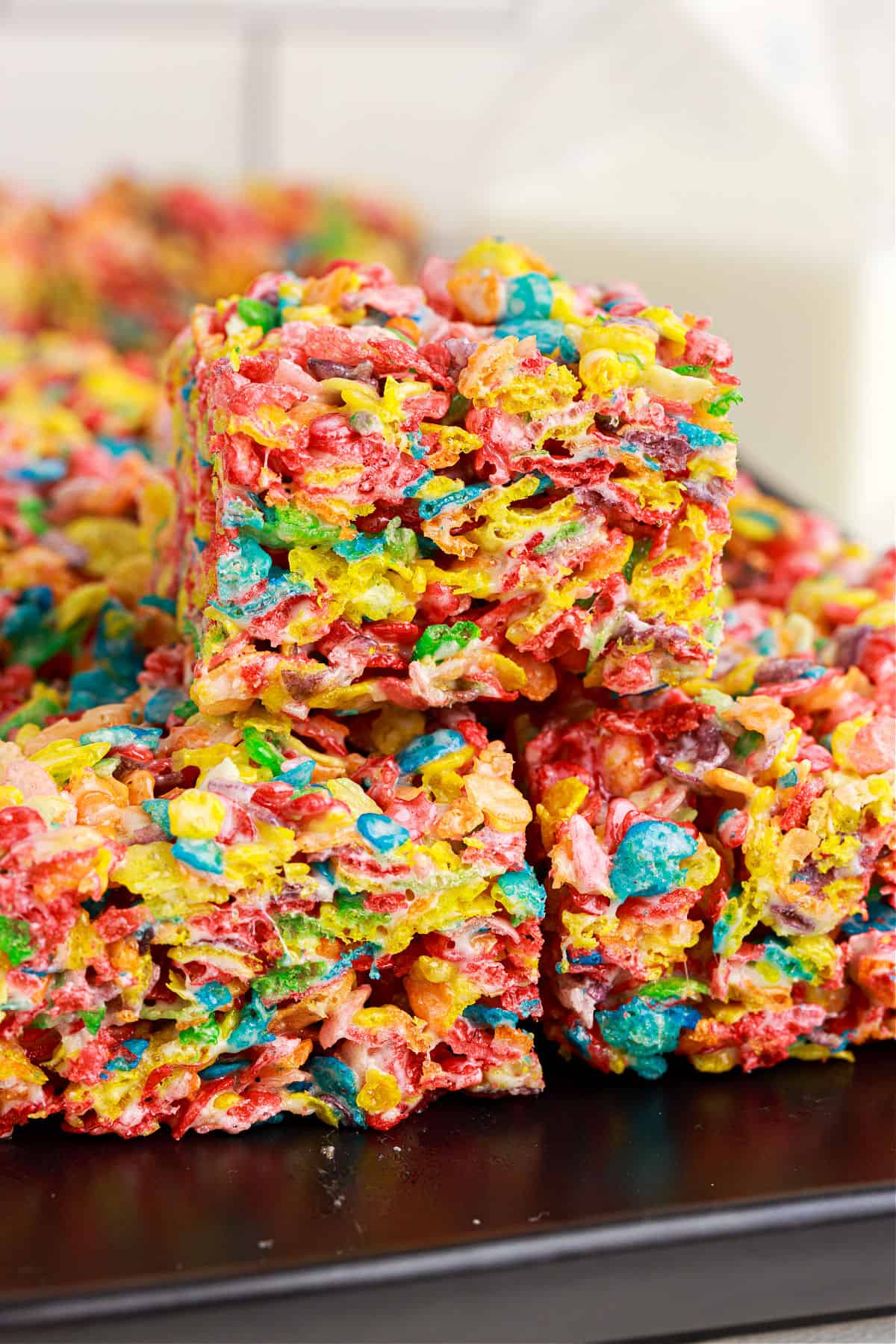 Why These Treats Are Best
Anyone who's known me for more than 5 minutes knows that Rice Krispie Treats are my favorite dessert of all time.
All the fudgy brownies, coconut cakes, and chocolate chip cookies on this site and, at the end of the day, I really just want that soft, chewy combination of marshmallows and cereal.
The fruity cereal packs even more flavor than Rice Krispie Treats.
Gooey ribbons of marshmallow.
Eye-catching and colorful—no need to decorate!
Quick and easy to make.
Only 4 ingredients!
These Fruity Pebbles Treats are all of the things I love about the Rice Krispie version, only with the fun pop of fruit flavors and color!
Kids go nuts for these, and so do I. They would be an instant hit at any bake sale, birthday party or potluck!
Ingredient Notes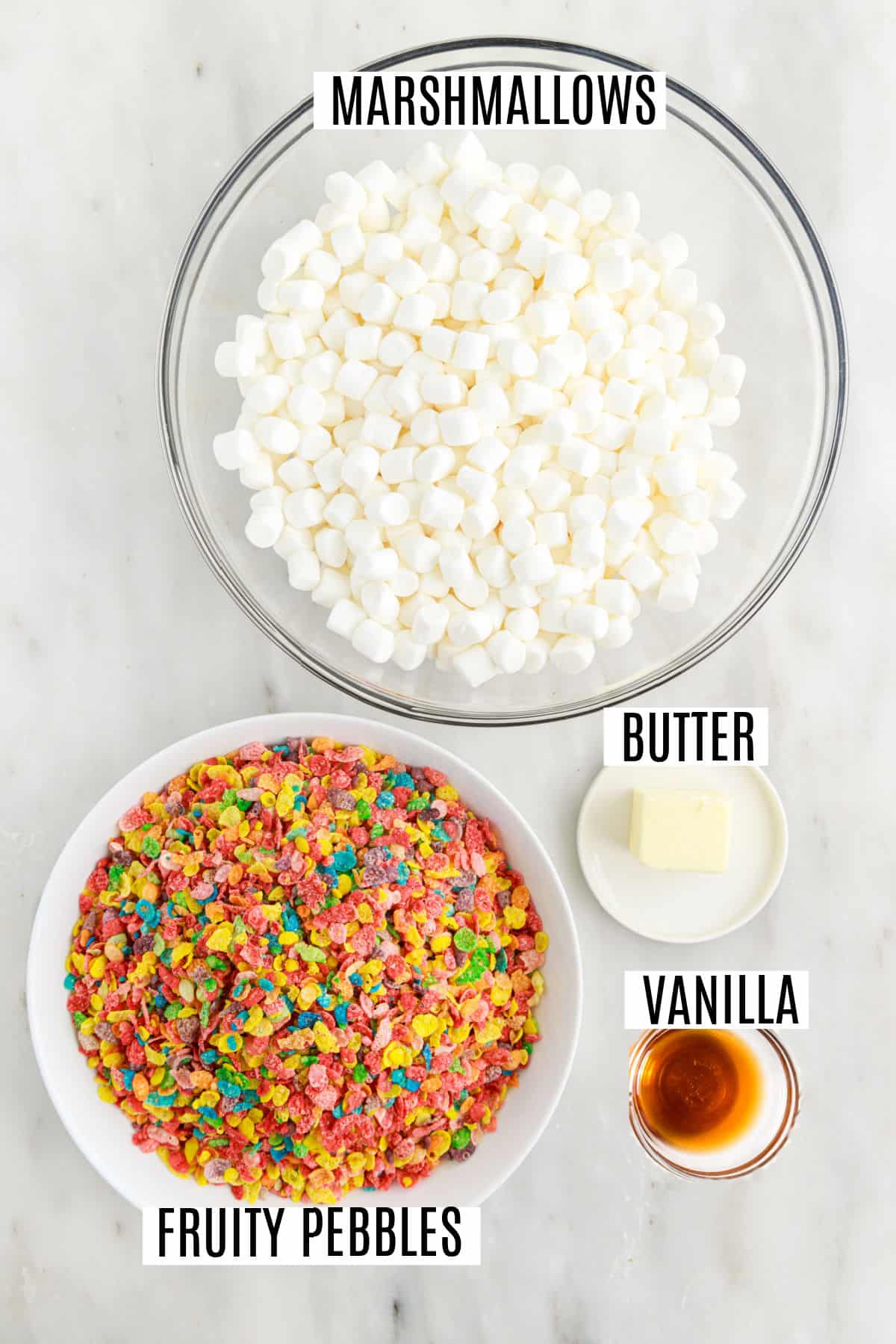 The ingredients for Fruity Pebbles marshmallow bars are unbelievably simple. Here's everything you need.
Salted butter. Usually I use unsalted butter in my baking, but the salt helps enhance the flavors in today's recipe.
Fruity pebbles cereal. I used the original flavor. They also have a birthday cake version that would be fun if you're making these for a birthday party!
Mini marshmallows. The mini sized ones are perfect for folding in at the end for extra marshmallow goodness.
Vanilla. My secret ingredient for BEST flavor. It creates the illusion that you're using homemade marshmallows in this recipe.
Tips and Tricks
Use fresh marshmallows for this recipe. Those stale marshmallows in the back of your pantry will make the treats taste, well, stale. Grab a fresh bag before you make Fruity Pebbles treats.
Line your baking dish with parchment paper. Use binder clips to help it stay in place as you add the treats to the pan. This way you don't have to worry about the bars sticking.
Dampen your fingers. Keep the treats from sticking to your hands by dipping your fingers in water before pressing them into the pan. It's like magic! Works better than butter and your hands won't end up greasy.
Press GENTLY! The number one reason Fruity Pebbles Treats come out hard is pressing the cereal mixture into the pan too firmly. Use a light touch and only press as much as you need to spread out the treats.
Let set for 1 hour before cutting. The treats should be soft enough to slice but still hold their shape.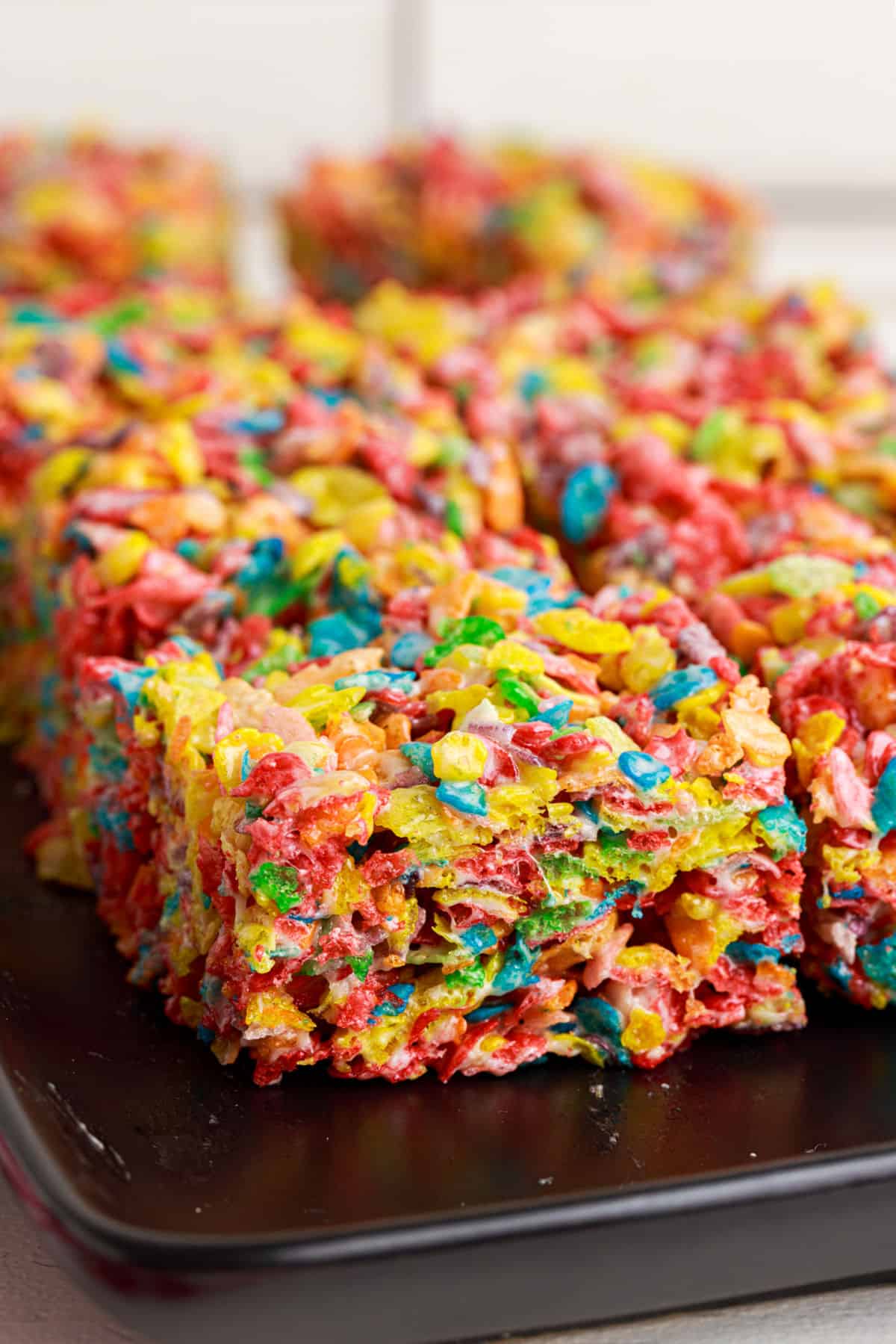 Recipe FAQs
Can I use imitation vanilla flavor instead of real extract?
No, imitation vanilla doesn't work the same magic. Trust me: REAL vanilla makes a huge difference. Use a high quality pure extract or make your own. It imitates the flavor of homemade marshmallows elevating your treats to next-level deliciousness!
How many marshmallows do I need for krispie treats?
This recipe uses one 16 ounce bag of mini marshmallows. That's the equivalent of 8 – 9 cups if you're measuring by volume.
Can I use regular marshmallows?
You can use regular marshmallows for melting with the butter. You won't be able to fold whole regular sized marshmallows in with the fruity pebbles unless you chop them into pieces first.
How do I store marshmallow treats? How long do they stay good?
Fruity Pebbles Bars keep well in an airtight container for about 2 days. I'd be shocked if they last that long! My family can easily eat a whole pan in one day.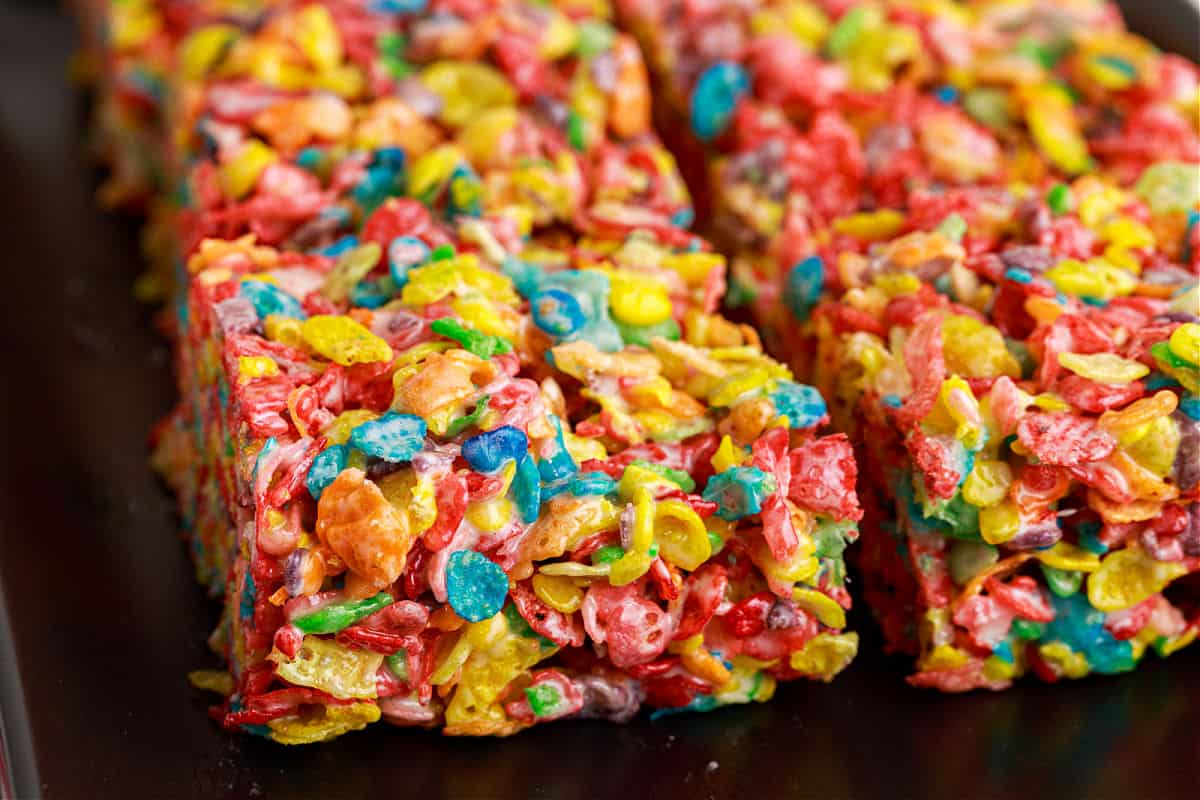 More Easy Dessert Recipes
Move over, Rice Krispies Treats! These no-bake Fruity Pebble Treats are a delicious and brightly colored twist on the classic childhood dessert.