The most delicious, from scratch, white cake recipe is used to create this perfect Coconut Cake! Soft, moist crumb with a cream cheese coconut frosting!
Love coconut desserts? You MUST try our samoa truffles. Similar to the girl scout cookie, these truffles are packed with coconut, caramel, and chocolate flavor! Or give our coconut biscotti recipe a try!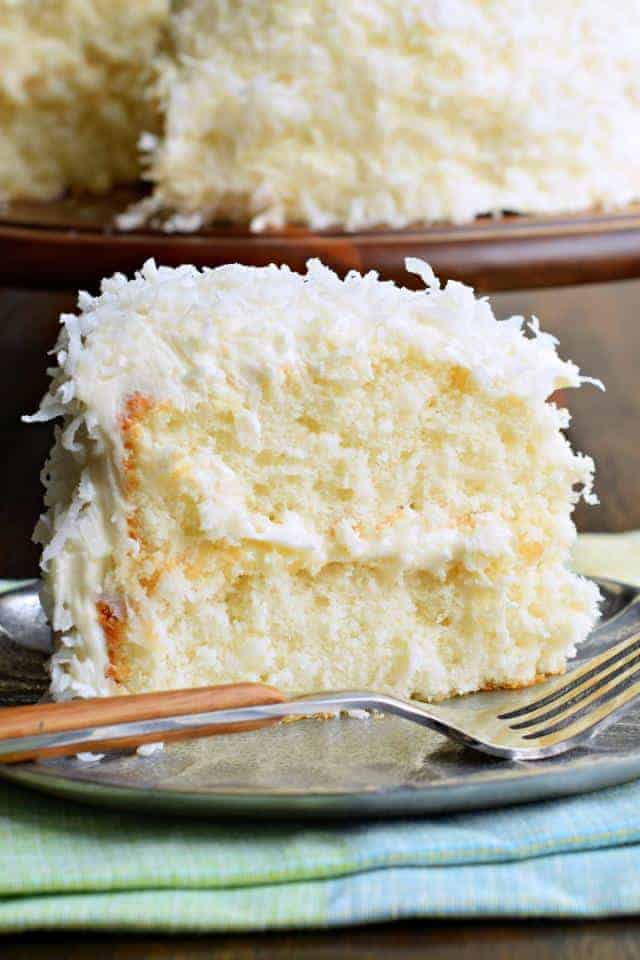 Why this Recipe Works
No matter the time of year, this easy coconut cake recipe is bound to be your new favorite layer cake.
Moist: whether you like that word or not, it describes the perfect texture of a cake!
Coconut Flavor: we've added coconut to the cake and the frosting. Want more? Use cream of coconut in place of the buttermilk!
Soft Crumb: by using just egg whites, you're going to love this soft and tender crumb that still holds up to mega piles of frosting!
Coconut Frosting: using our favorite cream cheese frosting recipe, we've added coconut! You can use toasted coconut if you prefer.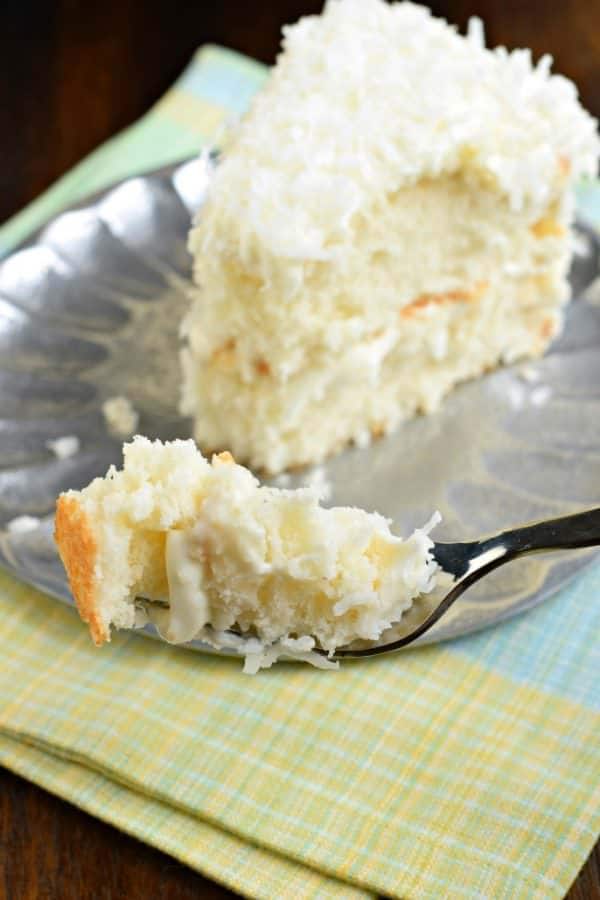 Ingredient Notes
How to Make Coconut Cake
Using my white cake as a guide for today's recipe, this was the perfect starting point. Be sure to follow directions carefully!
Wet Ingredients: combine the egg whites with some of the buttermilk in a bowl. In a mixing bowl, beat room temperature butter, sugar, vanilla extract, and almond extract.
Dry Ingredients: in a separate bowl, combine the dry ingredients.
Combine: Add the dry ingredients to the butter and sugar mixture. Beat in the egg white mixture and finally, beat in the remaining buttermilk. Fold in coconut.
Bake: I use two 9-inch cake pans for this recipe. Use a generous amount of baking spray (this is the kind with flour in it, made for baking), or use parchment paper. You could also use homemade cake release.
Assemble: Place one cake layer on a cake stand. Add a large amount of frosting to top and smooth with an offset spatula. Top with second layer of cake. Apply frosting to entire cake.
To add the coconut flakes or shredded coconut to the top and sides of cake, place cake stand on a baking sheet (to help catch excess coconut). Fill hand with coconut and press gently into sides of cake. Repeat until desired amount of coconut applied. ENJOY!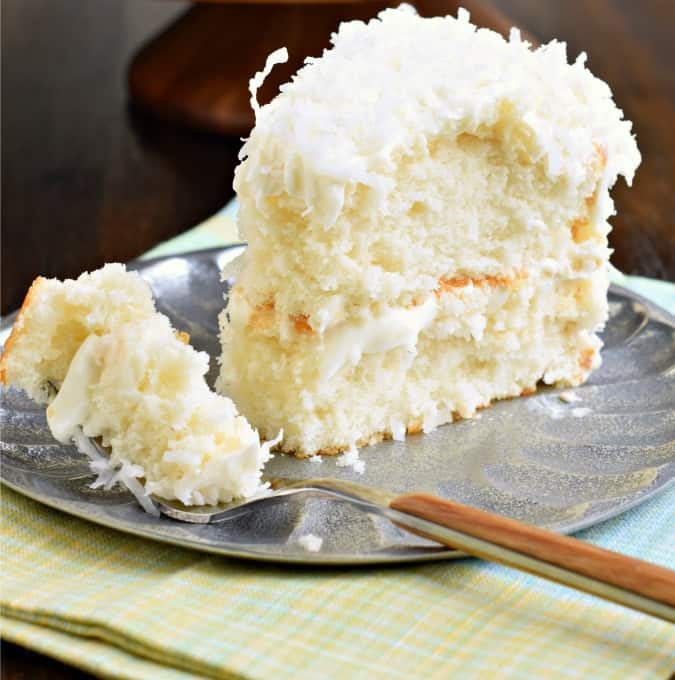 Tips and Tricks
Start with room temperature butter and egg whites. The eggs are easier to separate when they are cold, then let your egg whites come to room temperature with the butter.
Use sweetened shredded coconut for best results! Feel free to toast the coconut for the outside of the cake if you prefer. Sweetened coconut is more moist than unsweetened, which helps today's cake texture.
Cream Cheese– for the frosting make sure you choose block cream cheese, not cream cheese spread.
Coconut Sheet Cake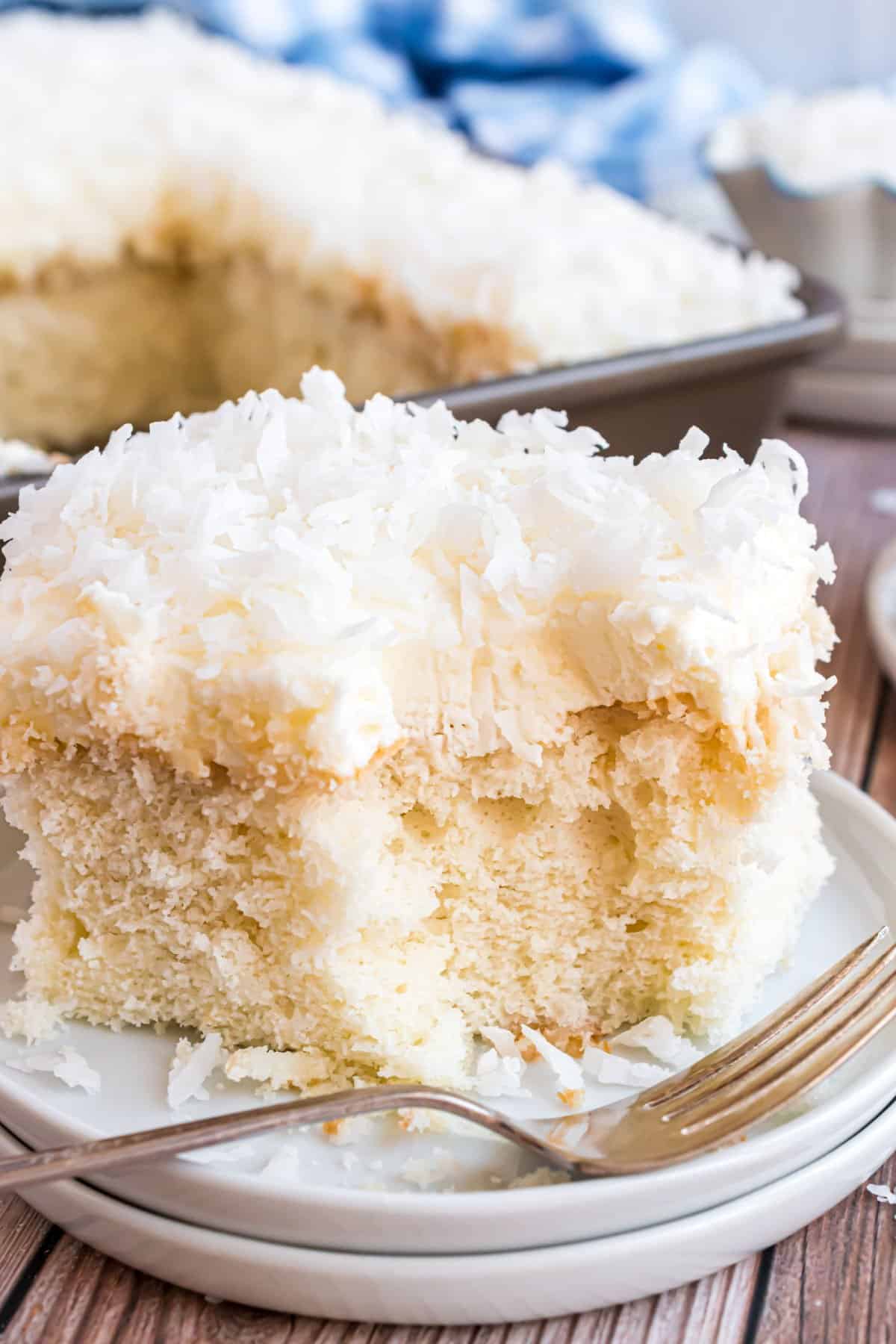 Sometimes you don't want to make a layer cake, but you also crave homemade coconut cake. In that case, make it in a 13×9. Same great recipe, just easier!
A few tips:
Be sure to grease and flour your 13×9 baking dish, or use our homemade cake release.
Bake for 35-38 minutes, until a toothpick in the center comes out clean. Do not overbake as it tends to dry the cake out.
Use cream of coconut (not cocout milk) for more coconut flavor, to replace the buttermilk.