Chocolate Chip Cookie Bars taste even better when they're swirled with creamy peanut butter! These Peanut Butter Chocolate Chip Bars are a must try for anyone who can't get enough chocolate and peanut butter treats.
Two things have never been more loved than chocolate and peanut butter. While we LOVE peanut butter cookies, the addition of chocolate is just perfect. For example, there is a reason readers are obsessed with Peanut Butter Blossoms!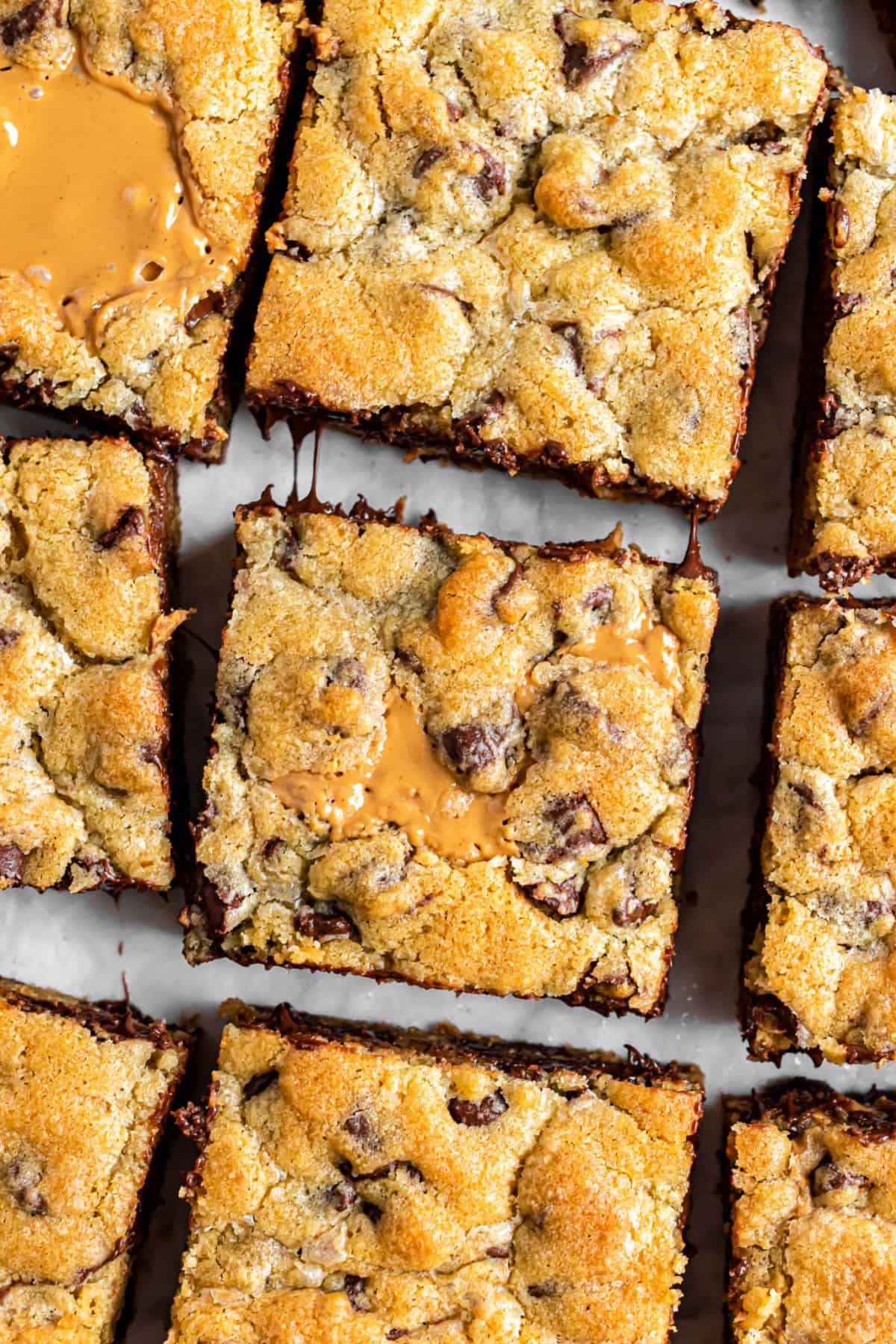 Chocolate Chip Bars Swirled with Peanut Butter
If there's one thing I've learned from years of making and writing about desserts it's this: people are nuts about chocolate and peanut butter together.
It shouldn't be any surprise that some of the most loved desserts I've shared over the years, like Chocolate Peanut Butter Cheesecake Cake and Peanut Butter Cookie Cups are based on this beloved combo of rich chocolate and creamy peanut butter.
Today's recipe features a classic Chocolate Chip Cookie Bar base with the simple addition of peanut butter swirled between the layers. That creamy peanut flavor couples with the chewy cookie bars makes these extra special!
If you're a true peanut butter lover, be sure to try this decadent Peanut Butter Sheet Cake. It's topped with a dreamy peanut butter frosting and will remind you of a classic texas sheet cake!
Ingredient Notes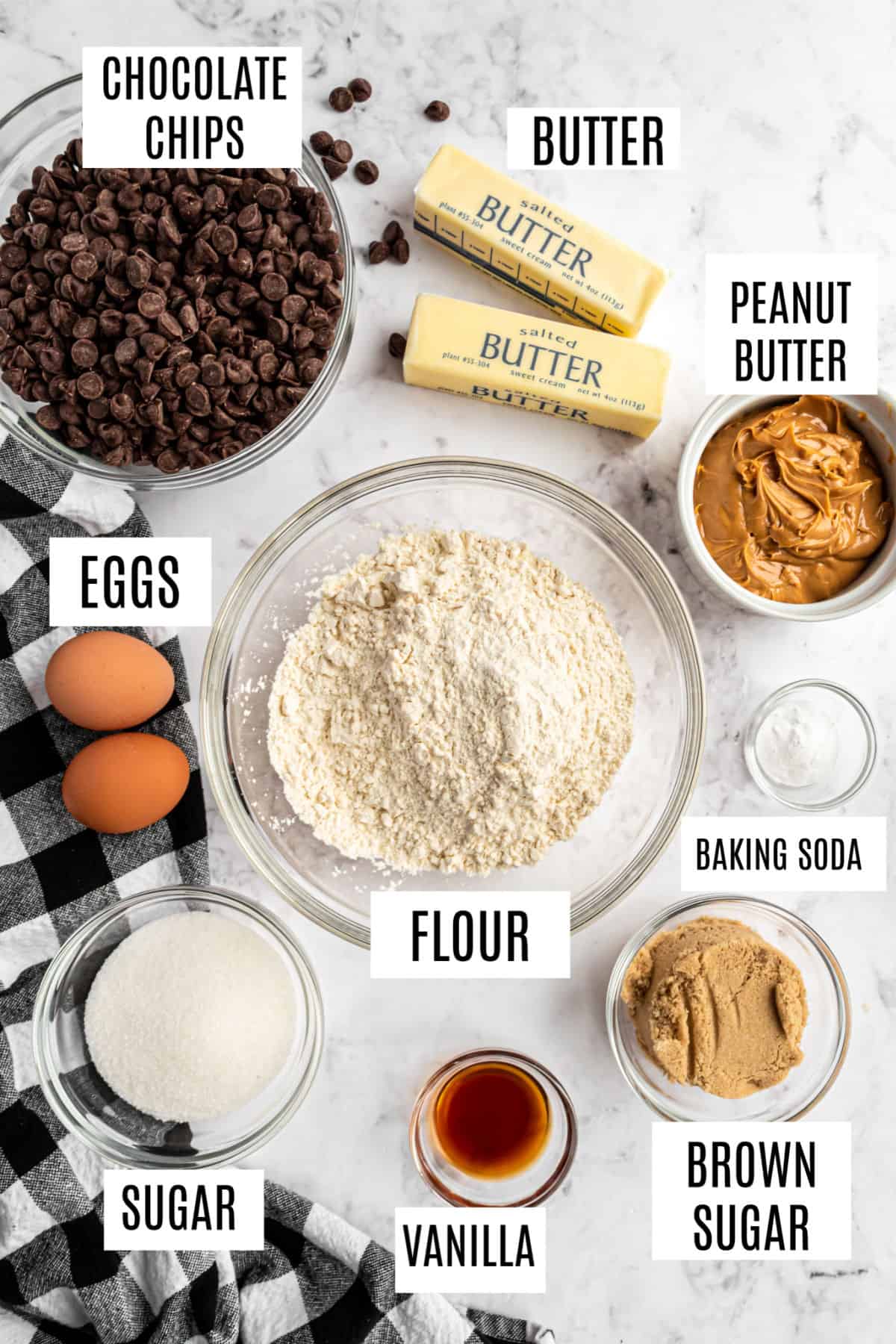 Salted Butter – Typically, I use unsalted butter when I bake to control the saltiness of the finished dessert. This is one instance where I find salted butter adds the ideal touch of saltiness to complement the peanut flavor and sweet chocolate. (I also use salted butter in my Chocolate Chunk Cookie recipe).
Peanut Butter – Make sure to use a traditional creamy peanut butter like Jif or Skippy for this recipe. Natural unsweetened peanut butters have a different consistency that won't work here.
Brown sugar – I prefer the flavor of light brown sugar in this chocolate chip dough compared to dark.
Chocolate Chips – Semi-sweet morsels are my favorite. Chocolate chunks would work too!
Vanilla Extract- pure vanilla is always better than imitation. You could even make my homemade vanilla extract!
Easy Instructions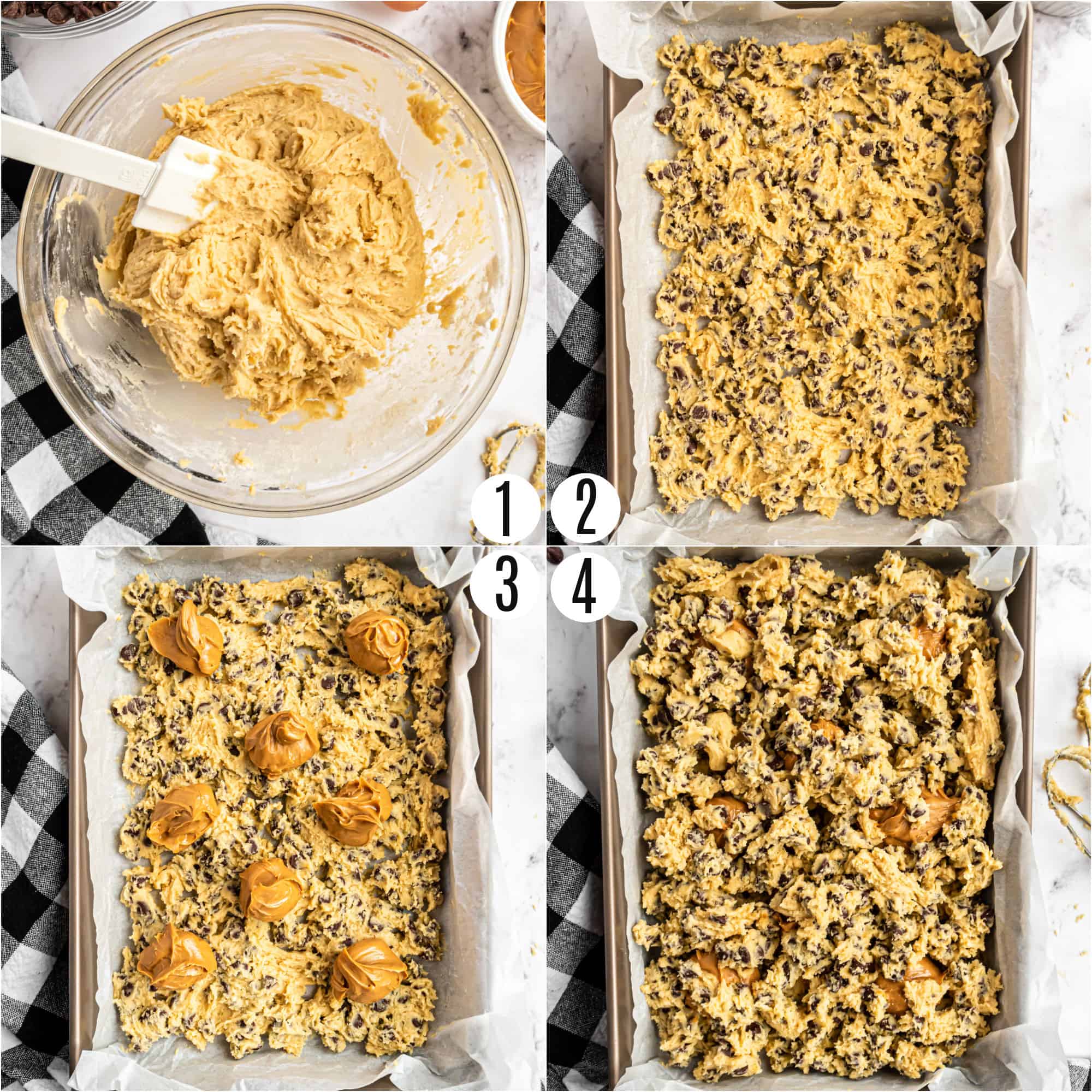 Make the Dough. To make the peanut butter chocolate cookie bars, you'll start by beating together the ingredients for the dough, then folding in chocolate chips.
Add the Peanut Butter. Press half the dough into a baking pan, then dollop the peanut butter over the layer of cookie dough. Do NOT spread with your fingers.
More Cookie Dough. Add the remaining dough over the peanut butter, using your fingers to slightly crumble the dough over the peanut butter.
Bake. Place pan in preheat oven and bake for 22 – 24 minutes. They will be slightly jiggly, but will firm up once cooled. Let the bars cool in the pan before slicing and serving.
Tips and Tricks
Use a tablespoon, teaspoon or cookie scoop to dollop the peanut butter. Do NOT spread it out after adding it to the dough. As the bars bake the peanut butter will natural melt and "swirl" into the chocolate chip dough.
Make sure to let these cool completely in the pan before you try to cut them, otherwise they will fall apart. Use patience– I promise it's worth it when you bite into one of these chewy bars and taste the swirl of peanut butter!
Love chocolate and peanut butter? Try these rich and fudgy Chocolate Peanut Butter Cookies for a tasty twist! Or give our chocolate peanut butter pie recipe a try next.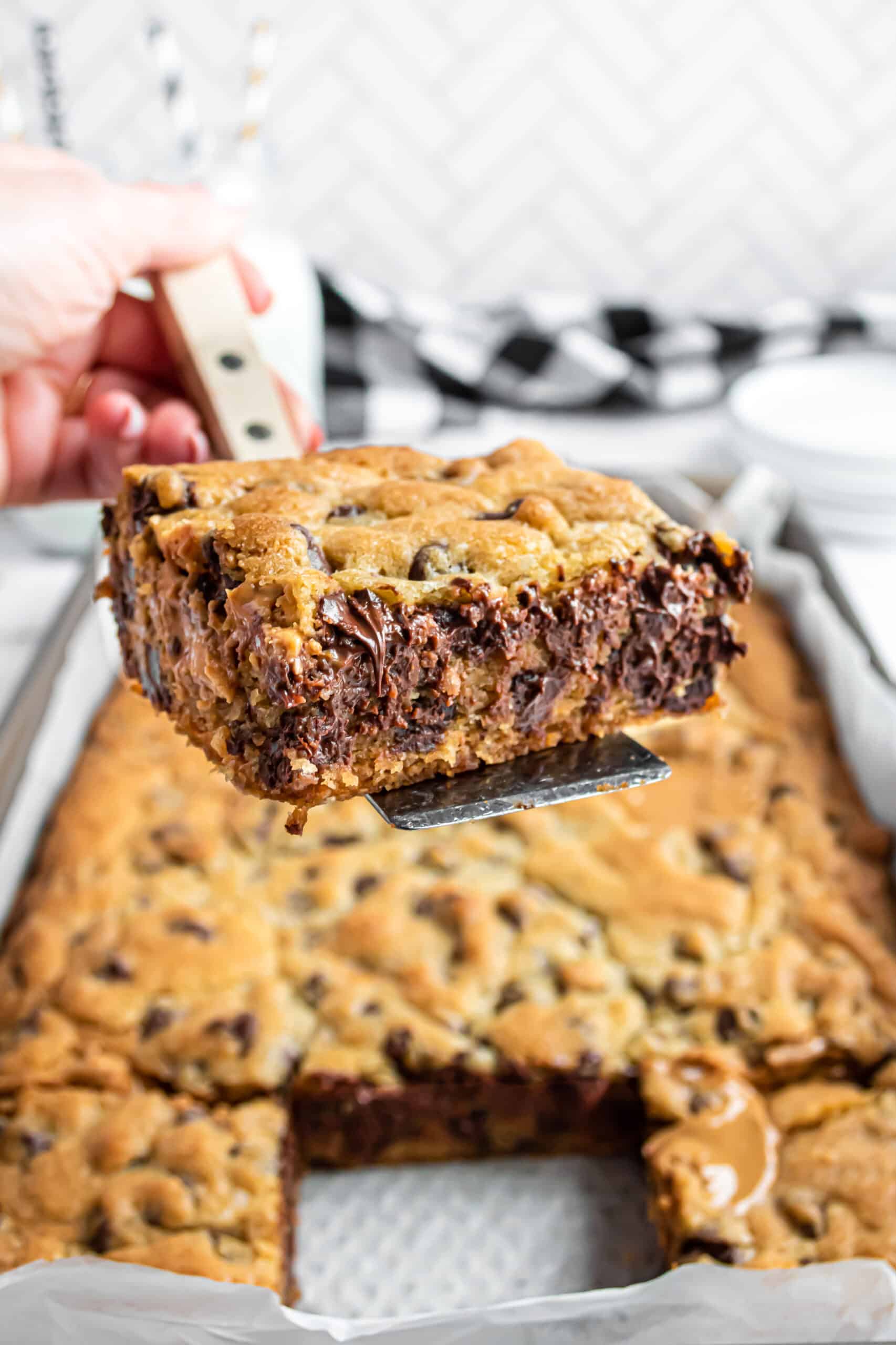 Recipe FAQs
Can you freeze Chocolate Chip Peanut Butter Bars?
Store chocolate chip peanut butter bars in an airtight container at room temperature for up to 5 days. Or freeze for up to 3 months.
What size baking pan should I use for cookie bars?
I tested the cookie bar recipe in a 9 x 13 baking dish lined with parchment paper. It would work in a square dish as well but the finished bars will be thicker and will need more baking time.
Can I substitute milk or dark chocolate chips in cookie bars?
Sure! I like the classic taste of semi sweet chocolate in cookie bars, but feel free to swap out for milk, white or dark chocolate chips if you prefer.
Why can't I use natural peanut butter in this recipe?
Natural style peanut butters are not shelf stable and have a different consistency than classic varieties, meaning it'll stay hard and clumped when the bars bake instead of swirling into the dough.
You also want that little bit of sugar that regular peanut butter has for best taste. This is dessert after all!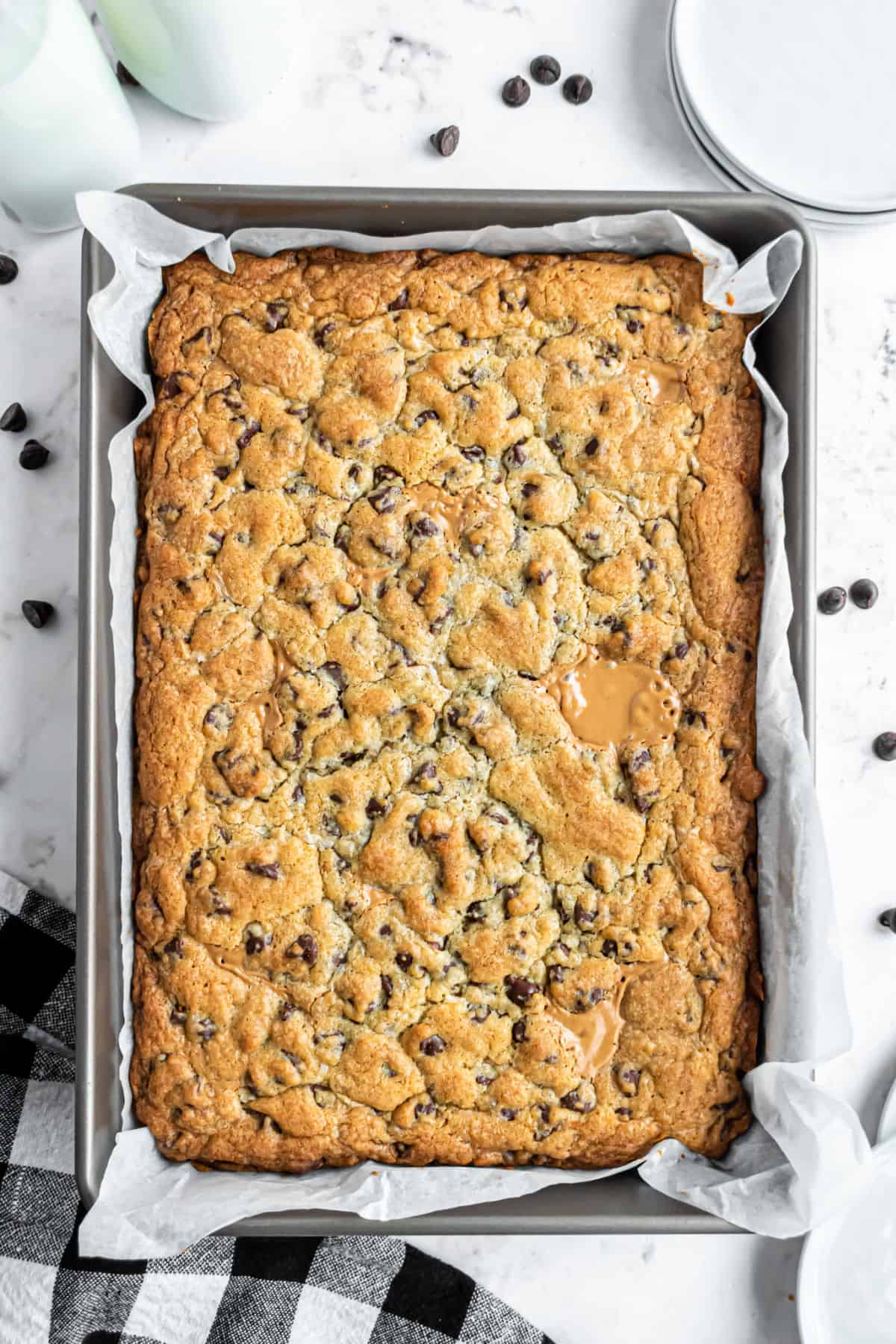 With the perfect balance of chocolate chips to cookie dough to nutty peanut taste, Peanut Butter Chocolate Chip Bars are hard to top.