Thick and chewy, these Chocolate Peanut Butter Cookies are packed with flavor. Freezer friendly and easy to make, these cookies are bursting with peanut butter chips!
Peanut Butter and Chocolate go hand in hand. If you love the combo of flavors, be sure to whip up one a Chocolate Peanut Butter Lasagna. Or give this delicious Chocolate Chip Peanut Butter Swirled Cookie Bar a try next time you bake!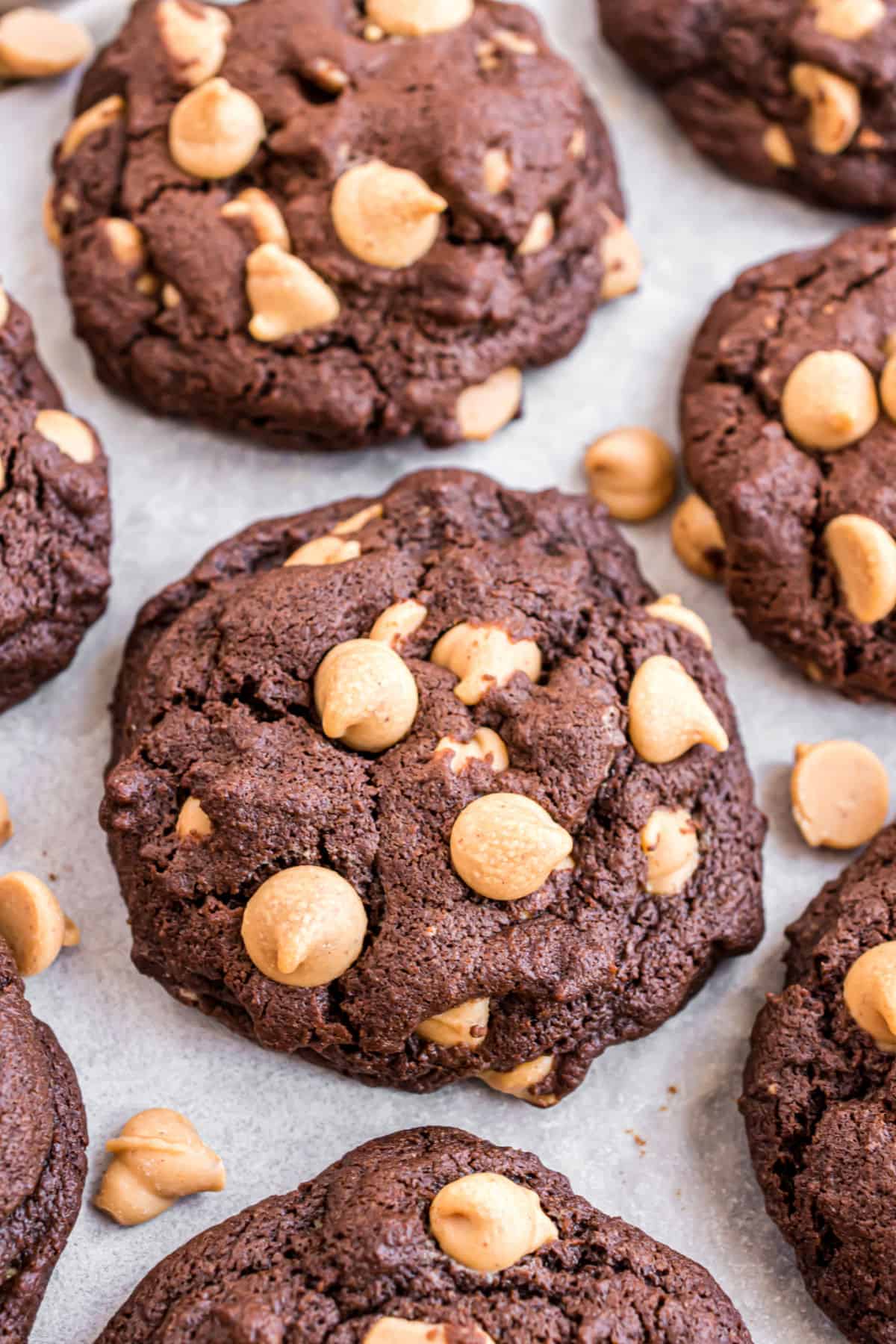 Why this Recipe Works
When you've created the perfect Chocolate Chocolate Chip Cookie, it's only necessary to give it a peanut butter twist.
Today's cookie recipe does not disappoint.
Chocolate Flavor. The cookie dough is rich and fudgy and bursting with flavor thanks to the high quality coco powder (and melted butter).
Peanut Butter Flavor. No skimping on the added peanut butter chips in today's cookie recipe.
Soft and chewy. Adding all brown sugar with the melted butter creates the perfect chewy cookie texture!
Freezer Friendly. Whether you freeze the cookie dough in scoops before baking, or freeze the cooled cookies, either way this recipe freezes well!
If you love thick and chewy chocolate cookies, our cookies and cream cookies are massive and delicious.
Ingredient Notes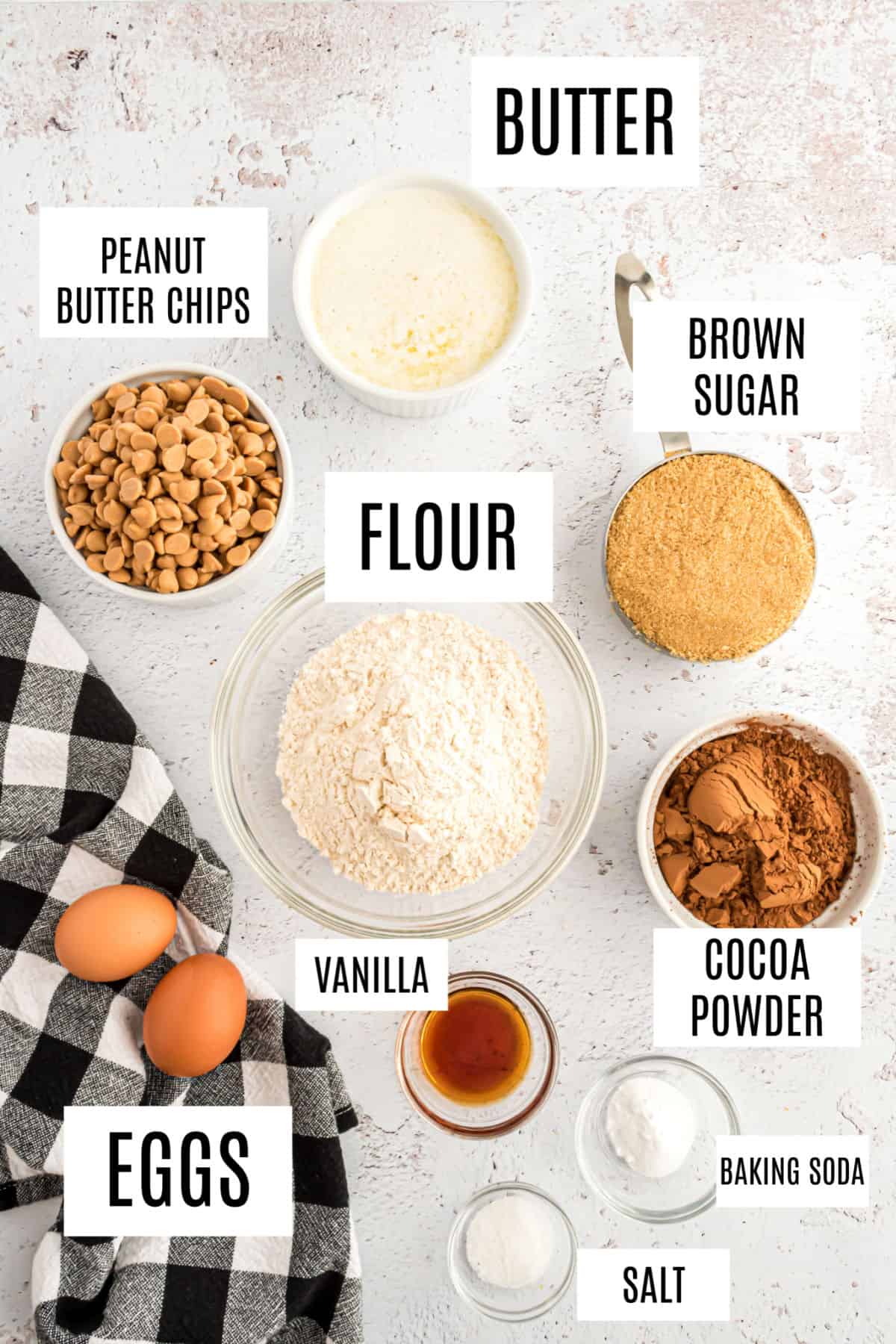 Just a quick overview of a few of the ingredients for these chocolate peanut butter chip cookies:
Cocoa Powder. My favorite brand is Ghirardelli unsweetened cocoa powder. It's rich and delicious, without leaving an unpleasant bitter flavor to chocolate desserts.
Vanilla Extract. Pure vanilla is key when baking. My homemade vanilla extract will give you great results!
Light Brown Sugar. You won't find any granulated sugar in today's chocolate cookie. The brown sugar adds moisture, which enhances the chewiness of today's cookie recipe!
Peanut Butter Chips. If you love peanut butter, use the full amount in the recipe. Or swap out some of the chips for chocolate chips if you'd like. Or, use Reese's Pieces for a little crunchy peanut butter treat.
Easy Instructions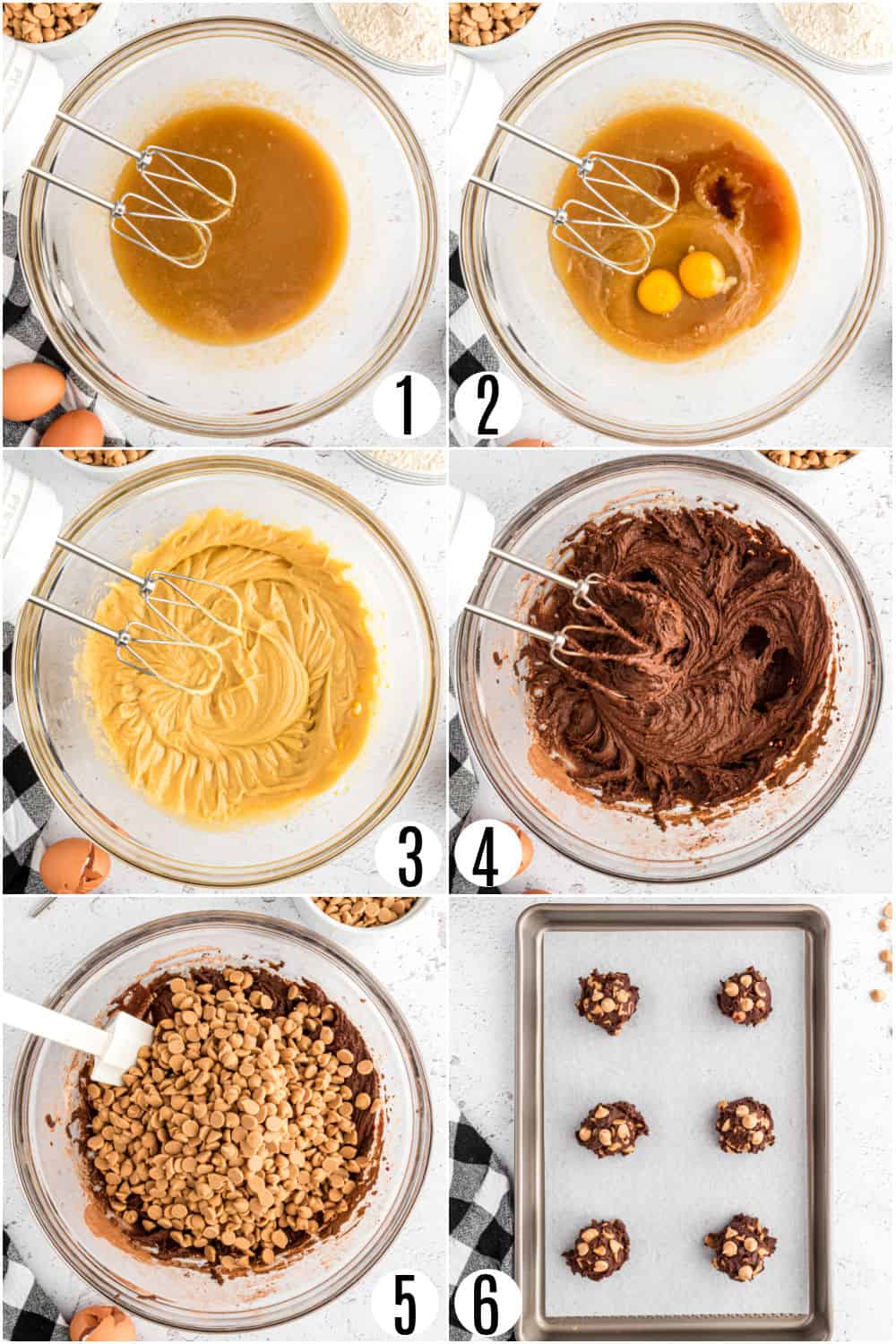 Make Cookie Dough. Beat melted butter with brown sugar. Add eggs and vanilla. Mix in dry ingredients and fold in peanut butter chips.
Chill. Refrigerate cookie dough for at least one hour. You can chill dough for up to 24 hours before baking.
Prep Oven & Pan. Preheat oven and place a piece of parchment paper on your cookie sheet.
Scoop Dough. Use a cookie scoop for more uniform cookies. I use a 2Tbsp scoop for these peanut butter chip cookies. Press extra peanut butter chips on top of each mound of cookie dough before baking.
Bake. Bake cookies for 10-12 minutes, being sure not to OVERBAKE. Cool and enjoy!
Tips and Tricks
Chill the Dough. Don't skip this step. Because of the melted butter and all the brown sugar, you don't want these chewy cookies to fall apart or spread too thin on your cookie sheet.
Cool on Cookie Sheet. Allow the cookies to cool on the cookie sheet for about 5 minutes. This allows them to continue baking while they cool, creating the perfect texture!
Storage. Store cooled cookies in an airtight container at room temperature for up to one week. Or freeze for up to 3 months.
Substitutions. Love chocolate cookies? So do we! Try our Salted Caramel Chocolate Cookie recipe. Or give this Chocolate Macadamia Cookie recipe a try for a nutty twist. Swap out the peanut butter morsels for M&M's and make these tasty Chocolate M&M's cookies instead!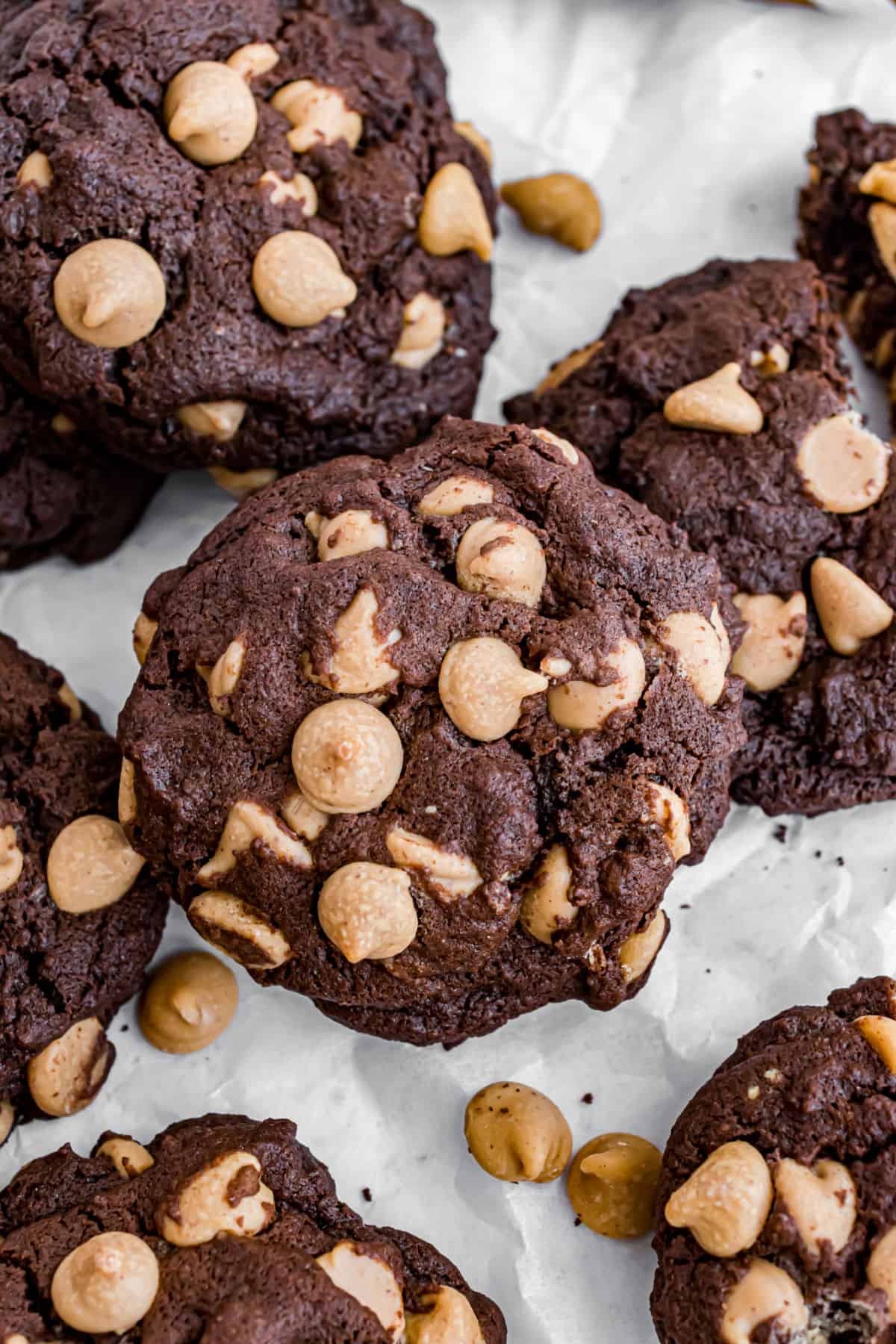 Recipe FAQs
Why do my cookies burn on the bottom?
Use a light-colored baking sheet with parchment paper to avoid burnt cookie bottoms. Light colored cookie sheets prevent overbrowning because they don't absorb heat like their darker counterparts. However, they are prone to sticking, so use parchment paper.
How can I tell when my cookies are done?
Chocolate cookies are hard to tell when they are done baking. The edges should look firm and if you press your finger into the center, it should only make a SLIGHT indentation. Cookies will continue to cook and set up on the cookie sheet once removed from the oven.
Why aren't my cookies chewy?
To achieve the perfect chewy cookie, I always lean towards underbaking my cookies.
More Cookie Recipes