Bake a batch of Chocolate Macadamia Cookies for everyone to enjoy! These chewy chocolate cookies are packed with crunchy macadamia nuts in every bite.
Love macadamia nuts? Try our rich and decadent Macadamia Nut Fudge recipe! Or give this easy Banana Nut Cake a try. Packed with macadamia nuts and topped with frosting, it's a delicious treat.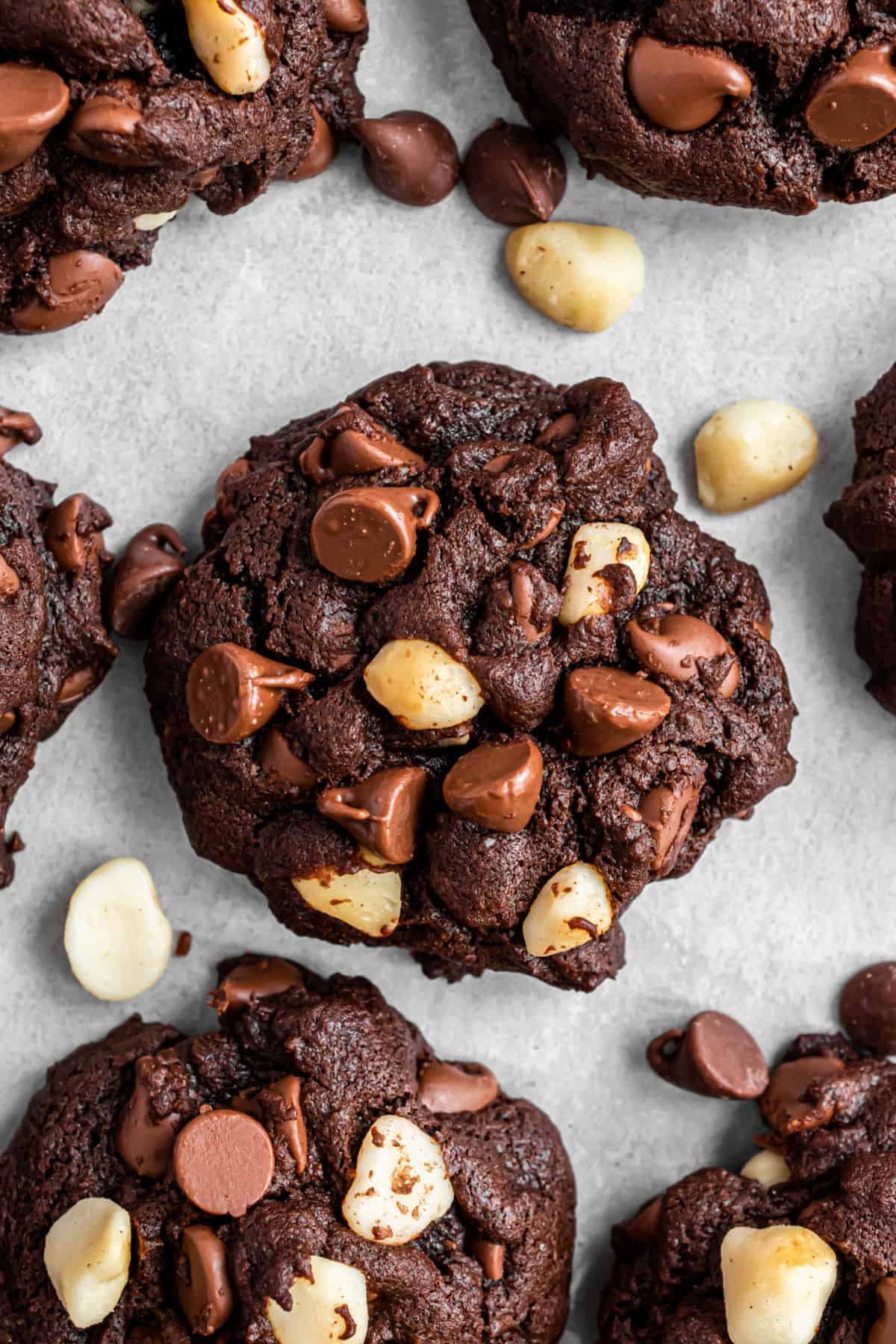 Why this Recipe Works
Let me tell you–these cookies are awesome.
They're perfectly chewy, extra chocolate-y and made even better by the chunky pieces of Macadamia folded into the dough.
I use my chocolate chocolate chip cookie recipe as a starting point for these cookies. With rich cocoa flavor in the dough, you get a second hit of chocolate from the chocolate morsels.
The texture of these macadamia cookies is absolutely perfect. I love a chewy cookie with a slightly softer center.
Using melted butter in the dough results in cookies that are extra chewy with the slightest softness in the center.
Chocolate and macadamia nuts were made for each other and I especially love their partnership when they're baked into a chewy chocolate cookie!
These are without a doubt my favorite Macadamia Nut Cookies!
Ingredient Notes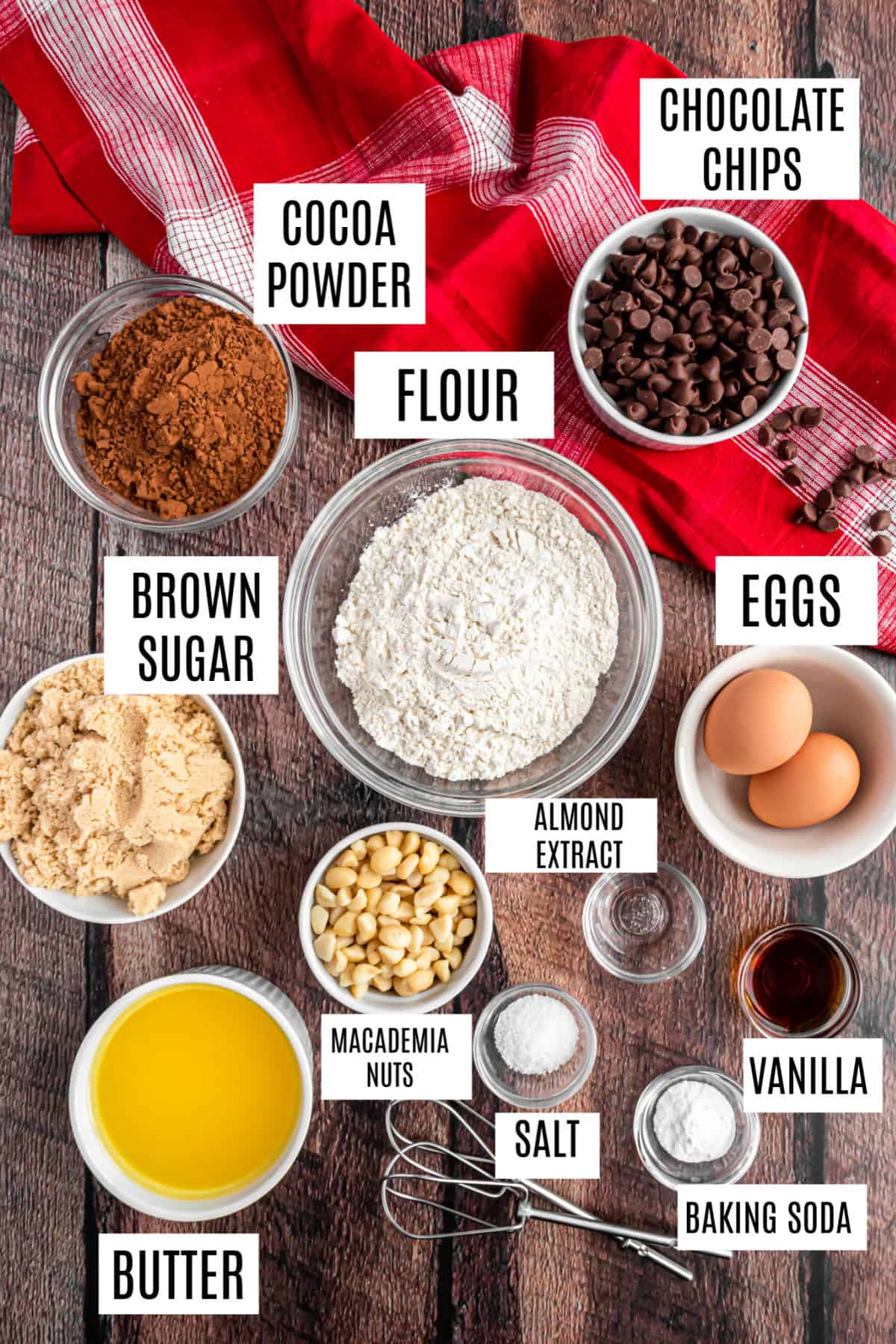 Chocolate– these cookies get their rich and fudgy flavor from unsweetened cocoa powder and chcolate chips!
Melted Butter- for the ultimate chewy cookie, use melted, unsalted butter!
Brown Sugar- no white sugar in this recipe, which results in chewy cookie with almost a "BROWNIE" texture.
Macadamia Nuts- whether you keep them whole or chop them up is completely up to you. Some brands are larger in size, so you may want to give them a little chop.
Easy Instructions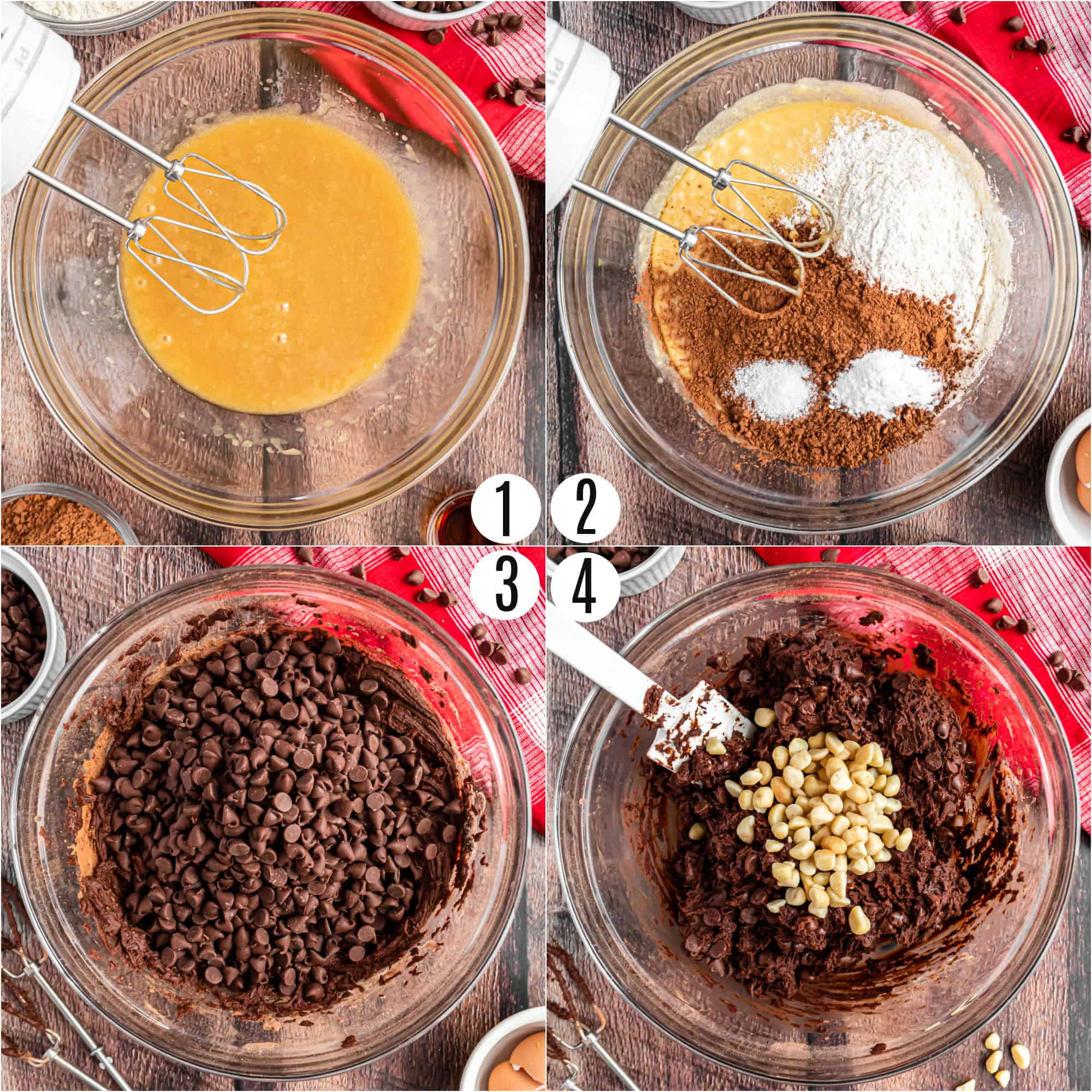 STEP 1. Heat oven to 350 degrees. In mixer, beat butter with brown sugar. Add in eggs and extracts.
STEP 2. Stir in flour, cocoa, kosher salt and baking soda. Add chocolate chips and macadamia nuts.
STEP 3. Drop onto cookie sheet and bake 10-12 minutes. Let cool for 1 – 2 minutes on the cookie sheet then transfer the cookies to a wire rack to finish cooling.
Pair your Chocolate Macadamia Cookies with a tall glass of ice cold milk for a real treat!
I may have also had one of these tasty cookies with my morning coffee the next day. (Don't tell the kids that that's why these cookies disappeared so fast. . . .)
PRO TIP: Swap out the chocolate chips for white chocolate chips or chunks!
What kind of chocolate chips to use
You're not limited to chocolate chips in this cookie recipe! Feel free to experiment with different kinds of morsels. White chocolate and semi-sweet chocolate chips would be delicious here.
There's 2 full bag of chips in this recipe so whatever you use will play a major role in the final flavor of the cookie.
Peanut butter morsels would be a delish alternative, too. I, however, enjoy the chocolate chips with the macadamia nuts. Yum!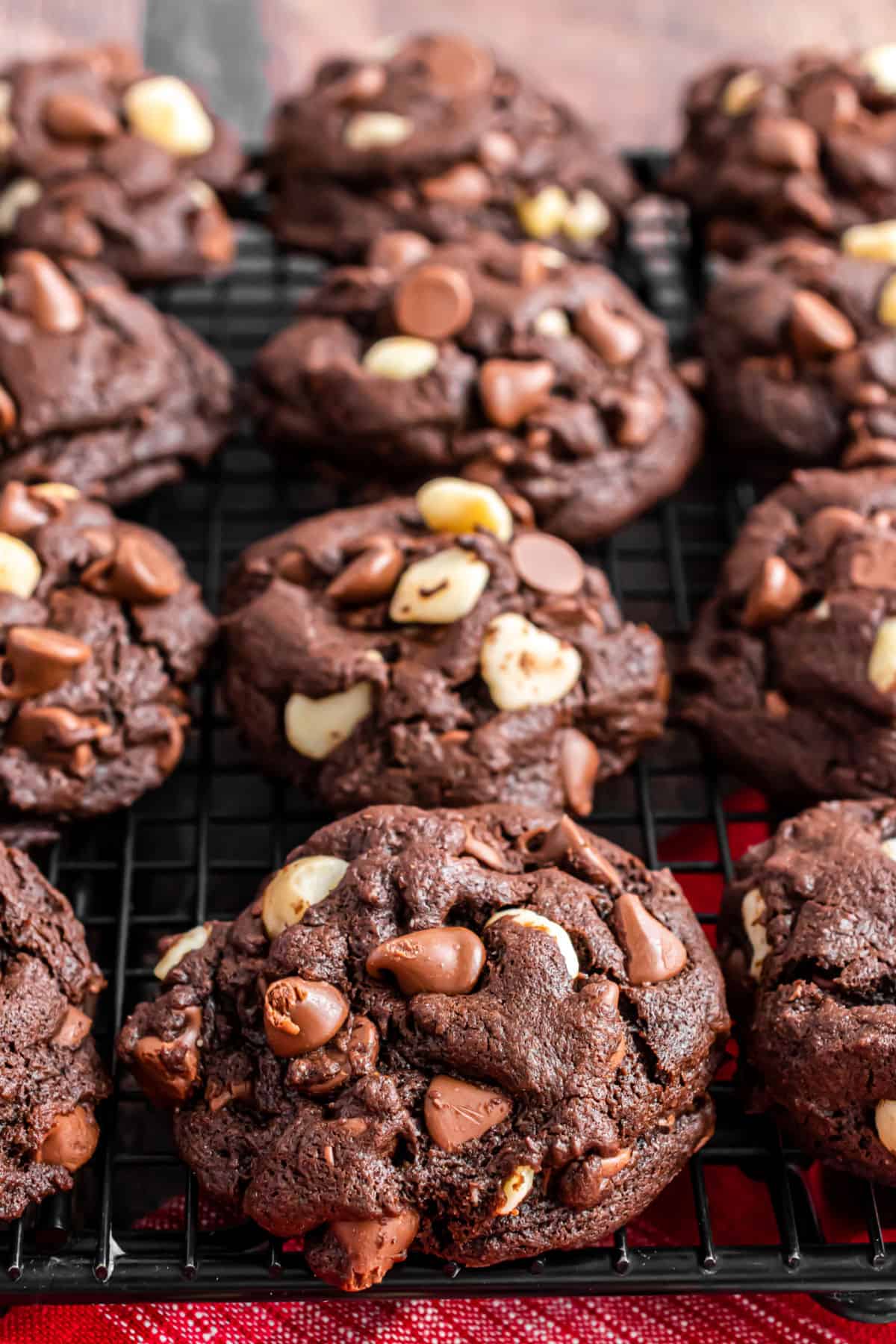 How to Chop Macadamia Nuts for Cookies
Your grocery store likely sells nuts that are already chopped and ready to bake with. If you can't find any or prefer to do it yourself, the quickest way is to use your food processor. Pulse the nuts in the processor a couple of times until they're chopped into coarse pieces.
Use caution here and don't pulse for too long. You don't want your nuts to turn to dust!
You can also gather the nuts on a cutting board and chop them into the desired size using a sharp knife.
If your macadamia nuts are small enough, you can just fold them into cookie dough as is.
Tips and Tricks
Make sure to use unsweetened cocoa powder in this recipe (as opposed to sweetened cocoa mix).
Be careful not to over bake the cookies. They will still look soft and slightly underdone when you take them out of the oven. As they cool on the baking sheet, they'll continue to bake and solidify into fudgy chewy chookies.
This dough freezes beautifully! Roll into balls and store in a freezer safe container. You can bake the dough right from frozen when you're ready to eat the cookies! Just add another minute on to the baking time. No thawing required!
Peanut Butter. Swap out the macadamia nuts and chocolate chips and make a batch of Chocolate Peanut Butter Cookies instead!
Swap out the nuts and make a batch of these Chocolate M&M's Cookies instead!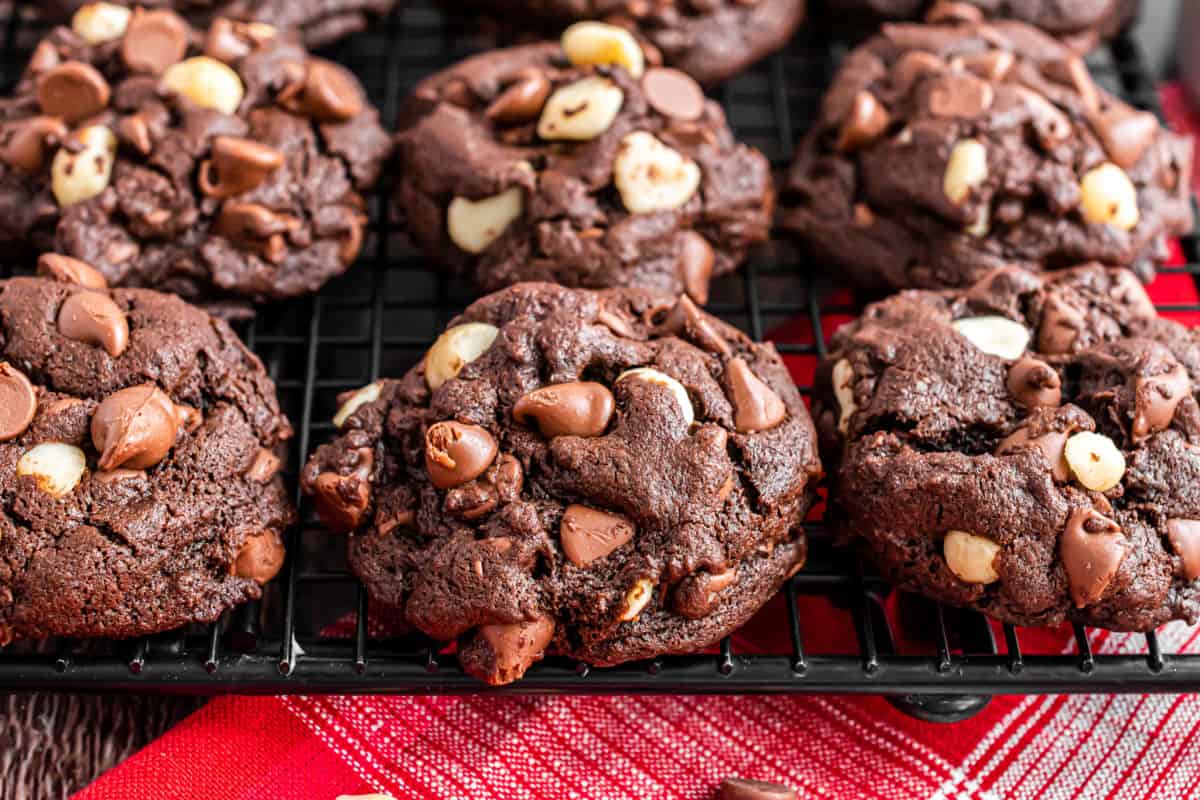 More Cookie Recipes
If you're looking for a chocolate cookie with a little something special, give these Chocolate Macadamia Nut Cookies a try!