Macadamia Nut Blondies have buttery sweetness and a nutty crunch! The rich vanilla flavor and a perfect fudgy consistency makes these blondies completely irresistible.
Move over, brownies. There's another dessert bar ready to step into the limelight! Try our butterscotch blondies next!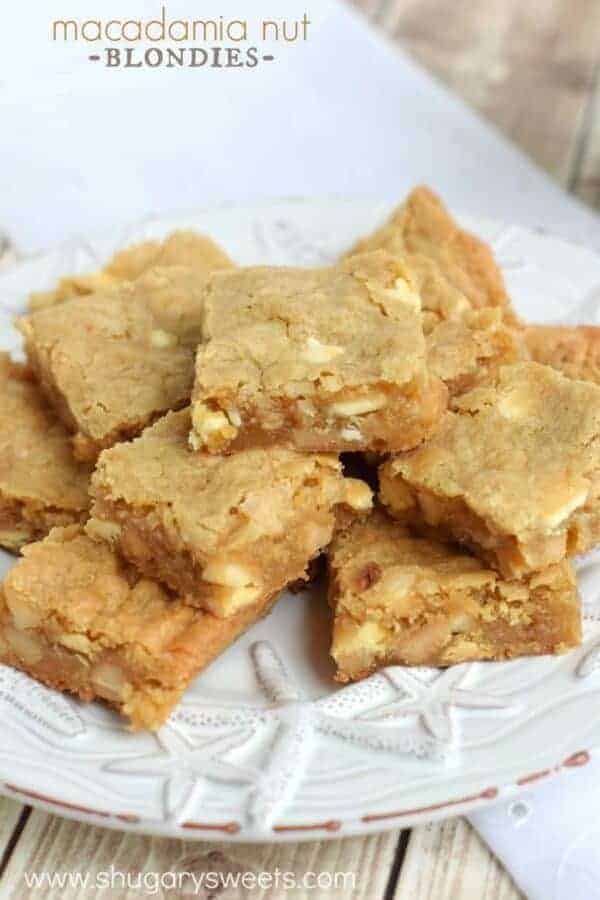 What are Blondies
Blondies are thick sweet dessert bars with a vanilla flavor. Some people call them "blonde brownies" because the shape and texture resembles its fudgy chocolate sibling.
But blondies are so much more than just brownies without cocoa powder! They have a rich flavor all on their own with lots of vanilla and brown sugar.
Macadamia nuts and white chocolate make the perfect additions to these beautifully simple blondies. The nuts add a satisfying crunch to the chewy bars and the white chocolate chips deliver melt-in-your-mouth sweetness.
You have to give these Macadamia Nut Blondies a taste and find out for yourself how delicious a blondie can be.
Ingredient Notes
Vanilla extract. Use my homemade vanilla extract for best flavor. A good quality vanilla can take an "okay" blondie and make it amazing!
White chocolate morsels. Or substitute white chocolate chunks.
Macadamia nuts. Chopped into bite size pieces.
Easy Instructions
Blondies start by beating brown sugar with butter. Add an egg, the vanilla, then salt and flour.
Fold in the white chocolate chips along with the nuts. Spread the batter into a parchment lined square baking pan and bake for 20-25 minutes.
The center of the blondies may look a bit soft. That's okay! They'll continue solidifying as they cool.
Let the blondies cool completely before slicing into bars.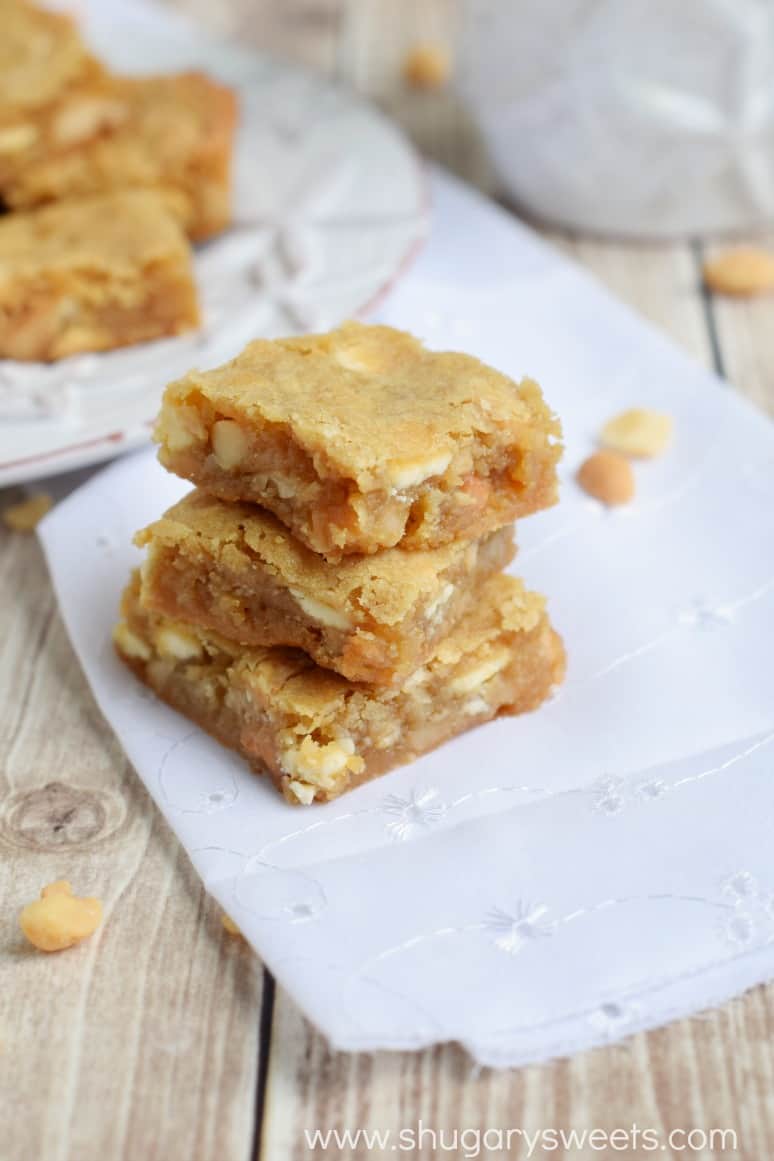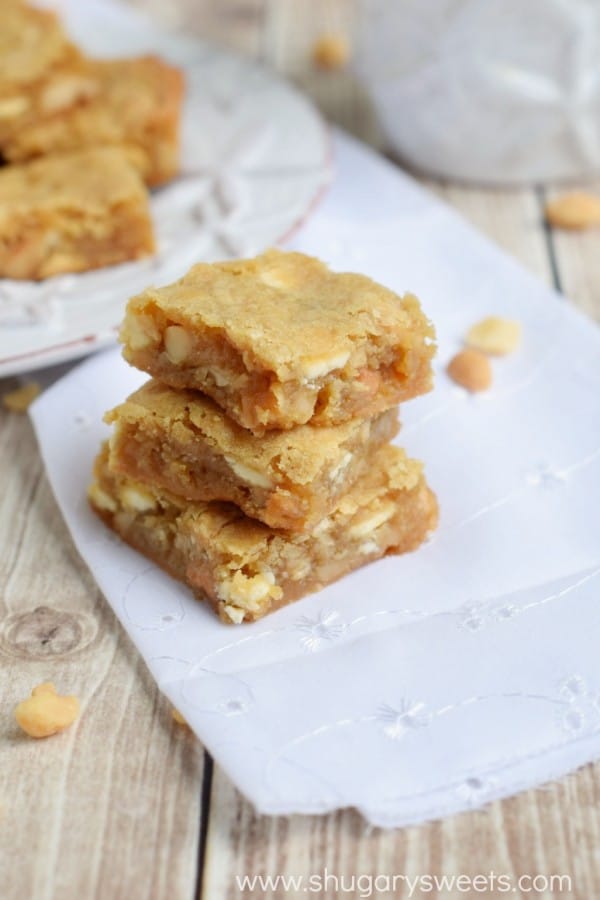 Tips and Tricks
Variations: Swap out the macadamia nuts for walnuts and use semi-sweet chocolate chips for a delicious walnut blondie. Or add toffee bits for another tasty flavor twist.
Storing: Transfer cooled blondies to an airtight container. Enjoy within 5 days for best flavor.
Do not overbake. The center should be soft but not runny when the blondies are done baking. Overbaked blondies will be more crumbly and cookie-like, instead of chewy.
Recipe FAQs
What's the difference between a blondie and a cookie?
Blondies are a type of cookie bar that's softer and denser than regular cookies. Macadamia Nut Blondies have less flour and a chewiness that I find is more similar to a brownie in consistency than my chocolate macadamia cookies.
What pan do I need to make blondies?
I use an 8-inch (or 9-inch) square baking dish to make homemade blondies.
Can you freeze blondies?
Yes, blondies hold up well to freezing! Place cooled and sliced blondie bars in freezer bags with a layer of wax paper between them. Store in the freezer and enjoy within 3 months.
Can I make blondies with dark brown sugar?
You could substitute dark brown sugar, but it will give the blondies a more molasses flavor and darker color. The light brown sugar is the perfect complement to the vanilla and butter flavors.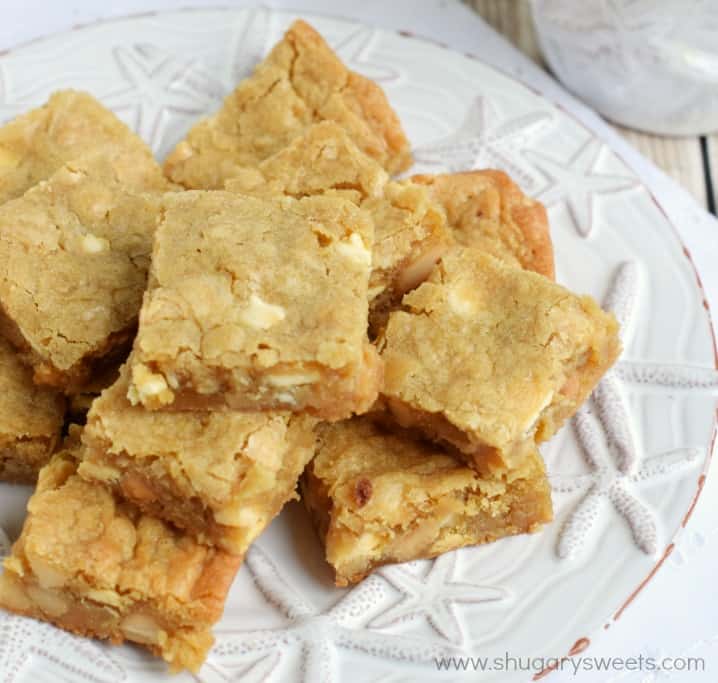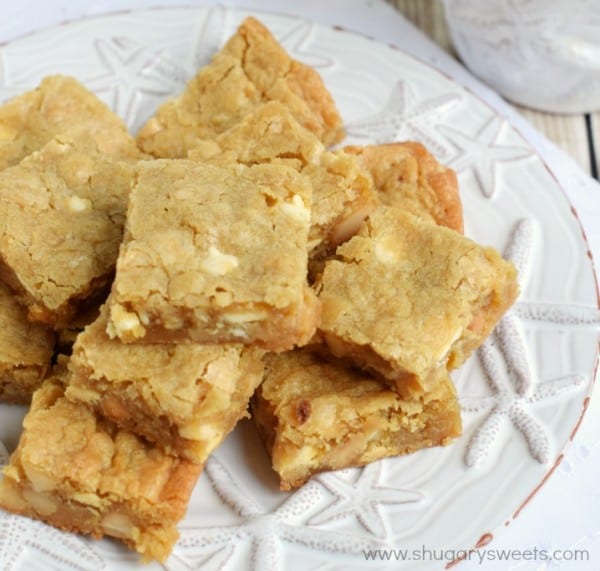 More Easy Dessert Recipes
Whether you're a long time blondie aficionado or new to these delicious bars, you'll love this easy recipe for the BEST White Chocolate Macadamia Nut Blondies!