Sweet and crunchy, this Homemade Caramel Corn is the best ever, melt in your mouth treat! Perfect for your next movie night.
Love homemade popcorn treats? Be sure to use our microwave popcorn recipe to make these soft and chewy popcorn balls!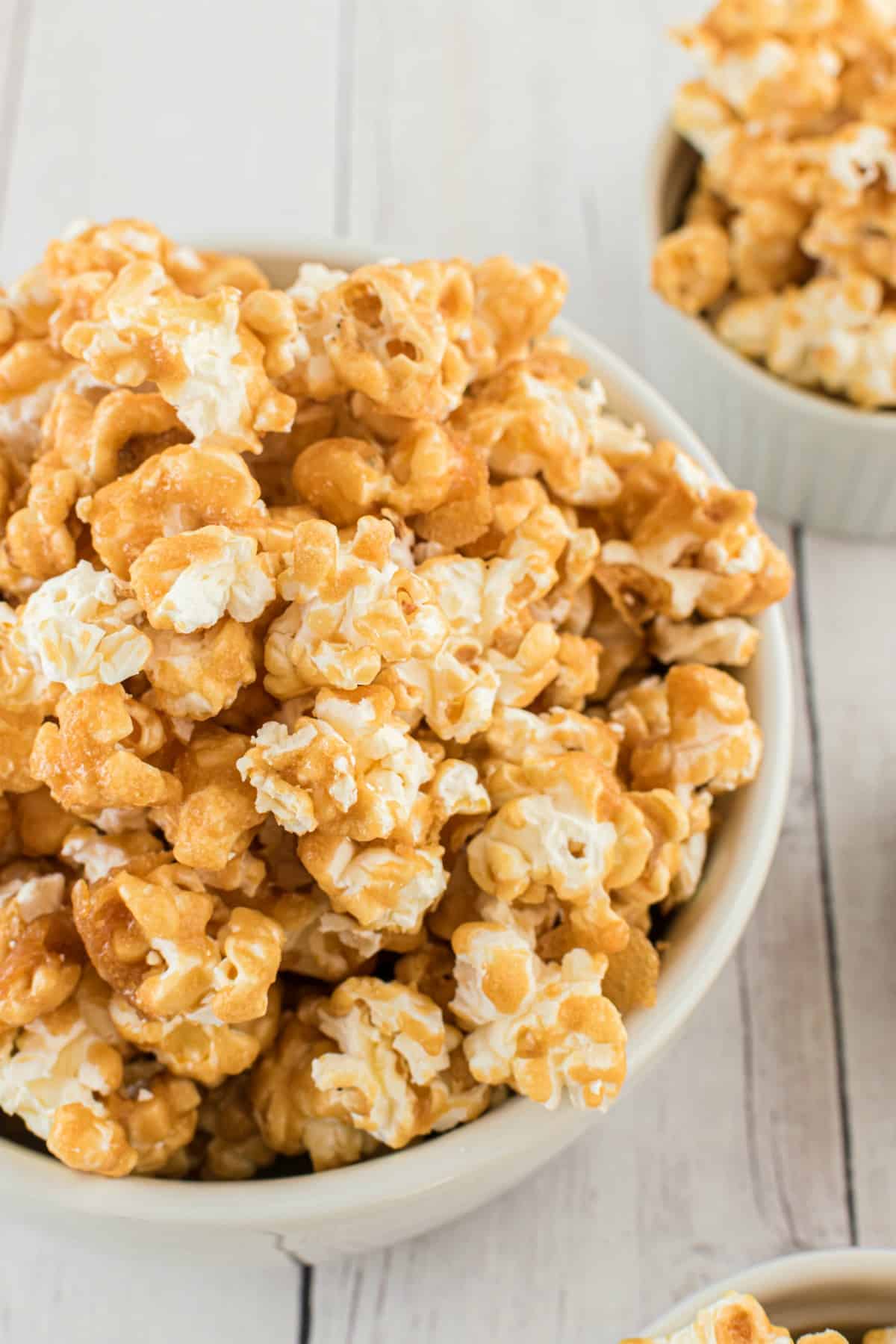 Traditional Caramel Corn Recipe
Being from Chicago, I'm quite particular about my pizza, Italian Beef, and my popcorn.
Through over 9 years of blogging, I've tried to perfect these Chicago favorites. You can get my recipes for Chicago Deep Dish Pizza and Italian Beef.
And now, you can make my recipe for Homemade Caramel Corn.
If you've ever bought the grocery store caramel corn, you won't make that mistake ever again. Once you've made this melt in your mouth Caramel Corn recipe for yourself, you'll understand.
Step by Step Instructions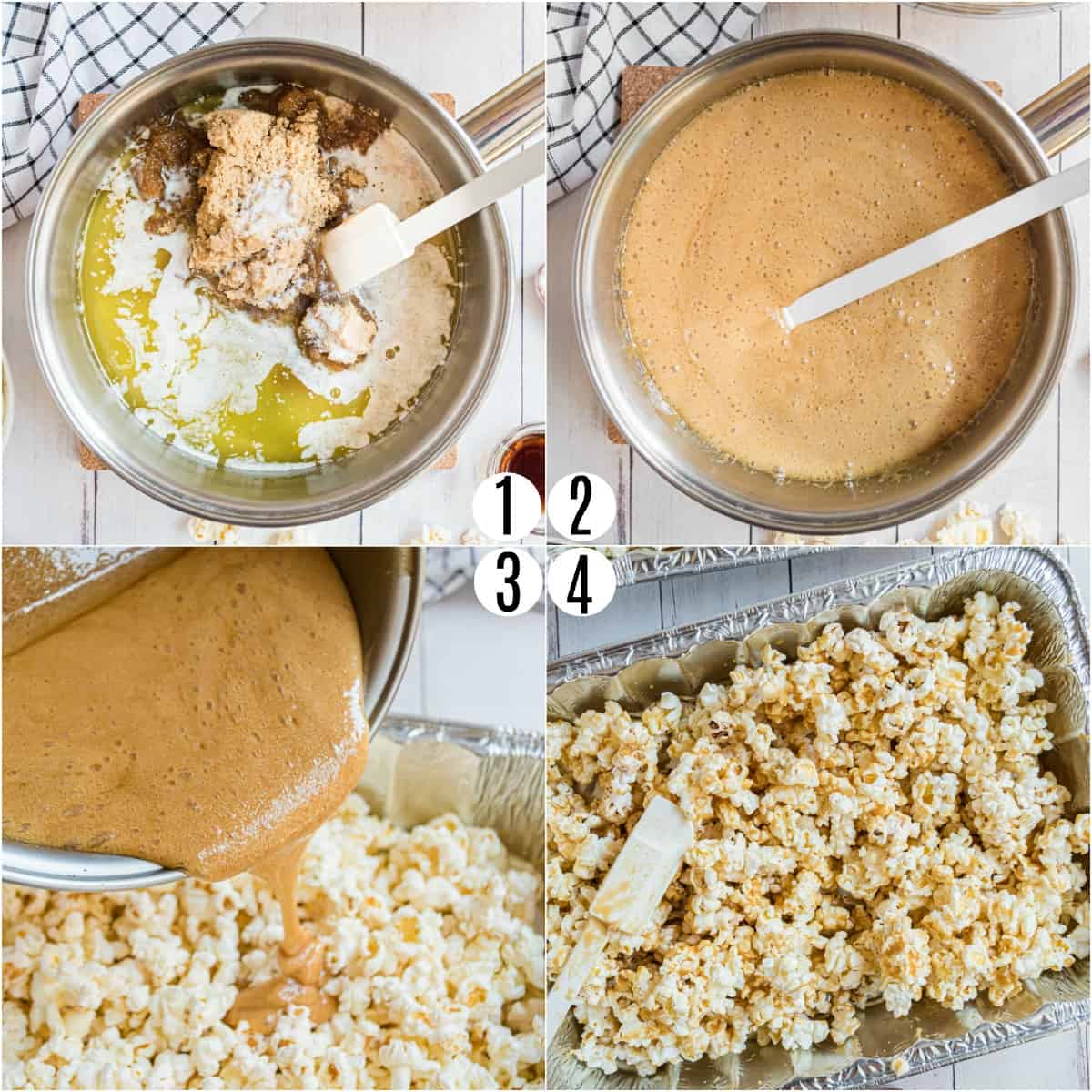 Popcorn. First you'll need to start with about 16 cups of popped corn. You can pop it yourself on the stove top, air popper, or you can use microwave popcorn. You'll need 3 regular sized bags of microwave popcorn for this recipe.
For the popcorn, you can use any style you prefer. Whether it's a light or a butter, you decide. I usually go for the light because this melt in your mouth caramel corn doesn't need anything extra!
Be sure to remove ALL SEEDS (popcorn kernels) after popping your popcorn. Place your popcorn in a large bowl. Set aside.
Preheat oven to 250 degrees F. Line two roasting pans with parchment paper. Set aside.
Make the caramel. In a small saucepan, melt butter with brown sugar, light corn syrup, and kosher salt. Bring it to boil over medium high heat, and boil for one full minute, stirring constantly.
Remove from heat and stir in baking soda and vanilla extract. The mixture will lighten in color upon mixing. Pour over popped corn and stir gently with a wooden spoon until all the popcorn is completely covered in caramel mixture.
Bake. Pour popcorn mixture into two prepared baking sheets. Bake for one hour, stirring every 15 minutes.
Remove from oven and cool completely. Once cooled, break apart and store in airtight container or large ziploc bag.
Enjoy for up to two weeks.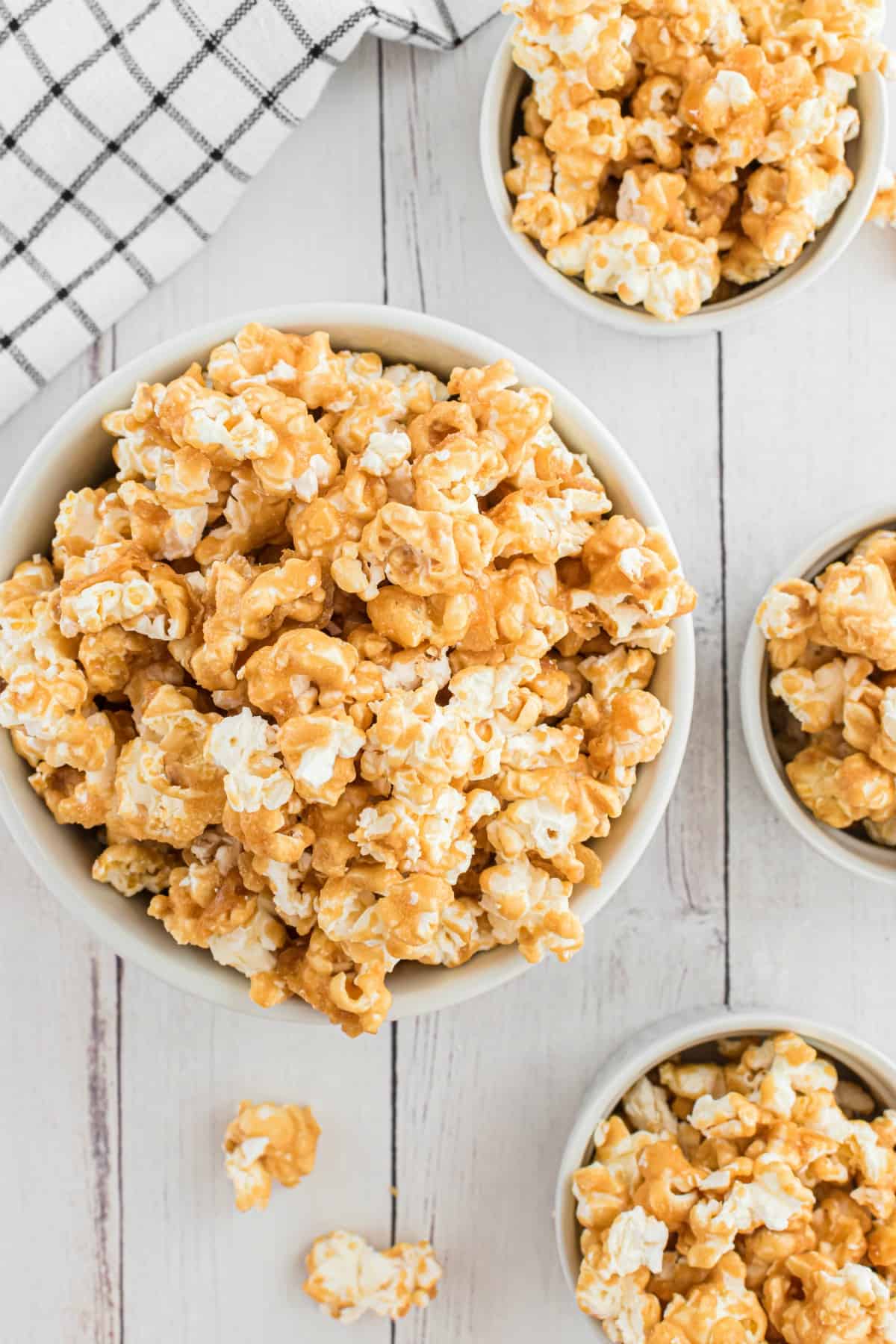 Recipe FAQs
Why use baking soda in caramel corn?
I add baking soda to the caramel corn so that it will react with the brown sugar and corn syrup. It creates carbon dioxide air bubbles, making the caramel foamy. Why is this important? The purpose of the air bubbles is to create a softer caramel. You don't want to bite into a hard caramel. Instead, this results in a chewy, soft, melt in your mouth piece of caramel corn.
How do you store caramel corn?
Store cooled caramel corn in air tight container or ziploc bag at room temperature for up to one week.
Why is my caramel corn sticky?
If your caramel corn turned out sticky, it most likely hasn't been cooked to the proper temperature.
More Caramel Corn Recipes
Add a delicious peanut butter twist! Whip up a batch of this Peanut Butter Caramel Corn with Butterfingers.
Imagine all the possibilities when you coat your popcorn in chocolate? This easy Chocolate Covered Caramel Corn is just the beginning!
Making Homemade Cracker Jack popcorn is super easy and delicious! Sweet and crunchy, this addictive snack is better than the original!