Looking for a snack that makes the whole family smile? This Snickerdoodle Muddy Buddies recipe is just what you need. Sweet cinnamon muddy buddies with a little extra help from Cinnamon Toast Crunch cereal!
So many muddy buddy flavors, so little time. Have you tried this Thin Mint inspired version? These Hot Cocoa Muddy Buddies are amazing too.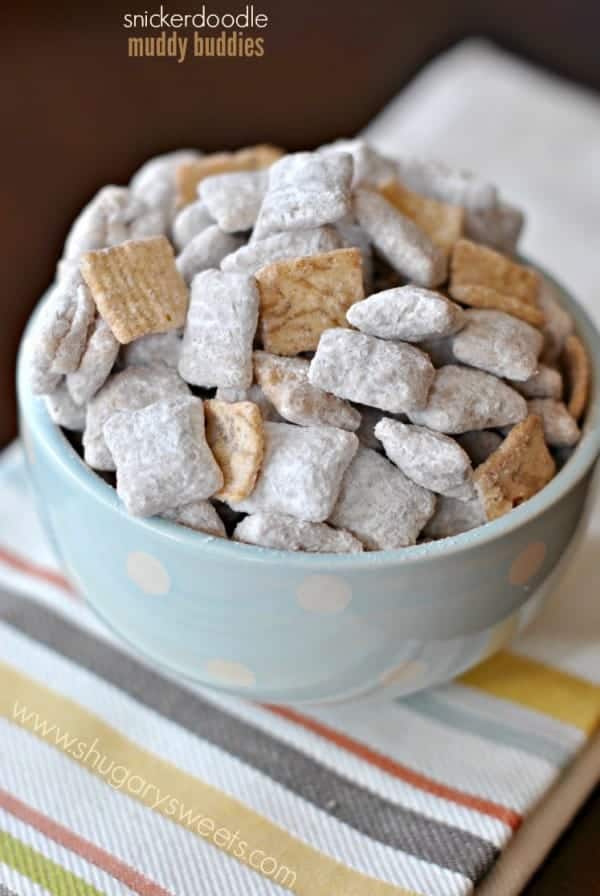 This variation on classic Muddy Buddies (aka Puppy Chow) is for all of you cinnamon fans out there.
Why These Muddy Buddies are Best
These muddy buddies taste like handfuls of mini snickerdoodle cookies!
Adding cinnamon toast crunch to the cereal base is a brilliant twist!
Powdered cinnamon sugar coating gives the muddy buddies the perfect flavor and sweetness.
A 5 minute recipe made with just 5 ingredients.
It doesn't get any easier, or tastier, than today's recipe. If you love Snickerdoodles, you're going to gobble up this snack mix faster than you can say "muddy buddies!"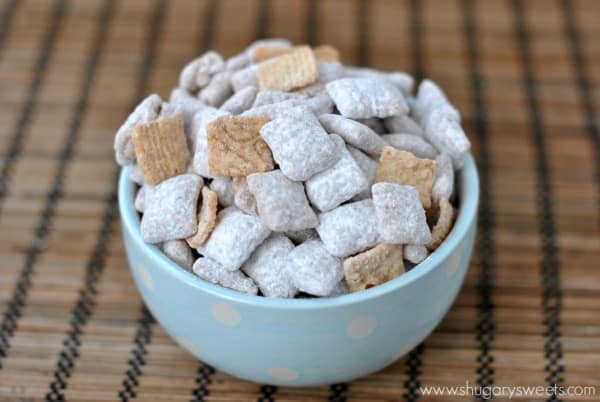 Ingredient Notes
Here's everything you need to make Snickerdoodle Muddy Buddies.
Rice Chex cereal – This is the base for all of our puppy chow and muddy buddies recipe.
Cinnamon Toast Crunch – Adding a cup of these cinnamon-infused squares adds delicious variety of taste and texture to the mix.
White chocolate melting wafers – I used Ghirardelli. Vanilla candiquik or almond bark would work too.
Powdered sugar – For coating the muddy buddies.
Cinnamon – It' added to both the powdered sugar and melted white chocolate for extra cinnamon flavor in every bite.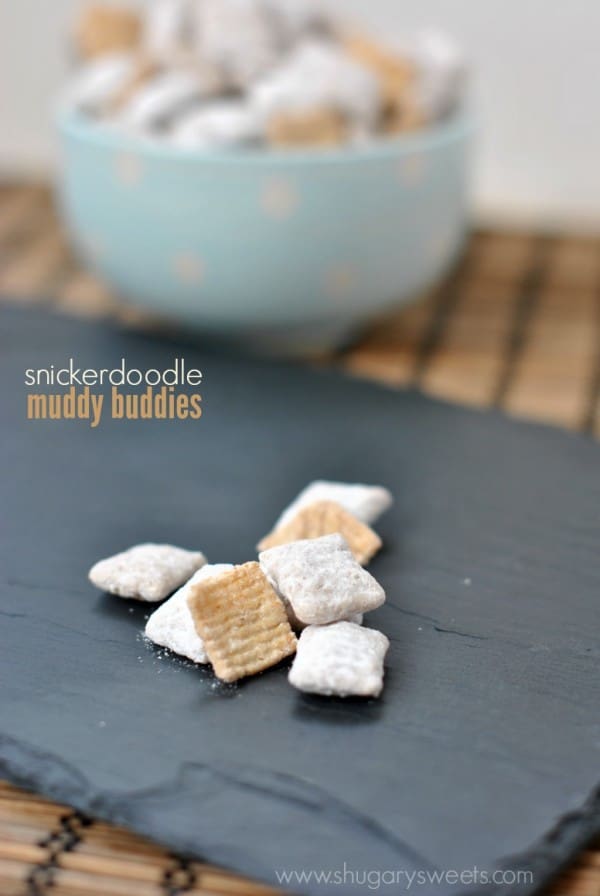 Tips and Tricks
Add the cinnamon toast crunch LAST. I like these muddy buddies best when the cinnamon cereal is left uncoated. It breaks up the sweetness a little bit and lets the cinnamon flavor shine.
Mix gently when coating the chex in melted white chocolate. Try to avoid breaking or crushing the cereal, while still ensuring each square gets coated.
Break up any lumps of powdered sugar before adding the cereal. I give the bag of powdered sugar a good shake first and it does the trick.
Snickerdoodle Muddy Buddies are a great gift idea! I like to put them in mason jars or cellophane bags tied with a ribbon and give them away during the holidays.
Recipe FAQs
What can I substitute for the cinnamon toast crunch?
You can use other cinnamon flavored cereals instead. Life, Puffins and cinnamon Rice Chex would all be good.
You can also just leave it out if you don't have any. The muddy buddies with cinnamon sugar will still be delicious.
How do I store it?
Store these homemade cinnamon muddy buddies in an airtight container at room temperature. Bags with a zip top are perfect for keeping the snack mix fresh for up to a week.
Can I use melted white chocolate chips instead?
You can use chocolate chips, the texture just won't be as smooth once the chocolate sets. For best results, use white chocolate designed for melting like the Ghirardelli wafers or almond bark.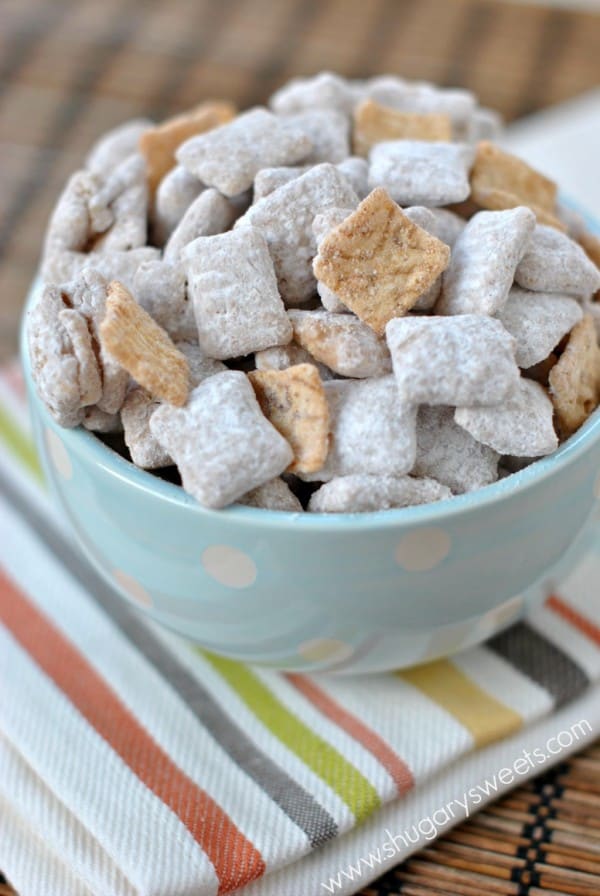 More Snickerdoodle Recipes
What is a Snickerdoodle?
A Snickerdoodle Cookie is a type of classic buttery cookie rolled in cinnamon sugar before baking! It's quite delicious.