Looking for a snack that makes the whole family smile? This Snickerdoodle Muddy Buddies recipe is just what you need. Sweet cinnamon muddy buddies with a little extra help from Cinnamon Toast Crunch cereal!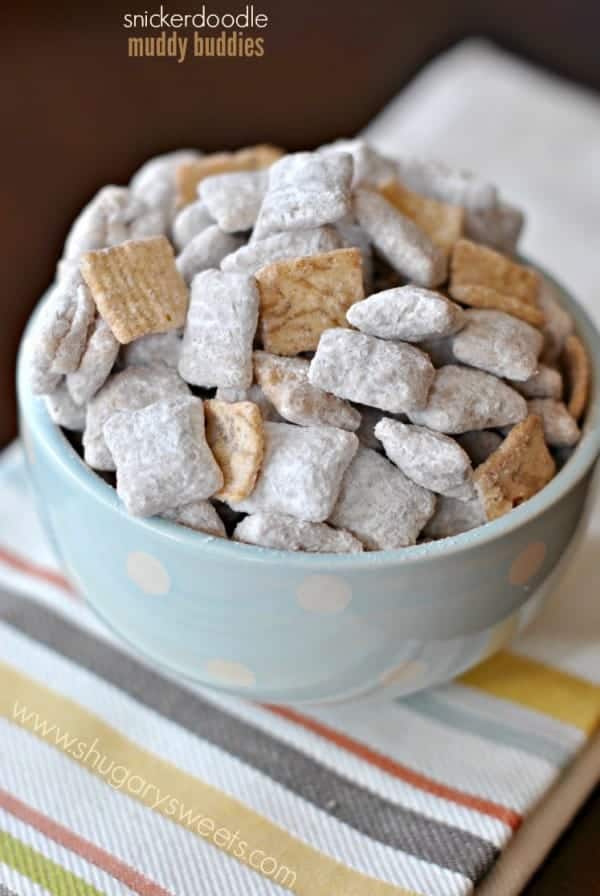 Click HERE to save recipe to Pinterest
I have a confession. I am a cereal hoarder. At any time you can open my pantry and you will see at least a dozen different types of cereal, some open, some not.
I blame my parents for this. Actually, I blame my brothers for this.
Growing up as the only girl with 3 brothers, food came and went quickly at our house.
My mom would walk in the door with bags of groceries, and within minutes there were a dozen empty Little Debbie wrappers, cheese wrappers (remember the Kraft cheese that came individually wrapped, I lived on it), and open boxes of cereal.
Usually it seemed my mom would buy 2 or 3 big boxes of boring cereal (corn flakes, cheerios, rice krispies) and one box of FUN cereal (Cinnamon Toast Crunch, Fruity Pebbles, and my favorite…Golden Grahams).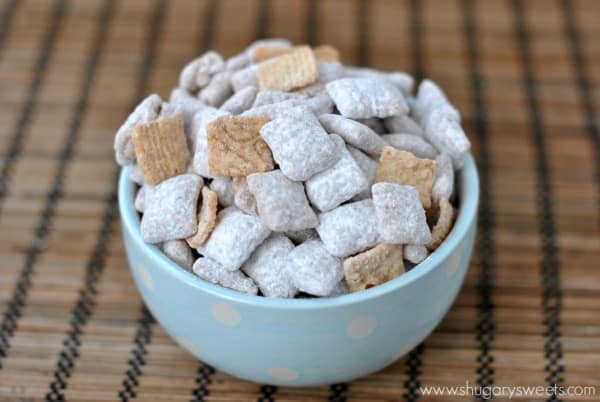 My brothers never opened a box of cereal and ate a normal size bowl. They would find the biggest tupperware mixing bowl and eat out of that (sorry Ty, Chris and Jeff for exposing your eating habits to all my readers). Imagine the three of them eating cereal for breakfast, one bowl each and the box was gone.
So I did what any smart girl would do, I would grab the "FUN" box and hide it in my room. When the moment was right, I would enjoy my cereal in peace and quiet, and not worry about it being gone before I ever had a chance.
This began my cereal hoarding.
Last month I cleaned out my pantry. And found a lot of cereal. Mostly half open boxes of Chex mix and Rice Krispies. Every time I go to make Rice Krispie Treats or Muddy Buddies I buy new boxes, forgetting if I have any at home.
Hence, LOTS of open cereal. So I did what any girl would do…I made Snickerdoodle Muddy Buddies! (or Puppy Chow, whatever you like to call it).
I wanted to make something Churro like. You know, for Cinco de Mayo. Which basically means I added a bunch of cinnamon to the melted vanilla bark. And tossed in some Cinnamon Toast Crunch cereal for an even bigger cinnamon kick!
And then I actually shared it with my kids. And now I'm sharing the easy recipe with you!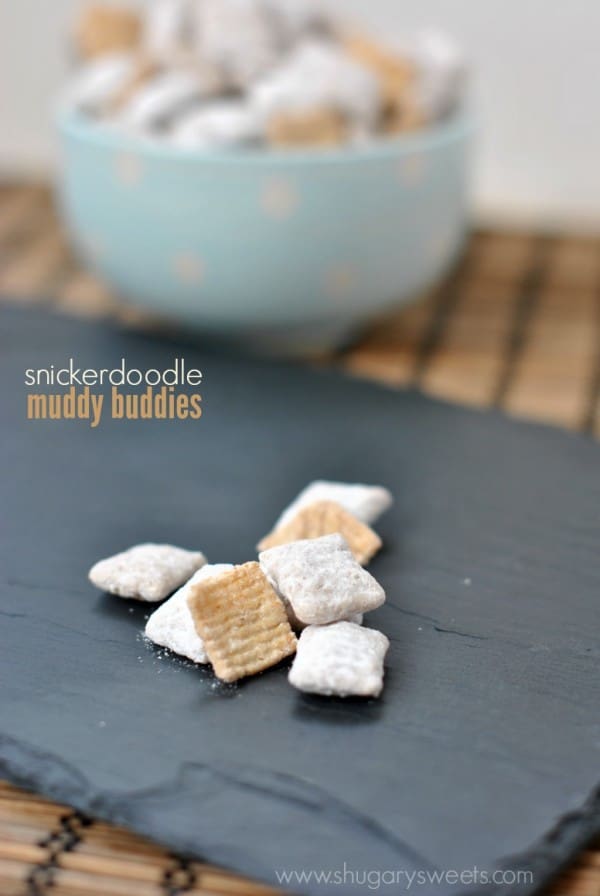 How to make Snickerdoodle Muddy Buddies
In a microwave safe glass bowl, add vanilla candy coating. I love using Ghirardelli white chocolate melting wafers! Melt until smooth (according to package directions).
Once smooth, stir in cinnamon and mix until blended.
In a large mixing bowl, combine Rice Chex cereal with melted white chocolate. Stir until completely coated.
Toss with powdered sugar and cinnamon. You can do this in the bowl or in a large ziploc bag. Once mixed, add in the extra Cinnamon Toast Crunch Cereal.
Store in airtight container for up to one week.
ENJOY!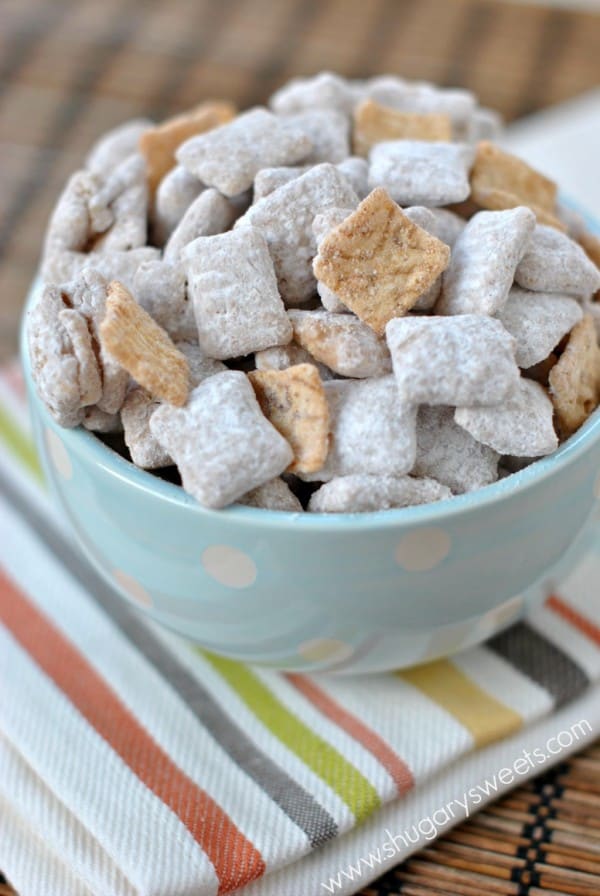 More Snickerdoodle Recipes
What is a Snickerdoodle?
A Snickerdoodle Cookie is a type of classic buttery cookie rolled in cinnamon sugar before baking! It's quite delicious.
One bite of these Snickerdoodle Cheesecake Bars and you'll fall in love! The sweet and salty graham cracker pecan crust with the creamy cheesecake layer is all topped to perfection with the snickerdoodle pecan cookie topping!
Snickerdoodle Cookie Dough Truffles: I've turned your classic childhood cookie into a no-egg truffle with a cinnamon coating!
Perfect with a cup of coffee, this Snickerdoodle Biscotti recipe is flavorful. It's also a great option to ship in a care package as they hold up very well.
Take your classic banana bread recipe to the next level! This Snickerdoodle Banana Bread recipe has a crunchy top coating of cinnamon and sugar, a real crowd pleaser!
Connect with Shugary Sweets!
Be sure to follow me on my social media, so you never miss a post!
Facebook | Twitter | Pinterest | instagram
I created a fun little group on facebook and I'd love for you to join in! It's a place where you can share YOUR favorite recipes, ask questions, and see what's new with Shugary Sweets (so that you never miss a new recipe)! If you'd like to check it out, you can request to join HERE.
Be sure to follow me on Instagram and tag #shugarysweets so I can see all the wonderful SHUGARY SWEETS recipes YOU make!
Recipe originally published April 28, 2014