Snickerdoodle Biscotti is the perfect pairing for your morning coffee! No one can resist crunchy homemade biscotti, especially when it's dusted with cinnamon sugar!
If you love cinnamon sugar treats, our Amish Friendship bread is as moist as it is delicious! And of course a batch of snickerdoodle cheesecake bars are a must make!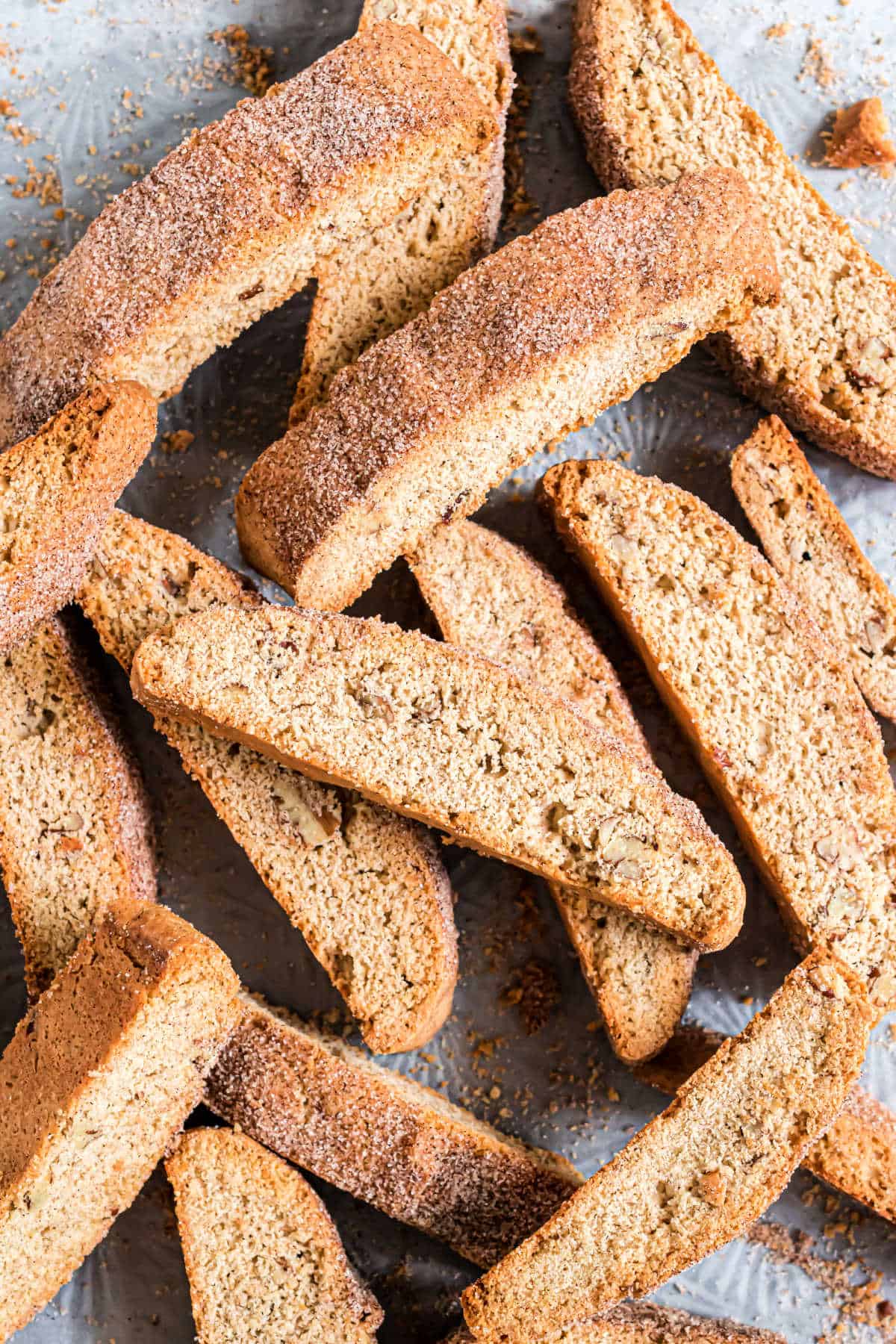 Why This Recipe Works
Freshly made homemade biscotti is actually really easy to make and the taste is worlds beyond what you might buy at the store. You'll never go back!
They really aren't any more difficult to make than a batch of snickerdoodle cookies. You just have to bake them twice.
And then you'll have that signature crunchy long cookie with a dense crumb and a slight hint of toastiness. The perfect pairing for your morning coffee!
Chopped pecans on the inside and a cinnamon sugar dusting give these biscotti the classic snickerdoodle flavor!
Twice-baked means extra crisp on the outside while still tender, such a great combo!
These are also very shelf stable, so you'll be able to store and enjoy them for a couple of weeks.
Save some of the extra cinnamon sugar to dust on a batch of homemade churros.
Ingredient Notes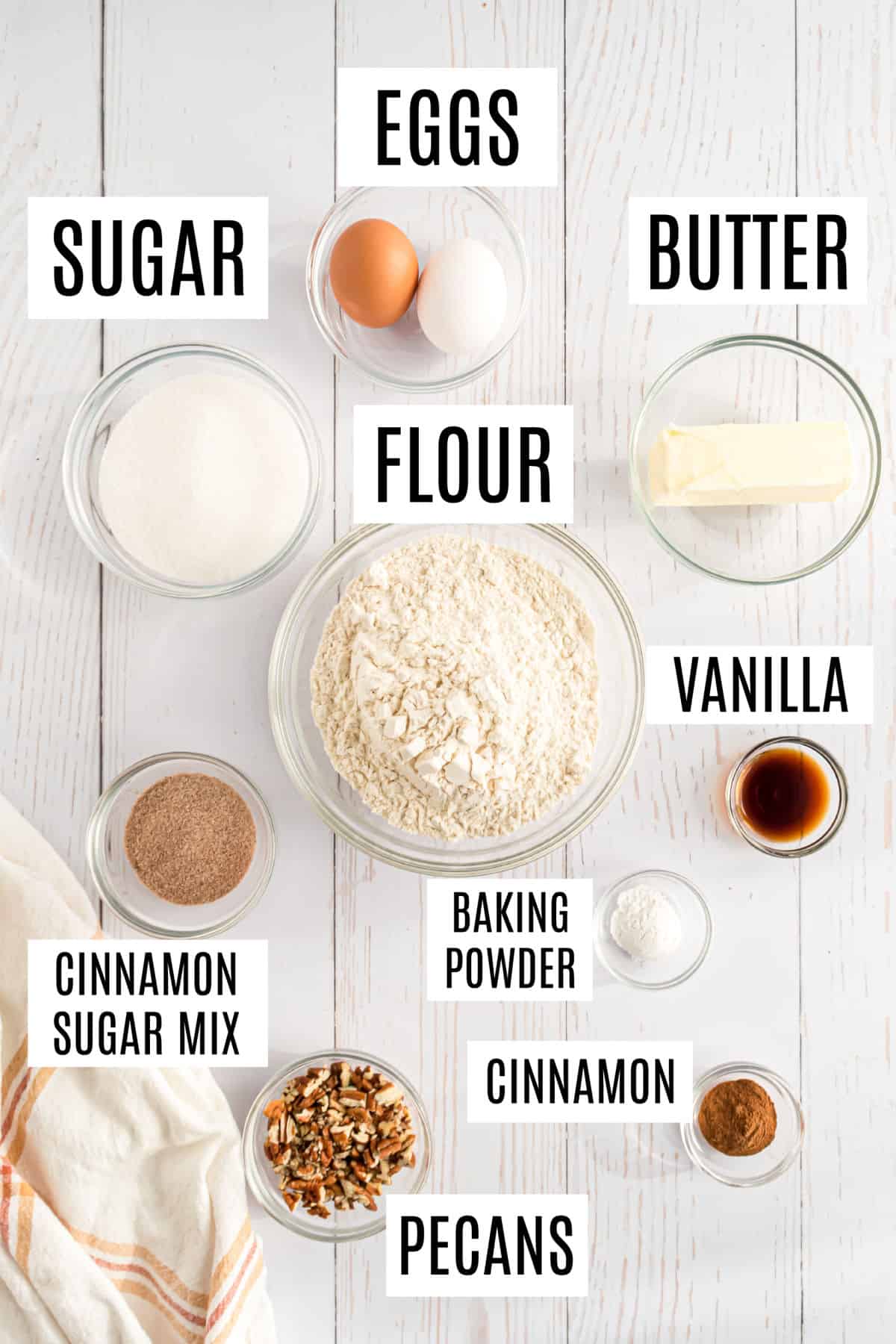 Making biscotti requires just a few basic baking ingredients. You probably already have all of them on hand!
Unsalted Butter – Butter gives these biscotti a deliciously rich flavor. Be sure to let it soften at room temperature before using so it's easier to incorporate into the dough. Use our tips and tricks on how to soften butter quickly.
Granulated Sugar – Sugar is the sweetener and it also plays a critical role in hydrating the biscotti dough. We're using it again in the cinnamon sugar mixture to sprinkle on top of the biscotti.
Vanilla Extract – Be sure to use PURE vanilla extract, not the imitation kind. Try our homemade vanilla extract for the best flavor.
Pecans – These add great flavor and texture to the biscotti. You could also substitute walnuts. Or you can leave them out if you need a nut-free biscotti.
Easy Instructions
Make the biscotti dough. Cream together the butter and sugar, then add the eggs and vanilla. Mix in the dry ingredients and fold in the pecans.
Shape and bake once. Divide the dough in half and shape into two 10×3 inch logs on a parchment paper lined baking sheet. Pat to about ¾ inch high and sprinkle with cinnamon sugar mixture. Bake for 25 minutes.
Slice and bake again. Slice each log into 10 slices. Place them upright on the baking sheet and bake for 20 more minutes, flipping them over half way through baking. Cool completely then enjoy!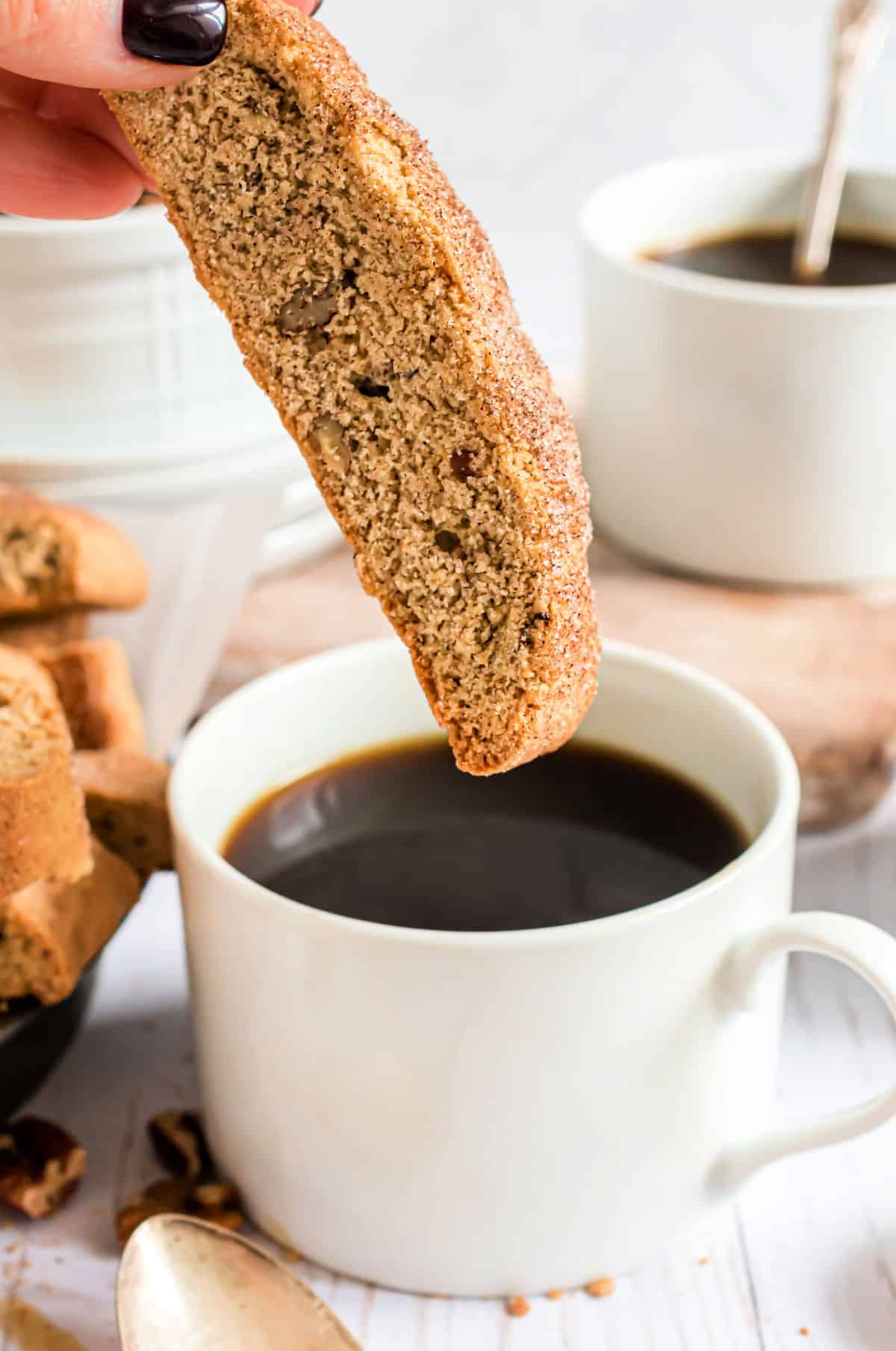 Tips and Tricks
Be sure to use softened butter so it will cream properly with the sugar in the first step. If the butter is too cold and hard, this step will be more difficult than it needs to be.
When cutting your biscotti after the first bake, slice through it gently using a serrated knife for clean-edged cuts.
Don't leave your biscotti out to cool for too long after its first bake. It's much easier to cut when it's still warm, but not hot. This will help to prevent breakage during cutting.
If you have a cooling rack, letting your finished biscotti cool there will allow it to dry out even better.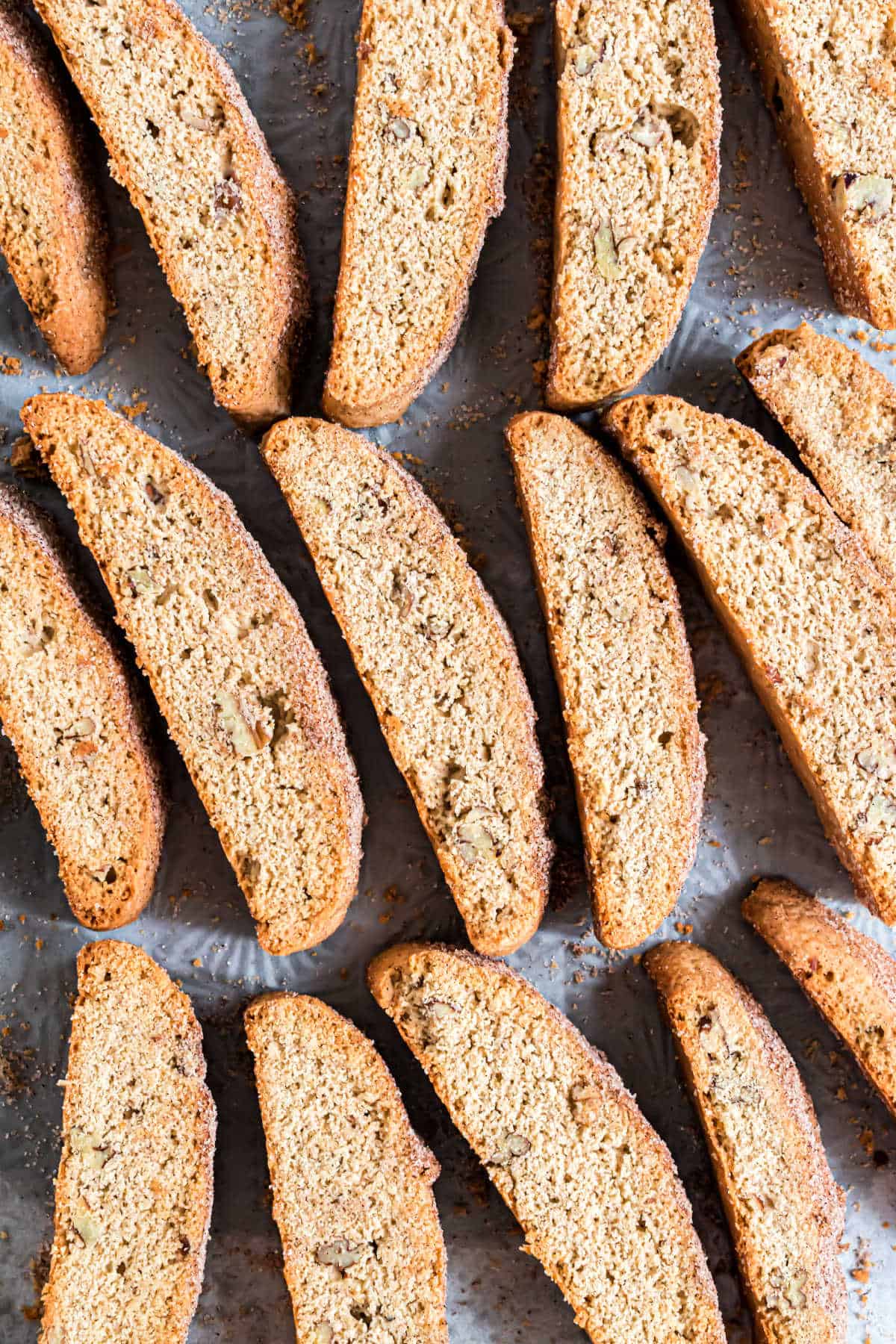 Recipe FAQs
Can I make these biscotti nut-free?
Absolutely. If you don't have any pecans on hand or prefer not to use them, just proceed with the recipe as directed and leave the nuts out. I happen to love the crunchy pieces of nut in each bite, but Snickerdoodle Biscotti would taste good without them, too. 
How do I store homemade biscotti?
Once cooled, store biscotti in an airtight container at room temperature for up to 2 weeks.
Can I freeze biscotti?
Biscotti doesn't freeze well because it loses its crispy, toasty texture after thawing. You CAN freeze the dough for this recipe though! Prepare the snickerdoodle biscotti dough and shape into logs as directed. Wrap the logs of dough in foil then place them in a freezer bag. When you're ready for homemade biscotti, add frozen logs to the baking sheet. No need to thaw. Just add an extra couple of minutes to the baking time in the recipe.
More Easy Breakfast Recipe