You're just minutes away from enjoying these delicious Easy Strawberry Strudel treats for breakfast or dessert! Puff pastry topped with strawberry pie filling and a vanilla icing.
Love using pie filling for desserts too? Try our easy Peach Hand Pies as a quick and delicious treat. Or give this Apple Cobbler recipe a try!!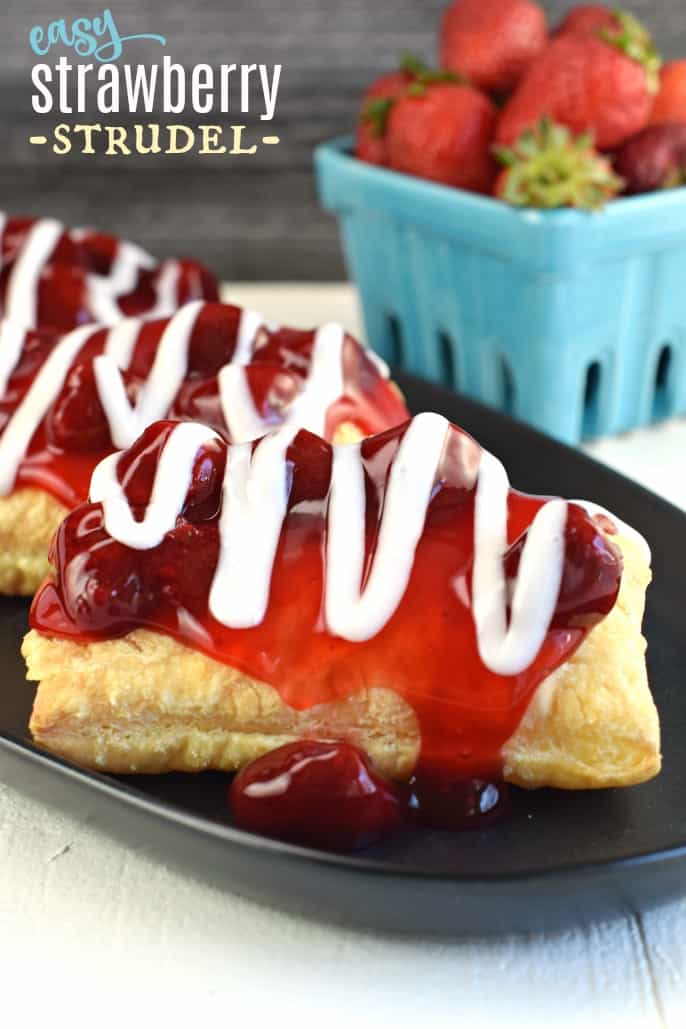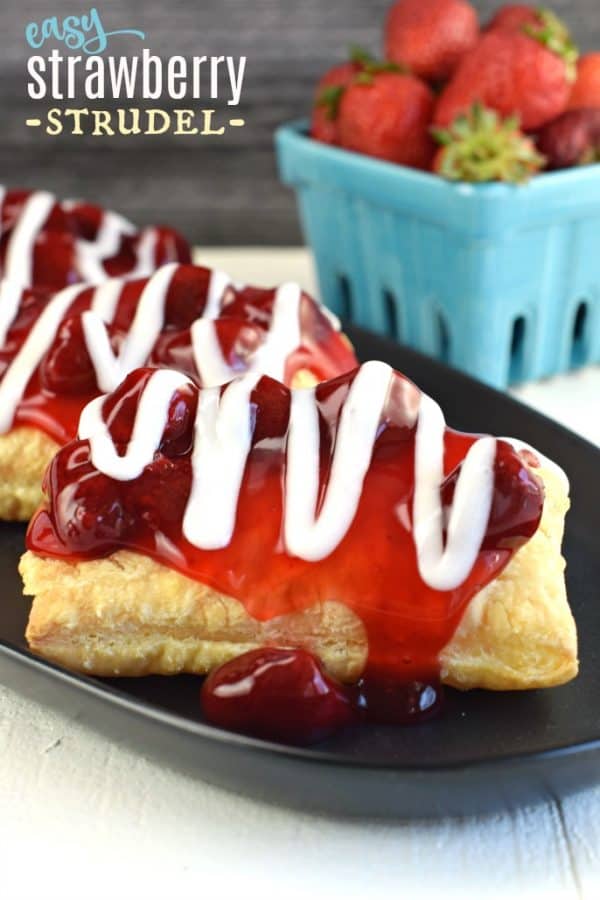 Easy Breakfast Recipe
There are some foods in life that cross the line between dessert and meal.
For instance.
These Banana Nut Scones. Traditionally you think of a scone as a dessert…but these beauties are covered in a thick (mind you, delicious) frosting! 
Or how about these Apple Pie Doughnuts? I mean, donuts are always breakfast right? But one bite of these and you're looking over your shoulder for the breakfast police. They are rich enough to serve as dessert!
That's basically how I feel about those store bought toaster strudels. You toast one of these pastries, top it with icing, and call it breakfast?
It's either ridiculous or genius (PIE FOR BREAKFAST!!).
No matter how you feel about strudels, and whether you feel they belong as a breakfast food or a dessert, my recipe is crazy easy!
More Strawberries: Chocolate Covered Strawberries
How to make Strawberry Strudel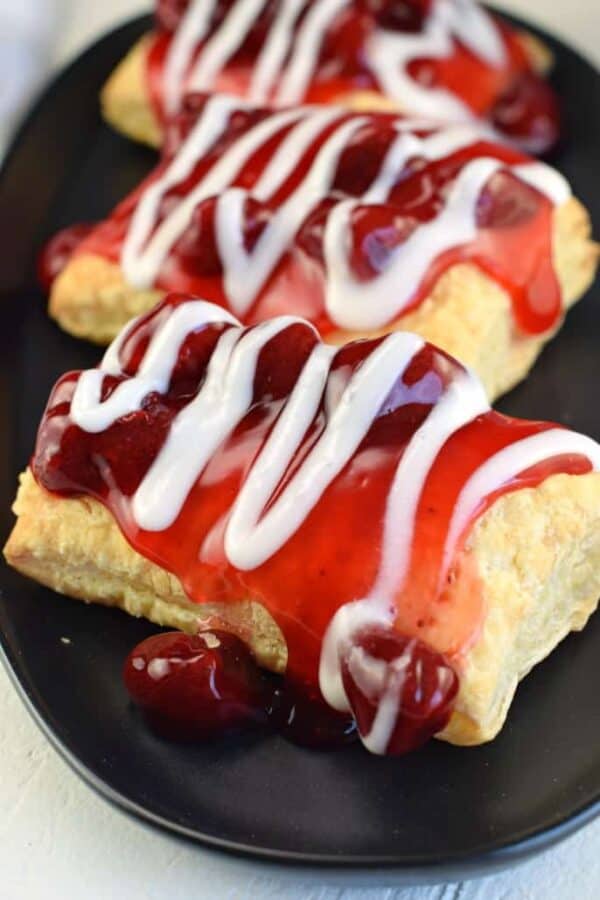 Prep the Puff Pastry. Start by thawing your puff pastry according to the package directions.
Once thawed, cut each sheet of pastry along the seams (making 3 strips on each sheet). Cut each strip in half, for a total of 6 rectangles on each sheet, and 12 rectangles in all.
Poke with a fork and lay on a parchment paper lined baking sheet.
Bake in a 400 degree F oven for 12 minutes.
Add Pie Filling. Spoon strawberry filling onto the center of the pastry, careful to not go over the edges too much.
Make Cream Cheese Icing. In a small bowl, beat cream cheese with powdered sugar and milk for about 3 minutes until creamy. Add more milk if needed to get desired consistency.
Drizzle warm pastries with cream cheese frosting and enjoy!
Strudel Flavors
Think of all the flavor options with this strudel recipe!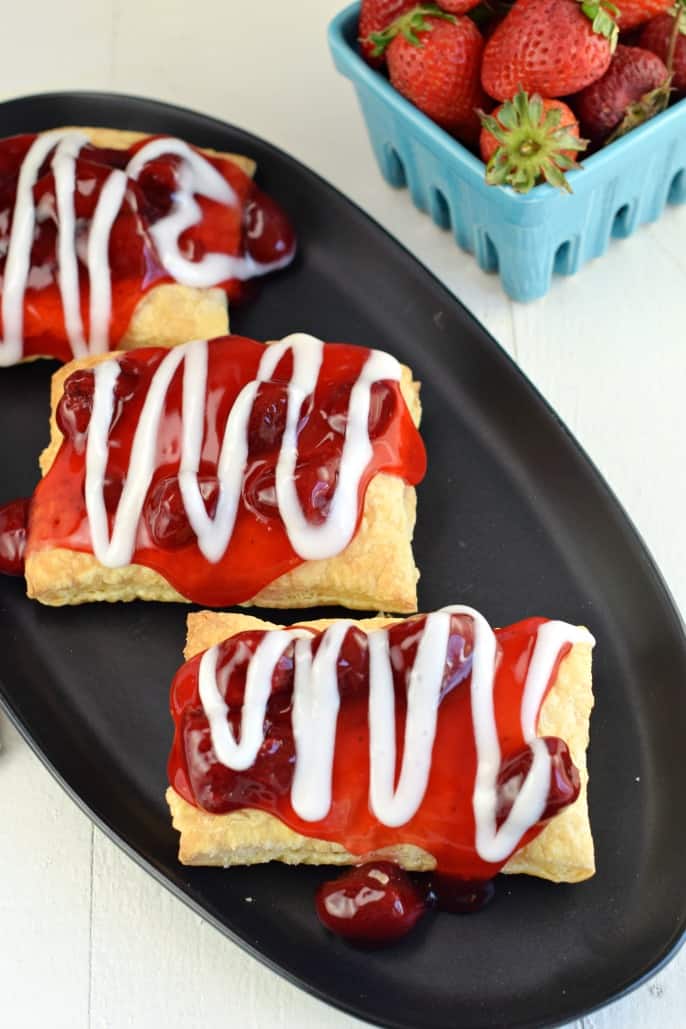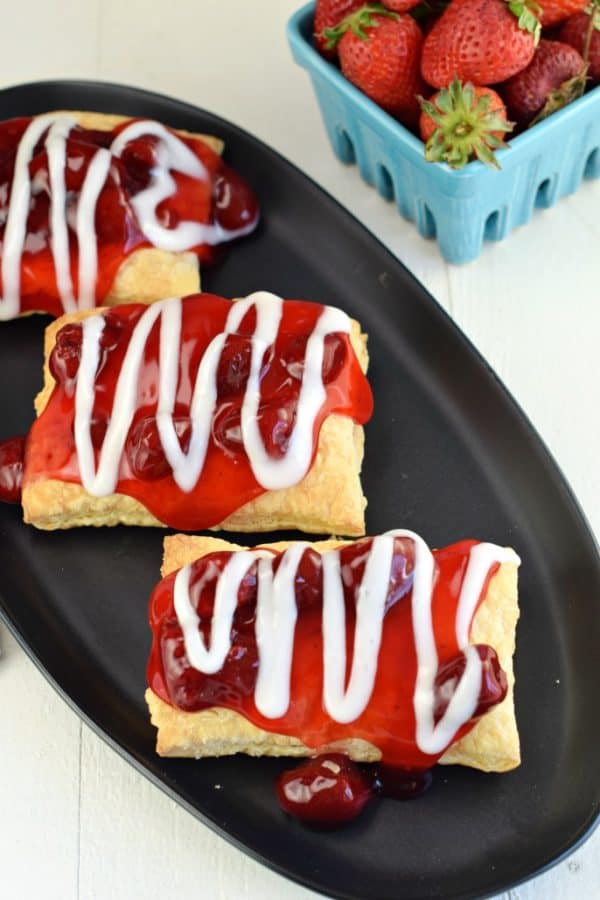 More Puff Pastry recipes
I know some people love to make their own puff pastry recipe, but I personally find it easiest to buy the kind in the freezer section!
I love how easy it is to make quick recipes, and the flavor is fantastic.