Chicken and Sausage Jambalaya Pot Pie. Give this easy, Cajun dinner recipe a try tonight! Chicken and sausage in a savory sauce with a flaky puff pastry topping brings Cajun flavors to your dinner table.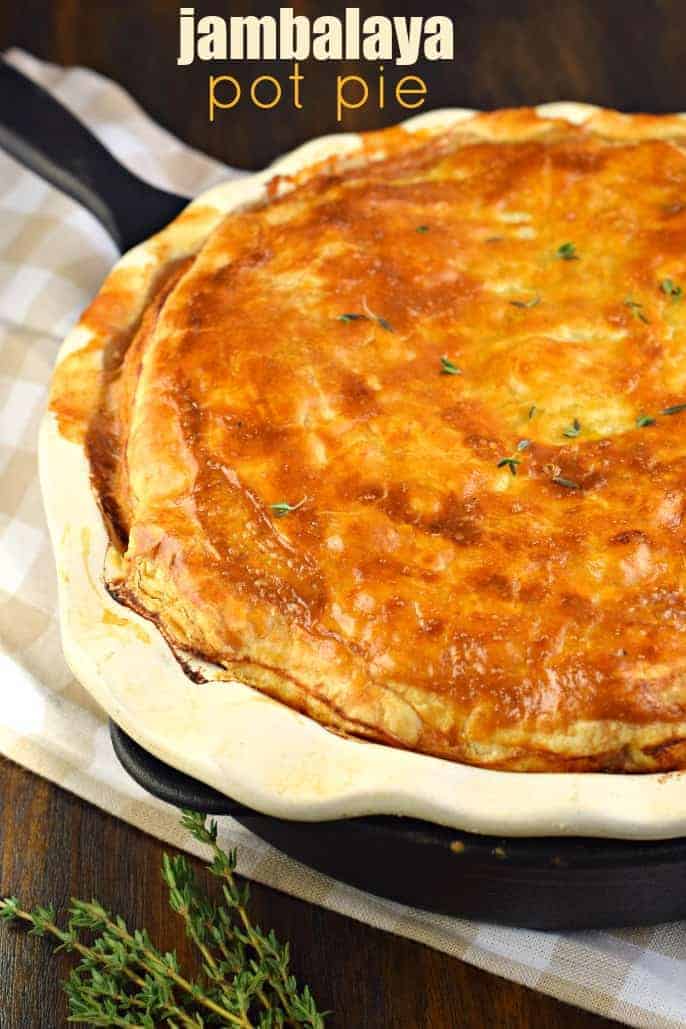 Cajun Dinners
My husband loves cajun food. However, he's not really a good dinner maker (unless you count pancakes and waffles)!
As the dinner cook, I tend to make what I like (Italian Beef Ring). What I'm comfortable with (Baked Margherita Chicken). And what I grew up on (Sausage Stuffed Shells)!
My husband however would prefer Cajun Chicken Pasta, Cajun Sausage, and Jambalaya. Poor guy could live off cajun food, and I never think to make it myself.
For a traditional pot pie recipe, check out this delicious Chicken Pot Pie. You won't be disappointed in the hearty chicken and vegetable filling topped with a flaky, buttery pie crust!
But today's recipe is all about the spicy cajun flavor! This is a meal that combines the familiar with the unexpected.
Ingredient Notes
Pie crust – You need frozen puff pastry to make the flaky outer layers of this pot pie. Let the pastry thaw completely before using it in the recipe.
Chicken breast- I used chicken breast, but chicken thigh meat would be good too. Just be sure it's boneless and skinless.
Sausage – Andouille sausage is my family's pick when we're making Jambalaya pot pie. The smoky flavor brings a dimension to the pot pie that you can't quite replicate with other sausages. That said, Italian sausage or Kielbasa would be good substitutes if you can't get Andouille.
Creole seasoning – This is a flavorful mixture of herbs, garlic powder and spices that adds authentic Cajun taste to any dish you add it to. It's well worth picking up a jar or two of this spice blend to add to all kinds of stews, pastas and meats.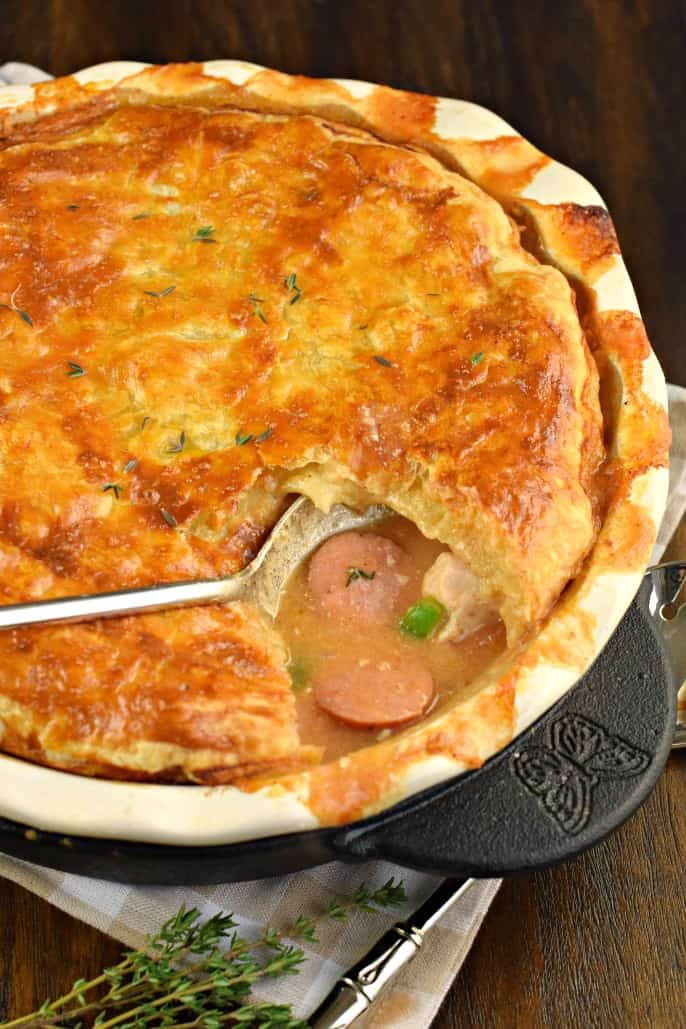 Step by Step Instructions
You'll need either a 2 inch deep pie dish or a cast iron skillet to make this recipe.
Brown the chicken and sausage
The chicken should be browned on all sides but doesn't need to be fully cooked.
Make the sauce
Whisk the flour with the melted butter in the pan. Turn the heat up to medium and slowly add the chicken stock, whisking the entire time you add it.
Keep whisking while you add the heavy cream, letting it come to a simmer. Add the thyme, cayenne, creole, and onion powder seasonings and whisk for about 4-5 more minutes and medium to low heat.
Stir in the diced green peppers and tomato and then add the meat mixture.
Pastry
Transfer the mixture to a pie dish, if using, or leave it in the cast iron skillet if you want to bake it right in the pan. Cover the mixture with the thawed puff pastry, pressing the pastry down over the sides of the pan to keep it in place.
Using a pastry brush, glaze the puff pastry with the beaten egg.
Bake
Place the pot pie into the oven and bake for about 40 minutes until the pastry turns a golden brown and the filling starts to bubble around the edges of the pie dish.
Sprinkle with a little fresh thyme. Serve immediately!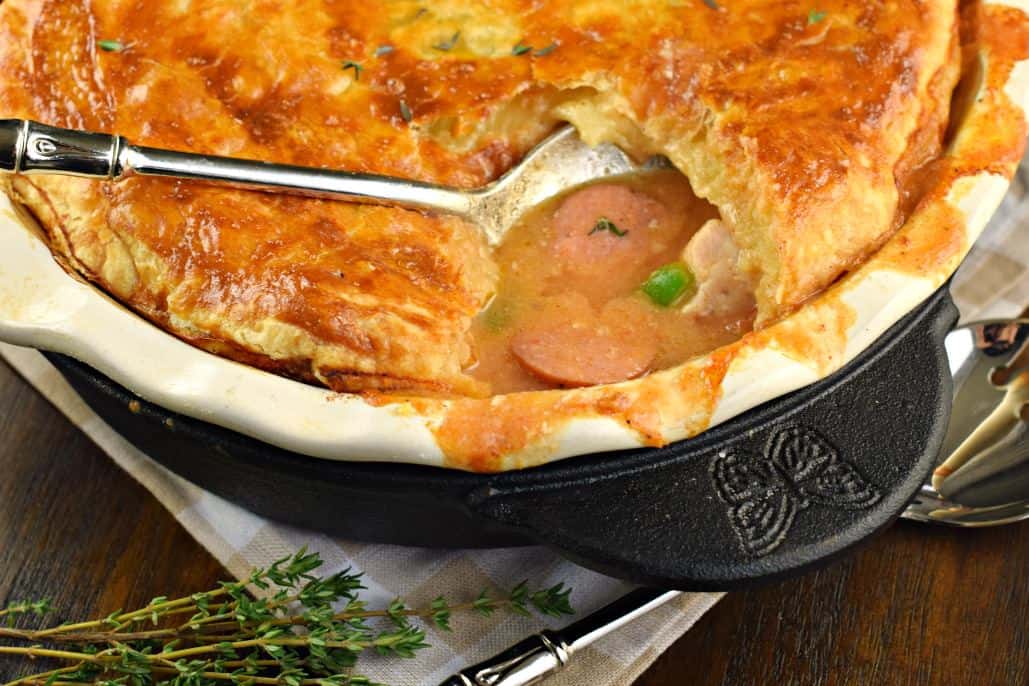 Tips and Tricks
Have all your vegetables sliced and ready to go before you start cooking the meat, to make this meal quicker and easier!
If the heavy cream is bubbling too much while whisking the sauce, turn down the heat. It should be at a light simmer; a rolling boil could cause the cream to scald and affect the taste.
Jambalaya pot pie is best served immediately to enjoy the browned flaky crust and bubbling filling!
If you want more heat, add up to an additional 1/4 teaspoon of cayenne pepper to the filling before baking the pot pie. Conversely, if your family is sensitive to spice, feel free to omit or reduce the cayenne.
More Easy Dinner Recipes
With the classic comfort food vibe of chicken pot pie and the mind blowing flavor of Jambalaya, this is one dinner guaranteed to satisfy everyone! I hope you like this easy Jambalaya Pot Pie as much as my family does.