A spicy stew with sausage, chicken and shrimp, Jambalaya warms your belly and your soul! This Instant Pot Jambalaya Recipe makes it easy to have a flavorful Cajun meal on the table any night of the week.
When my husband gets to choose what's for dinner, he almost always picks something with a Cajun flair. Something spicy and full of meat, firmly in the stick-to-your-ribs category of meals.
His favorites include Cajun Chicken Pasta, Cajun Sausage Pasta, and Jambalaya Pot Pie!
Nothing checks those boxes quite like Jambalaya!
The BEST Jambalaya Recipe
I didn't grow up eating a lot of Cajun food and certainly don't claim to be an expert on what makes Jambalaya the best.
This recipes comes from Erin at Well Plated. She released a new cookbook (The Well Plated Cookbook– get it on Amazon!) that is going to have you drooling from cover to cover!
When deciding what recipe to share with all of you I had two thoughts:
Instant Pot Recipe
Jambalaya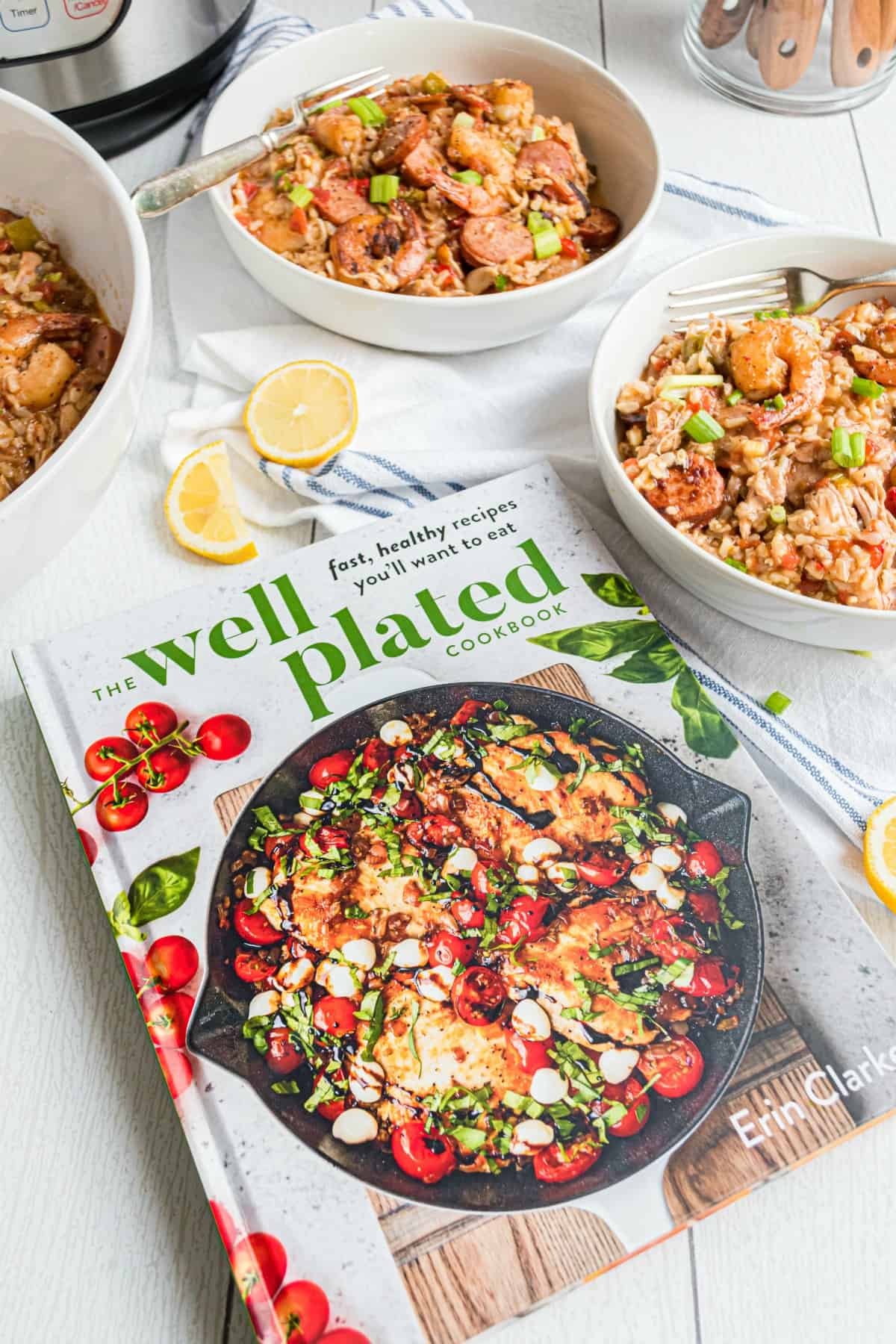 Erin knows her stuff. Today's Jambalaya is the best Jambalaya I have tasted. It's also one of the easiest to make.
As with most Instant Pot recipes, I had steaming hot bowls of Jambalaya on the table in no time without using a zillion pots and pans.
This Jambalaya is the perfect amount of spicy with a thick, flavorful broth. It's also easy to customize the amount of heat in the recipe to suit your family's taste.
If you've never made Jambalaya before, this recipe is the perfect one to introduce you to this delicious Cajun dish. And if you love Jambalaya but think it's too labor intensive for a weeknight, this Instant Pot Jambalaya is your saving grace!
Ingredient Notes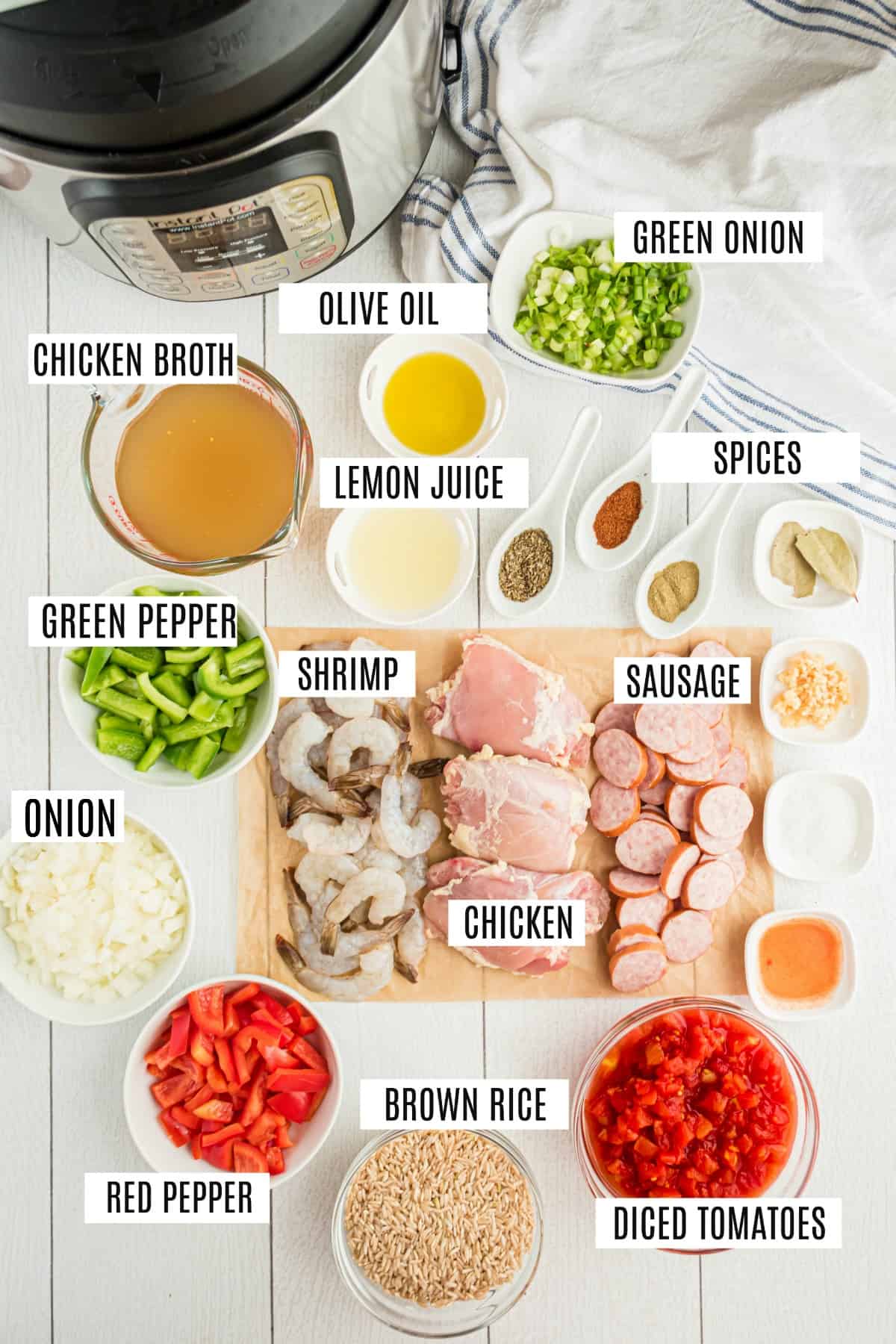 Andouille Sausage gives the Jambalaya a smoky spicy flavor. If you can't find this variety, Kielbasa sausage makes a great substitute. It's not quite as spicy, so you may want to add an extra dash or two of hot sauce to the dish.
Hot sauce. Tabasco or Cholula sauces are my pick, with their perfect balance of chili flavor and tang. Any hot sauce you have will work but I like mine to be SPICY!
You can use either fresh or frozen shrimp to make Jambalaya. Fresh shrimp should be peeled and deveined first. To save time and effort, I pick up my fresh shrimp already deveined from the sea food counter.
If you use frozen shrimp, make sure to thaw and pat them dry before using in the recipe.
Step by Step Instructions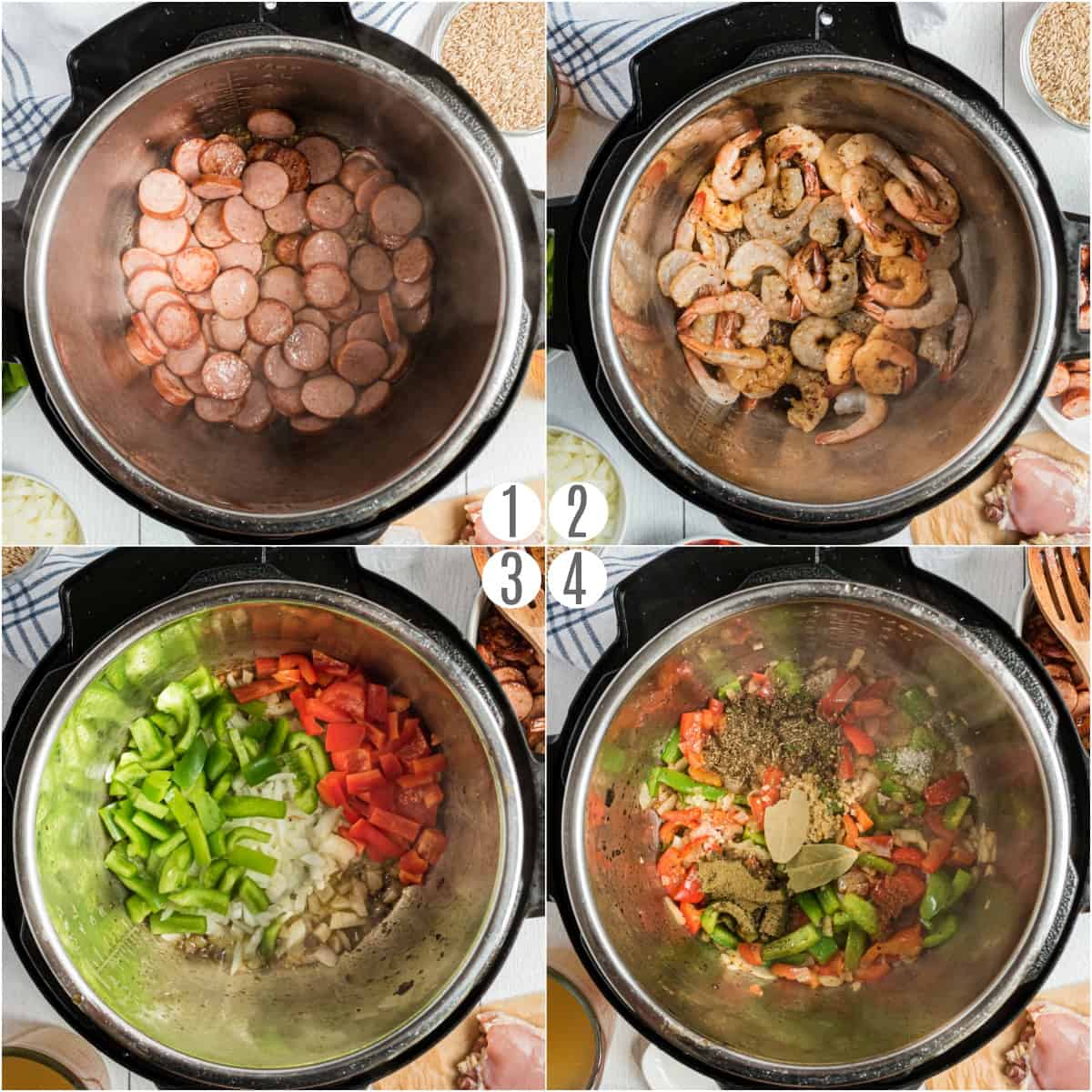 STEP 1. Saute the sausage
Add olive oil to the Instant Pot and select the SAUTE function. Cook the sausage in the hot oil until browned, turning with a wooden spoon to ensure they get browned on all sides. This takes about 6 minutes.
Remove and sausage and set aside.
STEP 2. Saute the shrimp
Add a little more oil to the pot along with the shrimp. Cook the shrimp about 3 minutes or until they are no longer translucent. Remove them from the Instant Pot and add them to the plate with the sausage.
STEP 3. Cook the chicken and broth
Add another small amount of olive oil to the pot. Then add chopped onion, green bell pepper and red bell pepper. Cook and stir for about 5 minutes. Add the garlic, salt, oregano, thyme, cayenne, and bay leaf. Cook for about 30 seconds then turn off the pot.
Pour in just enough chicken broth to deglaze the bottom of the pot. Use the wooden spoon to scrape any food bits that may be stuck to the bottom of the pot. Don't leave any bits behind!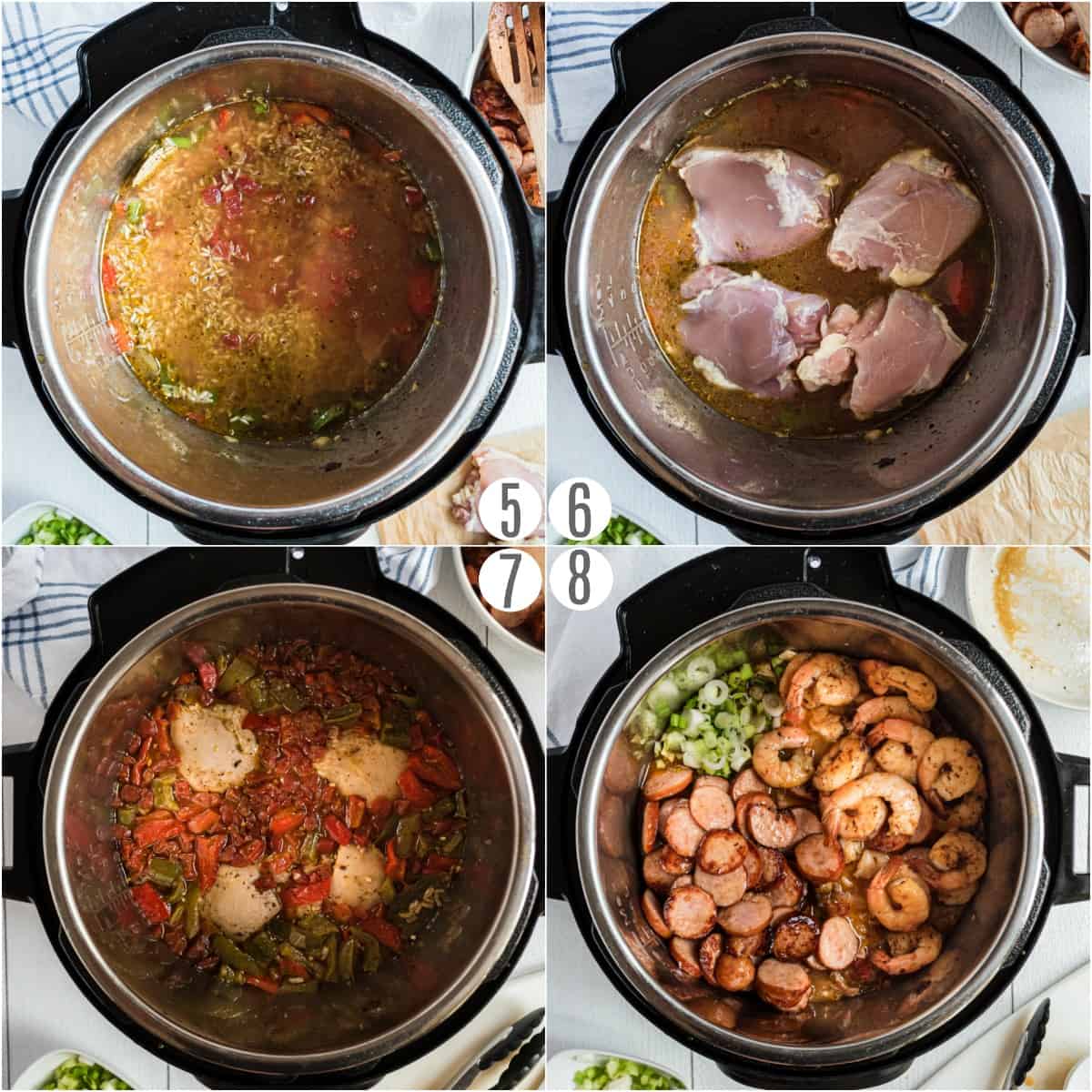 Pour in the remaining broth. Add the diced tomatoes along with rice. Using the wooden spoon, gently distribute it in an even layer, and push it down in the liquid. Add the chicken thighs on top.
Cover the Instant Pot, seal the valve and cook on high for 20 minutes. After the cooking time is complete, let the pressure naturally release for 15 minutes. Then do a quick pressure release, and open the lid.
STEP 3. Season and serve
Using a pair of tongs, break up or shred the chicken thighs into bite-sized pieces. They will be very tender and this should be very easy to do!
Remove the bay leaf. Stir in the hot sauce, green onions, lemon juices, sausage and shrimp. Let the jambalaya sit until the sausage and shrimp have been heated through. Add more seasonings to taste if desired. Serve hot!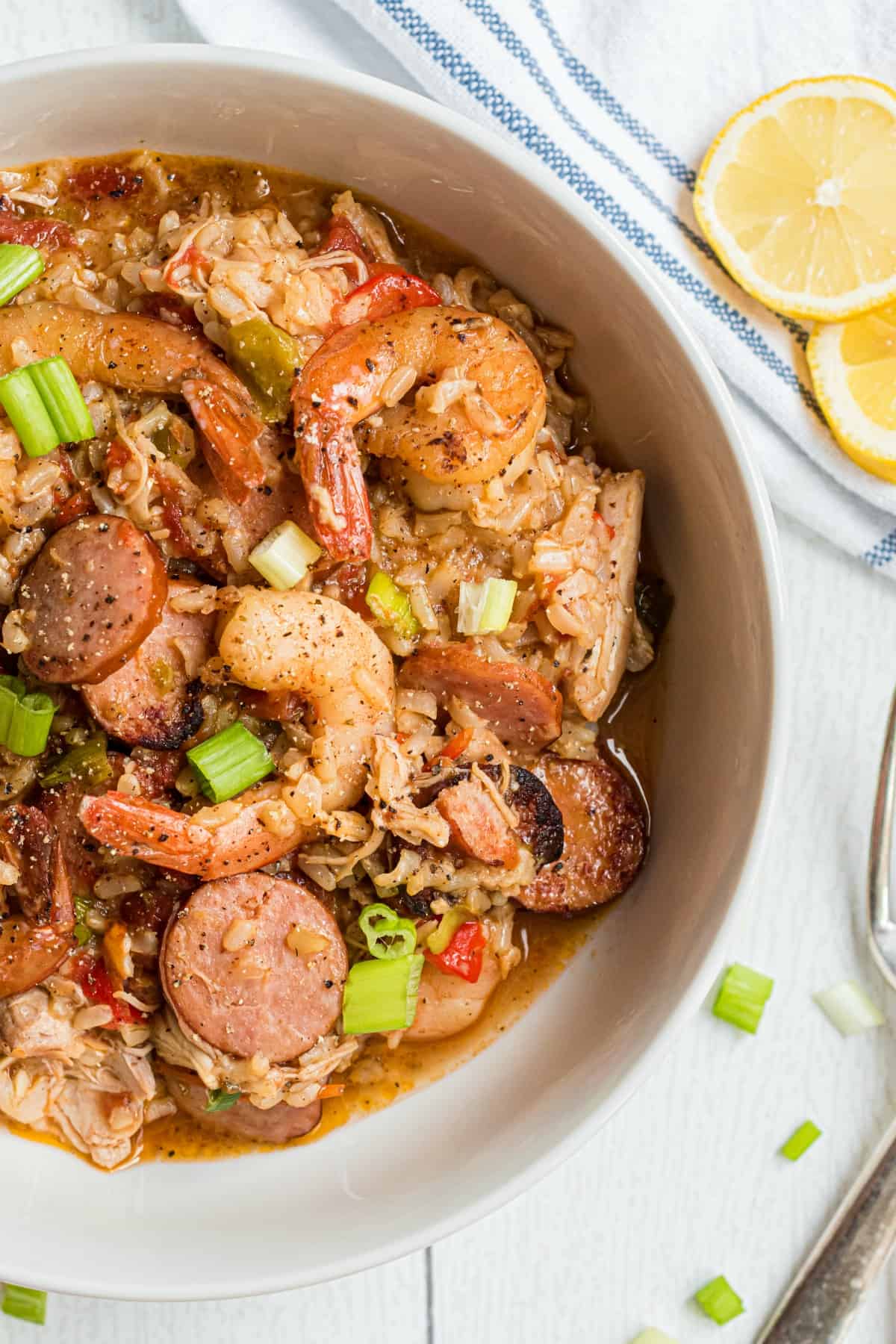 Serving Suggestions
Jambalaya has rice and vegetables cooked right in with the meat making it a complete meal! I love to ladle it into bowls and serve it with thick slices of crusty garlic bread (or cheesy garlic bread).
When you've eaten every last bite, you can use soft dinner rolls to soak up leftover broth. So good!
A simple Italian salad is another great light accompaniment to this filling meal.
Recipe FAQs
What is the difference between Jambalaya and Gumbo?
With gumbo, you serve it over rice, and Jambalaya has the rice in the dish (which is the main difference).
What do you eat jambalaya with?
This is the best one pot dinner, with your meat, veggies, and starch included. However, my cornbread is a great pair!
Does leftover jambalaya taste good?
I personally think the flavor of jambalaya tastes EVEN BETTER on day two. The spices have mingled and the taste is still superb!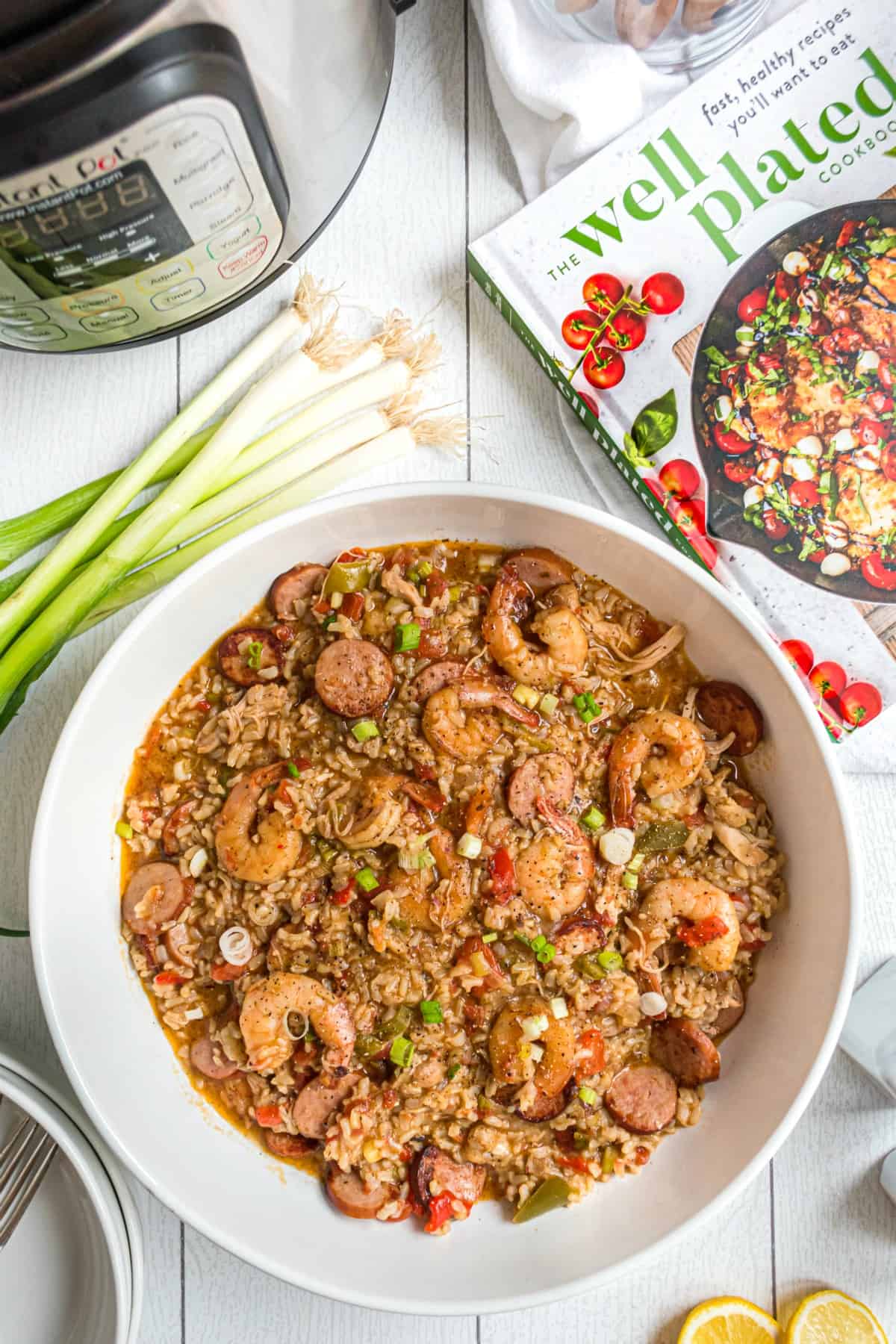 Tips and Tricks
Peventing burn notice: The key is to thoroughly deglaze the pot after sauteeing the shrimp and sausage. Use a wooden spoon and scrape off any pieces of meat stuck to the bottom and sides of the pot.
Storing: Leftovers can be stored in the fridge for about 4 days or frozen for up to 3 months. Let it thaw in the fridge before reheating.
Reheating: Add the jambalaya to a skillet on medium heat, stirring occasionally until hot.
Pick up your copy of The Well Plated Cookbook on Amazon TODAY!
Steaming hot Jambalaya is guaranteed to warm you up on a chilly evening. Filled with flavor and easy to make, everyone loves when Instant Pot Jambalaya is on the dinner menu!