Cajun Sausage Pasta is a delicious 30 minute dinner recipe! Colorful, spicy, and easy to make, you'll want to put this dish on your menu every week!
My husband loves Cajun food. The spicier the better! Jambalaya is one of his favorites but sometimes you need something a little easier and quicker. This Cajun chicken pasta is perfect for a weeknight meal.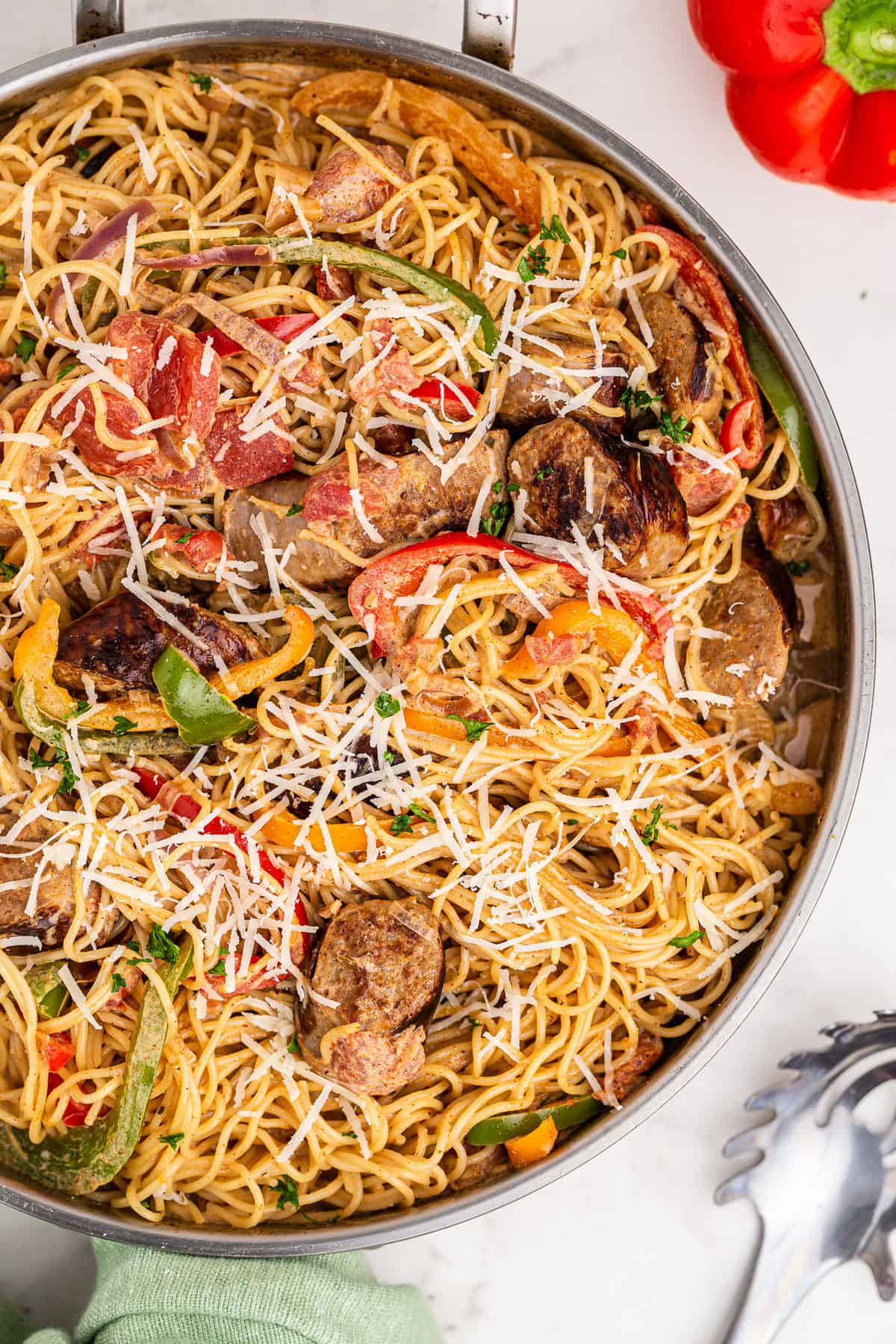 Why this recipe is best
This pasta has the perfect combo of spicy and creamy.
The sauce has a nice kick and paired with a mild Italian sausage, every bite is dancing with flavor.
I also love all the colorful veggies! You saute the sausage and veggies in the same pan so it's super easy and quick. Make the pasta while you're cooking everything else and it's ready to serve in under 30 minutes.
No need to worry about sides or washing a ton of dishes. Just a delicious Cajun-inspired dinner that the whole family loves.
I hope you love this dinner just as much as we do!
Ingredient Notes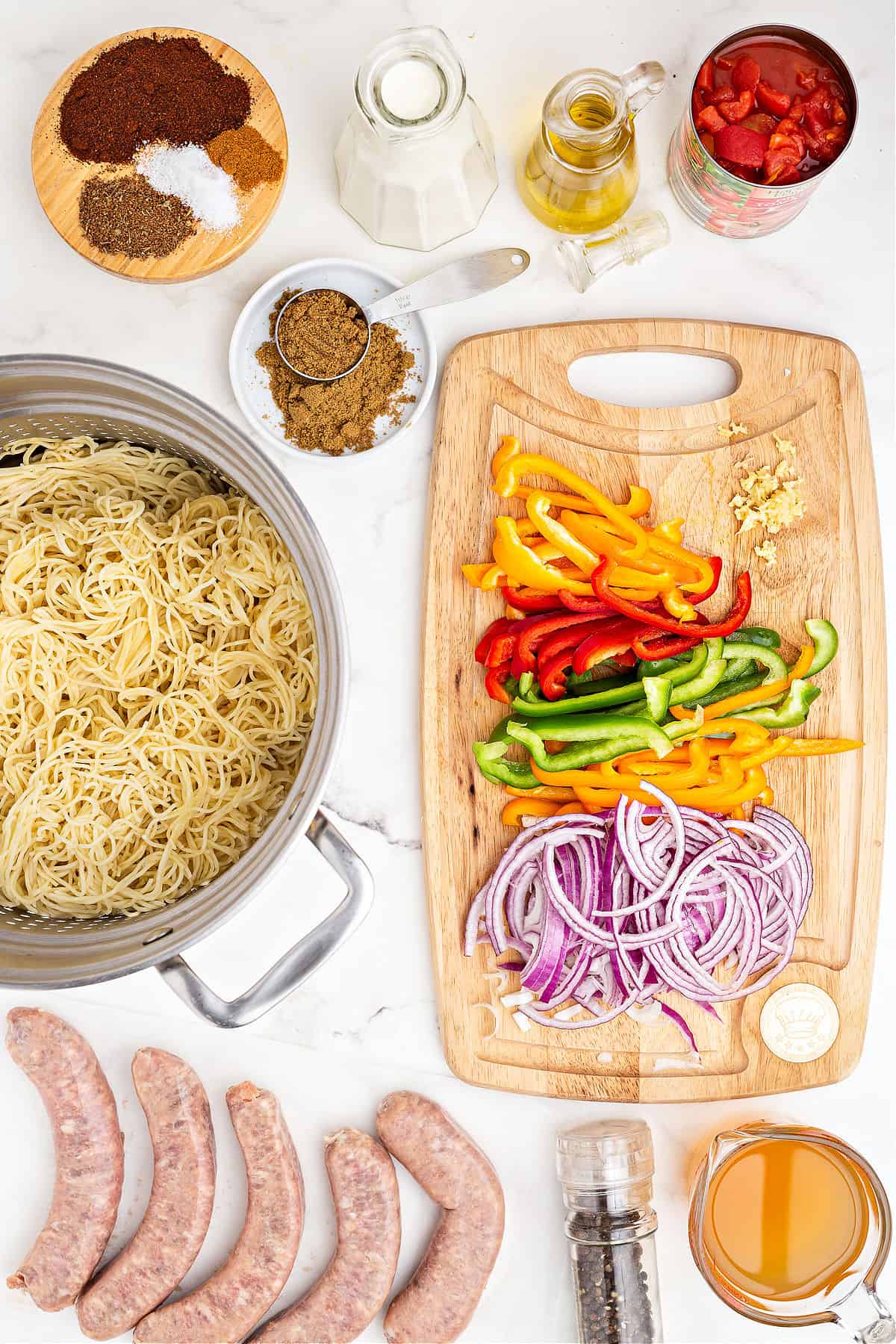 Mild Italian sausage – We opted for the milder version of sausage for this meal, as opposed to the hot sausage I often choose for our meals. The sauce has plenty of spice that the mild sausage was just right! You can also substitute Kielbasa sausage for a similar flavor or go with hot Italian sausage if you like even more heat.
Bell peppers – These add color and some sweet pepper flavor. The recipe calls for a combination of red, yellow and green peppers, but feel free to use your preferred combination (or what's available).
Pasta – Most often, I serve this with angel hair, spaghetti or another long pasta, but you can really use whatever noodles you like. Penne is a great option for more bite sized pasta texture!
Creole seasoning – This little spice blend is an amazing way to add authentic Cajun flare to any dish. A smoky, spicy combo of dried herbs, cayenne pepper, paprika and garlic, it makes this pasta complete. If you can't find Creole seasoning at your grocery store, you can make your own to keep on hand!
Tomatoes- a can of diced tomatoes is perfect. For a little spice, add Rotel tomatoes instead!
Step by Step Instructions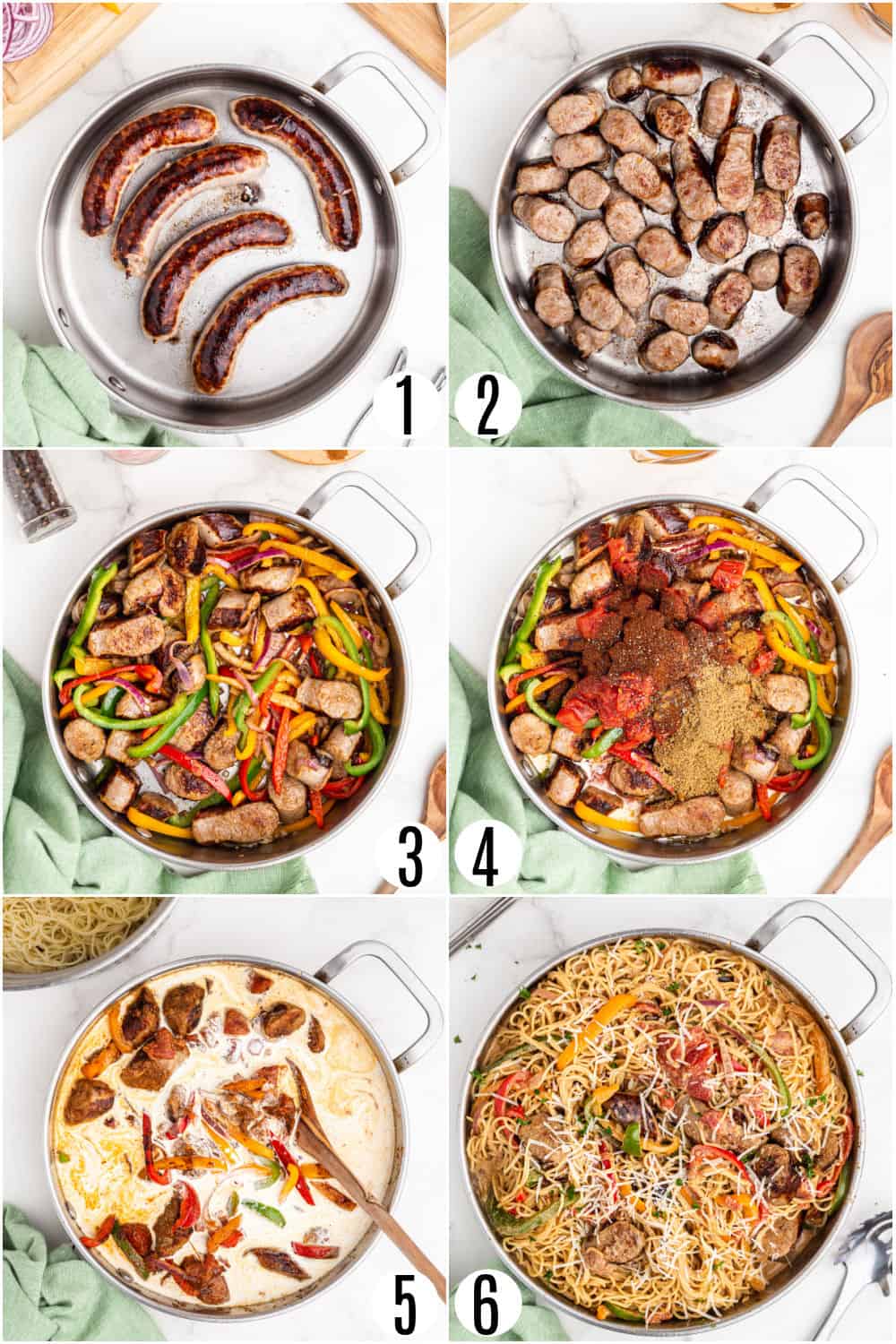 Pasta. Boil a pot of water and cook pasta according to package directions while you follow the remaining steps.
Sausage. Add sausage links to a pan with olive oil and cook on medium high heat for 5 minutes. Roll to opposite side and cook an additional 5 minutes.
Remove the links from pan and slice before adding them back to the pan and cooking for another 5 minutes, turning as needed for even browning.
Vegetables. Add the peppers, red onion and garlic to the pan with the sausage. Cook for about 3 minutes until the peppers are softened and the garlic is fragrant.
Sauce. Add the tomatoes, broth, seasoning, and heavy cream to the pan with the sausage and veggies. Cover the pan and heat everything for about 10 minutes, until warmed through.
Serve over the prepared pasta.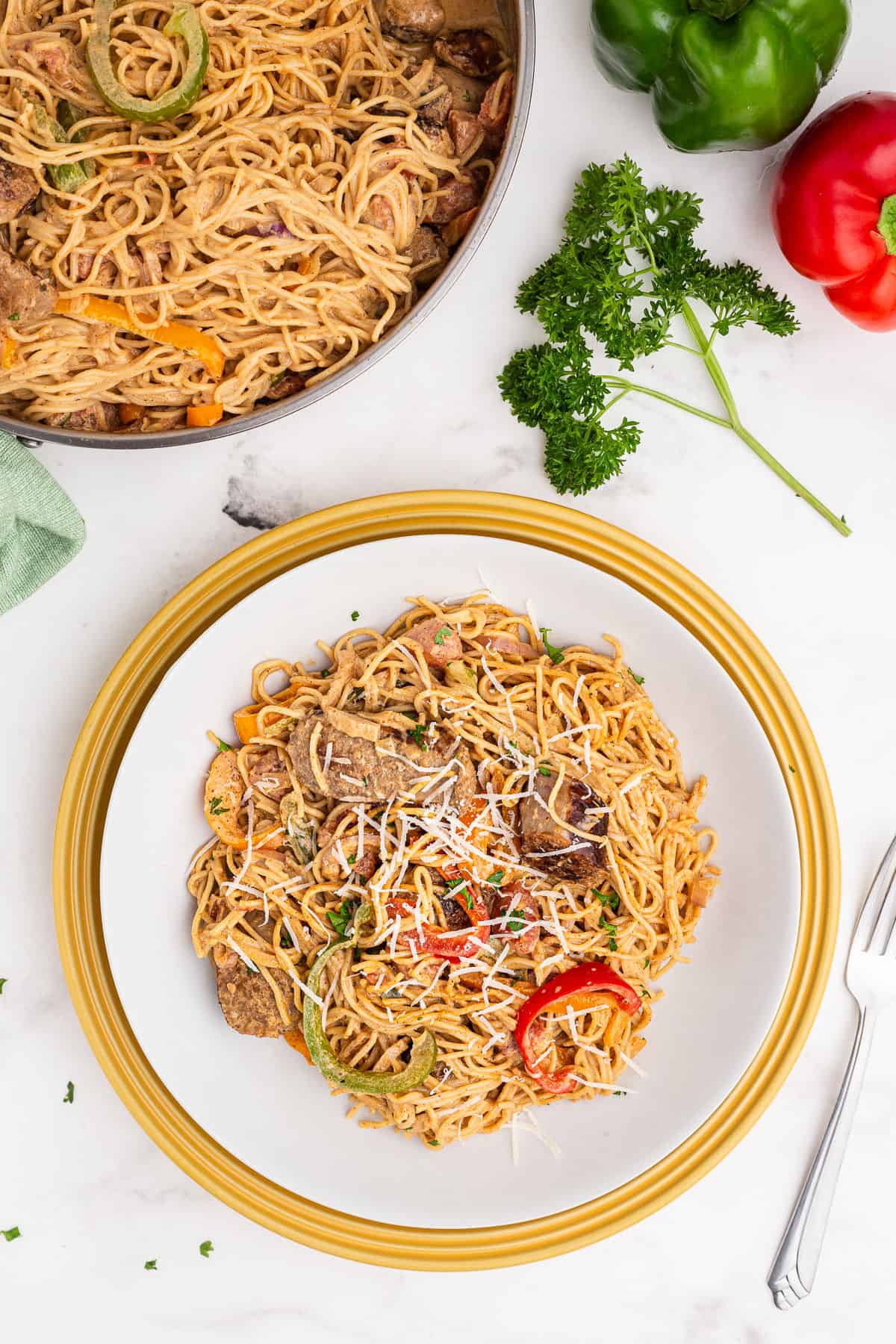 Tips and Tricks
Before you start cooking, make sure you have all your vegetables prepped and ready! I slice everything up before I begin, makes the process smoother and faster, and nothing gets forgotten.
I also start boiling the water for the pasta while I'm cooking. This way it's done and ready when the sauce is done.
The veggies won't seem fully cooked yet when you add the sauce ingredients. That's ok! They'll continue cooking as the sauce warms. You don't want mushy vegetables, so be careful not to overcook during the saute step.
Store leftovers covered in the fridge and enjoy within 2 days.
Feel free to adjust the level of spices in this recipe to suit your family's taste. A little extra cayenne pepper can add instant heat!
Creamy, spicy and full of creole flavor, Cajun Sausage Pasta is as easy as it is delicious!