Cajun Sausage Pasta is a delicious 30 minute dinner recipe! Colorful, spicy, and easy to make, you'll want to put this dish on your menu!
**Today's post is sponsored by Johnsonville. Contact their Sausage Support Center with your recipe requests or sausage cooking questions! Details below! While I was compensated for my time, all opinions expressed are 100% my own!**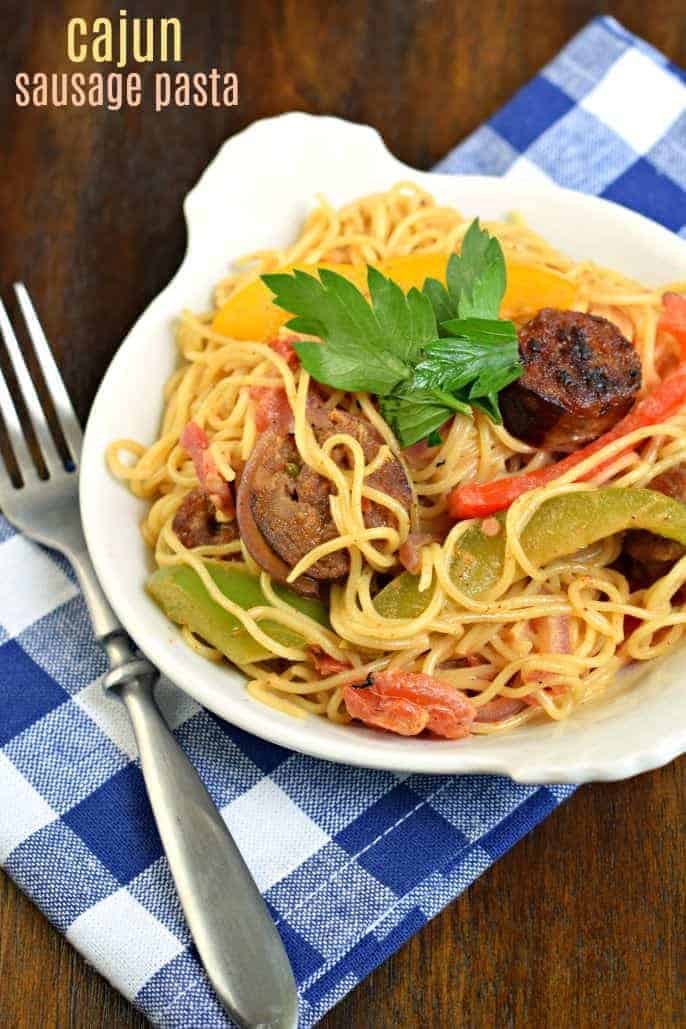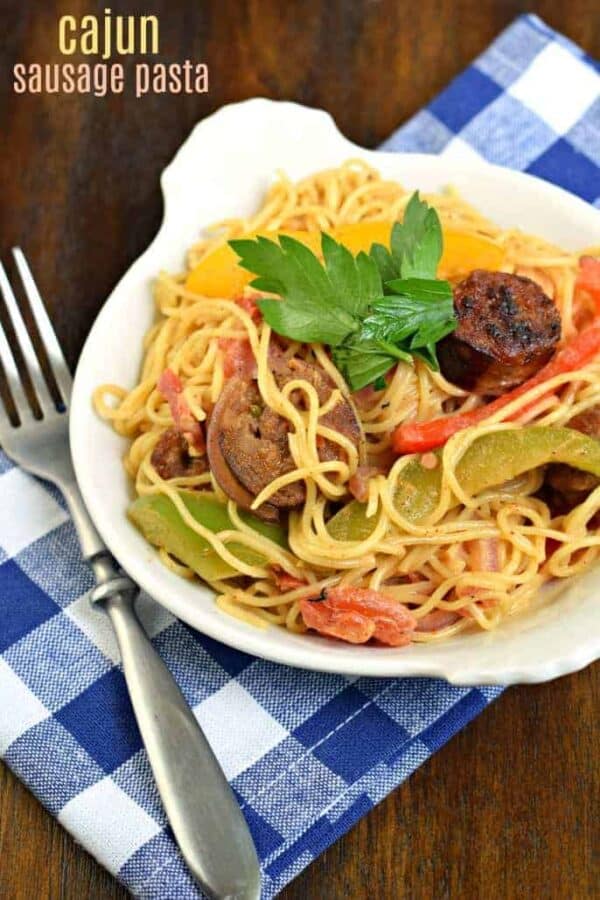 Do you ever hear the words "what's for dinner?" at your house?
Now that school is back in session around here, I usually get a text in the middle of the day from my kids wondering, "what's for dinner." Like, are they planning ahead and preparing themselves for it? I mean, I get it, I like to know what I'm going to eat too! But I always chuckle when that text comes through (as it's usually during their lunch hour), always wondering what the next meal will entail.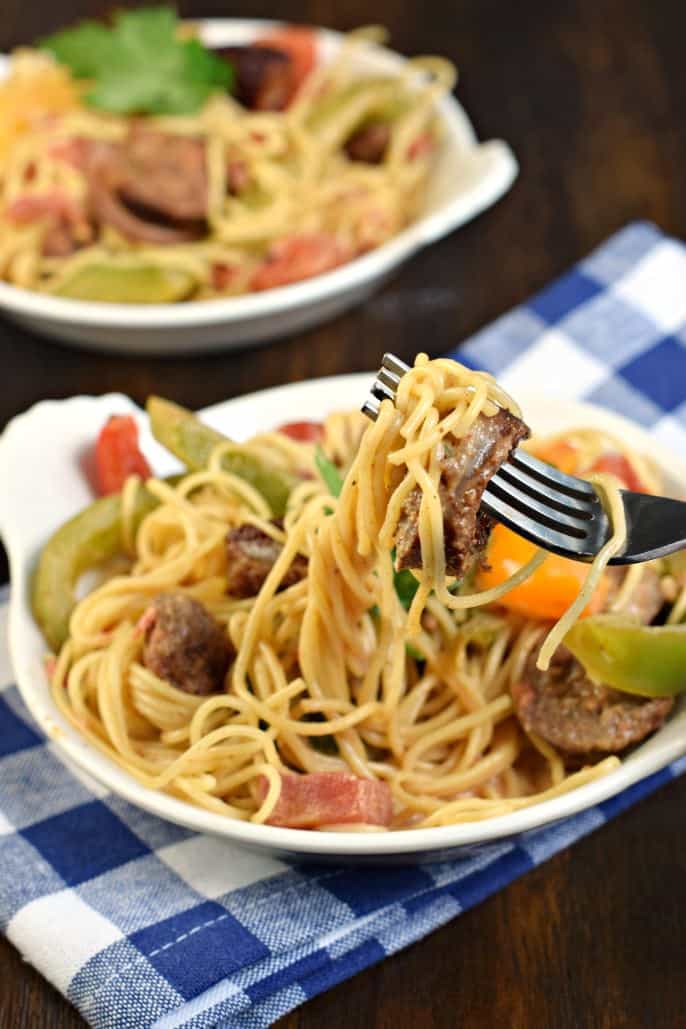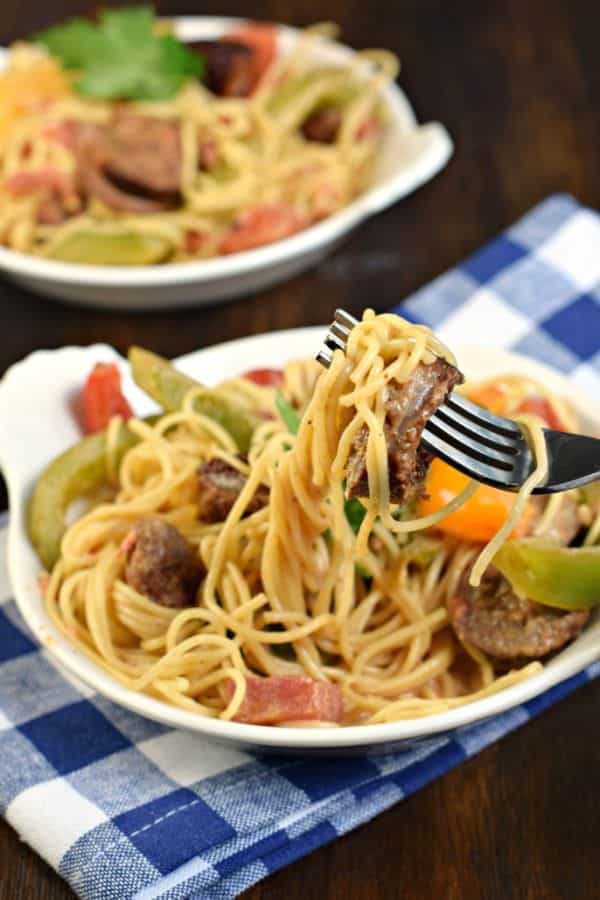 With our crazy after school sports schedule and my husband commuting nearly two hours home every day (yay Chicago traffic!), I prefer dinners that are quick and easy. If it's not in the crockpot then it MUST be under 30 minutes!
Today's Cajun Sausage Pasta recipe fits the requirements. It's easy. It's delicious. And it's ready in under 30 minutes!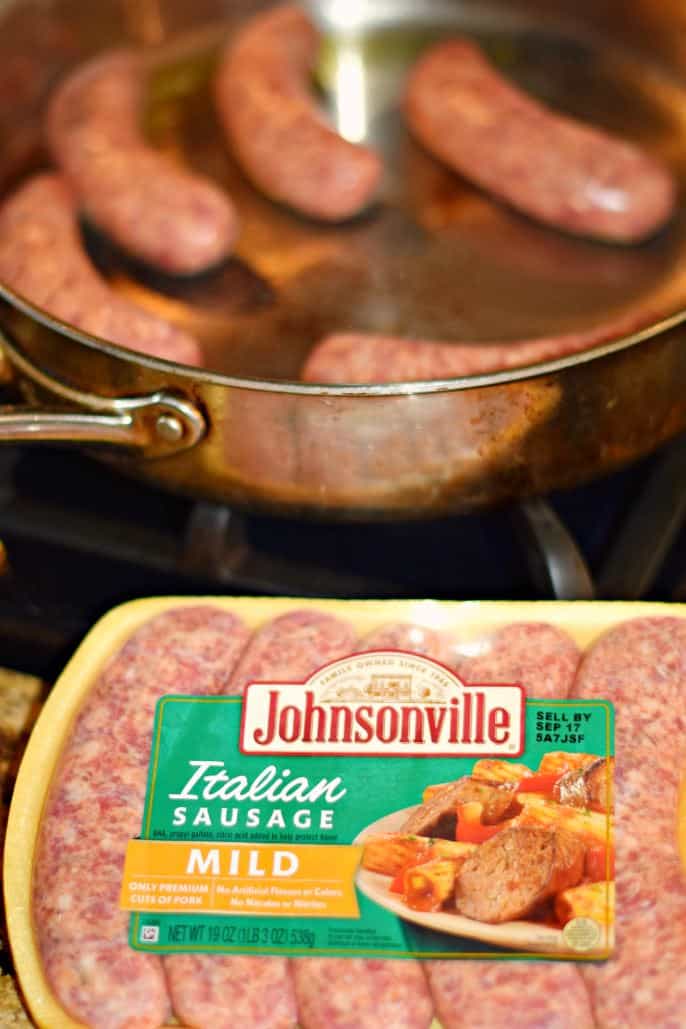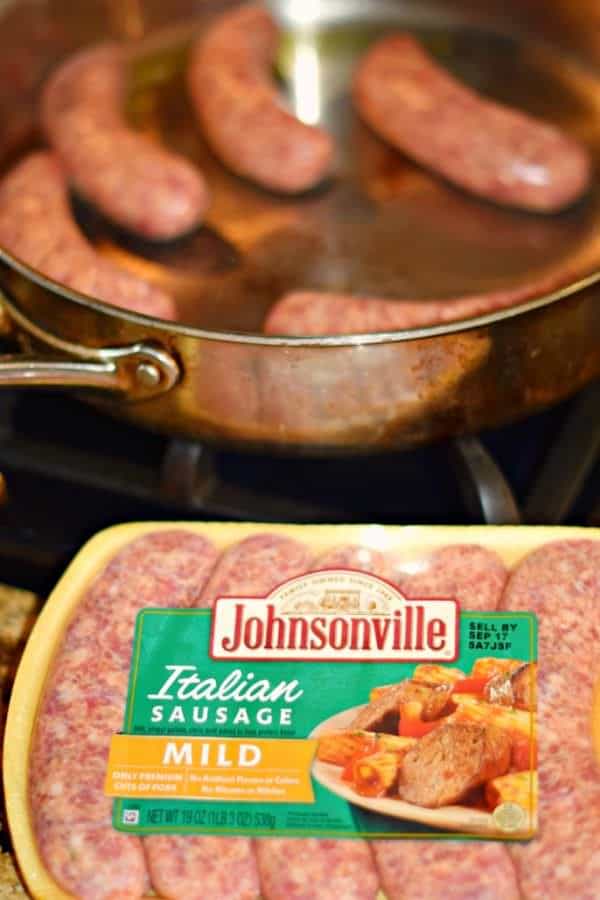 My husband loves cajun food. The spicier the better! However, my girls prefer things a bit tamer. So we compromised. The sauce has a nice kick, however we chose Johnsonville MILD Italian Sausage (instead of the hot version). So flavorful, and it pairs perfectly with this creamy pasta packed with colorful veggies! I also love that the sausage contains no nitrites or nitrates!
Speaking of veggies…my garden is still going strong, with peppers, tomatoes, and basically a TREE of basil at this point. The peppers are the perfect addition to this pasta. I used a variety of green bell peppers, red, orange and yellow sweet peppers, and some sliced red onion! I hope you love this dinner as much as my family does!
Before you get cooking though, did you know that Johnsonville has a "Sausage Support Center?" You can call or text Johnsonville, and it's employees are ready to answer any of your questions, whether you are looking for a recipe, or want to know how to make the juiciest brats for tailgating this weekend. I love that the employees are the ones answering the phones in Sheboygan Falls, Wisconsin! I mean, who knows better how to cook a Johnsonville sausage better than the people who make it? You can dial 844-9-SAUSAGE or TEXT 97406 until Friday, September 15th.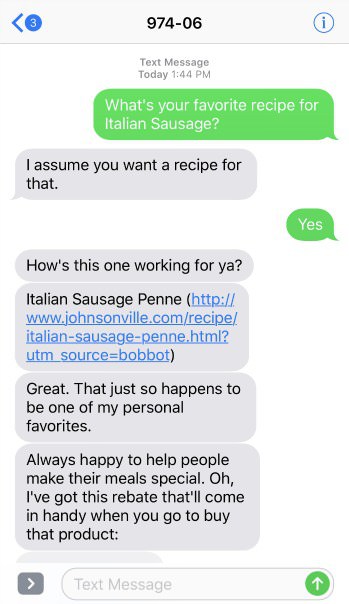 I texted them this week asking ""what's your favorite recipe for Italian Sausage." As you can see they suggested Italian Sausage Penne. Clearly that's only because they don't know about my Cajun Sausage Pasta recipe yet! Also, bonus, they sent me a link to get a $2.00 rebate when I purchase any Johnsonville Products! So helpful.
I read that the bot who answers the texts is referred to as "Bob Bot" and he is created after a real Johnsonville member, a 60+ year old sanitation coordinator and former Green Bay Packer. While, I love the story…y'all know this Chicago girl is a Bears fan and we don't talk much about the Packer's on this website. 🙂 🙂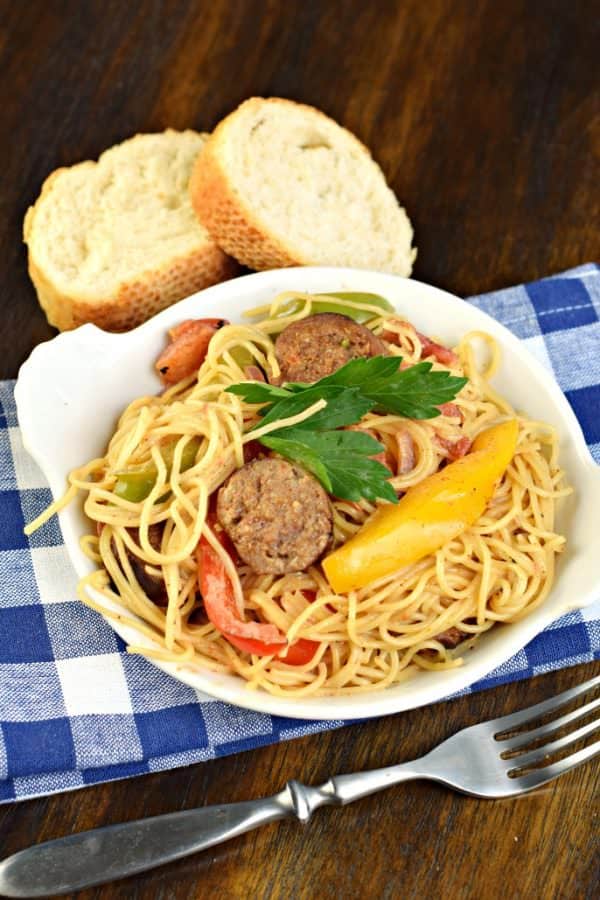 A few tips about making this Cajun Sausage Pasta recipe:
Before you start cooking, make sure you have all your vegetables prepped and ready! I slice everything up before I begin, makes the process smoother and faster, and nothing gets forgotten.
I also start boiling the water for the pasta while I'm cooking. This way it's done and ready when the sauce is done! We chose Angel Hair pasta, but any spaghetti or linguine would be fantastic too! Even some penne would be perfect!
Cook your Italian Sausage for about 5 minutes on one side, roll it over and cook another 5 minutes. Remove from the pan and slice it up into 1 inch slices. You'll notice it's not fully cooked. That's okay. You'll toss it back into the pan and cook an additional 5 minutes, giving each side a couple minutes to brown up nicely!
Add your sliced veggies to the pan with the sausage (once it's cooked for a total of about 15 minutes). Cook for about 3 minutes, until they begin to soften (you don't want mushy veggies, so don't overcook them)!
Once you add your seasonings and remaining ingredients, you'll simmer this on medium for about 10 minutes until warmed and done! Then just toss it with your cooked pasta and enjoy with some french bread!
I created a fun little group on facebook and I'd love for you to join in! It's a place where you can share YOUR favorite recipes, ask questions, and see what's new with Shugary Sweets (so that you never miss a new recipe)! If you'd like to check it out, you can request to join HERE.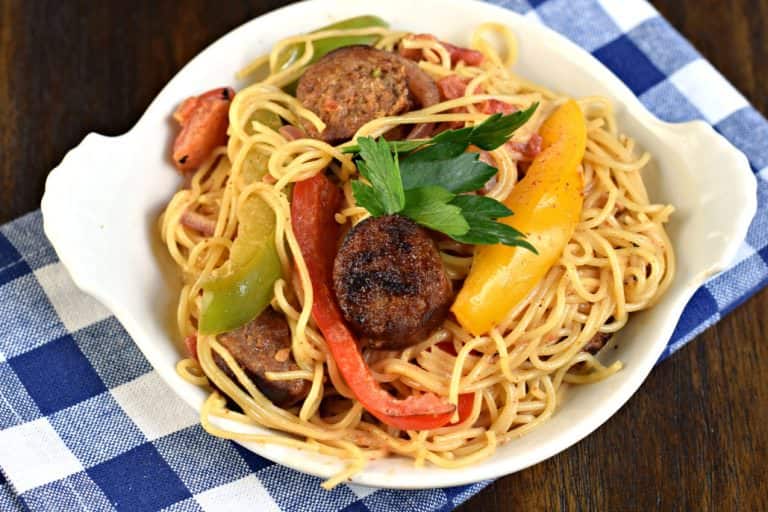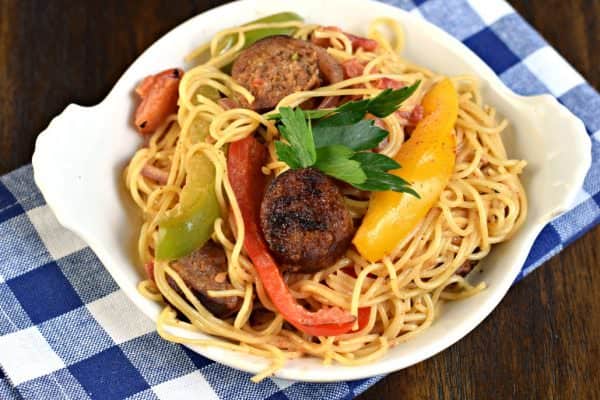 Connect with Johnsonville:
website | Pinterest | Facebook | Instagram | Twitter
Yield: serves 6
Cajun Sausage Pasta
Cajun Sausage Pasta is a delicious 30 minute dinner recipe! Colorful, spicy, and easy to make, you'll want to put this dish on your menu!
Ingredients
1 lb angel hair pasta, cooked
1 lb Johnsonville Mild Italian Sausage
2 Tbsp olive oil
1/2 green bell pepper, seeded and sliced
1/2 yellow bell pepper, seeded and sliced
1/2 orange bell pepper, seeded and sliced
1/2 red bell pepper, seeded and sliced
1/2 small red onion, sliced
2 cloves garlic, pressed
1 can (14 oz) diced tomatoes (don't drain)
1 cup vegetable broth
1 1/2 Tbsp chili powder
1 Tsp Creole seasoning
1/2 tsp kosher salt
6 cranks fresh black pepper
2 Tbsp ground cumin
1/4 tsp cayenne pepper
1 1/2 cup heavy cream
Instructions
Cook pasta according to package directions. Set aside.
In a large skillet (or saucepan), heat olive oil over medium high heat. Add sausage links and cook for 5 minutes. Roll to opposite side and cook an additional 5 minutes. Remove from pan and slice sausage into 1 inch slices. Return to pan and cook an additional 5 minutes, flipping slices over as needed.
Add sliced peppers, onion, and garlic to the pan with the sausage. Cook for about 3 minutes over medium high heat, until peppers begin to soften.
To this, add the tomatoes, broth, seasoning, and heavy cream. Heat for about 10 minutes on medium heat, covered, until warm.
Toss noodles with warm sauce and enjoy!
Looking for more delicious sausage recipes? Here are some of my favorites:


This is a sponsored conversation written by me on behalf of Johnsonville. The opinions and text are all mine.