Caprese Chicken Skillet – Delicious pan seared chicken topped with mozzarella, tomatoes, basil and balsamic. This dinner has a gourmet flair and is ready in just 15 minutes!
Love easy dinner recipes? Try our family's favorite Meatloaf recipe for comfort food with a modern taste! Pair it with some Instant Pot Potatoes for a quick and easy side.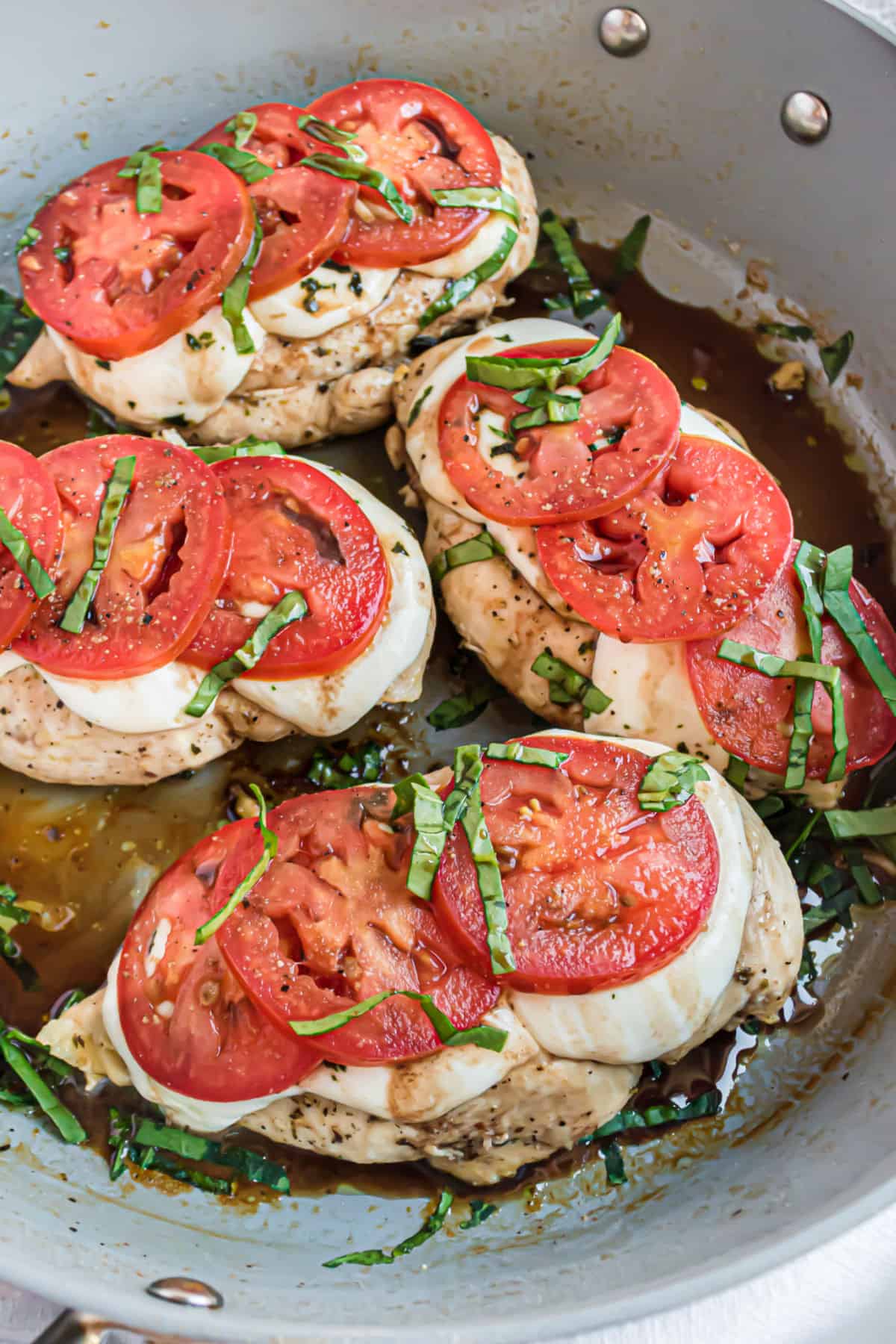 Chicken Caprese
I took a look at my cookbook shelf the other day and I realized I have well over 200 cookbooks.
My latest addition to my cookbook collection comes from my sweet friend Mary who blogs at Barefeet in the Kitchen. I love her and her new cookbook, "The Weeknight Dinner Cookbook."
I love cookbooks that have drool-worthy photos for EVERY recipe, and Mary's cookbook does NOT disappoint!
But, I knew the first recipe I was going to try would be her Caprese Chicken Skillet recipe.
Friends, I knew this meal would be good but I was blown away by how wonderful the chicken tasted! The zing of balsamic, the juicy tomato and the tender chicken all tasted like something from a high end restaurant.
Do you want to know my favorite thing about today's dinner recipe?
From start to finish it was ready in 15 minutes. No joke.
Ingredient Notes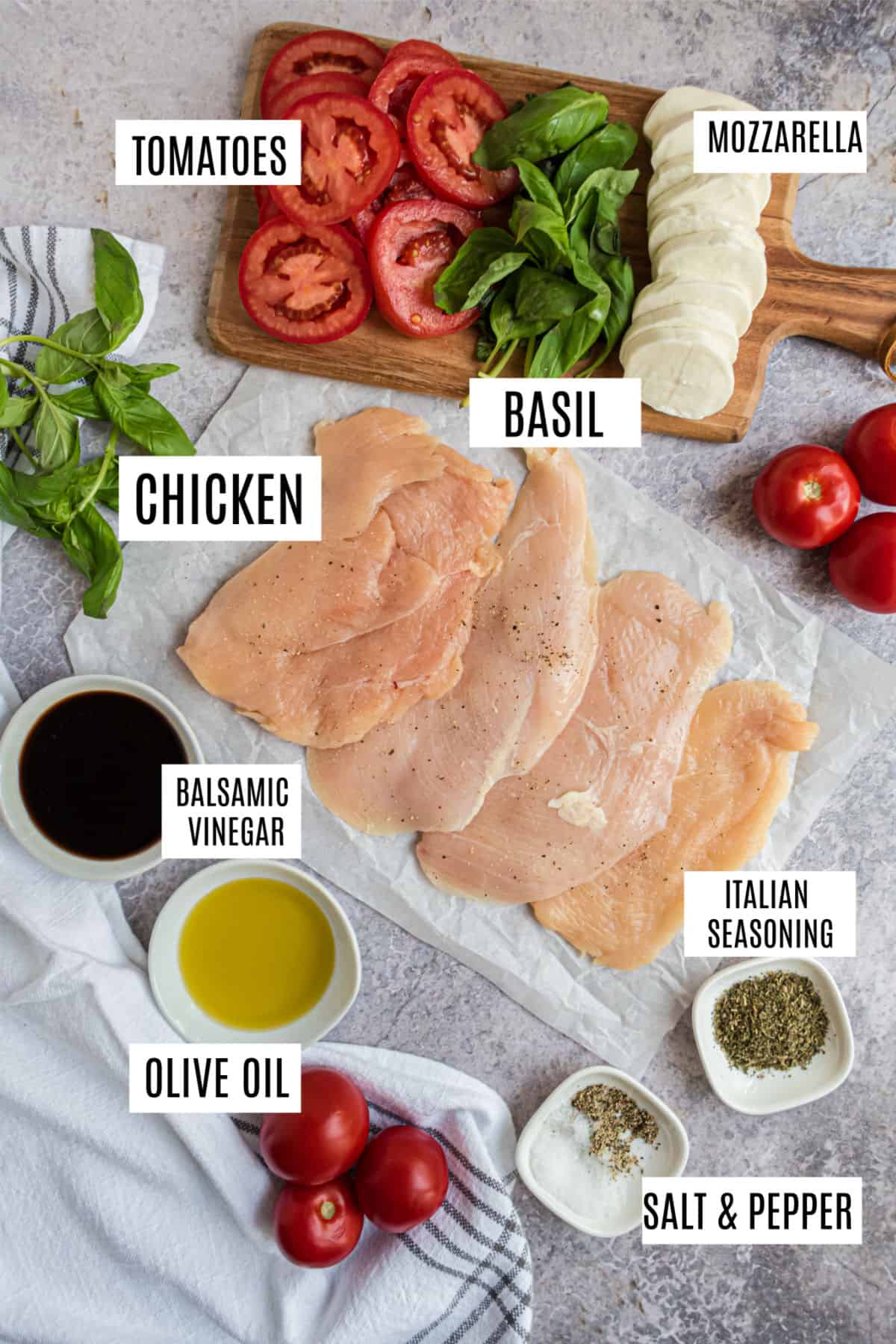 Have you ever wondered what the "caprese" in chicken caprese means? It refers to the combination of mozzarella, basil and tomato that give this meal the bulk of its flavor.
You add these to the top of seared chicken breasts, along with balsamic vinegar and dried Italian herbs to turn an ordinary piece of chicken into a dinner that does everything but transport you to the Italian countryside.
Chicken thighs work well in this recipe too! Just make sure they are skinless and boneless.
PRO TIP: Make sure your chicken is pounded to the same thickness for even cooking.
Step by Step Instructions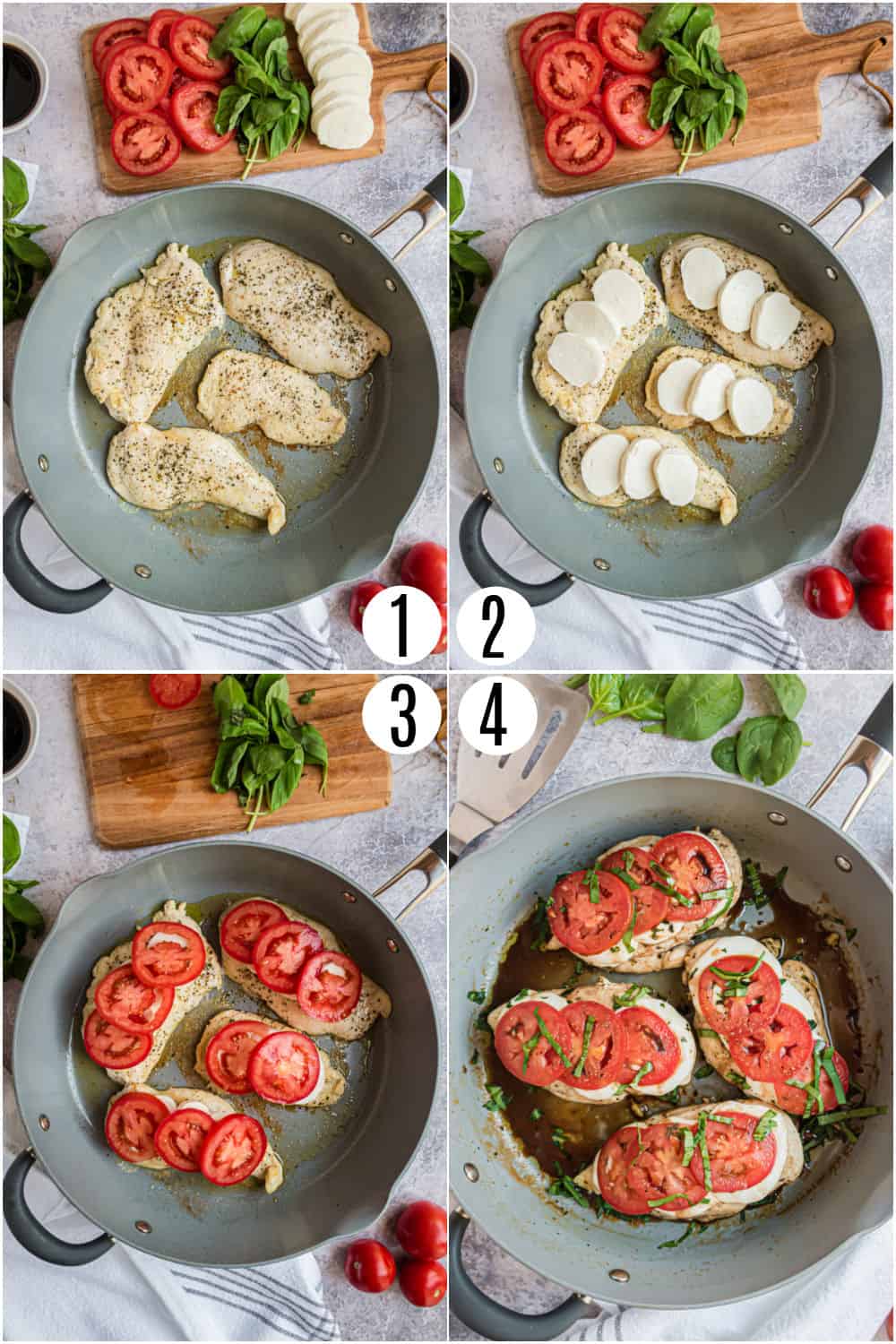 STEP 1. Tenderize the chicken
Place your chicken breasts into a zip plastic bag, and pound them to about 1/4-1/2 inch thick using a meat tenderizer.
STEP 2. Sear
Warm a large skillet over medium high heat then add olive oil to the pan. Once the oil is warm, ddd the chicken in a single layer and sprinkle with half of the salt, pepper, and Italian seasoning.
Cook without touching for about two minutes (you'll notice the edges of the chicken cook while the center appears pink). Flip the chicken over and sprinkle with the remaining salt, pepper, and Italian seasoning.
STEP 3. Add the tomato and cheese
Top each piece of chicken with cheese followed by tomato slices. Cover with a lid and cook an additional 3-4 minutes.
Check the chicken for doneness before serving. I use this meat thermometer to make sure the internal temperature is at least 165 F.
Tips and Tricks
Cutlets – If you prefer, you can also cut the chicken breasts in half lengthwise to form cutlets, and skip the tenderizing step altogether.
How to tell when chicken is done: I highly recommend investing in a meat thermometer to help you know when your meats like chicken and pork are fully cooked. In the even you don't have one, you can check the chicken for doneness by piercing the center with a knife and fork. The juices will run clear when the chicken is fully cooked. If they are pink, the chicken needs more time.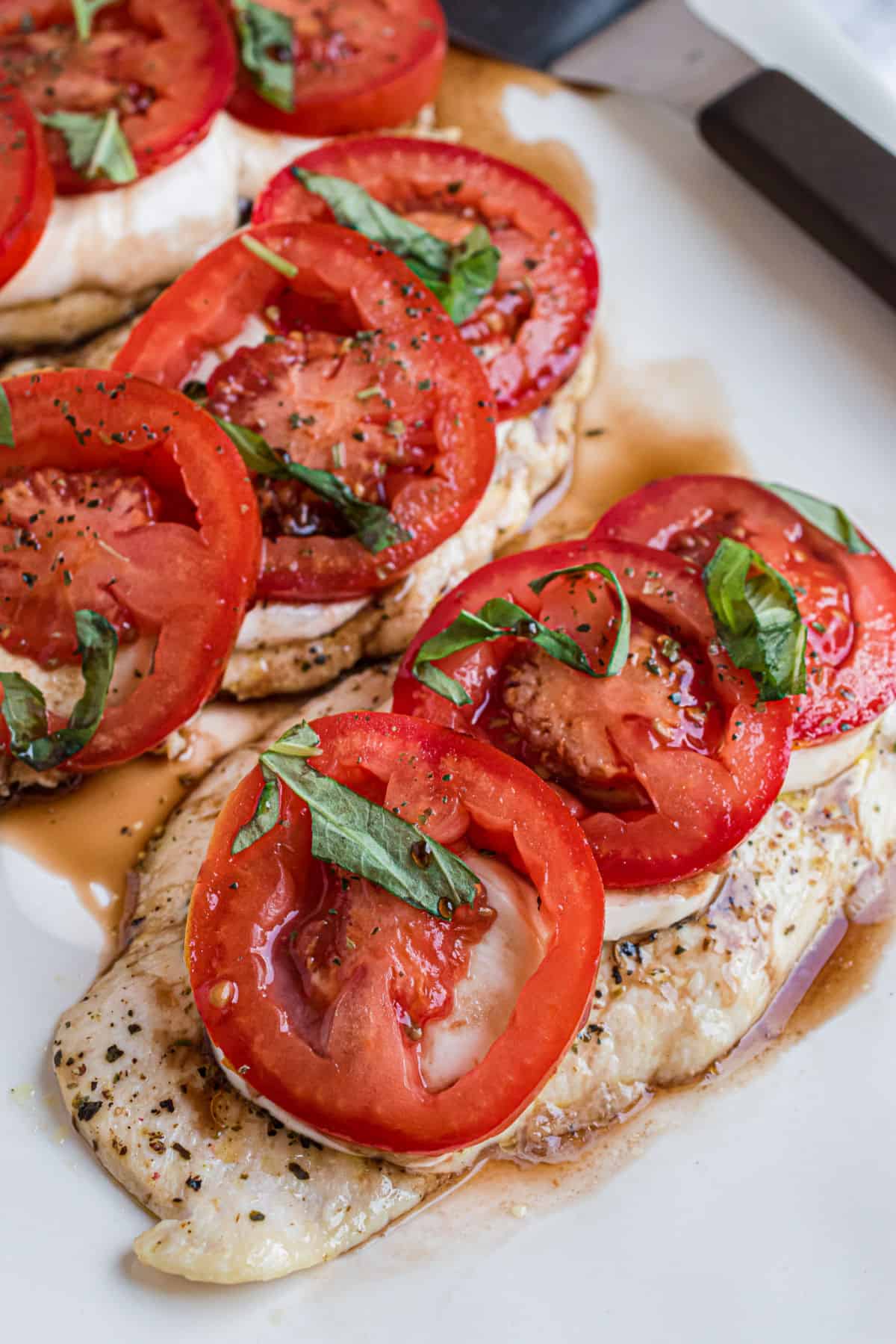 Serving Suggestions
I served our Caprese Chicken Skillet with a side of angel hair pasta (greatly appreciated by my athletic kids who need the extra carbs). I'm pretty sure the pasta took longer to boil than the chicken took to make!
This chicken would also pair beautifully with rice, a simple salad or some sauteed Zucchini Noodles for a low carb dinner. You could also serve chicken on toasted garlic bread for one out-of-this-world sandwich.
Got leftovers? Dice up the chicken and enjoy cold it in a tossed salad for lunch the next day!
This lightning quick Caprese Chicken Skillet does it all: healthy, easy, flavorful and so versatile. I'm so glad to have a new fast homemade dinner option for these busy times!
Want more amazing easy weeknight dinner recipes from Mary? Order a copy of the cookbook for yourself and tell me which recipe you tried first!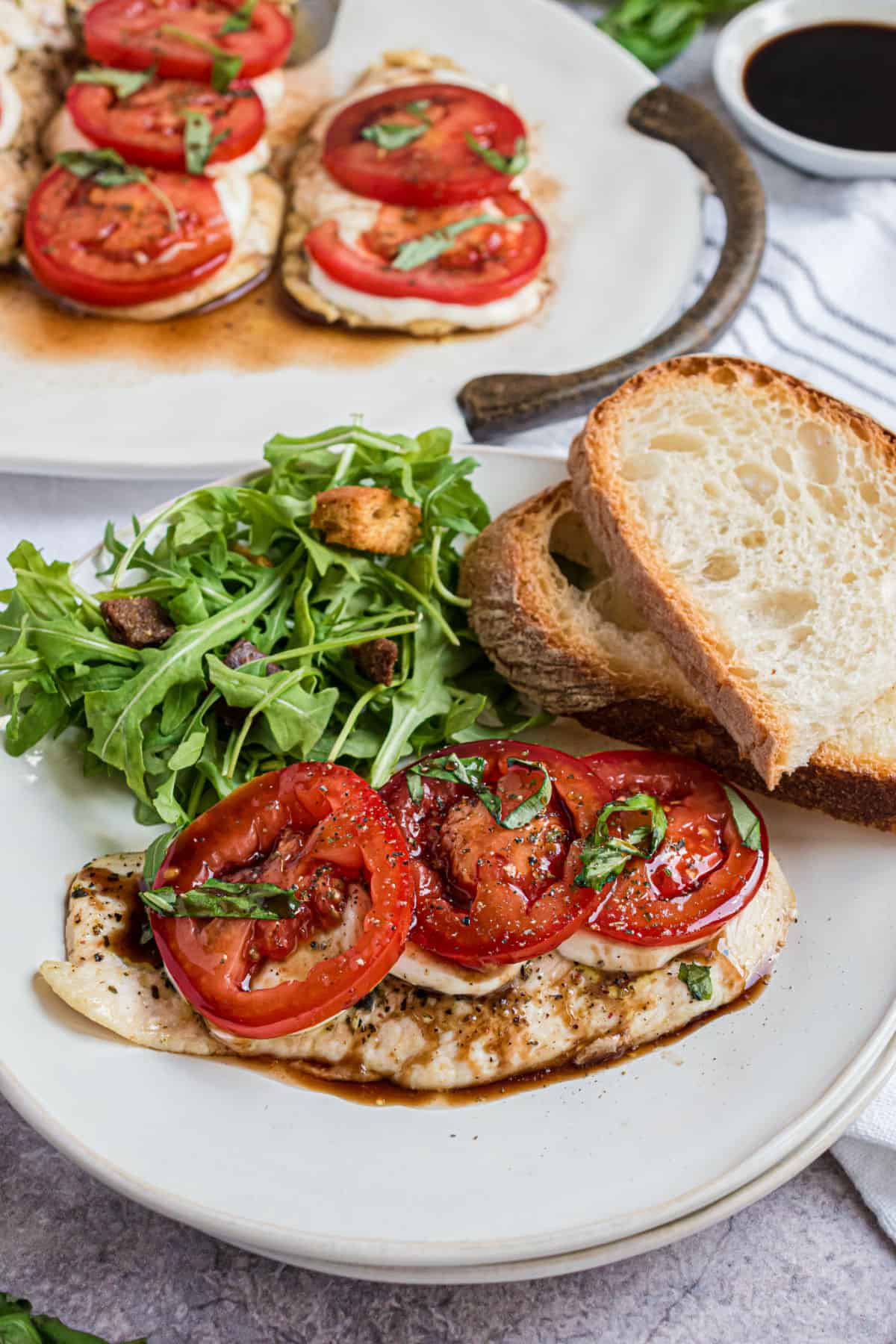 More Easy Dinner Recipes