This Crock Pot Barbacoa Beef recipe is made in the slow cooker and has an authentic mexican flair! Pair with tortillas and cilantro lime rice for a delicious tex mex meal.
Our slow cooker works overtime every week creating delicious meals. We're obsessed with this Crockpot Bourbon Chicken recipe! Sweet and spicy, it call also be made as an Instant Pot Recipe!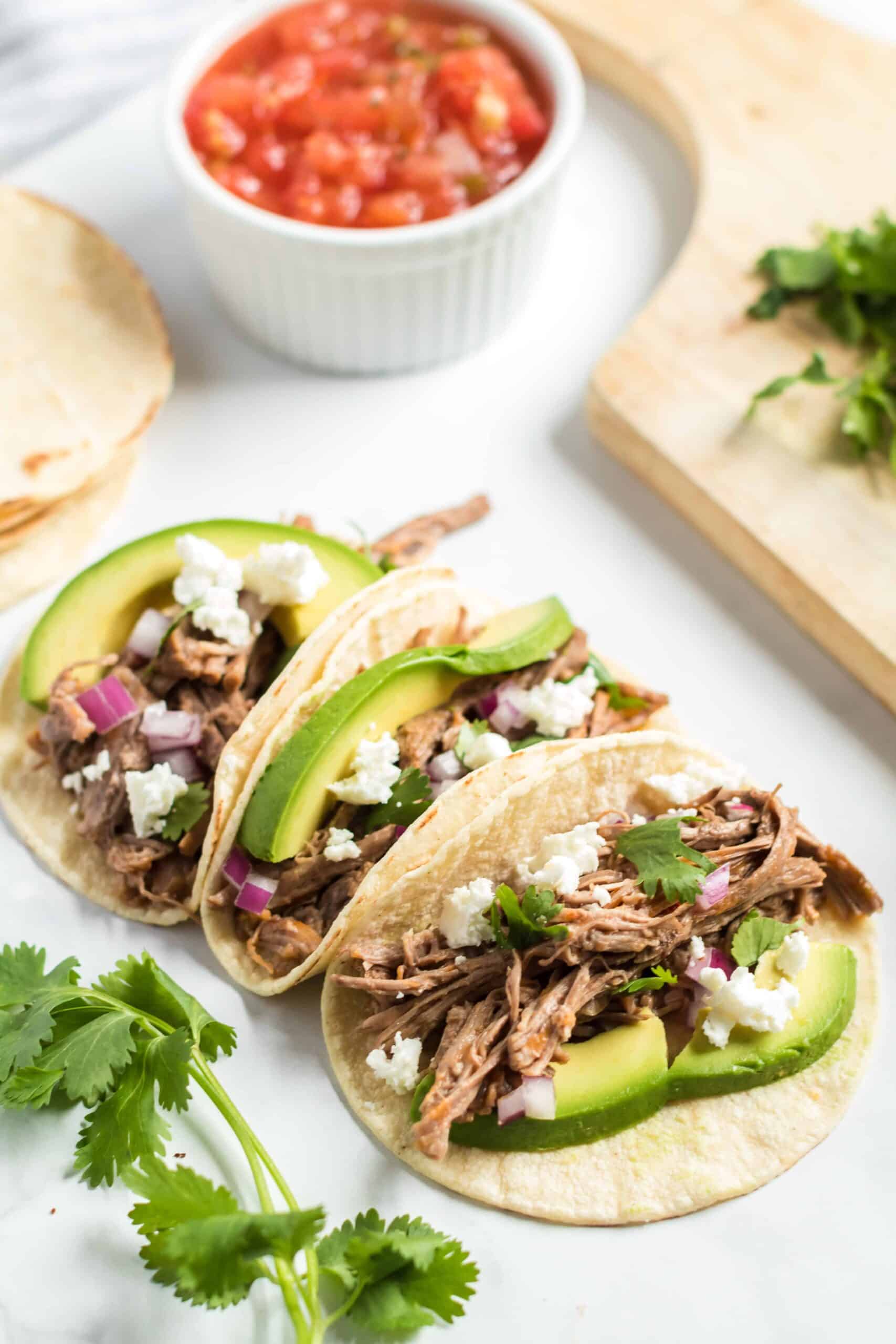 What is Barbacoa?
Have you ever walked into a Mexican restaurant and been so overwhelmed by the choices? Like, literally, there can dozens and dozens of meats and "plates" to choose from.
This is why my family loves Chipotle. It may not be the BEST mexican, but dang if it isn't simple to place an order.
Want tacos? Done. Want carnitas? Yes! Carne Asada? You got it. Barbacoa? Wait. What?
In Mexican cooking, Barbacoa refers to shredded beef. Seasoned to perfection, it's the "pulled pork" of the beef family.
And my recipe makes it so easy for you to make this at home!
How to make Barbacoa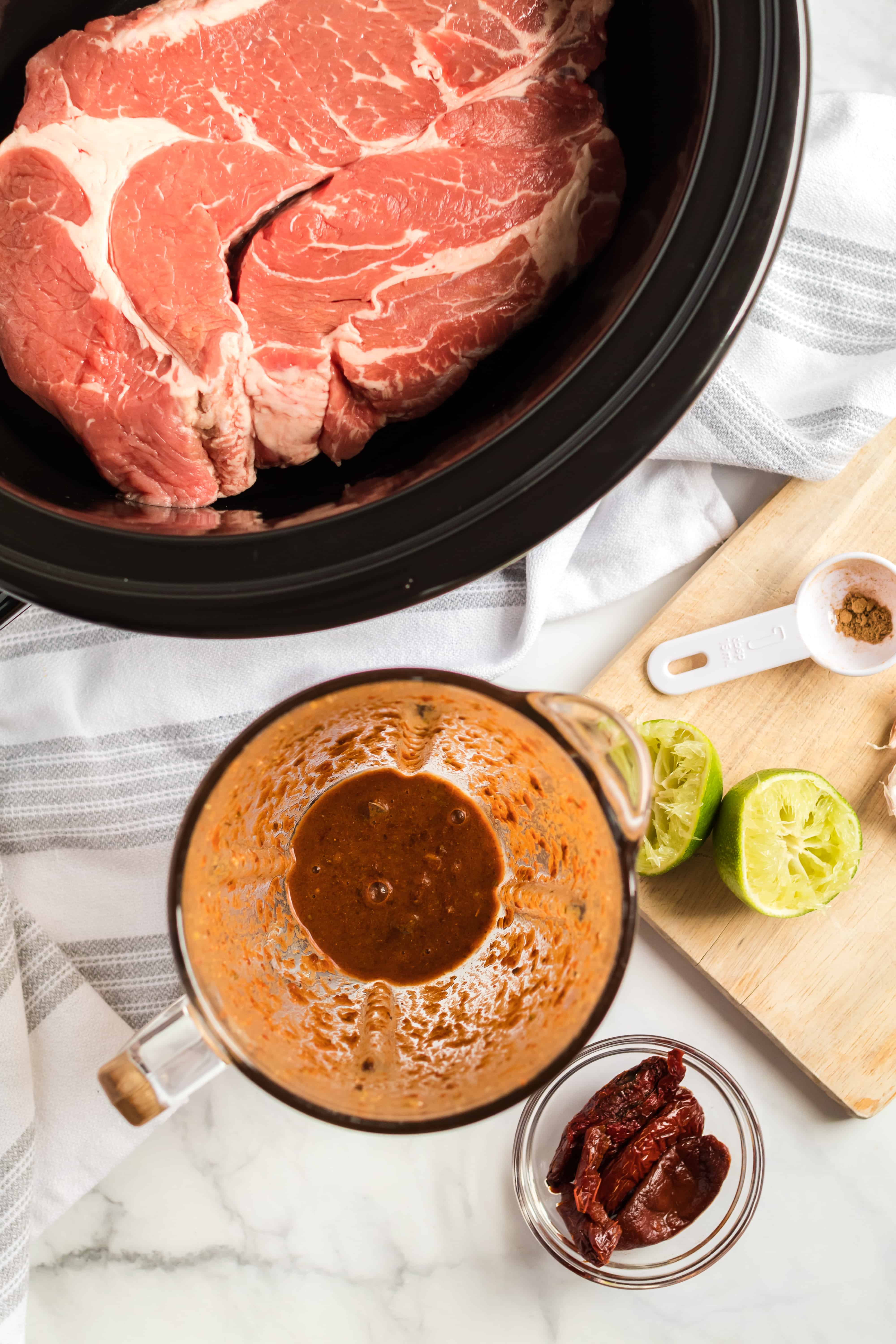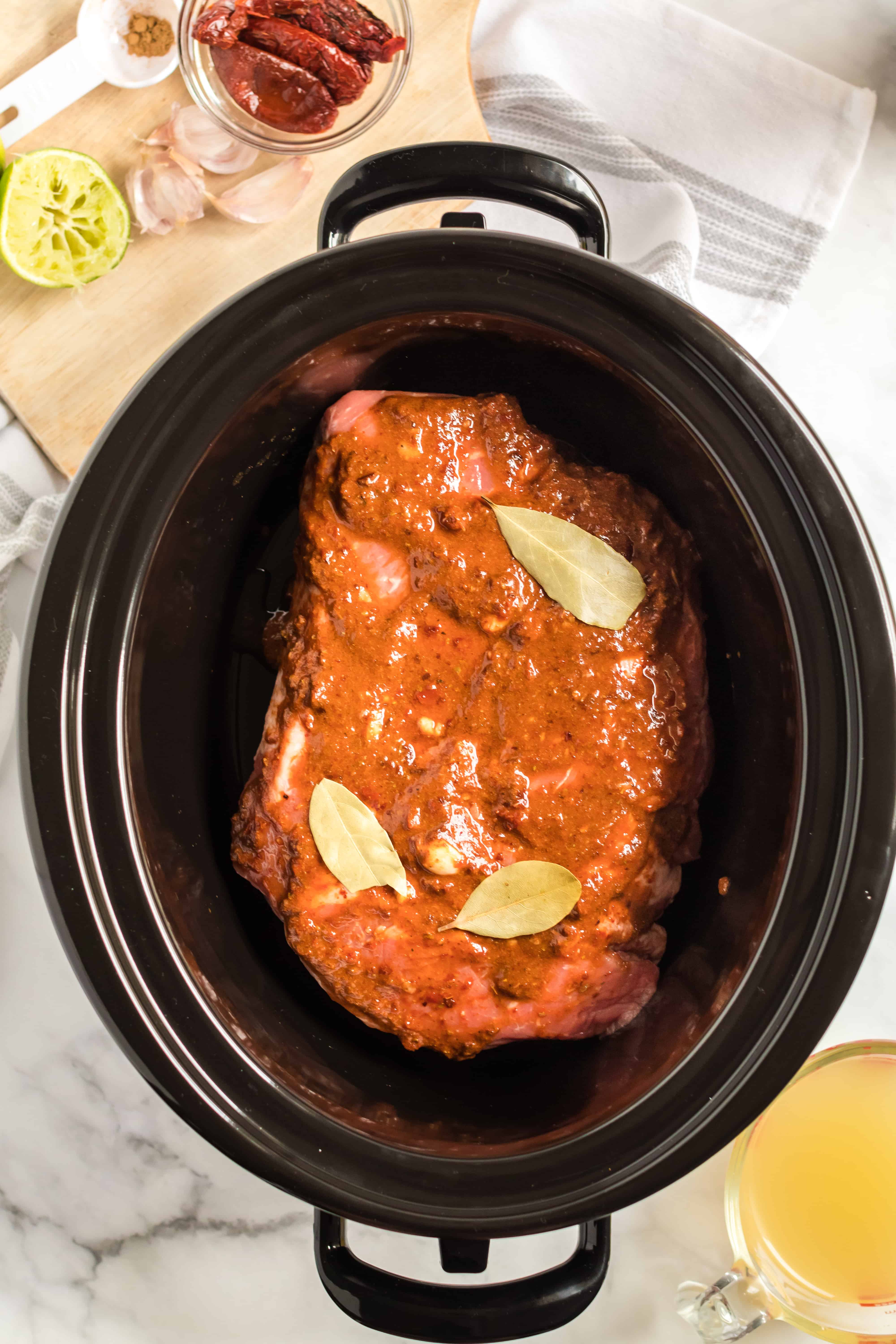 Step 1: Add chuck roast to bottom of a slow cooker (crockpot). Set aside.
Step 2: In a food processor (or blender), combine apple cider vinegar, lime juice, chipotle peppers in adobo sauce, garlic, cumin, oregano, salt, pepper, and ground cloves. Process on high until smooth. Spread over chuck roast.
Step 3: Add chicken broth and bay leaves to the slow cooker. Cover and heat for 6-8 hours on low.
Step 4: Remove beef and shred. Remove bay leaves and return beef to crockpot. Serve on a tortilla with all the fixings.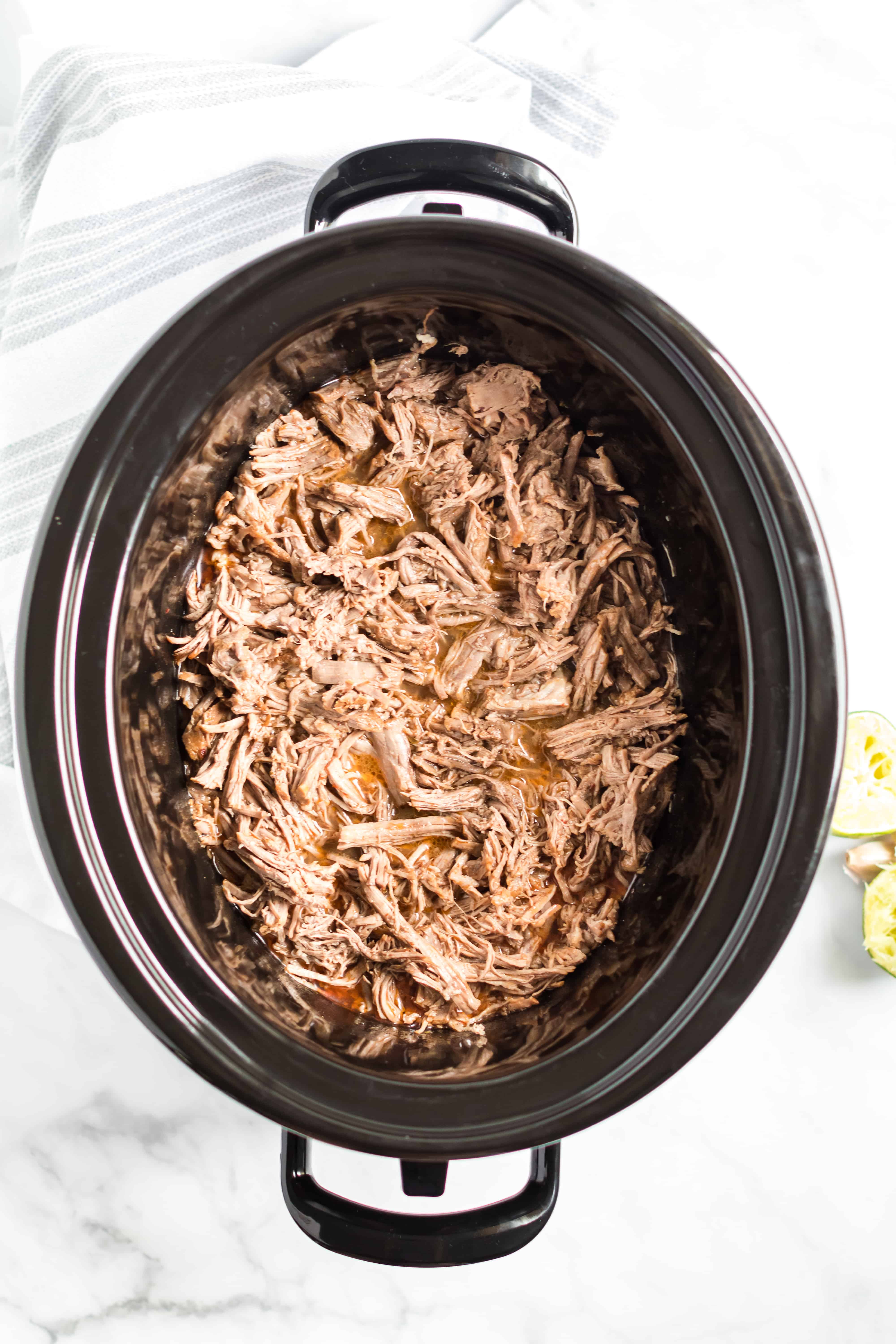 What cut of beef is best
To get the best results, I use chuck roast.
The marbling and fat in the roast renders down to create a fork tender bite of beef.
What else you'll need
If you want a quick glance at what's needed for today's recipe, look no further. For the printable recipe with measurements, scroll all the way down!
Ingredients:
Beef Chuck Roast
Apple Cider Vinegar
Limes
Chipotle Peppers in Adobo Sauce
Garlic
Cumin
Oregano
Salt
Pepper
Ground Cloves
Chicken Broth
Bay Leaves
Toppings- tortilla, lettuce, tomato, salsa, and more!
Tools: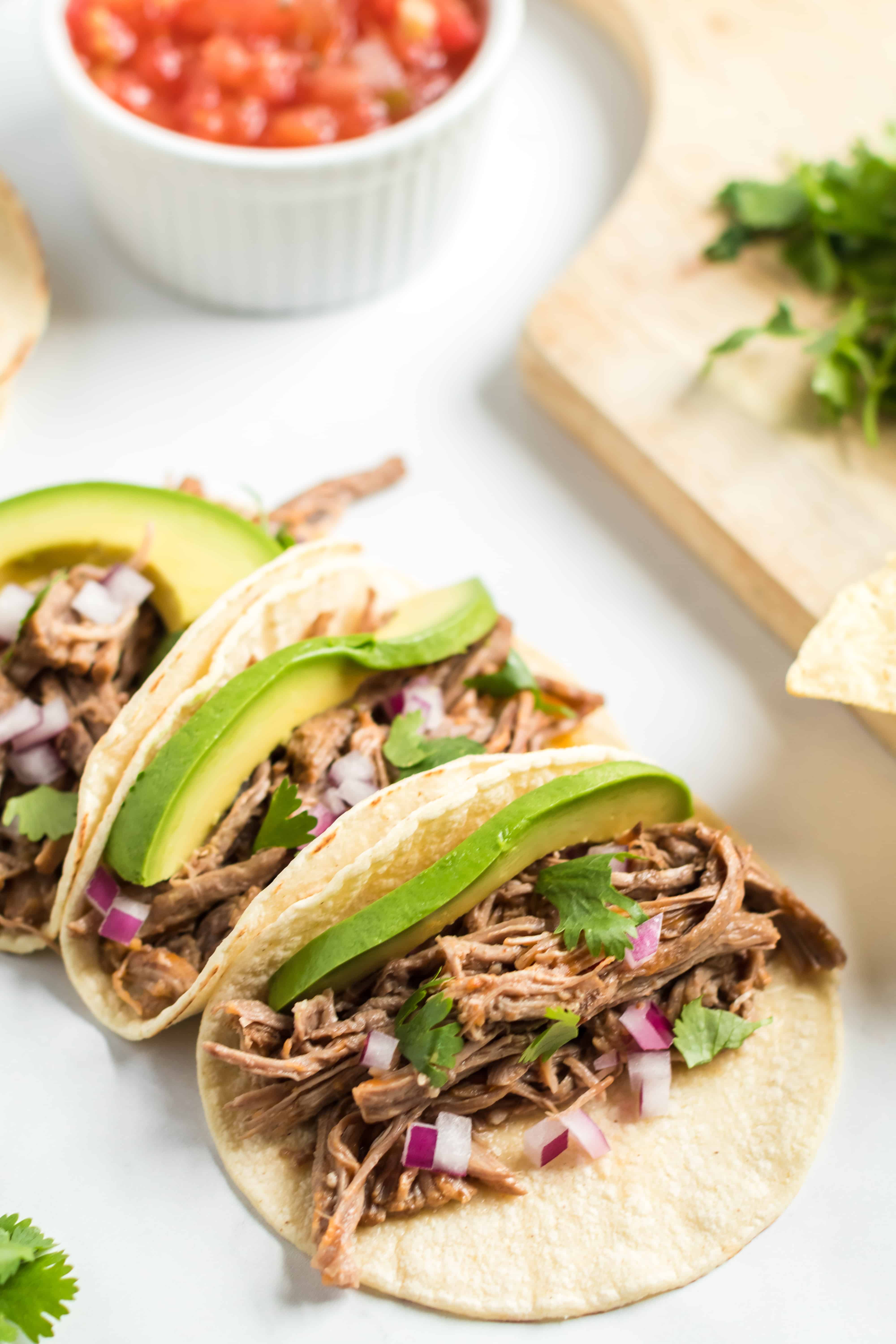 What to Serve with Barbacoa
One of things that my family loves most about Mexican food and Cinco de Mayo is the ability to customize dinner with all your own toppings.
So whether you love avocado or onion, you can make it your own.
Here are a few of our favorite serving suggestions:
Cotija Cheese, crumbled (or shredded cheddar)
Guacamole (or sliced avocado)
Pico de Gallo (or diced tomatoes and onion)
Black Beans
Diced Onions
Jalapenos
Sour Cream
Cilantro
Lettuce
You can create a "taco" by serving on a warmed flour or corn tortilla. Or turn your barbacoa into a "bowl" with all the toppings on a bed of lettuce.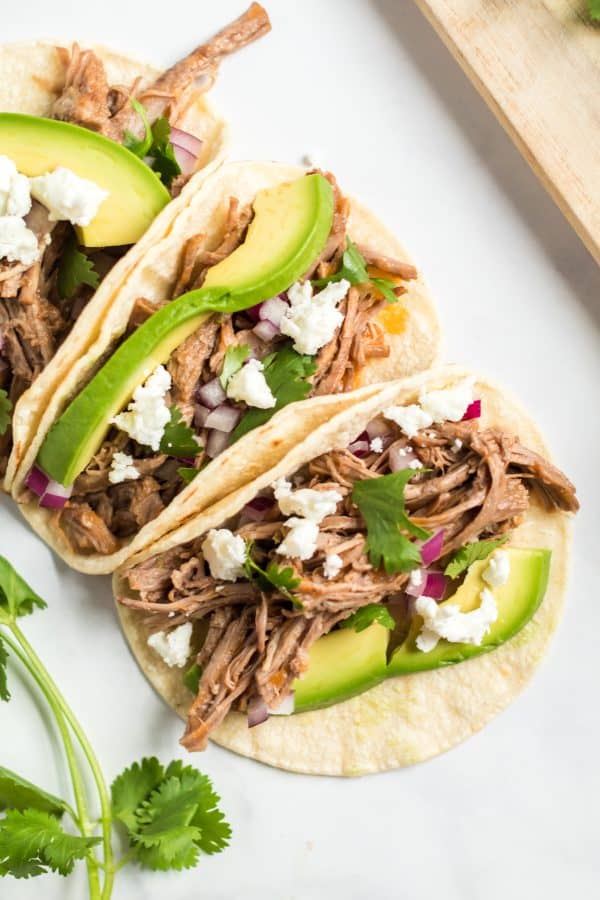 Tips and Tricks
When making the chipotle pepper paste, use only the peppers, not the sauce. You can freeze the excess from the can in ice cube trays for future recipes.
Want to cut back on the heat? Use just the sauce from the can of adobo peppers and not use the peppers themselves. My family loves a little spice.
If cooking a larger roast than 4lbs, cook closer to the 8 hour mark for the most tender results.
Make it a freezer meal. You can combine everything in a ziploc freezer bag for up to 3 months. Thaw in refrigerator overnight, dump it all the slow cooker and cook as directed.
Or, freeze the leftovers for meals later!
Use the leftover Barbacoa meat in tacos, enchiladas, and quesadillas! Stir some in homemade mac and cheese for a zing!
YES you can make Instant Pot Barbacoa too!!!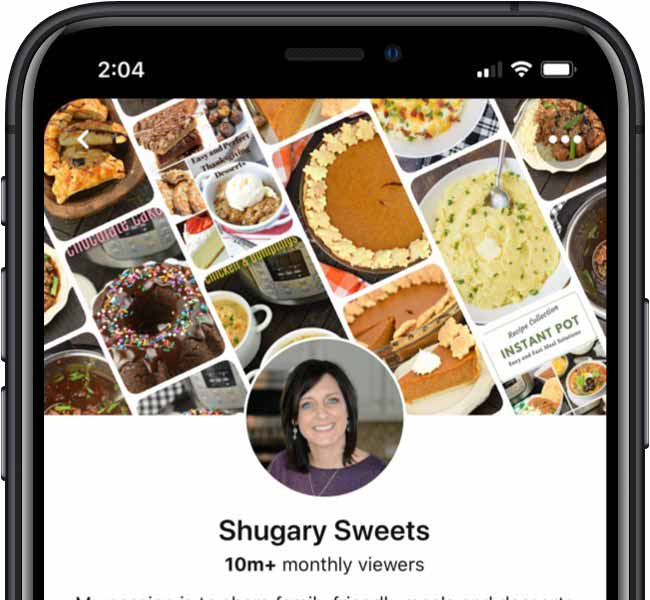 More Dinner Recipes:
This Barbacoa Beef recipe is made in the slow cooker and has an authentic mexican flair! Pair with tortillas and cilantro lime rice for a delicious tex mex meal.