This no-fry Fried Ice Cream delivers the classic Fried Ice Cream flavor without the fuss and mess. This recipe is convenient and delicious, with the crunchy cornflake topping and creamy vanilla ice cream center!
If you love Mexican desserts, you'll need to try our classic Tres Leches cake. Moist and flavorful. Or give our alfajores cookies a try next!!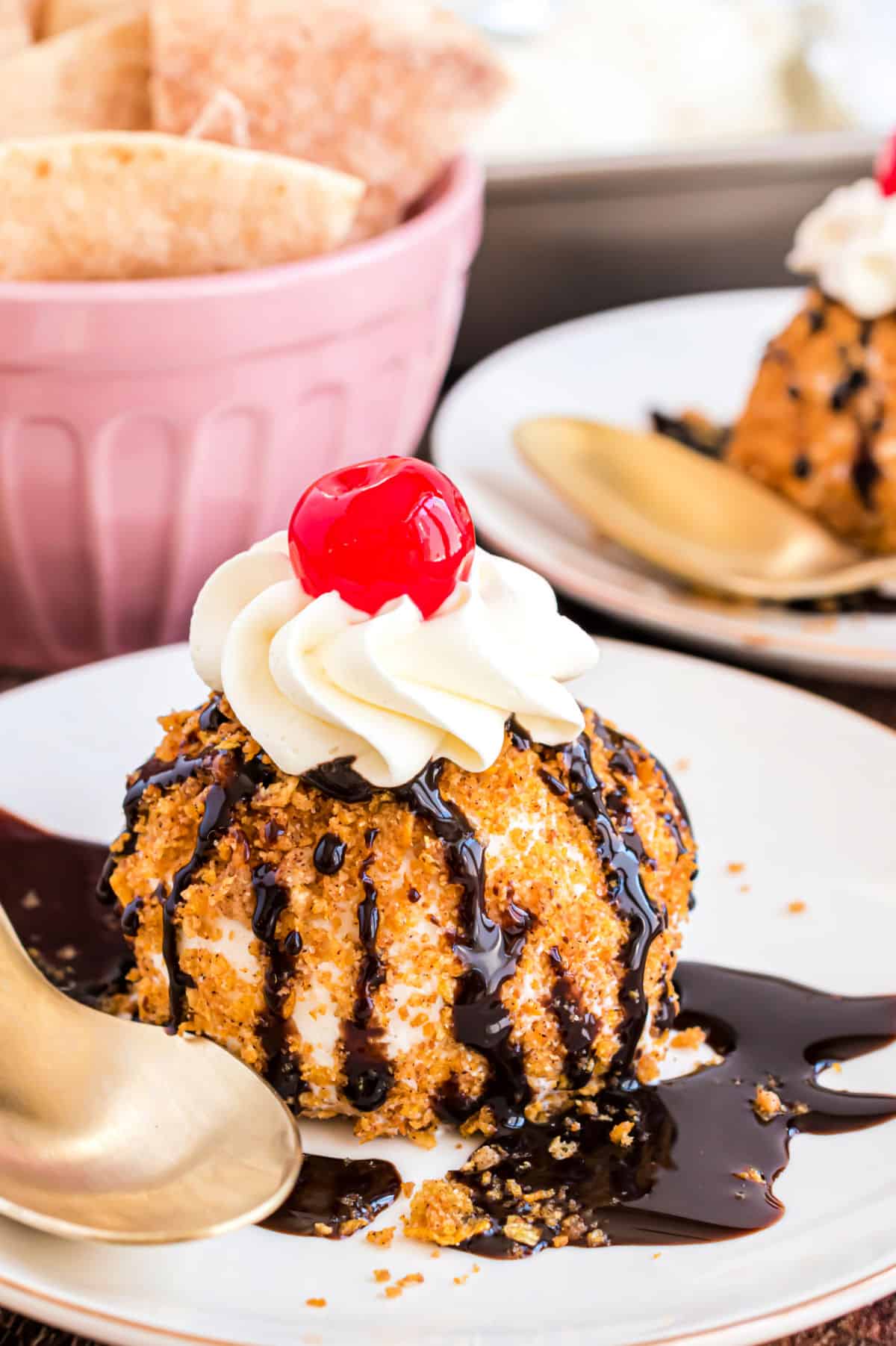 Why Fried Ice Cream Is The Best
Does anyone else judge restaurants based on their dessert menus?
I may be crazy, but friends…dessert is important (which is why I have over a thousand dessert recieps on the website here.
When going to a Mexican restaurant, some people look for churros or apple empanadas…I always opt for fried ice cream when available.
Fried Ice Cream is a classic dessert often reserved for dinners out, but now you can easily make it at home.
Store-bought ingredients keep this recipe quick and easy.
There are options for those with or without equipment like an ice cream maker or food processor. So you can enjoy this recipe with whatever you have in your kitchen.
The base recipe is tasty as-is, but you can customize the ice cream flavors or toppings with whatever you like.
Ingredient Notes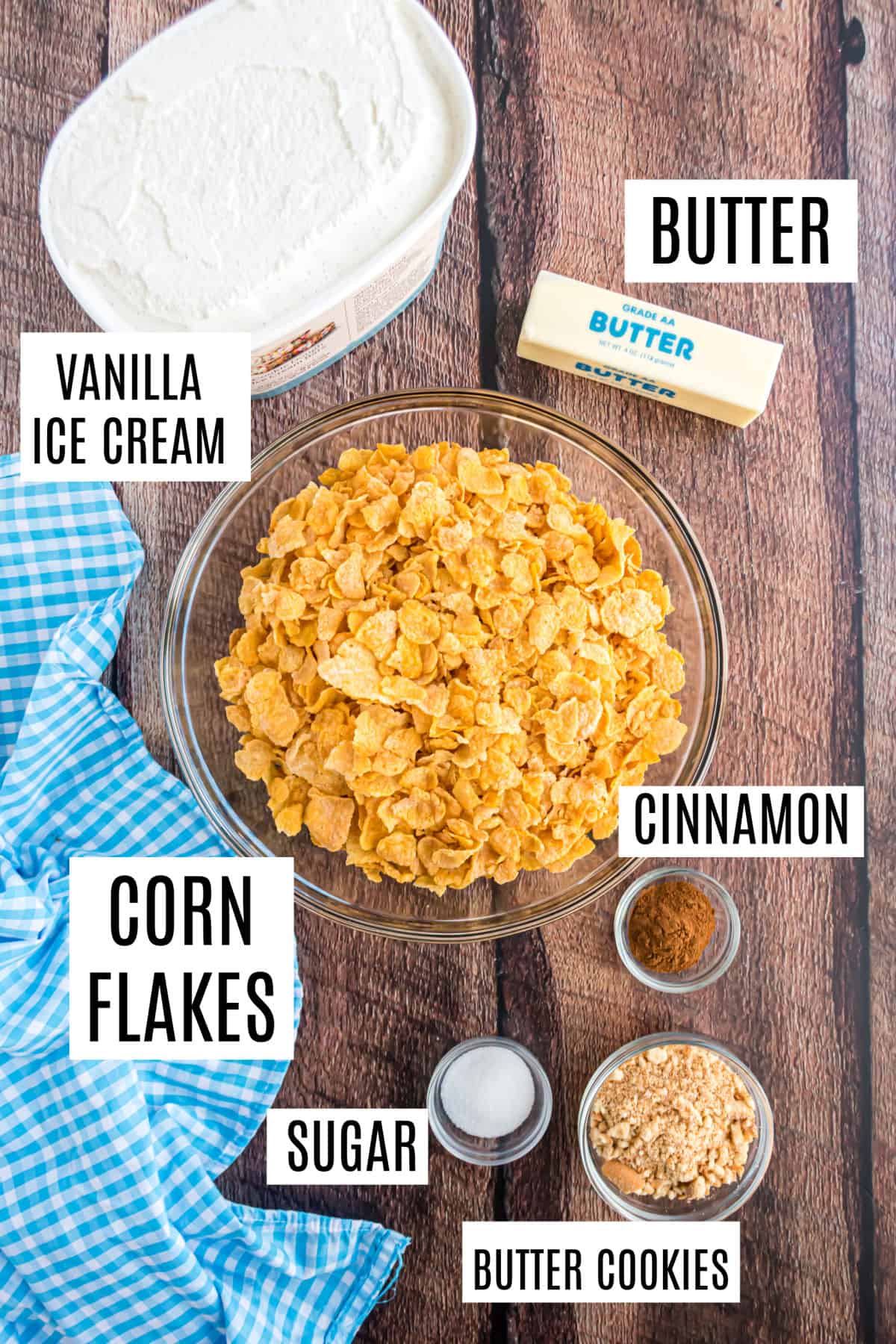 Ice Cream – Fried Ice Cream is typically made using firm vanilla ice cream. Steer clear of gelato and frozen yogurt, which are too soft.
Cornflakes – I like to use unsweetened cornflakes to control the sweetness when I blend in sugar and cinnamon.
Butter Cookies – Adding crushed butter cookies is optional. But they add an ultra-crunchy texture to the coating that takes this recipe to the next level. Other delicious options are pecans, coconut, or Golden Oreos.
Granulated Sugar – If you're using sweetened cornflakes, you can skip adding additional sugar. 
Ground Cinnamon
Butter – For this sweet dessert, unsalted butter tastes the best. 
Optional Toppings – Cinnamon Sugar Tortilla Chips, Whipped Cream, Chocolate Syrup, Maraschino Cherries
Easy Instructions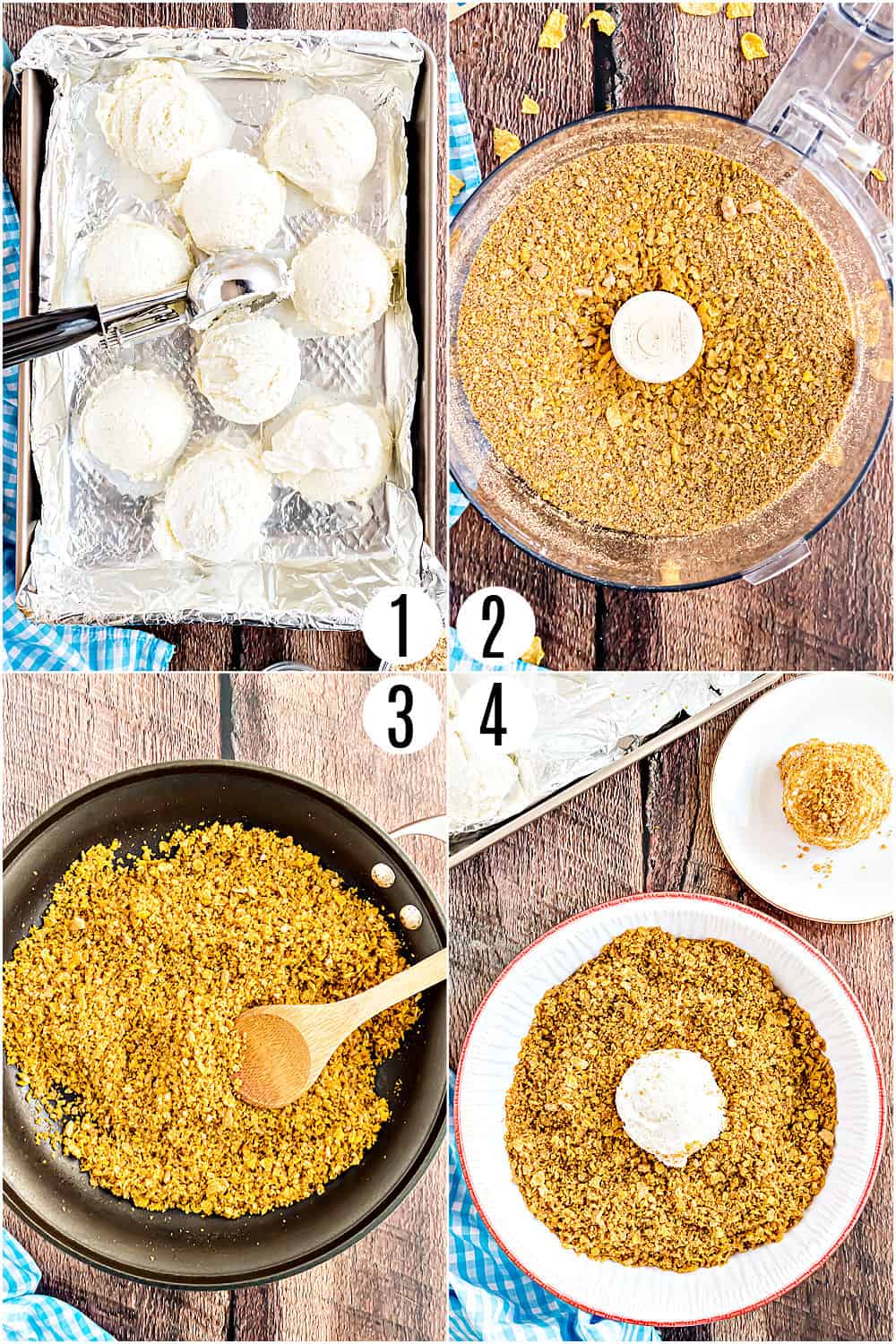 Divide Ice Cream – Use a large ice cream scoop to divide 1 ½ quarts of ice cream into about 9 equal portions. Place these into a 13" x 9" foil-lined baking dish, and place it in the freezer for about 1 hour.
Blend Coating – Meanwhile, pulse cornflakes in a food processor until they're your desired crumb size. Then, add cookie crumbs, sugar, and cinnamon. Pulse briefly to blend everything.
Toast Cornflakes & Cookie Crumbs – Once the ice cream has hardened and the coating is blended, heat the butter in a skillet over medium heat. Next, add the cereal mixture and toast for about 5 minutes. Stir frequently with a wooden spoon to prevent burning. Remove the mixture from the heat and pour it into a large shallow dish, like a pie plate.
Coat Ice Cream Balls & Serve- Take the ice cream balls from the freezer, and roll them in the warm cereal mixture to thoroughly coat the outsides. Serve the No-Fry Fried Ice Cream immediately, and don't forget to add your favorite toppings.
Tips and Tricks
Measure out the cereal before crushing it up for the most accurate measurement. 
If you don't have a food processor, pour the cornflakes into a resealable plastic bag and squeeze out as much air as possible. Then, seal the bag and place it on your counter. Next, crush the cereal with a rolling pin or the bottom of a heavy bowl or pot.
For a no-mess solution to creating cookie crumbles, follow the same steps for crushing cornflakes in a resealable plastic bag.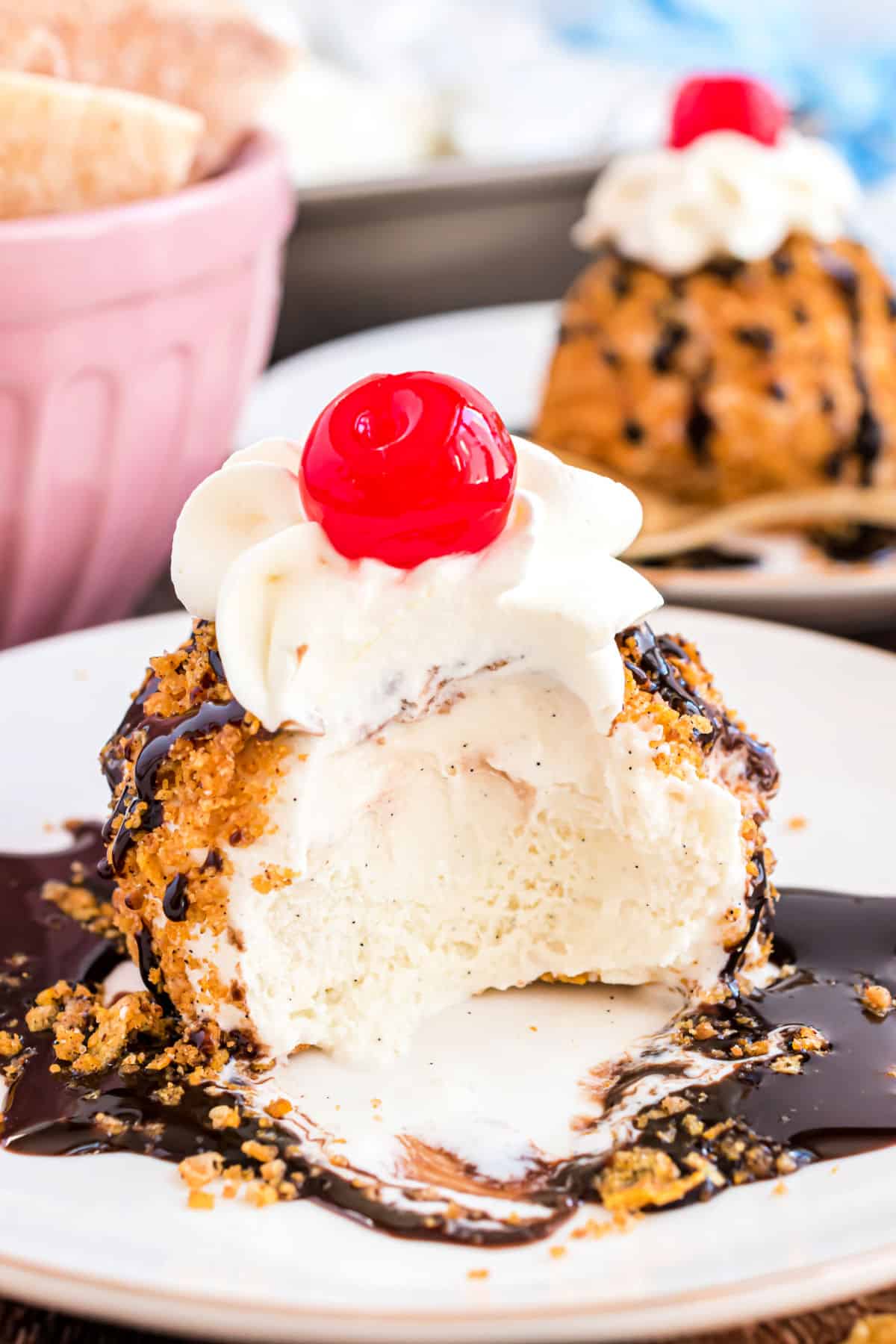 Serving Suggestions
Store-bought ice cream is an excellent option for a convenient dessert recipe. However, it's impossible to beat the flavor of homemade ice cream.
A drizzle of honey is also a delicious topping for fried ice cream.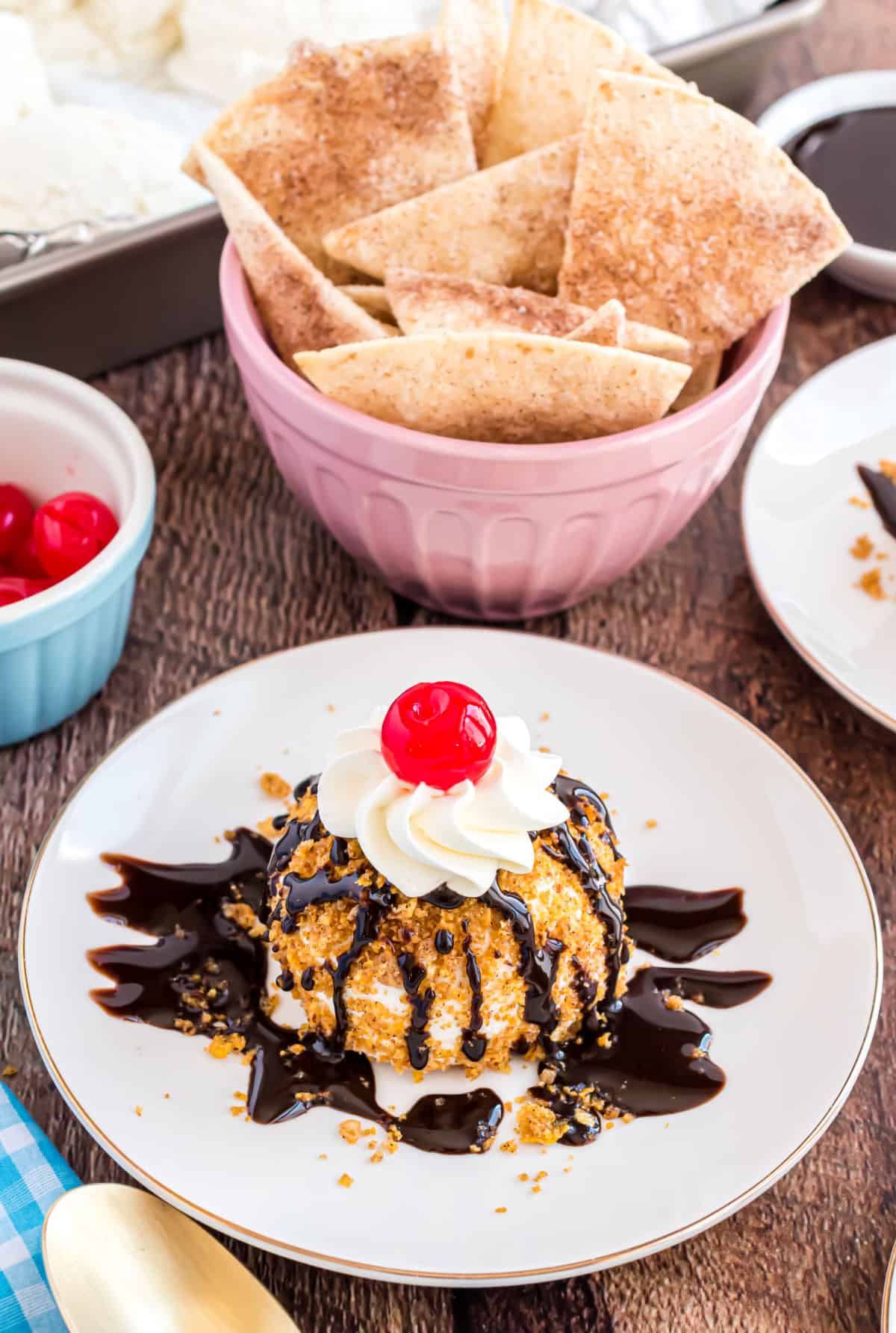 Can I fry this recipe?
To fry this recipe, roll the ice cream in egg whites and coat them with the cereal topping (you can skip the toasting step here).
Return the coated ice cream to the freezer until you're ready to fry.
Heat about 4-inches of vegetable oil to 375°F in a deep, heavy-bottomed saucepan or dutch oven. Gently drop a few coated ice cream balls into the oil, and fry for 15-20 seconds until golden brown.
Dig in immediately before they melt!
Make Ahead of Time
If you're following the no-fry method, you can shape and freeze the ice cream balls ahead of time.
However, the coating will only adhere if pressed into the ice cream while still warm, or if the ice cream balls have sat out on counter for a few minuts.
On the other hand, if you plan on deep frying the ice cream, you can shape and coat the ice cream balls and fry them once you're ready to serve.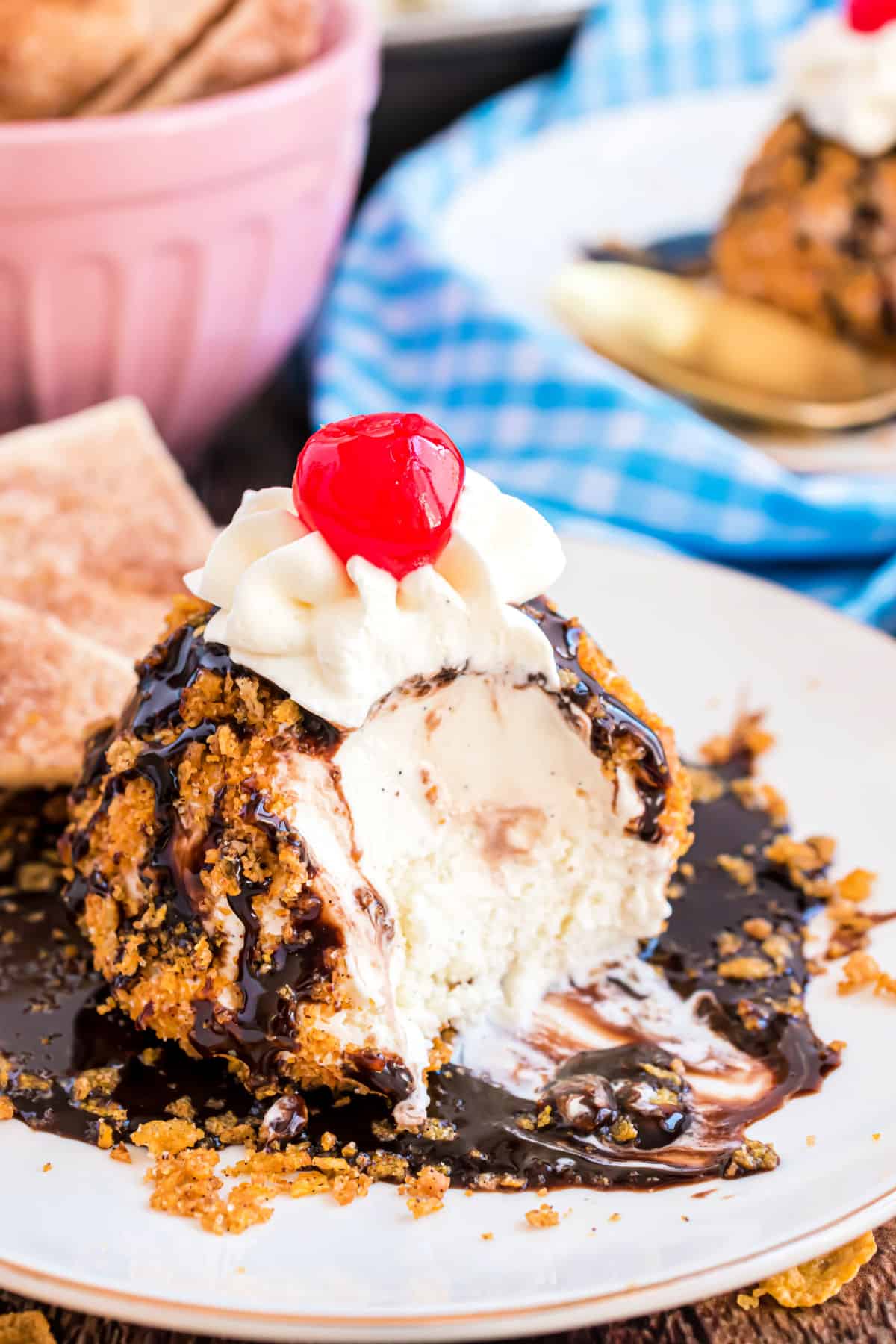 More Easy Dessert Recipes