Make traditional Latin American cookies at home! Buttery shortbread cookies are sandwiched with dulce de leche and a sprinkle of coconut in this easy Alfajores cookie recipe.
Love cookies? Be sure to try our classic chocolate chip cookie recipe first. Or give our melt in your mouth chocolate chip shortbread cookies a whirl next.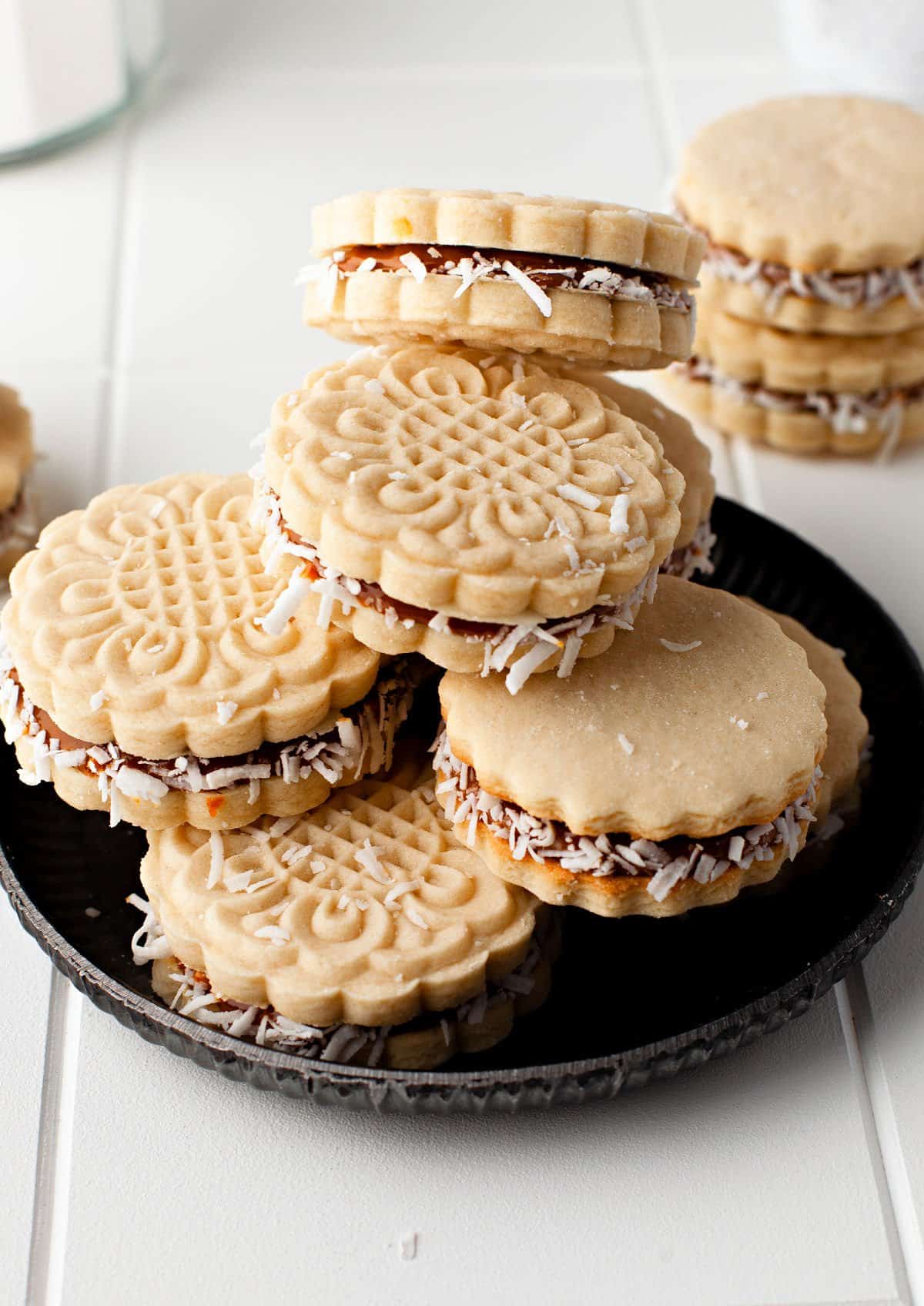 What is an Alfajores Cookie
Alfajores are sandwich cookies filled with dulce de leche caramel and rolled in coconut. They're eaten in dozens of Latin American countries, but especially beloved in Argentina and other regions of South America.
The tender, melt-in-your mouth texture of Alfajores (or "alfies") sets these sweet treats apart from the crowd. The soft and delicate crumb yields instantly when you take a bite, allowing ribbons of milky caramel to escape into your mouth.
Don't let their fancy name fool you. These are as easy to make as shortbread cookies!
All that dulce de leche makes these cookies super sweet and rich —perfect for sharing with friends over a cup of strong black coffee!
For more traditional cookies, try our rugelach or lebkuchen next!
If you're having a delicious meal of barbacoa, don't forget to try our fried ice cream too.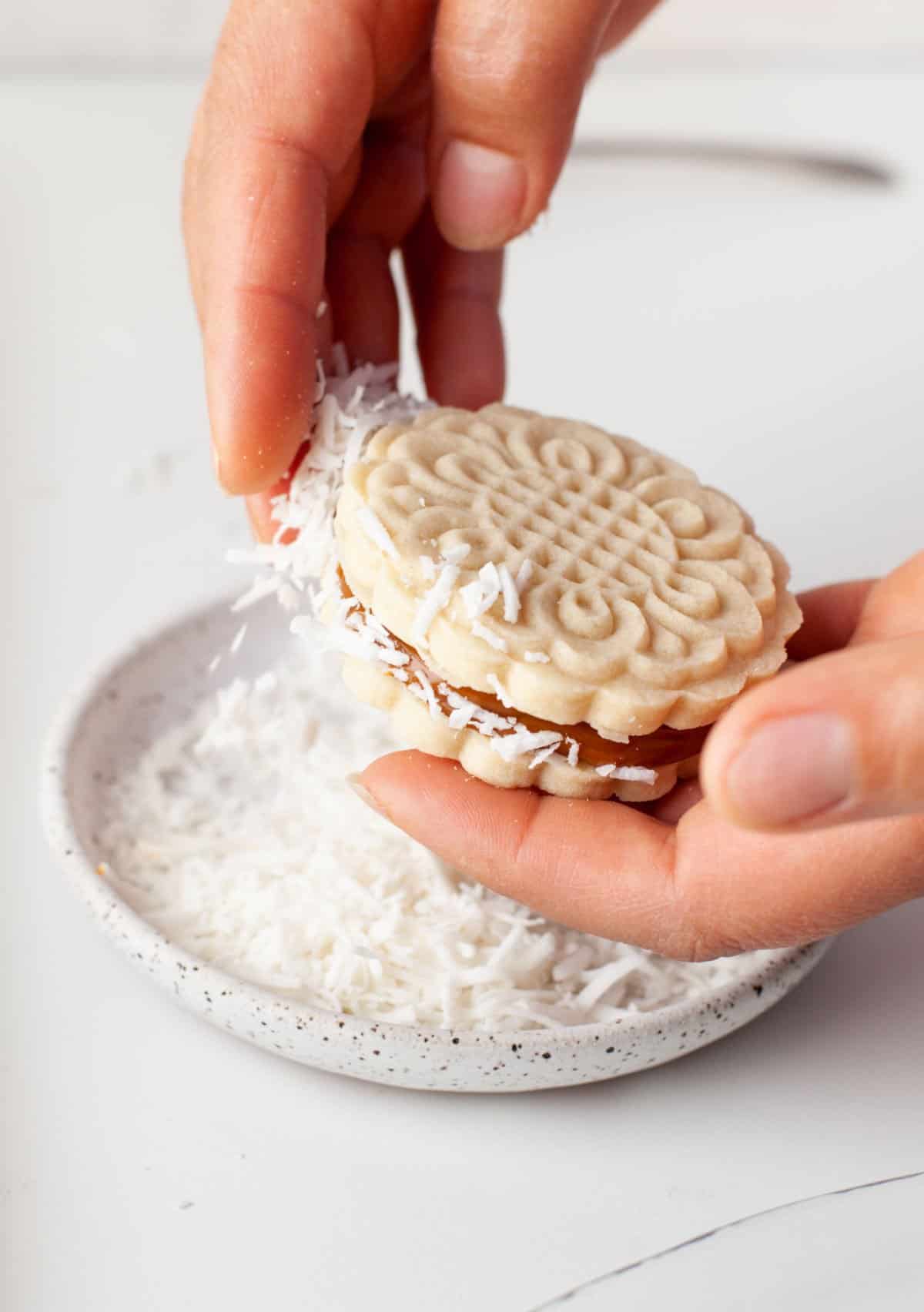 Ingredient Notes
Cornstarch reduces the amount of flour needed in these cookies to give them a soft, tender consistency.
Powdered sugar sweetens the cookies without altering the delicate consistency of the dough.
Unsalted Butter is essential for a rich flavor and that melt-in-your mouth quality! We use a full stick of butter for these cookies.
Dulce de leche is a sweet, thick caramel sauce made from condensed milk. It's sold in cans at most well stocked grocery stores and Latin markets.
Shredded coconut isn't included in all Alfajores recipes, but we love the variety of texture and flavor it adds. You can use sweetened, unsweetened or even toasted coconut. Whichever you prefer!
Tips and Tricks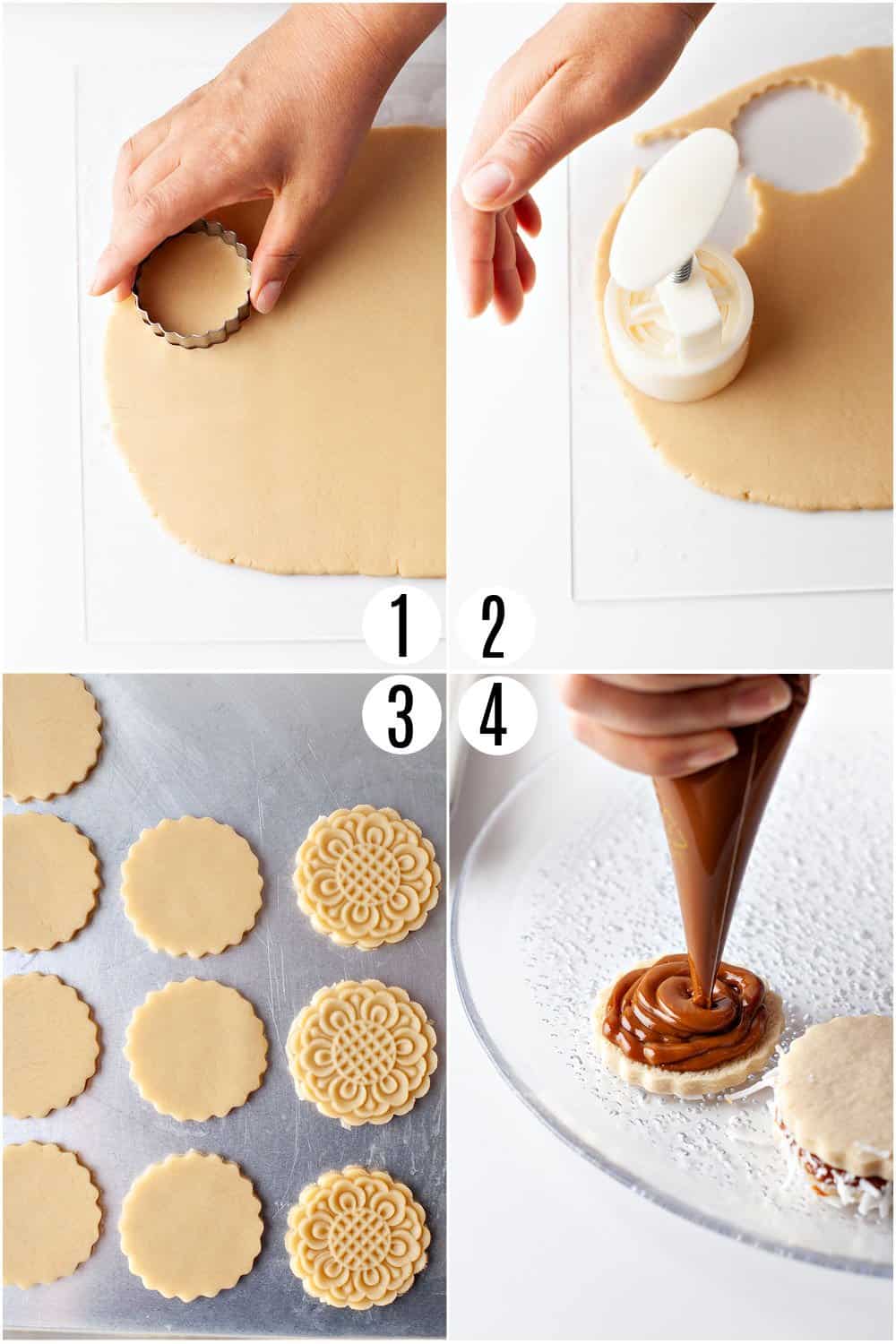 Chill the dough. After mixing together the Alfajores dough, roll it out on a baking sheet lined with parchment paper. Place the whole thing in the fridge to chill for 30 minutes.
Cut out cookies evenly. I use this biscuit cutter set to create perfectly round, evenly sized cookies. You can also use this traditional alfajores cookie cutter for the more intricate design.
Use a frosting bag. While you can use a spoon to add the dulce de leche to your Alfajores, a piping bag (or ziploc bag with a corner snipped off) makes life so much easier (and cuts down on the mess).
Storage. Alfajores can be stored at room temperature in an airtight container. If your home is too warm, the dulce de leche may drip out of cookie, so storage in a refrigerator can be done instead.
How to Make Alfajores without Tools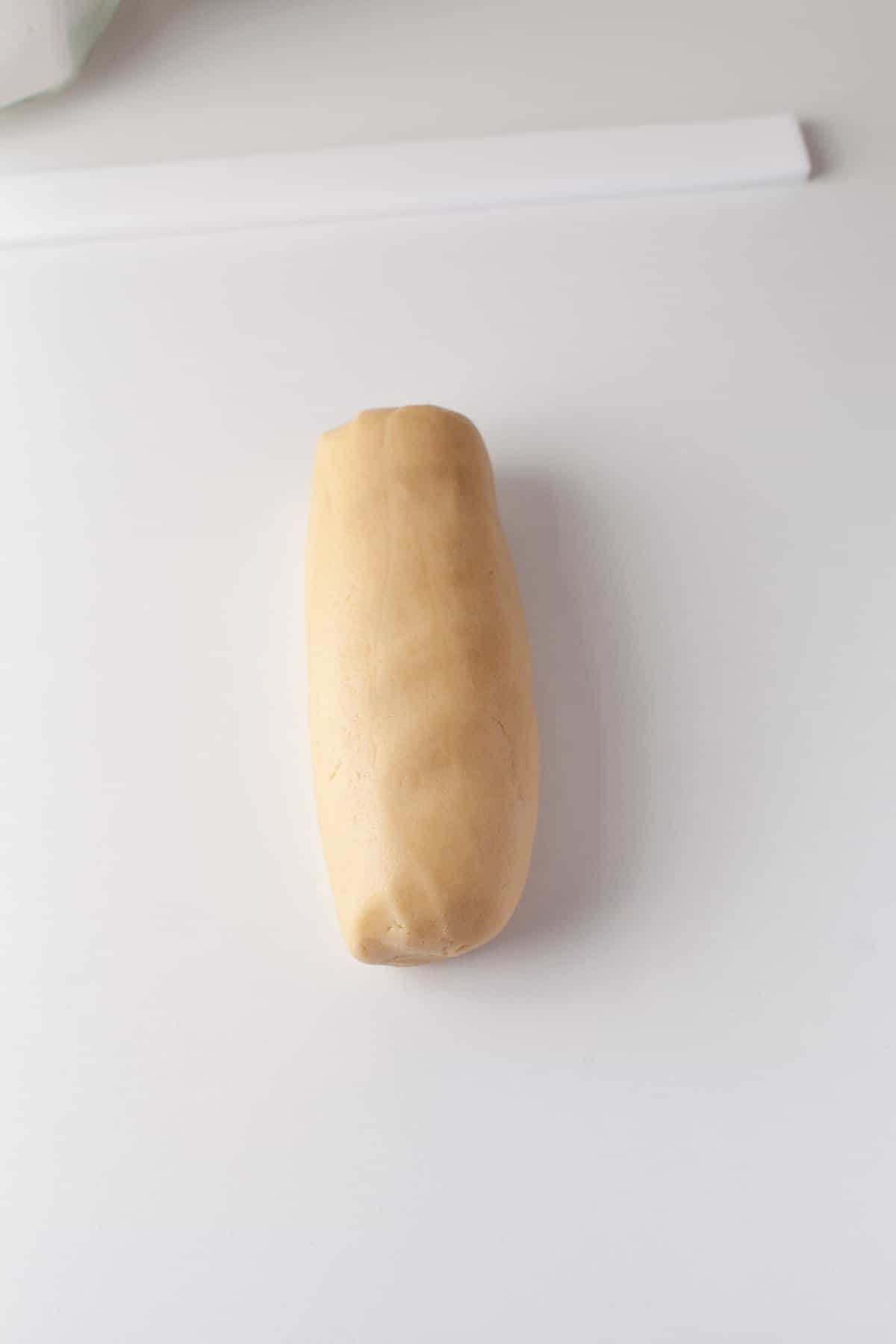 No cookie cutter? No problem. You can create dulce de leche cookies as a slice and bake treat instead.
Instead of rolling the cookie dough onto parchment paper, create logs of dough (like in our icebox cookie recipe). Log of dough should be about 2 1/2 inches around.
Wrap in plastic wrap and refrigerate for 30 minutes.
Slice into 1/4-inch slices and bake as above.
Fill with dulce de leche and add coconut as directed.
If you love slice and bake cookies, try our cinnamon roll cookies next!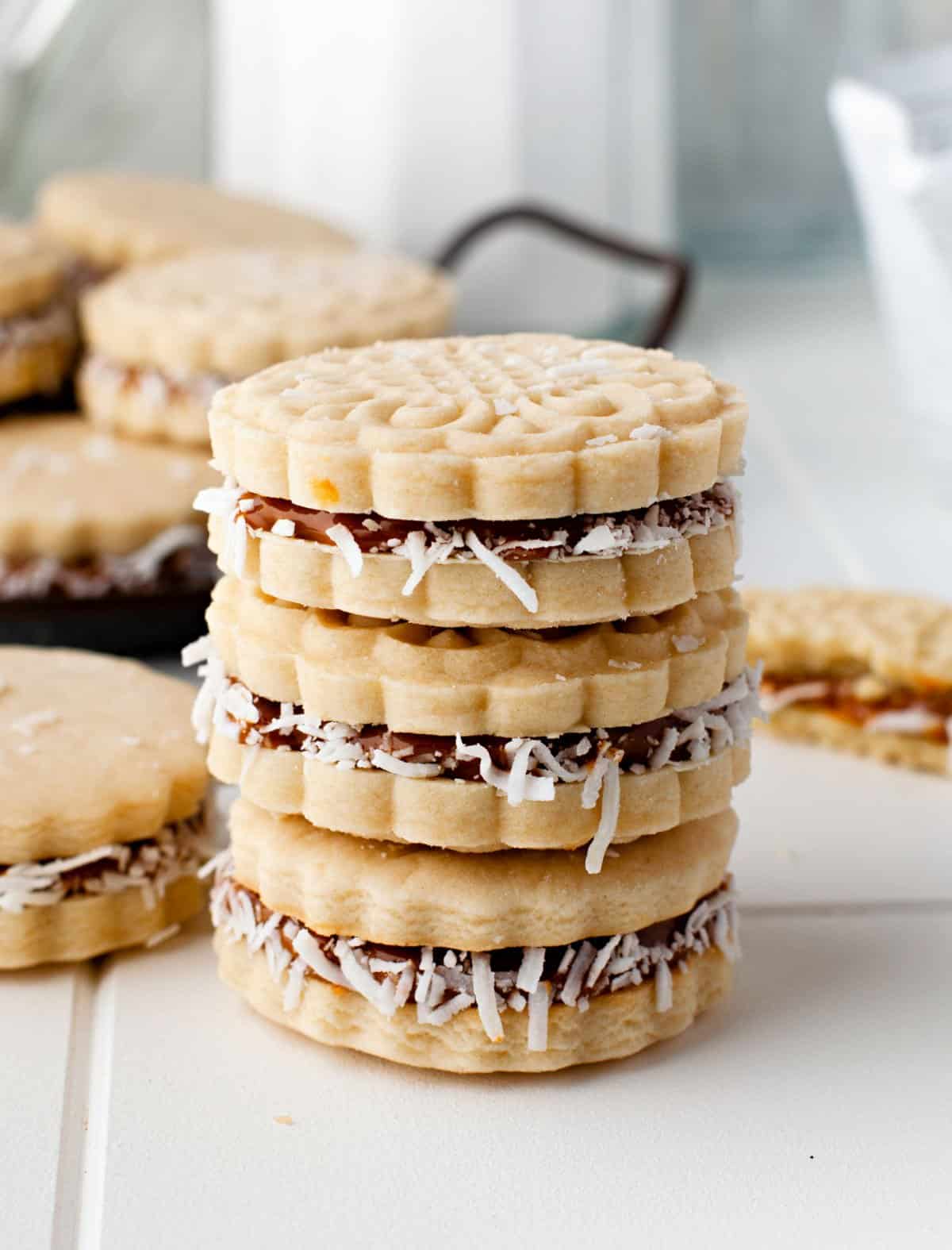 Recipe FAQs
Why are my Alfajores hard?
Adding too much flour to the dough is a common reason Alfajores end up hard and crunchy rather than delicate and buttery. My guide for How to Measure Flour includes best practices for helping you measure flour accurately for baking success.
What can I serve with Alfajores?
Traditionally, Alfajores are enjoyed with black coffee to balance the ultra sweetness of the cookies. In Argentina, it's common to enjoy an Alfajor in the morning with a cup of yerba mate (a strong, highly caffeinated tea).

Do they need to be kept refrigerated?
Alfajores do not need to be refrigerated. However, if your home runs warm, you may want to refrigerate them so the dulce de leche stays firm between the cookies.
Can I make these without coconut?
Absolutely! While I love the taste of the coconut on these pastries, Alfajores are often made sans coconut. You'll love them just as much on their own!
More Cookie Recipes
If you love sweet caramel and shortbread, Alfajores are ready to become your new favorite cookies!