Chocolate Chip Shortbread Cookies – The classic buttery cookie meets sweet chocolate morsels. The best part? They're easy to make and require no chilling dough!
We're no stranger to shortbread cookies here. If chocolate shortbread has you weak at the knees, you'll love this Dark Chocolate Peanut Butter Shortbread too.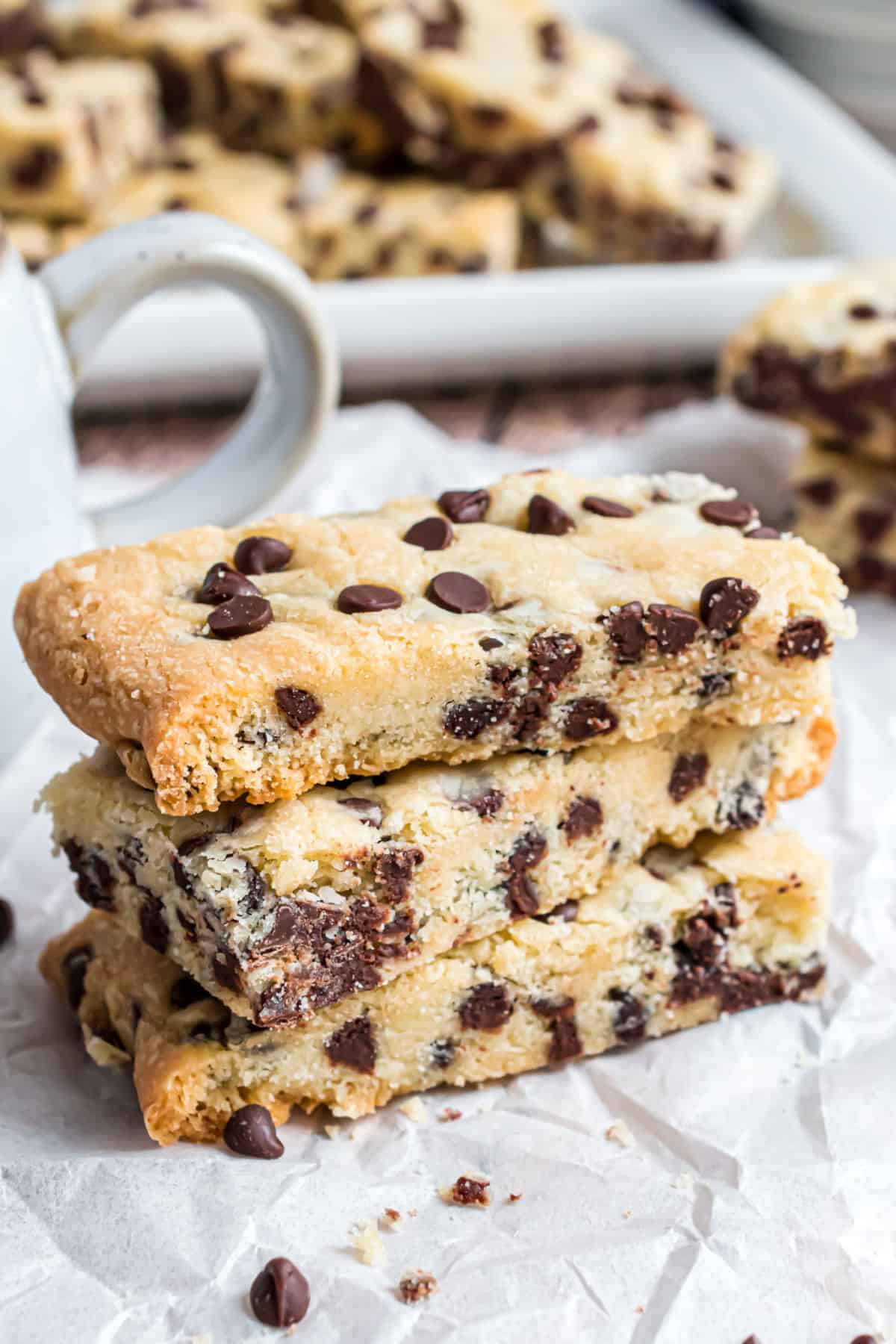 Why this Recipe is Best
Only SIX ingredients
Ready in half an hour
Perfect buttery texture
Mini chocolate chips that melt in your mouth
No chilling the dough!
That's right. Unlike most shortbread recipes that call for the dough to chill in the fridge, you get to totally skip that step here.
When you just can't wait to indulge in an easy cookie recipe, this Chocolate Chip Shortbread Cookie recipe is just what you need.
Ingredient Notes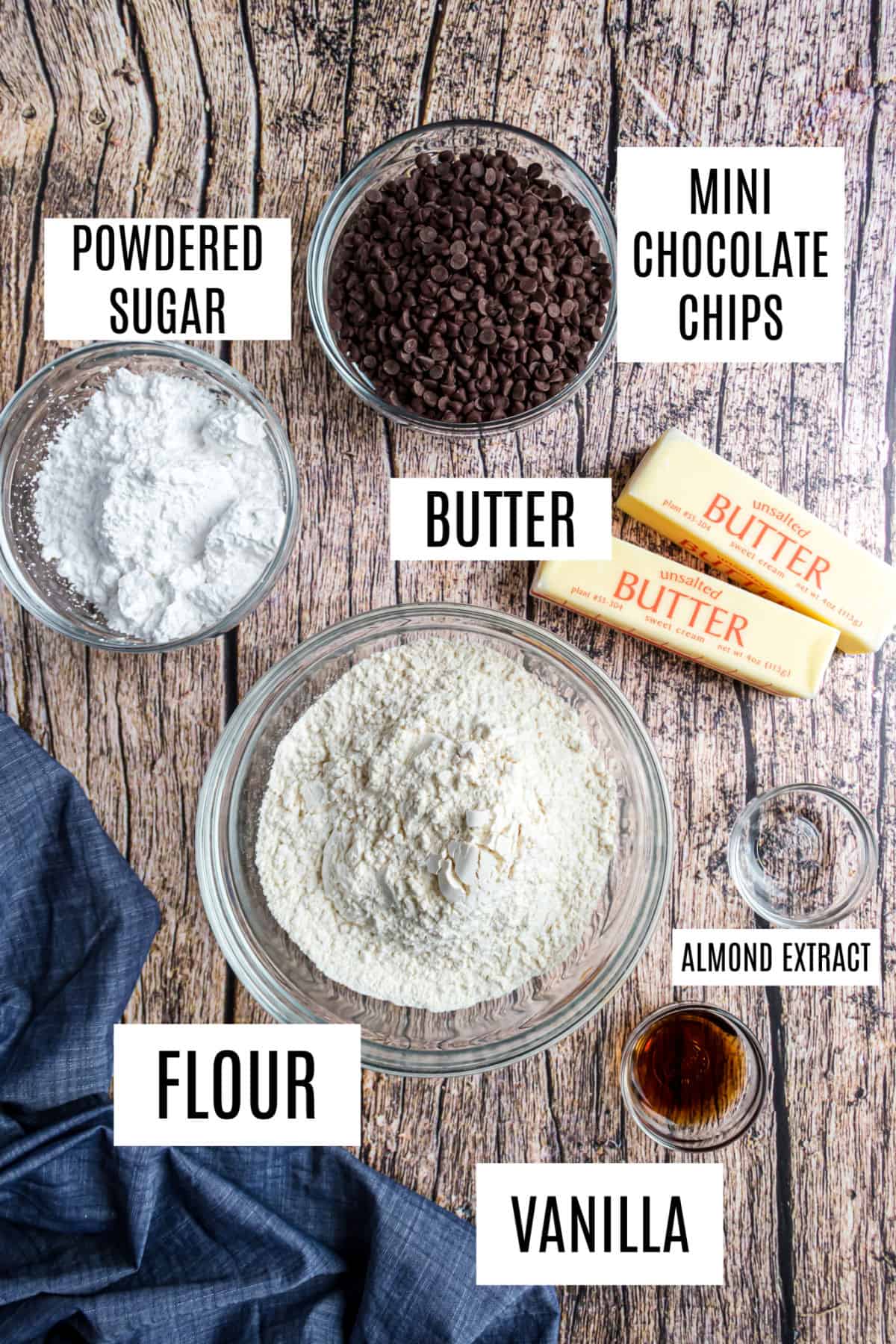 Here's all you need to make shortbread cookies with chocolate.
Butter. Butter is the heart and soul of any shortbread. Use a good quality unsalted butter here if you can.
Powdered Sugar. This is also known as confectioner's sugar.
Vanilla extract. You'll love the flavor of homemade vanilla extract in these cookies. Store bought works too!
Almond extract. Use real almond and not imitation flavor for best results.
All purpose flour.
Mini chocolate chips. I use semi-sweet. Dark, milk or white chocolate would be tasty additions too!
Easy Instructions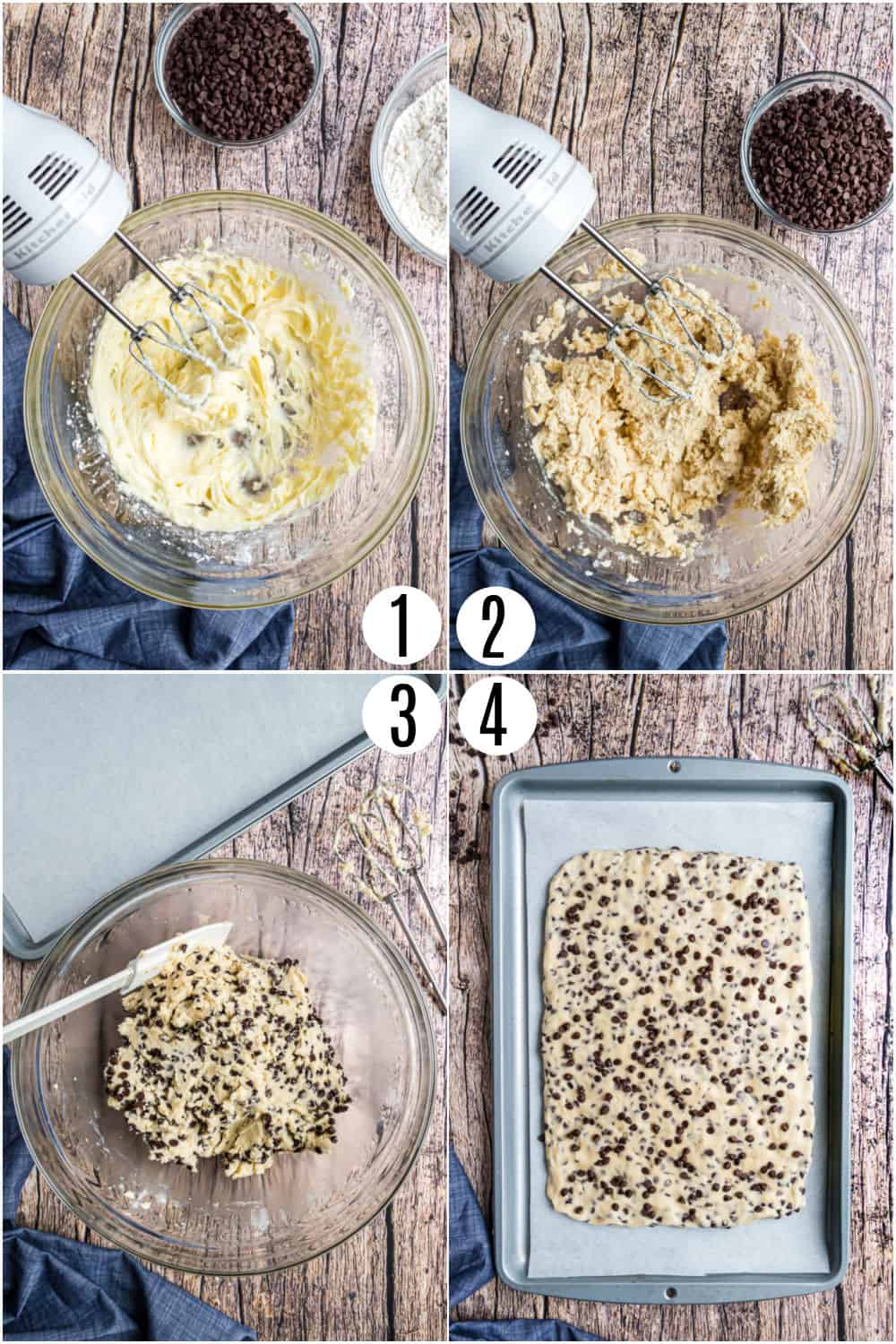 STEP 1. Preparation
Line a baking sheet with parchment and preheat your oven.
STEP 2. Make the dough
Beat the butter and powdered sugar with the extracts. Mix in the flour and fold in the chocolate chips.
STEP 3. Shape and bake
Press the dough into a large rectangle on the baking sheet. Bake for 20 to 25 minutes. Immediately use a pizza cutter to slice the still-warm dough into strips.
Let cool and enjoy!
Tips and Tricks
Use softened butter. Cold butter is more difficult to work into the dough and disrupts the consistency of chocolate chip shortbread cookies. For today's recipe, salted butter would be equally delicious.
Crunchy vs. soft cookie. As written, this recipe makes cookies with a slightly soft center. If you want a crunchier shortbread cookie, leave them in the oven a bit longer. Keep a close eye on them if you choose to do this; they burn quickly.
Let cool completely. Before storing chocolate chip shortbread cookies, they need to be room temperature. Otherwise, the steam from the warm shortbread will soften the cookies.
Add walnuts. For a delicious twist, make our Chocolate Chip Walnut Shortbread cookies! You'll love the sweet and salty combo.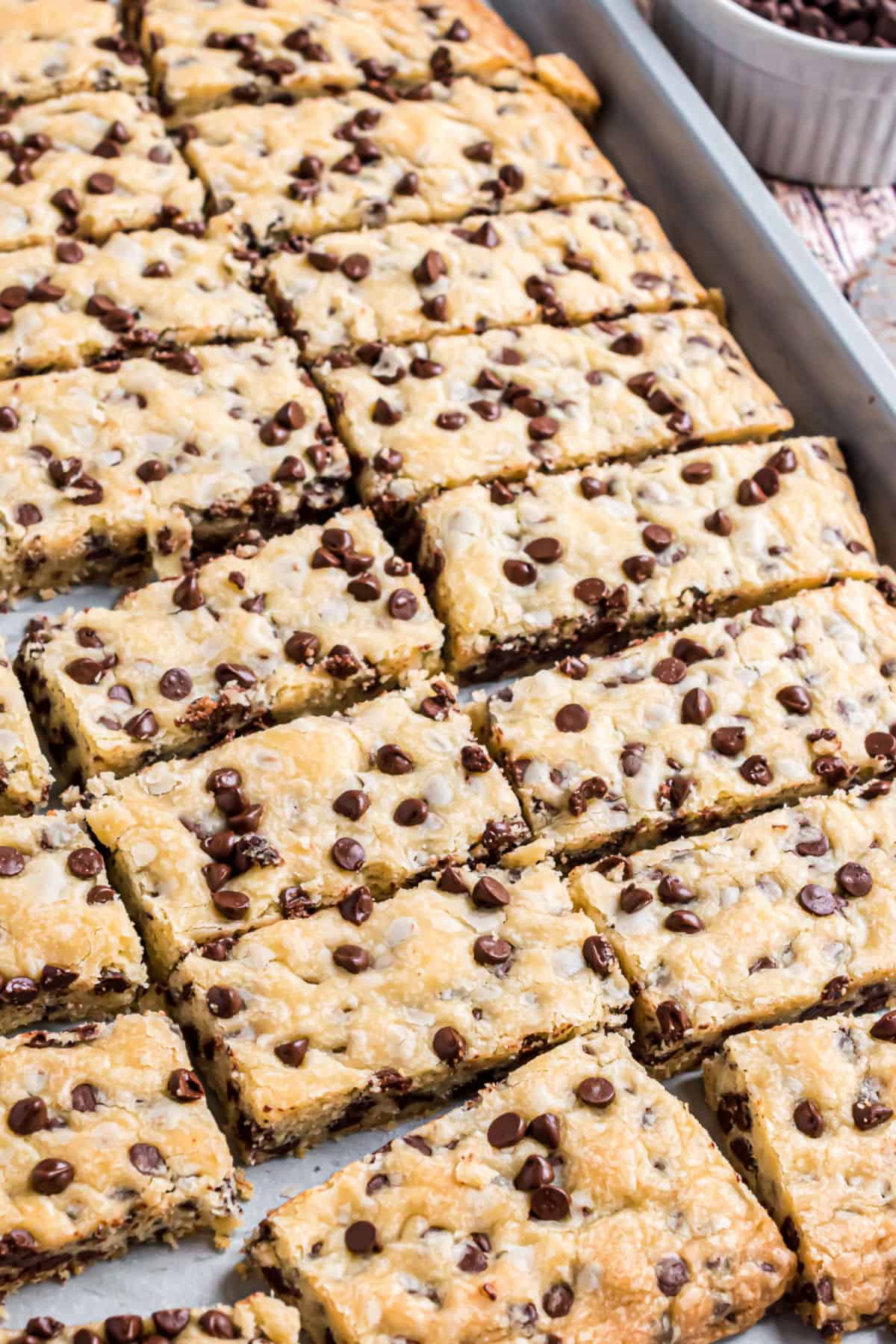 Recipe FAQs
How do you store homemade shortbread cookies?
Store cooled shortbread cookies in an airtight ziploc bag or container with a lid. They will keep for up to 5 days. Baked shortbread cookies also freeze wonderfully. Store in freezer bags and enjoy within 3 months.

Can you freeze chocolate chip shortbread dough?
Yes, if preferred you can make the dough ahead of time and freeze it prior to baking. Shape it into a log, wrap it in plastic wrap and foil (or a freezer bag) and freeze for up to 2 months. When ready to bake, slice frozen dough into circles and bake for 8-10 minutes, adding more time if needed.
Will regular chocolate chips work in this recipe?
You can use regular sized chocolate morsels but I find they are a bit heavy for the dough and are more likely to "fall out" of the cookies. Mini chocolate chips work best if you can get them!
I forgot to soften my butter on the counter! How can I soften butter fast?
If your forgot to plan ahead and your butter is ice cold, don't fret! Just pop it in the microwave for a few seconds at half power.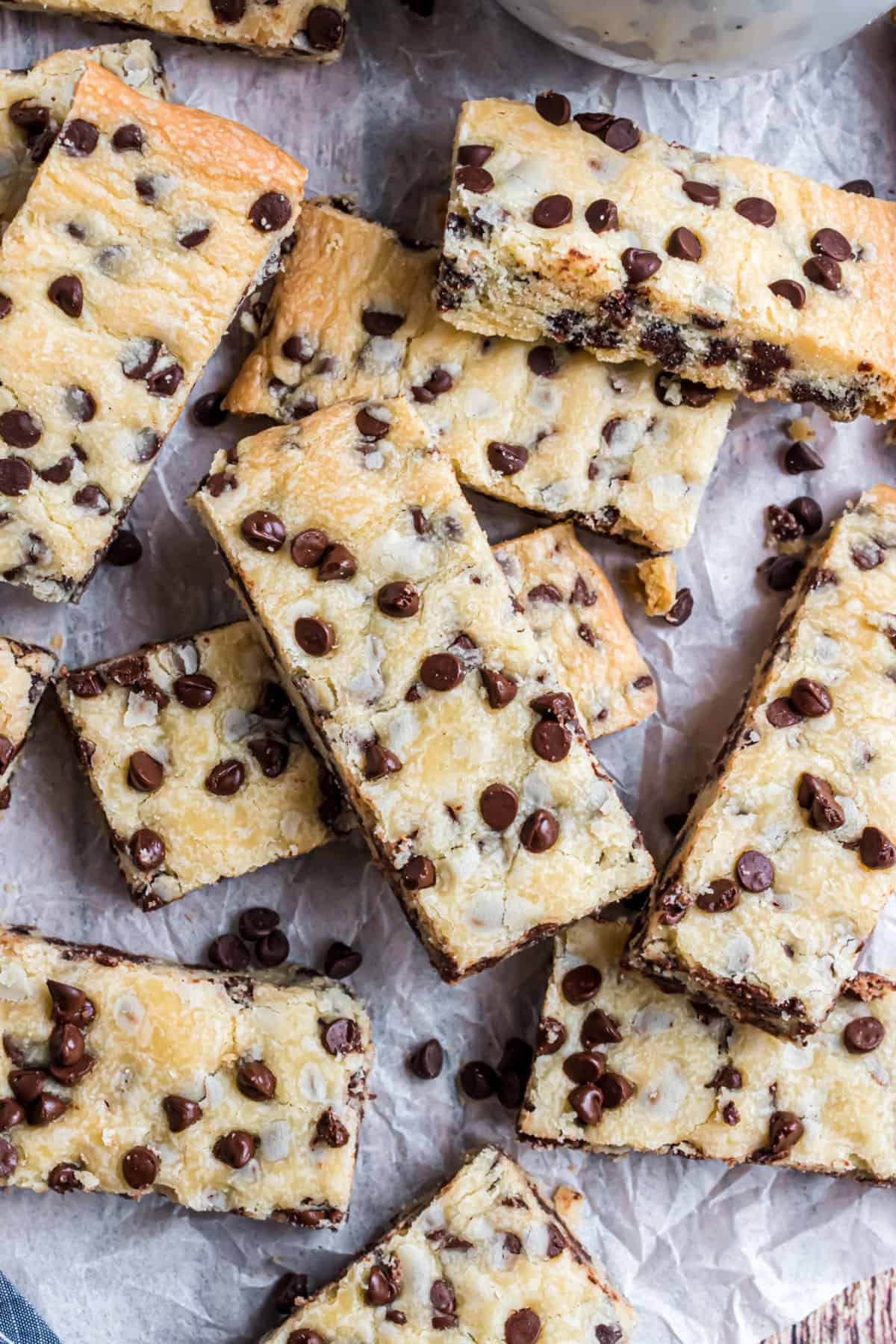 More Cookie Recipes
What's better than a perfect shortbread cookie recipe? A no-chill shortbread cookie recipe with chocolate chips!