Soft and chewy, old fashioned Oatmeal Raisin Cookies with a hint of cinnamon and nutmeg! Delicious, homemade cookies like you enjoyed in childhood!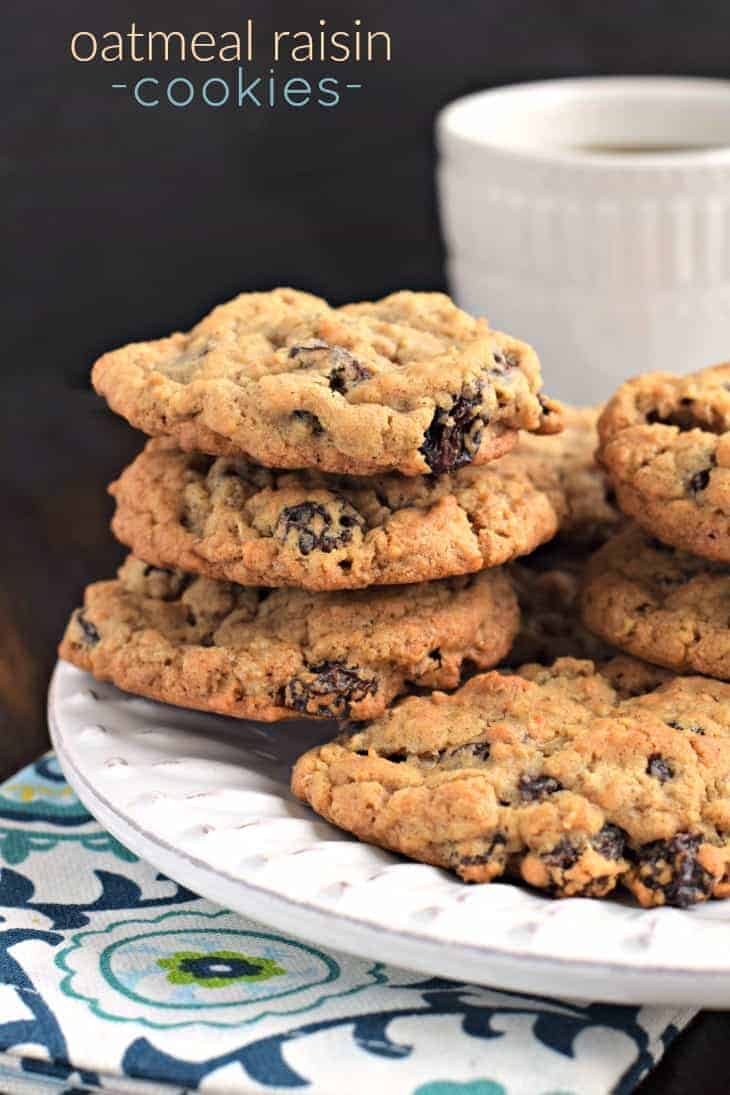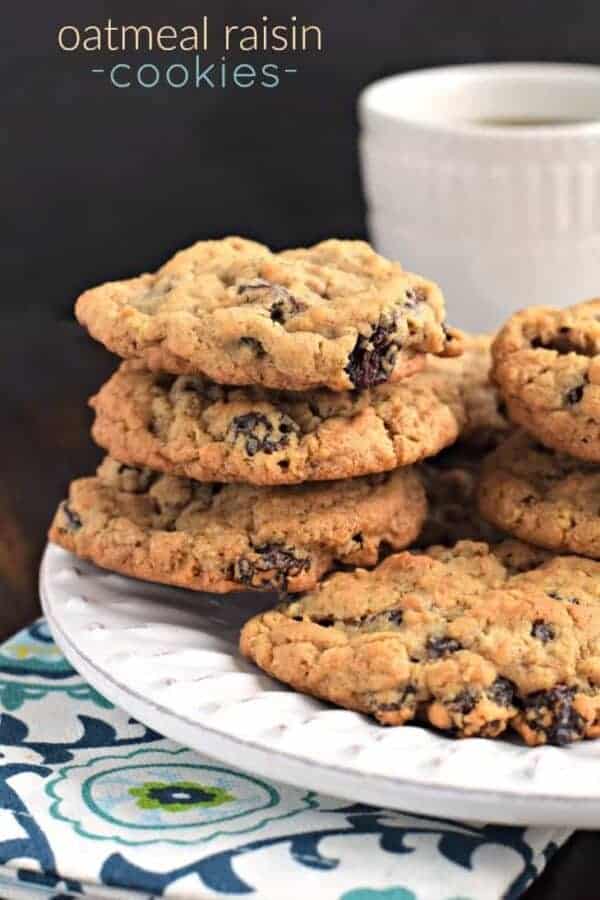 There's not much to say when it comes to Oatmeal Raisin Cookies. You either love them or you hate them.
If you're my kids, you hate them. You expect to bite into one and have it be chocolate chips, only to be surprised by a chewy raisin.
Me? I love them. I love the chewiness.
I love the cinnamon.
I love the hint of nutmeg.
The delicious raisins (or even a chocolate covered raisin is fantastic…although man, that REALLY throws the kids off)!
Here's why my cookies are the BEST
Soft and Chewy middle
Slight crunch to the outside and edges
Cinnamon and Nutmeg spiced
No Chill time
How to make Oatmeal Raisin Cookies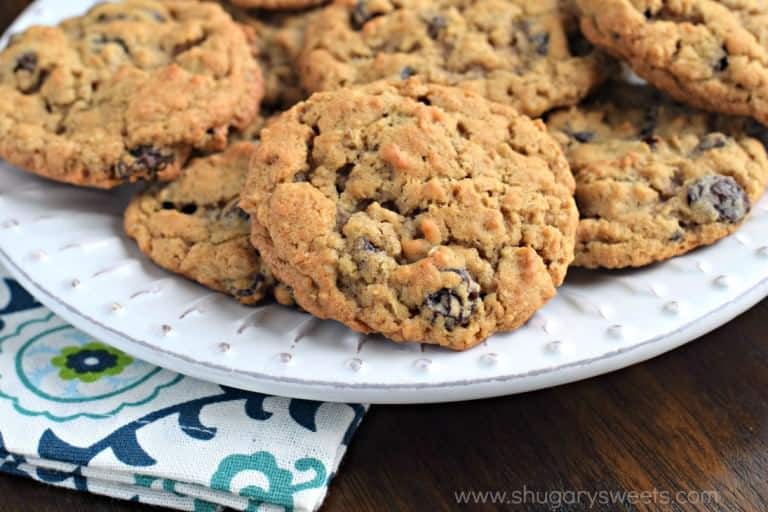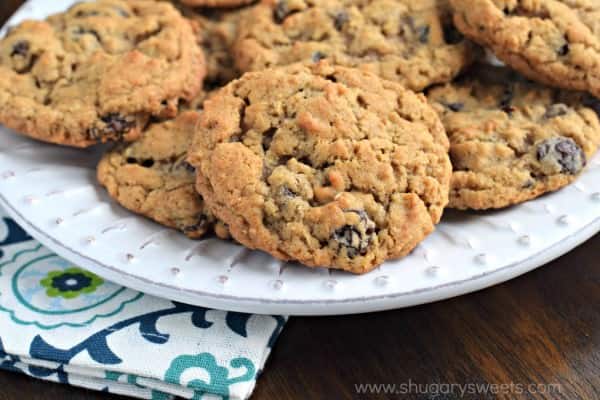 STEP 1: Preheat oven to 375 degrees F. Line a large baking sheet with parchment paper. Set aside.
STEP 2: In a large bowl, combine butter flavored crisco, sugar, brown sugar, egg, milk, and vanilla extract.
STEP 3: Add in the dry ingredients: flour, oats, baking soda, salt, cinnamon, and nutmeg. Beat until blended. Fold in RAISINS.
PRO TIP: You can swap out the raisins for chocolate chips if you prefer!
STEP 4: Drop by large tablespoon onto parchment paper lined cookie sheet.
STEP 5: Bake for 11-13 minutes. Remove and cool completely on wire rack.
How to store Oatmeal Raisin cookies
Store in airtight container at room temperature for up to 5 days.
You can freeze Oatmeal Raisin Cookies too! Slide baked cookies into ziploc freezer bag and squeeze out excess air. Store in freezer for up to 3 months.
Thaw at room temperature overnight and enjoy.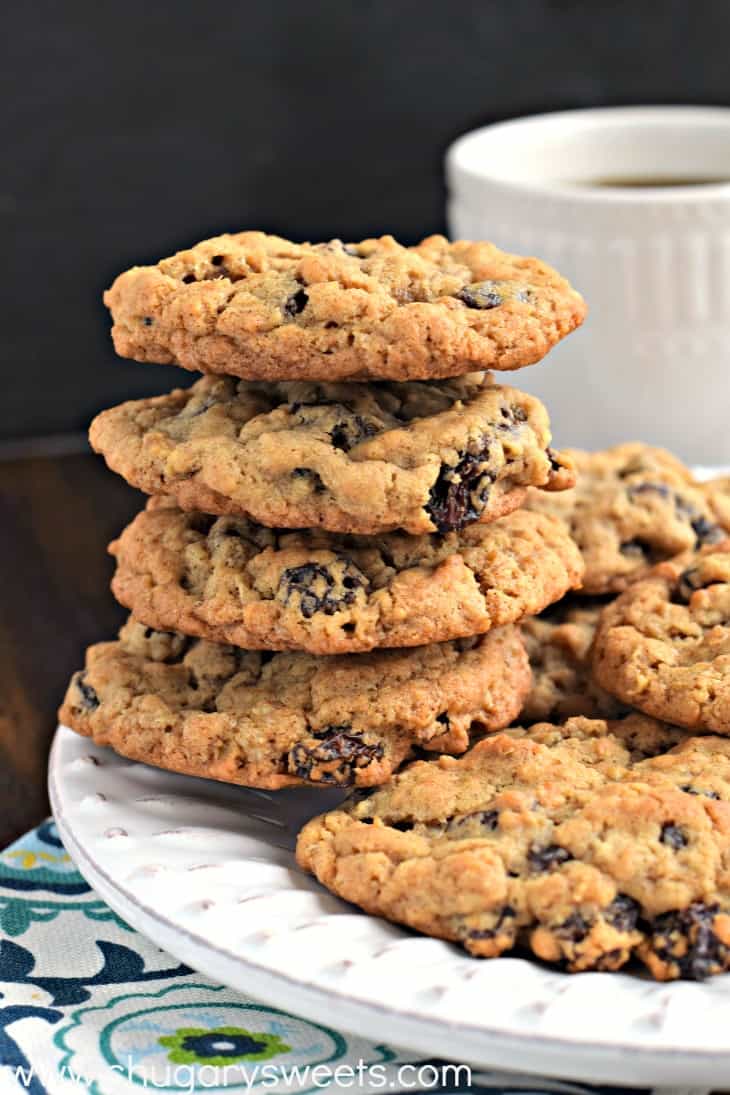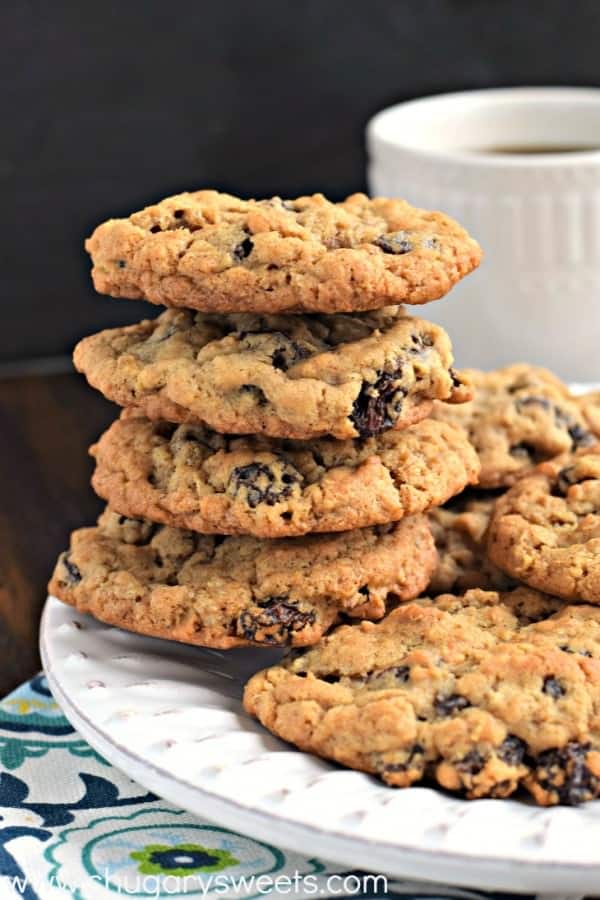 Freezing Cookie Dough
Whether I'm making perfect chocolate chip cookies or snickerdoodles, freezing cookie dough is something I do every time.
Why not double the cookie recipe and freeze half the dough? Or if today's recipe is too much for your family, freeze some!
Of course you can freeze the baked cookies, but have you ever frozen cookie dough balls instead?
Line a metal cookie sheet with parchment paper or foil. Drop cookie dough balls onto pan and freeze for 30 minutes.
Remove cookie dough from freezer and slide partially frozen cookie dough balls into freezer safe ziploc container (in a single layer).
Label ziploc with type of cookie and baking time.
Return to freezer.
When ready to bake, just place frozen cookie dough balls 1 1/2 inches apart on cookie sheet. Bake according to recipe directions. You may need to add a couple minutes for frozen dough.
Now you can have fresh baked cookies ANYTIME.
Tips for Chewy Oatmeal Raisin Cookies Recipe
I use butter flavored Crisco in my recipe. I think it gives these cookies the perfect texture.
If you're going to use butter instead (because I know there are some of you who will ask), just know that your texture will be different. They will be a little flatter (as they will spread more in the oven). I would chill the dough before using it, personally, to help combat the spreading if using butter (for 8-24 hours!).
Use fresh raisins. If you start with stale raisins, you'll end with stale raisins.

Easy Oatmeal Raisin Cookie substitutions
Chocolate. Of course you could easily swap out the raisins for chocolate chips and make Oatmeal Chocolate Chip Cookies. Still soft and chewy oatmeal cookies, but without the raisins!
White Chocolate. You can also use dried cranberries instead of raisins if you'd prefer, and add in some white chocolate chips. YUM. These White Chocolate Oatmeal Cranberry Cookies are one of my favorites!
Butterscotch. Or use butterscotch chips and make yourself a batch of these classic Oatmeal Scotchies.
More Classic Cookie Recipes
The best, chewy Sugar Cookies with a no-chill dough. Topped with a creamy sugar cookie icing, you'll love this Copycat Swig Sugar Cookie recipe!
These Easy Traditional Kolachky Cookies Recipe for Christmas have a melt in your mouth cookie base and are topped with sweet preserves. Don't forget the extra powdered sugar!
This Monster Cookie recipe is full of M&Ms, chocolate chips, peanut butter and oats for a cookie that is fun, chewy and delicious! Easy to make and perfect for sharing or freezing!
Easy recipe for No Bake Chocolate Oatmeal Cookies! The peanut butter with chocolate and oats gives these cookies so much flavor!
Delicious, copycat Iced Oatmeal Cookies. Crunchy on the outside, chewy on the inside, these glazed Oatmeal cookies are a hit!
PS. If you try this recipe, please leave a STAR rating in the recipe card below. I love your feedback! Connect with me on social media by following me on Instagram, Facebook, or Pinterest.