Oatmeal Raisin Cookies
Soft and chewy, old fashioned Oatmeal Raisin Cookies with a hint of cinnamon and nutmeg! Delicious, homemade cookies like you enjoyed in childhood!
Be sure to sign up for my email…new recipes in your inbox!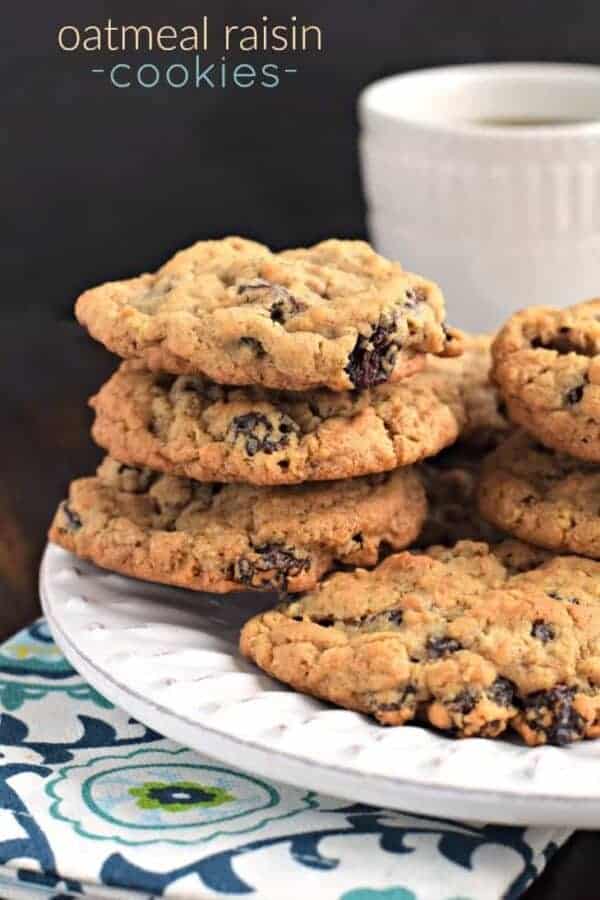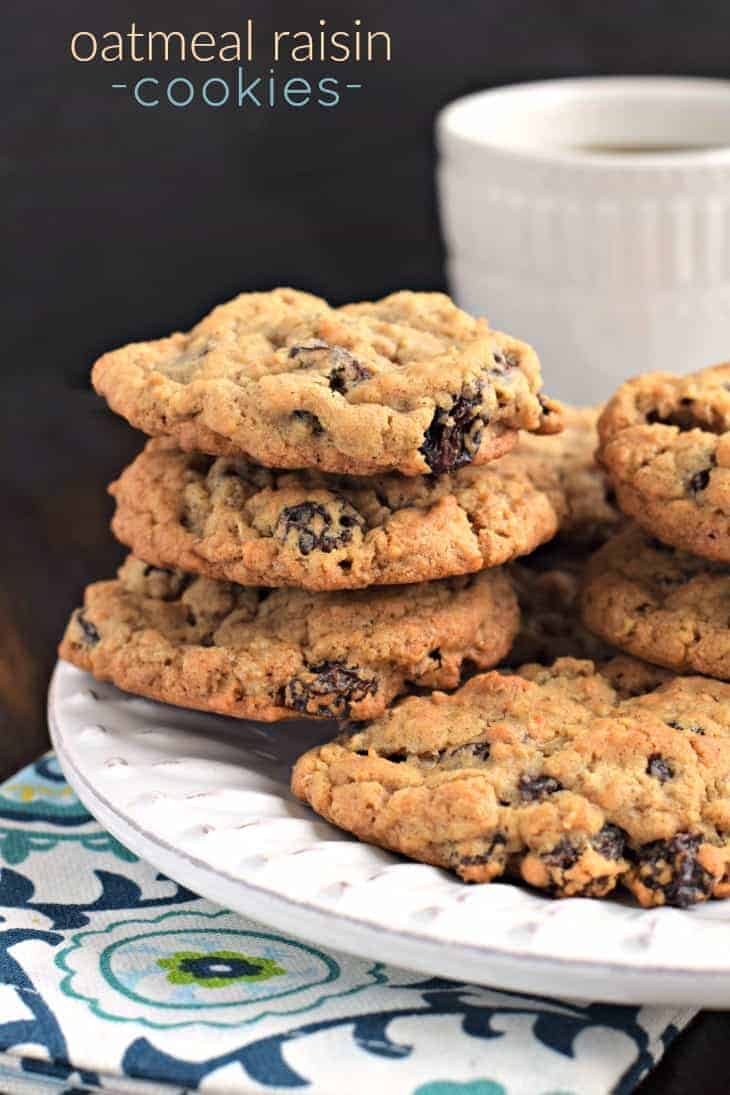 CLICK HERE TO PIN IT FOR LATER
There's not much to say when it comes to Oatmeal Raisin Cookies. You either love them or you hate them.
If you're my kids, you hate them. You expect to bite into one and have it be chocolate chips, only to be surprised by a chewy raisin.
Me? I love them. I love the chewiness. I love the cinnamon. I love the hint of nutmeg. The delicious raisins (or even a chocolate covered raisin is fantastic…although man, that REALLY throws the kids off)!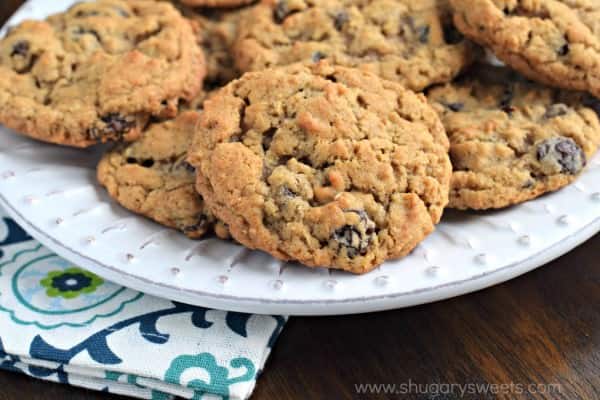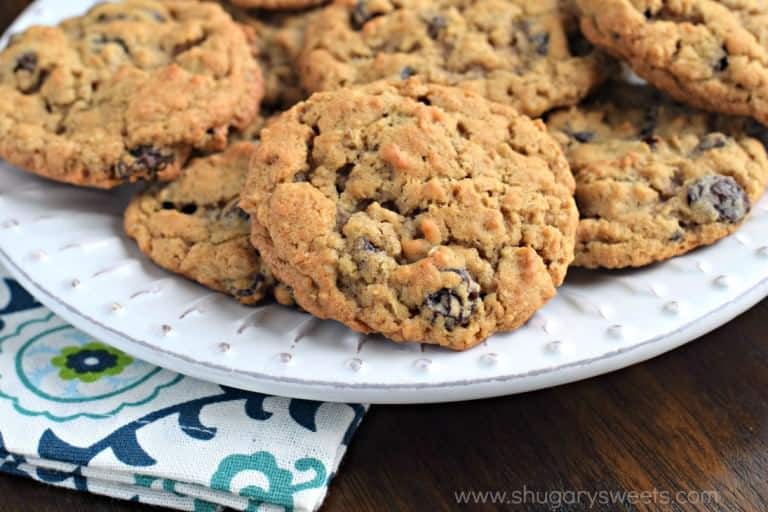 I use butter flavored Crisco in my recipe. I think it gives these cookies the perfect texture. If you're going to use butter instead (because I know there are some of you who will ask), just know that your texture will be different. They will be a little flatter (as they will spread more in the oven). I would chill the dough before using it, personally, to help combat the spreading if using butter (for 8-24 hours!).
Or follow my recipe exactly for the perfect, old fashioned Oatmeal Raisin Cookie. ENJOY!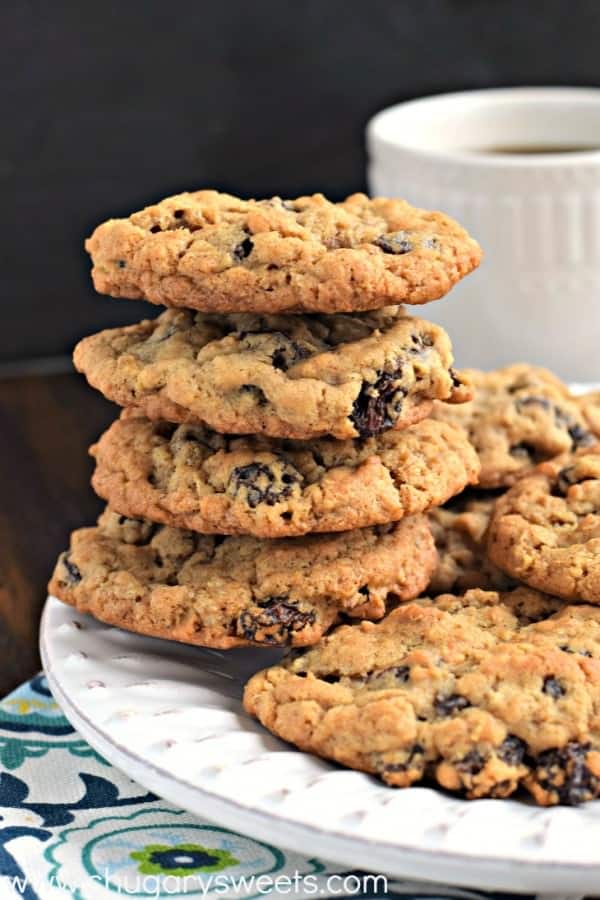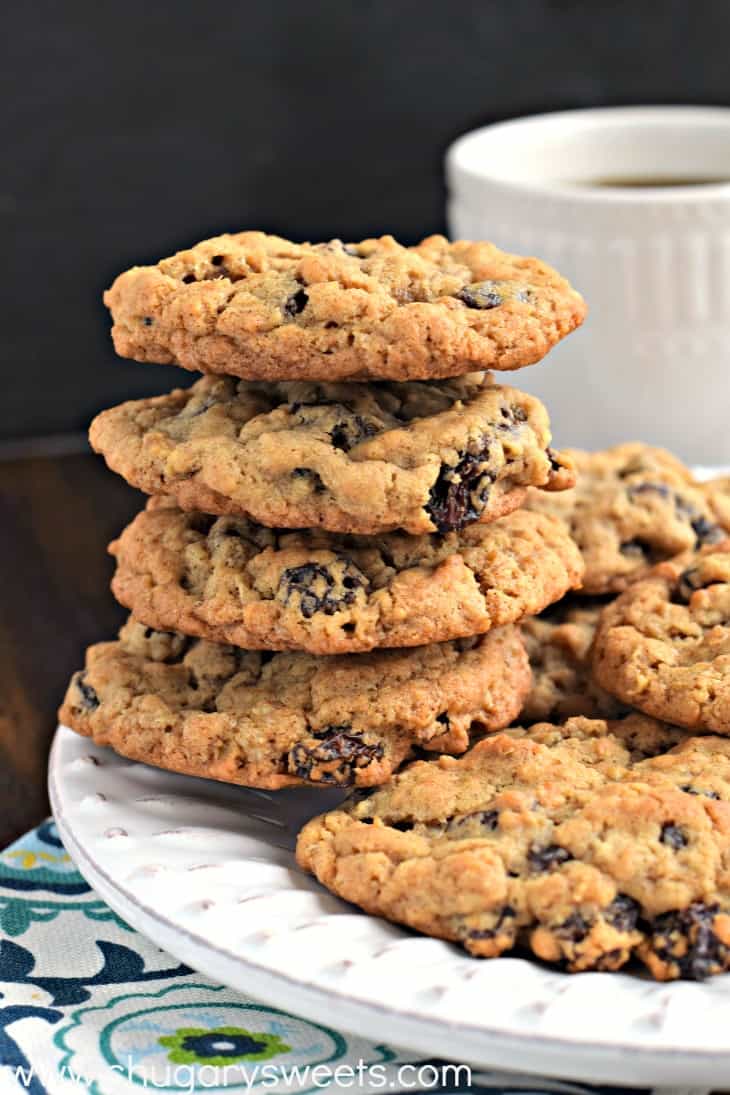 Be sure to follow me on Instagram and tag #shugarysweets so I can see all the wonderful SHUGARY SWEETS recipes YOU make!
Connect with Shugary Sweets! Be sure to follow me on my social media, so you never miss a post!
Facebook | Twitter | Google+ | Pinterest | instagram | Bloglovin'
Sign up to receive an email in your inbox for each new recipe:
Oatmeal Raisin Cookies
Yield: 5 dozen
Prep Time: 15 minutes
Cook Time: 11-13 minutes
Soft and chewy, old fashioned Oatmeal Raisin Cookies with a hint of cinnamon and nutmeg! Delicious, homemade cookies like you enjoyed in childhood!
Ingredients:
1 1/2 cups butter flavored Crisco
2 cups light brown sugar, packed
1/2 cup granulated sugar
2 large eggs
2/3 cup milk
2 tsp vanilla extract
3 cups all-purpose flour
3 cups quick cook oats
1 1/2 tsp baking soda
1/2 tsp kosher salt
2 Tbsp cinnamon
1/2 tsp nutmeg
3 cups raisins
Directions:
Preheat oven to 375°F. Line a baking sheet with parchment paper.
In a large mixing bowl, beat Crisco, sugars, egg, milk and vanilla until creamy. Add in flour, oats, baking soda, salt, cinnamon, and nutmeg. Beat until blended.
Fold in raisins.
Drop by large tablespoon (I use this cookie scoop) onto baking sheet. Bake for 11-13 minutes. Cool on wire rack. Store in airtight container for up to 5 days. ENJOY
*If you want to freeze the cookie dough, drop by tablespoons onto cookie sheet. Freeze for 30 minutes. Place partially frozen dough balls in a freezer safe ziploc bag and store until ready to bake. Add a few minutes to baking time if baking from frozen. ENJOY.
MAKING THIS RECIPE? Share it with me on Instagram using the hashtag #ShugarySweets so I can see what you're cooking up in the kitchen!
If you love today's cookie recipe…here are a few of my favorites…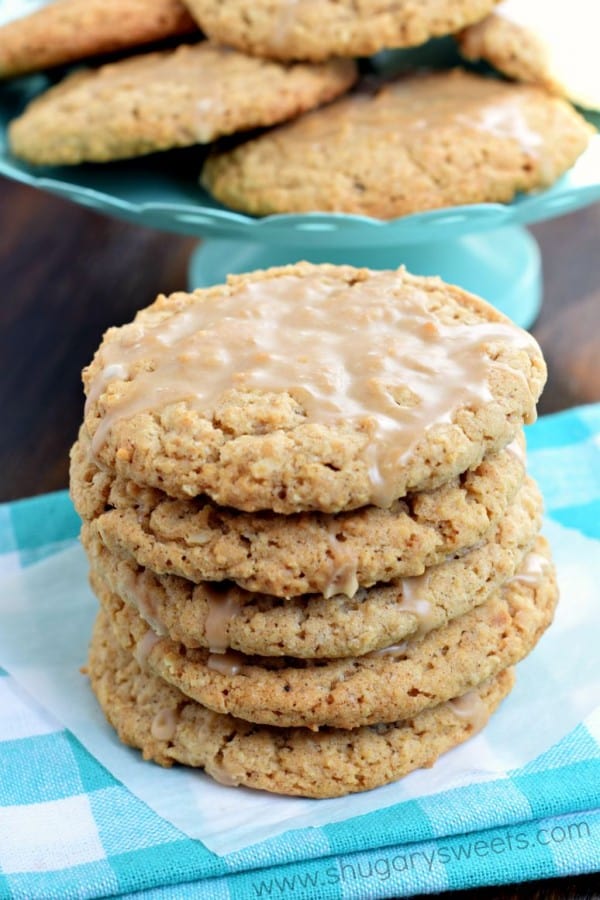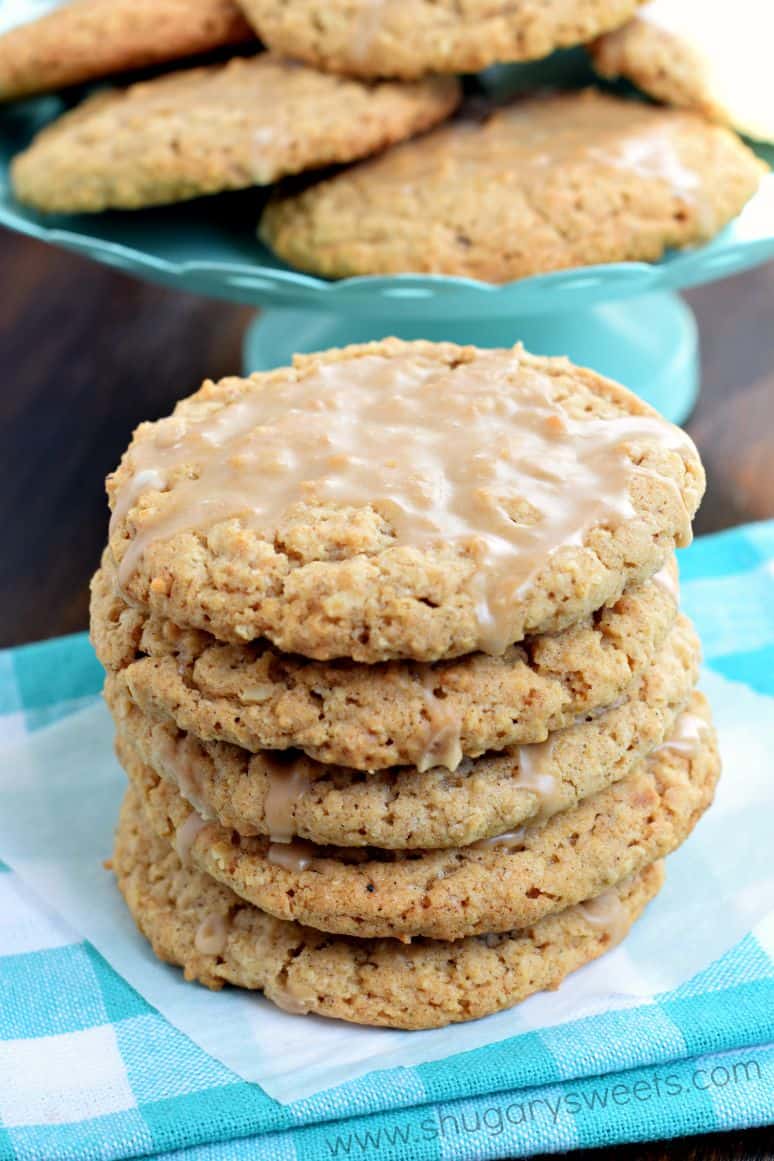 Maple Iced Oatmeal Cookies: just like the classic store bought, only BETTER!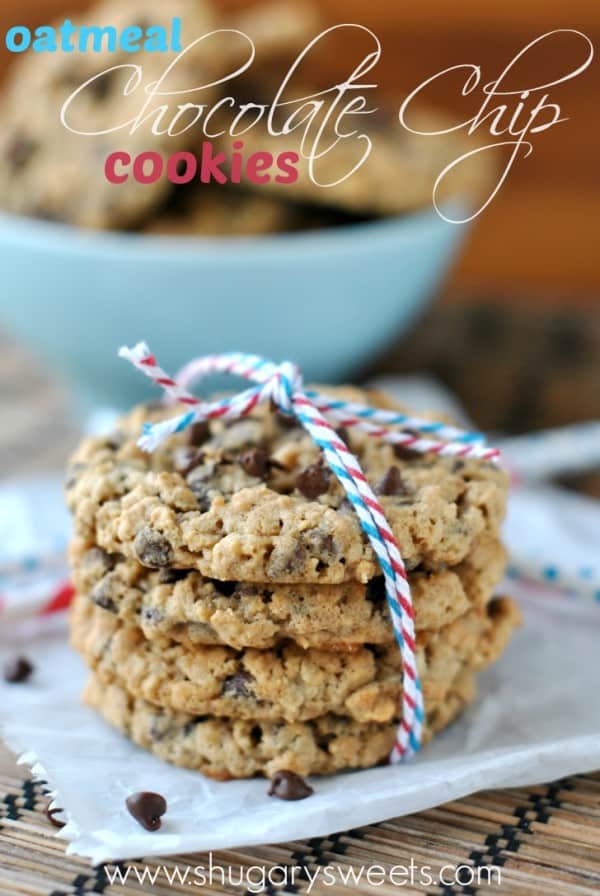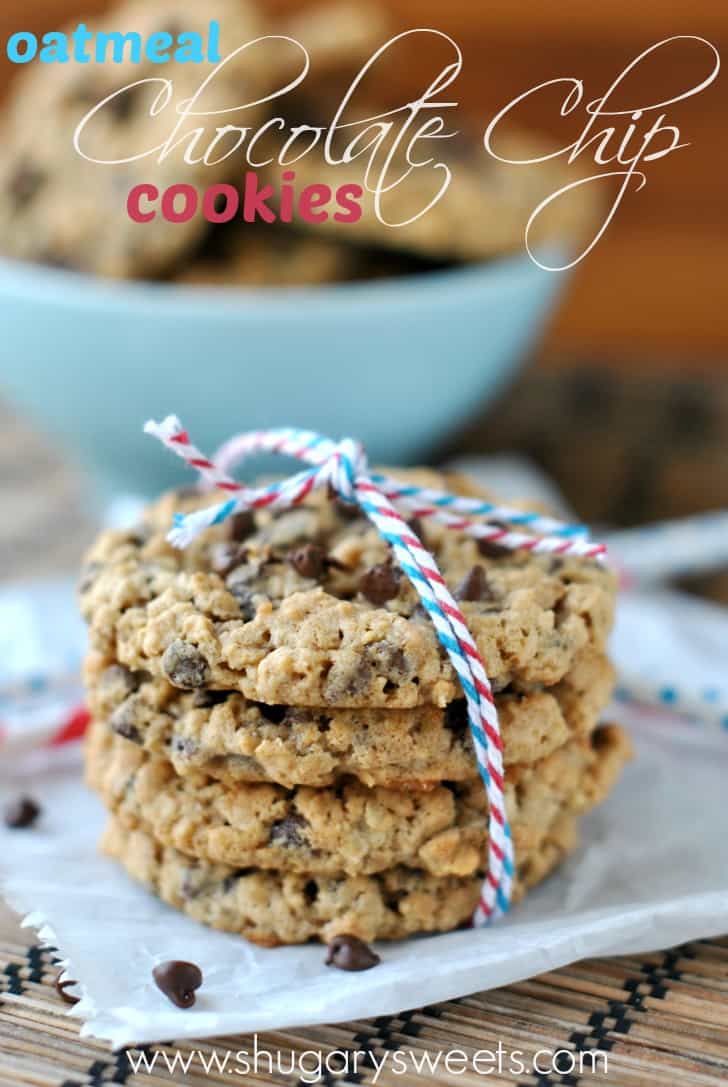 Oatmeal Chocolate Chip Cookies: for those of you who can't "do" raisins!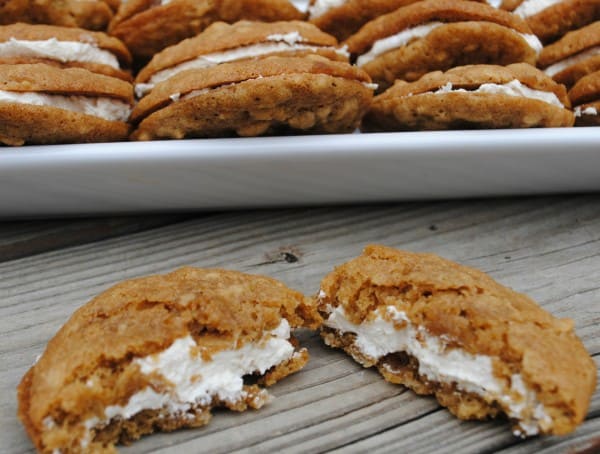 Oatmeal Cream Pies: copycat Little Debbie recipe you're going to LOVE!