Delicious, copycat old fashioned Iced Oatmeal Cookies. Crunchy on the outside, chewy on the inside, these glazed Oatmeal cookies are a hit!
Love cookies? Try this classic Peanut Butter Cookie recipe. Always gets great reviews. Or try a coypcat Little Debbie Oatmeal Cream Pie. So soft and moist, and better than the original!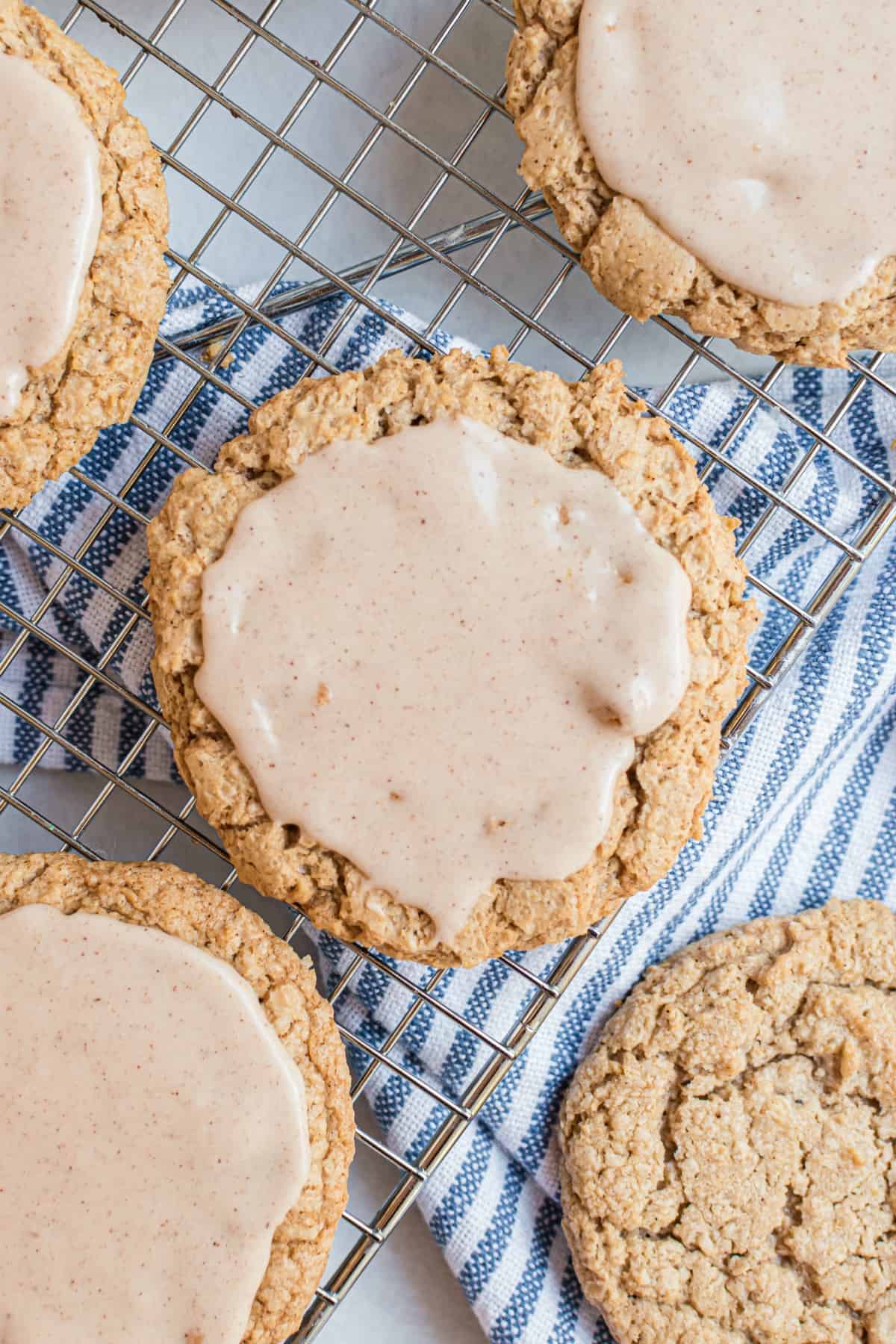 Why this Recipe Works
Do you ever make something and think to yourself, "Oh my gosh this is the best thing I've ever eaten"?
These old fashioned cookies taste very similar to the Mothers brand iced oatmeal cookies you get at the grocery store.
I think I remember eating them as a child, or maybe that's my imagination. They seem very much like the kind of good old fashioned cookie you might find at your grandmother's house.
Unlike other oatmeal cookies, you don't just fold rolled oats into your dough. You use coarse oat flour (powdered oats) to give these their chewy crumb.
This recipe is easy to make and inexpensive to boot! I can't wait to serve a platter of these next time company comes over.
More Copycat Recipes:
Disney Churro Bites | Starbucks Pumpkin Scones | Cold Brew Coffee
How to make Iced Oatmeal Cookies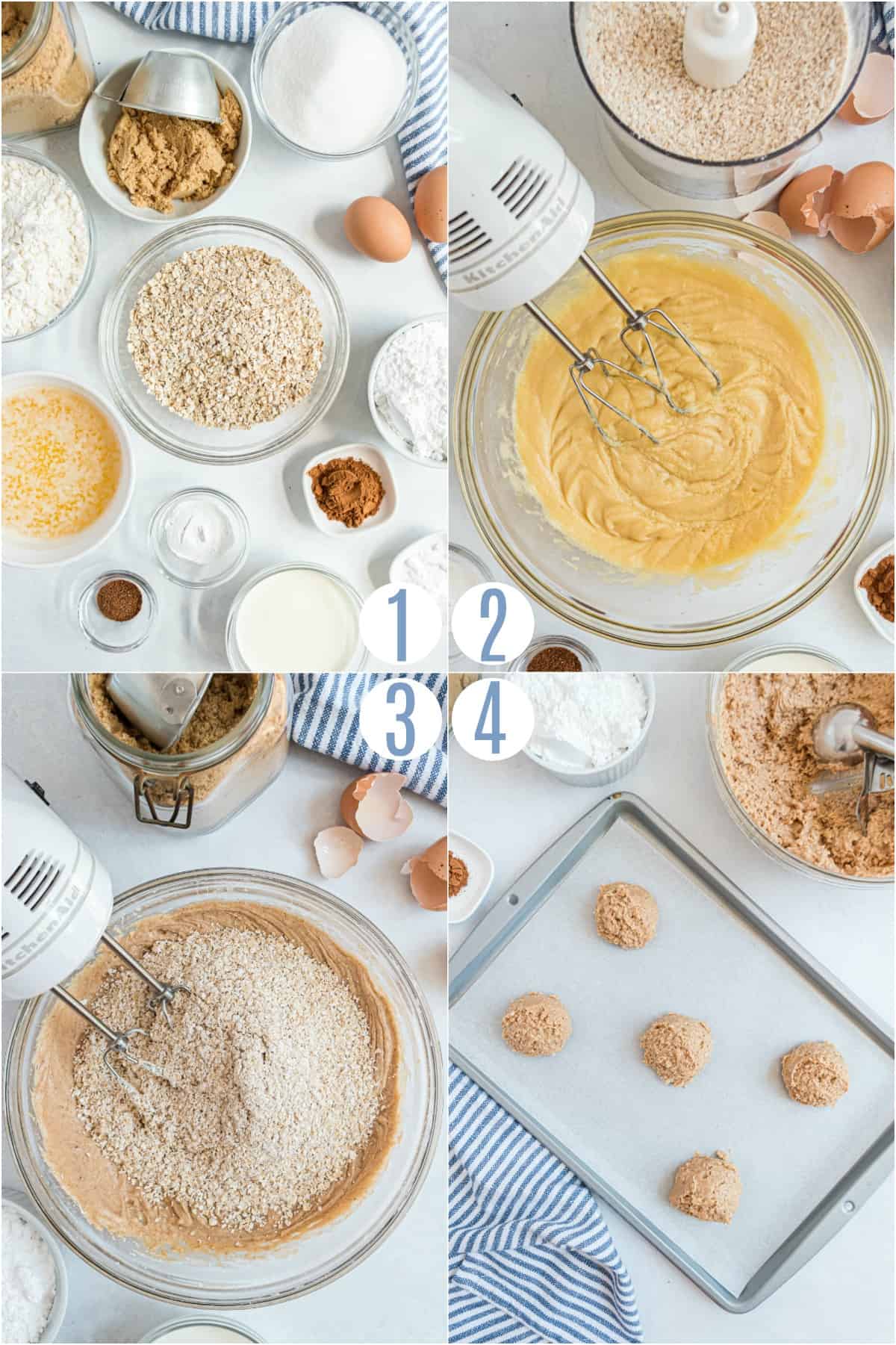 First, you'll want to create a powder (or flour) with your oatmeal. You can use either a food processor or a blender, and pulse it several times. You don't want a "fine" powder, so leaving small pieces is perfect. I pulsed mine 6 times, for 1 second each time. Set this aside.
In a mixing bowl, blend your butters with sugars. Add in eggs and remaining cookie ingredients. Blend until thoroughly combined.
Next, you'll drop your cookie dough by large tablespoons (I use a medium sized cookie scoop), and place it onto a parchment paper lined baking sheet.
Bake in a 350 degree oven for about 14-16 minutes. I like mine a little crunchier so I go closer to 16 minutes. Remove from pan and cool completely on a wire rack.
Once cooled, you can make your glaze. Whisk your powdered sugar with cream and cinnamon until smooth. Frost your cookies and allow to harden. ENJOY.
Baking tip: For softer cookies, take these out around the 14 minute mark. If you're a fan of oatmeal cookies with a little more crunch, leave them in for as long as 18 minutes. Just keep a close eye on them so the bottoms don't burn!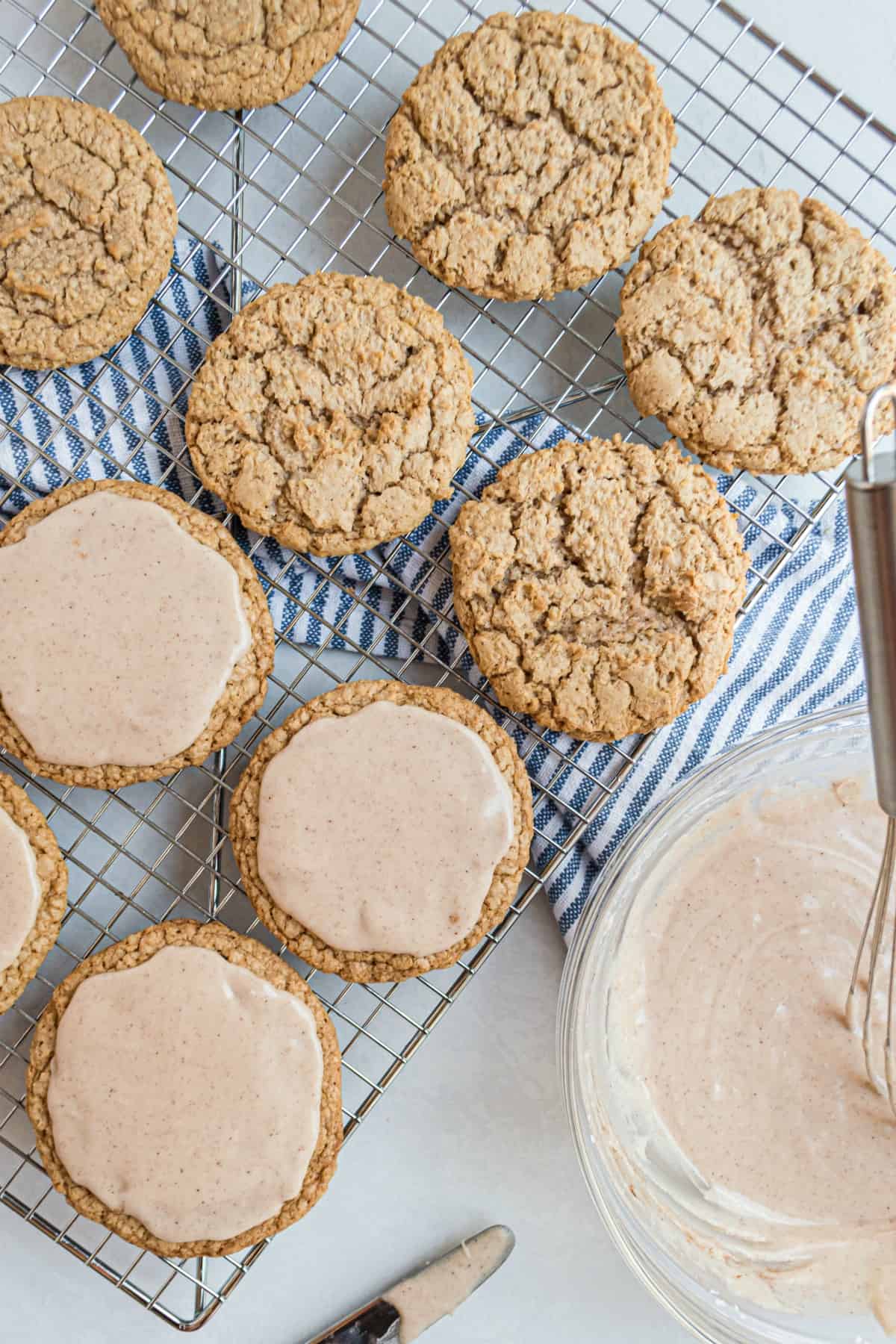 Glaze for Oatmeal Cookies
It makes me sad to think that there are likely so many people out there who have never known the sheer joy of biting into an oatmeal cookie coated with a sugary glaze.
They're just eating their oatmeal cookies plain and unfrosted. Tragic, right?
If that's you, then stop everything you're doing and go make these! The icing is thin and glossy, not like a thick buttercream or creamy ganache.
The glaze on these cookies hardens but dissolves the minute it hits your tongue. You'll think the cookies will be crunchy when get that satisfying first bite of the crisp layer of icing.
Then, the sugary glaze melts in your mouth as you enjoy soft, chewy oatmeal cookie paradise.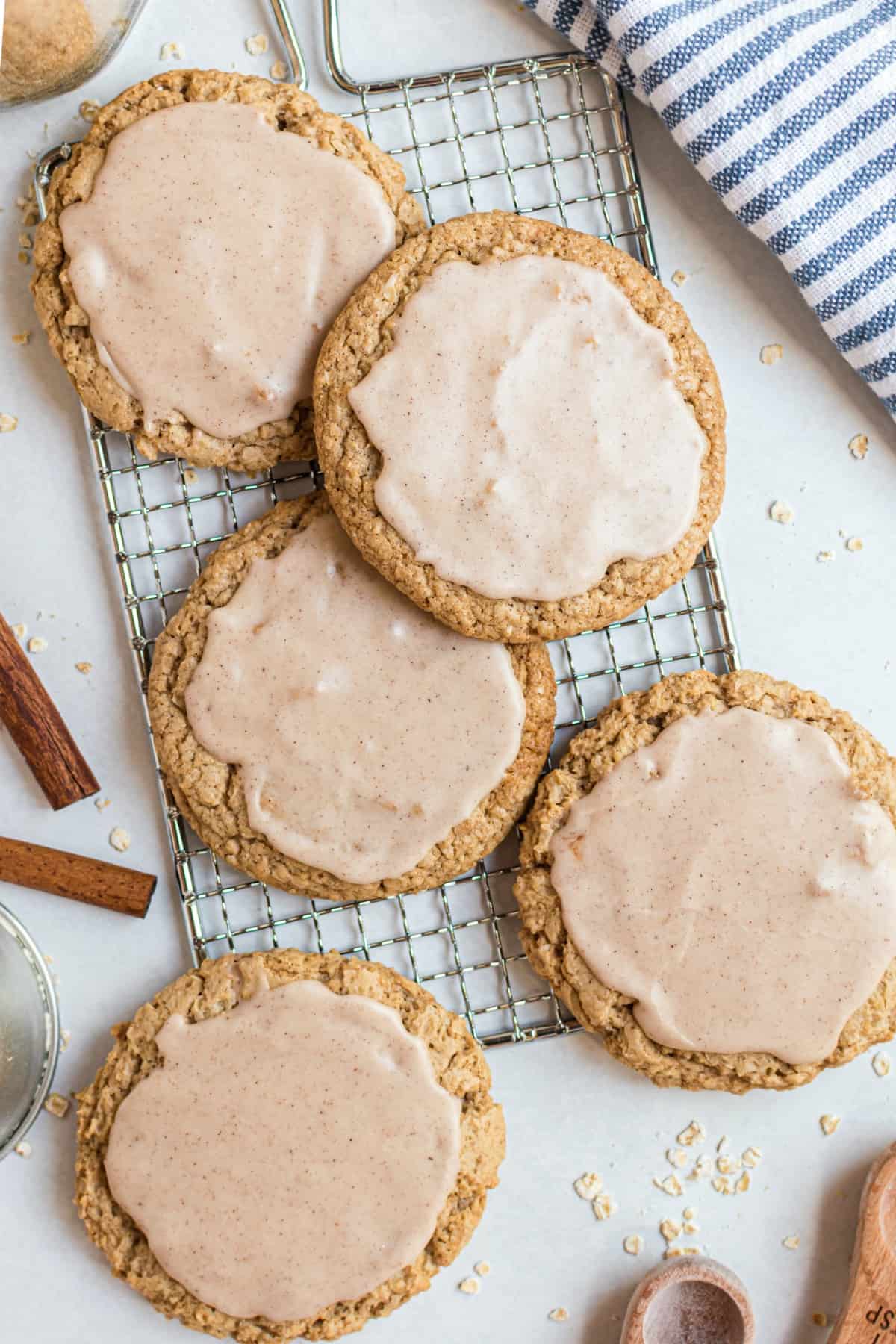 Freezing Tips
Wait, do you mean you DON'T plan to eat the entire batch of these cookies in 2 days? We'll see about that once you taste them.
Kidding (kind of). Yes, you can freeze these cookies! They'll keep well in an airtight container in the freezer for a few months. Double the recipe so you'll have plenty to stash away in the freezer for school lunches or surprise visits from company.
If you're like me, though, you won't be able to resist having more than your share. As a coffee devotee, I'm always on the hunt for new treats to enjoy with my morning and afternoon caffeine fix.
With a hint of spice and extra sweetness from the glaze, these were a match made in heaven for my daily coffee. Who says you can't have oatmeal cookies for breakfast?
My kids loved these with an ice cold glass of milk! Truly, there's no wrong way to enjoy a good cookie.
Recipe FAQs
Can you use steel cut oats instead?
No, you should not substitute steel cut oats for the quick oats in these cookies. They are not processed as finely and will give the cookies an unpalatable texture.
Do you need to refrigerate Iced Oatmeal Cookies?
No need to refrigerate these cookies once the icing has hardened. You can keep them in an airtight container right at room temperature. Or freeze them if you want to stash some away for later.
Why do my oatmeal cookies get hard and tough?
Over mixing the dough can result in tougher cookies. You may also have baked them for too long. To get soft oatmeal cookies, remove them from the oven when the bottoms and edges look golden brown.
More Oatmeal Cookie recipes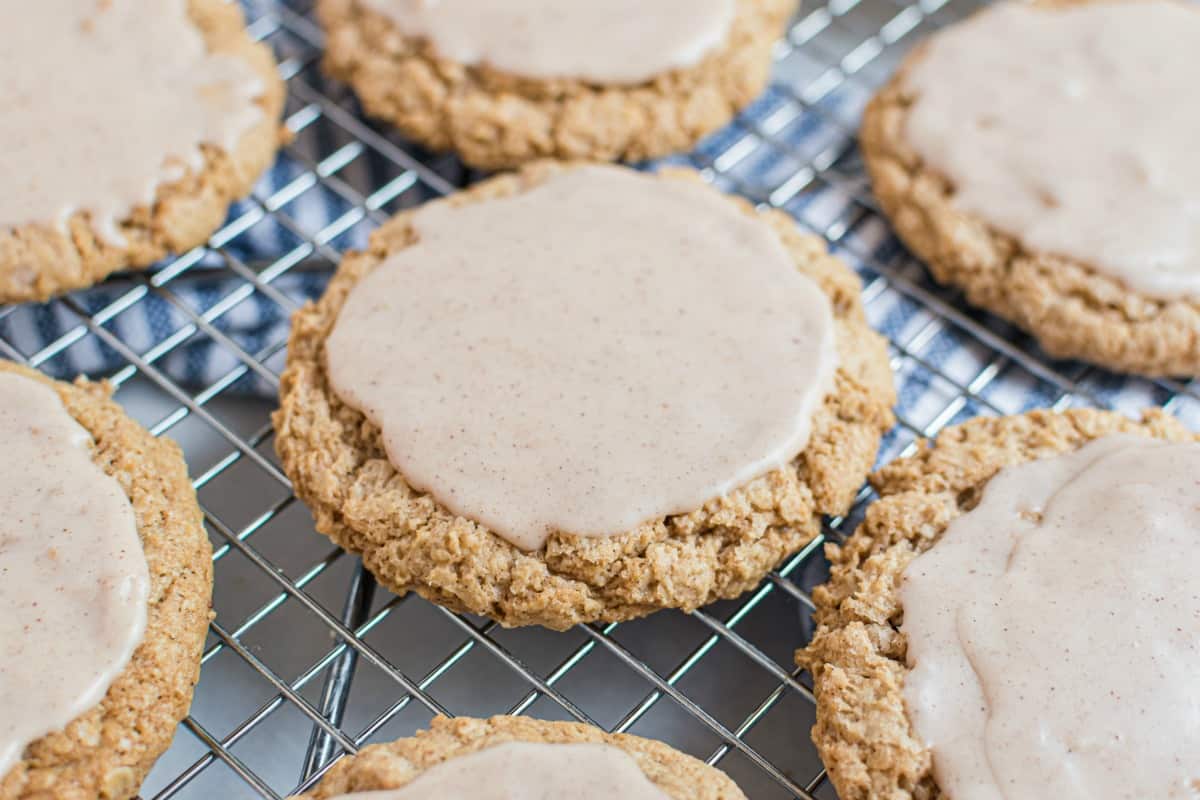 A batch of classic Iced Oatmeal Cookies is always a good idea! As a dessert or snack, you'll never be sorry to have fresh baked chewy cookies in your kitchen.