You don't have to travel to Disney Parks to enjoy delicious churros. Kids and adults alike love these fried cinnamon sugar treats dipped in chocolate or caramel!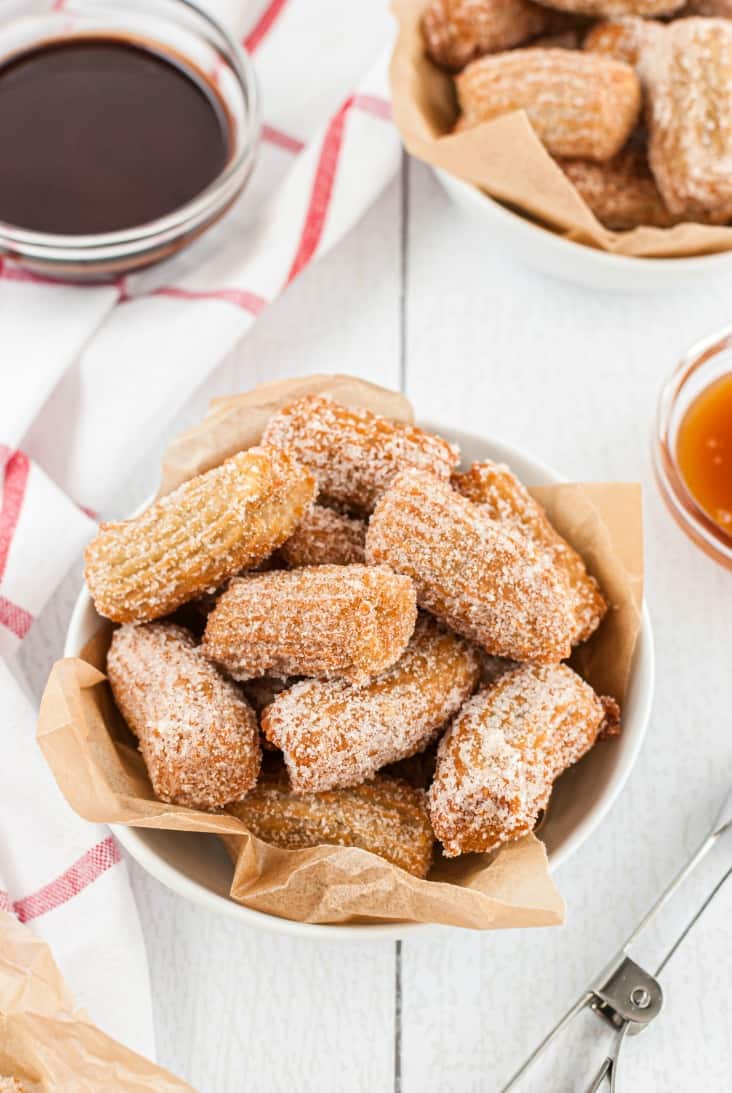 Everyone loves a churro! With this recipe, you can make the tasty sticks of fried dough right at home.
These are reminiscent of the famous Disney churros that are a favorite for theme park goers, but even if you've never been to Disneyland you NEED to try this recipe.
Thankfully, this recipe is straight from Disney Parks, so you know it's authentic!
What are churros?
They are pieces of pastry dough often twisted into sticks, then deep fried and rolled in cinnamon sugar.
Churros are Spanish in origin but eaten all over the world, especially at fairs, carnivals and theme parks (like the Disney parks!).
To make it easier to enjoy the sweet taste of a freshly made churro at home, I like to make these into bite sized pieces.
The dough is easier to shape this way but it also means you can have a LOT of treats instead of just one.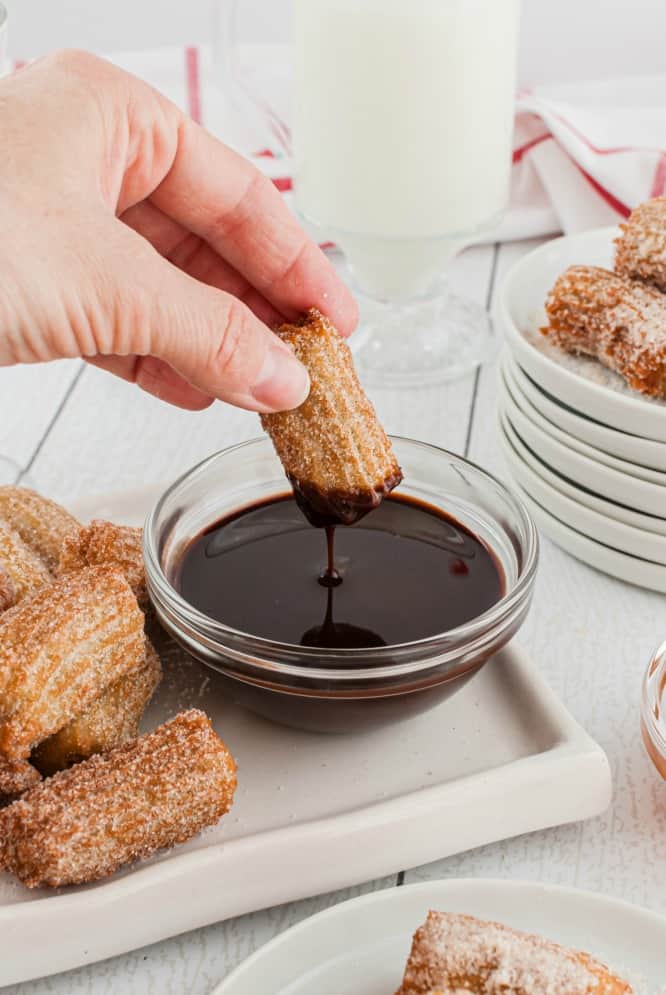 How to serve Churros
I'm all about any recipe that lets me feel like I'm eating a lot of something, especially if that something is a sweet fried pastry! It's probably why I love these Cinnamon Muffins so much!!
Churros are similar to donuts only instead of a yeasted dough or a cakey batter, the pastry is more similar to choux, with lots of eggs and butter.
They taste amazing all on their own, but you can also pair them with dipping sauces to make them even better.
In Mexico, churros are often dipped in hot melted chocolate. I also love mine with warm dulce de leche (caramel)!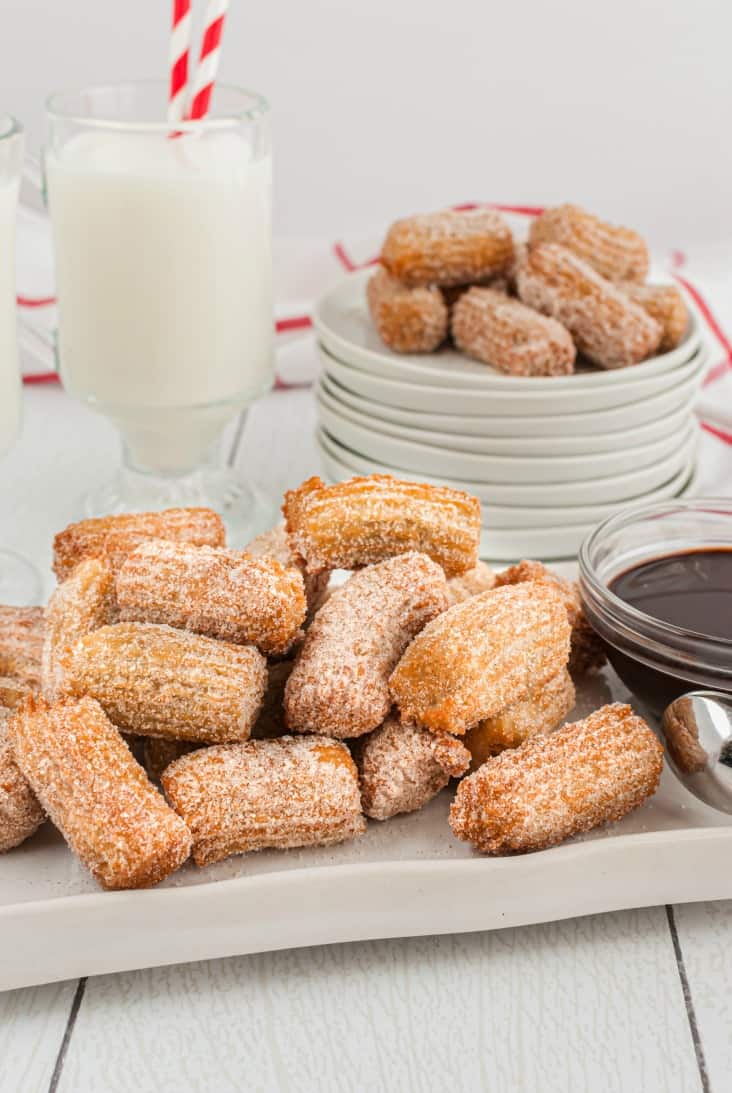 Disney Parks Churro Bites
This copycat Disney churro recipe comes straight from the park itself!
I know for many folks, a Disney trip isn't complete without a taste of one of the famous churros they sell throughout the parks, a piece of their Churro Toffee, or even a cup of Dole Whip.
If you're missing your Disney vacation right now, I hope this recipe can bring some of the magic home to you!
Make a batch of churro bites, put on a pair of mouse ears and stream your favorite Disney movie for a family fun night.
My kids and I all loved these churros! They have a slightly crispy exterior with a fluffy inside and a delicious cinnamon sugar flavor.
They're best served hot fresh from frying, which was no problem for us because we couldn't stop eating them!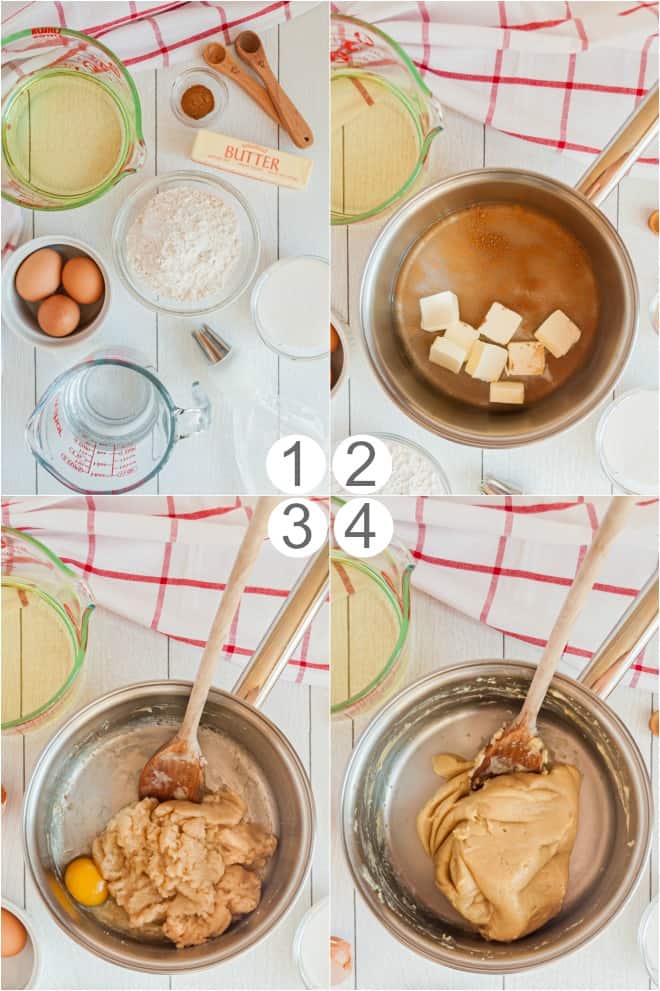 Ingredient Notes
Flour– all-purpose flour is best
Unsalted butter
Eggs
Cinnamon
Salt
Sugar
Vegetable oil (for frying)
Step by Step Instructions
STEP 1. Prepare the dough
Combine water, butter, salt, and ¼ teaspoon of cinnamon in medium size saucepan over medium heat. Bring to rolling boil.
Once boiling, reduce heat to low. Add flour and stir vigorously until mixture forms a ball of dough. Remove from heat and let cool. Add eggs to the dough, one at a time, and stir until fully combined. Set aside.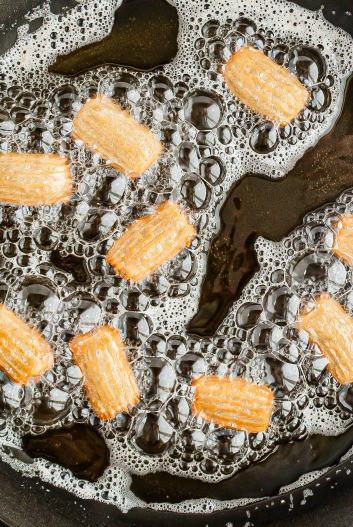 STEP 2. Fry the churros
Heat oil in medium skillet or 1-quart saucepan over medium-high heat or until temperature reaches 350˚.
Spoon the dough into a piping bag fitted with large star tip. Pipe 1-inch strip of dough over saucepan, cut with knife, and drop into hot oil. Repeat until churro bites fill saucepan with room to fry.
Fry churros until golden brown. Remove with slotted spoon or mesh strainer and place churro bites on paper towel.
Love Fried Food? These Southern Hush Puppies are a delicious side dish idea for dinner!
STEP 3. Dust with cinnamon sugar
Mix sugar and ½ teaspoon cinnamon in a bowl. Sprinkle over the churros while still hot!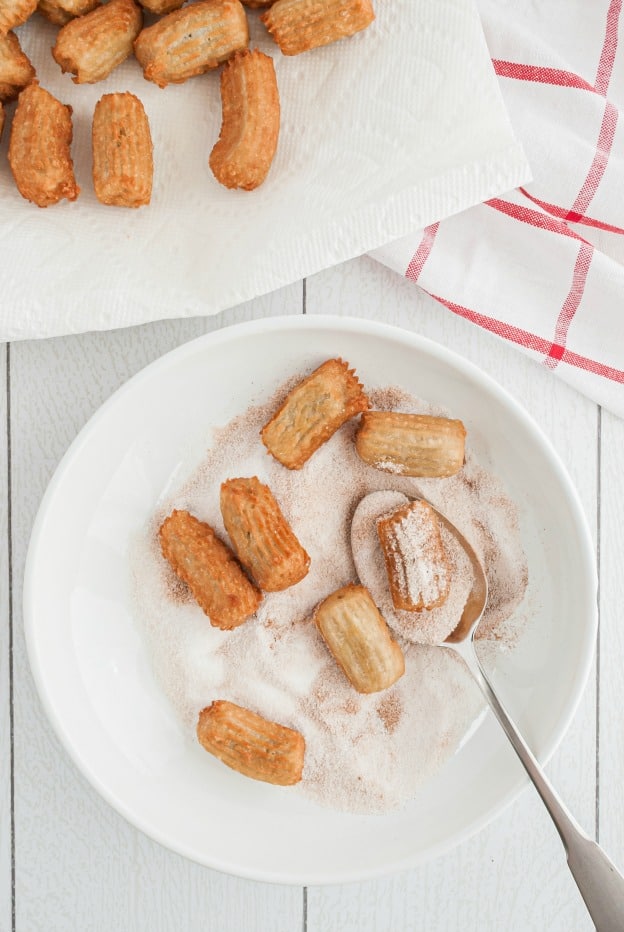 Tips & Tricks
Prep the cinnamon sugar ahead of time so you can dust the fried churros right away after frying. The cinnamon sugar will stick better if the churro bites are still hot.
If you do not have a piping bag, you can substitute a ziploc style plastic bag. Spoon dough into the bag and cut a hole in one corner. Squeeze the dough from the bag into the hot oil as directed.
Keep a close eye on the churros as they fry! If they begin to brown on the outside immediately or begin to turn black, your oil is probably too hot. Depending on your stove, you may have to adjust the heat settings a few times to keep it consistent.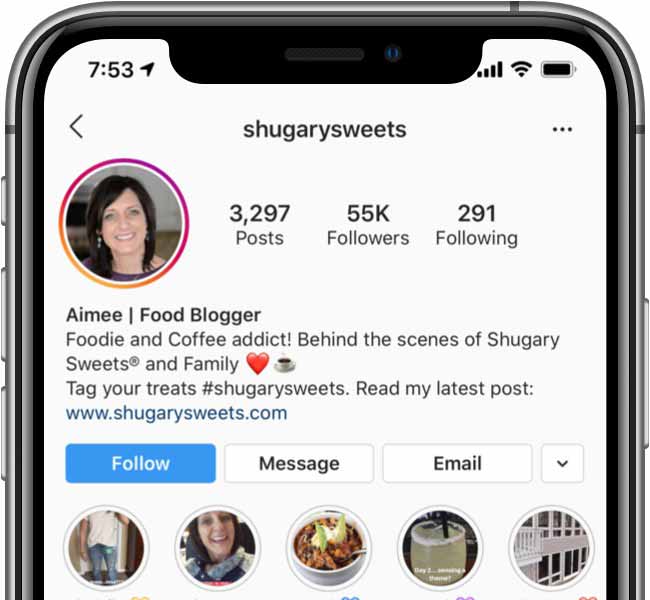 Recipe FAQs
What if I don't have a thermometer?
Check the oil temperature by dropping a small amount of the batter into the hot oil. If it sizzles right away, you're ready to fry the churros. If it smokes or burns, your oil is too hot!
How long are churros good for?
These churros are at their best when served immediately after frying, while still hot and crispy! If you must store them, keep them covered in a dry place and serve the same day.
What do churros taste like?
Churros have a soft inside with a slight crispy outside. The fried dough creates the perfect texture when paired with the cinnamon sugar. Churros are chewier than a doughnut.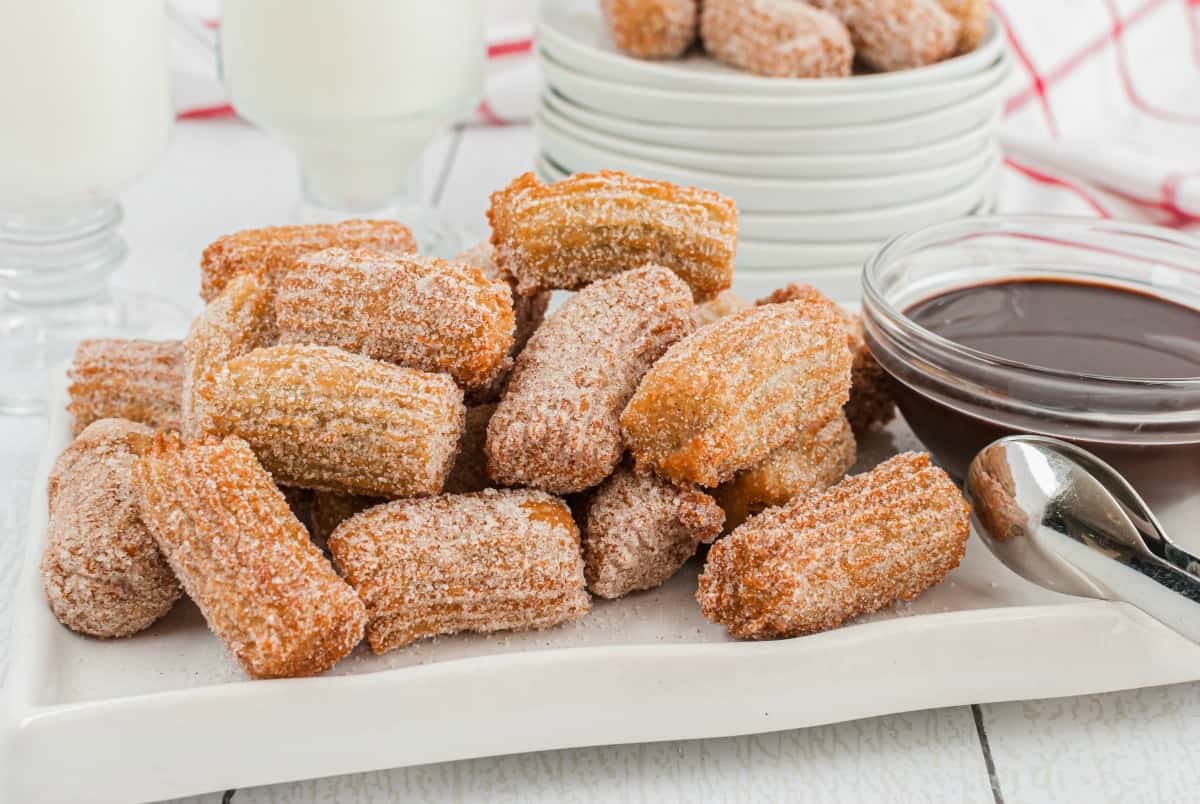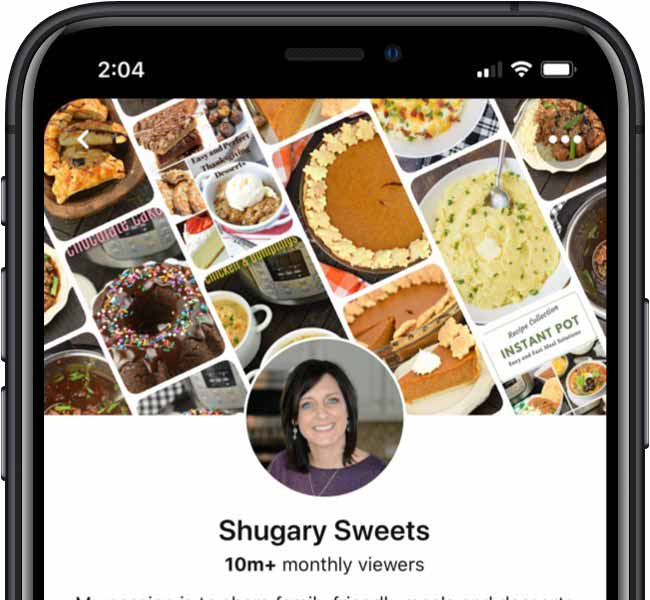 More Cinnamon Recipes
Bring home a little taste of magic with these easy Disney Churros! They're guaranteed to make any day a little bit sweeter!