All the good taste of a classic chocolate donut made in the oven. With this baked Chocolate Donut recipe, you can have fresh homemade donuts on your breakfast table within the hour!
Love easy baked donuts? Be sure to try these fun holiday flavors. Pumpkin Streusel Donuts and Apple Cider Donuts. Or give these easy Cherry Frosted Donuts a try for an easy weekday breakfast.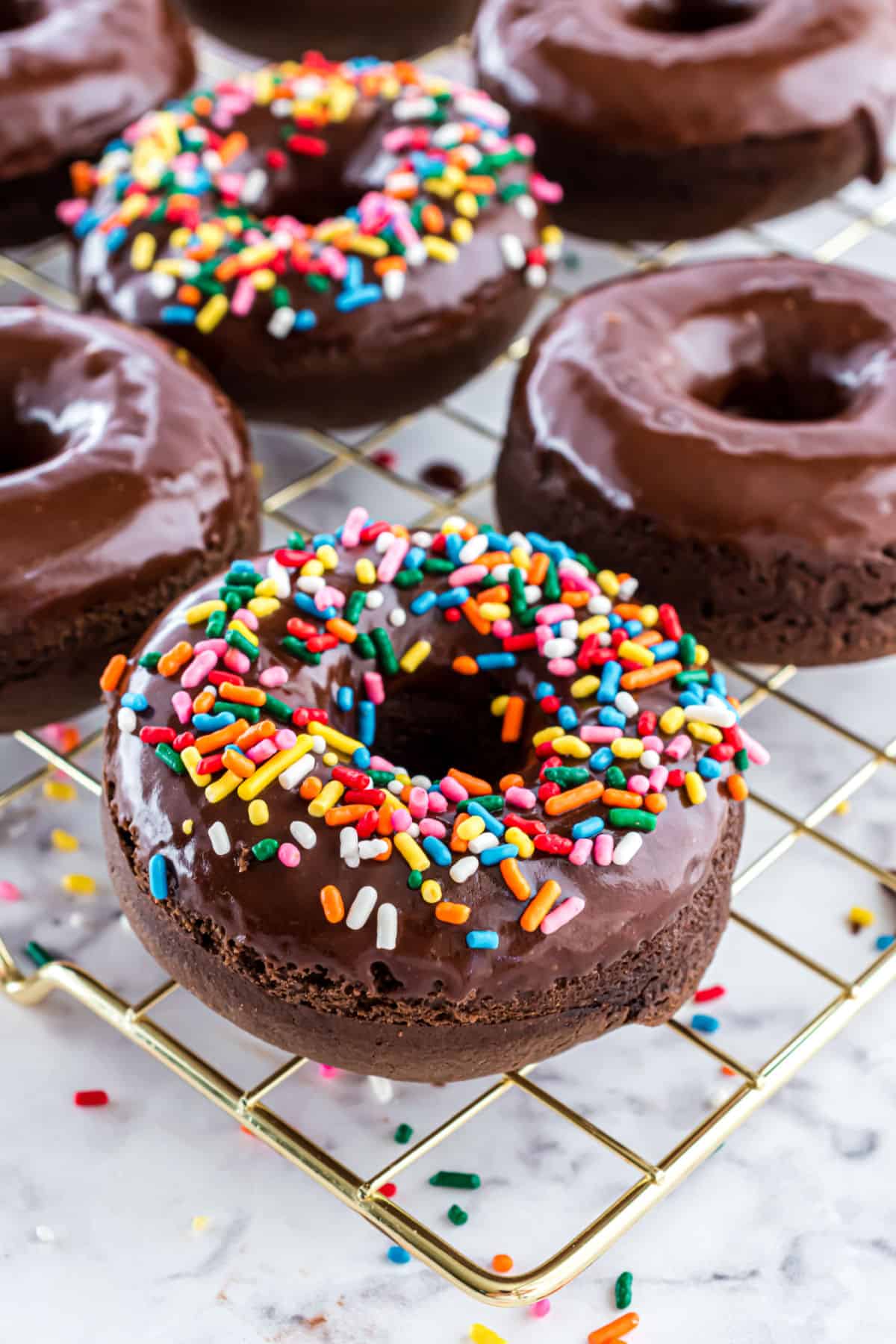 Why this Recipe Works
Traditionally, donuts are fried in oil (or even lard if you're old school). I love a yeast donut or cake donut made in the fryer but frying is messy, not to mention time consuming. Unless we're talking about these Boston Cream Donuts, of course…with my easy trick!
Biting into a good chocolate doughnut is a thing of beauty. These donuts were moist and sweet with a fluffy crumb; then the rich chocolate glaze took them over the top into the territory of "sublime."
Since they were such a success, I figured I needed to share the love with my fellow impatient donut lovers!
One bowl donut recipe
Rich chocolate glaze
Soft, tender crumb
Fun colorful sprinkles
Change things up and make some chocolate donut holes instead!
Ingredient Notes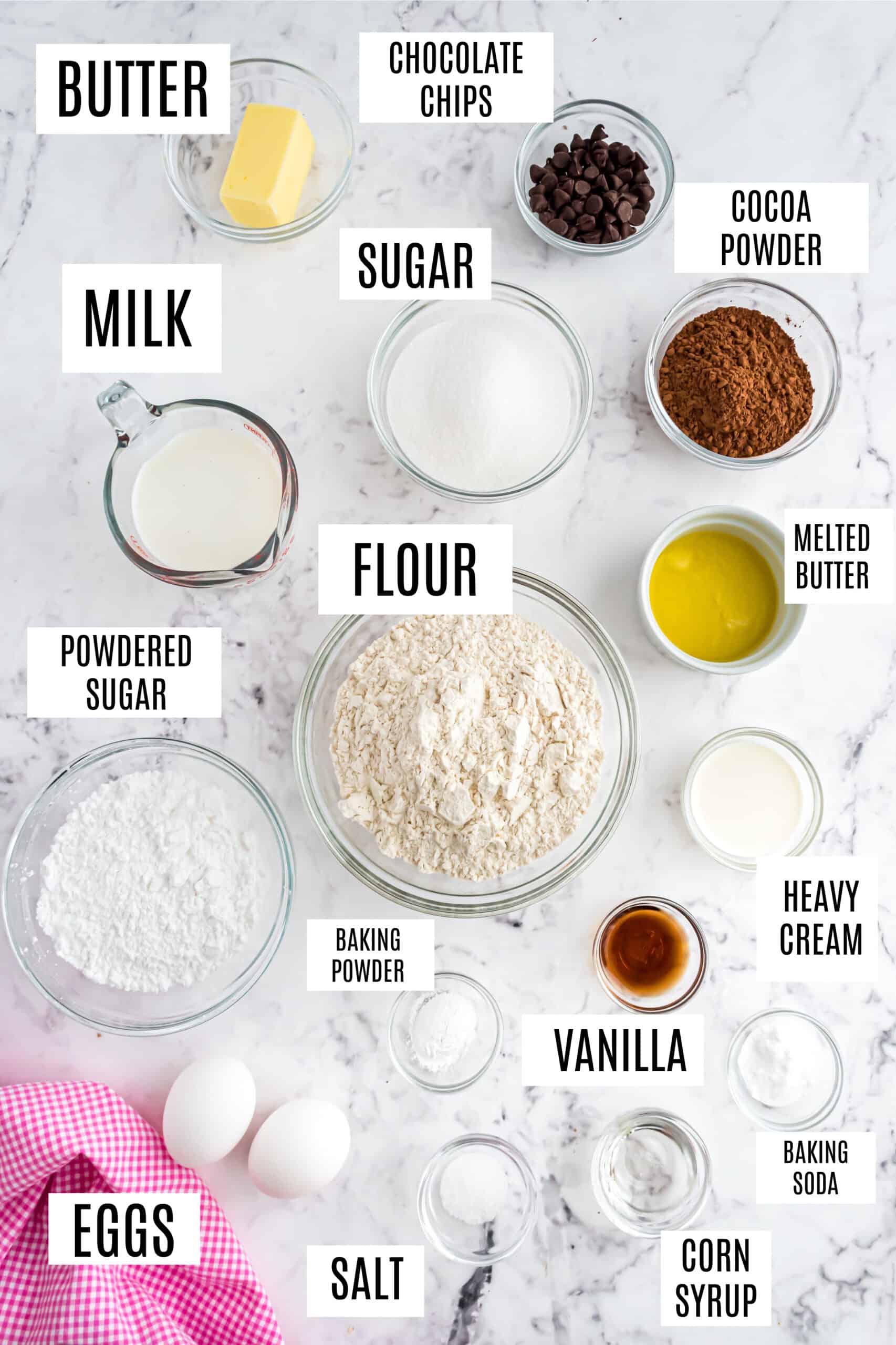 All the basics you would expect in a donut recipe. From all-purpose flour, to baking powder, baking soda, eggs, kosher salt, and vanilla extract.
You'll also need softened unsalted butter. Sugar and milk (any kind is fine)!
And for the glaze, you'll need heavy whipping cream, milk, butter, vanilla, and corn syrup. And don't even ask me if you can swap out the corn syrup. It's what gives this glaze it's unique shine!
Chocolate- you'll want cocoa powder for the donut, and chocolate chips for the glaze. I use Ghiradelli brand because I find it to have the best flavor for the price.
Chocolate Donut Recipe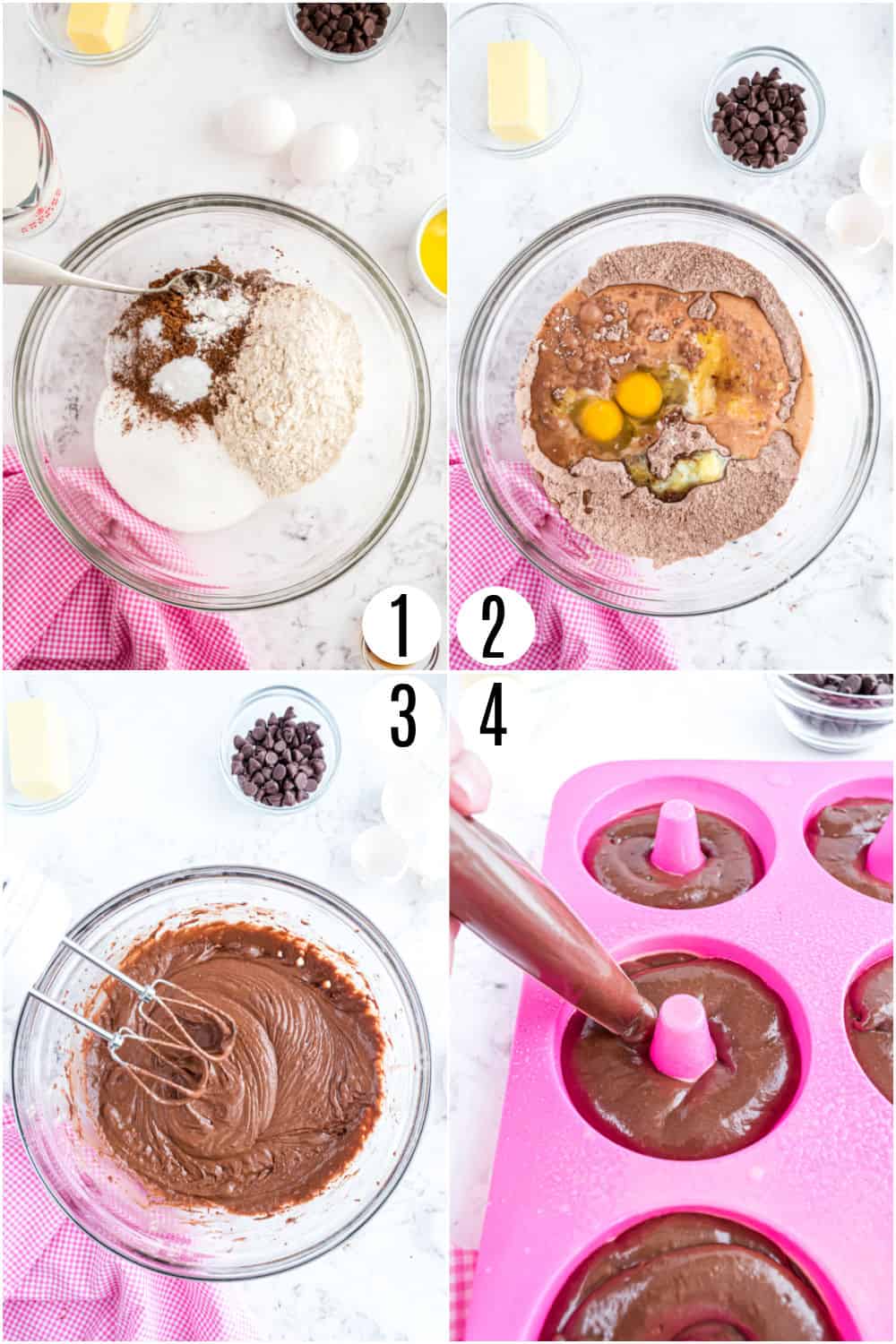 Make the chocolate donuts.
Mix dry ingredients in bowl. Beat in the eggs, milk, vanilla extract and butter. Beat until well blended.
Spray a donut pan with cooking spray. Fill each donut cup about 3/4 full.
PRO TIP: Spoon the batter into a ziploc bag, snip off the tip and pipe it into donut pan. Makes it easy to keep it from spilling over the edges.
Bake donuts in 325 degree oven for about 11-14 minutes. Allow to cool slightly then remove from pan.
While cooling, make the chocolate glaze.
Make the chocolate donut glaze.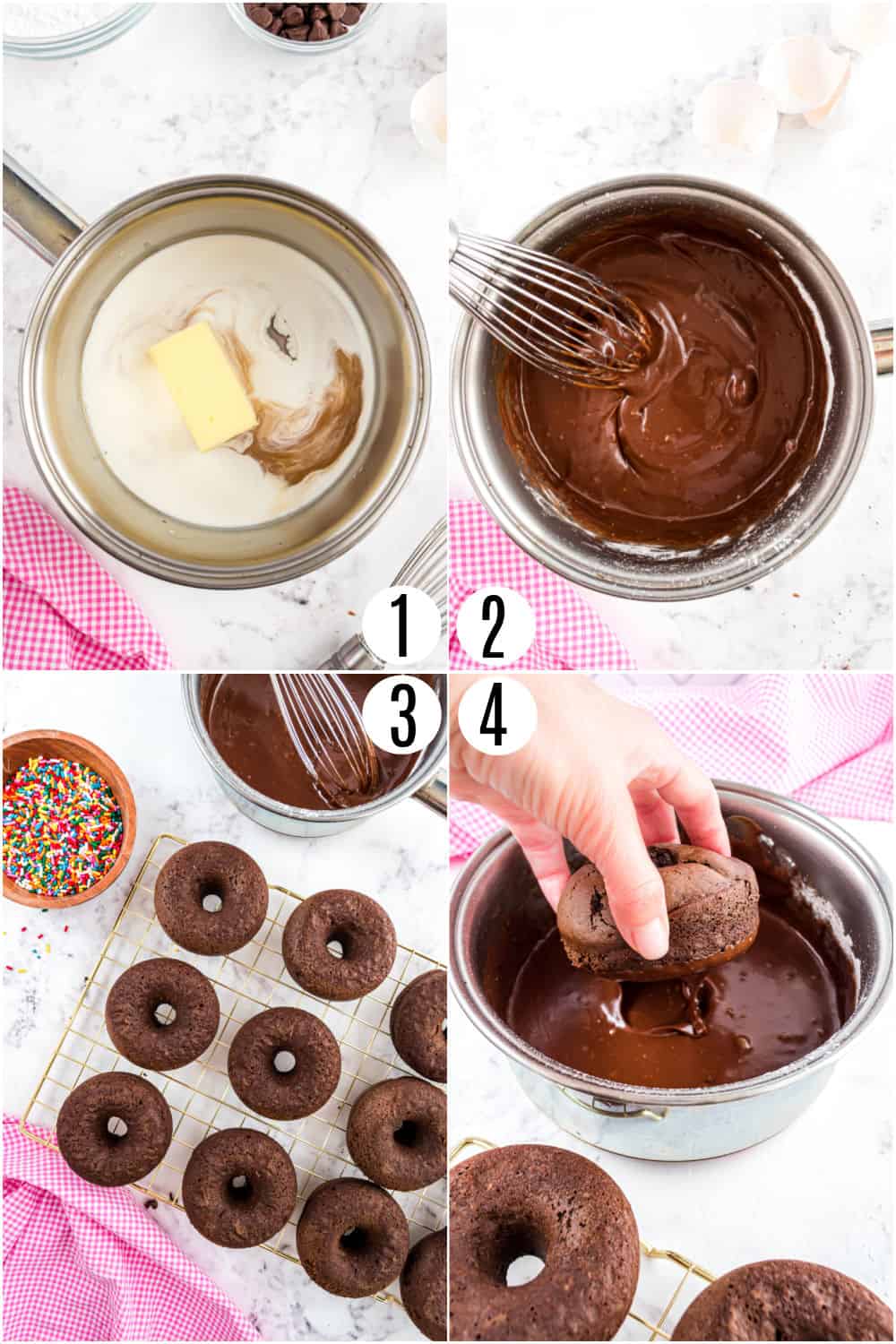 In small saucepan on medium low heat, mix together the cream, milk, butter, vanilla and corn syrup.
When butter is completely melted, turn heat to low and add in the chocolate.Remove from heat and whisk in the powdered sugar, adding it slowly until desired consistency.
Dip each doughnut into the glaze and allow to cool.
Allow chocolate to set (this takes about 15 minutes). Enjoy!
This recipe makes about 8 – 10 donuts.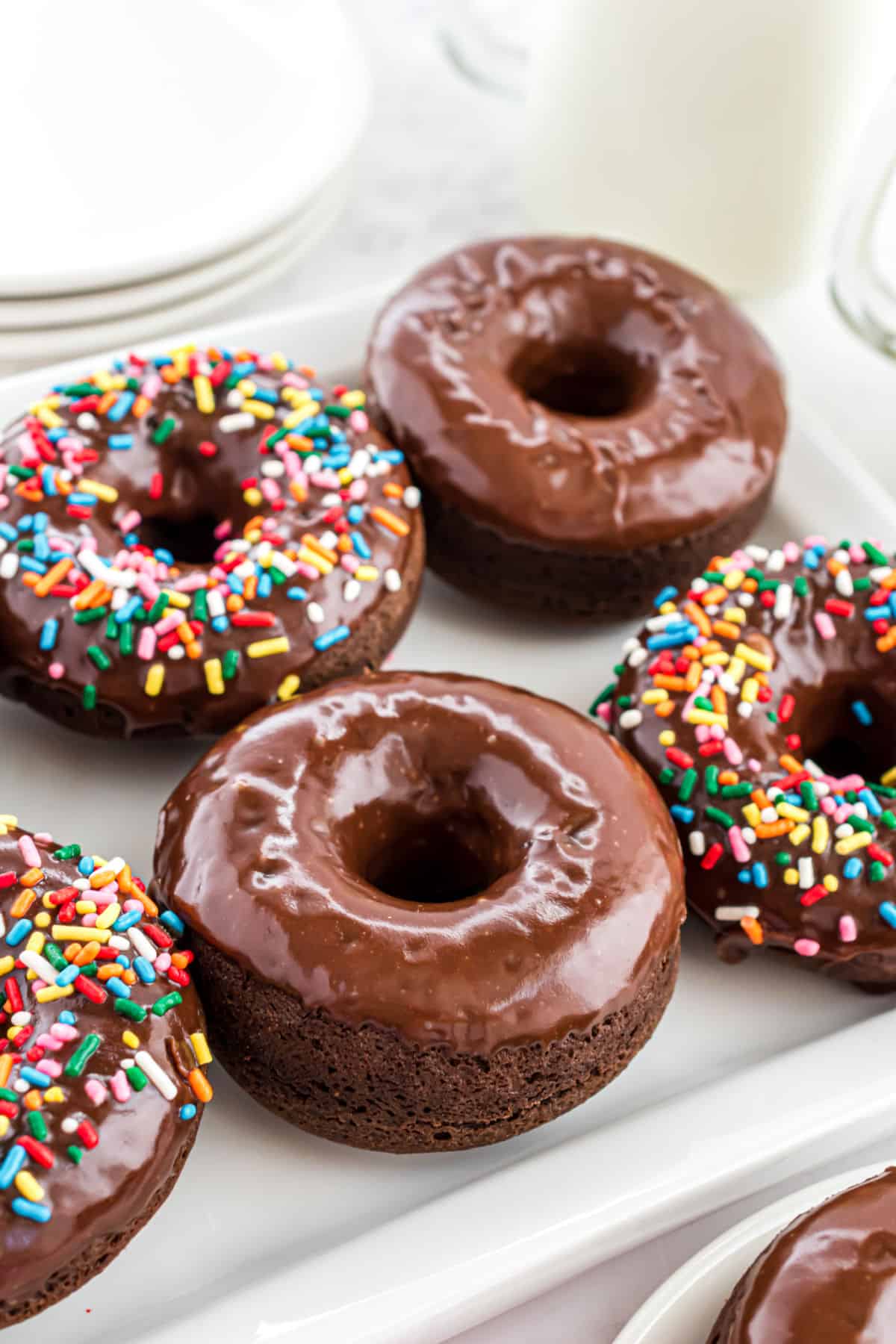 Tips and Tricks
To fill the doughnut cups, I use a ziploc bag with the corner cut out. This keeps the process a little more neat and ensures stray batter doesn't coat the outsides of the cups.
If you don't yet have a donut pan, this is the one I love: Norpro Donut Pan– you can find it on Amazon in 6ct or 12ct!
We added sprinkles on top of the donut just after glazing. These donuts would also taste delicious topped with chopped nuts or anything you usually enjoy on your donuts. (I'm thinking I might have to try crushed Oreos next time. . . )
Be sure to use real heavy cream and corn syrup in the glaze. Substitutes just won't thicken or set as well.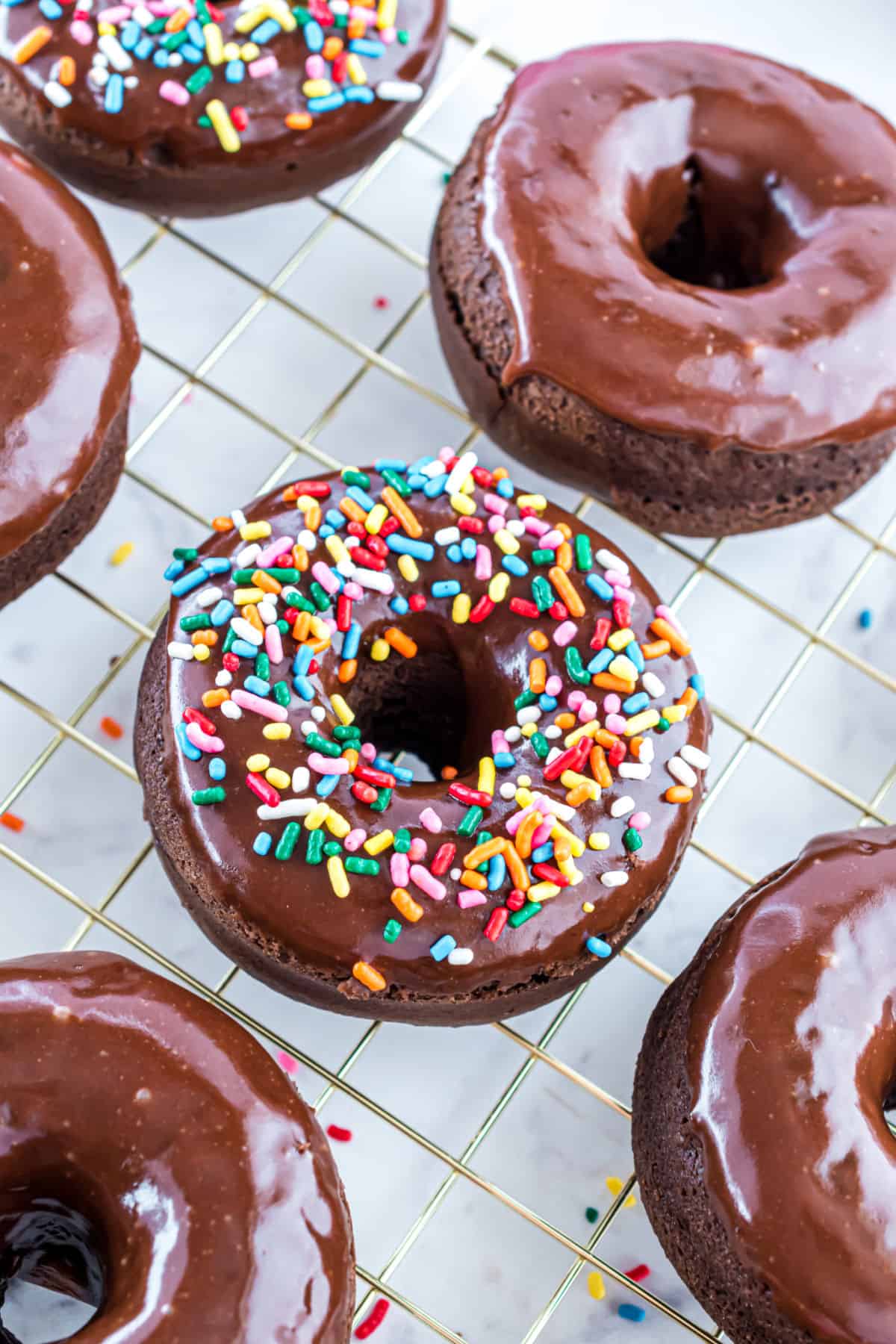 Recipe FAQs
Can you freeze baked donuts?
Be sure to let the chocolate donuts cool completely, first. Then place in the freezer on a cookie sheet for 30 minutes. Transfer the donuts to an airtight container or freezer safe bags, separating each layer of donuts with parchment paper.
How long do you store baked donuts?
Store these baked chocolate donuts at room temperature for up to 4 days. Keep in airtight container or cake saver.
Can I double this recipe for donuts?
Absolutely! This recipe doubles easily to make about 16-20 donuts.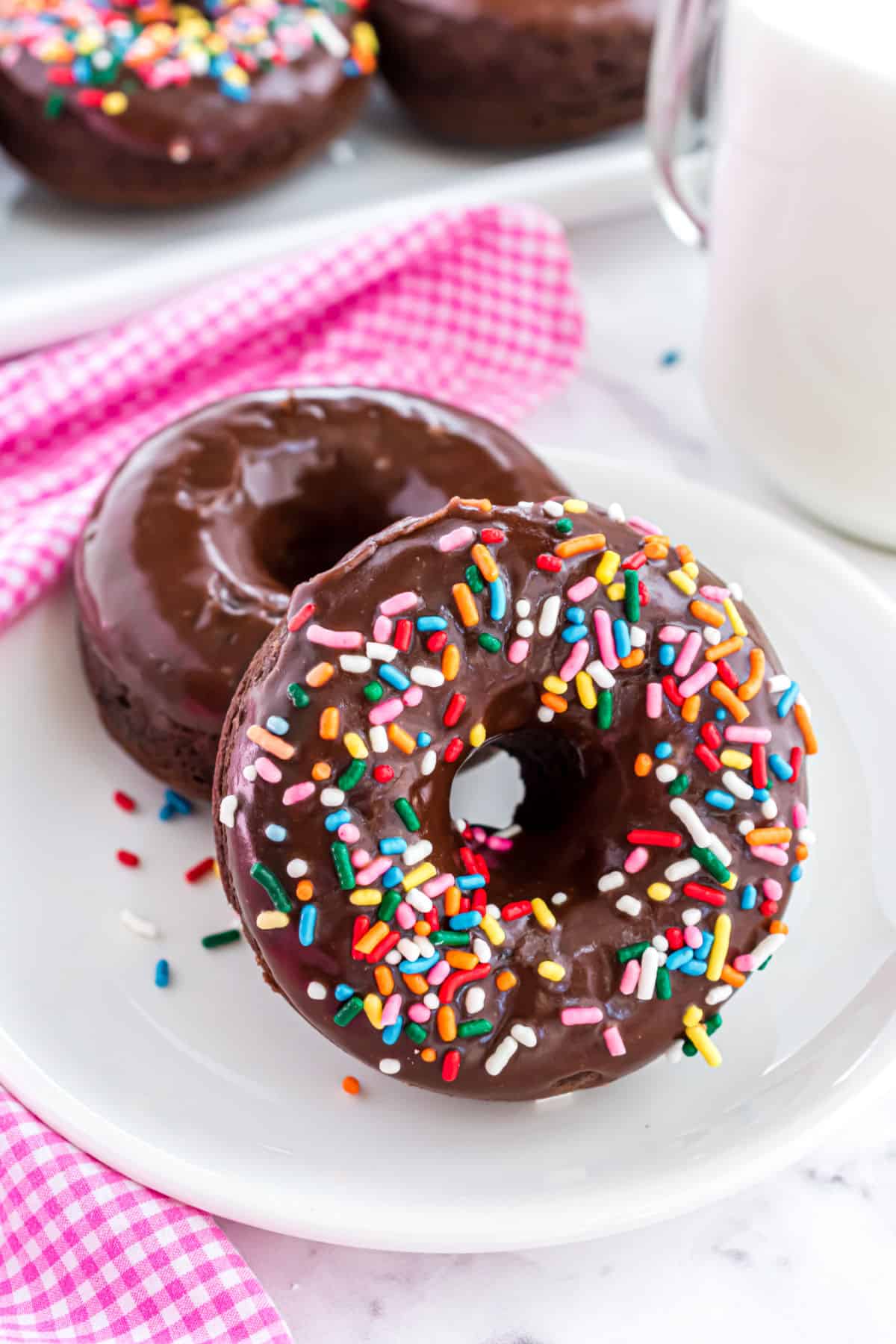 This donut recipe is easy, fast and guaranteed to satisfy your sweet tooth!
Served with a cup of coffee in the morning or with a glass of milk for an after school snack, a chocolate donut makes everyone happy. Next time you have a breakfast meeting to go to, surprise everyone by walking in the door with a batch of delicious homemade donuts.