These Nutella Stuffed Donut Holes are the perfect way to start your day. I know from experience they pair well with a cup of hot coffee or a glass of cold milk. You choose!
Be sure to follow me on Bloglovin'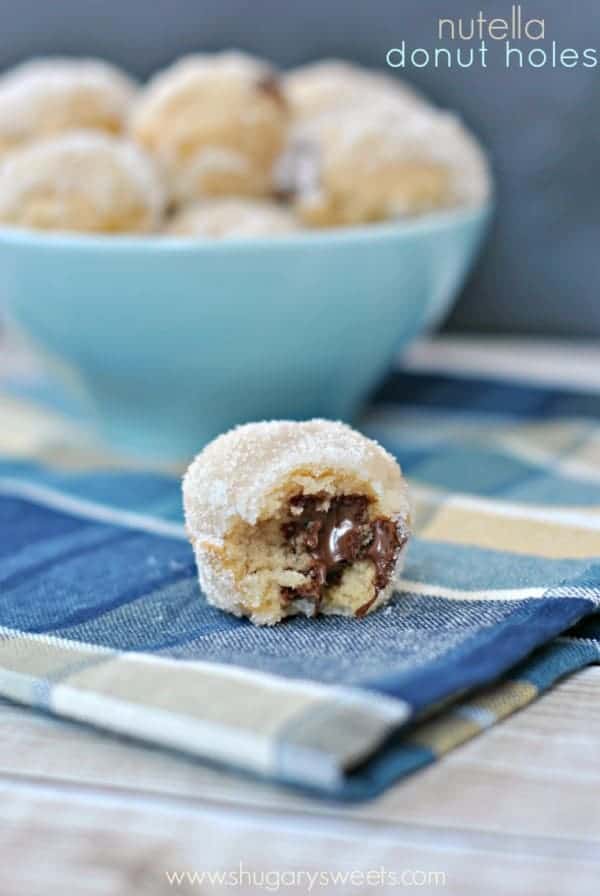 A couple days ago I shared my recent travel woes and these Frosted Sugar Cookie Bars. Before you begin reading this post, you may want the background. Go ahead, I'll wait here…get caught up on my story.
Unless of course you want to go straight to the recipe, in which case, scroll down.
All caught up? Awesome. So I finished my story by alluding to the fact that I have some travel tips.
First, let's talk about clothing choices when traveling. One must always be aware of the temperature in the entire world. No seriously. I planned to fly Miami- Atlanta- Cincinnati. Clothing choice was capris and tshirt. Weather in those areas ranged from 75-85 degrees F.
What I didn't plan was the detour to the frozen tundra of Chicago. Okay, it wasn't actually FROZEN, but it was a chilly 50 degrees upon waking at 5:15 am to get back to the airport. Clothing choices. Take it serious people. Always carry a sweater or light jacket. Oh, and while we're on clothing, for the love of God, someone please remind me to pack an extra clean pair of underwear in my carry on every time I travel. Nuff said about that!
Second. Shoe choices. This is a tough one. I originally chose a comfortable pair of gym shoes. And while that may have been an awesome choice running (no, SPRINTING) across the Miami airport, it later proved cumbersome. After getting the news my flight from Miami- Atlanta was delayed and I was going to miss my connection to Cincinnati, I got booked on a flight that left for Chicago in 20 minutes. TWENTY MINUTES. Have you ever been to Miami Airport? It's a madhouse. And I now had to go find Terminal D (which meant going through security again). Fortunately, I begged the security guard to let me go through priority access since my flight was changed and leaving in 10 minutes (that's how long it took me to race across the airport, weaving around people). You guys, it was like in the movies. Girl racing through airport to make her flight.
As for the shoes…here is the issue. Gym shoes, thumbs up for running comfort. Thumbs down for getting through security quickly. I had to sprint to my gate with untied laces and my shoes half on my foot. Awkward much?
While on the topic of running through the airport, can we talk about carry on luggage? I had a great bag (tote) that dualed as my purse much of the weekend. I also brought an extra bag for swag. So now I was lugging two LARGE, HEAVY purses on my shoulder. If you're a woman you know how hard it is to run with one purse, imagine two! Can you say BACKPACK! That will be my new best friend next time (should I ever choose to travel again).
Also, did I mention my shoulders were sunburned? Yes. I was crying heavily on the inside…and it came out as sweat.
Yes, that dreaded word. Sweat. They don't make a deodorant strong enough to withstand everything stacked against me. I feel bad for the poor ladies who sat next to me on my flight to Chicago. If that was you, and you read my blog, I'm SO SORRY. I'm not normally so offensive in odor. But you would understand if you saw my great accomplishment of racing across the airport in record time (even the security lady said, "girl, you never gonna make it.") If I had time, I'd like to have let her know, I made it.
Finally, wigs, glasses, hats. You know, disguises. Cause you cannot even imagine how bad I looked getting off the plane in Chicago. And being a girl who grew up in Chicago, it occurred to me that I would like to curl in a ball if for some slight chance I ran into someone I knew at the airport. Fortunately that did not happen. But in the future, I will bring big dark sunglasses and floppy hats.
On the more practical side: glasses, contacts and a reusable water bottle. My first trip to BlogHer Food Austin I forgot to bring my glasses and extra contacts (I wear dailies) in my carry on luggage. So on day 2 at the airport, I was completely blind. With a booming migraine.
And the water bottle? Bring an empty one through security and fill it up at the water fountain. That way you don't have to spend $3.49 on a Vitamin water that you carried and ran through the airport with, only to be forced to give it up in security, make it to the airplane (thirsty as all get out from running) and waiting 45 minutes for the drink cart. Just sayin.
So there you go. Travel tips from Shugary Sweets. Who knew, right?
My last tip is to NEVER EVER get your hopes up of making it to your destination. That way when your flight is cancelled, you're not disappointed. Oh, and if you see me in the airport, make sure you're not on my flight!
As for these gorgeous muffins? Easy sugar coated muffins with a punch (yes punch, not pinch) of nutella filling. These are the perfect fix to any travel woes!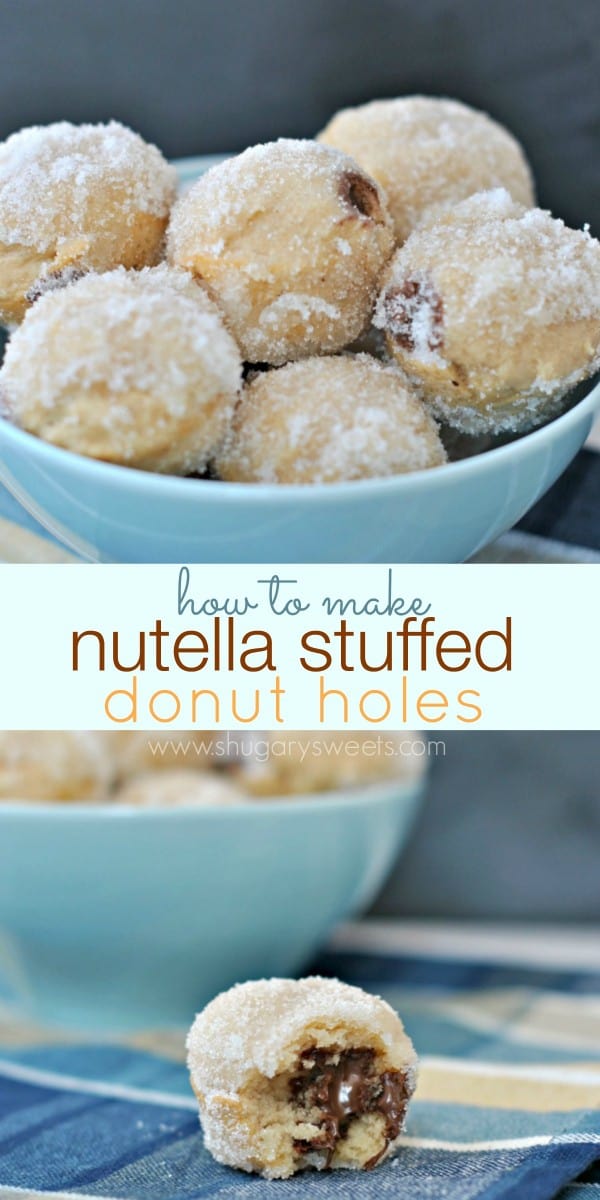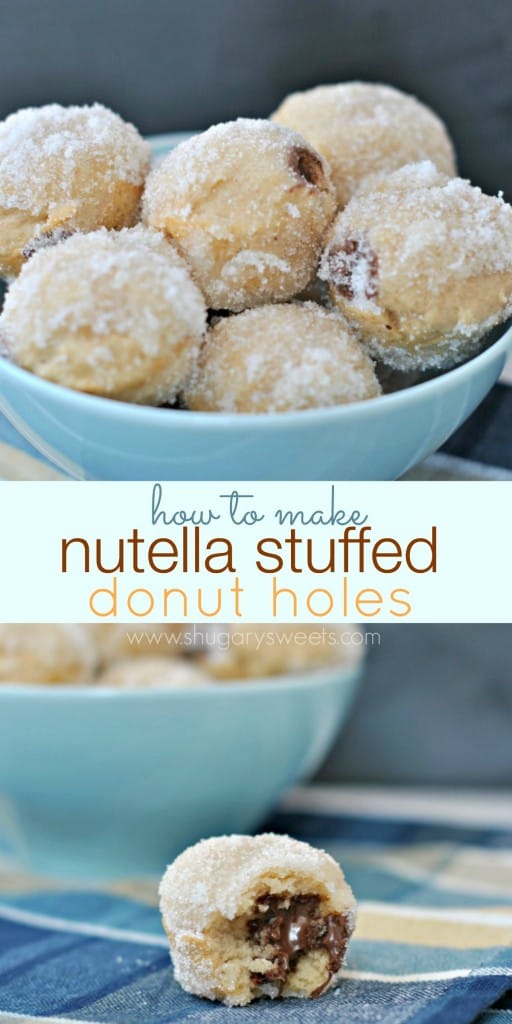 Connect with Shugary Sweets! Be sure to follow me on my social media, so you never miss a post!
Pinterest | instagram | Bloglovin'
Save your favorite recipes to your personal recipe box with the   

  button on all my recipes! Create a Meal Plan with your "favorited" recipes and the ingredients will automatically be added to your own Grocery List!