These Chai Donuts are maple sweetened, baked and full of fall spices! Pop these in the oven on a chilly fall morning, dip them in glaze and enjoy with a hot cup of coffee or tea.
For more fall donut flavor inspiration, take a look at these Pumpkin Streusel Donuts. Everyone raves over our Apple Cider Donuts too!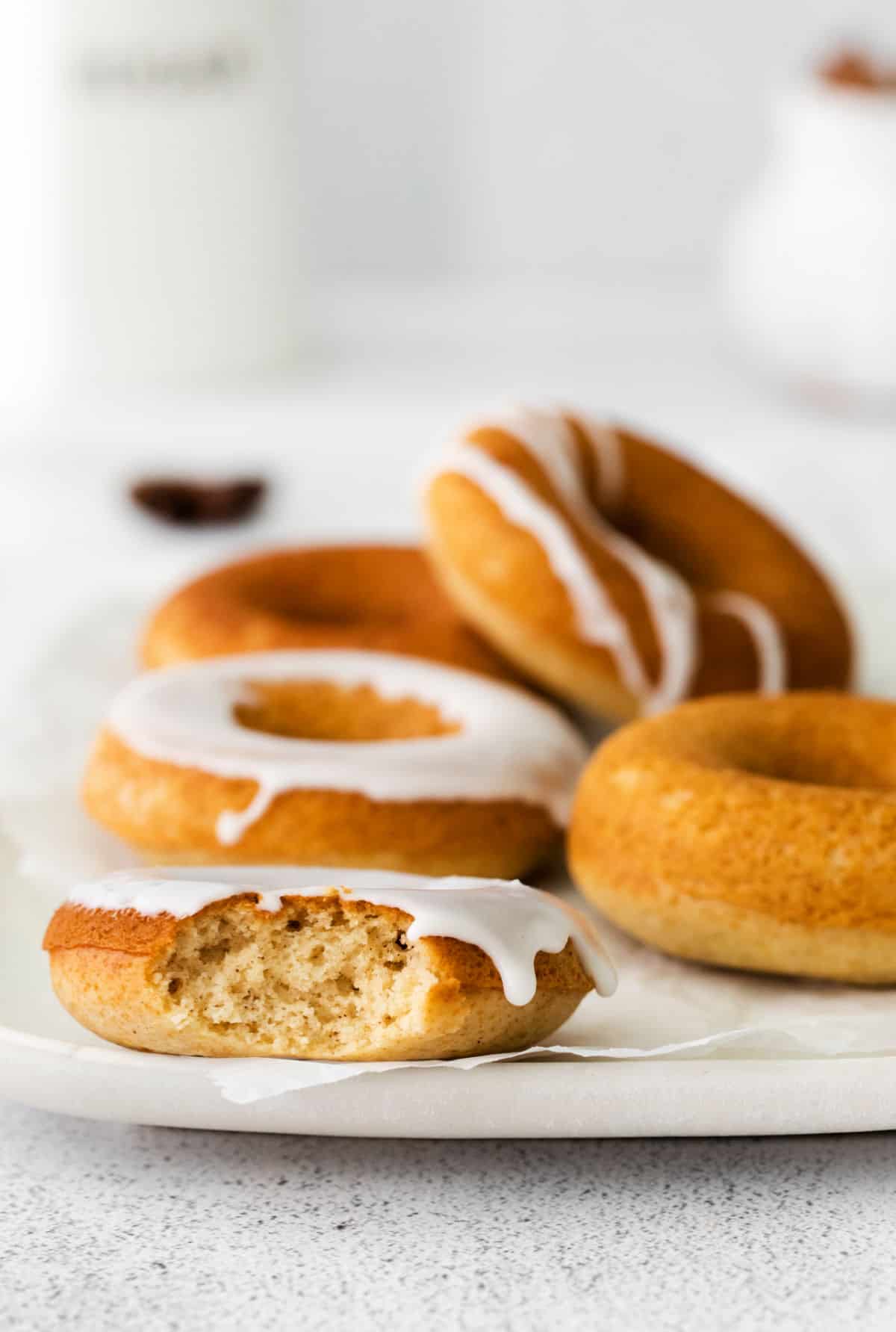 Why this Recipe Works
We've been on a bit of a chai spice kick lately. It's for a good reason. The unique blend of chai spices is delicious in so many baked goods.
Chai adds a spicy kick to sweet treats that makes them perfect for fall. These donuts are no exception!
Baked, not fried.
Chai spice and maple flavors
Easy to make recipe
While we all love chocolate donuts (right?), shake things up today and bake a delicious batch of these chai donuts instead!
Don't forget to add a batch of chai latte cupcakes to your dessert menu too.
Ingredient Notes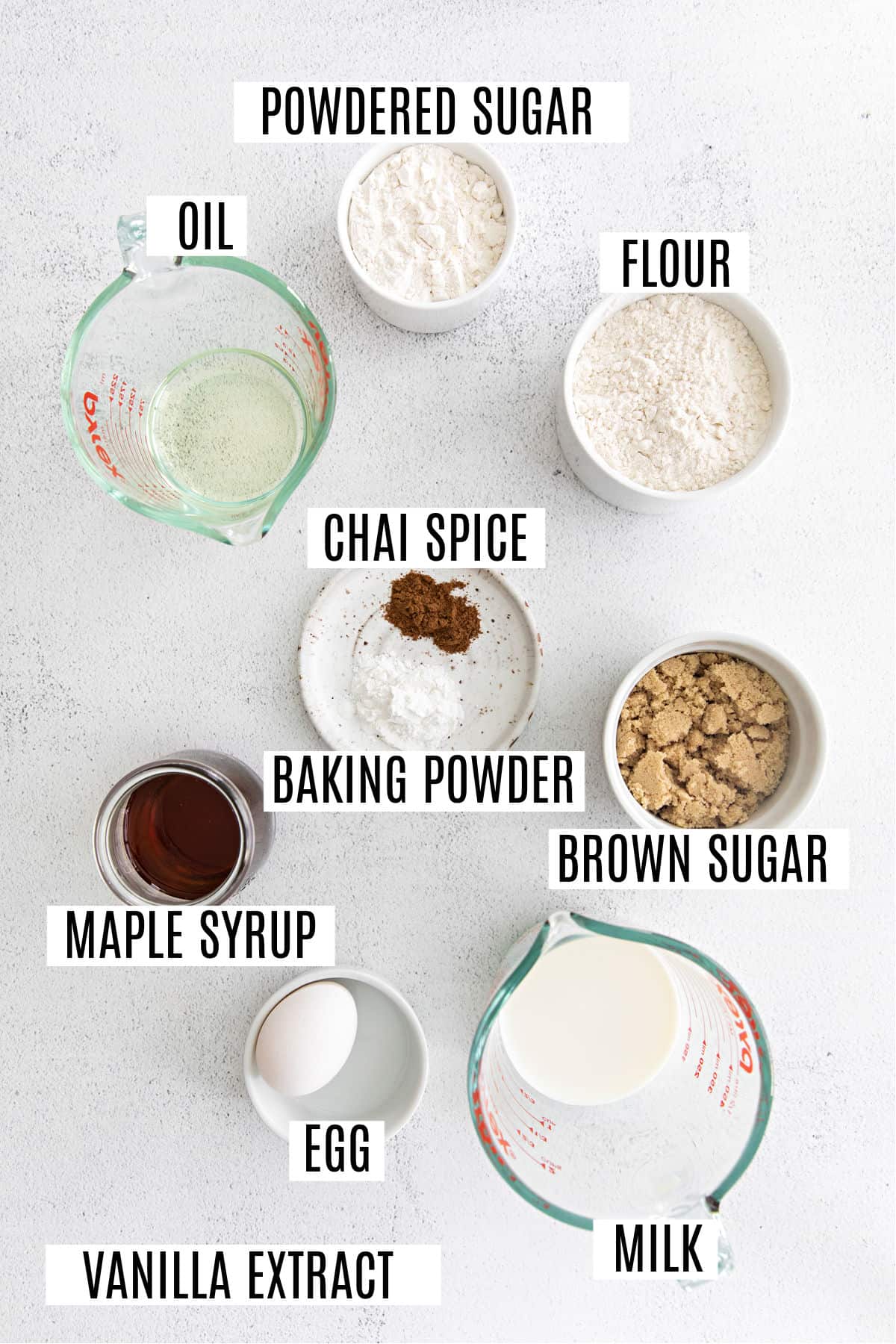 Chai spice mix. Our homemade blend of chai spices is perfect in these donuts.
Whole milk. Full fat milk works best here to give the donuts their structure.
Maple syrup. Make sure to use a good quality pure maple syrup, as opposed to pancake syrups or corn syrups.
Brown sugar. The natural molasses helps bring out the chai spices beautifully. We used light brown sugar.
PRO TIP- We love making our own homemade vanilla extract, but if using store bought, be sure it's pure extract, not imitation (for best flavor).
Easy Instructions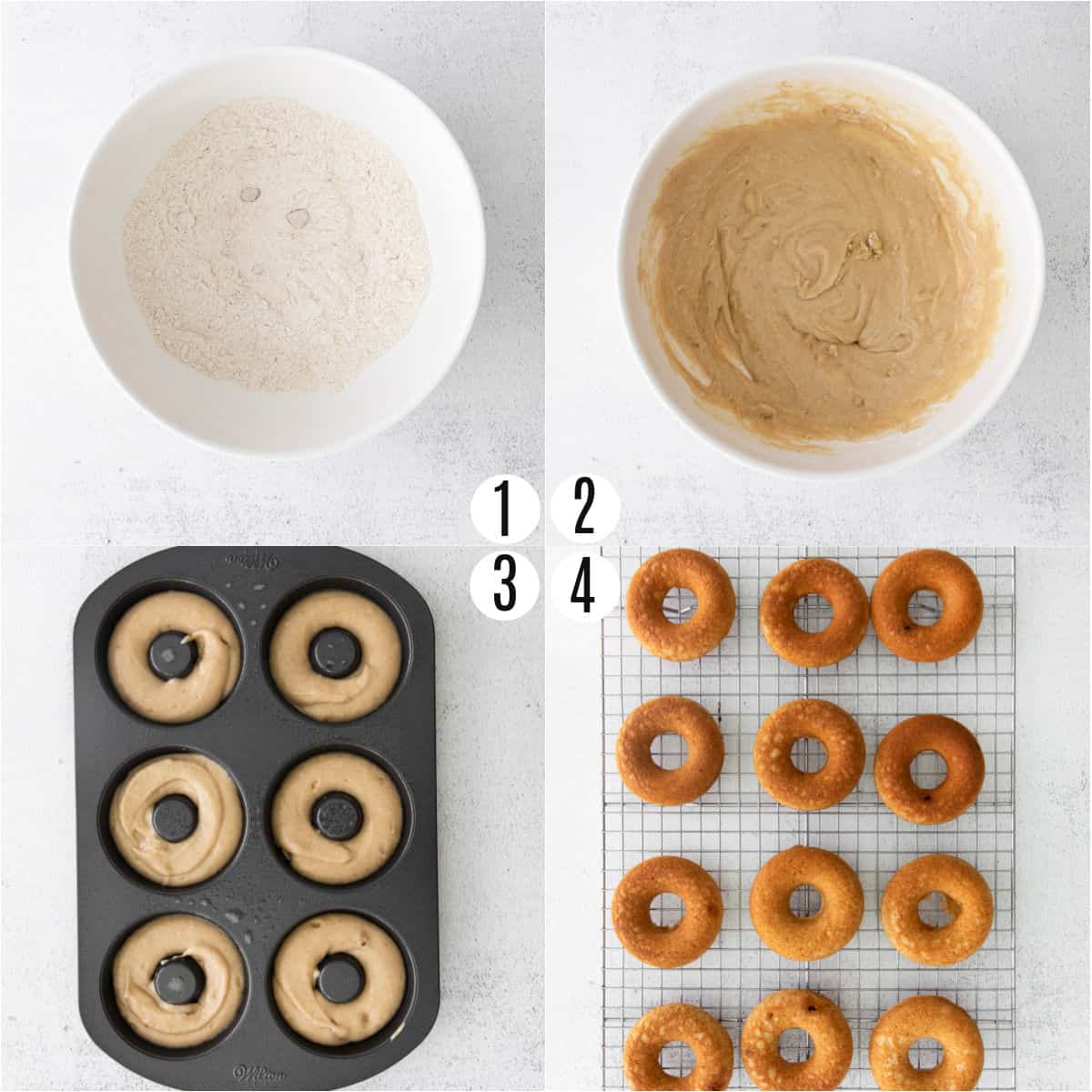 Start by preheating your oven. Grease your donut pan with baking spray.
Make the donuts:
Whisk together the dry ingredients for the donut batter. In a separate bowl, whisk together the wet ingredients.
Slowly add the wet ingredients to the bowl with the dry ingredients. Whisk gently just until no large lumps of flour remain.
Pour the batter into the cavities of the donut pan. Bake for 15 -18 minutes. Let cool on a wire rack.
PRO TIP: Spoon the batter into a ziploc bag, snip off a big corner, and pipe it into the donut cavities.
Dip in glaze:
Whisk together the glaze ingredients. Dip the top of each cooled donut into the glaze.
Place the donuts back on the wire rack for a few minutes to allow the icing to set.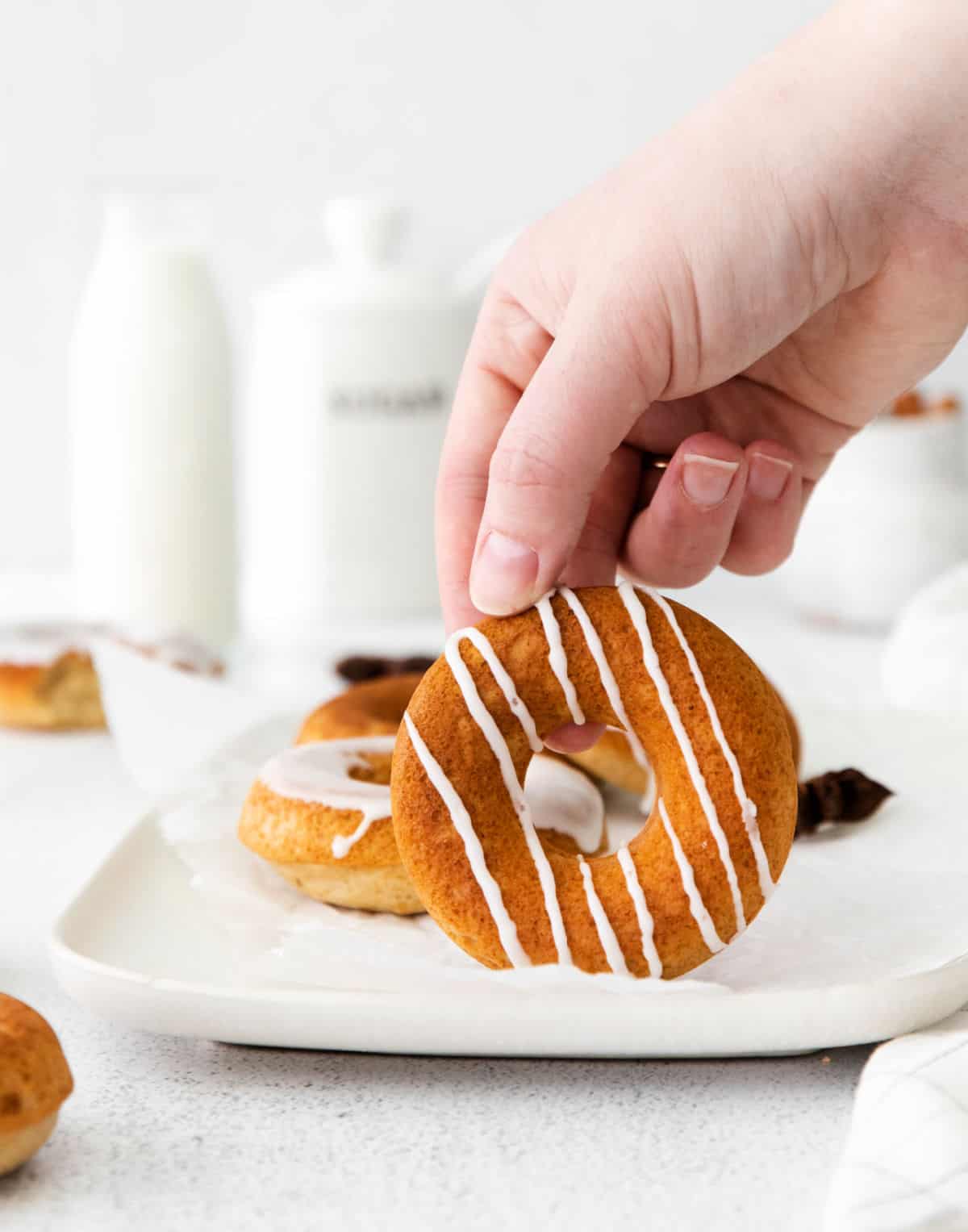 Tips and Tricks
Be careful not to overmix the batter! Over blending the ingredients can make the donuts dense.
If you don't have a donut pan yet, I recommend this NorPro Pan. Works like a charm for all my baked donut recipes!
Fill the donut pans like a pro by using a frosting bag. It makes it easy to pipe batter into the pan without spills or mess.
Store donuts in a sealed container in the fridge. Enjoy within 3 days.
Love Chai? Try our chai cookies, apple chai bread, or chai bread pudding too!
Recipe FAQs
Can I make these without a donut pan?
You can make these as muffins instead! Divide the batter into a greased muffin tin to bake.
What is in chai spice mix?
Chai spice mix is a blend of the spices usually used in chai tea.
My mix includes cinnamon, cardamom, nutmeg, cloves and a tiny bit of black pepper for some kick!
How can I tell when the donuts are done baking?
Use the toothpick test to check donuts for doneness. Insert a toothpick into the center of a donut. If it comes out clean, the donuts are ready.
Can I freeze baked donuts?
Baked glazed donuts can be stored in freezer bags and kept frozen for up to 3 months. Let thaw before serving.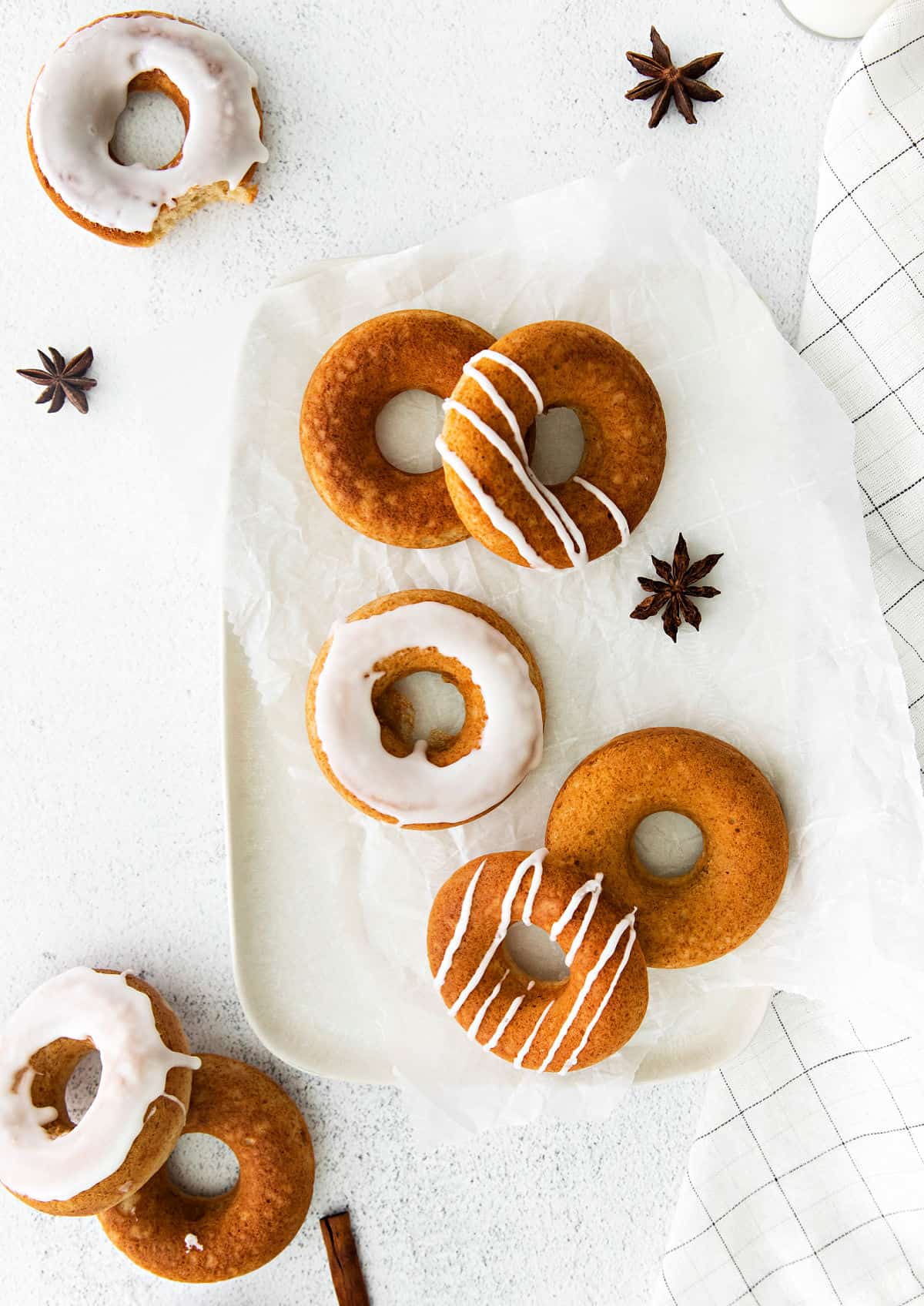 This easy Chai Donut recipe will have you filling your kitchen with homemade donuts just in time for fall!