Veggie Quiche
The buttery puff pastry is the perfect crust to this Veggie Quiche! Serve one for brunch or make it for dinner!
Be sure to sign up for my FREE email subscription…new recipes in your inbox!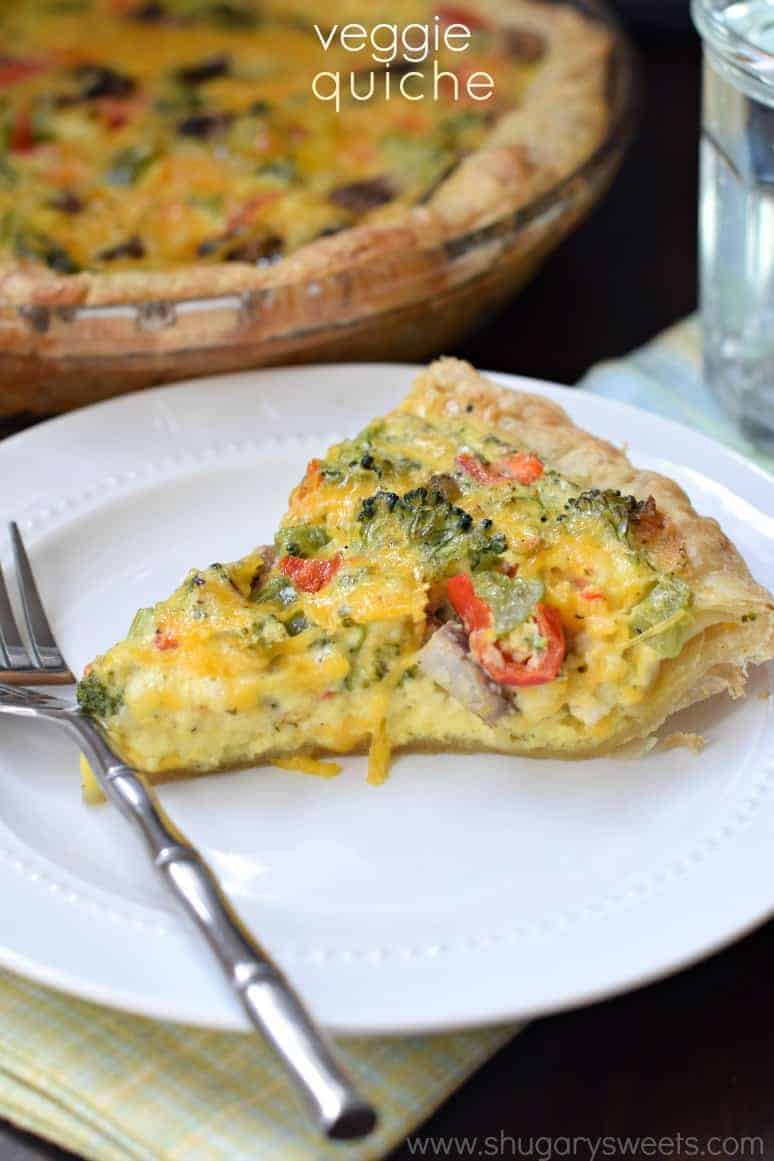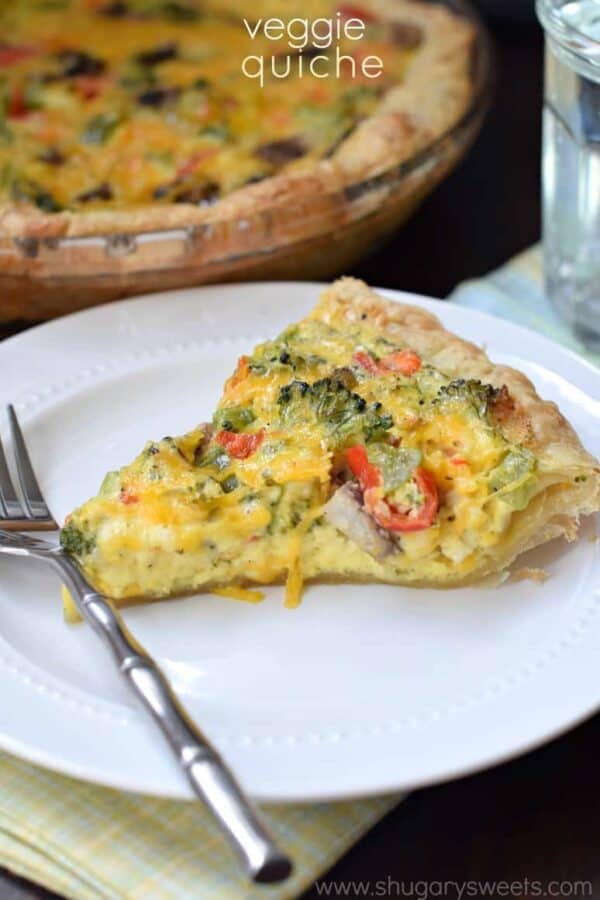 Mother's Day is around the corner. I'm curious, what kind of traditions do you have in your family?
Around here we start the day by going to church, and usually end up going out for brunch afterwards. Dinner is typically not as important, as we have usually spent the day cleaning the yard and gardening, so we tend to fend and make salad or sandwiches. In the midwest, Mother's Day is the well known "safe" date to start planting gardens! Threats of frost are now in our past.
Admittedly, I am really going to miss my gardens this year. Since moving from Ohio back to Illinois, the property we live on just isn't garden friendly. We have big beautiful mature trees, that seem to offer a wonderful shade to our yard, yet not enough sunlight for a garden to thrive.
Back in Ohio, I had a huge strawberry patch, raspberries, and three raised beds filled with vegetables and herbs! While I am going to miss all the fruits of the soil, tending to those huge gardens was a daily chore.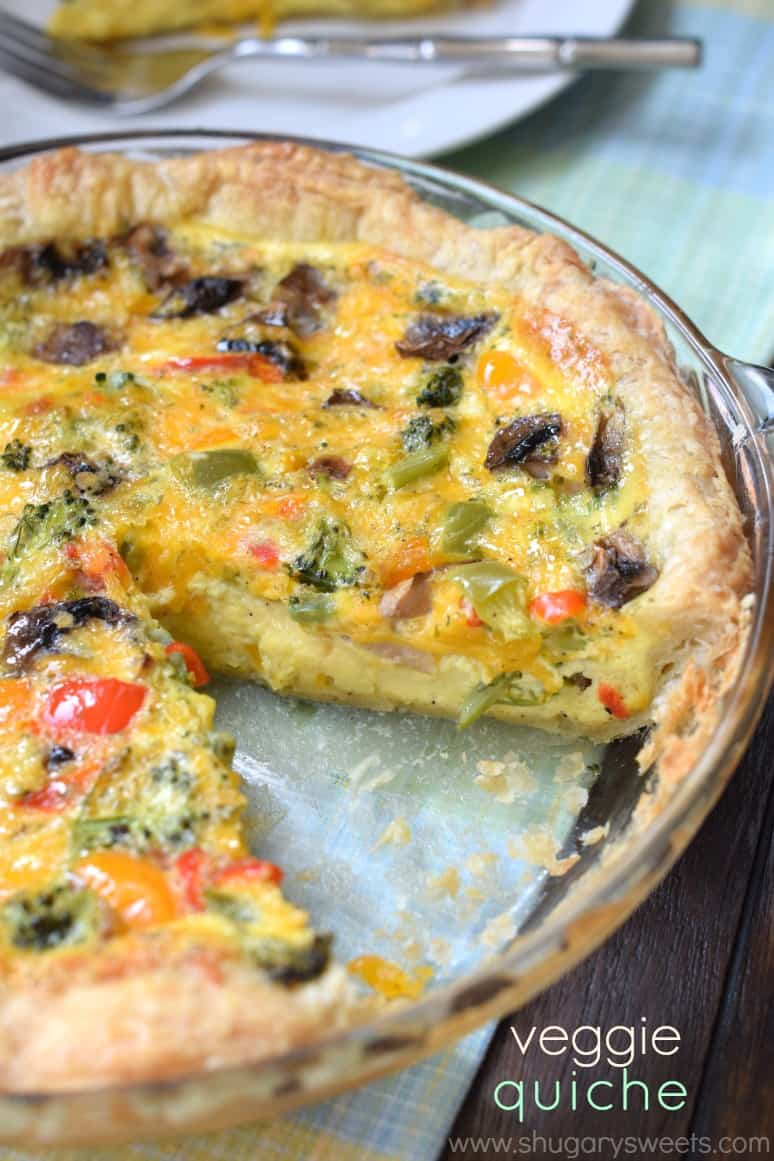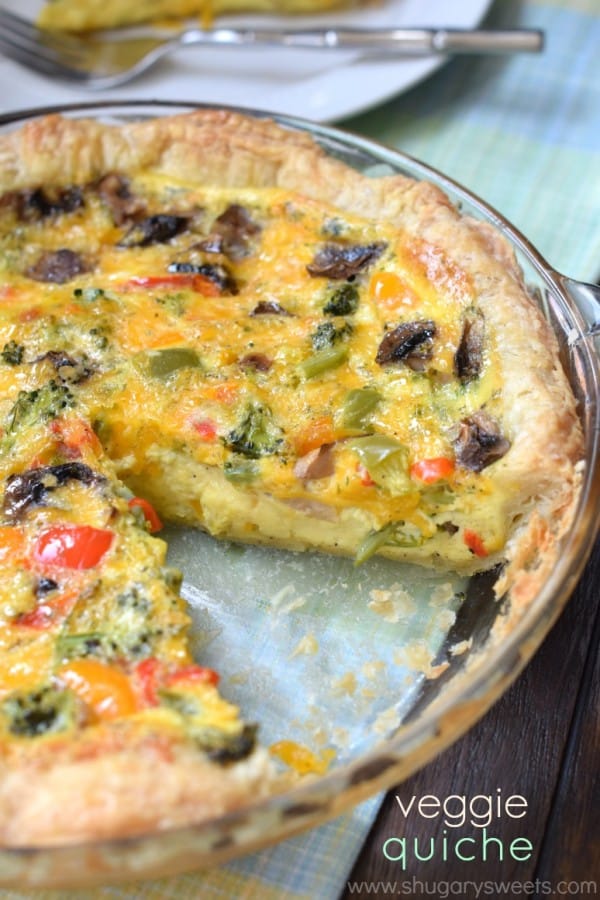 This first year I may enjoy the time not spent raking, weeding, etc….yet I will for sure miss all the vegetables that my gardens gave us. Vegetables that would be perfect in today's quiche!
Normally when I make a big quiche I use a pie crust. And meat. We love a sausage and spinach combo!
But after making some delicious mini quiche with puff pastry a few weeks ago, I received several messages wondering if those mini quiche can be made into a larger quiche. The answer is YES. And you can use any fillings you desire. Whether you love meat or just veggies…or even a combo of both, fill it up!
I used a combo of broccoli, peppers, and mushroom in today's recipe. It turned out delicious. I think I know what I'm requesting for brunch on Mother's Day.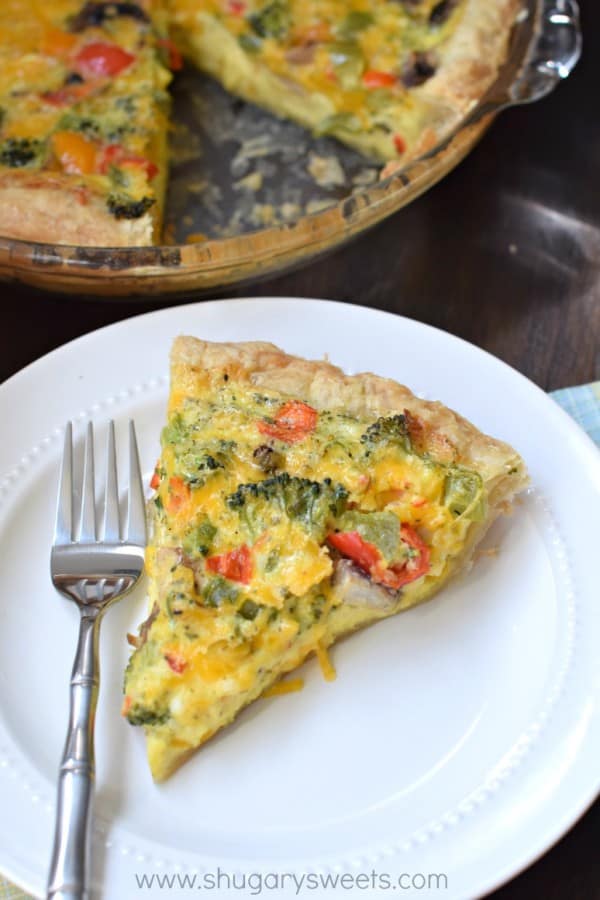 Yield: serves 6-8
Veggie Quiche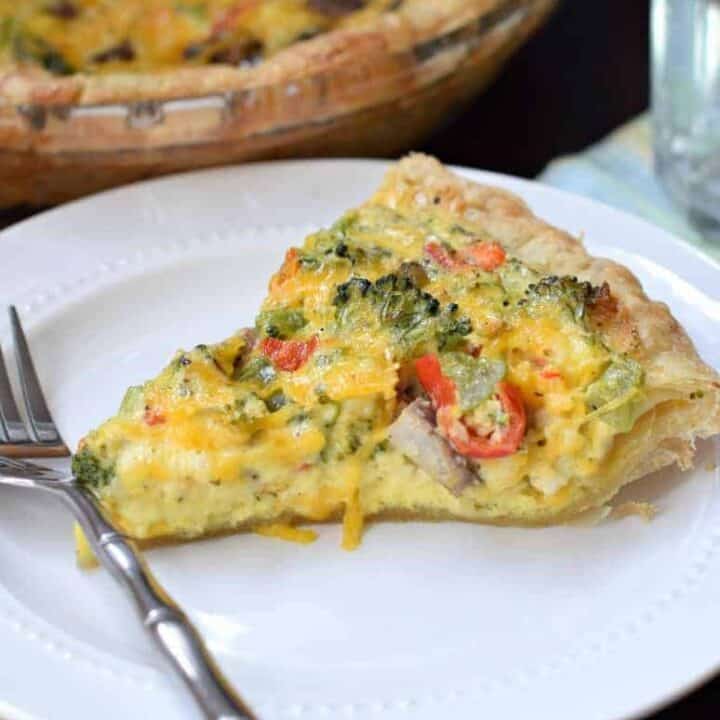 Ingredients
1 sheet frozen Puff Pastry, thawed
6 large eggs
1/2 cup heavy whipping cream
1/4 cup milk
1/2 tsp garlic salt
1/4 tsp black pepper
1/2 tsp dried parsley
1/2 tsp dried onion flakes
3/4 cup shredded parmesan cheese
1 1/2 cup shredded cheddar cheese
1 1/2 cup chopped vegetables (I used green pepper, red pepper, mushrooms and broccoli)
Instructions
Allow frozen puff pastry to thaw, according to package directions. Once thawed, press into a 9-inch pie plate.
Beat eggs, heavy cream, milk, garlic, pepper, parsley and onion flakes until fully combined. Add in cheeses and vegetables. Pour into pie plate.
Bake in a 375 degree oven for 30-35 minutes. Remove and allow to cool 10-15 minutes before slicing and serving. ENJOY.
If you love today's quiche recipe…here are a few more versions for you to enjoy: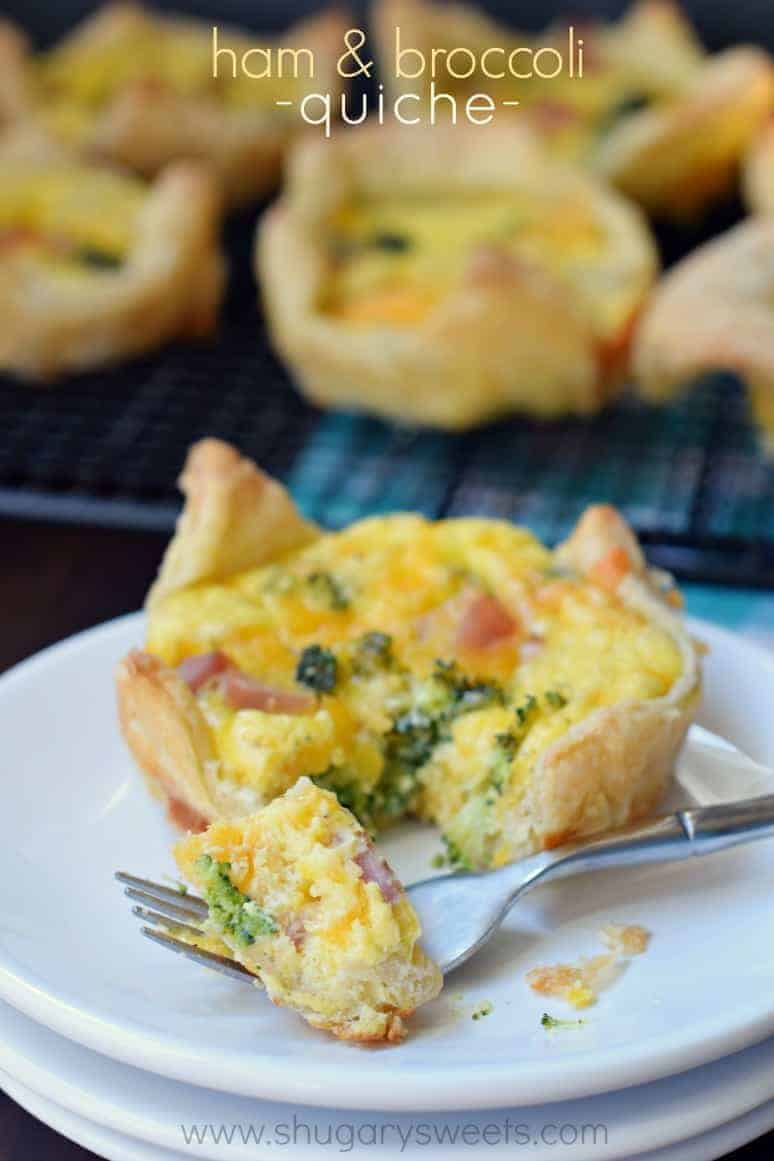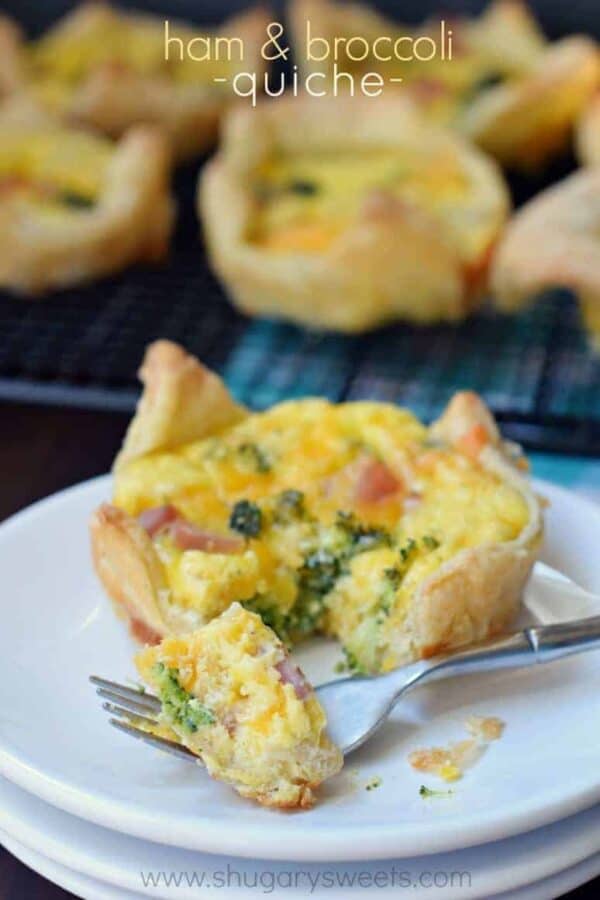 Broccoli and Ham mini quiche. Great way to use up leftover ham!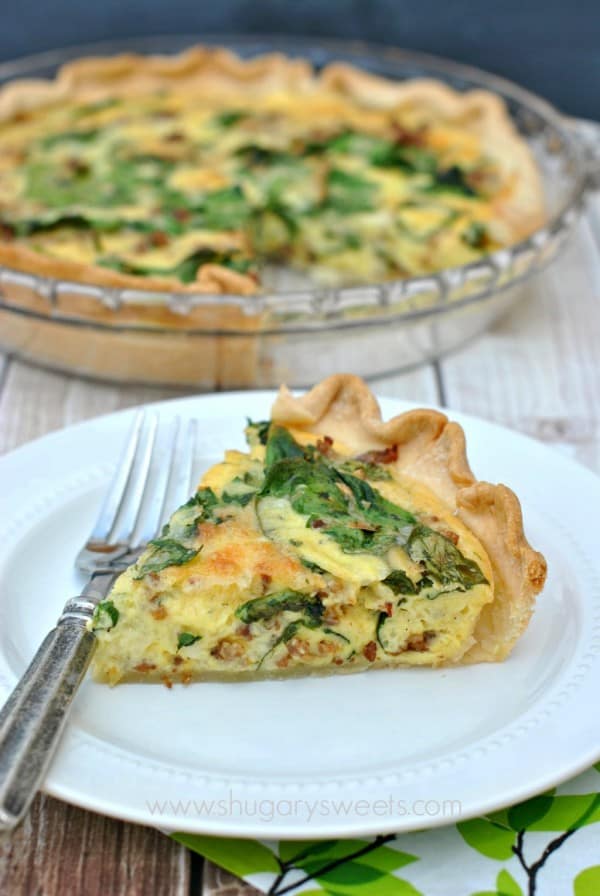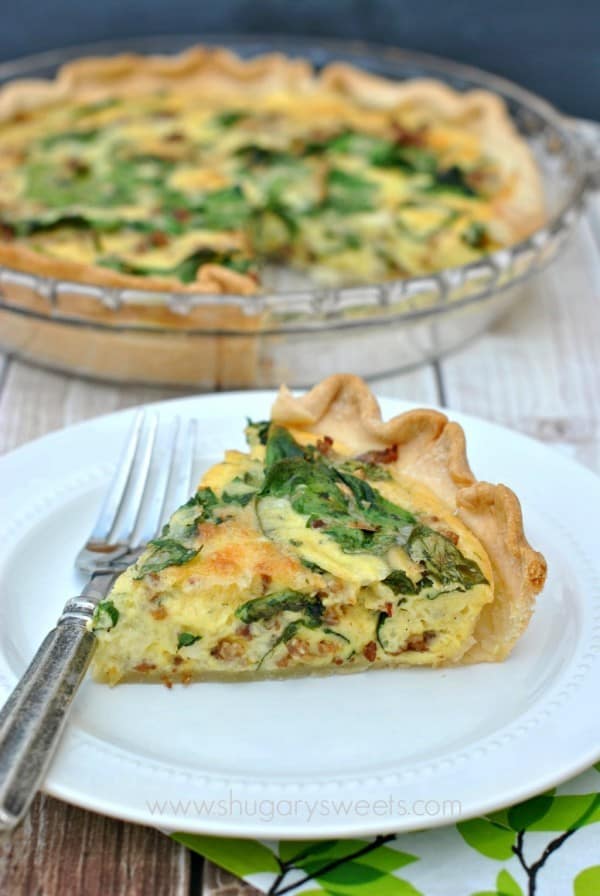 Sausage and Spinach Quiche with a buttery pie crust!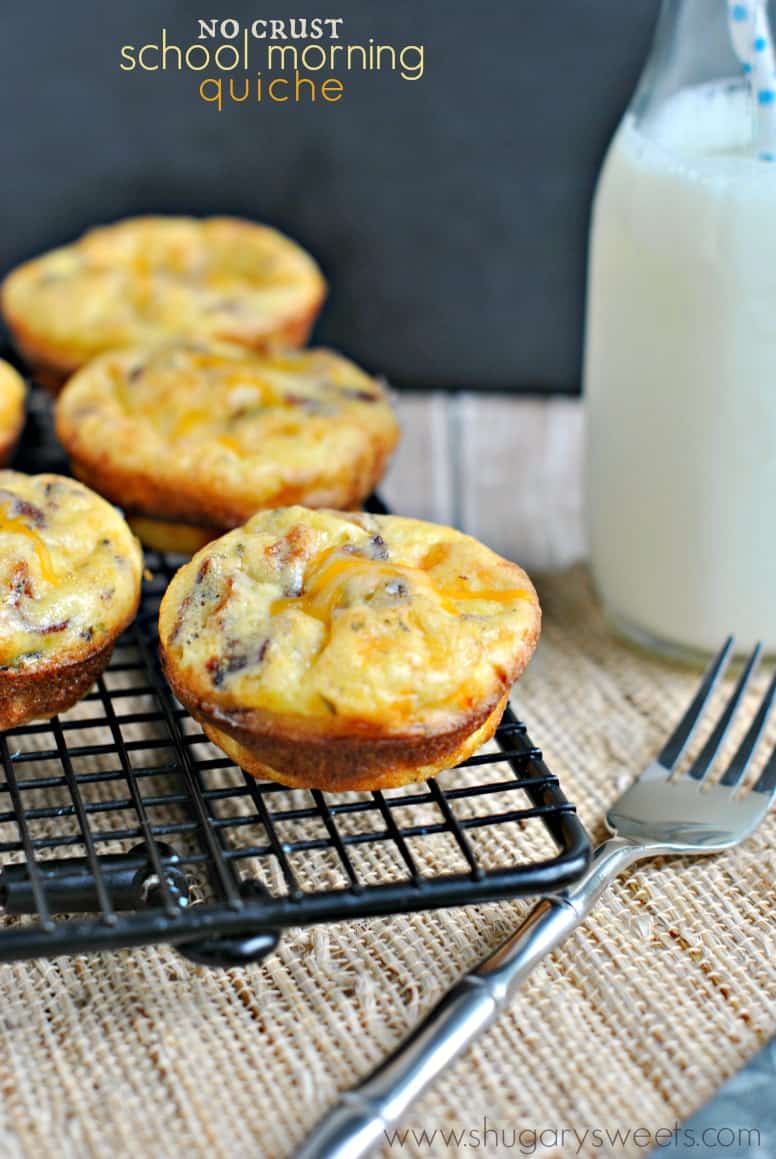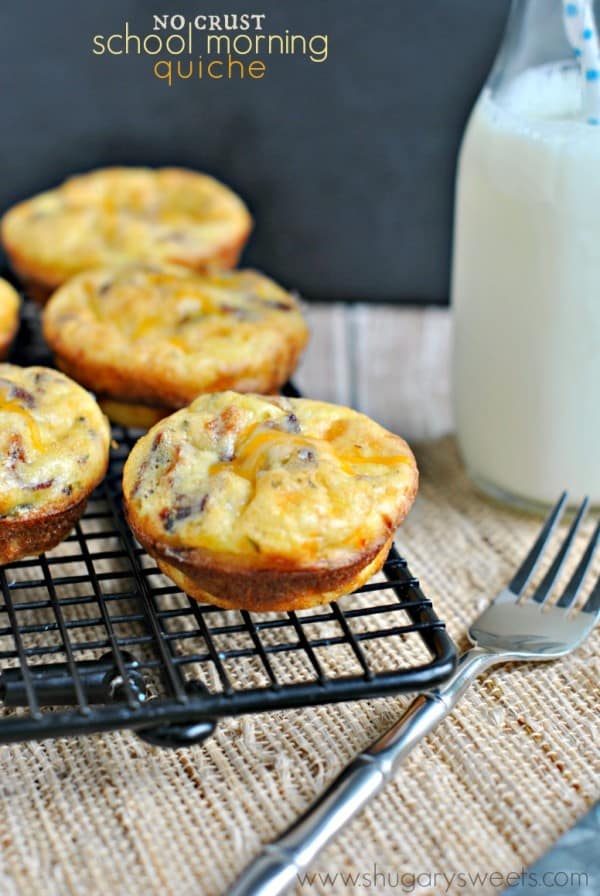 School Morning Quiche: these crustless grab and go quiche are perfect for busy mornings. Freeze well too!
Here are a few quiche recipes from my friends: