Fluffy bakery style Blueberry Muffins are worth waking up for! Chock full of plump juicy blueberries, these buttery soft muffins are easy to make and the whole family will love them!
If you're a huge fan of blueberry breakfast treats, be sure to whip up a loaf of this scrumptious Blueberry Zucchini Bread! Or try your hand at a batch of Blueberry Zucchini Muffins.
Why these are Best
We love those big bakery style blueberry muffins. You know the ones. With big fluffy tops that almost spill over the muffin cup and lots and lots of whole blueberries. A good blueberry muffin is a thing of beauty.
What to do when you're hankering for a really excellent muffin but can't get to the bakery? Make them yourself!
Sure, you could make muffins from one of those boxed mixes and they'd taste just fine, but why settle for "just fine" when you can have "jaw droppingly delicious"?
Homemade blueberry muffins are easy to make, requiring just a couple more steps than those boxed mixes with the freeze-dried blueberries.
Easy to make
Fresh and fluffy
Jumbo size like a bakery
Packed with blueberries
Using whole fresh or frozen blueberries in homemade muffins makes a world of difference! I like the balance of slightly tart blueberry flavor with the sweet and moist muffin.
It's hard to think of a more universally loved breakfast pastry than Blueberry Muffins!
Favorite Muffins: Donut Muffins | Cinnamon Muffins
I packed these muffins with frozen wild blueberries and baked them in JUMBO muffin cups for that authentic fresh-from-the-bakery-counter style.
This is one of my most frequently made–and requested–muffin recipes!
Thanks to Jordan Marsh for this one!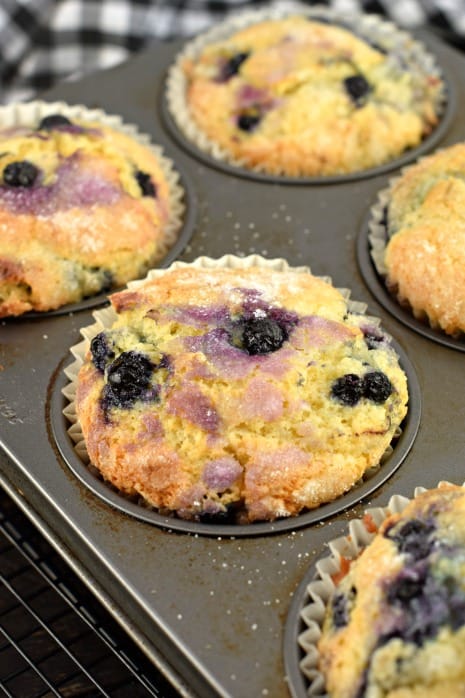 Step by Step Instructions
Just a few simple steps and you'll have a batch of blueberry muffins in no time for breakfast TODAY.
Preheat oven. You'll start baking the muffins at 425, and then following the recipe, you'll lower the temperature immediately after putting them in the oven.
Combine wet ingredients: butter and sugar creamed together, then add eggs and vanilla extract.
Add dry ingredients while alternating with milk. About 3 additions of each to slowly combine just until blended.
Remove 1 cup of batter. To the remaining batter, add blueberries, with one or two strokes.
Spoon into muffin tin. Top with remaining batter.
Bake. ENJOY!
These muffins are buttery and moist enough to enjoy "naked." That said, if you want to add a pat of butter to a warm muffin, I won't stop you! However you enjoy your blueberry muffins, I hope you find them as scrumptious as we do.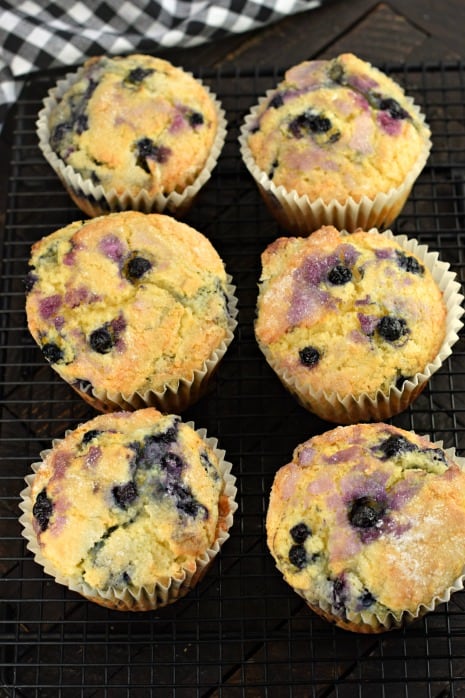 Tips and Tricks
Do NOT over mix the batter! The more you work the batter here, the more you'll develop the gluten (protein) in the flour. Those gluten proteins give structure to our yeast breads but will make your muffins dense and tough. You want to mix the batter until all the ingredients are just barely combined. (A few small lumps here and there are just fine.)
Sugar on top. Sprinkling sugar on top of each muffin cup before baking gives the muffins that beautiful sugary crust I love so much.
Toss the blueberries with flour. Mixing the frozen berries with a bit of flour first helps keep them from sinking to the bottom of your muffins. The flour allows the berries to stay suspended in the airy muffins so you get juicy berries in each bite.
Don't over bake. 35 minutes in the oven was just perfect for these in my oven. If your oven runs hot, check the muffins after 25 to 30 minutes. A toothpick inserted in the center should come out clean (or with a few crumbs). Over baked muffins are dry, tough and no fun at all!
Use frozen or fresh blueberries. I used frozen wild blueberries however fresh would work too. Avoid using freeze dried or canned berries in this recipe.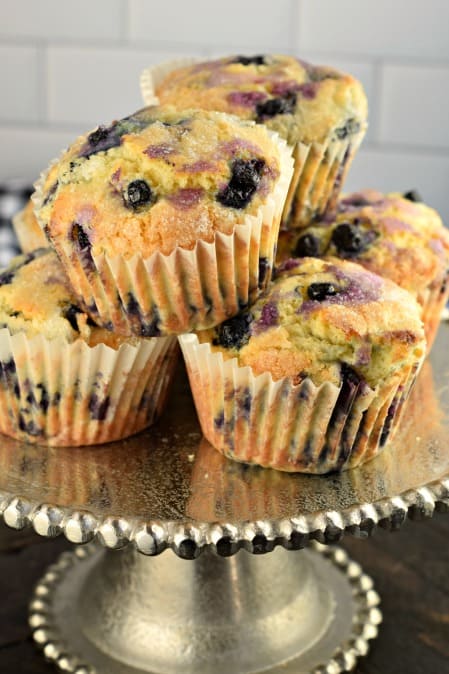 Recipe FAQs
How do you store blueberry muffins?
Keep in an airtight container at room temperature for best flavor.
Can you freeze blueberry muffins?
Yes! After cooling, slide muffins into a ziploc freezer bag or airtight freezer safe container and store for up to 3 months.
How do I warm leftover blueberry muffins?
If blueberry muffins are frozen, thaw and reheat in the microwave at 50% power for 30-60 seconds.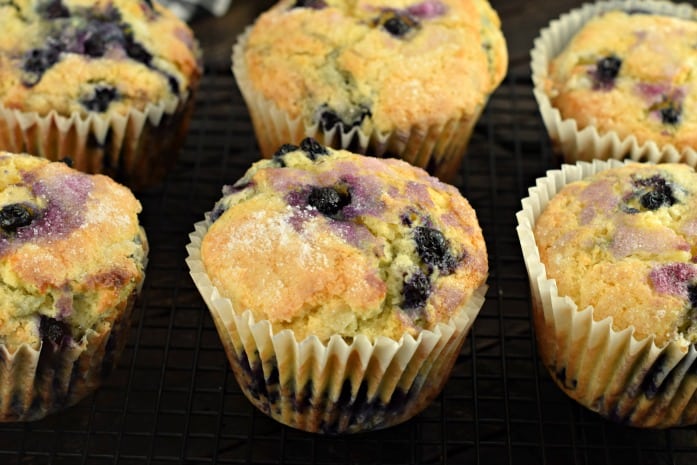 Packed with wild blueberries and covered with a sprinkling of sugar, these Jordan Marsh Blueberry Muffins are even better than the ones you love from your neighborhood bakery.