Delicious, easy Cinnamon Sugar Breakfast Muffins. These popable bites are perfect paired with your morning coffee–and they freeze beautifully, too! Rolled in butter and cinnamon sugar, they make the tastiest breakfast.
Love cinnamon and sugar? This delicious Snickerdoodle Banana Bread is a reader favorite! Perfectly moist and flavorful. Or give our Sopapilla Cheesecake a try. We love it for breakfast, but it's also a great dessert.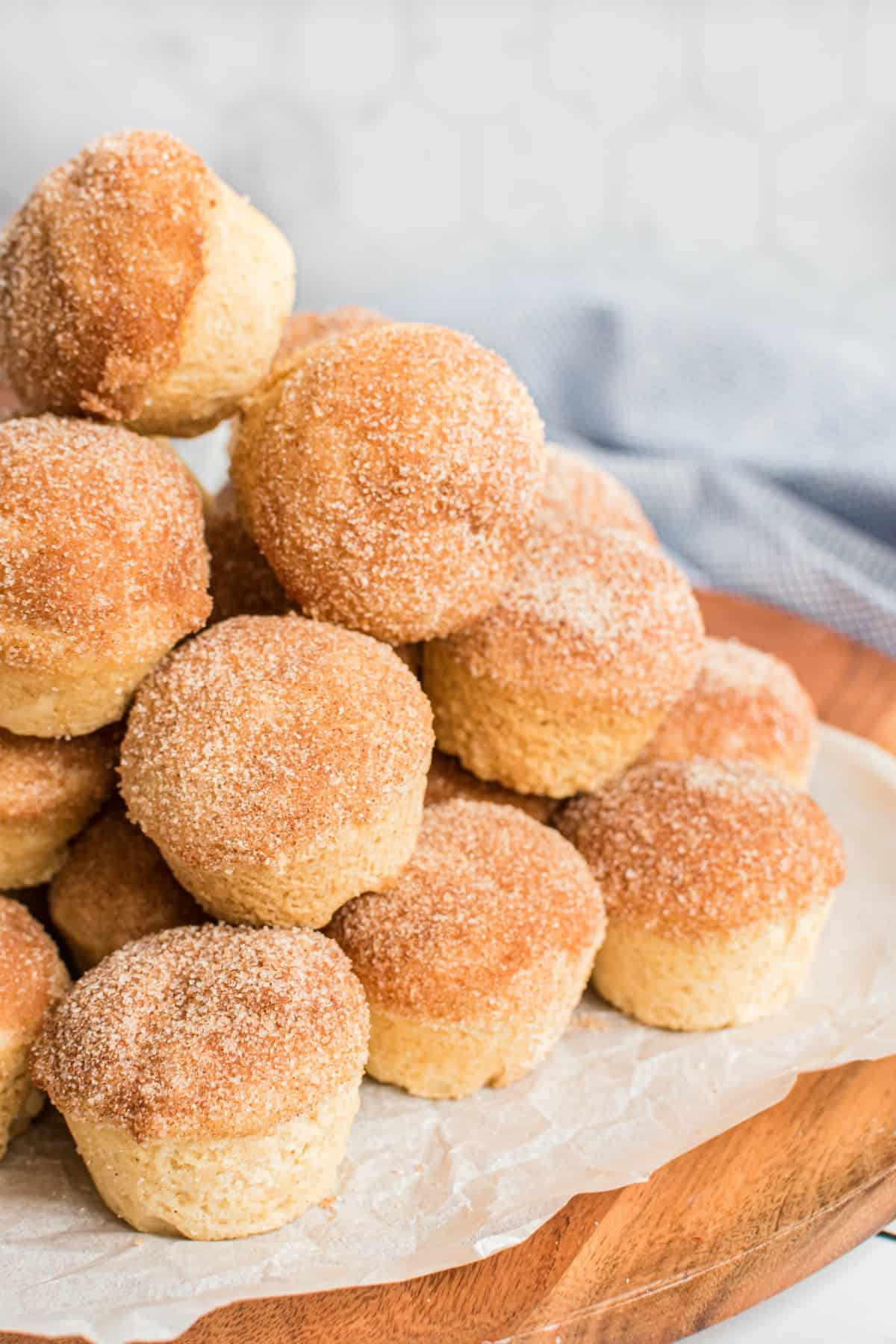 All about the Cinnamon
A little bit like a donut, a little bit like a muffin. These easy breakfast treats are little bites of cinnamon heaven.
Rolled in butter and dredged through cinnamon sugar, cinnamon muffins almost melt in your mouth.
I love these for a breakfast you can eat on the go or a snack anytime of day.
Fast and easy, freezer friendly!
These mini muffins remind me of cinnamon sugar donut holes, only they're baked instead of fried.
Homemade donuts are great, but I rarely have the time or energy to mess with frying. All that oil and mess is a huge deterrent no matter how much I want a sweet breakfast baked good!
When you want something with the crunch of cinnamon sugar that come together easily, these muffins are gold!
You bake them in a mini muffin tin and then send them right into a bath of butter and cinnamon sugar.
The miniature size is especially nice because you get to eat a LOT of muffins without feeling weighed down afterward.
Any fellow cinnamon lovers in the house? Whether it's a classic Cinnamon Roll or a Snickerdoodle cookie, any baked good that features cinnamon is hard to resist.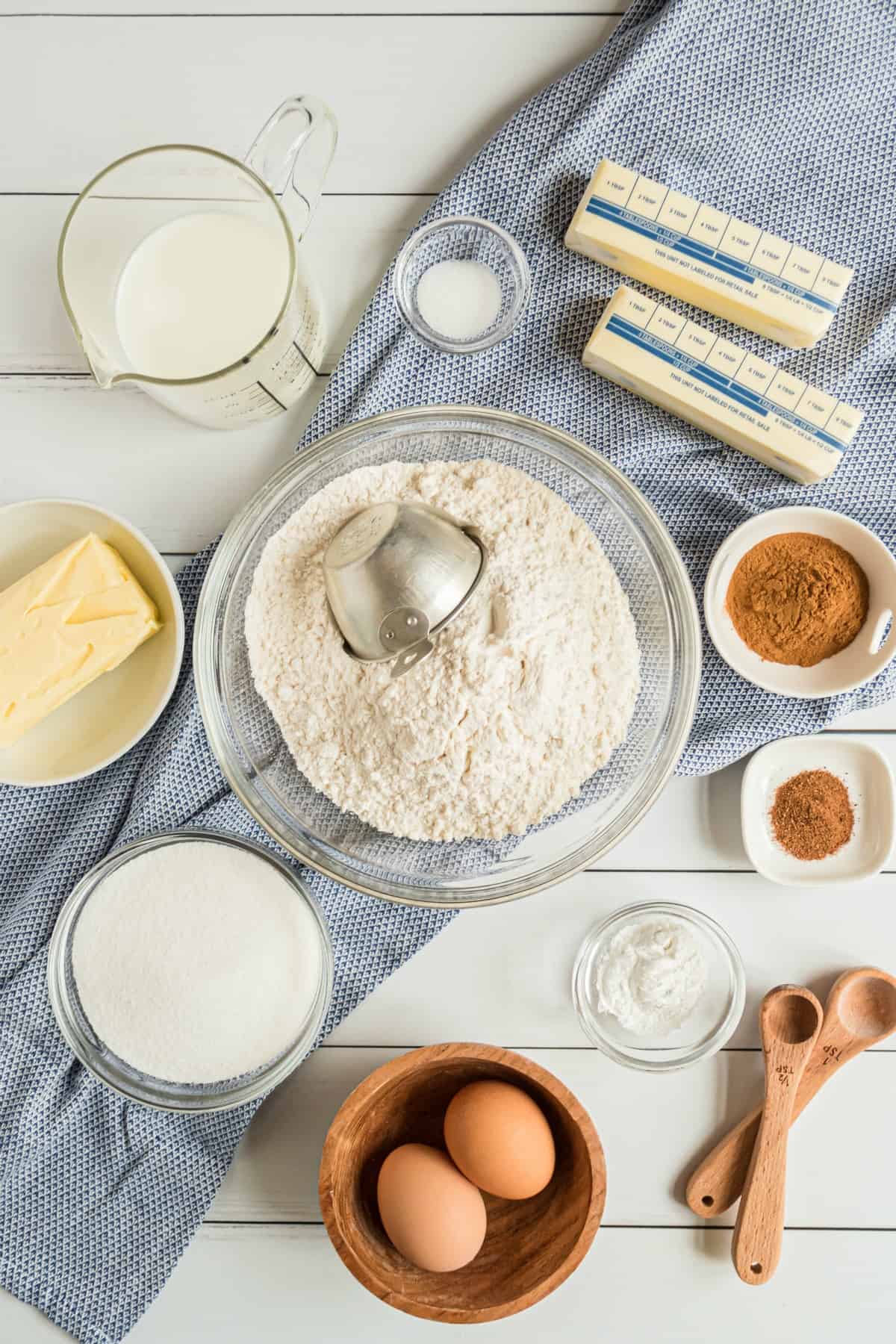 Ingredient Notes
Just a basic muffin recipe with flour, butter, milk, sugar, nutmeg, cinnamon, baking powder, and eggs.
The key ingredient to get the best texture for these muffins is the butter flavored Crisco. I know you'll ask. Can I use all butter?
The answer is yes, but the texture won't be the same!
The shortening is what makes the muffins moist and fluffy. Then you roll the baked muffins in melted butter before adding the cinnamon sugar topping.
How to Make Cinnamon Muffins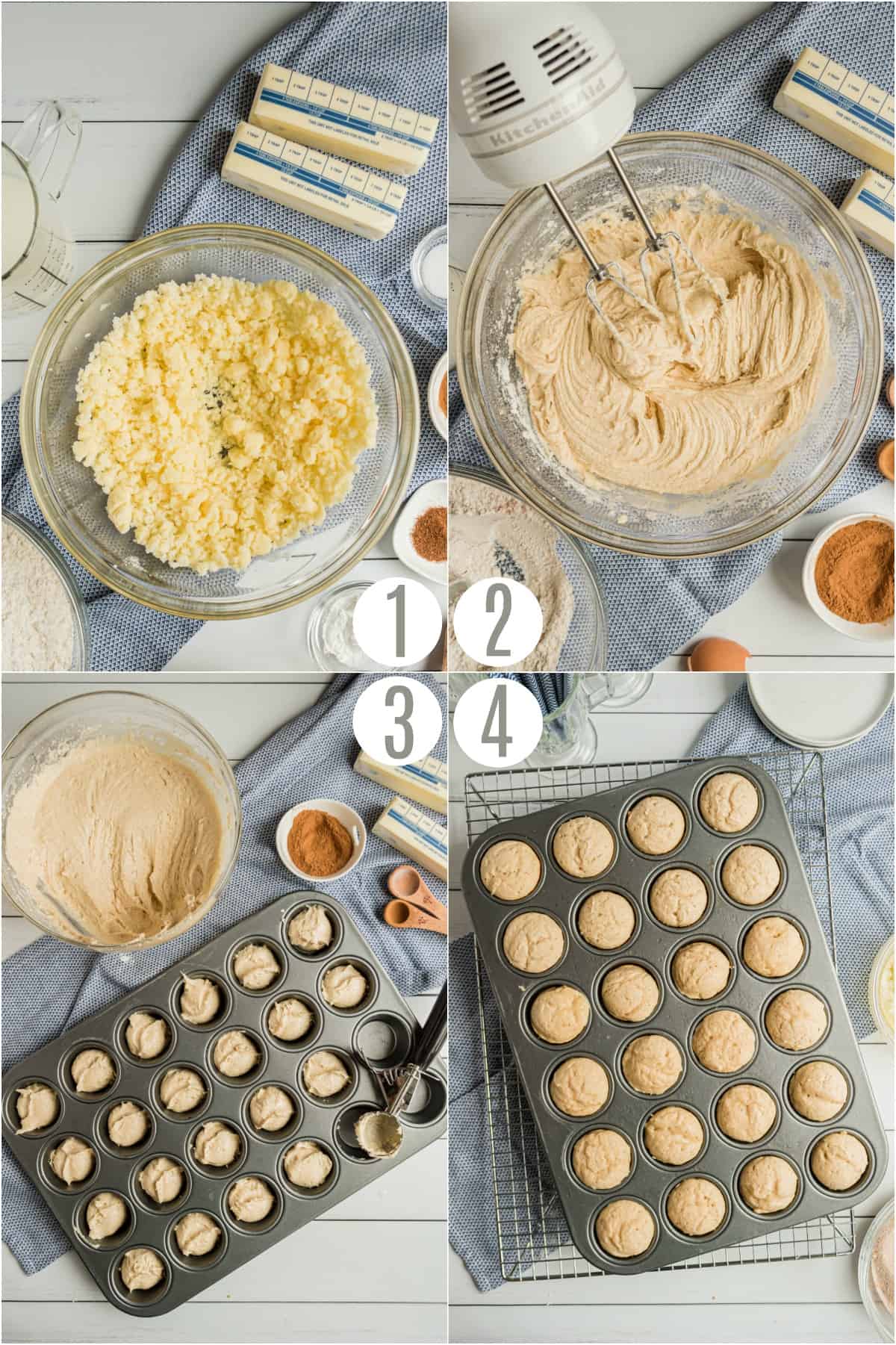 Mix Shortening. Mix one cup sugar with shortening until well blended. Add eggs.
Add dry & wet Ingredients. In separate bowl, mix flour, baking powder, salt, 1/2 tsp cinnamon and nutmeg. Add flour mixture alternately with milk to the creamed mixture. Beat well after each addition.
Bake. Lightly grease mini muffin tins. Fill muffin cups half full (I use a 1 Tbsp scoop). Bake in a 350 degree oven for 13-15 minutes.
Roll in sugar. While baking, melt 2 sticks of butter. In a small bowl, mix sugar with cinnamon. Dip baked muffins in butter, coating thoroughly, then coat with cinnamon-sugar mixture. Eat, enjoy, and eat some more!
Don't forget to enjoy a cup of cold brew coffee to have with your doughnut muffins!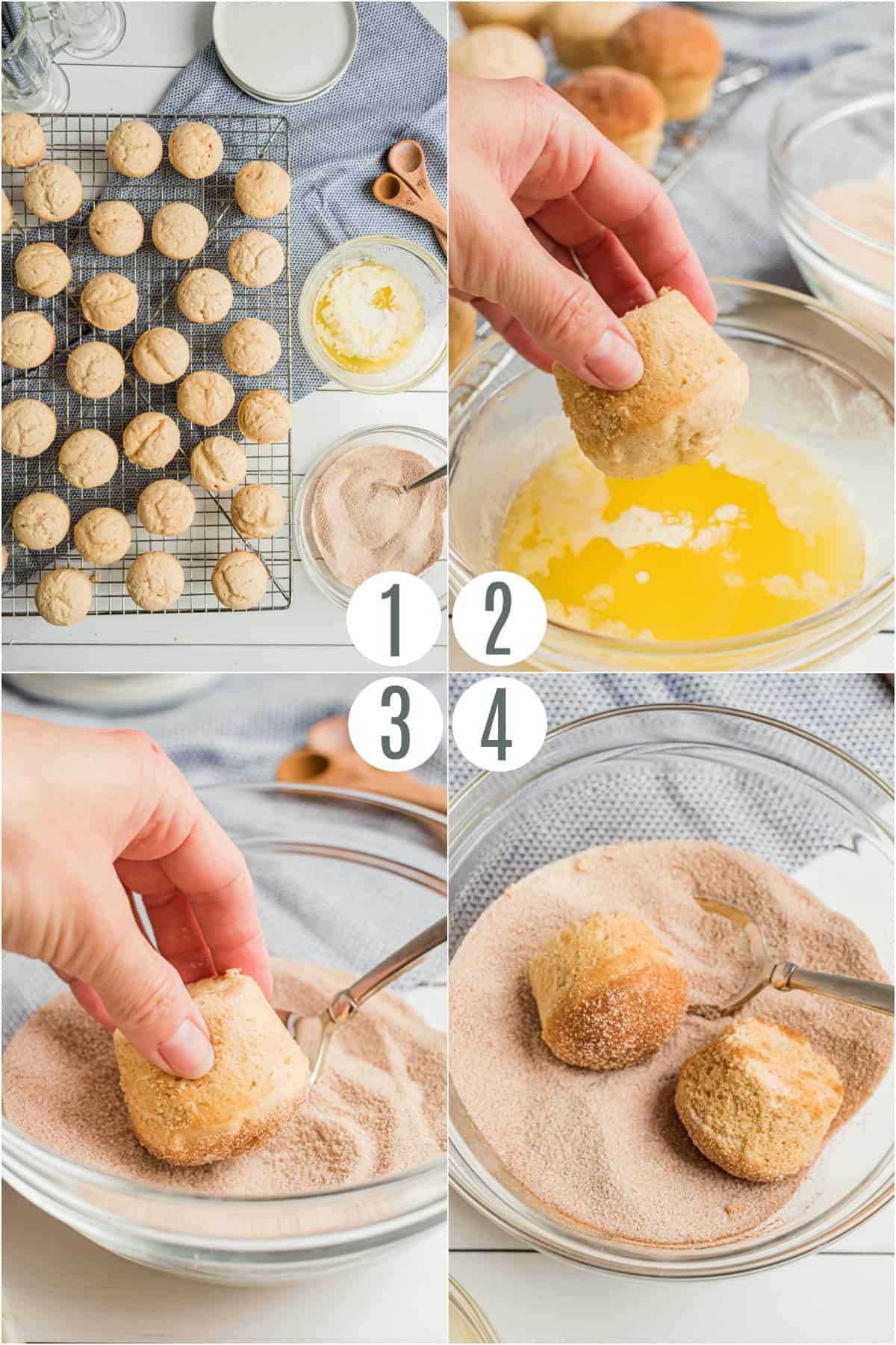 Tips and Tricks
Can you make mini muffins into regular sized muffins?
You can use this recipe to make big muffins instead (using a regular sized cupcake pan).
However you would have less cinnamon/sugar to muffin ratio. You'll also need to adjust the baking time by adding a couple of minutes.
I personally prefer them mini sized so I can eat more of them!
Mess free rolling:
To roll the muffins in cinnamon sugar without getting your hands sticky, you can use a large slotted spoon. Just be gentle with the muffin so you don't accidentally break it while rolling!
You could also just dunk the tops in butter then the cinnamon sugar.
Use shortening:
When it comes to these muffins, you really need to use shortening in the dough. It gets the muffins fluffy and keeps them moist!
The butter flavored shortening gives these the best taste but regular Crisco will work, too.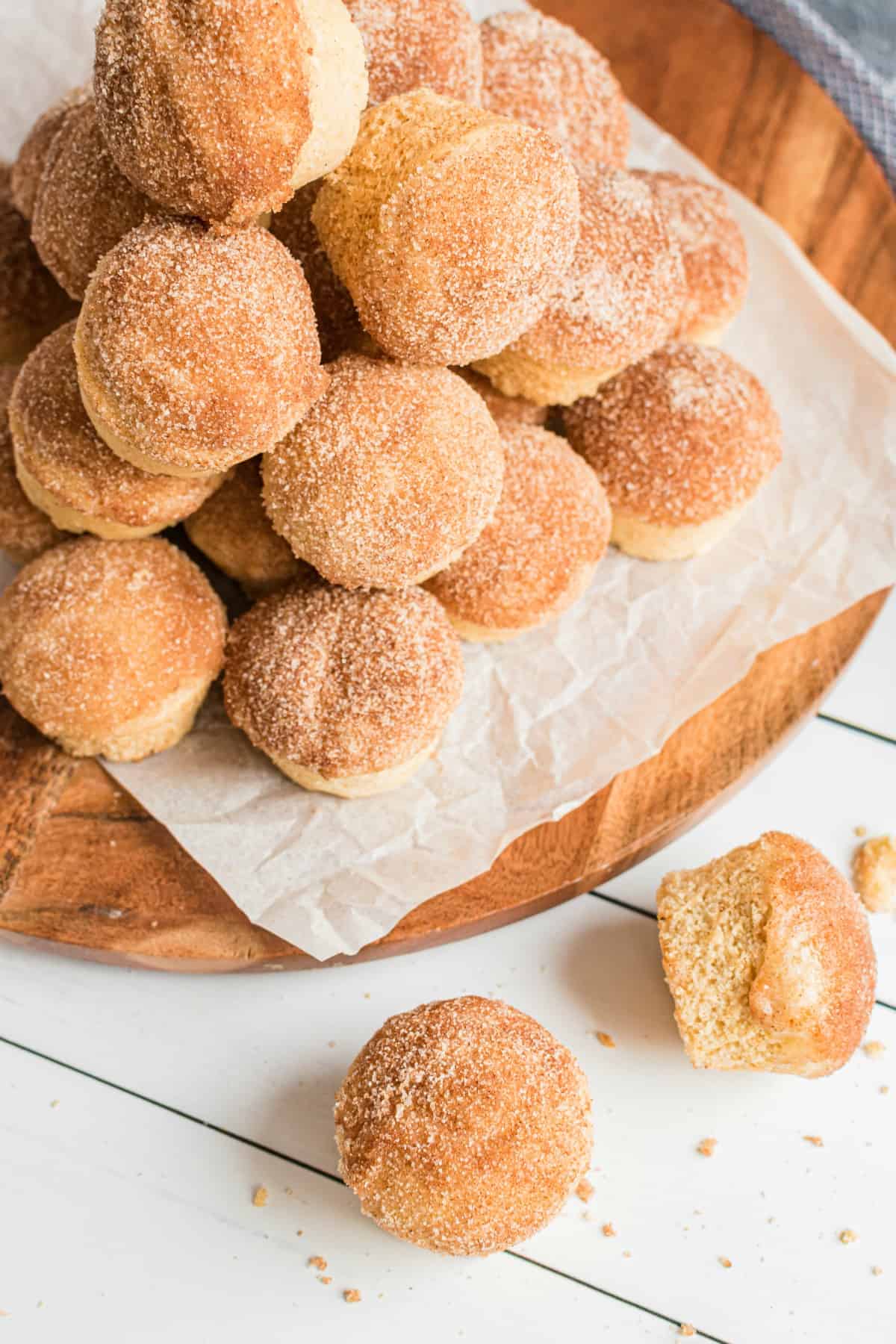 How to freeze muffins:
Once cooled, you can transfer the muffins right away to a ziploc freezer bag. They'll keep in the freezer for several months.
Thaw at room temperature for a few hours or pop them in the microwave!
How to store mini muffins:
If you won't be freezing these muffins, keep them tightly covered at room temperature.
They're best eaten within a day or so; I love them especially when they're still warm from the oven.