Tender, moist Cinnamon Coffee Cake Donuts with a chunky cinnamon streusel and sweet cinnamon glaze. This baked cinnamon donut recipe is perfect for a weekend or weekday breakfast!
Love donuts? Our homemade chocolate donuts are just the best!! Or give our little cinnamon donut bites a try for an on-the-go treat.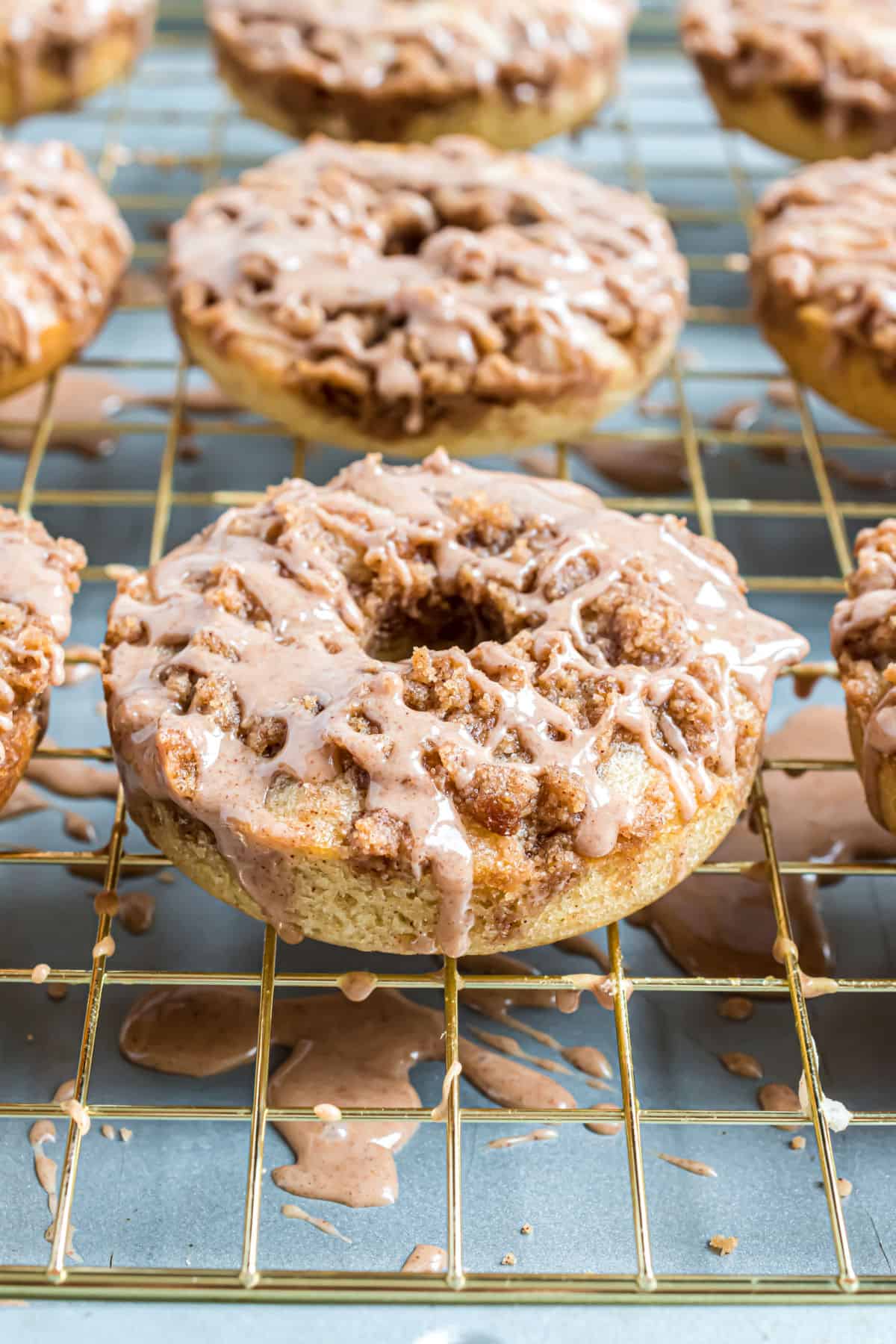 Why this Recipe is Best
It's no secret that I'm a big fan of Cinnamon Coffee Cake. There's something so cozy about a hot mug of coffee and a streusel-topped cake!
Cinnamon Coffee Cake Donuts are breakfast cake and a donut all in one.
Baked, not fried. These donuts are easy to make with no mess from splashing oil.
Streusel topping. You'll love the brown sugar crumb!
Cinnamon glaze. A drizzle of sweet icing makes your donuts complete.
Individual servings. Baking coffee cake in a donut shape makes them even easier to transport and share.
Ingredients Notes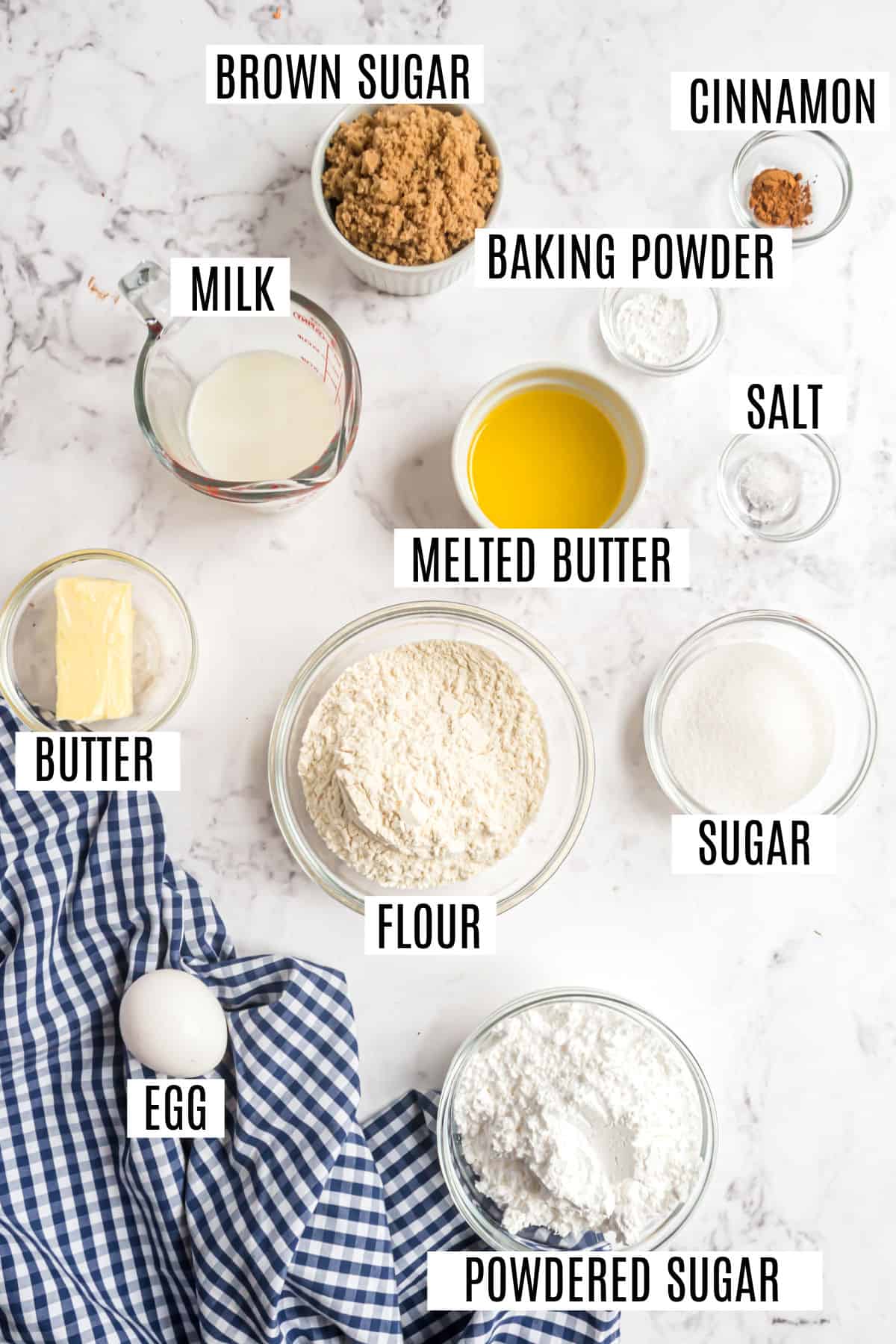 Unsalted butter – Makes baked donuts rich and flavorful with a tender crumb. Let the butter soften at room temperature before adding it to therecipe.
Milk – You can use any kind of milk, even unsweetened nondairy milk, in these cinnamon donuts.
Cinnamon – You will need this warming spice for the donut batter along with the streusel topping and the glaze.
Light brown sugar – This is the key to perfect sweetness, flavor and texture in the crumb topping.
Powdered sugar – Also called confectioner's sugar, it creates a sweet and smooth glaze that's drizzled on top of the baked streusel donuts.
Easy Instructions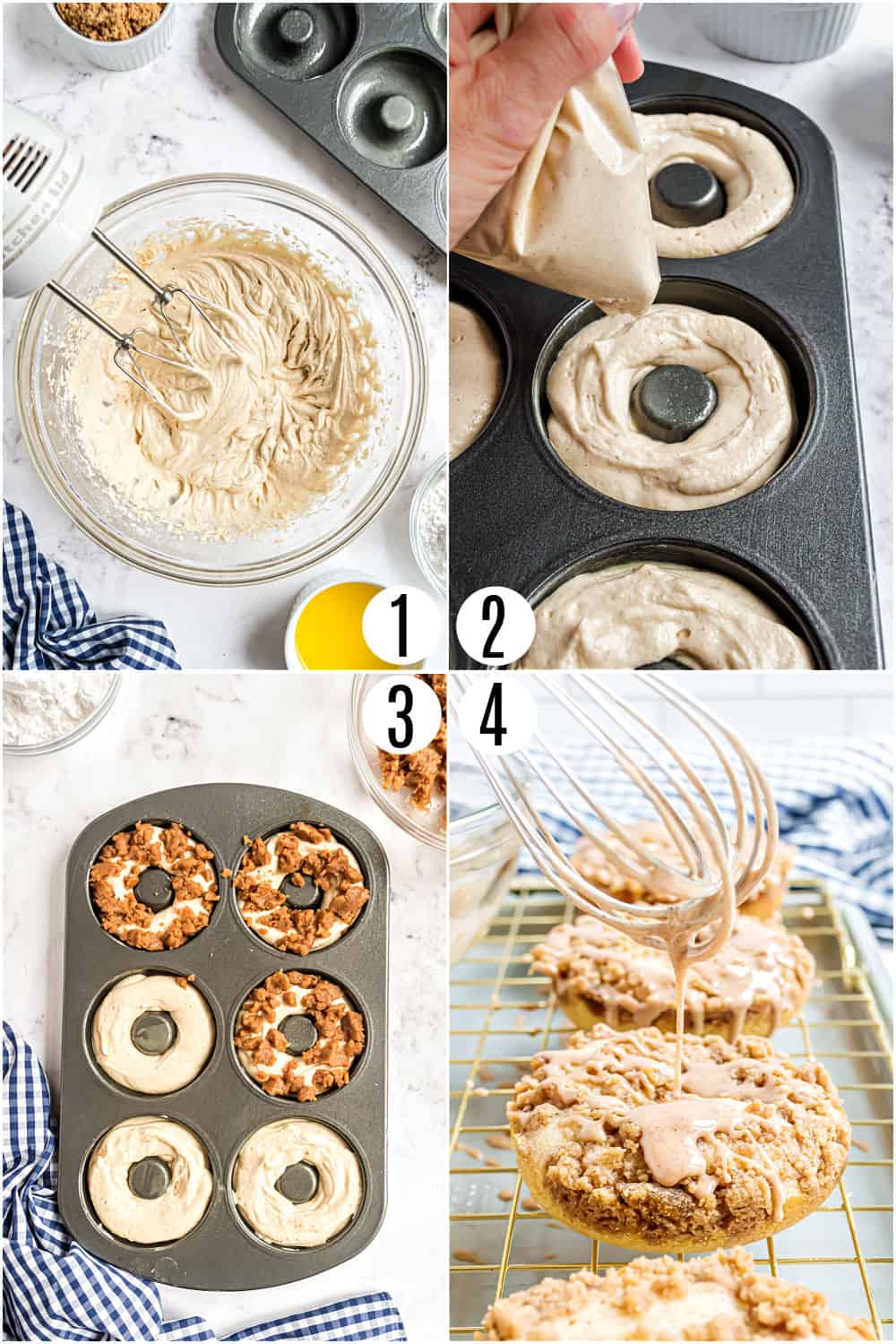 First prepare your donut pan. Grease or spray all of the cavities with baking spray.
Next, make the donut batter. Once the ingredients are well combined, spoon it into a large ziploc bag and snip off the corner. Then squeeze batter into each donut cavity.
Make the streusel. Combine dry ingredients with melted butter until crumbly. Pat the streusel crumbs evenly over the donut batter.
Bake doughnuts in a 350 degree oven for 10-13 minutes, until lightly browned. Allow them to cool in pan 5 minutes, then flip the donuts out onto a wire rack.
Top with glaze. Whisk the sugar, milk and cinnamon and drizzle over cooled donuts. Allow the glazed cinnamon donuts to set (about 5 minutes) and enjoy!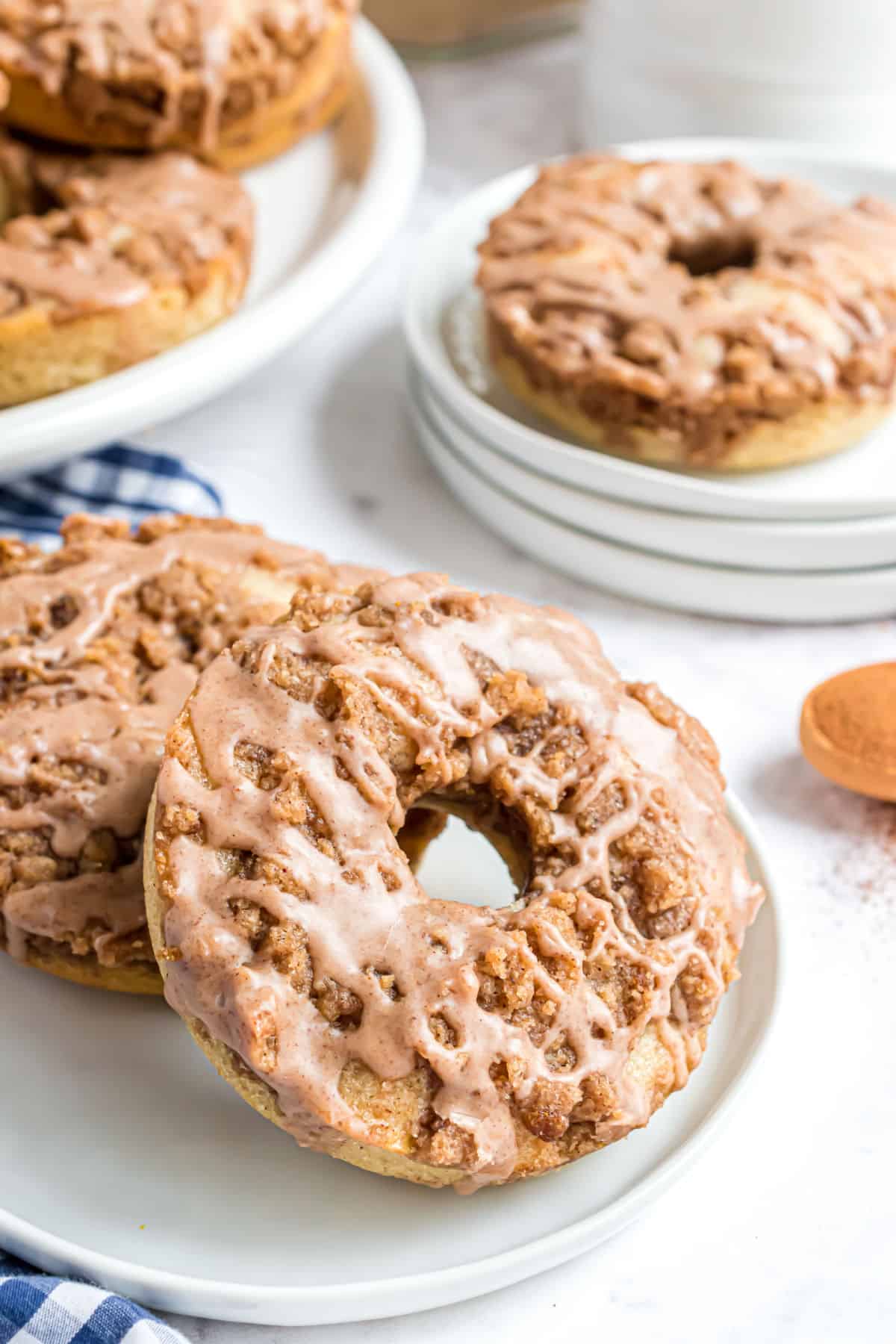 Tips and Tricks
Storing: These donuts are best enjoyed fresh, within a day of baking. Store leftovers at room temperature in an airtight container.
Grease your pan. Don't forget to generously coat your donut pan with baking spray! You don't want your donuts to become casualties of an ungreased pan. Or use our cake release.
Perfect glaze. Add the milk a little at a time until your cinnamon glaze reaches the consistency you prefer. As written, this recipe makes a glaze that's easy to pour but thick enough to set up well on the donuts.
Recipe FAQs
How many donuts does this recipe make?
This recipe makes enough for 6 regular size donuts or 12 miniature donuts.
What kind of donut pan do I need? Can I make this recipe without one?
I love this donut pan from Norpro! If you don't have a donut pan, you can make this recipe as muffins or mini muffins too.
Why are they called "coffee cake donuts" when there's no coffee in the recipe?
Just like coffee cake, these donuts are meant to be served WITH coffee. There is no coffee in cinnamon donuts themselves.
What's the best way to remove baked donuts from the pan?
I use a butter knife to wriggle the donuts loose, then flip them right onto the wire rack. If you grease your pan well, these slide out of the donut cavities quite easily after baking.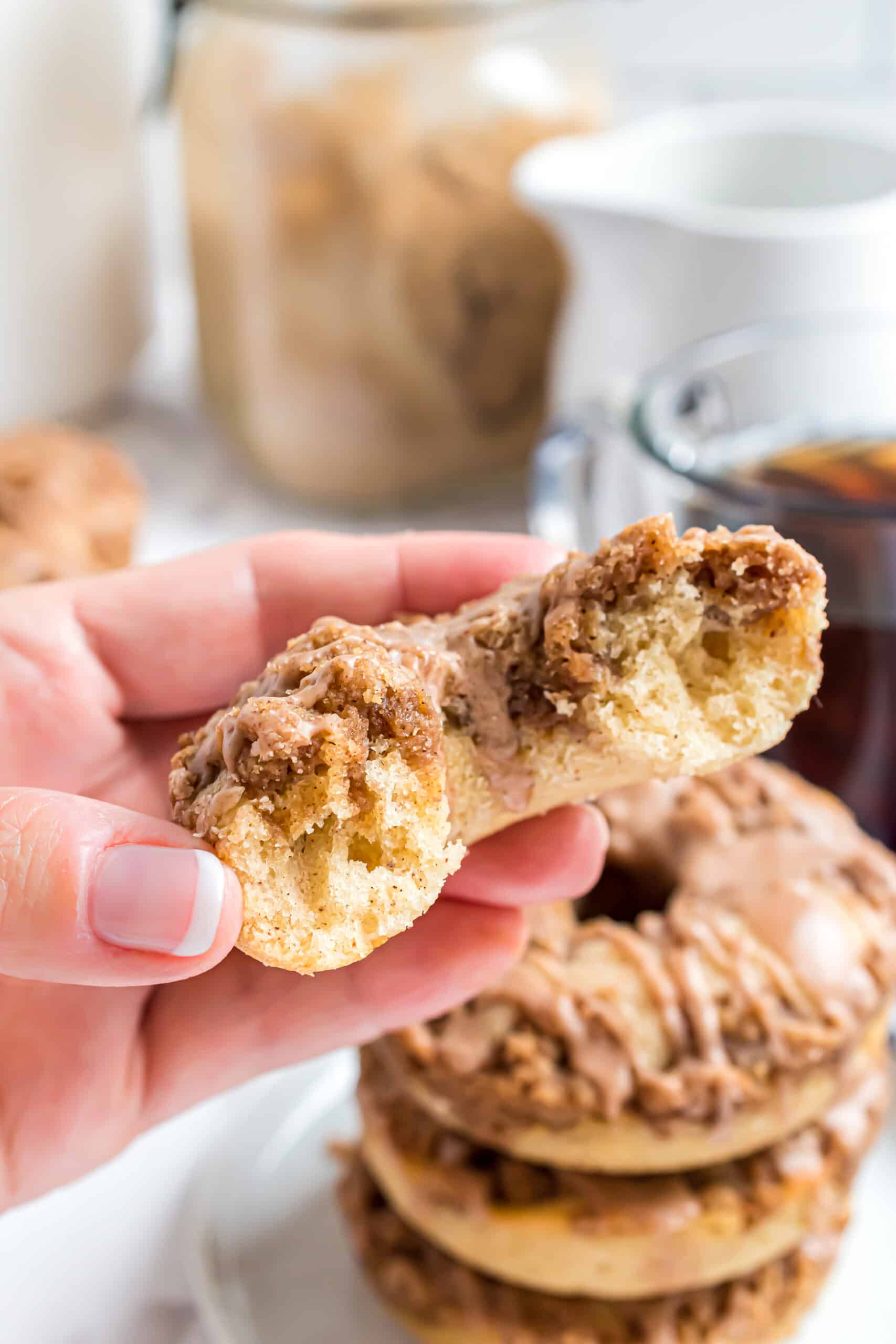 More Breakfast Recipes
Can't decide between coffee cake and donuts? You can satisfy both cravings with this easy recipe for Cinnamon Coffee Cake Donuts!