This Spinach and Sausage Quiche is quick and easy thanks to a little help from Pillsbury refrigerated pie crust! Fill it with spinach and pork sausage like I did or pick the fillings that you like best. Once you learn how to make quiche, you'll want to make it all the time!
If you love quiche be sure to try our easy ham and cheese quiche! Or keep it meat free with our veggie quiche recipe!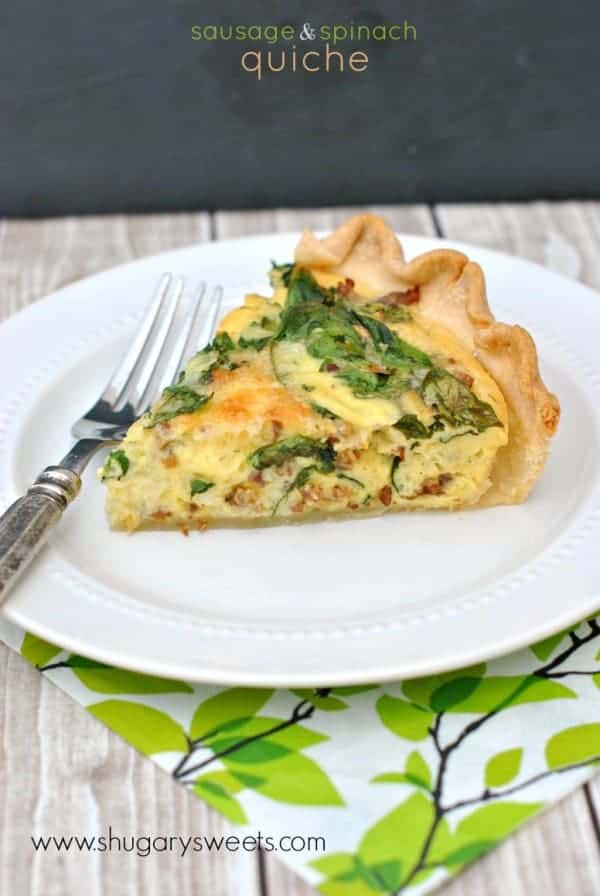 Why this Recipe is Best
Today's Spinach and Sausage quiche recipe is so easy. Easy enough that you can leave the recipe printed on the counter, and even your husband and kids can make it. For you. For Mother's Day.
That's my hope anyway!
You can even help them out by browning the sausage ahead of time. Or skip the sausage all together and just toss in some fresh mushrooms instead.
I would have used mushrooms in this recipe, but my family may have revolted. Instead, I used some flavorful sausage and a few handfuls of spinach (A vegetable we can all agree on.)
Why? My kids hate mushrooms. (I must have failed as a parent.)
I'm hoping one or more of them will change their views as they become older, but it's looking dismal. Big thanks to my mushroom hating husband on this one. I'm blaming it on his genes.
But, for Mother's Day, I think I can ask for mushroom quiche, mushroom soup, mushroom pizza. You name it, I should get it. After all, I've omitted mushrooms from much of my diet thanks to the scowls and groans when I do have them in the house.
Let's get back to the quiche….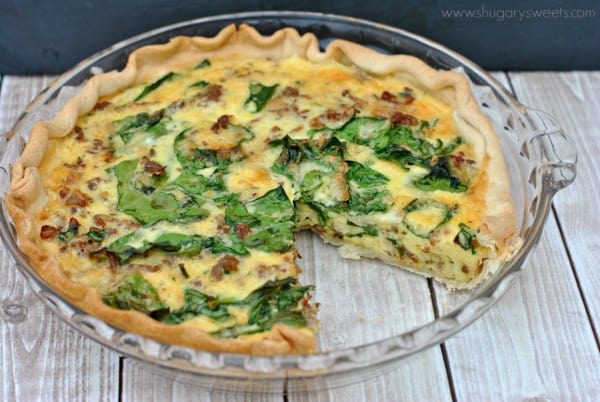 Easy Quiche Recipe
Want to know my secret for how to make quiche without any stress? Refrigerated pie crust.
Unroll, place in pie plate. And DONE. You can also swap that out and use homemade pie crust. Or puff pastry. I've always found that store bought crusts tastes just as good if not better than the crusts I make myself, so I went for convenience and ease!
No one will ever suspect you didn't make this pie crust yourself. And, as long as you have a delicious quiche at the end, does it even matter?
Once you have your pie crust laid out, you make a simple egg and cream filling, adding whatever else you like to it. I like mine with lots of cheese and, of course, sausage.
This basic recipe is very versatile. Fill it with meat, make it vegetarian, add extra cheese–your call!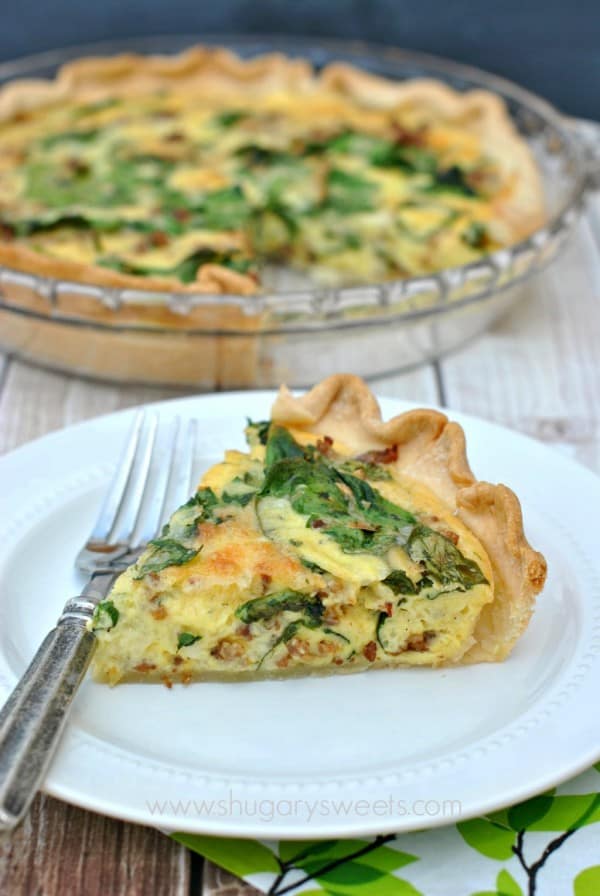 How to Make Quiche
STEP 1. Quiche Crust
Unroll pie crust and press into a pie plate. Set aside.
STEP 2. Egg filling
In a large mixing bowl, combine eggs, cream, garlic powder, salt, pepper, parsley and onion. Whisk together until fully combined, and few streaks remain.
STEP 3. Sausage and spinach
Brown sausage in a skillet, then add it to the egg filling along with cheese and fresh spinach. Fold everything together and pour it in the pie crust.
STEP 4. Bake in a 375 degree oven for 35 minutes. Remove and allow to set about 10 minutes. Slice and enjoy!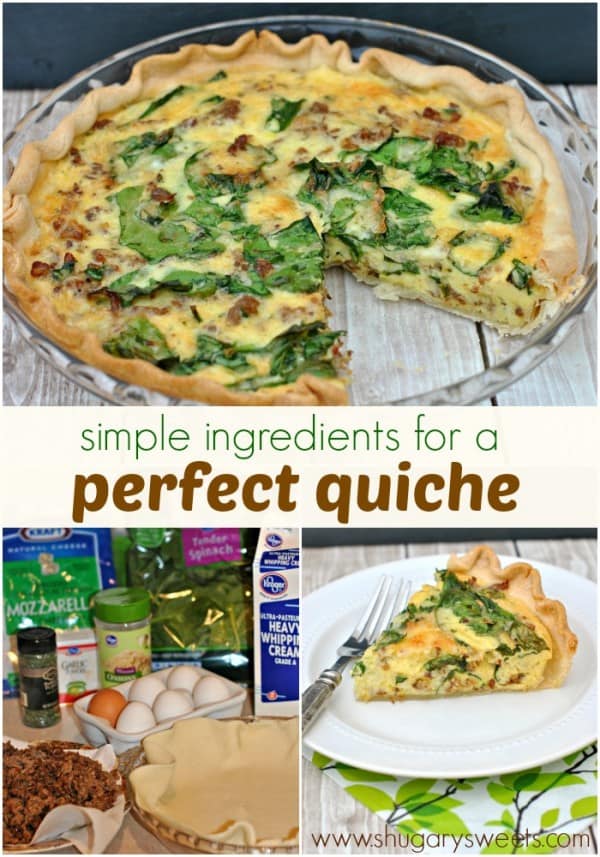 Substitutions and variations
Like I mentioned earlier, there are countless ways to adapt this recipe. Once you have your egg and cream filling beaten together you can toss in just about any breakfast meat or veggie you like.
Some delicious options:
Bacon – Add a few strips of crispy cooked bacon to your quiche instead of, or along with, the sausage.
Vegetables – Green peppers and onions are amazing in quiche! You could take out the spinach and add asparagus or use a little of each. Don't forget to try mushrooms in this quiche some time, too!
Cheese – Try different types of cheese in this quiche recipe to mix it up. Parmesan is delicious and goat cheese with some fresh tomatoes and basil would be divine.
With this easiest-ever quiche recipe, you can make quiche as often as the craving strikes. As a family breakfast, an addition to a weekend brunch or a party dish to share, this Spinach Sausage Quiche Recipe won't let you down!