Add a little texture and tang to your breakfast with this Sour Cream Banana Bread. The addition of sour cream in this recipe is pure genius for the most delicious, moist slice of banana bread!
Love banana recipes? Readers are obsessed with this Banana Pudding recipe! With good reason. You may also like our Banana Cake recipe, topped with cream cheese frosting!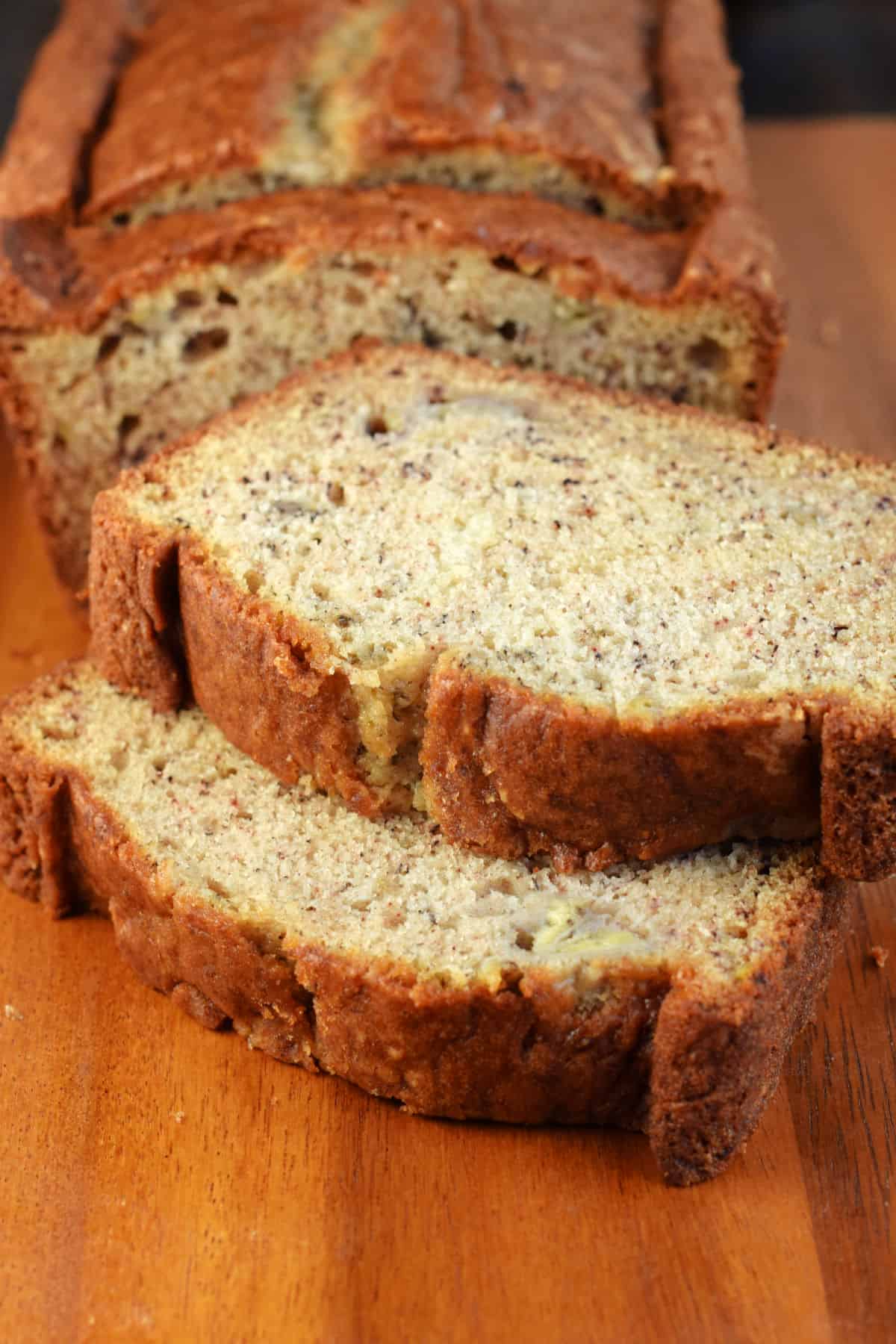 Why this Recipe Works
If you're looking for a moist slice of banana bread, look no further.
This easy recipe uses ripe bananas and the addition of sour cream to add tang and moisture to a flavorful, bakery style bread.
I love that this recipe makes TWO loaves of bread. Perfect to store an extra loaf in the freezer for later, or share it immediately with family and friends.
Flexible recipe- add chocolate chips, walnuts, or top it with a vanilla icing.
Super moist and flavorful.
I prefer my banana bread on DAY two. Do your own taste test and let me know what you think. The rich flavor is enhanced on day two, in my opinion!
MORE Breakfast Favorites: Waffles | Cinnamon Rolls
Ingredient Notes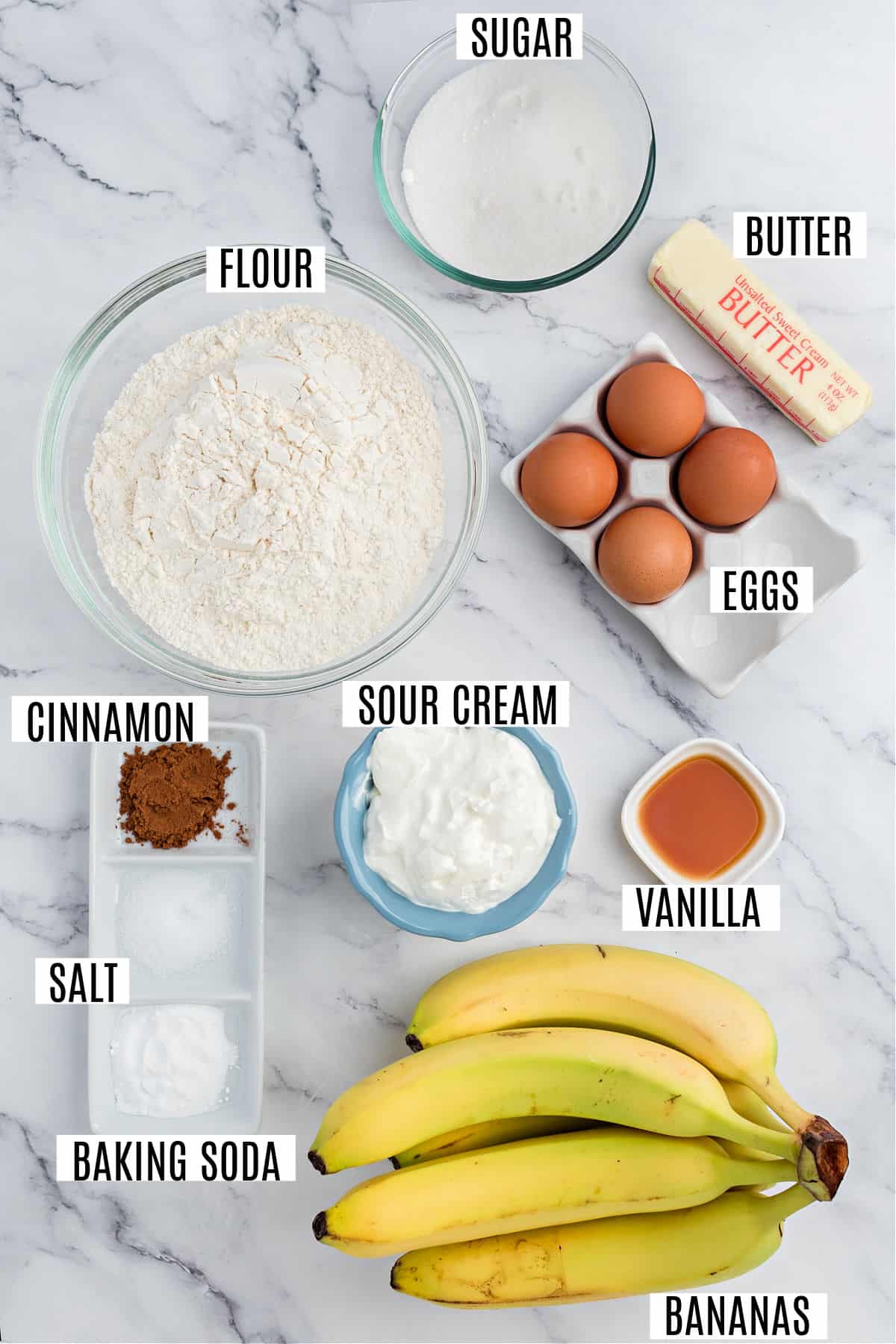 Bananas- choose over ripe bananas that have heavyily speckled or black skins. Use our tutorial on how to ripen bananas in 20 minutes, the same amount of time you need to soften your butter!
Butter- Use unsalted butter that has been softened to room temperature. If using salted butter, omit the extra salt in the recipe.
Sugar- this sweet bread has no shortage of granulated sugar. For a tasty twist, substitute half of the granulated sugar for my homemade vanilla sugar. YUM.
Eggs- 4 large eggs add a soft texture to this banana bread recipe.
Sour Cream- Full fat is best. If you need to, use a plain Greek yogurt instead.
Want a Banana Nut Bread? Fold in about 1 cup of chopped walnuts to the batter.
For a tasty twist, make my Snickerdoodle Banana Bread by lining the pan with cinnamon sugar and topping the bread with more cinnamon sugar. So tasty, it reminds me of our Amish Bread recipe!
How to make Banana Bread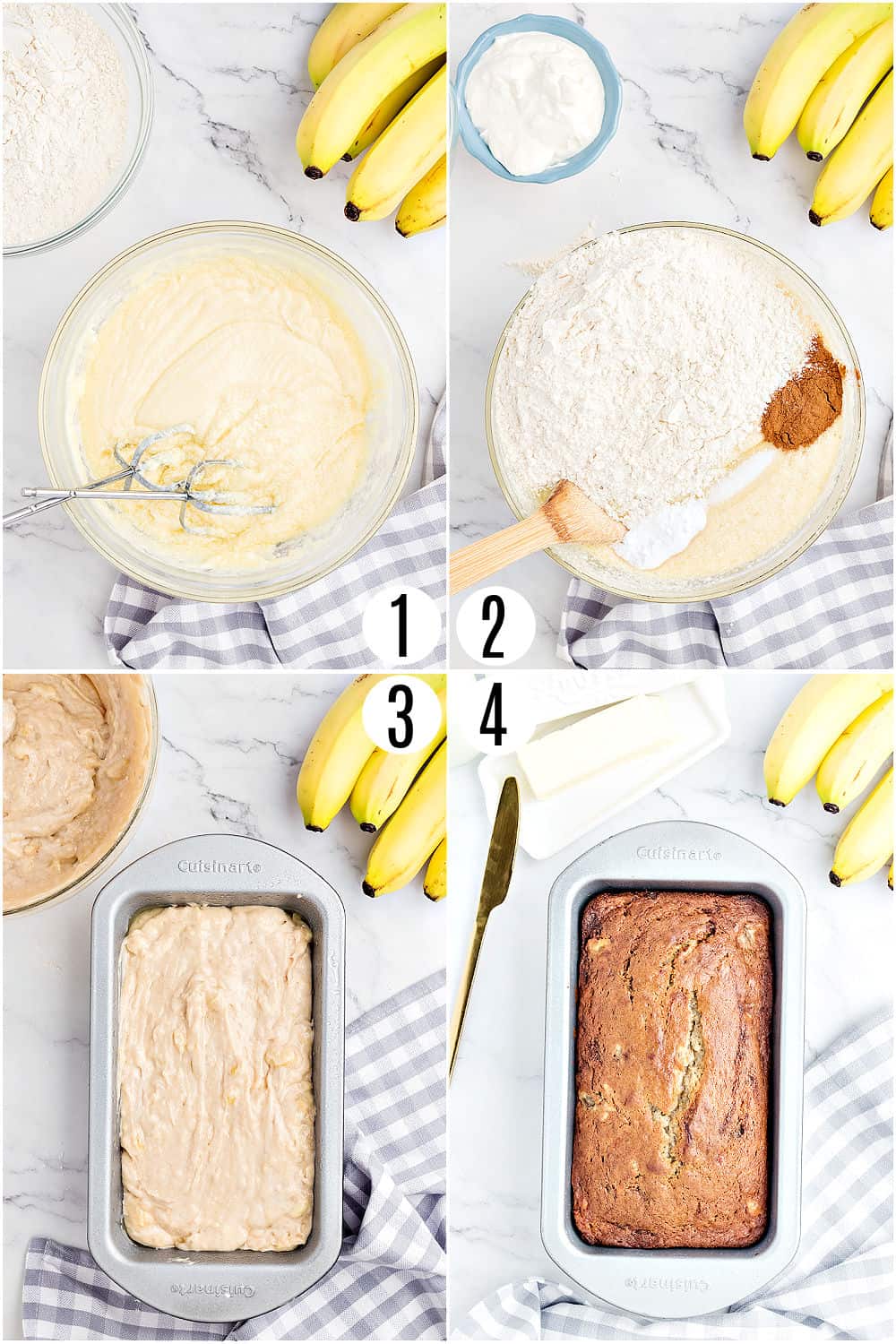 Mash Bananas- Get those bananas ready for bread. Use an electric mixer or a fork to bread down bananas. I love using my meat chopper to smash them up!
Make the Batter- Beat butter and sugar, add eggs, vanilla extract, and bananas. Add in dry ingredients, then finally fold in the sour cream.
PRO TIP: Add in chocolate chips like I did for this Chocolate Chip Banana Bread recipe!
Bake- Pour into prepared loaf pans evenly. Bake for one hour, remove and cool in pans ten minutes. Remove from pans and cool completely. You can then wrap in foil, or ziploc…or freeze for later!
Recipe FAQs
What can you substitute sour cream for in banana bread?
Sour cream can be substituted with full fat yogurt in banana bread. Avoid choosing a flavored or sweetened yogurt as it will affect the texture and taste of your bread.
What size pans should I use for banana bread?
For our recipe, we use 9×5-inch loaf pans. If using a different size pan, adjust the bake time accordingly.
Can you freeze banana bread?
Yes! Wrap cooled banana bread in plastic wrap or foil, then slide into a ziploc freezer bag. Store for up to three months. Thaw on counter (in bag) overnight.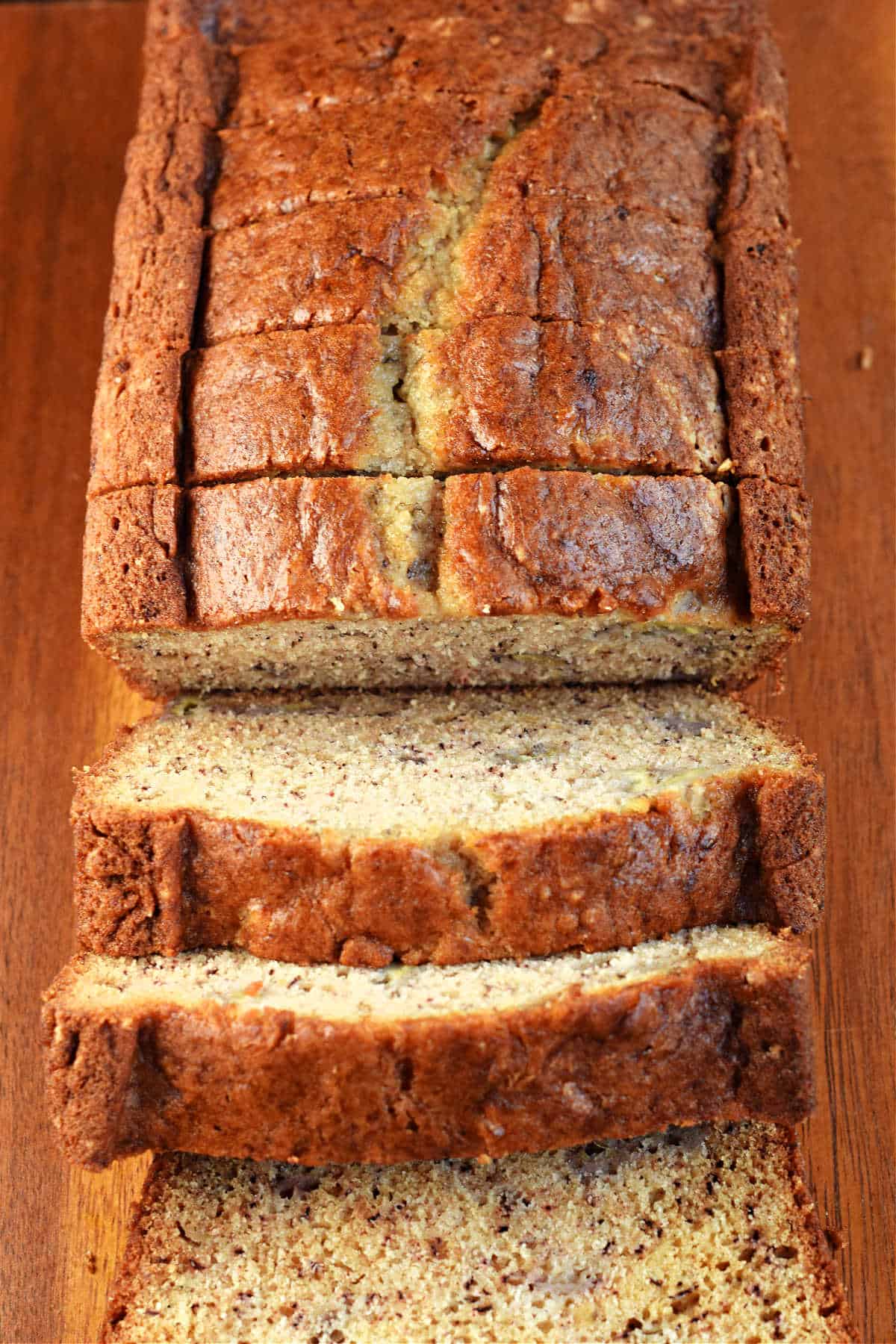 Storage
This Sour Cream Banana Bread recipe makes two loaves, which is great for my family. If two loaves of bread is too much to enjoy within a few days, freeze it!
How to freeze banana bread.
Wrap the bread in foil or plastic wrap and slide into a ziploc freezer bag. You can store for several months.
Thaw overnight and enjoy.
Make Banana Bread Muffins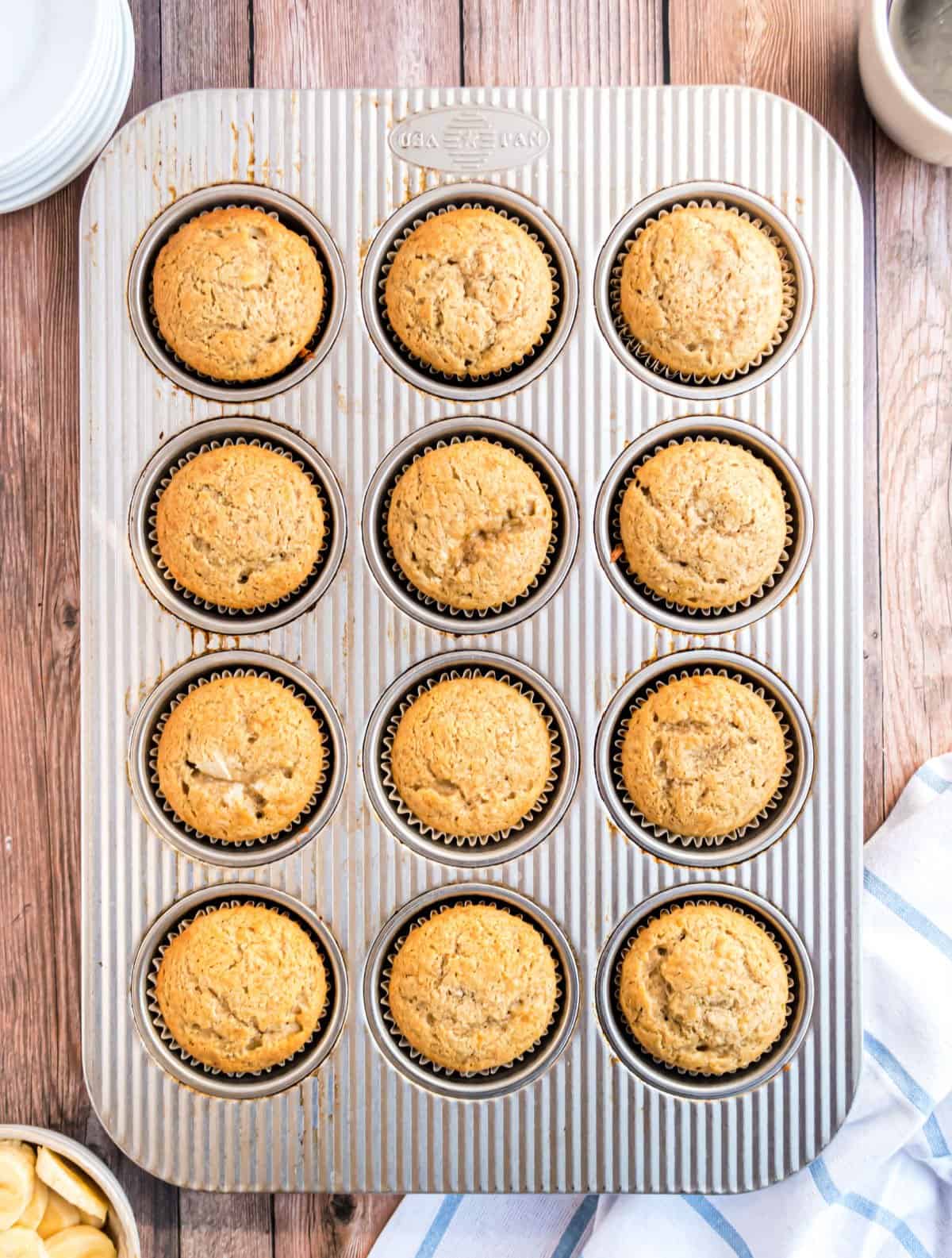 Take our favorite sour cream banana bread recipe and turn it into soft, moist muffins instead!
Following our recipe, scoop batter into paper lined muffin tin, about 2/3 full. Bake for 18-20 minutes in 350 degree F oven. Cool in pan.
Recipe makes about 36 regular size muffins. Freezer friendly too! After cooling, slide muffins in ziploc freezer bag and store for up to 3 months in freezer.