As if this Apple Banana Carrot Bread wasn't sweet enough, adding the cream cheese frosting takes this bread to a whole new delicious level!
**I am part of the Ambassador program with Crunch Pak apples. While I have been compensated for this recipe, all opinions are 100% my own**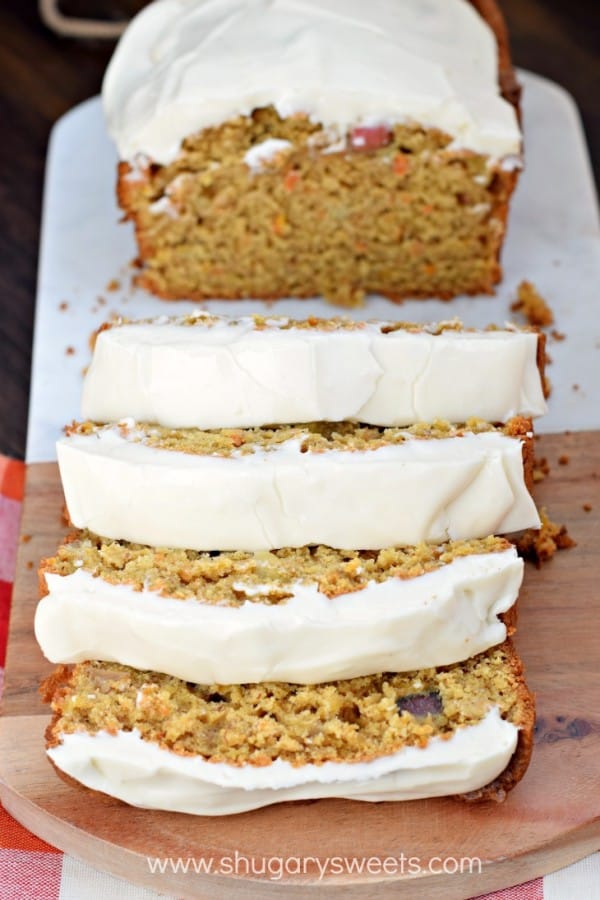 This has been such a crazy week around here. Thanks to a glitch on pinterest, they deleted tens of thousands of pins to some of my recipes. Not just my pins…but yours too! And you may have received some emails regarding this error.
First, I'm so sorry. It was NOT something that I asked for, it was an "innocent mistake" as pinterest has informed me (on their part).
But, I'm not letting it get me down. Instead, I baked bread.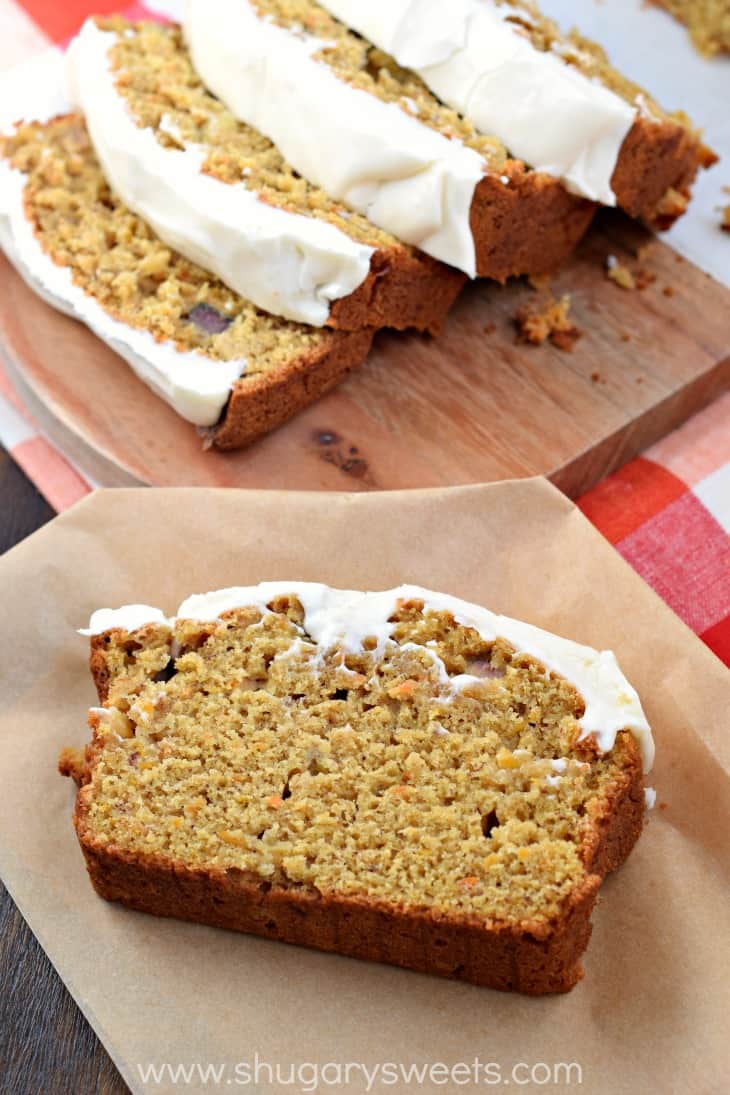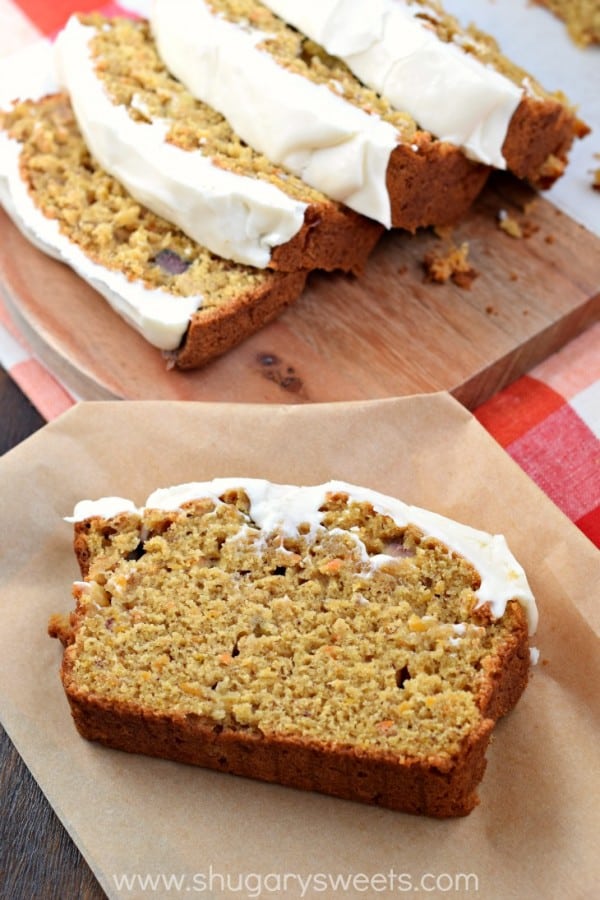 I kinda have a little bit of an obsession with quick breads. Don't get me wrong, I love ALL bread…but easy, delicious, quick breads are my jam, so to speak.
Last week I shared my Copycat Starbucks Lemon Loaf. Dear heavens, it's amazing. But today, this warm, comforting Apple Banana Carrot Bread recipe is going to steal your heart.
In my love of creating recipes using Crunch Pak apples, I couldn't decide if I wanted to make an Apple Carrot bread or an Apple Banana bread recipe. Then a lightbulb went off and it occurred to me, why choose?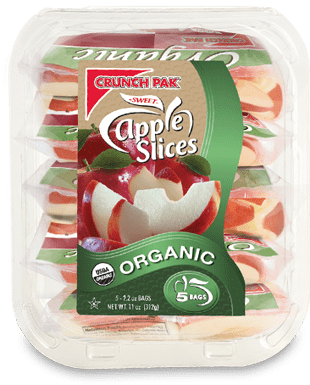 I used Crunch Pak apple slices for a quick shortcut in this recipe. No need to slice or peel those apples, just give them a couple chops into small pieces. Shred your carrots and toss in your ripe bananas. It's super easy you guys!
When my husband came home and tried the bread I thought I was being so clever and told him to try my "ABC Bread" (apple-banana-carrot). He looked at me and said, "you better not call it that on the blog, people could think it means something else! (already-been-chewed).
So. whoops. Good thing I have an adviser at home to help me make these important decisions, as well as be a good taste tester.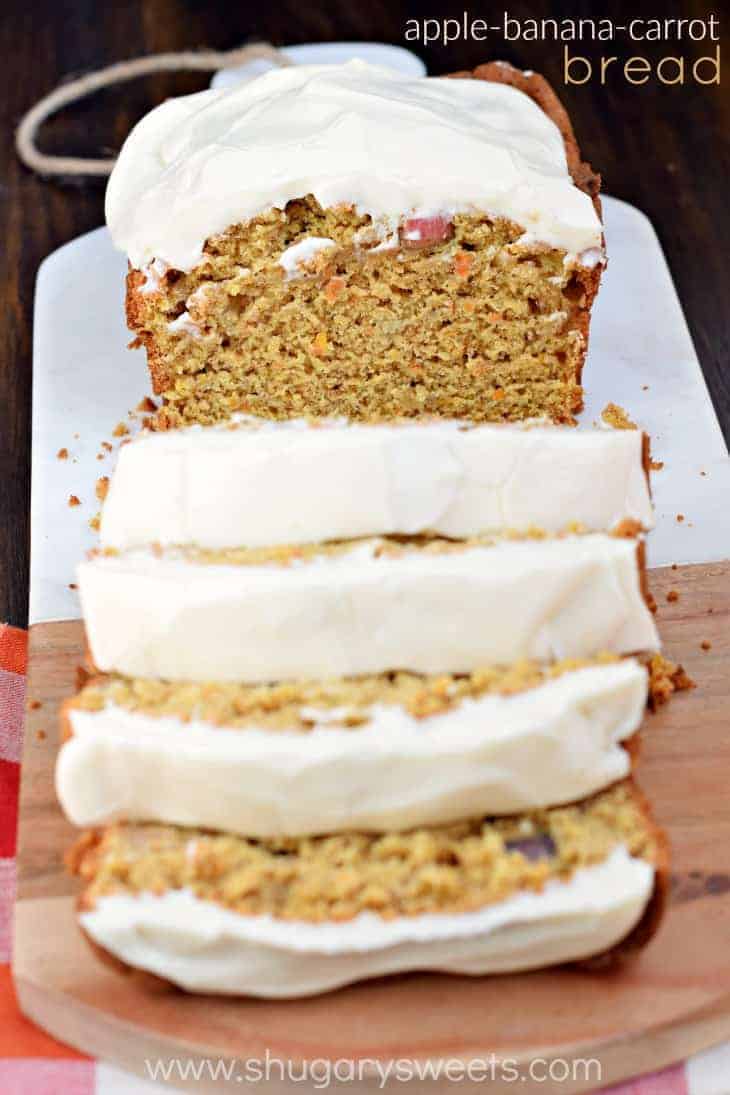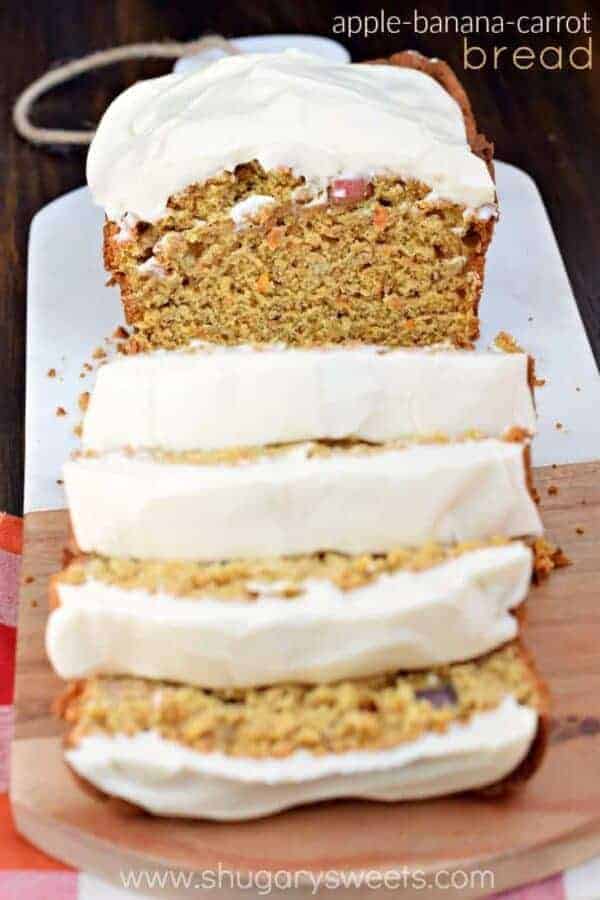 And in my ever long struggle "to frost or not to frost" I went with a nice thick Cream Cheese frosting. Let me be clear, this bread does NOT need this frosting. Thanks to the apples and carrots, it's definitely moist enough and sweet enough on it's own.
But, since we all know I have a need to add large amounts of frosting to baked goods…I added that option for YOU too. If you're going to freeze this apple bread, you can do so with or without the frosting. Just be sure you allow it to harden before freezing it (I wrap it in parchment paper, then in a ziploc freezer bag).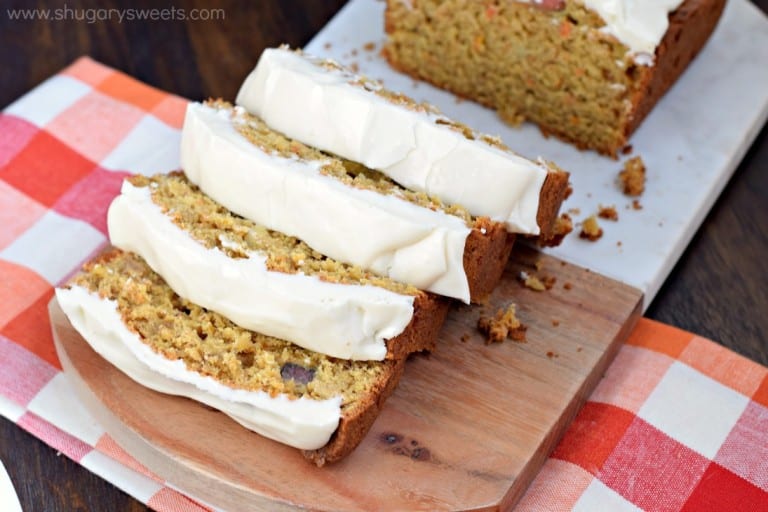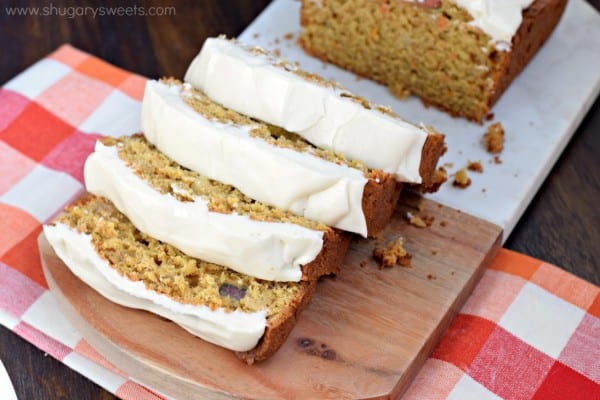 Yield: 2 loaves
Apple Banana Carrot Bread
Ingredients
For the bread:
1 cup unsalted butter, softened
2 large bananas
3/4 cup light brown sugar, packed
3/4 cup granulated sugar
3 1/2 cup all-purpose flour
1 tsp baking powder
1 tsp baking soda
1/2 tsp kosher salt
1 tsp vanilla extract
2 tsp cinnamon
1/2 tsp nutmeg
1/4 cup milk
4 large eggs
1 cup shredded carrots
1 cup Crunch Pak apples, diced
For the frosting:
4 oz cream cheese
3 cup powdered sugar
1 tsp vanilla extract
2-4 Tbsp milk
Instructions
Grease two 9" x 5" loaf pans with baking spray. Set aside. Preheat oven to 350 degree F.
In a large mixing bowl, combine butter and bananas. Blend until bananas are mashed and mixed with butter. Add in sugars and beat until combined.
Add in flour, baking powder, baking soda, salt, vanilla, cinnamon, nutmeg and milk. Beat until well combined. Add in eggs and beat well. Fold in carrots and apples.
Pour into greased pans. Bake for 60 minutes, until toothpick in center comes out clean.
Remove from oven and cool on rack for 10 minutes. Remove from pans and cool completely.
For frosting: beat cream cheese with sugar, milk and vanilla until smooth (about 3-4 minutes). Spread over cooled bread. Slice and enjoy!
Love this sweet apple bread? You may also love these apple treats: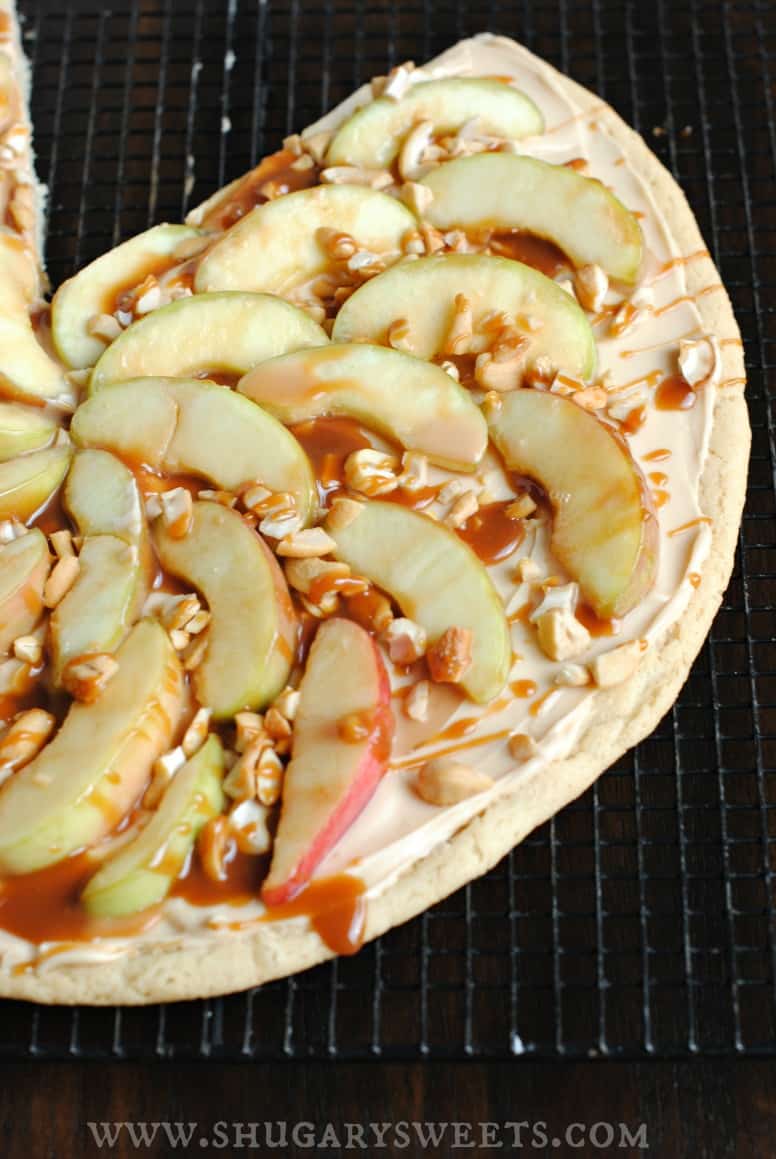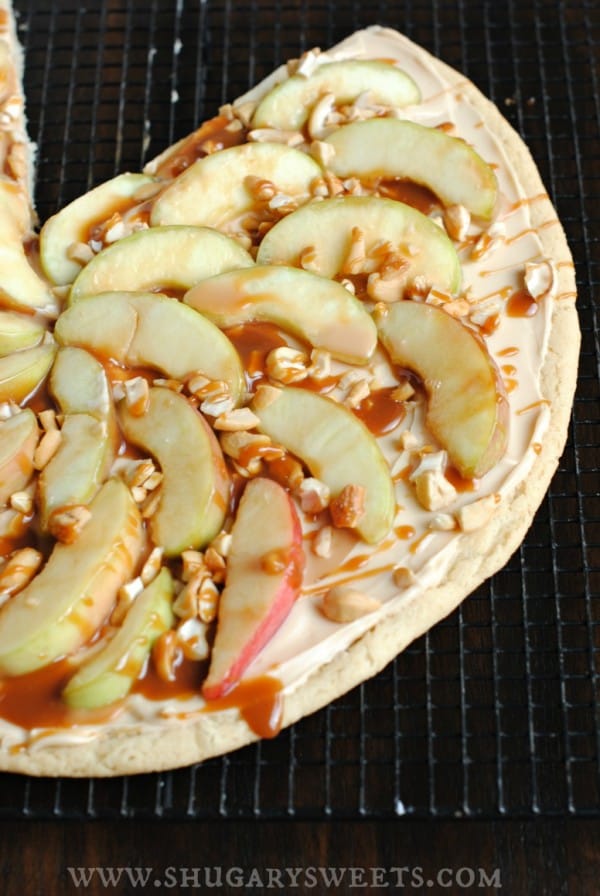 Caramel Apple Cookie Pizza: sweet cookie base with a delicious topping!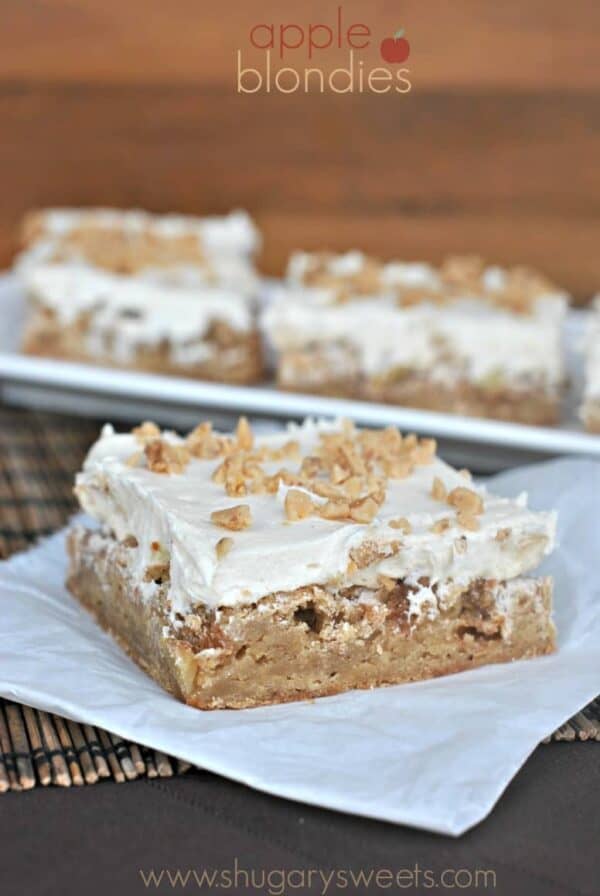 Apple Blondies: These rate in the top ten of all my blog treats!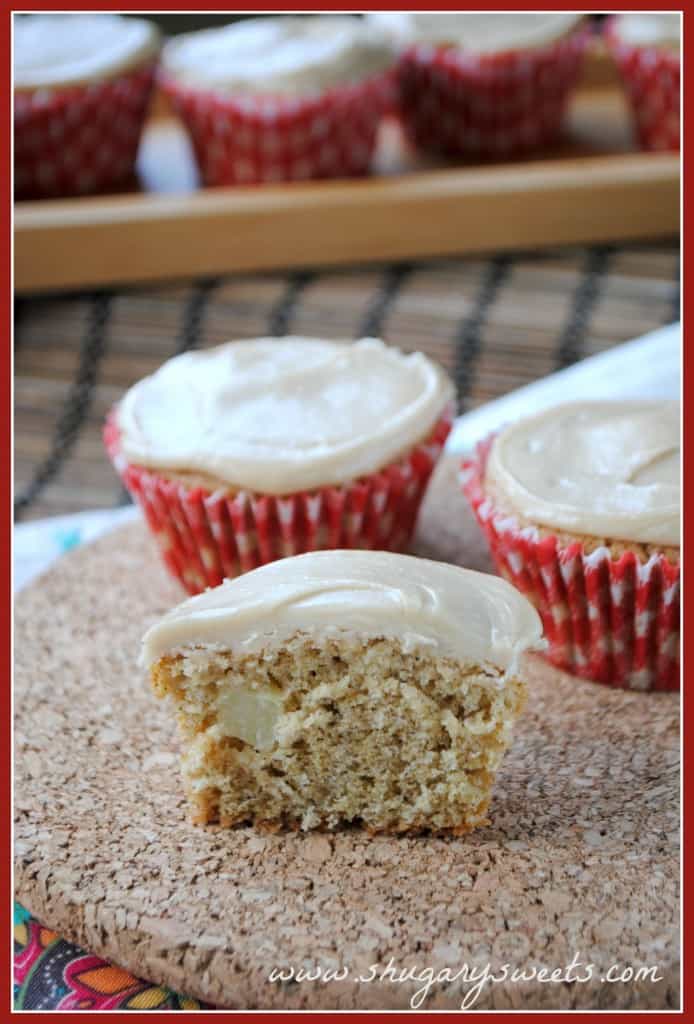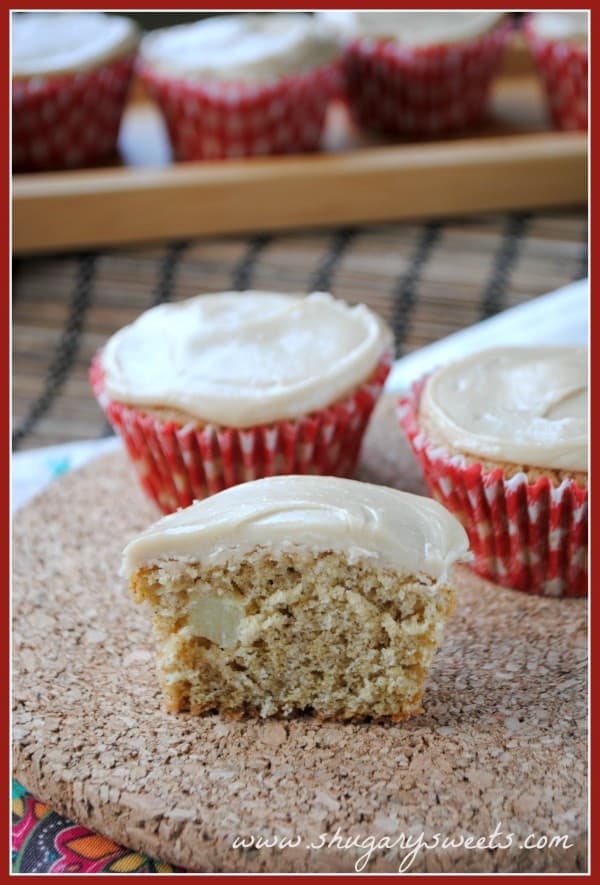 Apple Spice Muffins: these sweet muffins are topped with a caramel glaze!
If you love today's Banana Bread recipe, here are a few you may enjoy:


**Today's recipe is sponsored by Crunch Pak apples. While I have been compensated to be a part of their Blogger Ambassador program, all opinions are 100% my own**