Apple Banana Carrot Bread is a fruity quick bread topped with sweet cream cheese frosting. It's like banana bread and carrot cake all in one!
This easy bread recipe is a fun twist on traditional banana bread. We love this Coconut Banana Bread and this Nutella Swirled Banana Bread too.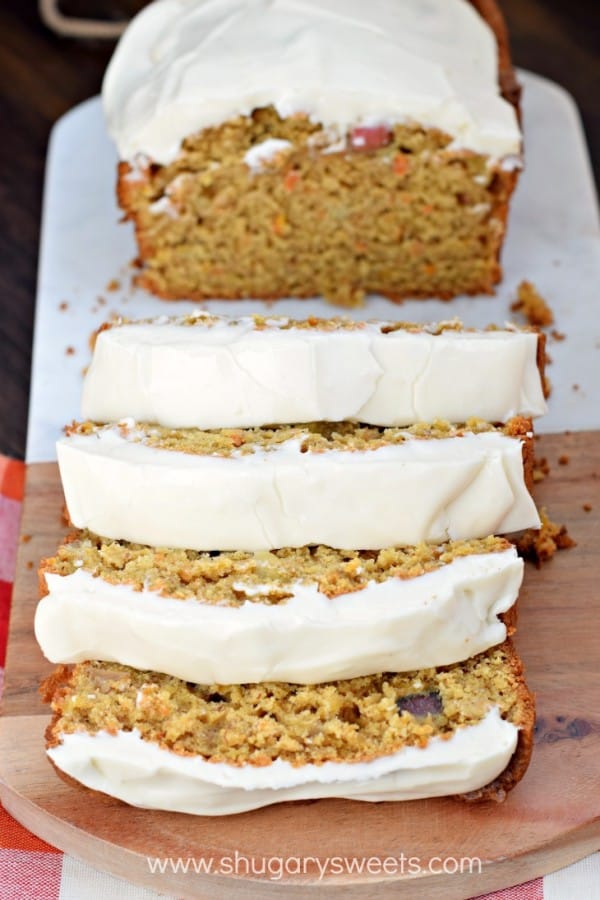 Why this Banana Bread Works
This freezer-friendly quick bread has everything but the kitchen sink!
Perfect moist banana bread texture.
Juicy bites of apple.
Hint of cinnamon spice.
Shredded carrots for extra flavor and moisture.
There are so many reasons to love Apple Banana Carrot Bread (or "ABC Bread" as we call it).
The batter comes together in one bowl and makes enough for two loaves. You'll love one to eat now and one to freeze for later.
Ingredient Notes
Butter – We use plenty of unsalted butter in this bread for rich flavor and a tender crumb. You can also make this recipe with salted butter; just leave out the added kosher salt.
Banana – Ripe or even overripe ones are best in this banana bread.
Carrot – Shredded carrot gives the bread color, flavor and moisture. Store bought carrot shreds tend to be dry, so we suggest shredding whole carrots fresh.
Apple – Any kind of apple works. We like varieties with a little tartness like pink lady or honeycrisp.
Sugars – A combination of white and brown sugar brings out the natural sweetness of the bananas.
Spices – Ground cinnamon and a touch of nutmeg enhance the apple, banana and carrot flavors beautifully.
Cream cheese frosting – This frosting is a blend of cream cheese, powdered sugar and milk. A teaspoon of vanilla completes the creamy, delicious taste.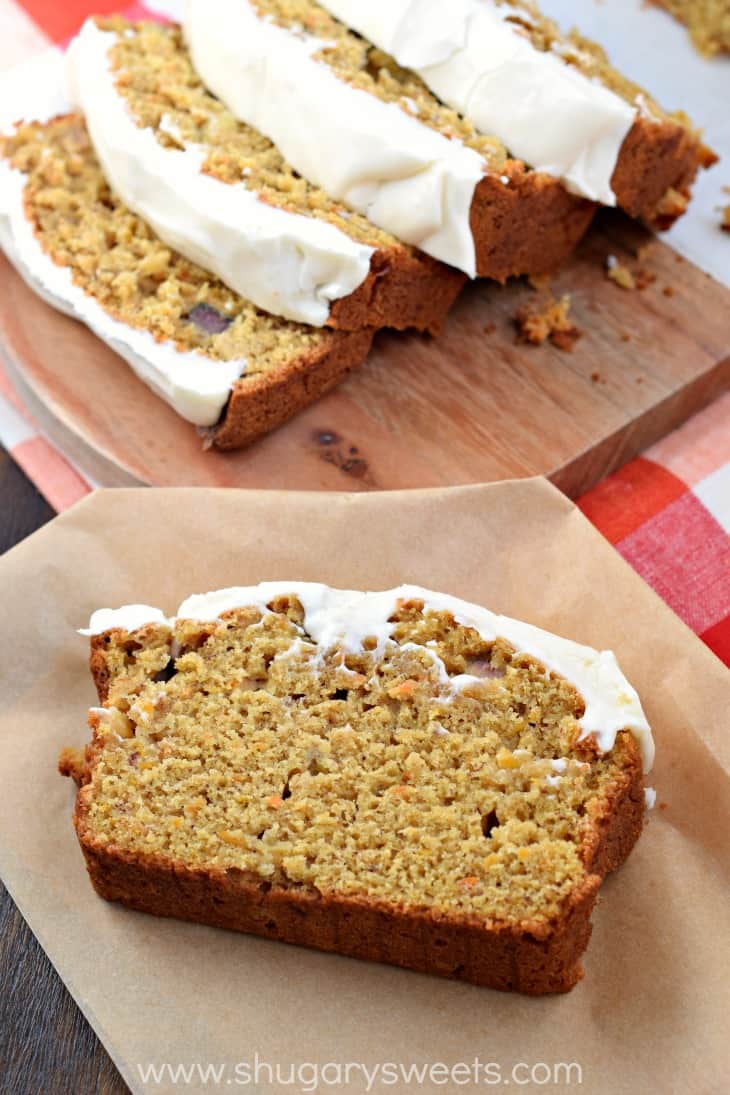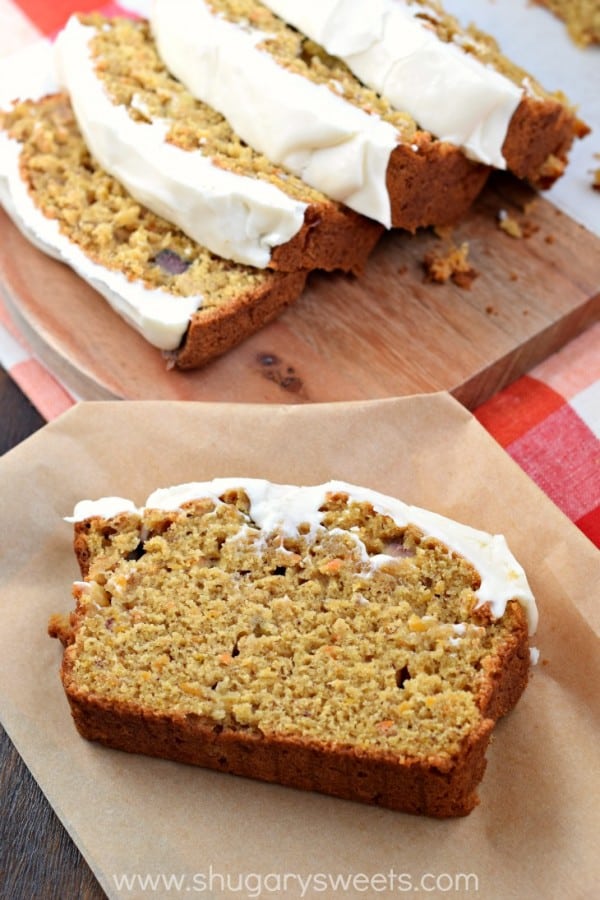 Tips and Tricks
No need to mash the bananas first! Use an electric mixer to mash the banana as you combine it with the butter.
Want a less sweet apple carrot banana bread? Skip the cream cheese frosting. It's delicious both ways.
This bread is perfect for freezing! If you won't be eating both loaves right away, wrap one in foil and a freezer bag and store in the freezer.
Apple Banana Carrot Bread keeps well in the refrigerator for about 1 week. Frozen bread stays good for about 3 months.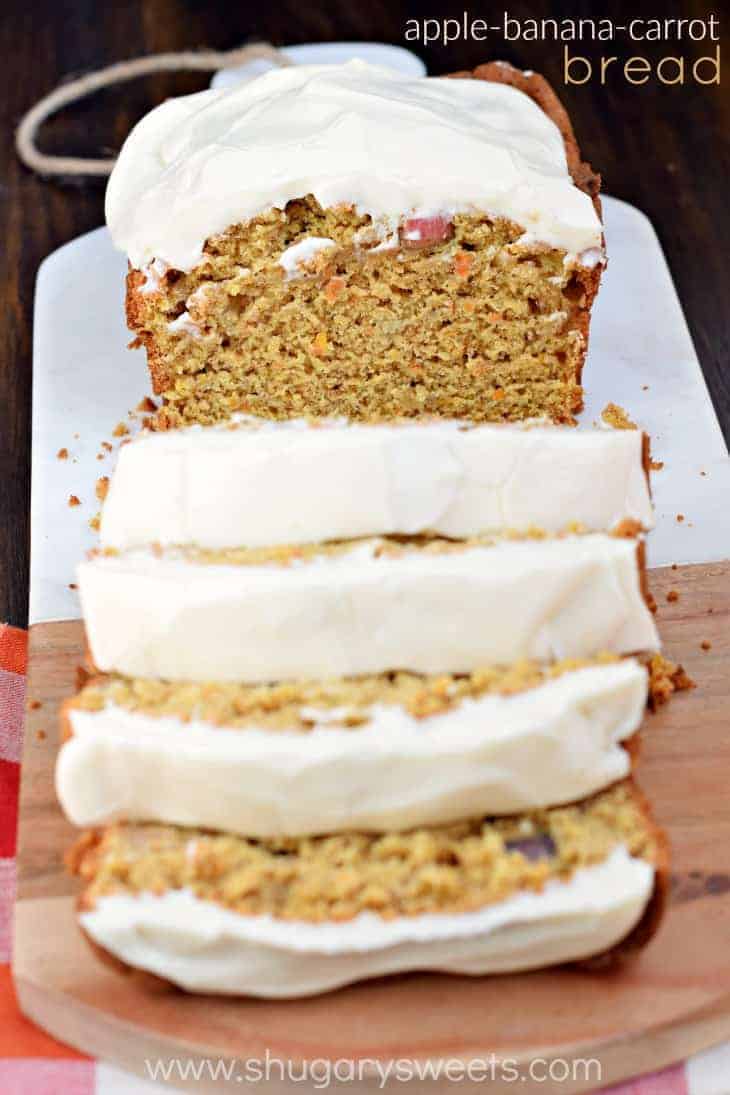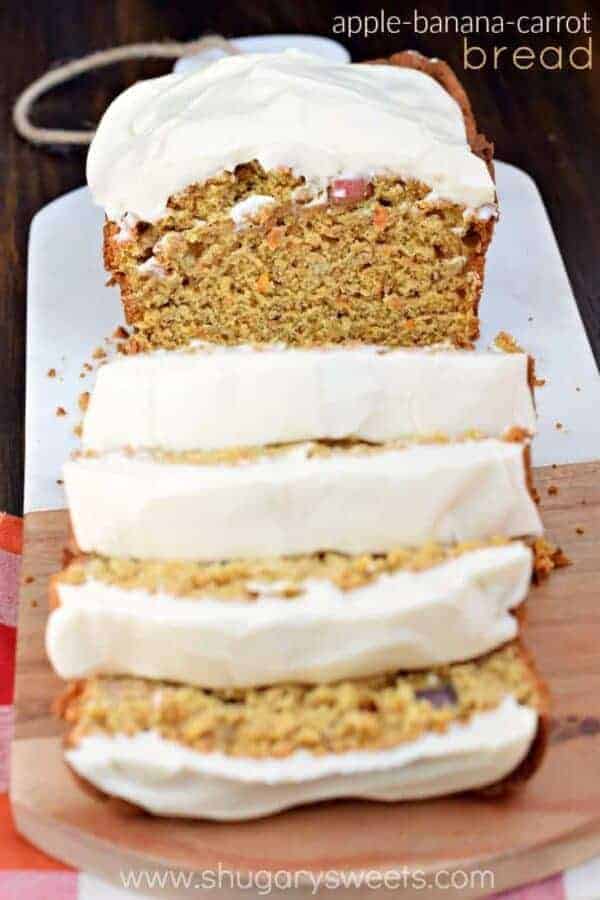 Recipe FAQs
How do I shred the carrots for this bread?
You can use a box grater or a food processor fitted with a grating disk. If using a box grater, choose the small to medium sized grating holes for perfect size shreds.
How can I tell when the bread is done baking?
We always use the "toothpick test". Insert the toothpick into the center of one of the loaves. If it comes out clean with no wet crumbs attached, the bread is ready to come out of the oven.
How small do I need to dice the apple?
The apples should be diced small for this apple banana bread. Aim to make them about a quarter inch, but don't stress if they're not perfectly equal in size.
Does this bread need to be stored in the refrigerator?
Due to the cream cheese frosting this bread does need to be stored in the refrigerator. It can be kept at room temperature safely for about 2 hours at a time.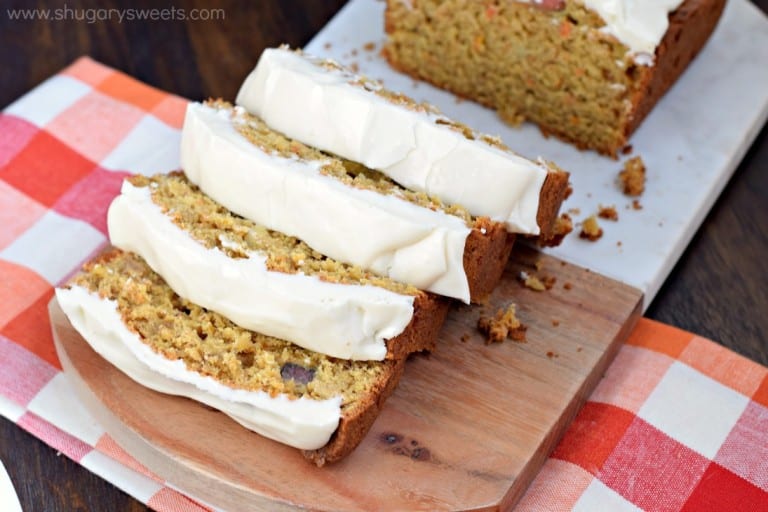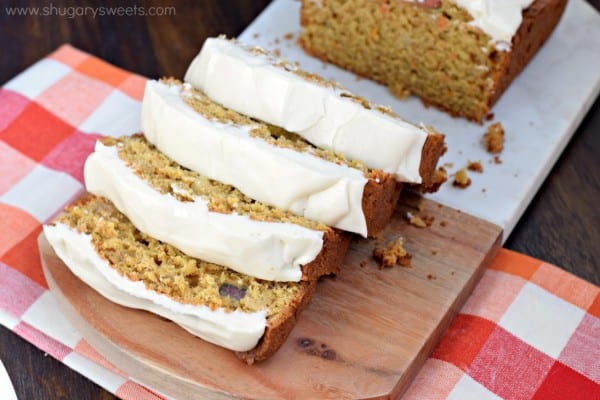 Three kinds of bread in one! Apple Banana Carrot Bread is an easy quick bread that tastes even better topped with a thick layer of cream cheese frosting.