Transform your everyday Banana Bread recipe into a tropical treat. Coconut Banana Bread is full of crunchy macadamia nuts and toasted coconut flakes. The results are unbelievably delicious!
Based off our favorite Sour Cream Banana Bread recipe, you'll love this moist and flavorful bread. Top with a vanilla icing and toasted coconut for an extra special touch!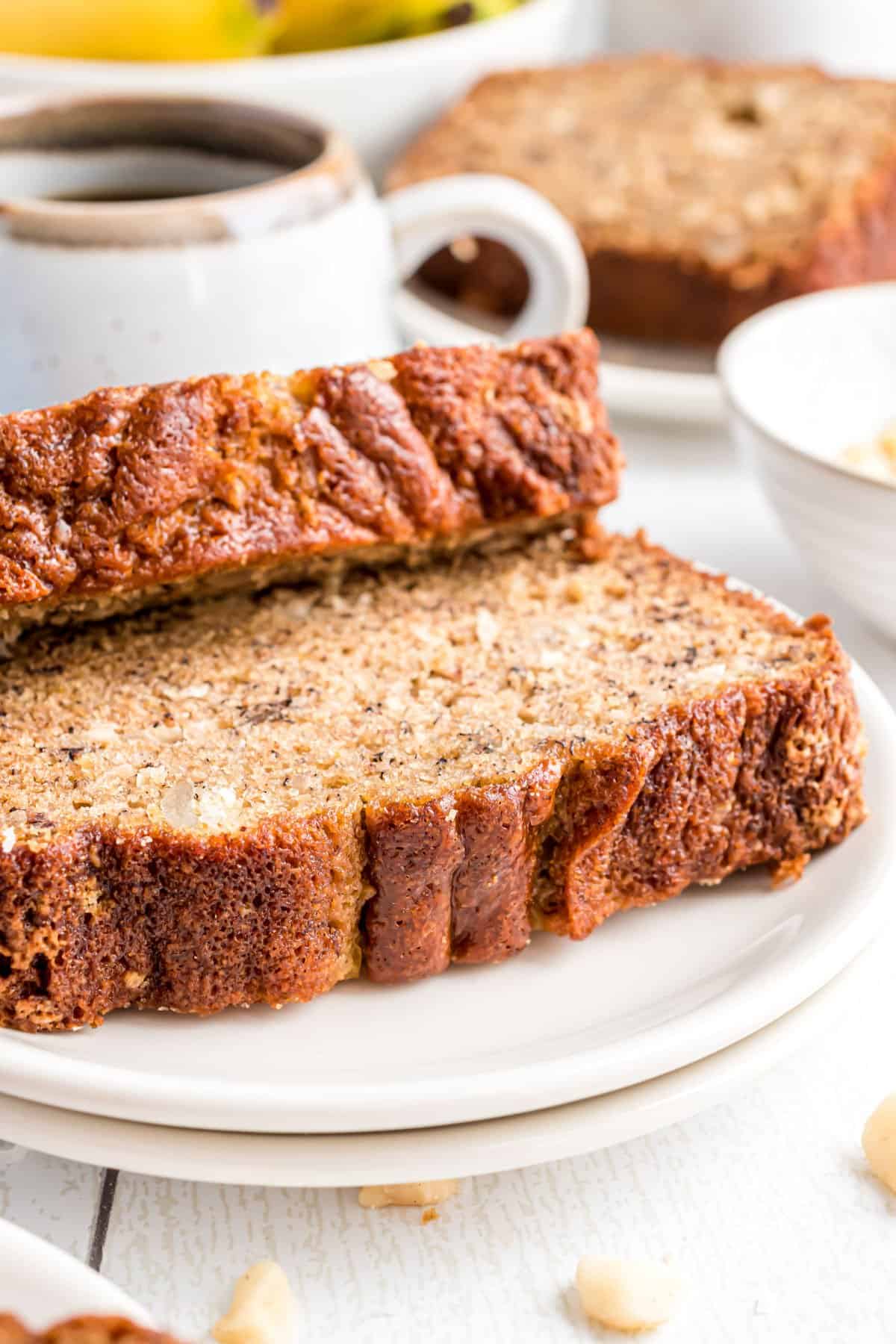 Why Make Coconut Banana Bread
If you want to add some pizzazz to your quick bread, this Coconut Banana Bread recipe is for you!
This recipe makes two loaves of perfect bread. That way you have one to enjoy now and another to freeze for later! Move over zucchini bread, we've got a new favorite in the oven.
Love banana bread? Be sure to try our chocolate chip banana bread and our blueberry banana bread next!
Ingredient Notes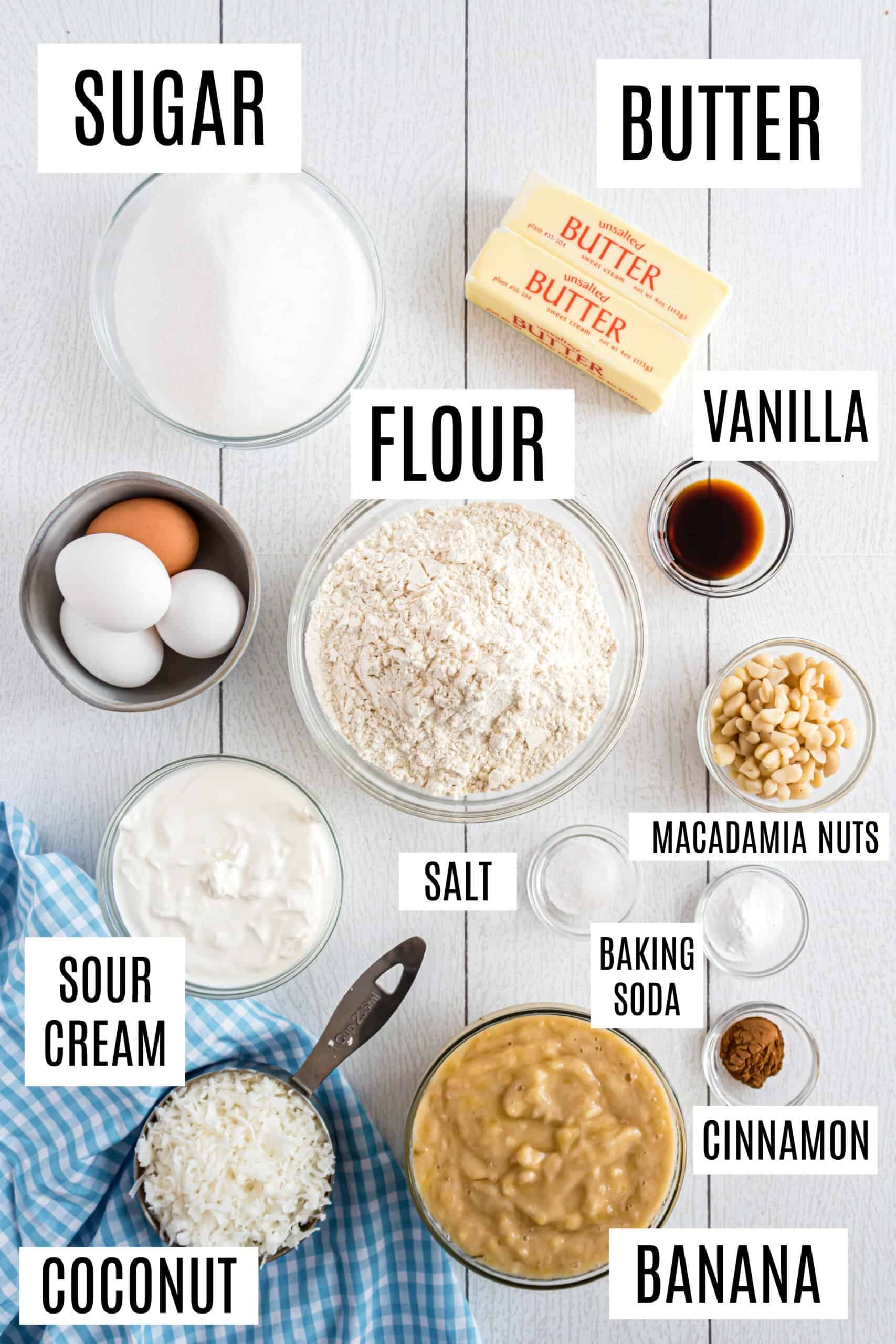 A quick glance at the ingredients shows that aside from the macadamia nuts, you may have everything you already need!
Easy Instructions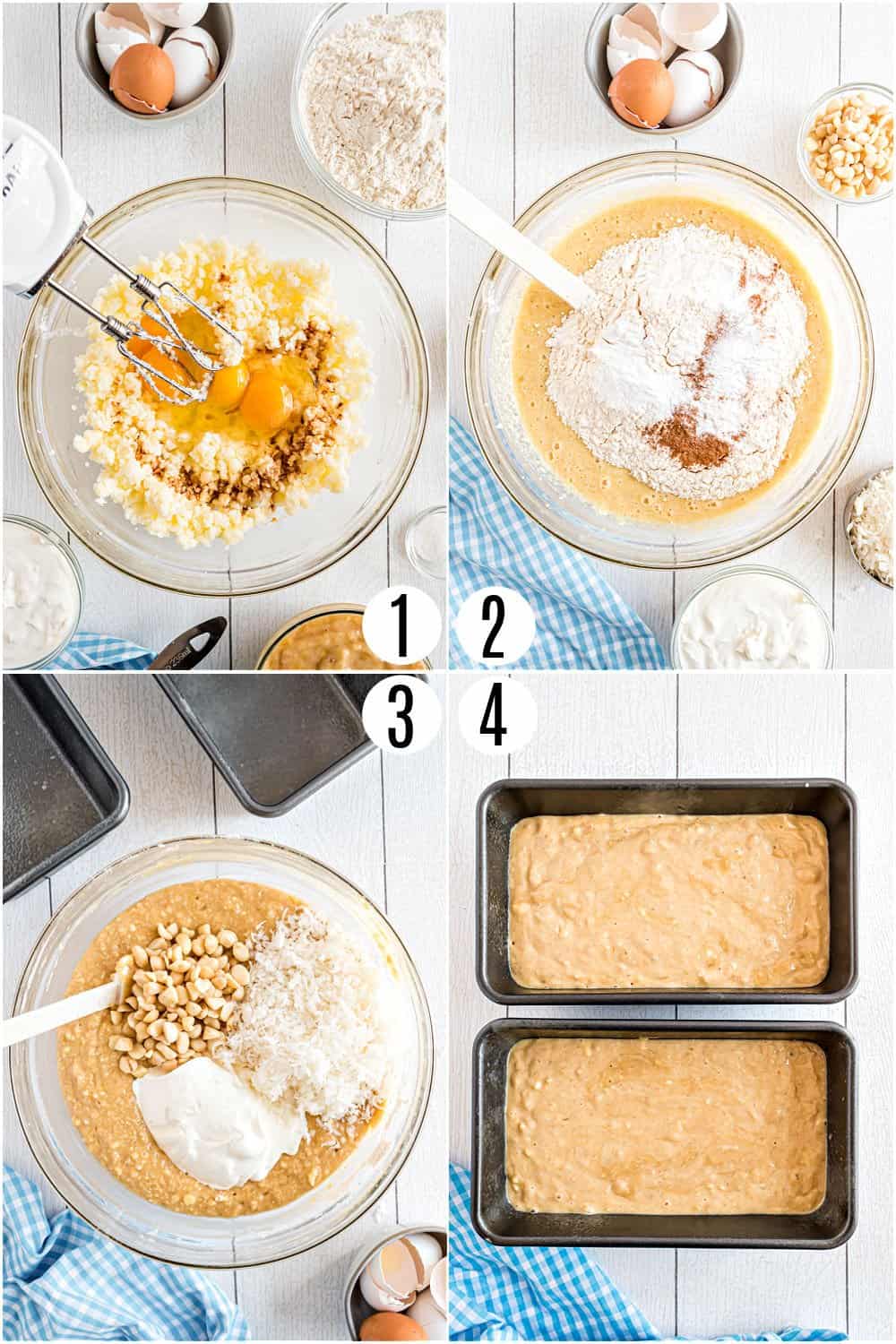 Coconut Banana Bread is just as easy to make as regular banana bread.
Combine ingredients. Beat butter and sugar together. Then add in eggs, vanilla and mashed bananas. Stir flour, kosher salt, baking soda and cinnamon in to the banana mixture. Fold in sour cream, chopped nuts, and shredded coconut.
Bake. Transfer the batter to prepared loaf pans. Bake for one hour. Let the bread cool in the pans for 10 minutes before removing.
Serve or freeze. Slice banana bread and enjoy plain or topped with vanilla ice cream! To store this for later, transfer cooled loaves to freezer bags and freeze for up to 3 months.
Tips & Tricks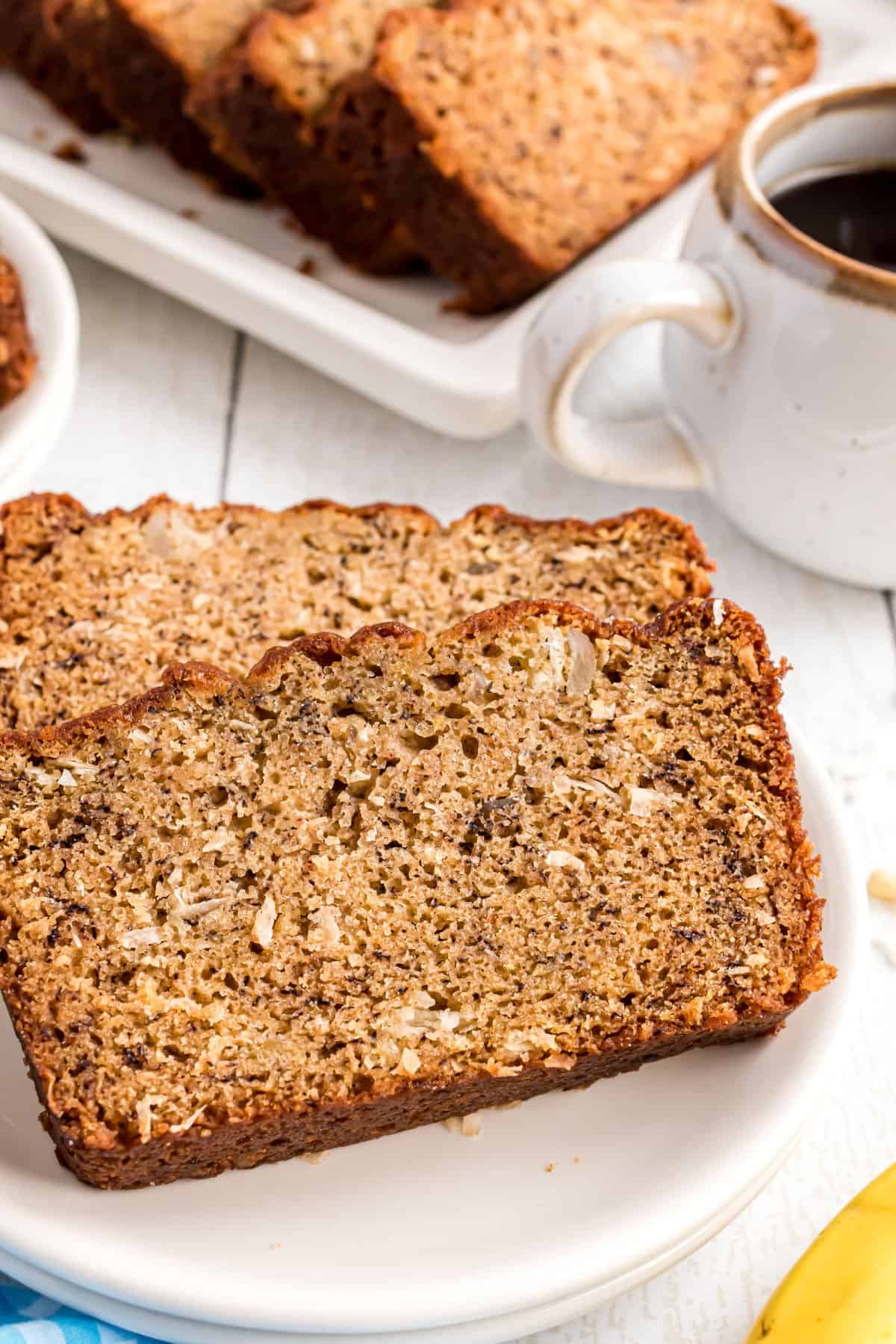 Recipe FAQs
What size pan do I need to make banana bread?
We make our banana bread recipes in 9 x 5-inch loaf pans. You can use other sized pans, but will need to adjust the baking time accordingly.
Can I make banana bread without nuts?
Feel free to leave the nuts out of my coconut banana bread recipe. It'll still be delicious.
What's the best way to keep banana bread fresh?
Store your homemade coconut banana bread in an airtight container or plastic wrap. I recommend slicing just before serving to keep the bread ad its best.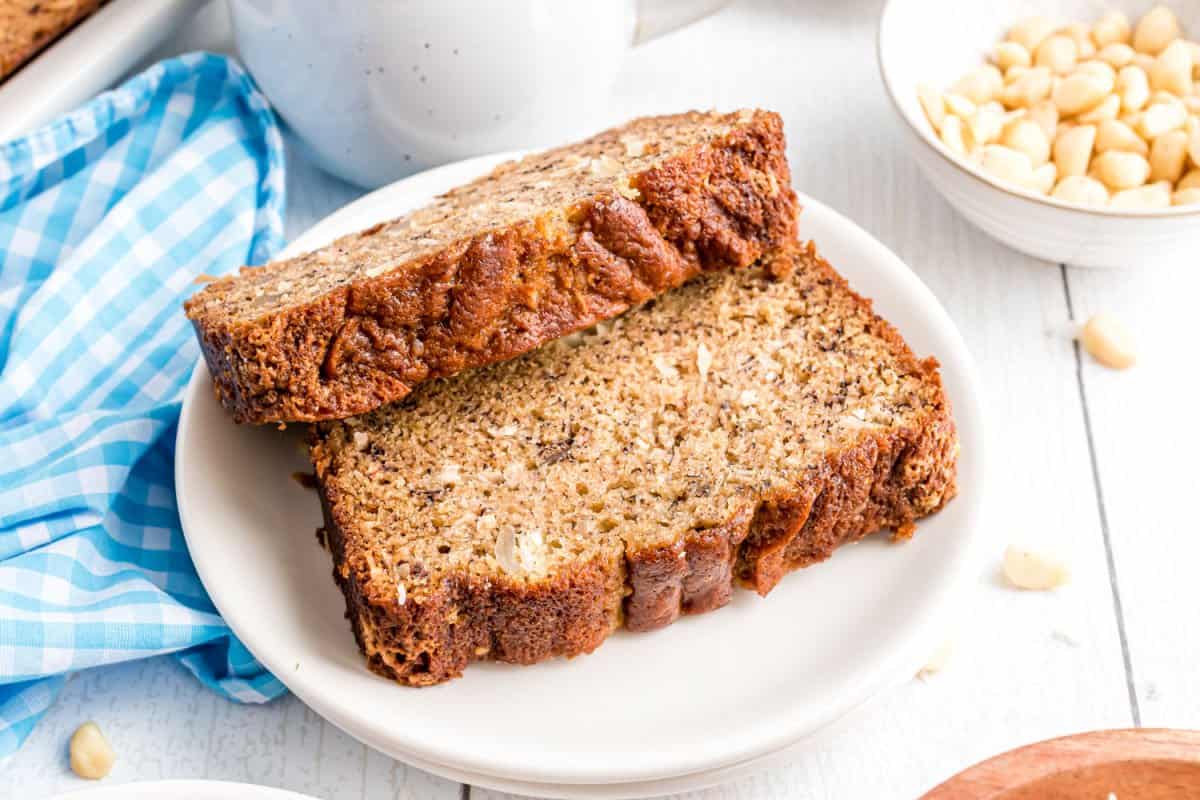 Make traditional banana bread more exciting! A couple handfuls of coconut and macadamia nuts are all it takes.