Adding blueberries to banana bread is just a good idea. One slice of this Blueberry Banana Bread recipe and you'll totally understand. Enjoy a big slice with a cup of coffee for the perfect start to your day!
Love baking with bananas? We are obsessed with these banana nut muffins! Or give our easy banana pudding recipe a try for dessert.
Why this Banana Bread is Best
There's no such thing as too many Banana Bread recipes. Have you tried this Coconut Banana Bread yet?
I took my all time favorite Sour Cream Banana Bread and added fresh blueberries to the batter.
Sweet juicy blueberries add a delicious pop of flavor to the slightly tangy banana bread.
You get two loaves from this recipe. One to eat now and one to freeze later.
Perfect moist crumb and tons of banana flavor.
It tastes even better the next day!
This bakery style banana bread is a big hit in our house and I know you'll love it too.
Ingredient Notes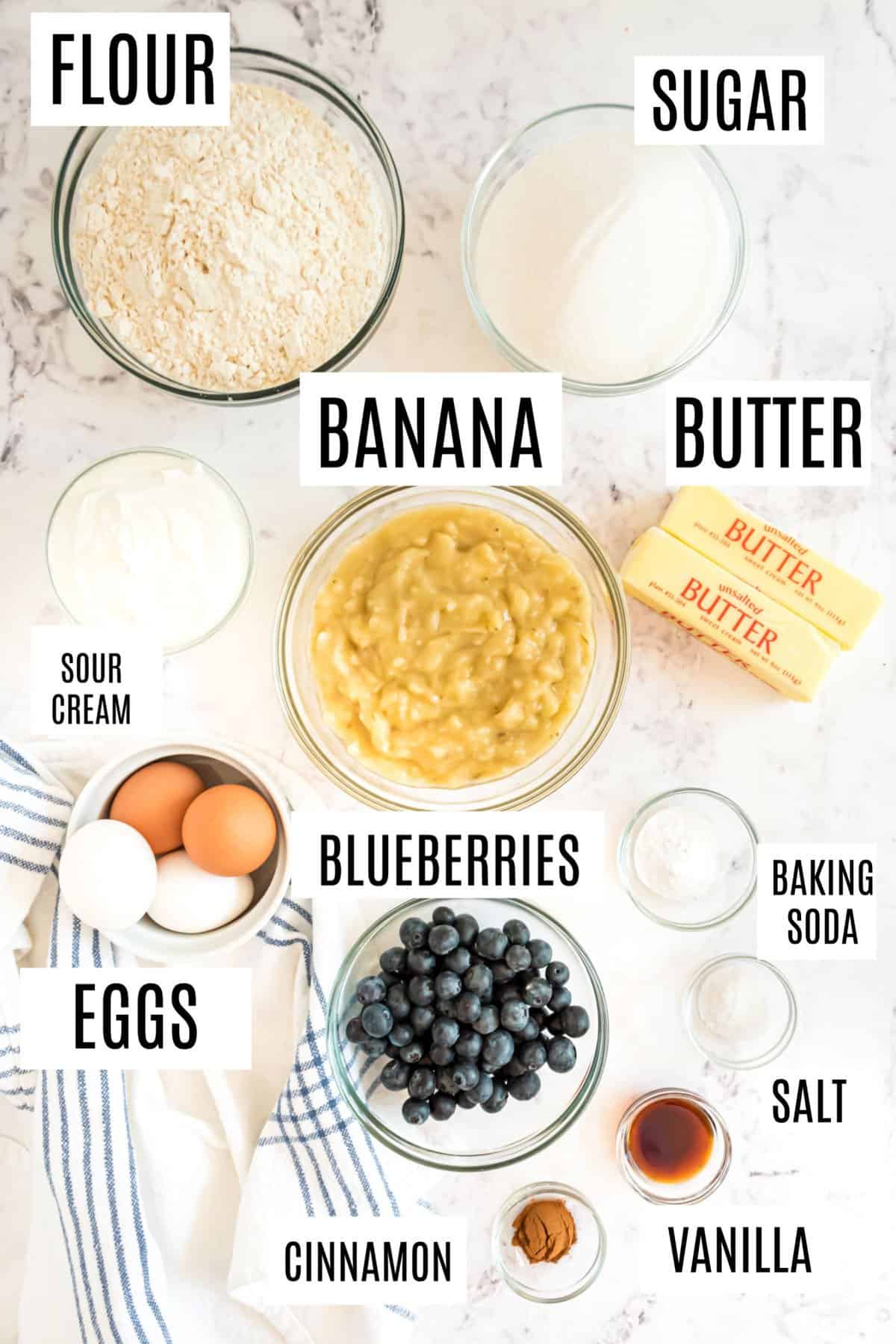 Bananas- Over ripe bananas with speckled or black skins are best for sweet, moist bread. If your bananas aren't ready, use our tutorial on how to ripen bananas in 20 minutes; the same amount of time you need to soften your butter!
Blueberries – You will need fresh, not frozen blueberries. Make sure they are patted dry with any leaves or stems removed.
Butter- I recommend unsalted butter softened for about 20 minutes to reach room temperature. If using salted butter, omit the extra kosher salt in the recipe.
Sugar- This quick bread has plenty of granulated sugar to enhance the sweet banana flavor. For a tasty twist, substitute half of the regular sugar for my homemade vanilla sugar.
Sour Cream- Full fat is best. If you need to, use a plain Greek yogurt instead.
Vanilla extract – Use a pure vanilla, not imitation flavoring for best taste. I love my homemade instant pot vanilla extract in this blueberry banana bread.
Easy To Make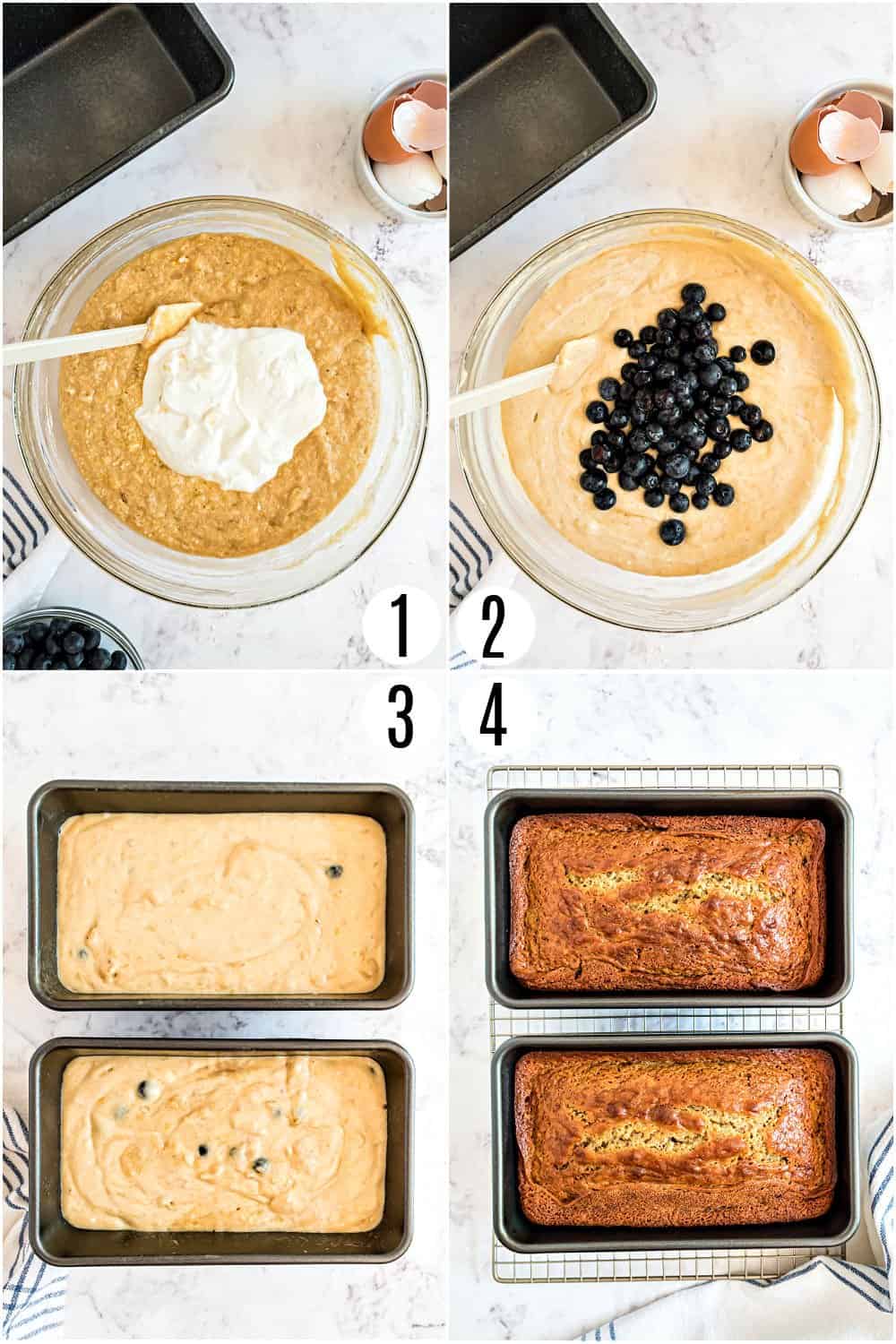 Making blueberry banana bread is easy as can be.
Mash up your bananas, then mix together a simple banana bread batter. Fold in sour cream, then the blueberries. Divide the batter into two loaf pans, bake and let cool.
Now you can slice and enjoy it right away or store it for later.
Tips and Tricks
Freezing: To freeze banana bread, wrap the cooled loaf tightly in foil or plastic wrap. Then slide it into a ziploc freezer bag, seal and freeze for up to 3 months. Let frozen bread thaw on the counter in the bag overnight.
Storing: I think this bread actually tastes even better the second day. Wrap cooled fresh bread in foil or store it in an airtight container at room temperature for up to one week.
Mashing bananas: Use a potato masher, an electric mixer or even a strong fork to mash your bananas before adding to the batter. If they're ripe enough they should mash easily with few (if any) lumps.
Icing: Use our guide on how to make vanilla icing. Perfect for drizzling over this bread!
How to Make Blueberry Banana Muffins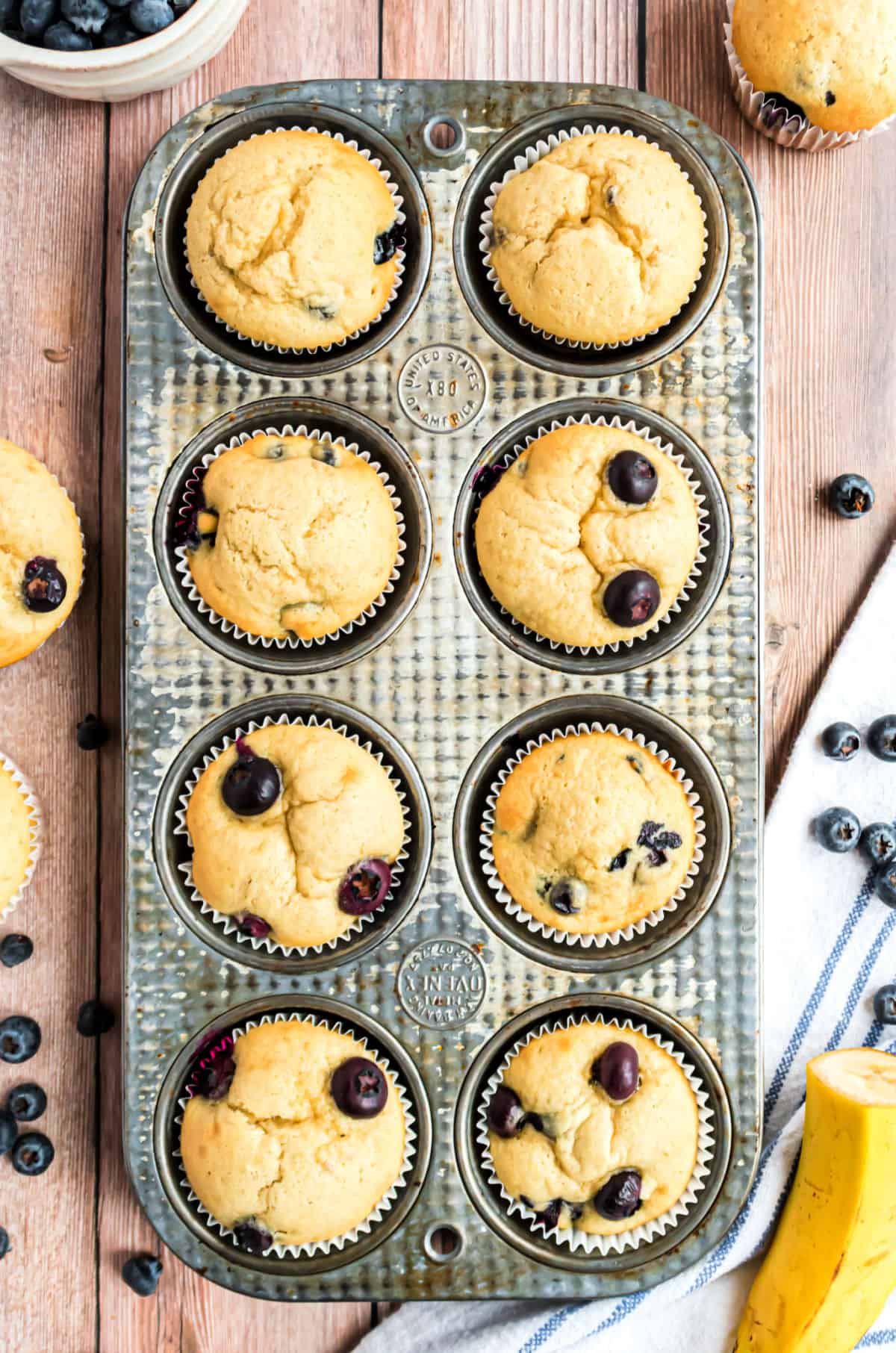 Want to turn this bread into muffins? You'll get about 18 regular size muffins with this recipe!
Preheat oven to 350℉. Line regular sized muffin tin with paper liners or spray with cooking spray. Set aside.
Using a medium sized cookie scoop, fill each well about 2/3rds full. Top each muffin with 2-3 blueberries.
Bake for 18-20 minutes or until the tops have browned.
Remove from the oven and cool in the pan.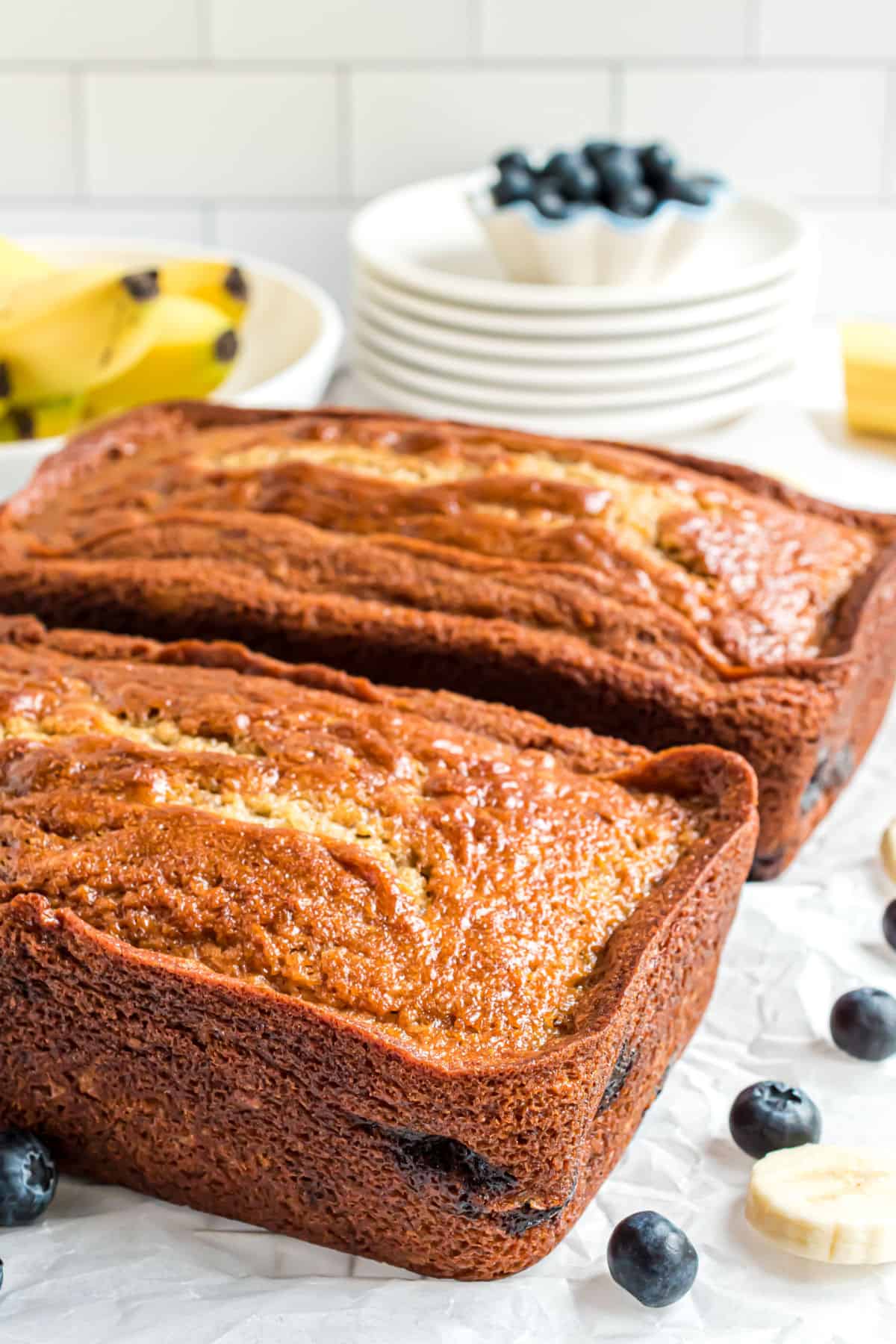 Recipe FAQs
What can I substitute for sour cream?
Full fat plain yogurt can be substituted for the sour cream in our banana bread recipes. Make sure to choose an unsweetened and unflavored yogurt so it doesn't affect the taste of your finished bread.
Can I use frozen blueberries?
I don't recommend making this bread with frozen blueberries. They release more moisture into the batter as they bake which changes the consistency and appearance of the bread.
If you're looking for a recipe with frozen blueberries, try our Blueberry Muffins!
More Banana Bread Recipes
Blueberry Banana Bread recipe packed with flavor. You'll love a slice of this moist banana bread with your morning coffee.