Delicious and moist, this Nutella Swirled Banana Bread is begging to be made! It freezes well too!
Be sure to sign up for my email…new recipes in your inbox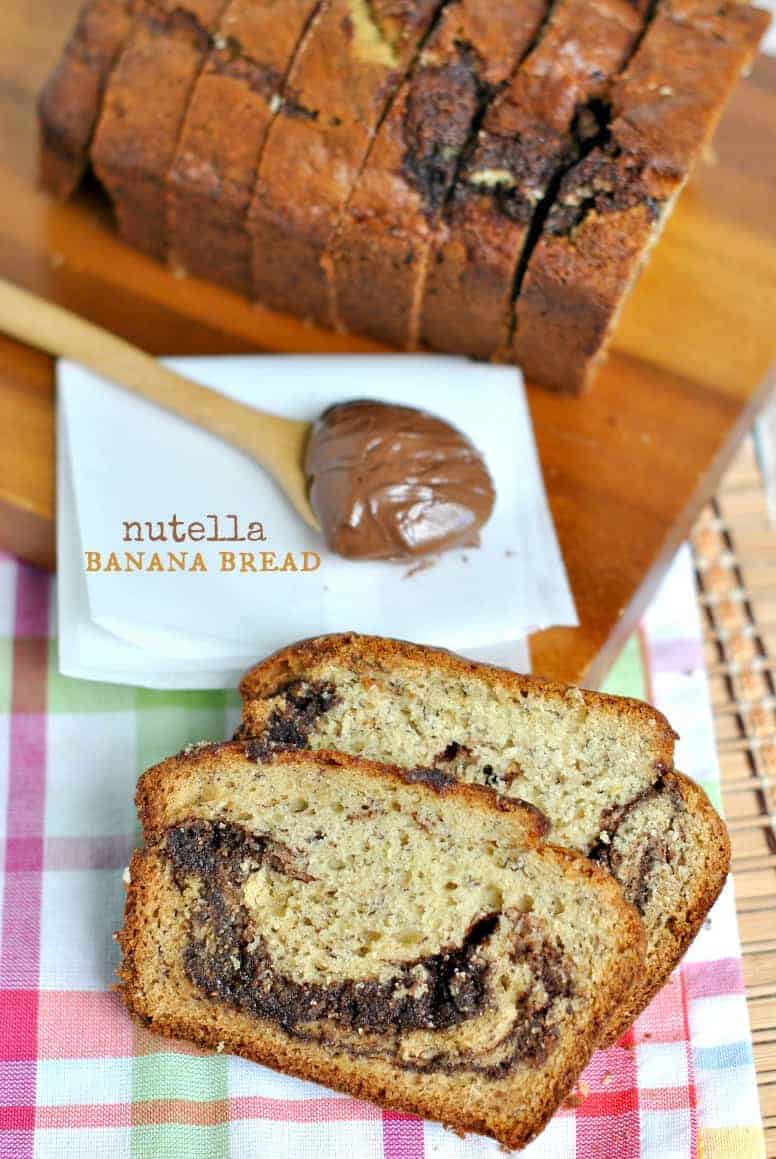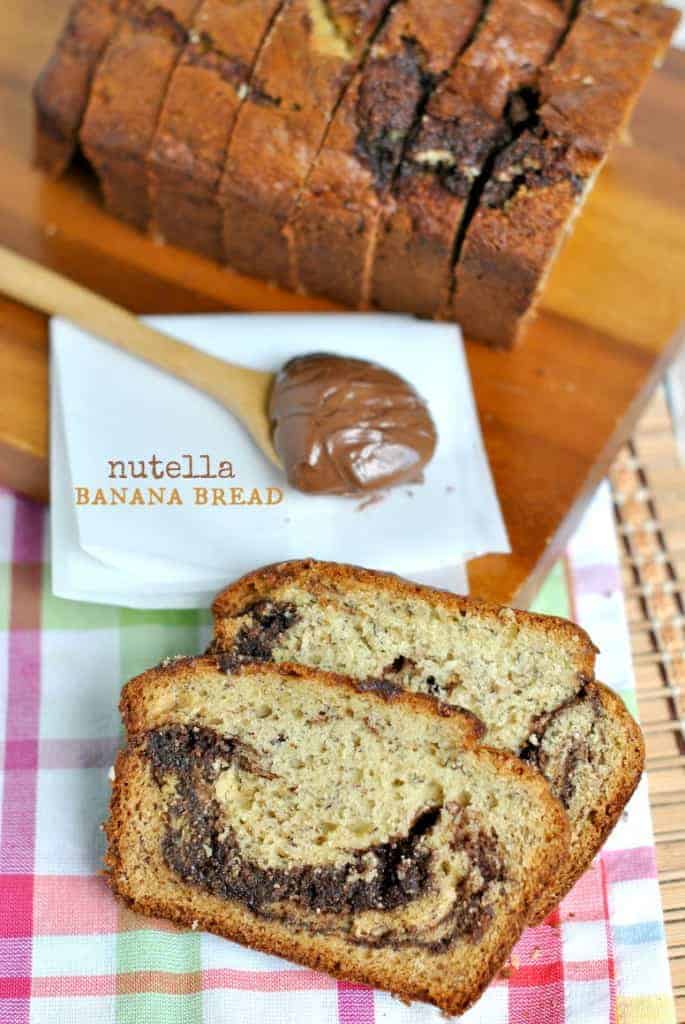 I may have mentioned this once or twice, but I love Nutella. And banana bread. And pretty much anything that goes well with a hot cup of coffee.
Baking up this bread is so easy, and I think you will LOVE that it makes two loaves. One to enjoy now. One to enjoy later (it freezes well!). Or give a loaf to friend. Or family member. Or teacher.
Speaking of teachers, I should probably send in a loaf to my 5th graders teacher ASAP. Our new house is across the way from the school, and while I sit on my back deck enjoying a cup of coffee and slice of this bread I can hear the kids at recess. Yelling, screaming, laughing. And I know my child is in the mix…yelling, screaming, laughing. Hopefully burning off some of the excess sugar from the lunch I packed.
Actually, I don't pack my kids lunches. Cause that's what good moms do. Or moms with time on their hands in the morning. Nope not me. I set the guidelines (main course, fruit or veggie, snack, treat, drink) and they pack their own lunches. For the most part they are pretty good at it. Occasionally I have to intervene and remove certain items.
I definitely don't make those cute little Bento boxes you see on pinterest. The ones with all healthy foods. Cut into cute shapes. Yeah. No. My kids would need about 3 boxes a piece to fill up on, no joke…they eat a lot! Plus, seriously, do you make those the night before? Cause I have zero time in the morning to cut cucumbers into turtle shapes.
But they do get to enjoy slices of Nutella Banana Bread in their lunch. I tend to count it as the "treat" of a lunch…but my oldest daughter tends to think it's a main course (I secretly like the way she thinks, don't tell her though)! I guess she has watched too many Nutella commercials. And duh, bananas! Oh well. Whichever category you decide this bread falls into, enjoy eating it!
I'm sharing this recipe over at Food Fanatic today. Normally I'm the candy contributor, but they allow me make real food too sometimes. And I think Nutella Banana Bread definitely falls into the REAL FOOD category….real food you must eat now!