Delicious and moist, this Nutella Swirled Banana Bread is begging to be made! It freezes well too, so make one loaf to eat today and another to stash away in the freezer for a rainy day.
If you love Nutella, try our easy no bake nutella cookies. Readers LOVE our nutella blondies, if you're looking for a new treat!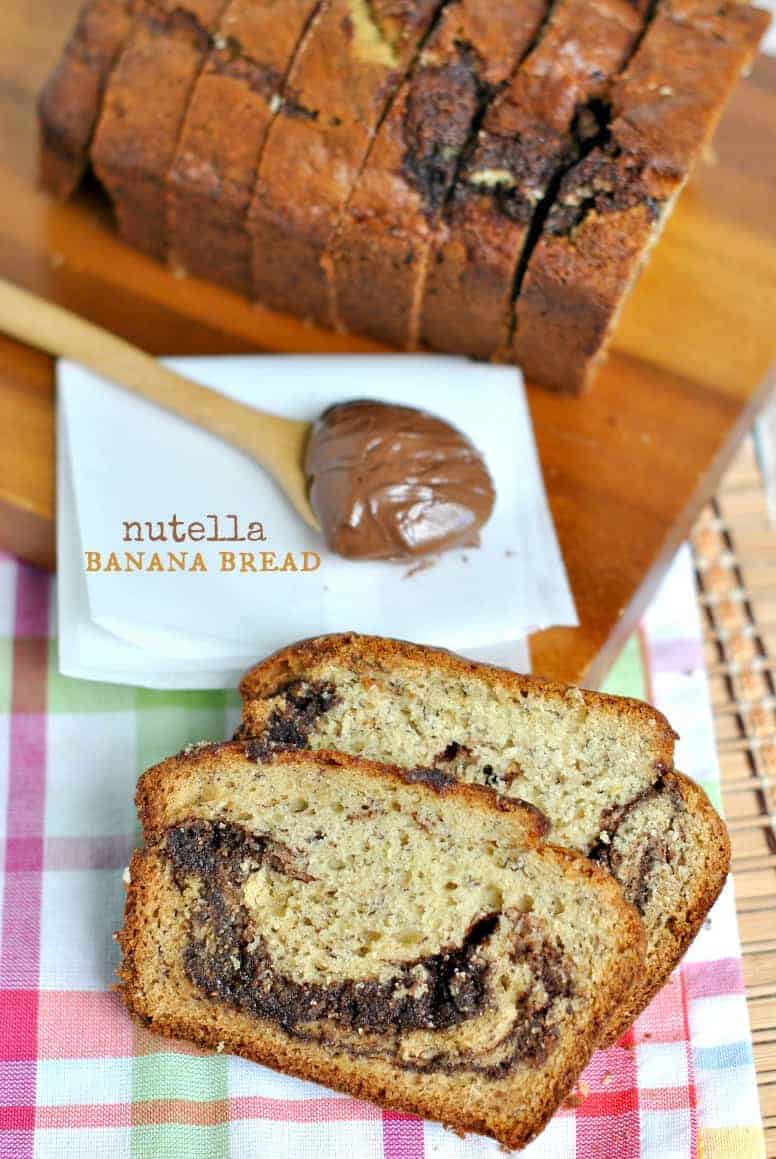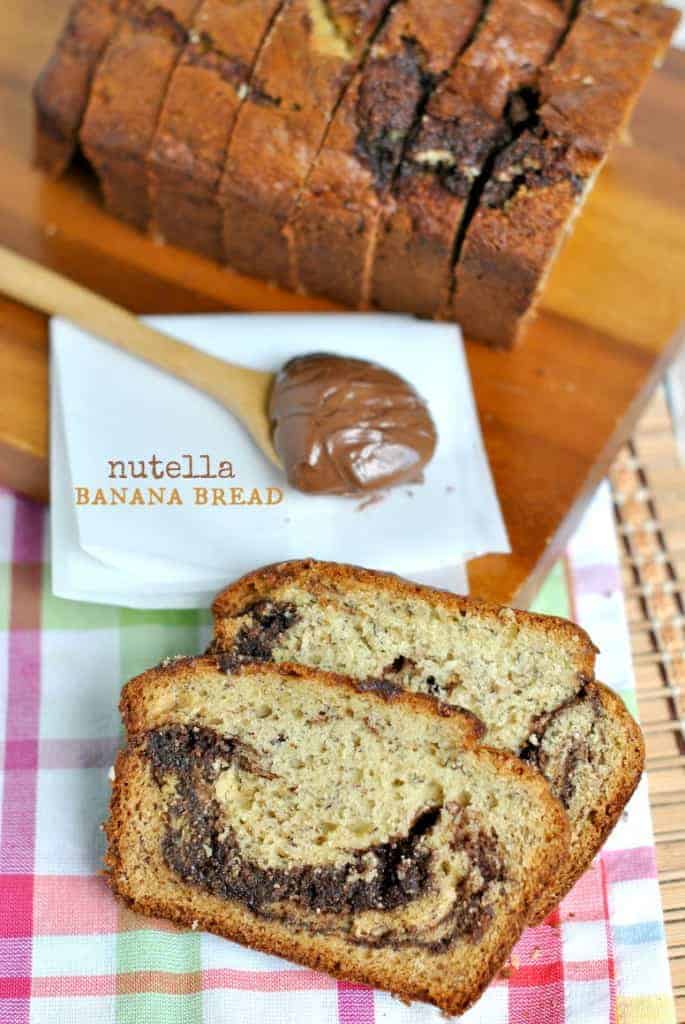 Why this Recipe is Best
A good loaf of banana bread is hard to beat. A moist crumb, rich banana flavor and the perfect amount of sweetness make banana breads an enduring favorite.
Over the years, I've made more than my fair share of variations like Chocolate Chip Banana Bread and Coconut Banana Bread. But this time, I went a little bit sweeter, a little more indulgent and a whole lot nuttier!
Nutella Banana Bread takes the silky hazelnut chocolate spread and swirls it into a classic quick bread. You can make the batter in just one bowl and, an hour later, have a perfect loaf to slice and enjoy (or freeze).
A little more dessert-like than your average banana bread but not as sweet as a cake, this loaf is guaranteed to satisfy all of you chocolate lovers!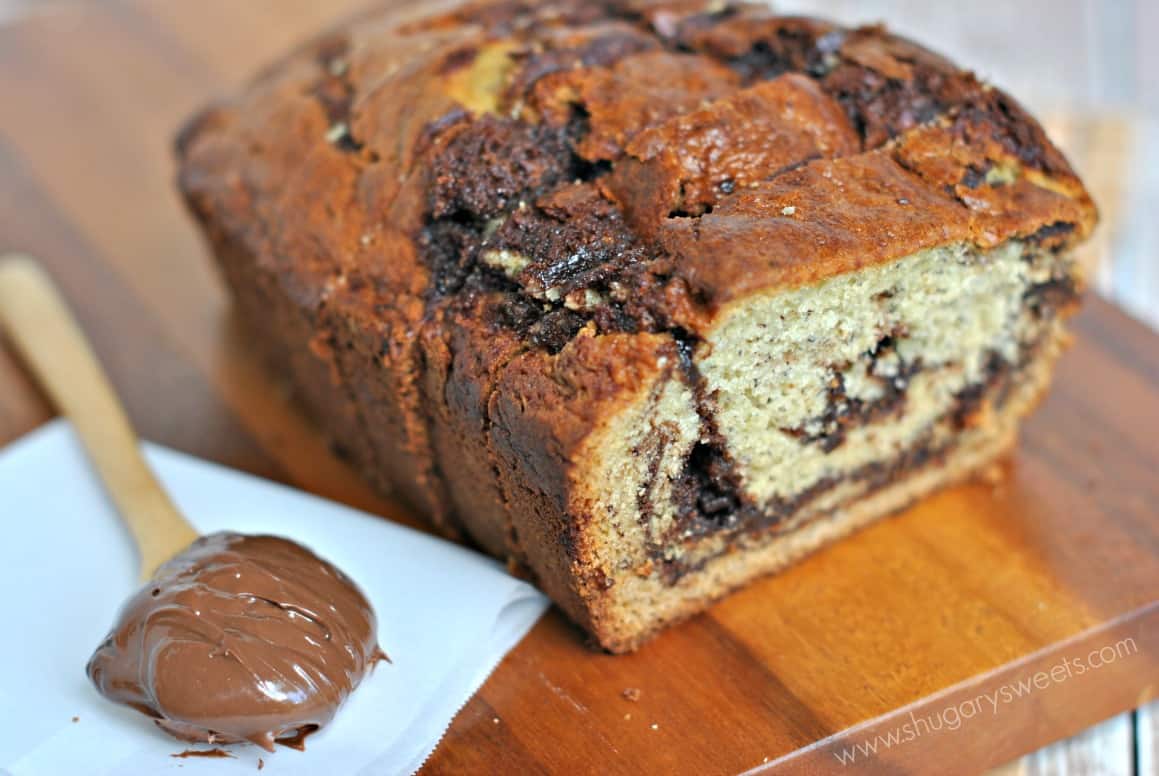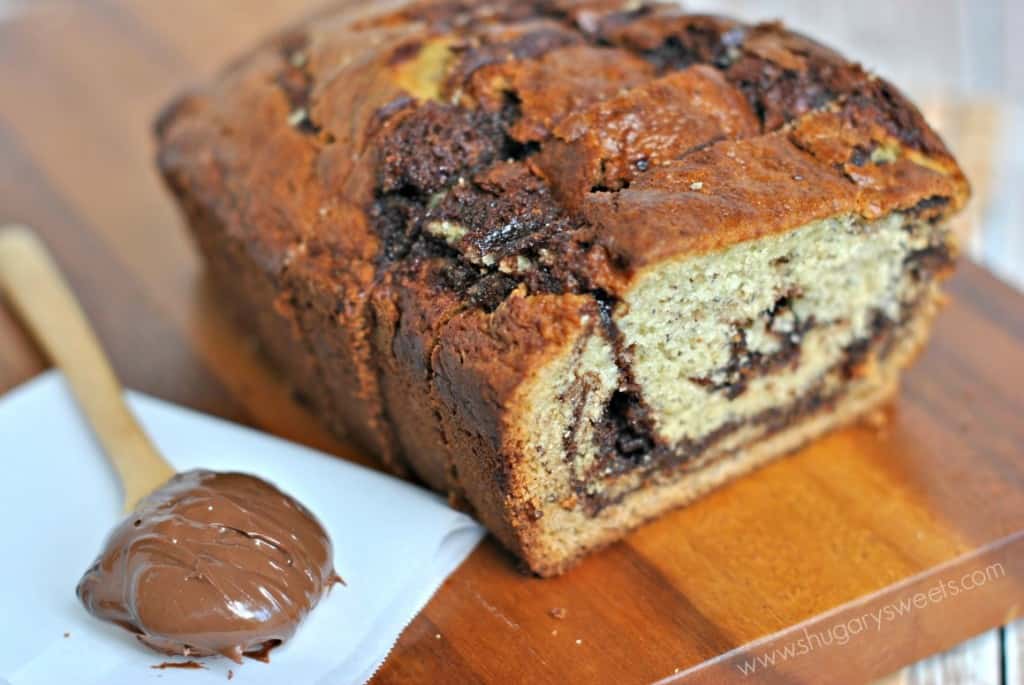 Ingredient Notes
Bananas – The riper your bananas are, the better (short of being rotten, of course). I often buy extra bananas when I grocery shop so I have an excuse to make banana bread later! Use our guide on how to ripen bananas in MINUTES.
Nutella – This spread is made from a blend of hazelnut and chocolate. For a peanut butter version, you can sub a chocolate-swirled peanut butter or your other favorite nut-butter-and-chocolate-spread.
Butter – I use unsalted butter to control the salt in my finished bread. If you need to use salted butter, that's okay; just cut back on the added salt in the recipe a little.
Tips and Tricks
I've added the Nutella to the banana bread batter in two different ways with good results:
Swirl the nutella directly into the batter before adding it to the pan.
OR
Add a the batter and nutella to the loaf pan in layers, then swirl.
For the second method, I add a few spoonfuls of bread batter to the bottom of my pan first, then add a scoop of nutella on top, swirl and repeat.
Both ways turn out well but the second method tends to give you bigger swirls of nutella while the first method makes the nutella more incorporated. Whichever approach you use, be sure to just lightly swirl the nutella with the batter. You don't want it to get totally absorbed by the banana bread.
One more tip: Before adding the banana bread batter, line the bottom of a loaf pan with parchment AND spray it with baking spray. This helps keep the finished bread from sticking to the pan and means it'll be easier to turn out on to a wire rack to cool.
Recipe FAQs
How do you store this banana bread?
Keep the fresh loaf in an airtight container at room temperature (sliced or unsliced) for up to 5 days. I find it tastes best if you slice it as you go.
Can you freeze Nutella Banana Bread?
Yes! Wrap your loaf in foil, then in a freezer bag to keep it fresh. Let thaw on the counter or overnight in the refrigerator before eating. It'll stay good in the freezer for about 2 months.
Can you make this with unripened bananas?
I don't recommend it. If your bananas need more time to ripen, you can speed up the process by placing them in a brown paper bag overnight.
The more brown the bananas, the sweeter they are and the more moisture they add to your banana bread. I prefer to use bananas with at least a few brown spots on them!
The only thing better than banana bread is Nutella Swirled Banana Bread. With pretty chocolate swirls, this moist and sweet loaf is a sure fire hit!