Nutella Brownies are a decadent treat you can have in the oven in under 10 minutes. Better yet, their rich chocolate and hazelnut goodness will be filling your belly within the hour. Try these fudgy brownies as the perfect grab-and-go snack for the Nutella lover in your life.
We've got dozens of delicious brownie recipes. From thick and fudgy Oreo Brownies, to gooey Caramel Swirled brownies. There is something for everyone!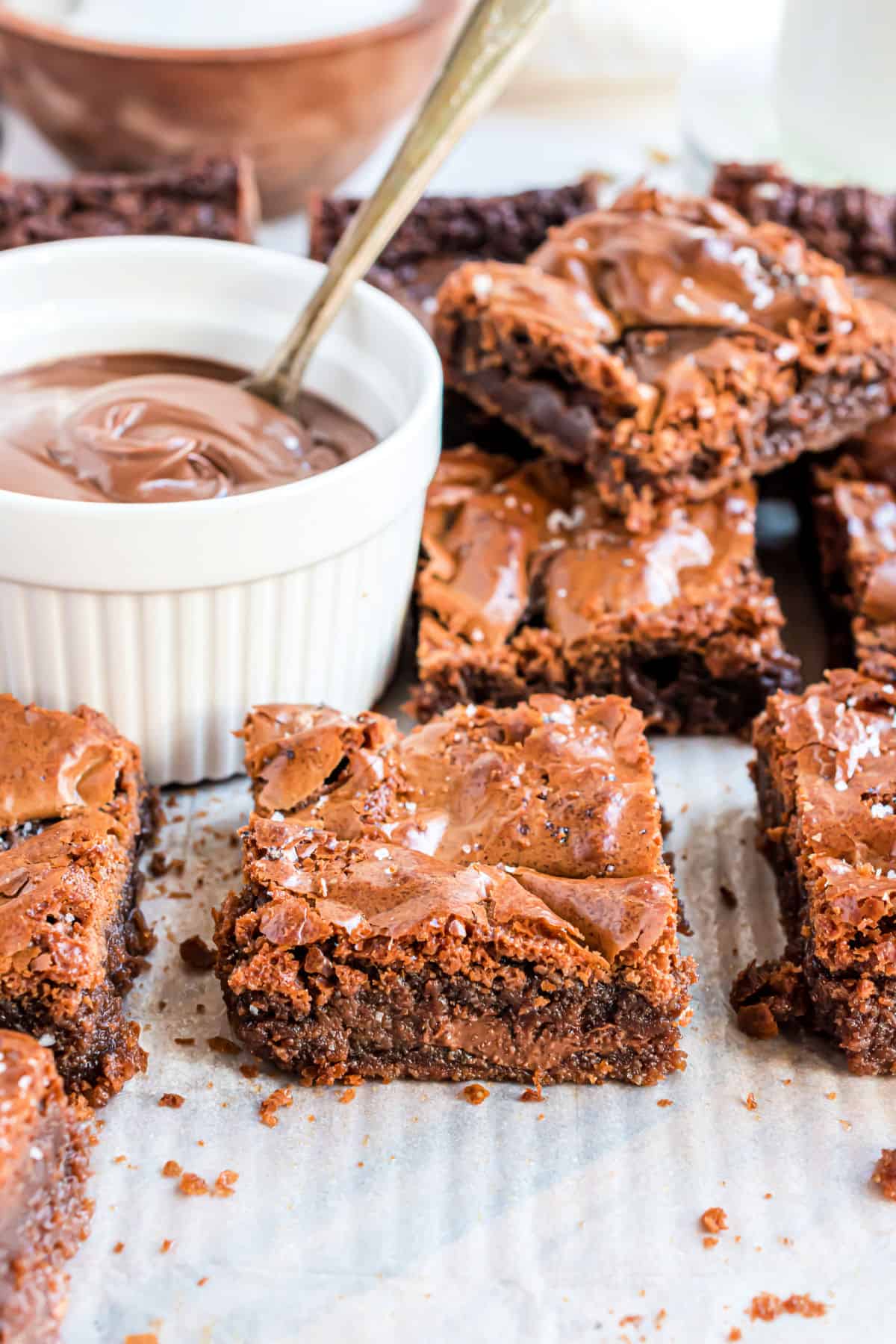 Why You'll Love Nutella Brownies
I wanted to create a dessert where Nutella was the centerpiece (like our nutella cheesecake) rather than only the topping.
And in the end, I decided that my Nutella brownies deserved both. If you're a Nutella lover, this one is for you. And if you're still on the fence, here are a few reasons why I think you should try it,
We started with our basic brownie recipe. This one is our go-to for thick and fudgy brownies.
Ingredient Notes
Easy Instructions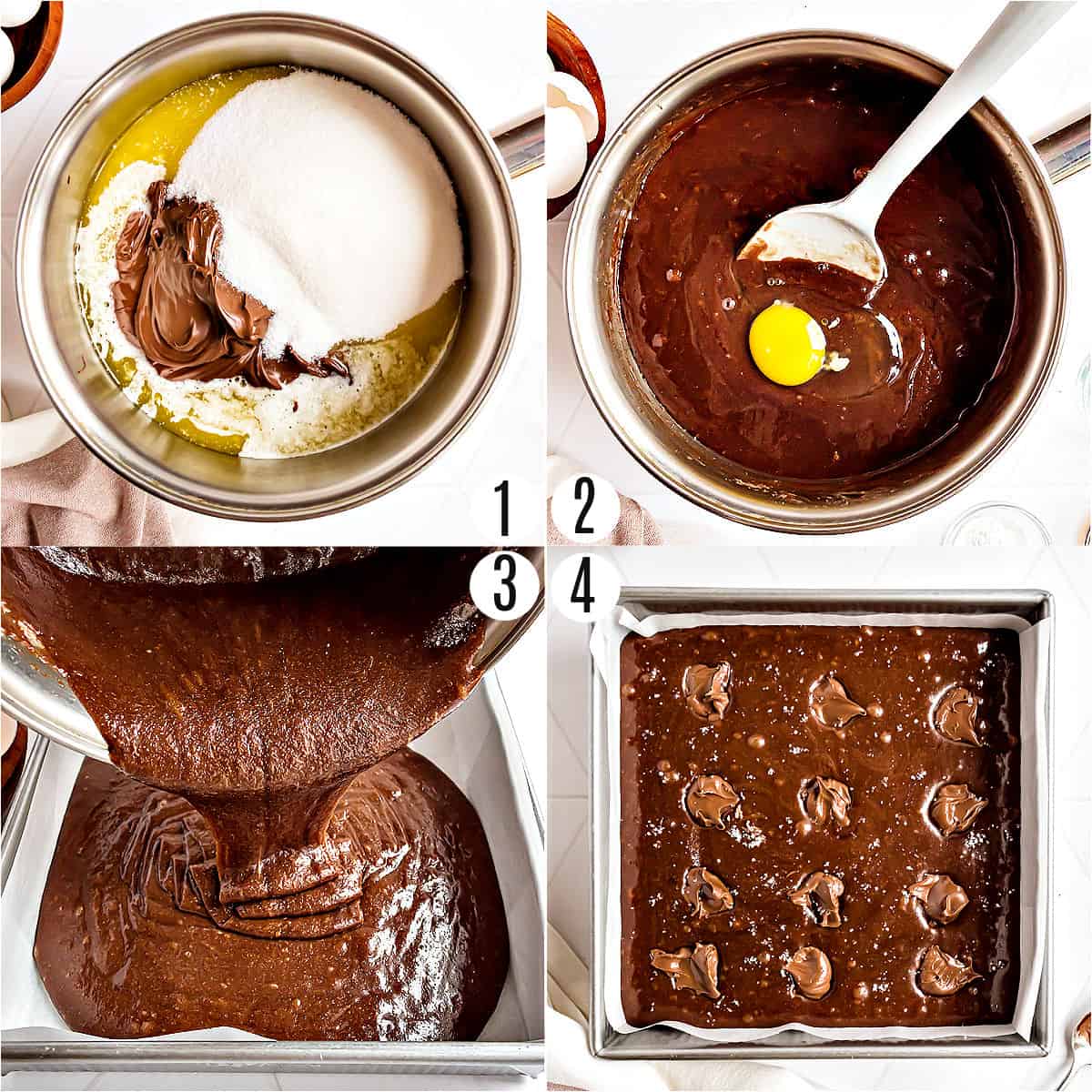 The secret to success with this recipe is adding the ingredients incrementally and in the correct order. The entire process can be completed using a single mixing bowl.
Mix the batter. Melt your butter, and then mix in the Nutella and sugar to combine. Add the eggs one at a time, followed by vanilla extract. Then gradually incorporate the dry ingredients until no dry spots remain. Don't overmix, though!
Bake the brownies. Pour the batter into a lined baking dish. Add a dash of Nutella and a sprinkle of flaked sea salt on the top, then bake. Plan on 40-50 minutes of oven time, and 5 minutes of cooling time on a wire rack.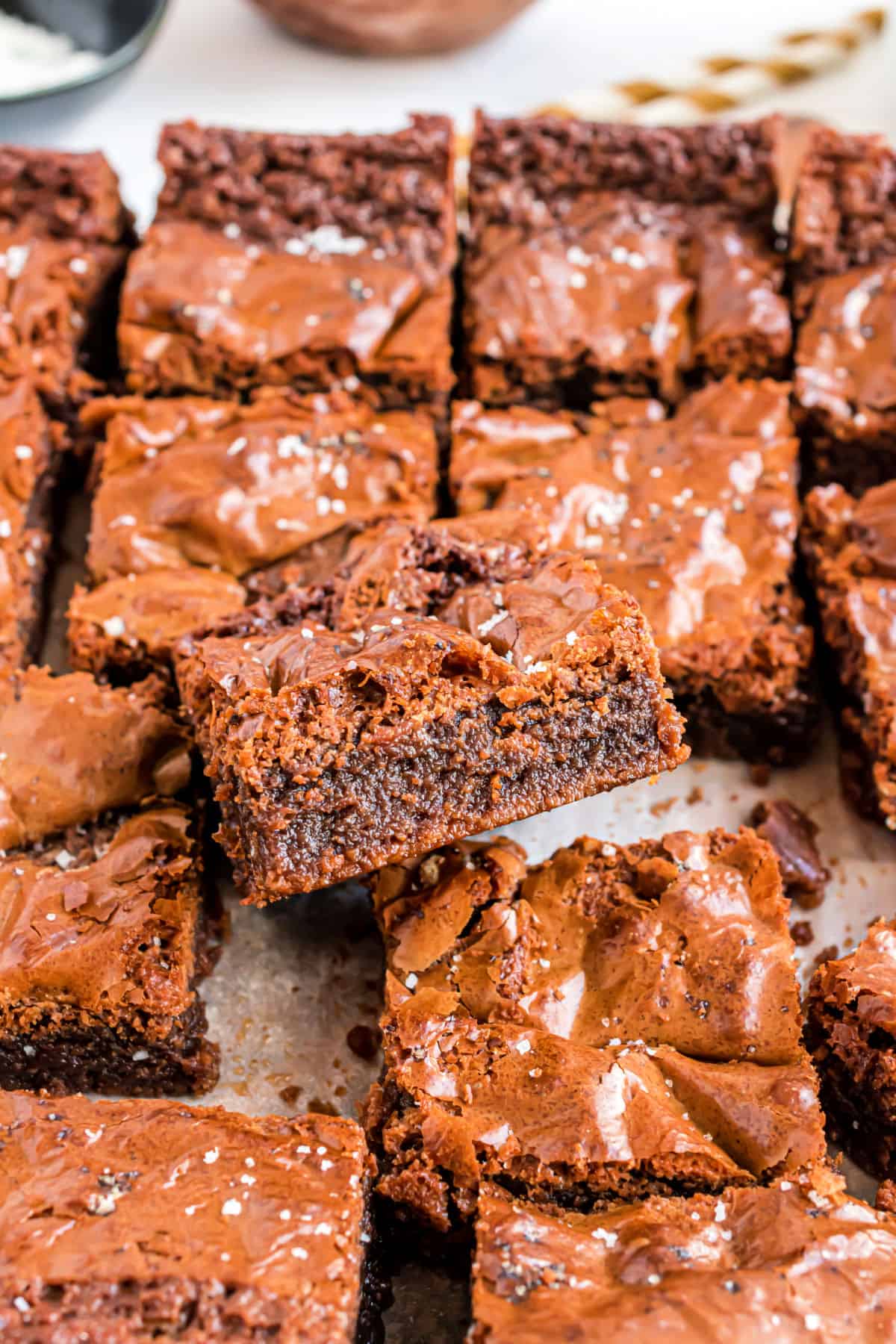 Tips and Tricks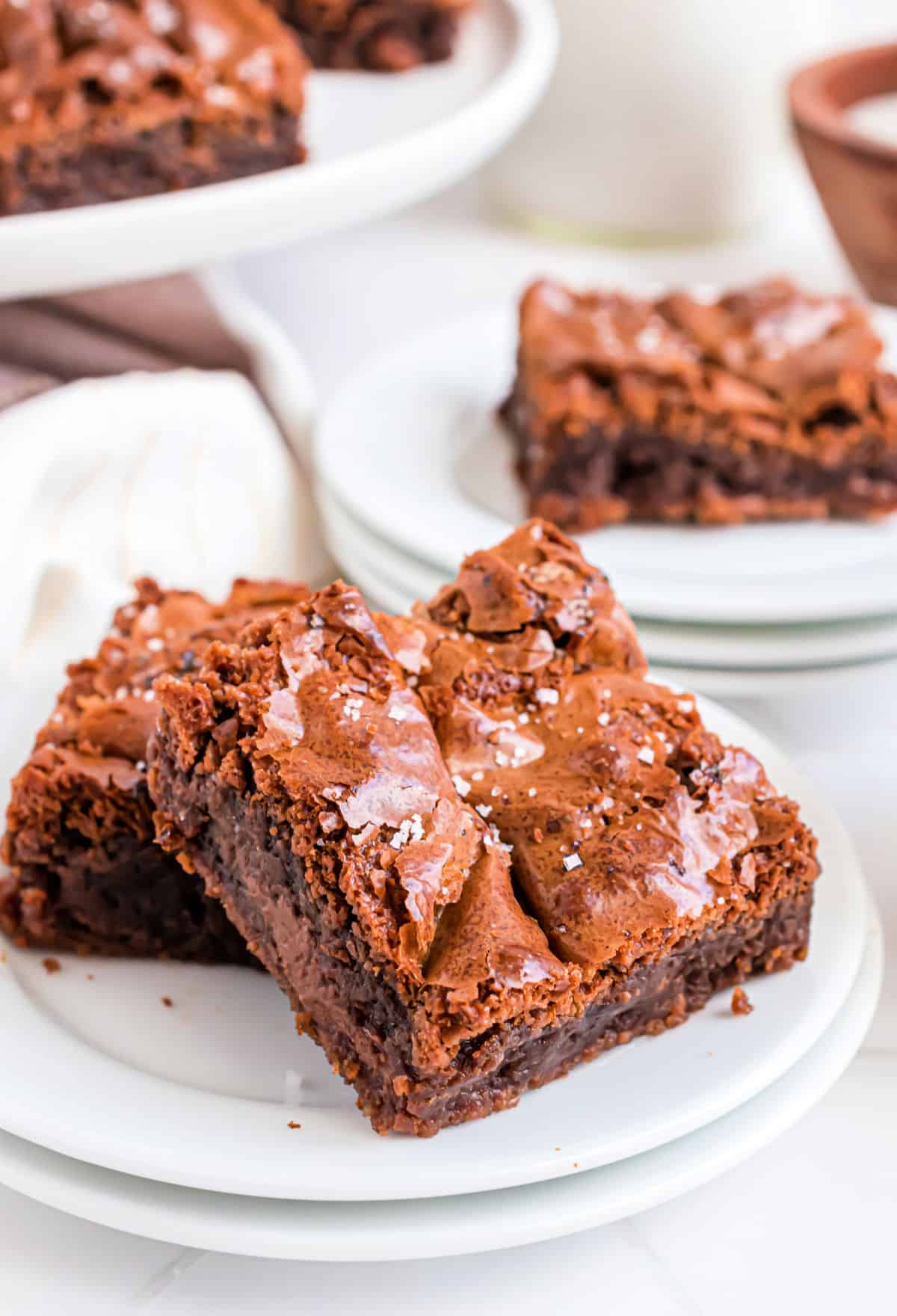 Serving Suggestions
You can serve the brownies on their own.
Or make a brownie ice cream sundae with melted Nutella or our homemade chocolate syrup, whipped cream, chopped nuts, and scoops of vanilla ice cream.
Recipe FAQs
How should I store Nutella brownies?
You can keep these brownies in an air-tight container at room temperature for up to a week. To keep them longer, store them in the freezer. Cut the brownie into pieces and store it in a freezer-safe container for up to 3 months.
Can I adjust the consistency of the brownies?
This brownie recipe can make thick and gooey brownies or fully cooked ones. Bake them in the oven for 40 minutes to make them gooey and thick. To cook them all the way through, keep them in the oven for 45-50 minutes. Either way, make sure you cool them completely before cutting them into pieces. 
Can I cut and serve the brownies when they are warm?
If you're not concerned with their appearance and cutting neat pieces, you can dig in while it's warm. Use a plastic knife for best results. To achieve neat edges I'd recommend waiting for the brownies to cool down completely before you cut into them. You can still warm them by heating the cut brownies in the microwave for a few seconds.
How many brownies does this recipe make?
This recipe yields 9 large brownies when cut as 3-inch squares. Cut smaller pieces and get up to a dozen pieces. You can also cut bite-sized pieces to serve on a dessert board or party platter.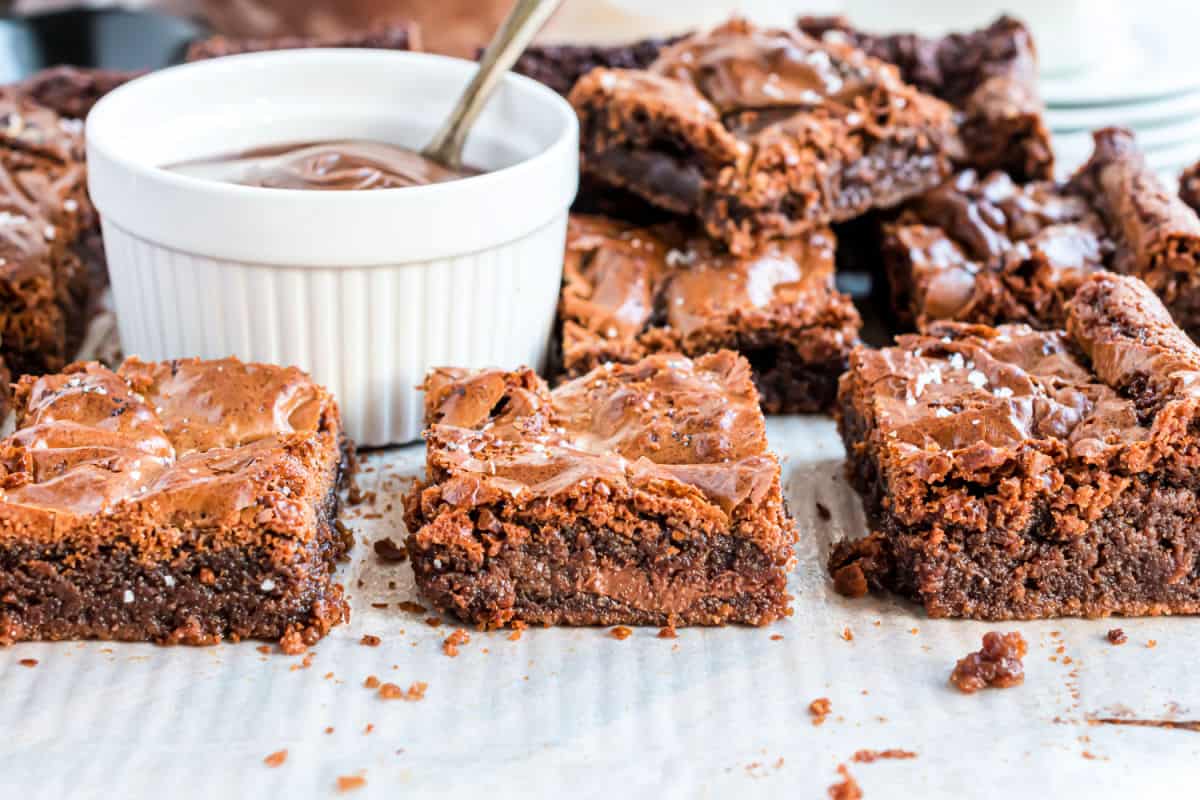 More Brownie Recipes