Rich, chewy Chocolate Chip Brownies made with melted chocolate and cocoa powder. Top them with extra chocolate chips just before baking, and they're sure to satisfy the most intense cocoa craving!
If you love baking brownies, and adding in some mix-ins, our Oreo Brownies are loved by kids and adults. Or give our easy M&M Brownies a try soon.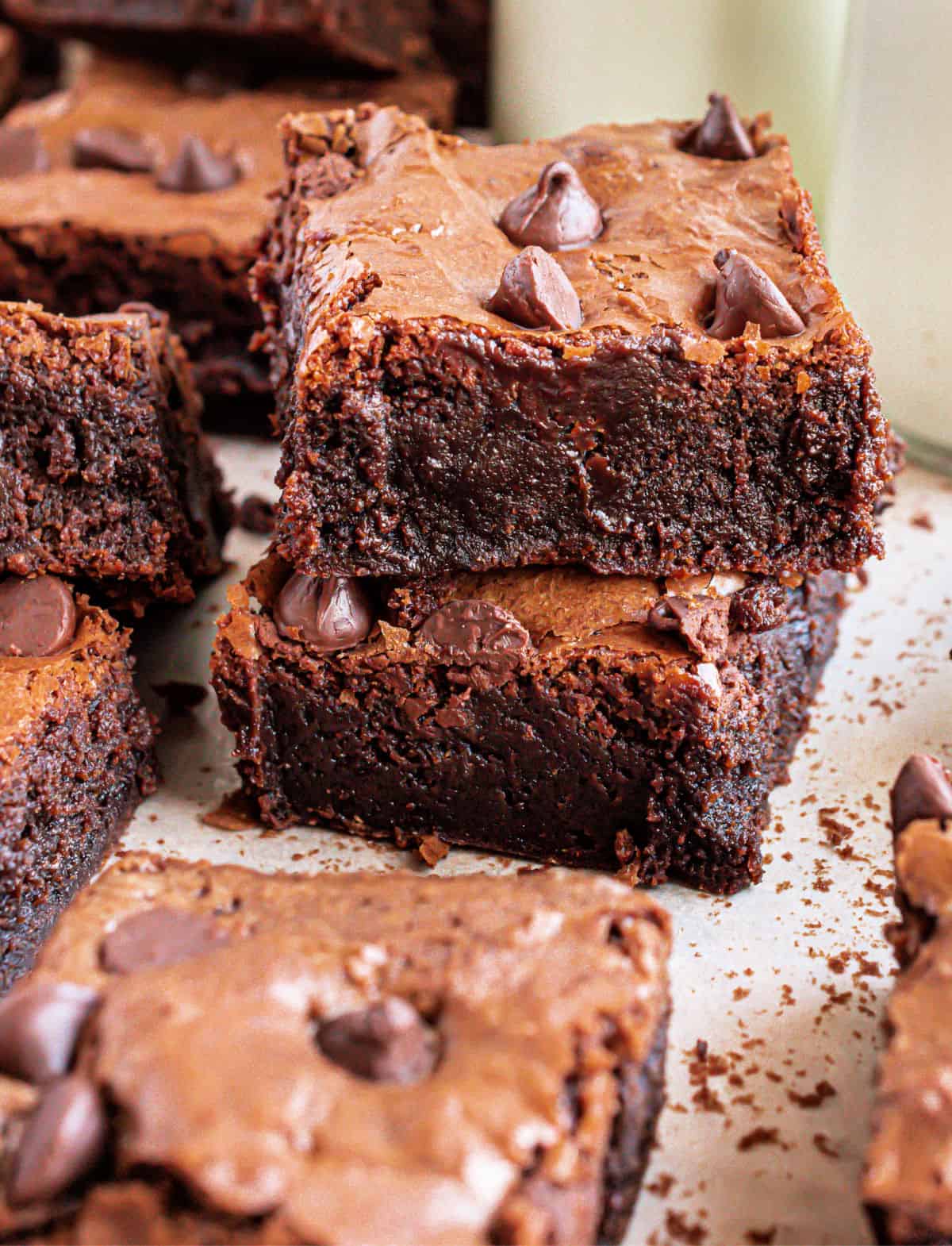 Why This Recipe Is the Best
I used to swear by boxed brownies. I mean, they're easy and turn our fudgy, most of the time. But guess what?
Our classic brownie recipe is hands down better than anything you'll find. It's thick and fudgy and you'll only dirty one saucepan while making them.
We took that reader favorite recipe, and made it even better with chocolate chips.
If you love our chocolate chip brownies, you'll have to try this simple frosted brownie recipe. We added a delicious chocolate frosting to make them even more decadent.
Ingredient Notes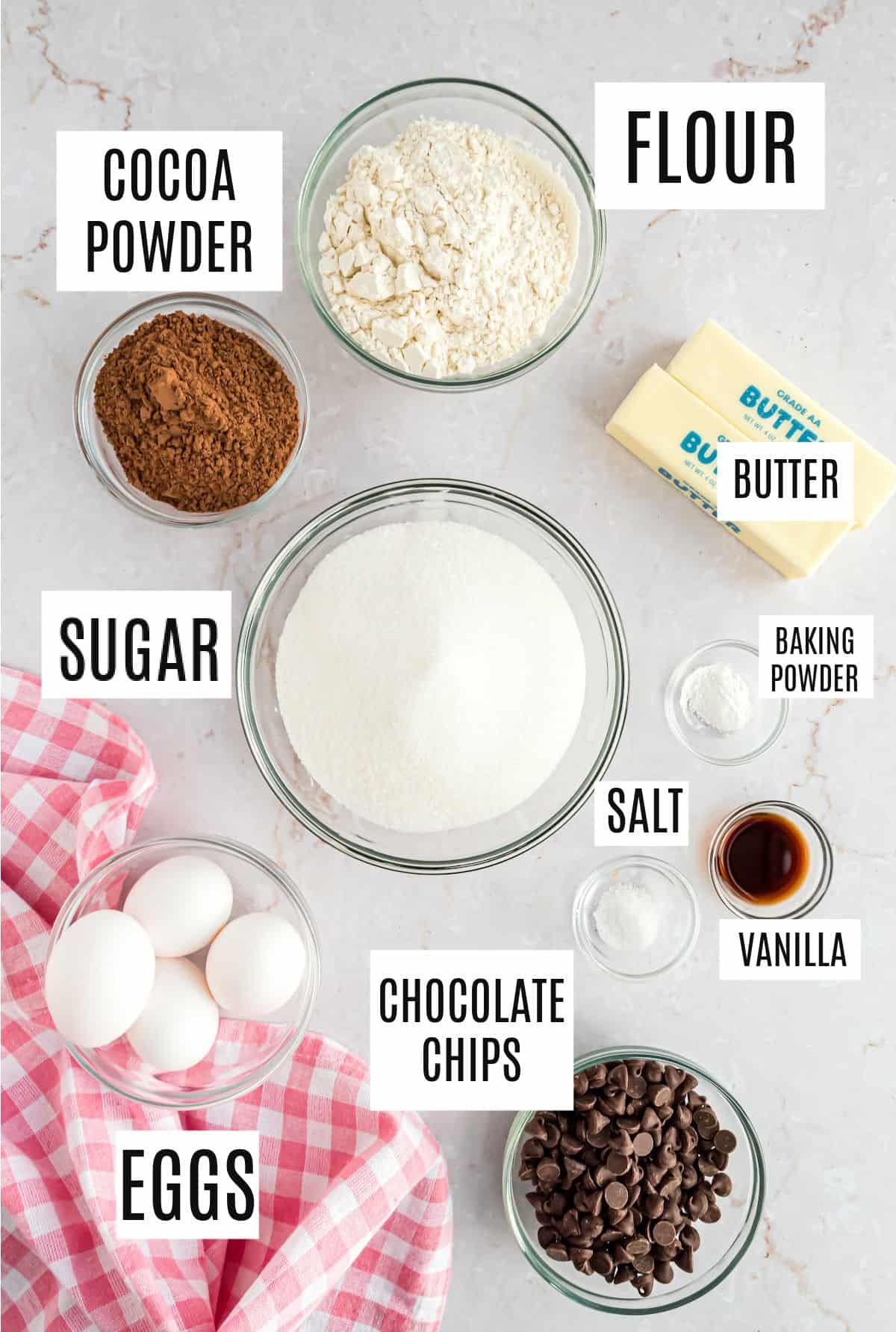 Easy Instructions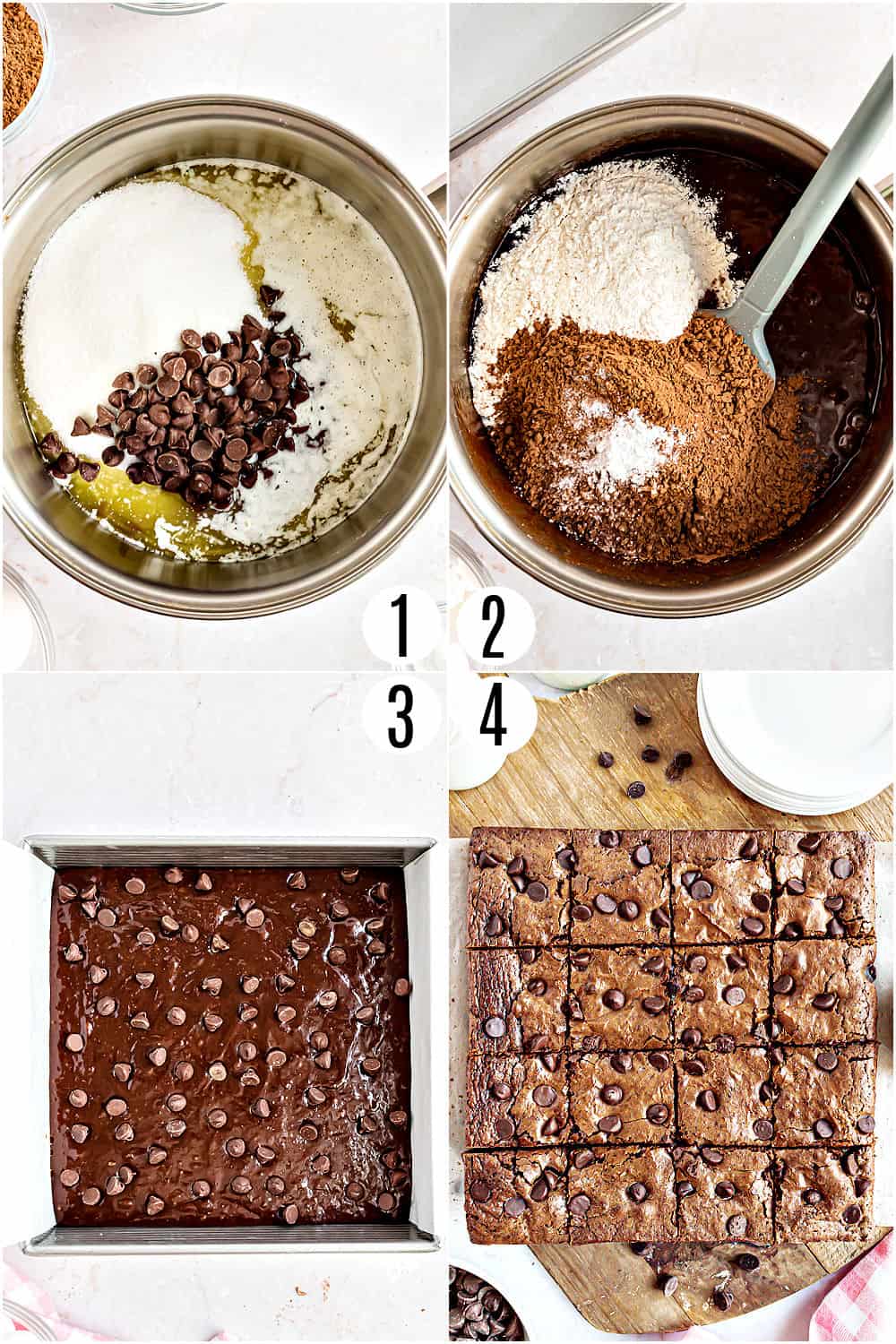 Prepare your pan. Line a 9-inch square baking dish with parchment paper and set aside. 
Melt the butter. In a medium saucepan over medium heat, melt the butter then remove from the heat. 
Add the chocolate and sugar. Add the sugar and a ½ cup of the chocolate chips to the hot melted butter. Stir until the chocolate is fully melted.
Add eggs and vanilla. Add in the eggs one at a time, mixing thoroughly after each addition. Then stir in the vanilla.
Add the dry ingredients. Add the cocoa powder, flour, salt, and baking powder. Use wide strokes to incorporate the dry into the wet until just mixed. 
PRO TIP: Don't beat or overmix at this point. Mix just until there are no patches of dry ingredients. This keeps the brownies rich and tender instead of dry and cakey.
Add the chocolate. Fold in ½ cup of chocolate chips. 
Pour, sprinkle, and bake. Pour the batter into the prepared 9×9 baking dish. Sprinkle with the remaining ¼ cup of chocolate chips and bake for about 40 minutes in a 350°F oven. 
PRO TIP: If you like thick and gooey brownies, cook them for 35-40 minutes. If you prefer them cooked through (and not gooey at all), increase the baking time to 45-50 minutes.
Cool, cut, and enjoy! Remove the brownies from the oven and cool them completely before cutting.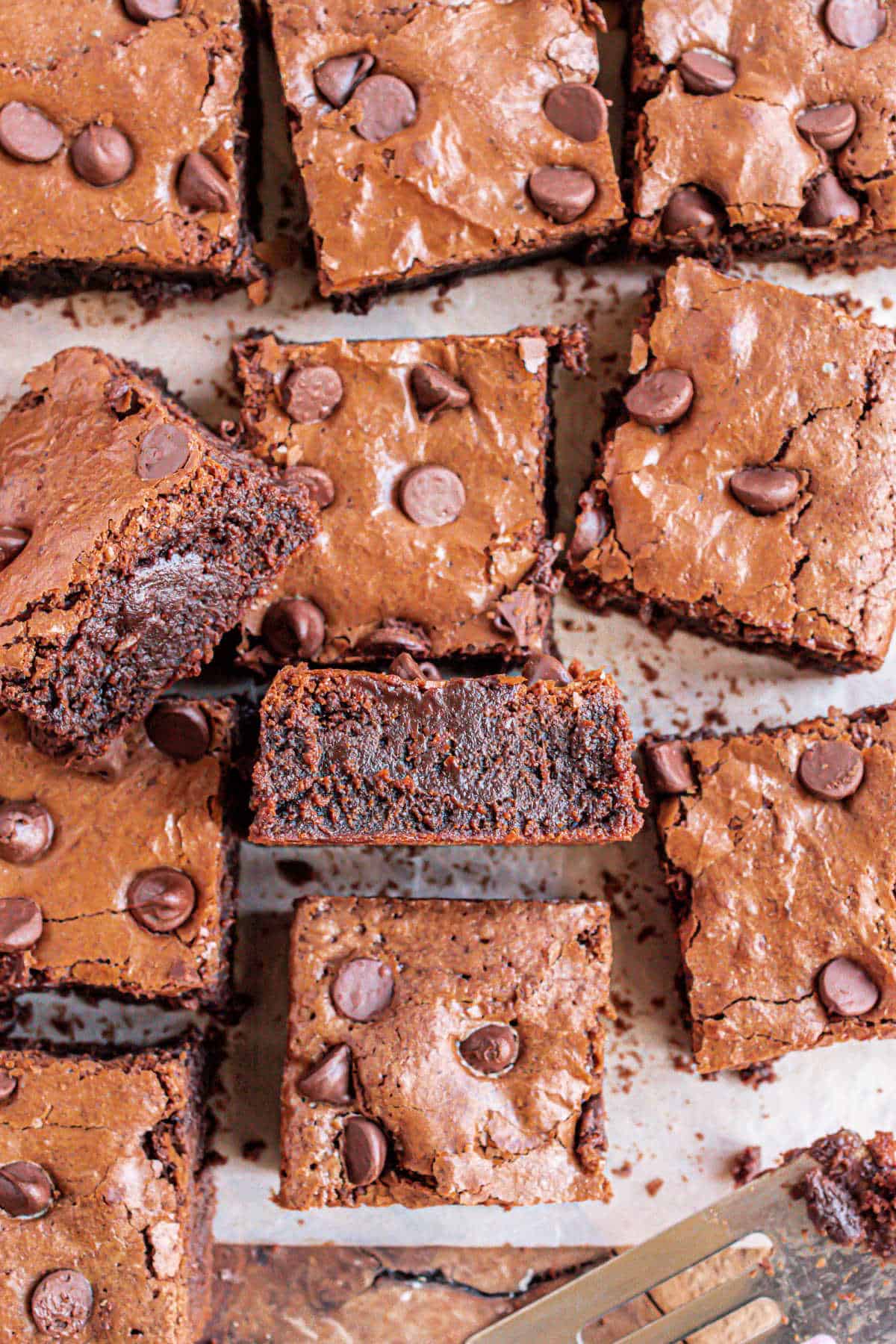 Tips & Tricks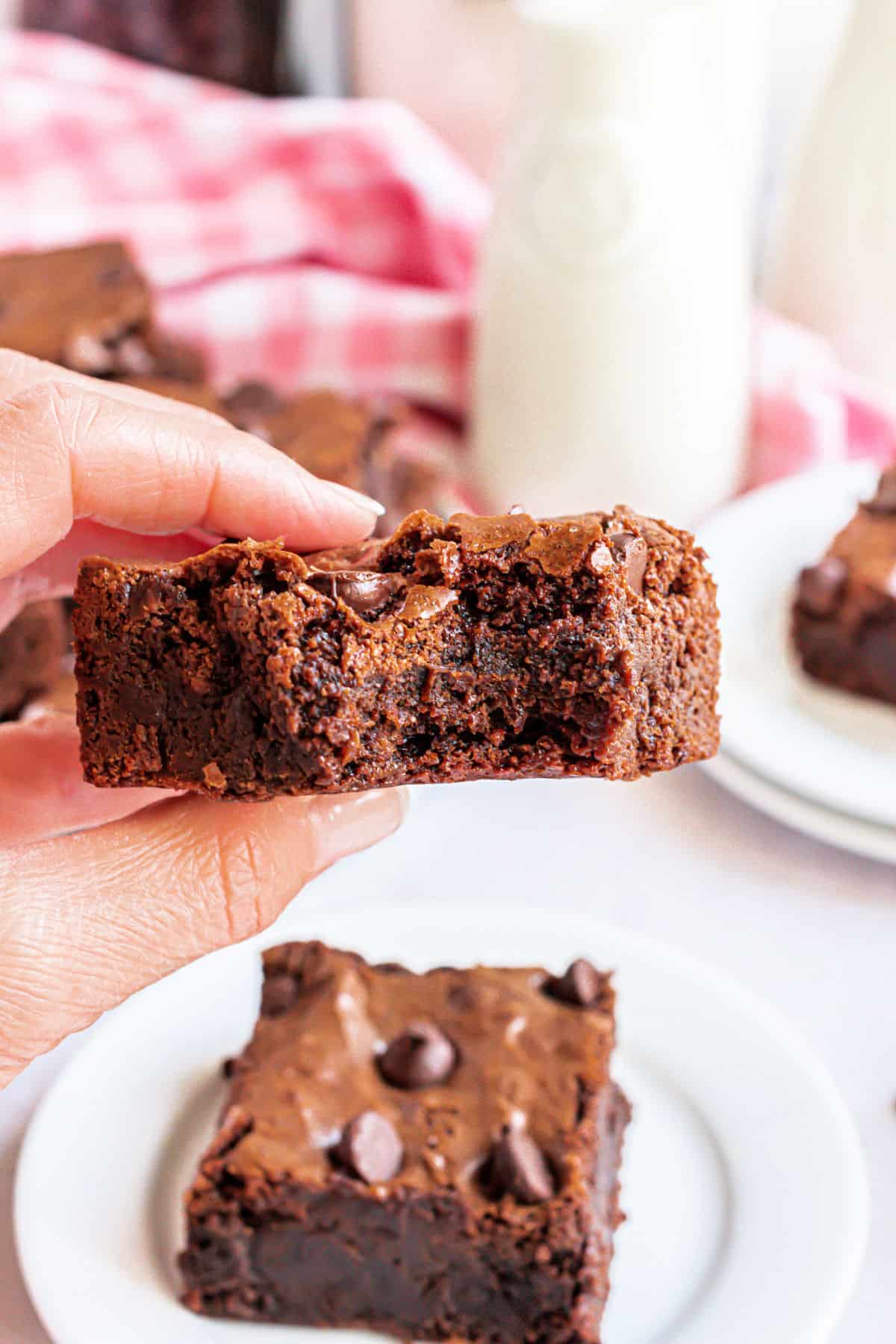 Recipe FAQs
Do I need to refrigerate brownies?
Nope! You can store these brownies in an airtight container at room temperature for up to a week. 
Can I freeze Chocolate Chip Brownies? 
These brownies freeze very well. Once completely cool, double-wrap the whole tray in plastic or wrap them individually. Then place them in an airtight freezer-proof container and freeze for up to 3 months.
Is it possible to add whole grains to these brownies?
To add whole grains, substitute the all-purpose flour with white whole wheat flour. White whole wheat is lighter in texture than whole wheat but still contains the whole grain!
Can I top these with something different, like peanut butter chips?
Yes, you can substitute the ½ cup of chocolate chips that are folded into the batter and the chocolate chip topping. However, don't sub out the chocolate chips that get melted with the butter since that helps create the brownie batter.
More Chocolate Recipes