Thick and fudgy chocolate M&M's Brownies packed with candies and chocolate. Use your favorite version of M&M's for festive flavor twist.
Love M&M's candies? Try this delicious M&M'S Cookie Bars for a chocolate chip cookie dessert. Or make our delicious M&M's Fudge recipe for a holiday treat.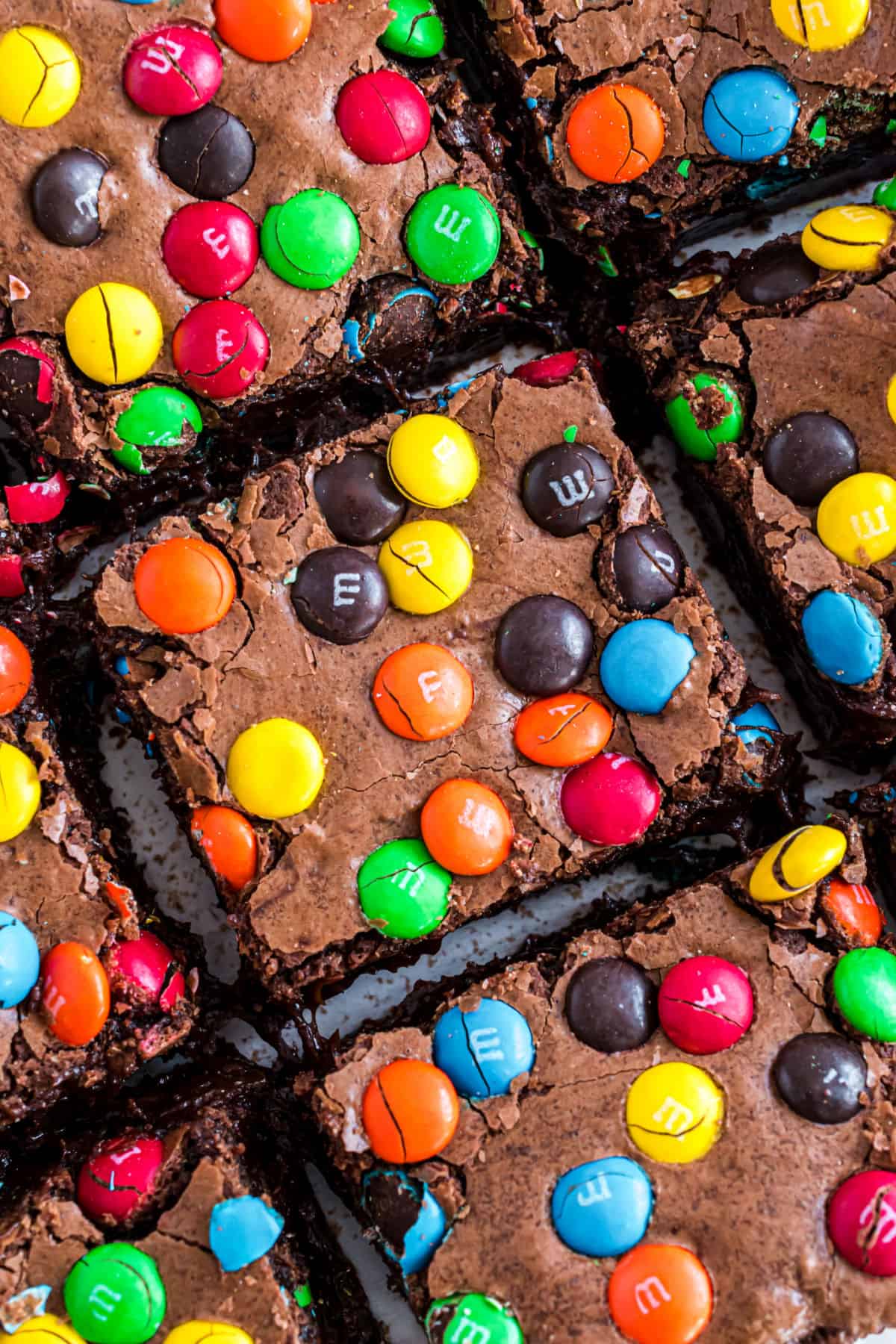 Why This Recipe is Best
This M&M Brownies recipe features double the M&Ms. You fold some in to the the batter, then reserve the rest for sprinkling on top.
Uses melted butter in the brownie batter to bake up thick, soft brownies, not cake-y.
Melted chocolate AND cocoa powder for rich chocolate flavor.
A fudgy consistency.
One bowl brownies (or I should say one saucepan)
Thick brownies based of my Best Brownie Recipe!
Ingredient Notes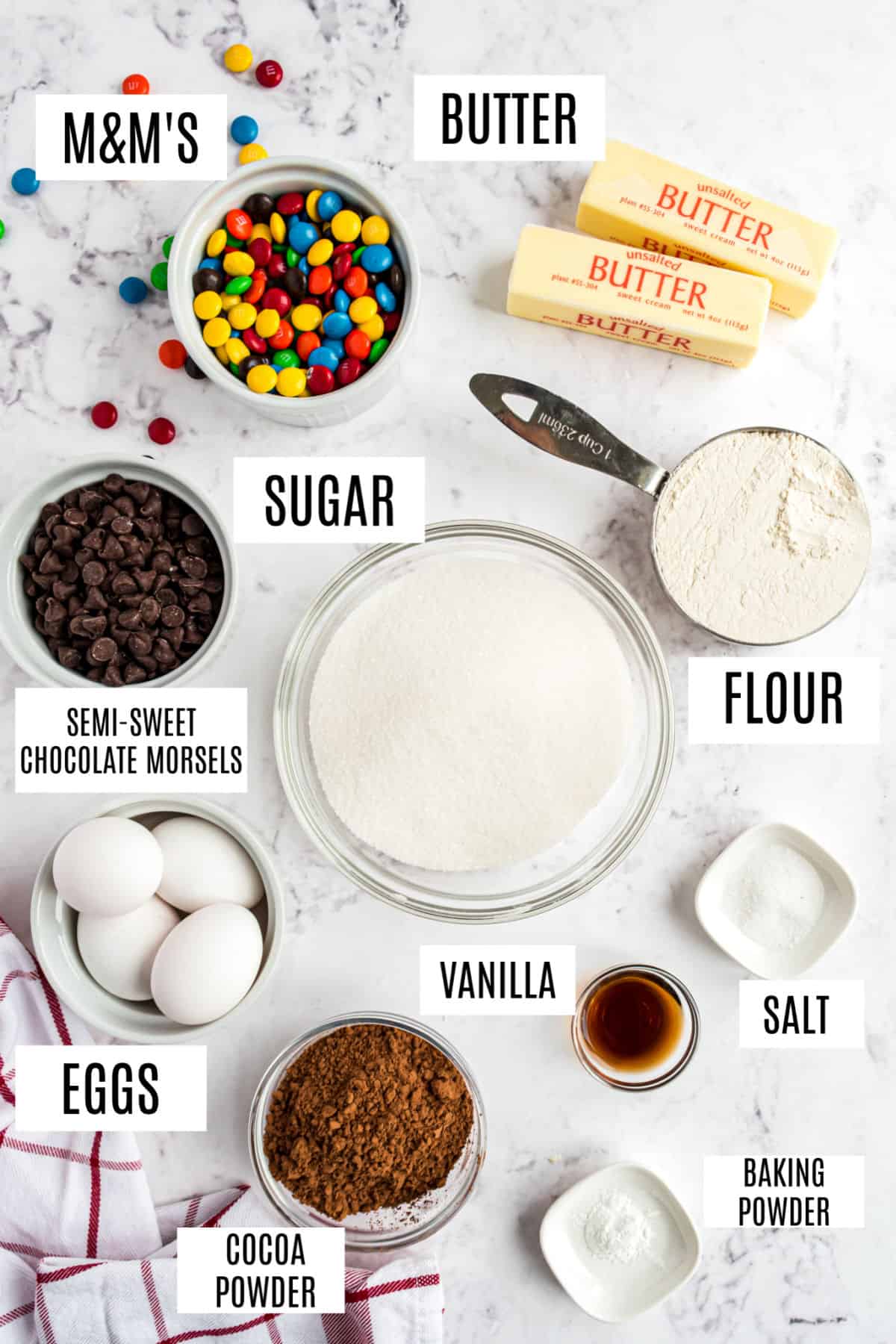 M&M's candies. I used the original milk chocolate M&Ms. Mix up the colors for different occasions and holidays. Or try peanut M&M's or peanut butter M&M's for a tasty twist.
Cocoa powder. Make sure it is unsweetened cocoa powder, NOT dutch processed.
Chocolate chips. I prefer the taste of semi-sweet chocolate morsels in brownies. Milk chocolate can be substituted if you prefer.
Vanilla Extract. Pure vanilla extract enhances the chocolate flavor!
Unsalted Butter. I always choose unsalted butter in 99% of my recipes. Brands vary in the amount of salt in salted butter. If you can ONLY use salted butter, skip the extra salt in the recipe.
Easy Instructions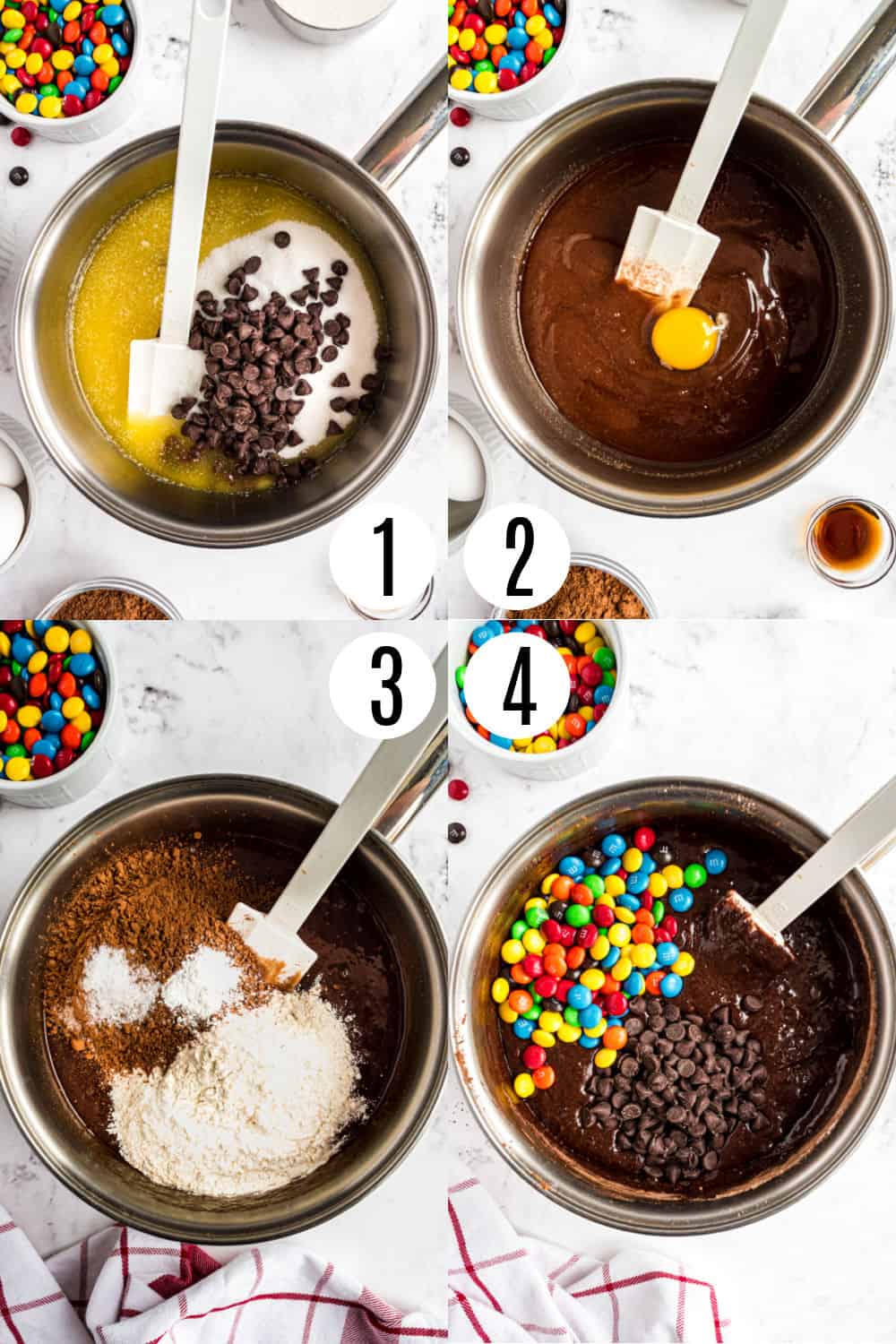 Melt Butter. Start by melting the butter then combining it with granulated sugar and chocolate morsels. Stir until the chocolate is smooth and melted.
Make Batter. Add the eggsto the butter mixture one at a time, then the vanilla extract. Add in the dry ingredients JUST until combined. Fold in half of the M&Ms.
Prepare Pan. Pour the batter into a square baking dish lined with parchment paper and add the rest of the M&Ms on top.
BAKE. Bake for 38 minutes and let cool completely before cutting and serving!
Tips and Tricks
Avoid over mixing. Mixing the batter too much or too vigorously will incorporate more air, making the brownies cakey and crumbly. Use large even strokes and stop mixing once you can no longer see the dry ingredients.
Line your pan. Put a square of parchment paper at the bottom of your brownie pan for easy removal and clean up.
Use a plastic knife for easiest cutting. Make sure the brownies are completely cooled, then slice in long smooth motions.
Storing. Store brownies in an airtight container at room temperature. Enjoy within 1 week.
Make cookies. These fudgy chocolate M&M cookies have a brownie like texture and are packed with flavor!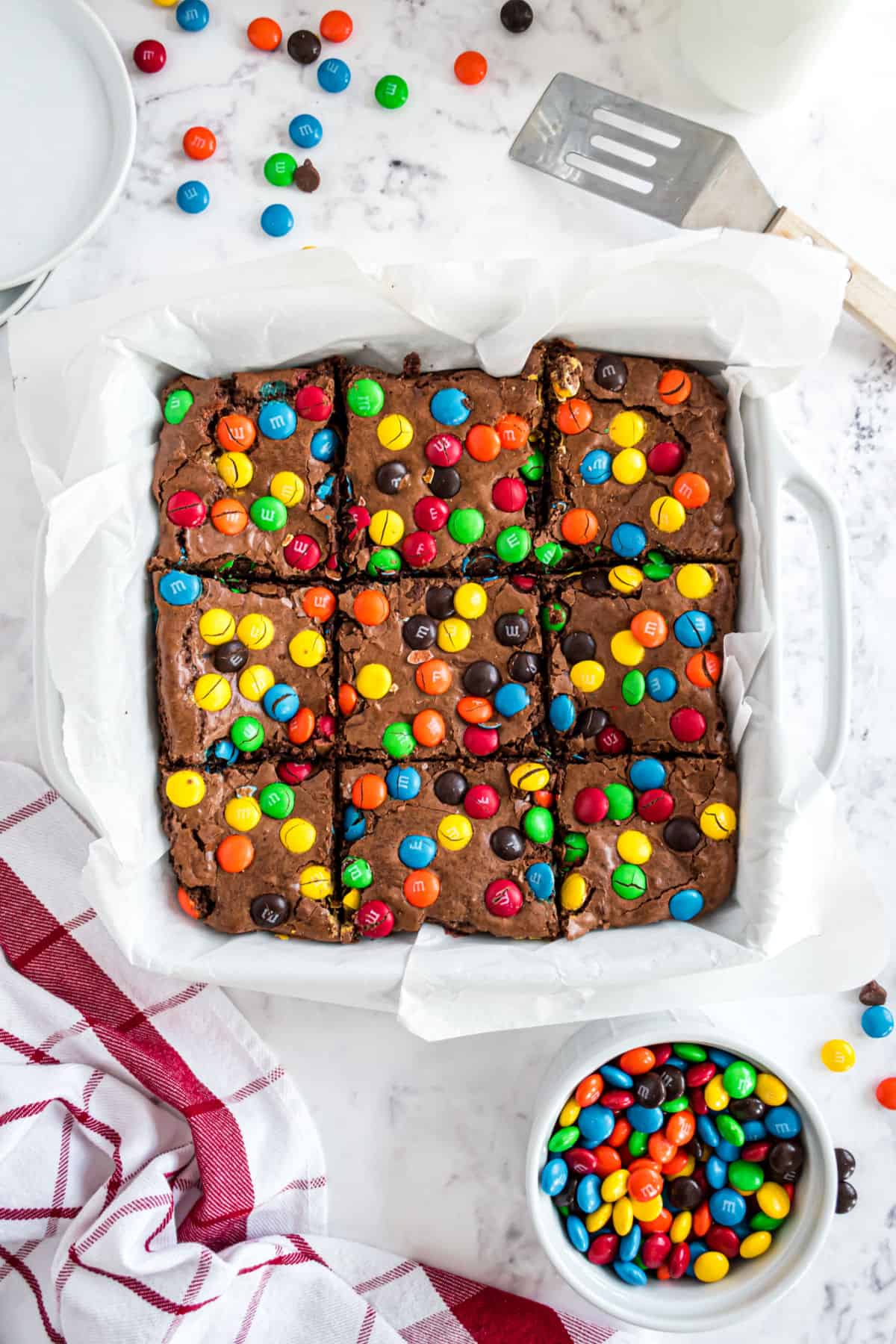 Recipe FAQs
Why do you use melted butter for brownies?
Using melted butter for brownies helps them stay moist, fudgy and chewy. If you use softened butter instead, the action of mixing it in with the sugar will create air pockets making your brownies more similar to a cake.
What kind of pan is best for brownies?
A square baking pan is best for brownies. I use a 9 inch baking pan for this M&M brownie recipe.
Why are my brownies falling apart when I cut them?
Your brownies may be falling apart when you cut them because they aren't fully cool. Even slightly warm brownies will "tear" when sliced.
Try waiting a few more minutes and using a plastic knife.
Can you freeze M&M brownies?
Yes, these brownies will keep well in the freezer for about 3 months.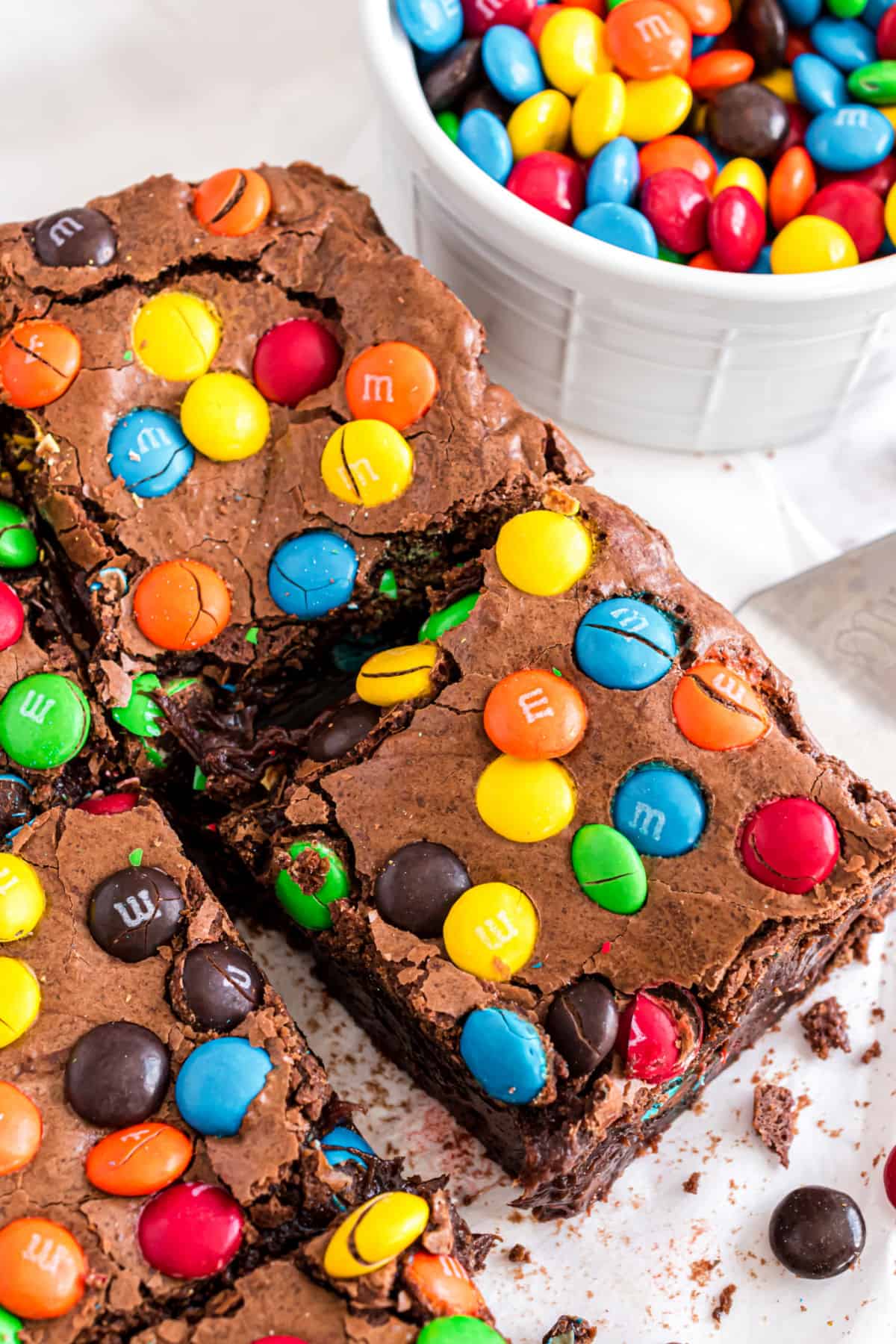 Variations
In addition to changing up the color and flavor of M&M candies, but I've also got some delicious variation of my classic brownie recipe.
Peanut Butter Brownies– swirls of peanut butter added to my favorite brownie create the ultimate chocolate pb treat!
Salted Caramel Brownies– rich caramel is added to our classic brownie and topped with sea salt flakes for a delicious sweet and salty dessert.
Walnut Brownies– fudgy brownies with a delicious nutty crunch! These decadent brownies are easy to make and guaranteed to satisfy any chocolate craving.
Chocolate Caramel Brownie Bites– two bite brownies packed with Dove Caramel candies and a sweet frosting!
Fudgy brownies meets candy-coated milk chocolate in this recipe. Make them for a party, a bake sale or just for yourself. M&Ms Brownies are always a good idea!