Salted Caramel Brownies need no introduction. Drizzled with caramel, loaded with chocolate and sprinkled with just a touch of sea salt, these gooey brownies prove it's okay to be a little salty sometimes.
If you love caramel and chocolate together, I suggest you make a batch of this delicious Salted Caramel Fudge! SO creamy, and easy to make too! Or give our caramel apple cheesecake bars a try soon.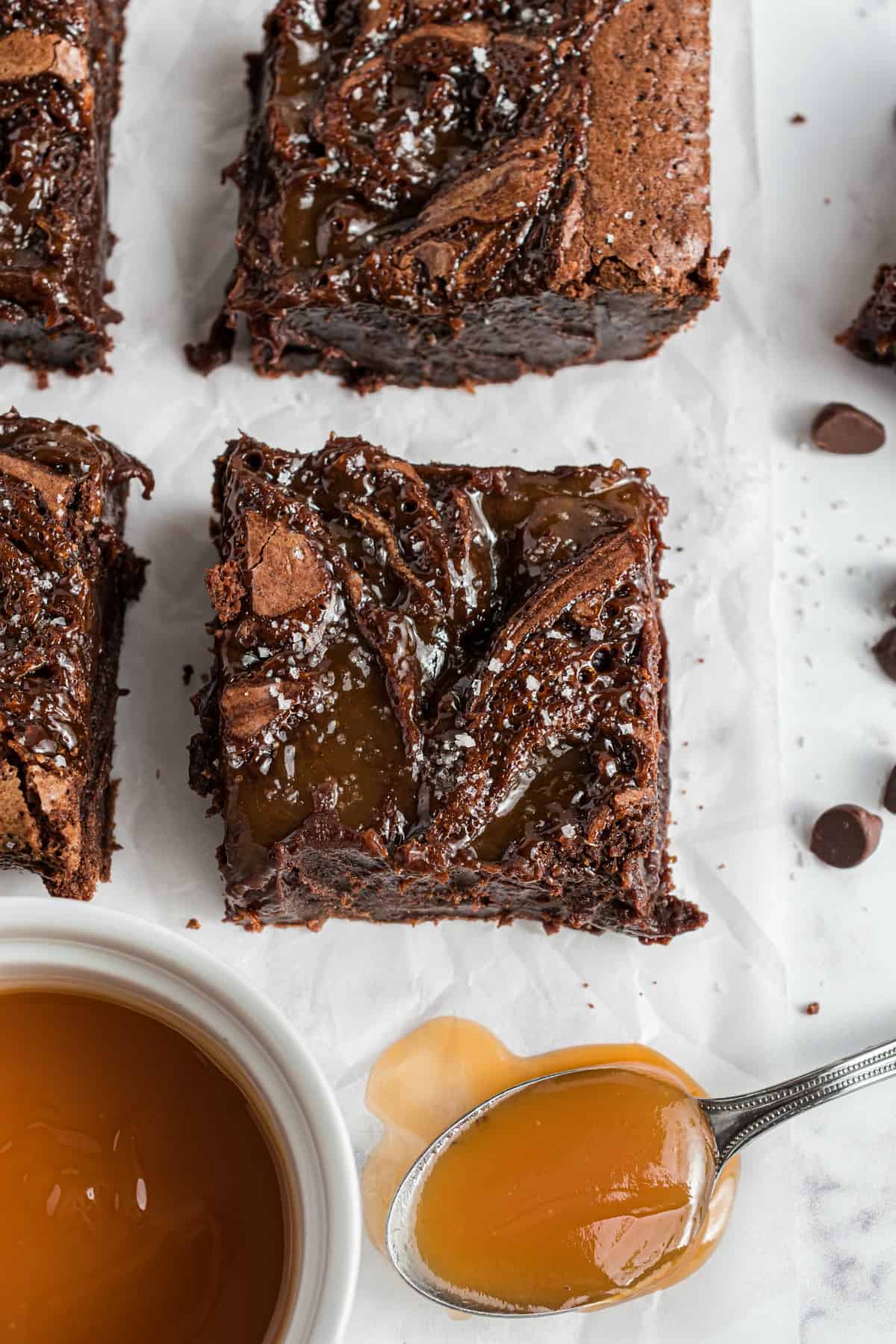 Why this Recipe is Best
The Internet is not lacking in salted caramel brownie recipes. This, I know.
Something else I know, though, is that THIS recipe came out better than any of the other many I've tried. I wasn't satisfied with just a good brownie.
I wanted a salted caramel brownie that was good enough to convince me to pack my bags and run away with it, living in chocolate caramel paradise for the rest of my days.
While my family will be happy to hear I'm not running away any time soon, this recipe checked every one of my boxes.
The brownies are fudgy and just a tad gooey, swirled with caramel topping that's made even tastier with the addition of coarse salt.
The trick is in how you mix the batter. Instead of using a beater or electric mixer, I melted butter with chocolate chips, then mixed everything together until just barely combined. This keeps the gluten in the flour relaxed so the brownies stay soft and chewy, just the way I like them.
The amount of eggs in the recipe is another secret for making them SO delicious!
This Salted Caramel Brownies recipe is based on my favorite Bakery Style Brownies but with the addition of swirled caramel and sea salt on top. Or try these rich Salted Caramel Cookies!
Ingredient Notes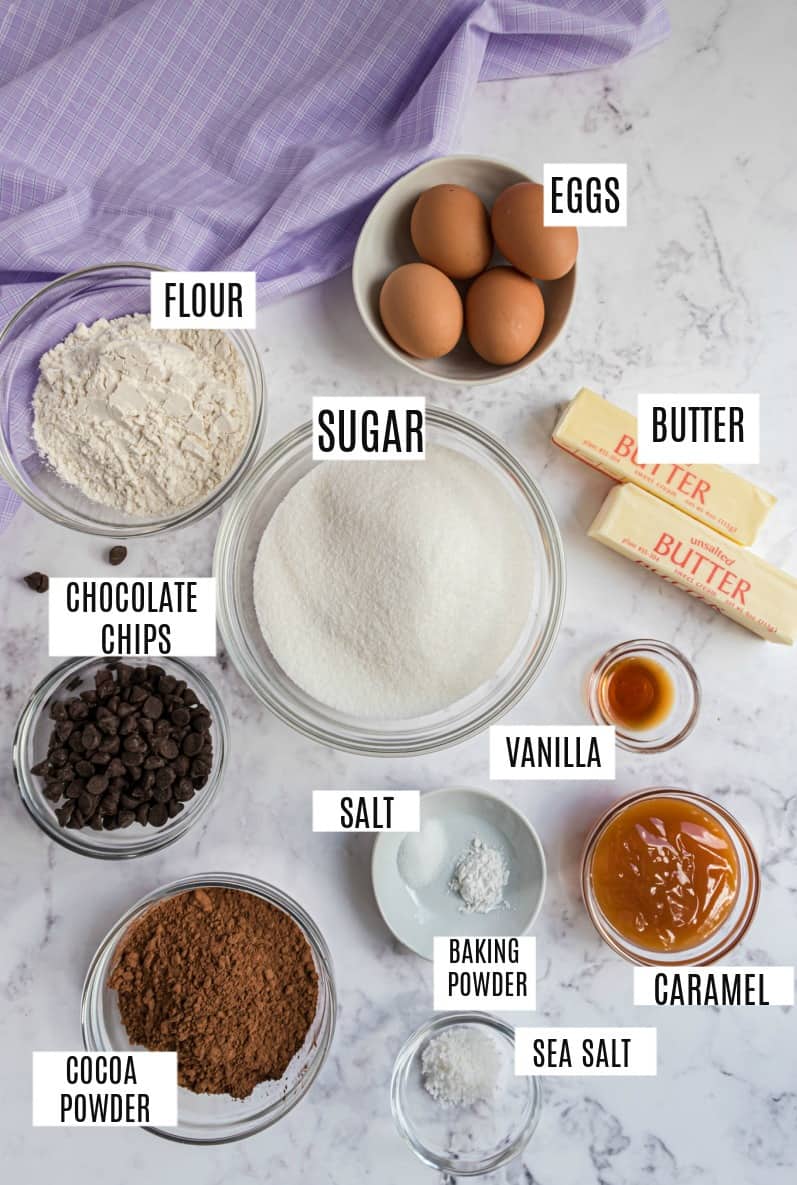 Chocolate Morsels – Semi-sweet morsels are my choice, or you can substitute milk chocolate or dark chocolate chips if you prefer.
Unsweetened cocoa powder – A good quality unsweetened cocoa powder is best!
Butter – Unsalted butter lets you control the saltiness of your finished desserts, so it's my preferred option. You don't need to soften the butter first, since it's going to be melted in the sauce pan!
Eggs – This is it. The secret to making brownies with a chewy, gooey middle and a crisp layer on top!
Caramel sauce – I used caramel ice cream topping from a bottle.
Sea salt – The salt should be coarse with granules large enough to see and separate with your fingers for ideal texture and flavor.
Step by Step Instructions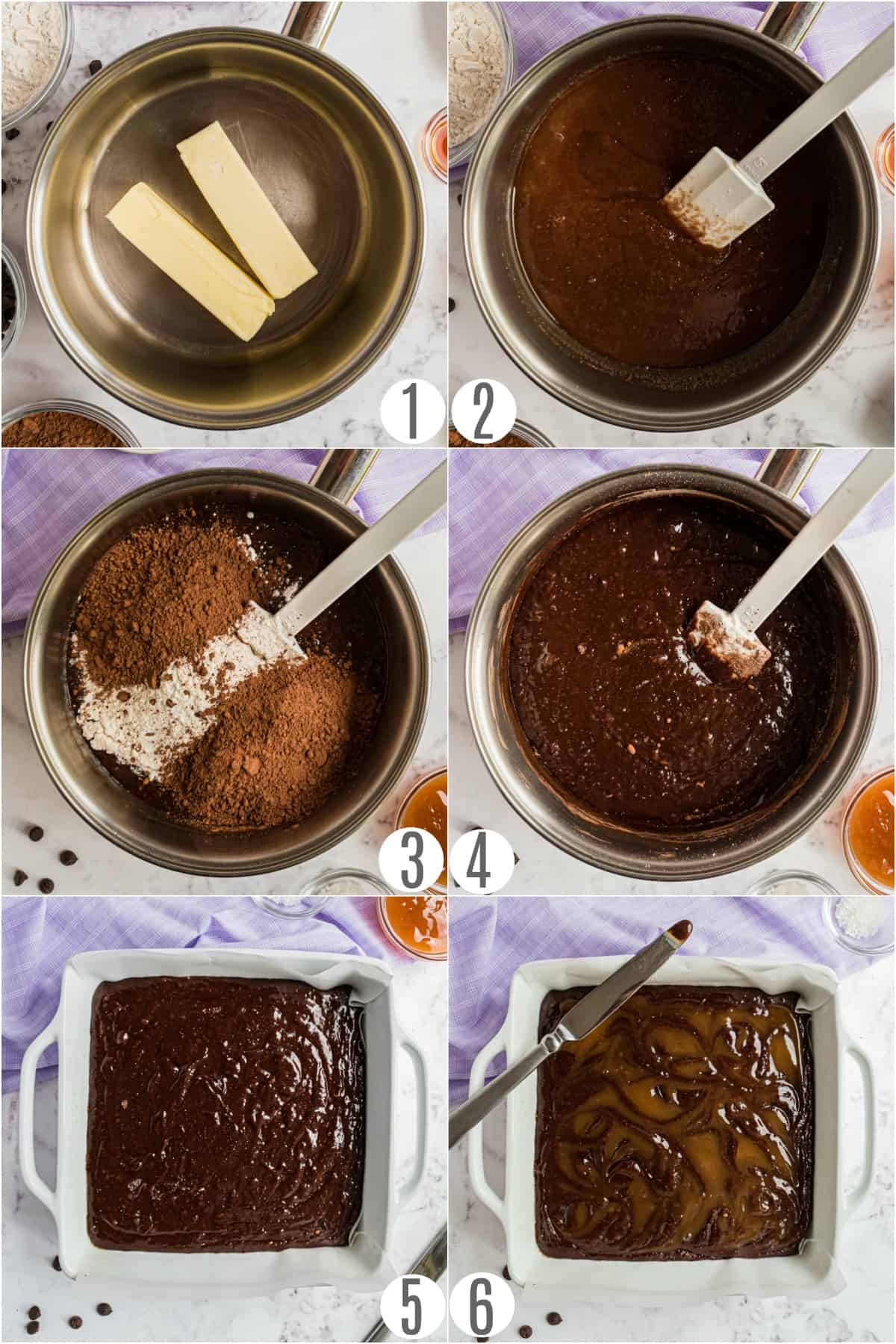 STEP 1. Melt Chocolate
Melt the butter in a saucepan, then remove from heat before stirring in the chocolate chips and sugar. Continue stirring until the chocolate is smooth and melted.
STEP 3. Add eggs
Mix the eggs into the chocolate mixture one at a time, along with the vanilla.
STEP 4. Add dry ingredients
Add the cocoa powder, flour, kosher salt, and baking powder. Using big strokes, stir the dry ingredients into the wet until JUST combined. Be careful not to over mix or beat!
STEP 5. Caramel topping
Pour the brownie batter into 9-inch square baking dish. Drizzle caramel sauce over the batter and swirl it with a butter knife.
Bake for about 35-40 minutes. Remove from oven and add coarse sea salt to top while the caramel is still warm. Let the brownies cool completely before cutting.
Tips & Tricks
Storing – These brownies will keep for 3 – 4 days in an airtight container at room temperature. I also enjoy the taste when they're chilled!
Do not over stir! I can't emphasize this enough. It's okay if you see a few small "lumps" of flour in the batter when incorporating the dry ingredients. Use a spoon to mix rather than beaters or a stand mixer for this recipe to prevent over stirring.
To keep brownies from sticking – Line your brownie pan with parchment paper before adding the batter. Once cool, you can lift the paper (and the brownies) out of the pan in one piece before cutting.
Want to eat the brownies sooner? Chill them in the fridge while they're cooling!
Don't forget the ice cream! Top your warm brownie with a scoop of vanilla ice cream and more caramel sauce.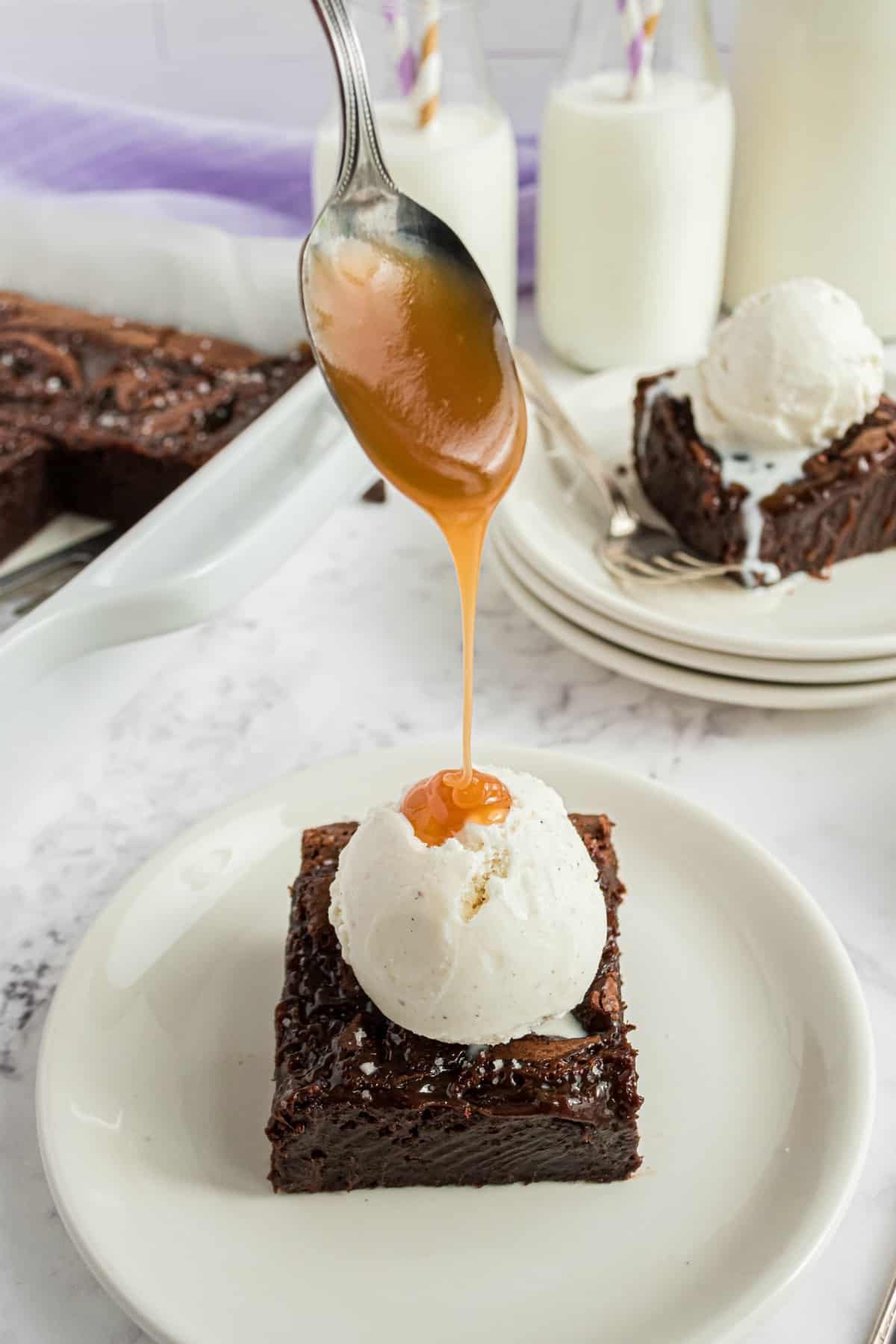 Recipe FAQs
How do you cut brownies without them breaking?
Use a plastic knife! It works like a charm without ripping the brownies. Also, always make sure your brownies are cooled completely before you try to cut them.

What kind of caramel sauce should you use?
Honestly, any caramel ice cream topping will create delicious swirls of caramel perfection atop your brownies. I find the bottled sauce with the squeeze top makes it easiest to drizzle.
Can these be made with regular salt instead of coarse salt?
I wouldn't. The coarse sea salt adds a specific flavor that highlights the sweetness of the caramel without dominating it. If you don't have coarse salt, you could make these without the added salt on top for straight up caramel brownies instead!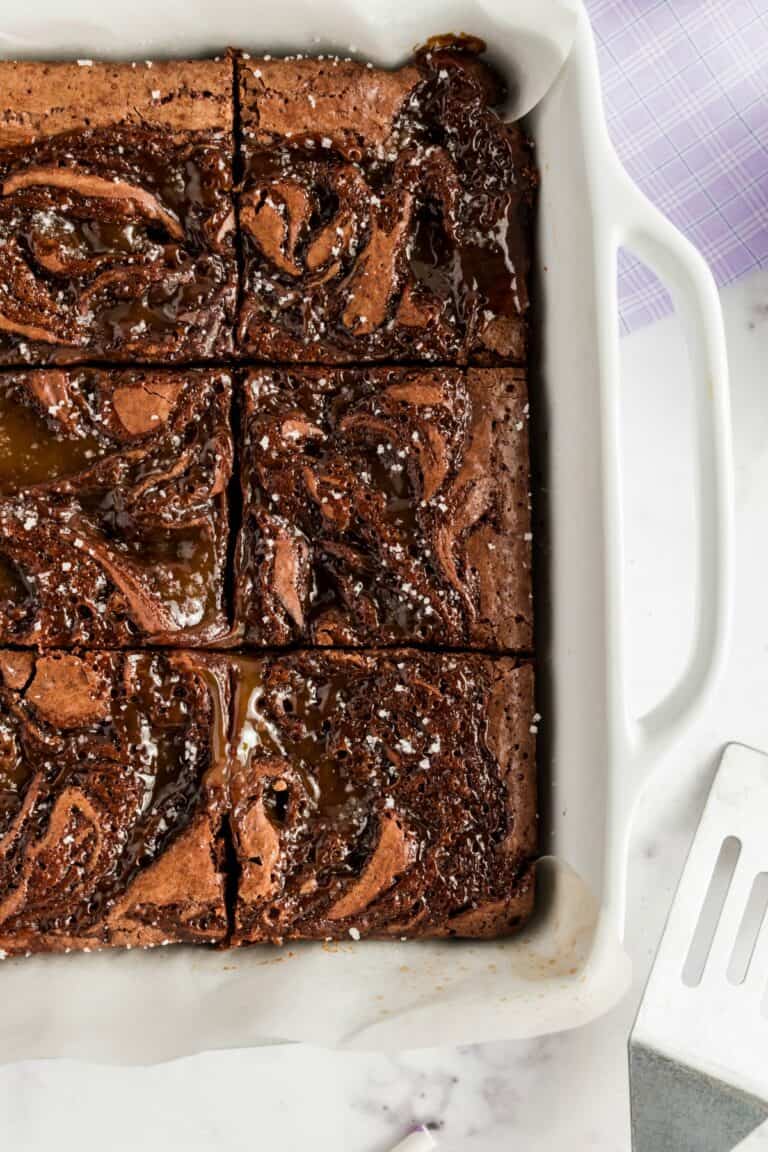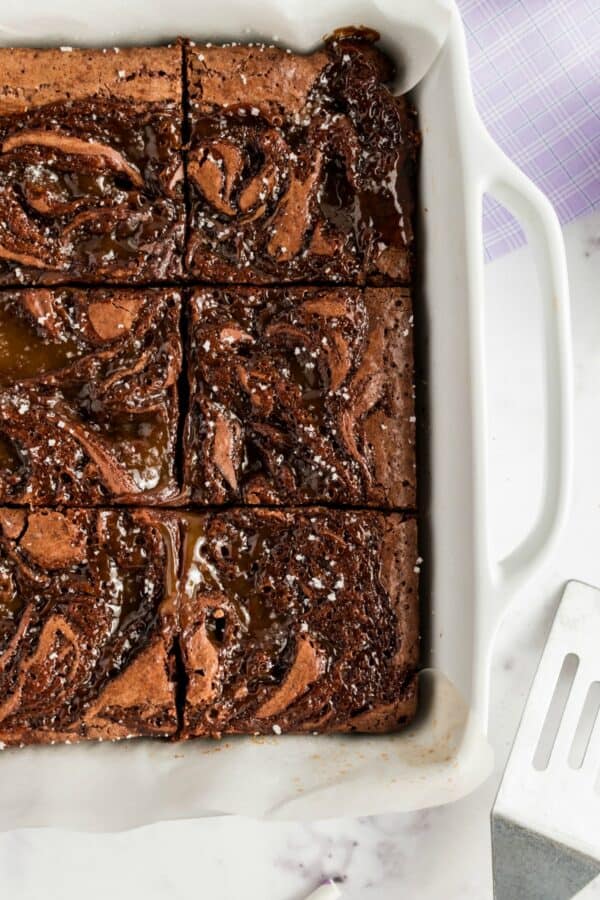 Variations
If you love classic brownies, here are a few you should try next.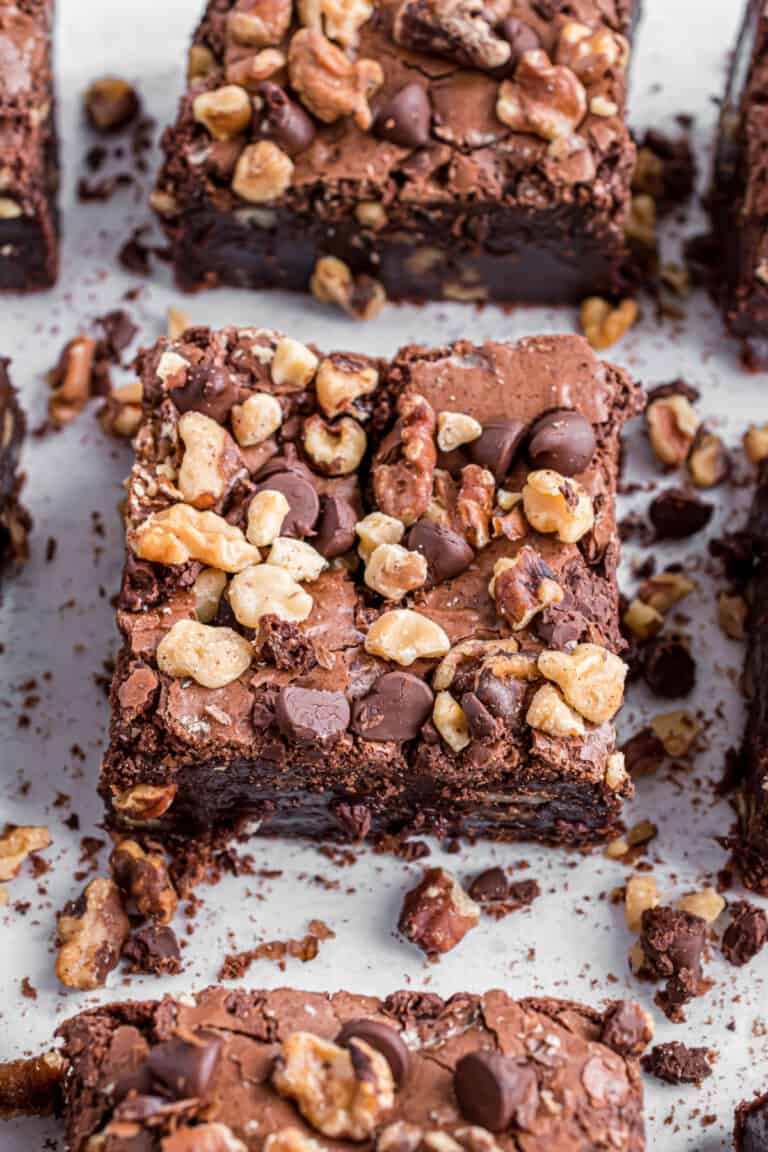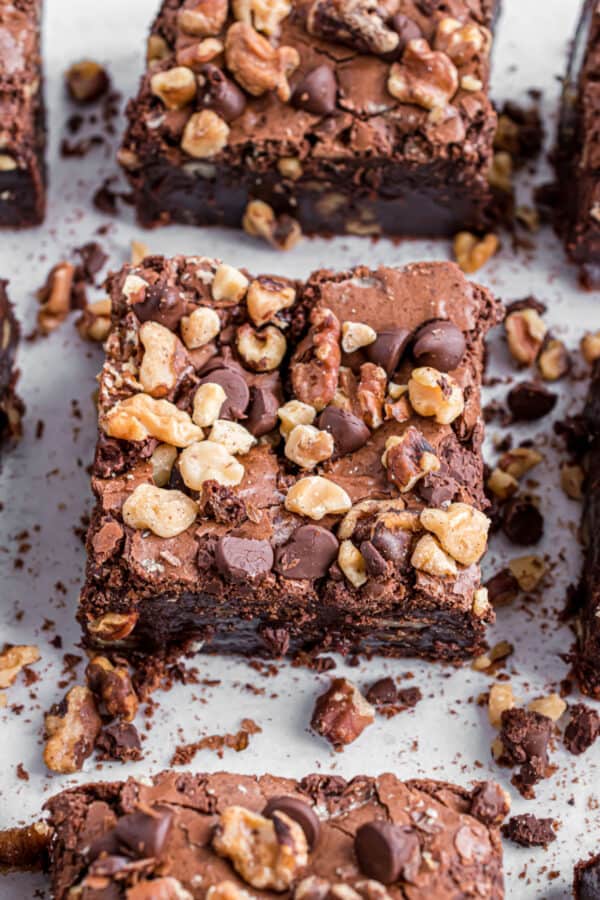 More Easy Dessert Recipes
Ready to make the most deliciously rich brownies ever? Salted Caramel Brownies are the perfect balance of sweet, buttery and salty!