These Strawberry Almond Bars have a crunchy almond crust, chewy strawberry filling, and a creamy cheesecake topping. Perfect for holidays or weekend brunches!
***This post is sponsored by Fisher Nuts. I am excited to be a partner in creating delicious recipes, all opinions are 100% my own***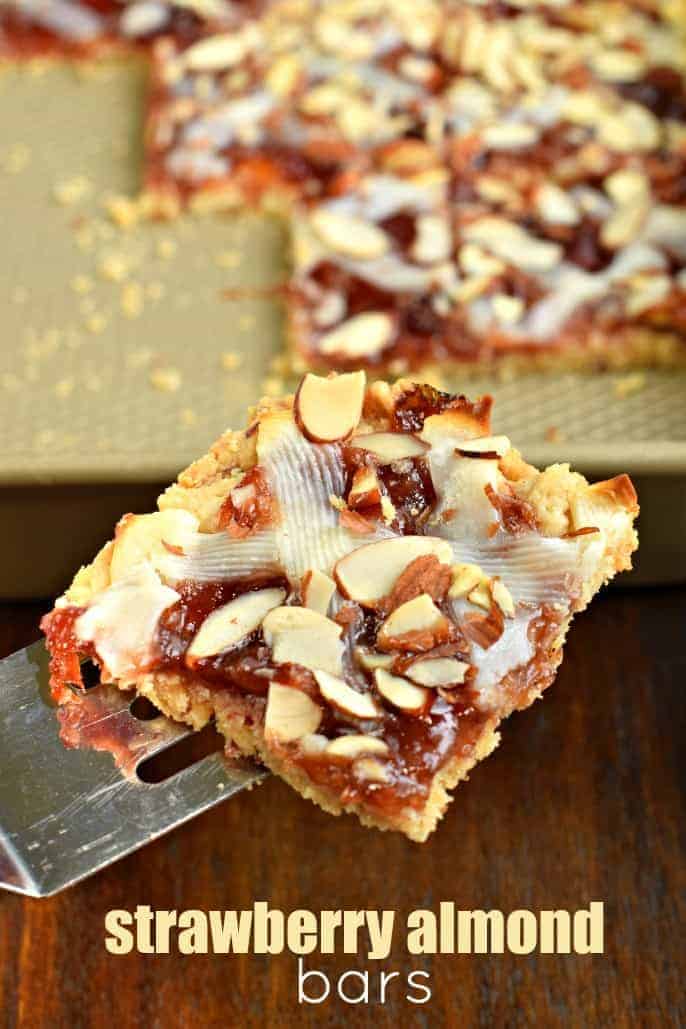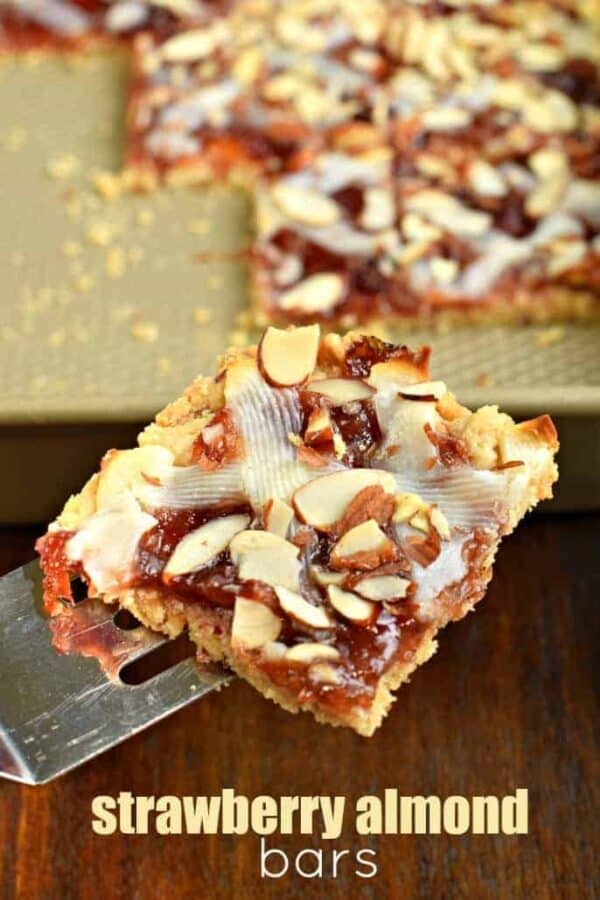 Click HERE to save recipe to Pinterest
Mother's Day is just around the corner and I'm curious what kind of traditions everyone has? For me, it's all about planting the garden.
We don't usually have a fancy brunch or even dinner…we spend the day knees in the dirt and hands digging deep. I love getting the garden done, and in Chicago they always say Mother's Day is when it's safe for planting, without fear of frost.
Granted, frost will still occasionally happen, but not often!
One thing I love though, is enjoying a sweet pastry or treat after a long day of gardening. Typically we'll order pizza, grill burgers, or get take out, but we always have dessert.
Since I'm the mother, it usually means I have to make the dessert myself, haha. I tend to go with something that can be made a day or so in advance so that I'm not slaving in the kitchen for my own Mother's Day dessert.
Sometimes it's traditional Almond Bars, sometimes it's not!
Enter: Strawberry Almond Bars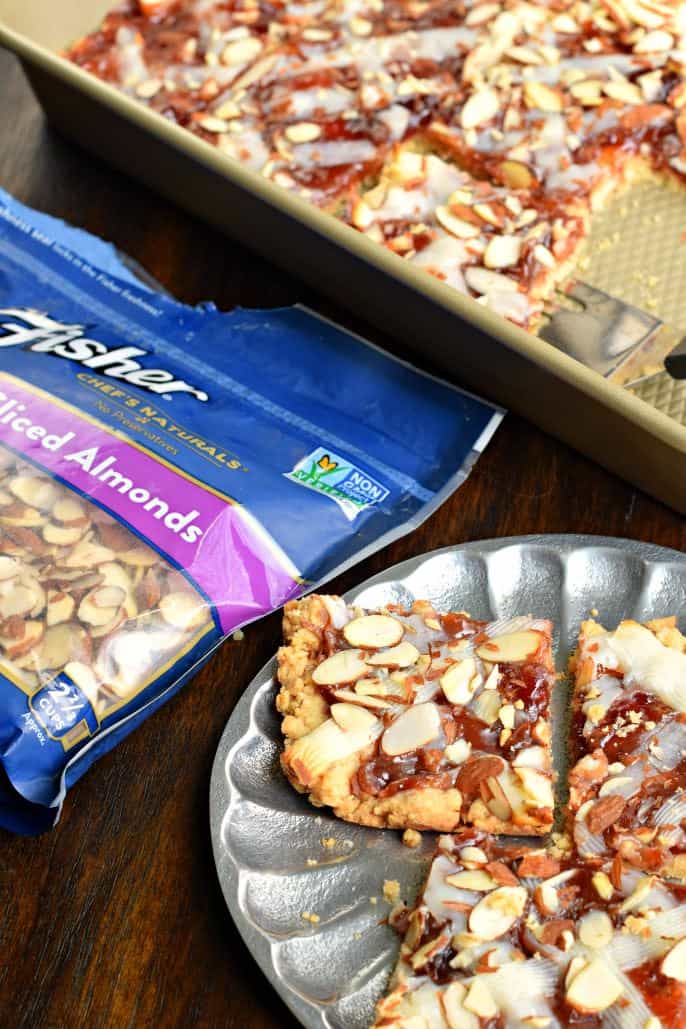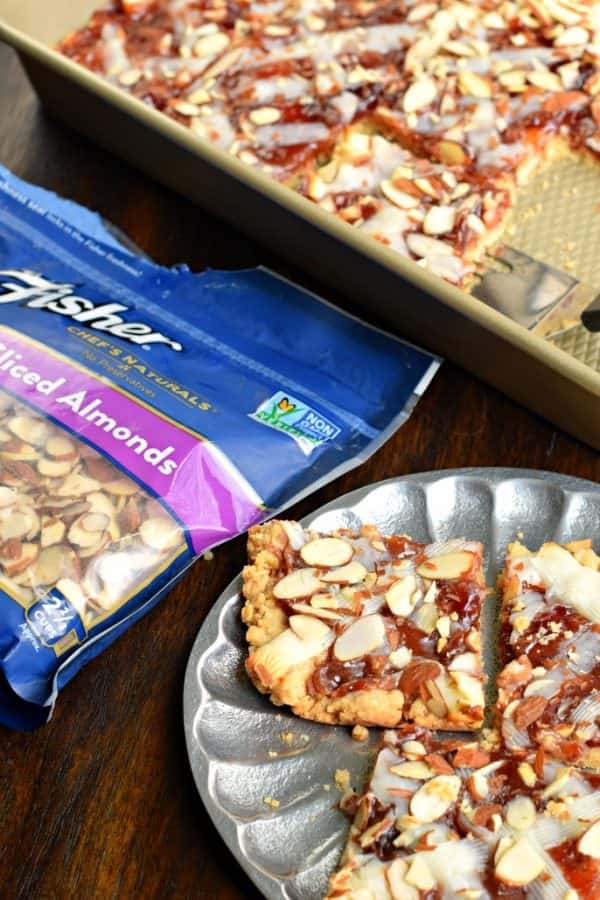 These bars have the perfect combination of sweet and salty.
The almond crust gives a salty crunch, while the strawberry filling provides a sweet chewy texture! And let's not forget about the scrumptious cheesecake piping on top with sliced Fisher Nuts almonds!
While it may just look average, or as my kids say ugly…these Strawberry Almond Bars are a true treat when you dig into the them (haha, get the 'dig in' reference to my gardening??)
I've even created a little video on How to make Strawberry Almond Bars. Super easy!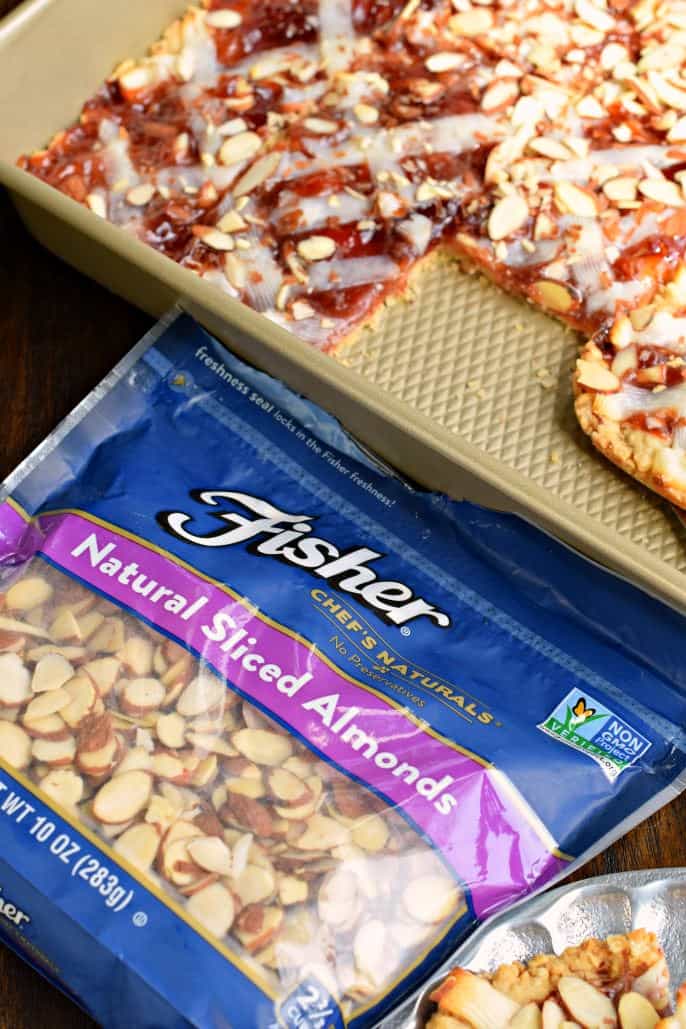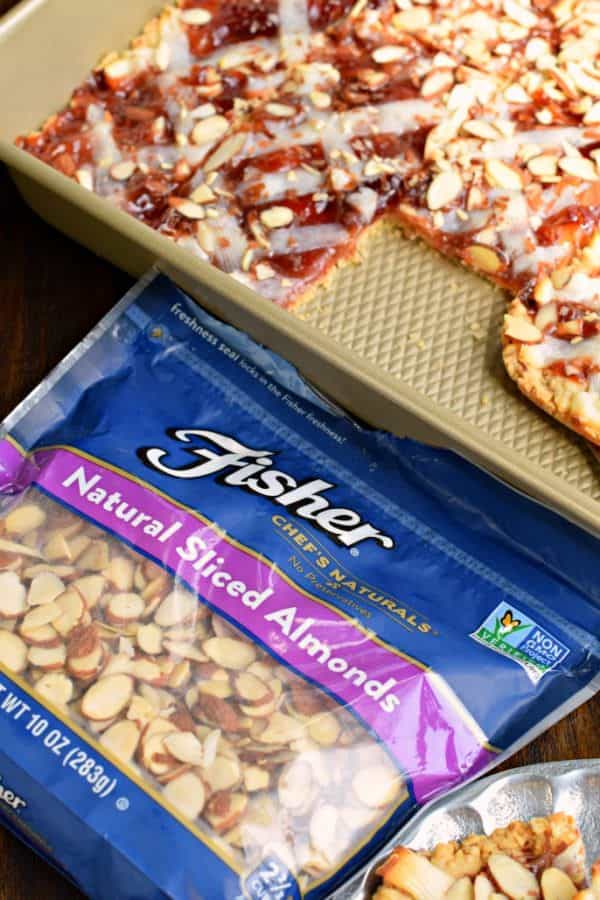 How to Make Strawberry Almond Bars
Preheat oven to 350°F.
In a large bowl, combine the melted butter with flour, powdered sugar, and ground almonds. Mix until crumbly. Press into the bottom of 13×9 baking dish.
Spread the strawberry preserves into the bottom of the crust, being careful not to touch the sides of the pan.
In a small mixing bowl, beat the cream cheese with powdered sugar and almond extract until smooth. Spoon it into a pastry bag (I used tip 48) and make diagonal lines onto the top of the strawberry preserves. Sprinkle with sliced almonds.
Bake for about 20-25 minutes, until crust is lightly browned. Cool completely. Refrigerate until ready to serve. ENJOY!
More Nutty Recipes
I've partnered up with Fisher Nuts once again this month to bring you this nutty treat! I love their sliced almonds in the resealable bag, which is convenient for on the go, or to grab a small handful to top your salad! I also love that Fisher Nuts are preservative free and non-GMO project verified!
Looking for more recipes like this to serve on Mother's Day? These Strawberry Cheesecake Napoleons are a wonderful treat. You can bake the shell early in the day, prepare the cheesecake filling, and have your berries cleaned and ready to assemble. At dessert time, instruct the kids and husband to put these together for you!
Another idea is to make my favorite Strawberry Pecan Salad recipe. It's a copycat version of Panera Bread's salad, and a perfect dish to share or eat it up all by yourself!
Looking for something a little more rich and chocolaty? I hear ya. These Chocolate Almond Cheesecake Parfaits might be just the answer. A crunchy chocolate almond crust paired with rich, decadent cheesecake filling is an indulgent treat just for you!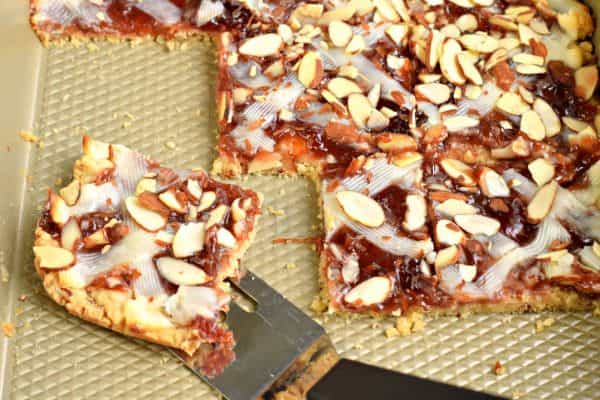 Be sure to check out some of the great Fisher Nuts recipes on their website for more Mother's Day inspiration!
More Easy Desserts


This is a sponsored conversation written by me on behalf of Fisher nuts. The opinions and text are all mine.