If you're hoping to make the PERFECT VANILLA CHEESECAKE recipe, start with my basic tips and tricks! Creamy, light, and delicious!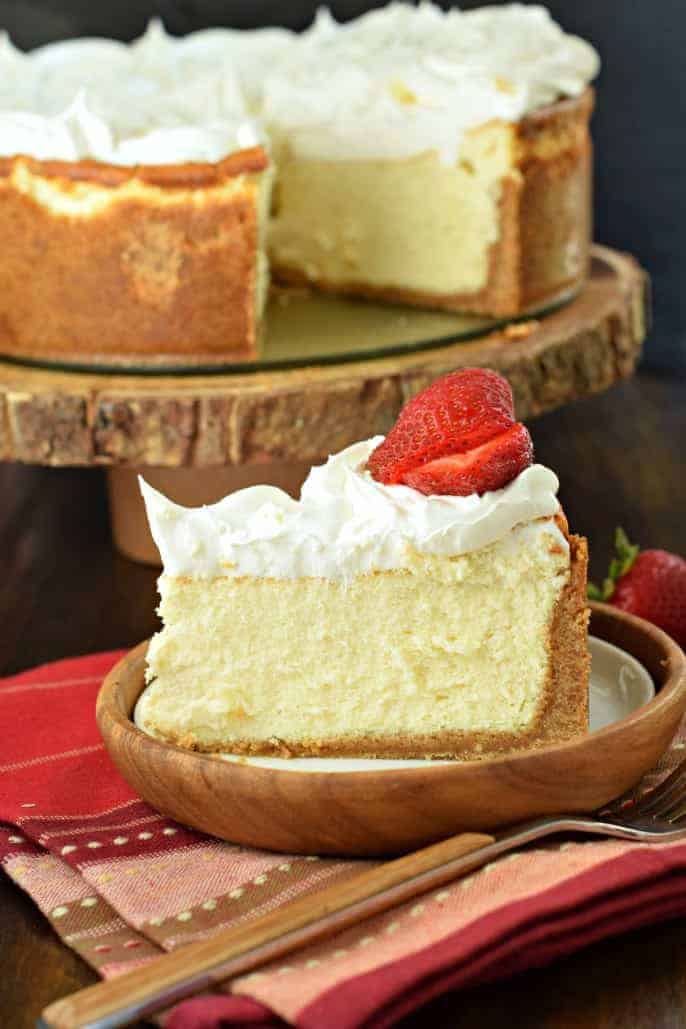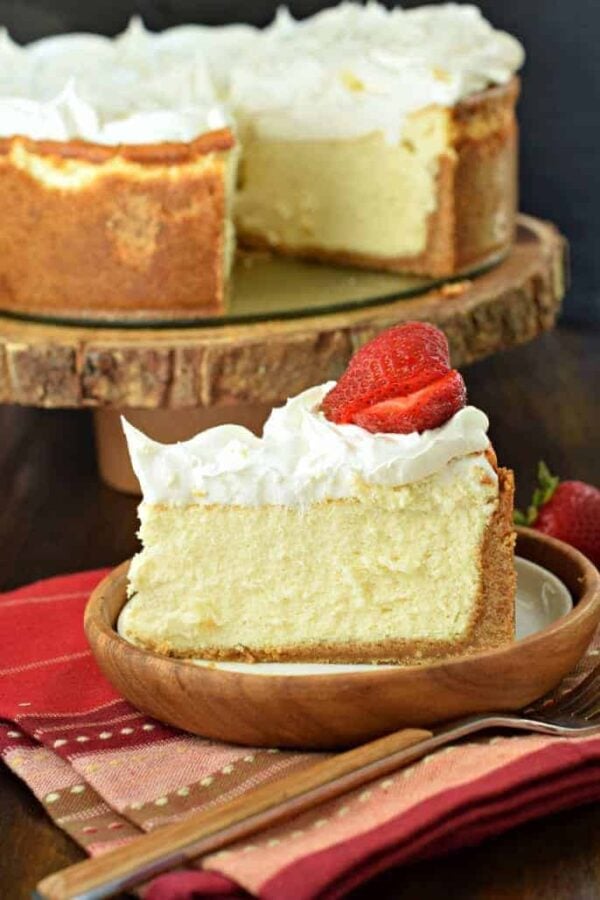 The Perfect Cheesecake
My husband celebrated his birthday a few weeks ago, and this PERFECT VANILLA CHEESECAKE recipe is how we celebrated.
Most people choose cake or ice cream…but my husband chooses either chocolate chip cookies or this cookie cake. But this year I asked him to choose something new! Something different. He asked for cheesecake.
I wanted to whip up an easy no bake Dirt Cake, but decided to go the distance with this perfect vanilla cheesecake instead.
If you're here because you're wondering, "OMG finally the answer how to ALWAYS bake a cheesecake with no cracks", I hate to disappoint.
Because you guys, cheesecakes are funny things. Sometimes you do everything right, and you still get a crack, but here are some tips to HELP prevent those cracks.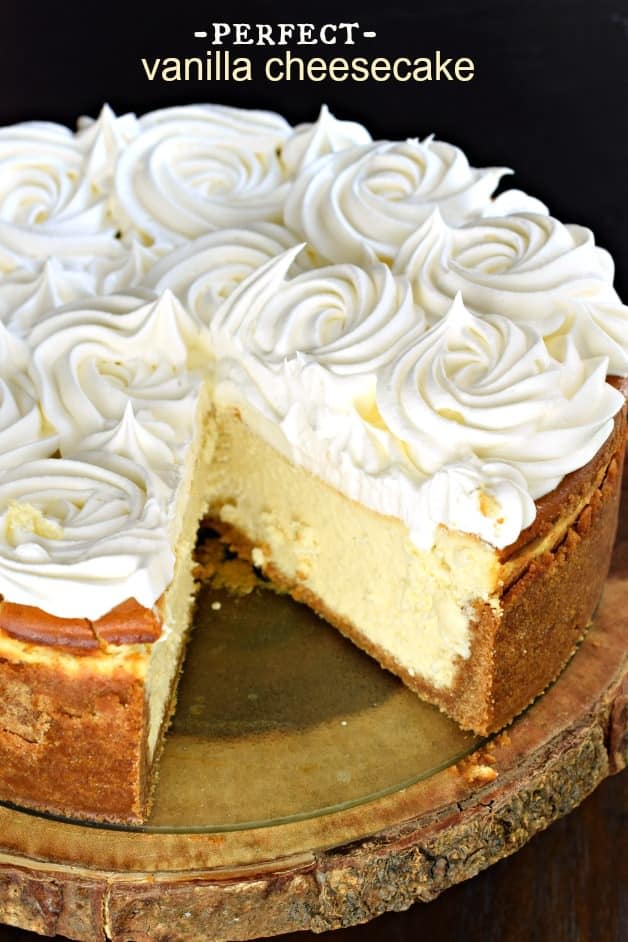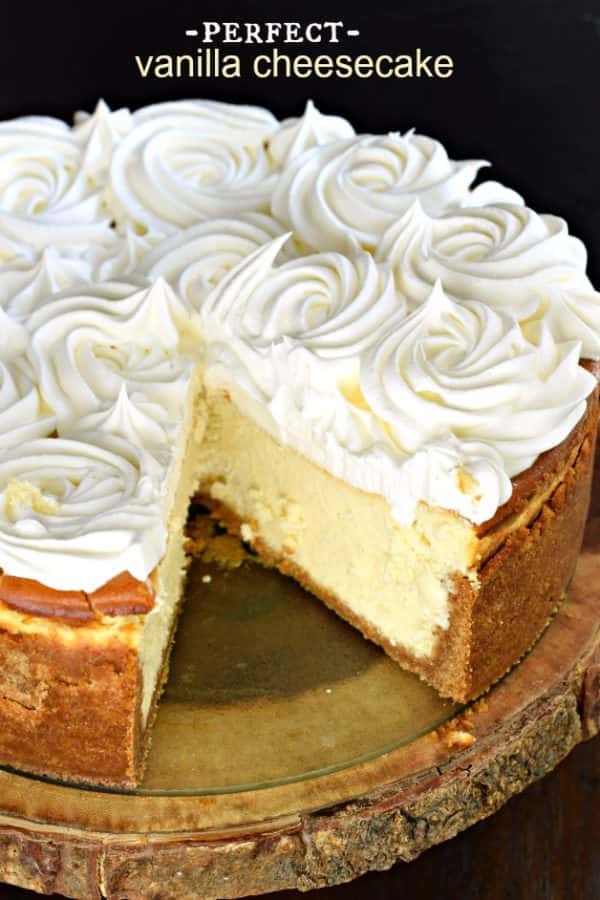 Step by Step Instructions
STEP 1. Prepare 9-inch springform pan by spraying the inside with non stick baking spray. Set aside. Fill broiler pan with about 1-2 inches of water and place in BOTTOM of oven, on lowest rack. Preheat oven (with broiler pan of water) to 350°F.
To make crust, blend graham crackers in food processor until fine. Pour in melted butter and sugar, pulse several times until combined. Press crust into bottom of a 9-inch springform pan. Set aside.
STEP 2. In a saucepan with inch of boiling water, place a double boiler, metal bowl or glass bowl to heat heavy cream. Once warm, add white chocolate chips and remove from heat. Whisk until chocolate is smooth. Set aside to cool (about 15 minutes).
STEP 3. For the filling, beat room temperature cream cheese, granulated sugar, cornstarch, sour cream and vanilla extract and vanilla bean paste.
Slowly add cooled white chocolate mixture. Finally, add eggs, one at a time until mixture is smooth. Do not over beat. Pour into prepared crust and place cheesecake pan into the middle of the oven. Fill broiler pan with About 1-2 inches of water and place in BOTTOM of oven, on lowest rack.
STEP 4. Bake 60 minutes in a 350 degree oven. Turn off oven and let sit undisturbed for about 45 minutes. Remove and allow to cool in refrigerator about 6-8 hours (or overnight).
Top with Cool Whip or homemade whipped cream and sliced strawberries, slice and enjoy!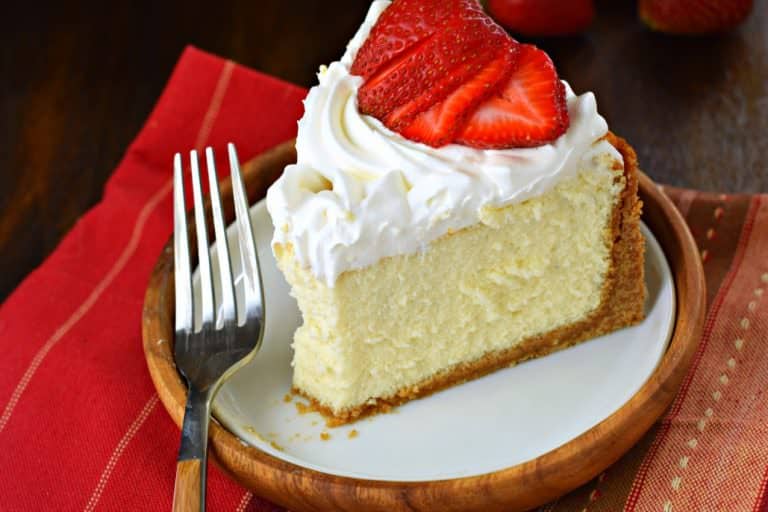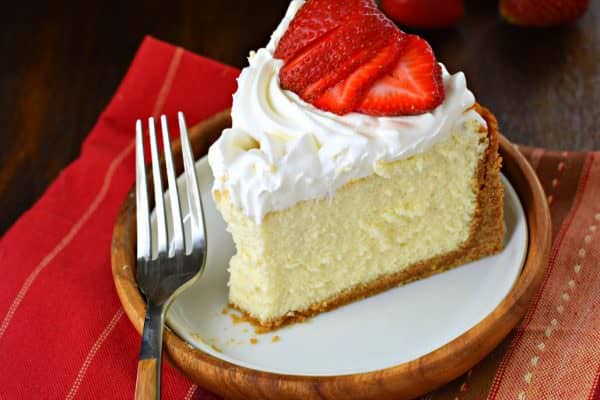 Tips and Tricks
Don't over beat your cheesecake before baking it. Just stop it. You don't need FLUFFY….your goal should be CREAMY. Start with softened cream cheese (room temperature) in the first place!
Water bath. While it doesn't always PREVENT cracks, it does help add moisture to your dessert so the end result is melt in your mouth deliciousness EVERY time. And your springform pan doesn't need to SIT IT in the water bath. I just place a broiler pan in my oven on the bottom shelf with about an inch of water. It adds the right amount of moisture to the oven while cooking.
Once your cheesecake is done baking (as directed below), turn off the oven, crack open the door, and allow the cheesecake to "cool" for about 45 minutes in the oven. This slow cool process cuts down on the cracking!
Finally, once it's cooled and you released your cheesecake from the pan, and you notice you did everything right, yet there is still a crack. COVER IT UP. Yeah, you heard me. Top it with some whipped cream. Cool Whip. Berries. Pie Filling. Lemon Curd. COVER THE CRACK PEOPLE. LOL, nobody needs to know. Besides, cheesecake is best with whipped cream and fruit anyway!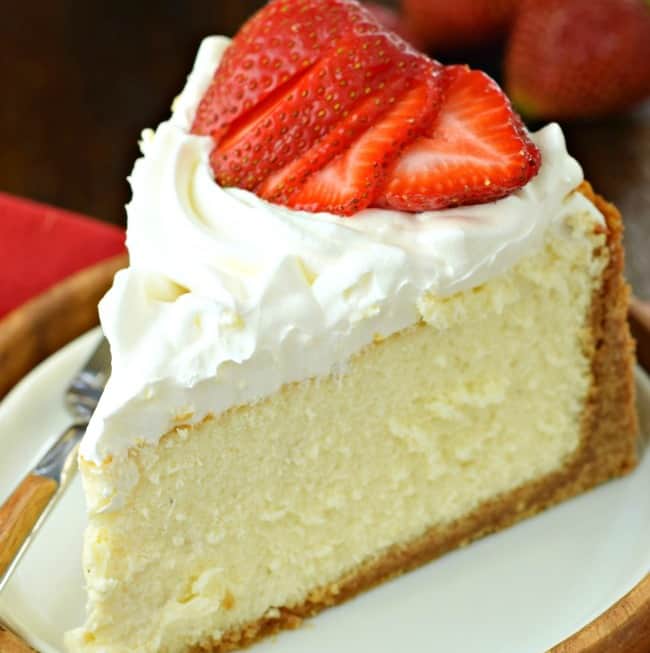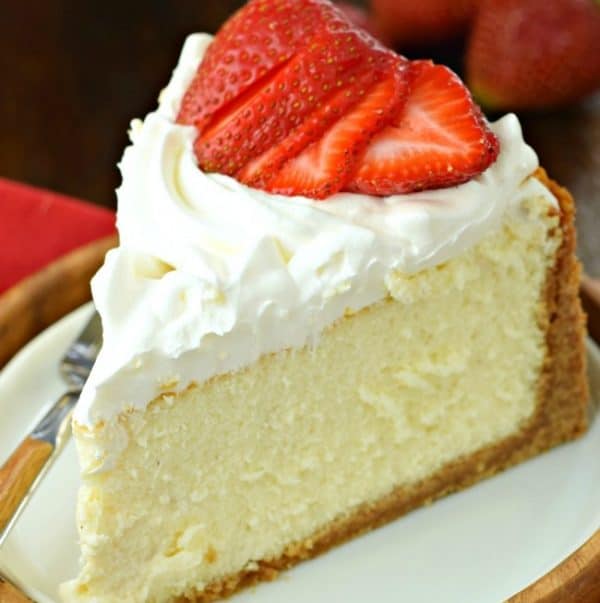 More Cheesecake Recipes