Make the perfect cheesecake with this vanilla cheesecake recipe! This step-by-step tutorial has all of our tips and tricks for making the best ever cheesecake. Simple, creamy, and delicious!
We love this basic cheesecake. In the mood for other flavors? Try our chocolate cheesecake and our lemon cheesecake too!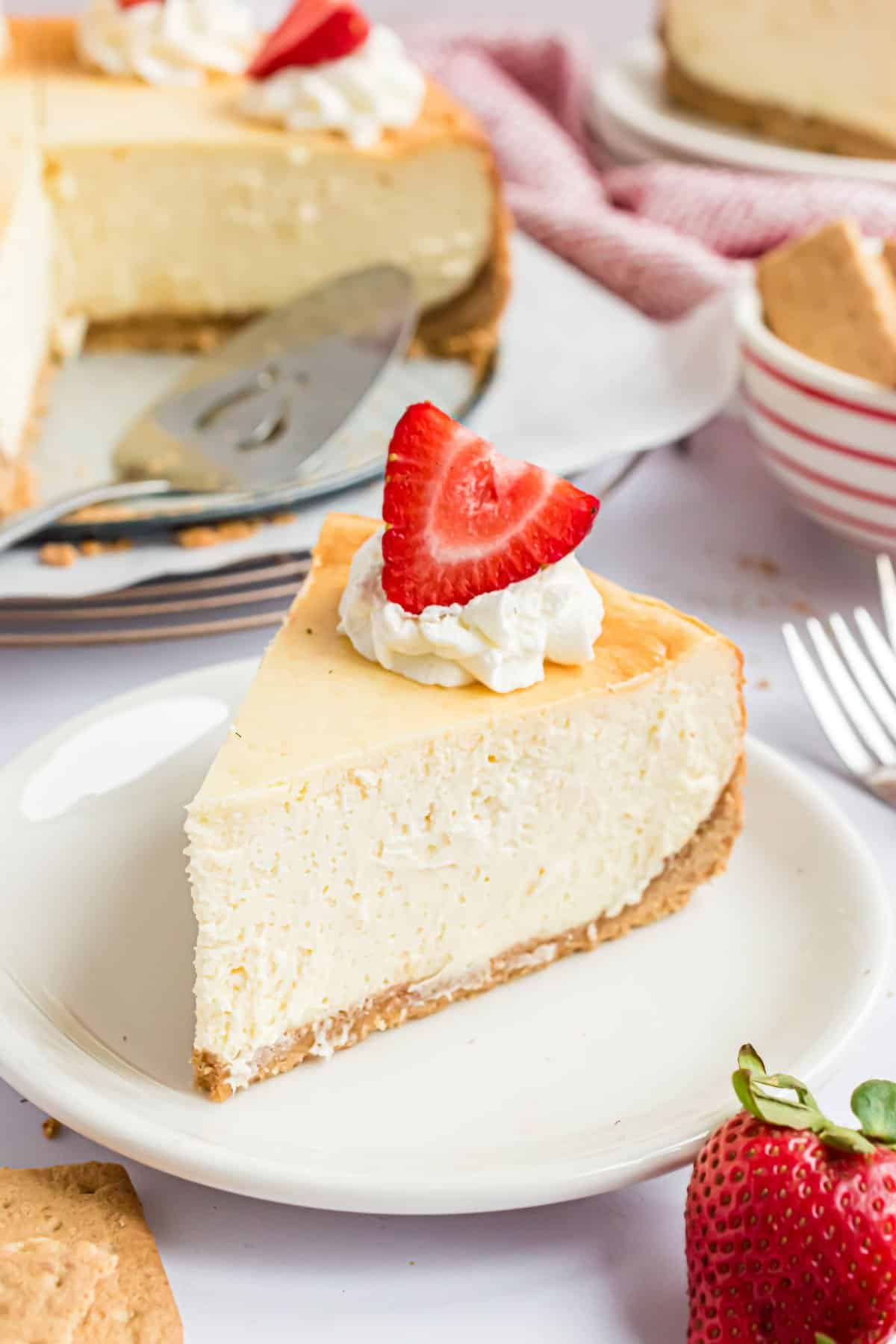 Why This Cheesecake is Best
Everyone should have a go-to cheesecake recipe in their baking tool kit. It's one of our favorite dessert recipes!
Whether you're just learning how to make cheesecake or you've made thousands of them, you'll fall head over heels for this creamy decadent dessert.
Making vanilla cheesecake is the perfect way to hone you cheesecake baking skills.
The simplicity of this cheesecake allows the vanilla flavor to shine through.
You can enjoy it plain or add your favorite cheesecake toppings.
Once you know how to make cheesecake you'll love exploring all flavor options out there!
The clear instructions and pro tips in this recipe make it easy for even novice bakers to make impressive cheesecake every time.
If you love today's classic recipe, you've got to try our Strawberry Cheesecake recipe next! Make it festive by adding sprinkles like we did in our funfetti cheesecake recipe!
Ingredient Notes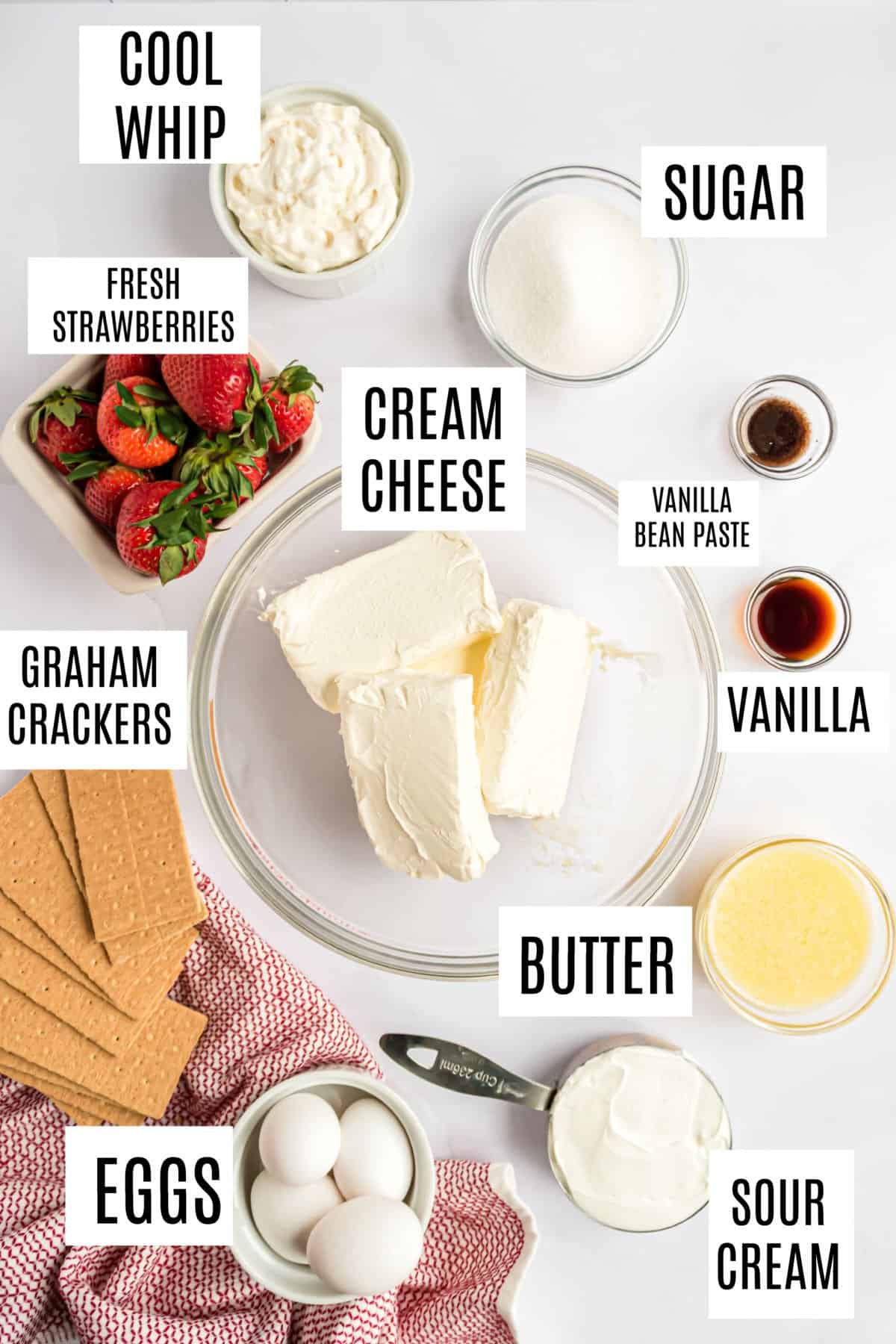 See the recipe card for full information on ingredients and quantities.
Graham cracker crust – This recipe starts with a homemade graham cracker crust. Read our graham cracker pie crust tutorial for more tips on making the best crust for your cheesecake.
Cream cheese – For the rich flavor you crave, it's important to use regular, full fat cream cheese! Start with softened room temperature cream cheese for best results.
Sour cream – adds moisture to the cheesecake while softening the texture of the cheese.
Eggs – We use four large eggs to thicken our vanilla cheesecake.
Vanilla – Since vanilla is the dominant flavor here, we use both vanilla extract and vanilla bean paste. The vanilla bean is optional but makes the flavor even better!
Toppings – A swirl of cool whip or whipped cream is heavenly on top of vanilla cheesecake! We added some fresh sliced strawberries too.
Easy Instructions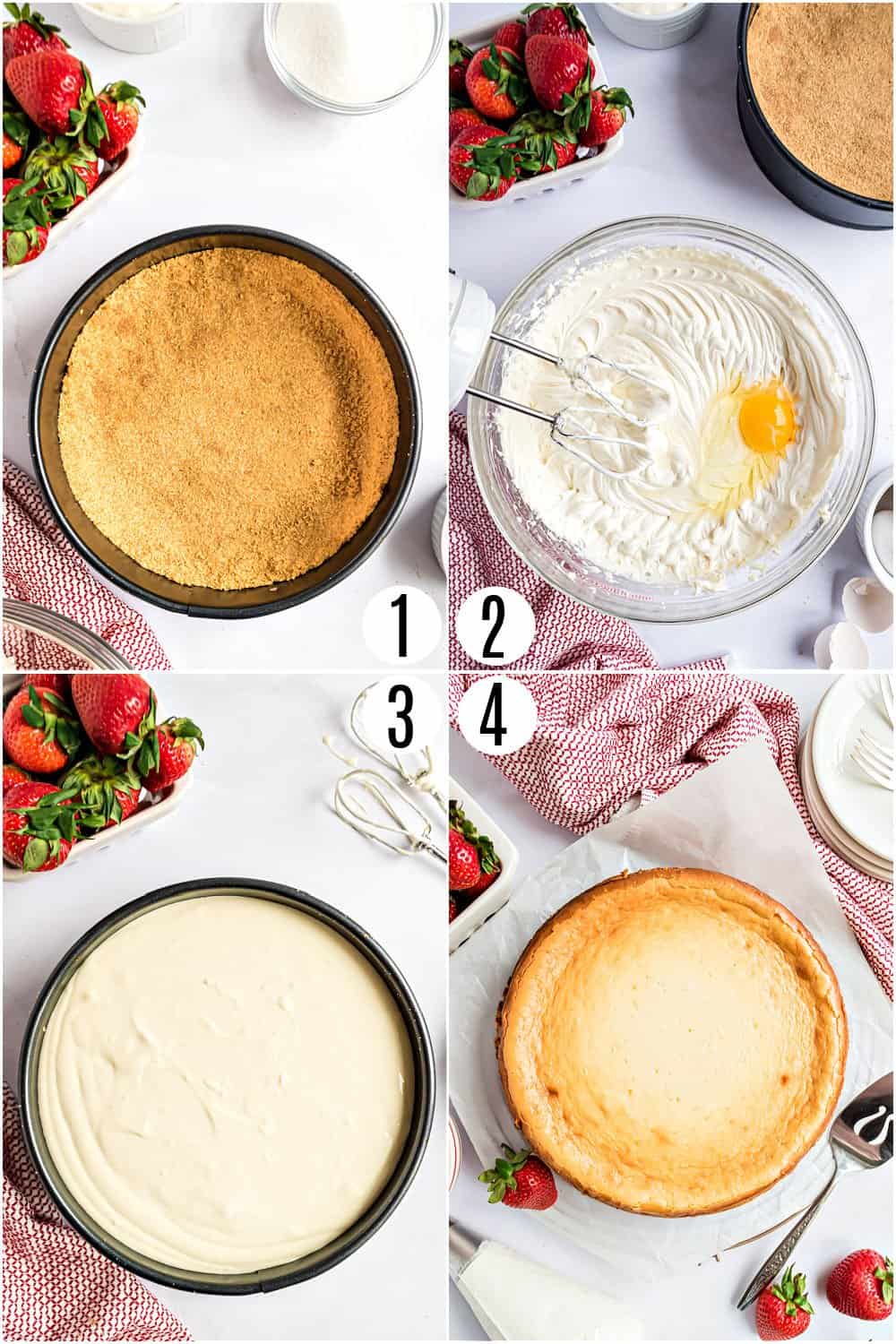 Prep the Pan.
Fill a broiler pan with a couple of inches of water. Place it on the bottom of your oven and preheat to 325°F.
This step raises the humidity levels in the oven. The moist heat is essential for cheesecake with a creamy texture.
PRO TIP: No need to wrap your cheesecake pan in foil. We'll use the steam from the water batch without actually placing the cheesecake in the bath. The cheesecake will go on the shelf ABOVE the water bath.
2. Make the graham cracker pie crust. Some people like to put parchment paper circles under the pie crust. I just serve my cheesecake on the bottom plate that comes with the springform pan. If you plan on sliding the cheesecake off the pan completely, use parchment paper!
3. Make the cheesecake filling. Use room temperature ingredients for BEST results!
4. Bake.
When the cheesecake is done, TURN OFF the oven and crack the door open very slightly. The cheesecake needs to sit for about 15 minutes undisturbed as the oven temperature gradually lowers.
Letting the cheesecake slowly cool is another way we reduce the odds of a cracked cheesecake.
5. Cool.
Remove the cheesecake from the oven. Immediately run a sharp knife around the edges just to separate the edges of the crust from the pan.
Now leave the cheesecake to cool at room temperature for about 30 minutes. Transfer it to the fridge (still in the pan) and chill for at least 6 hours or, preferably, overnight.
6. Serve. Remove the sides of the spring form pan and slide out the cheesecake. Top with cool whip and strawberries before slicing and serving!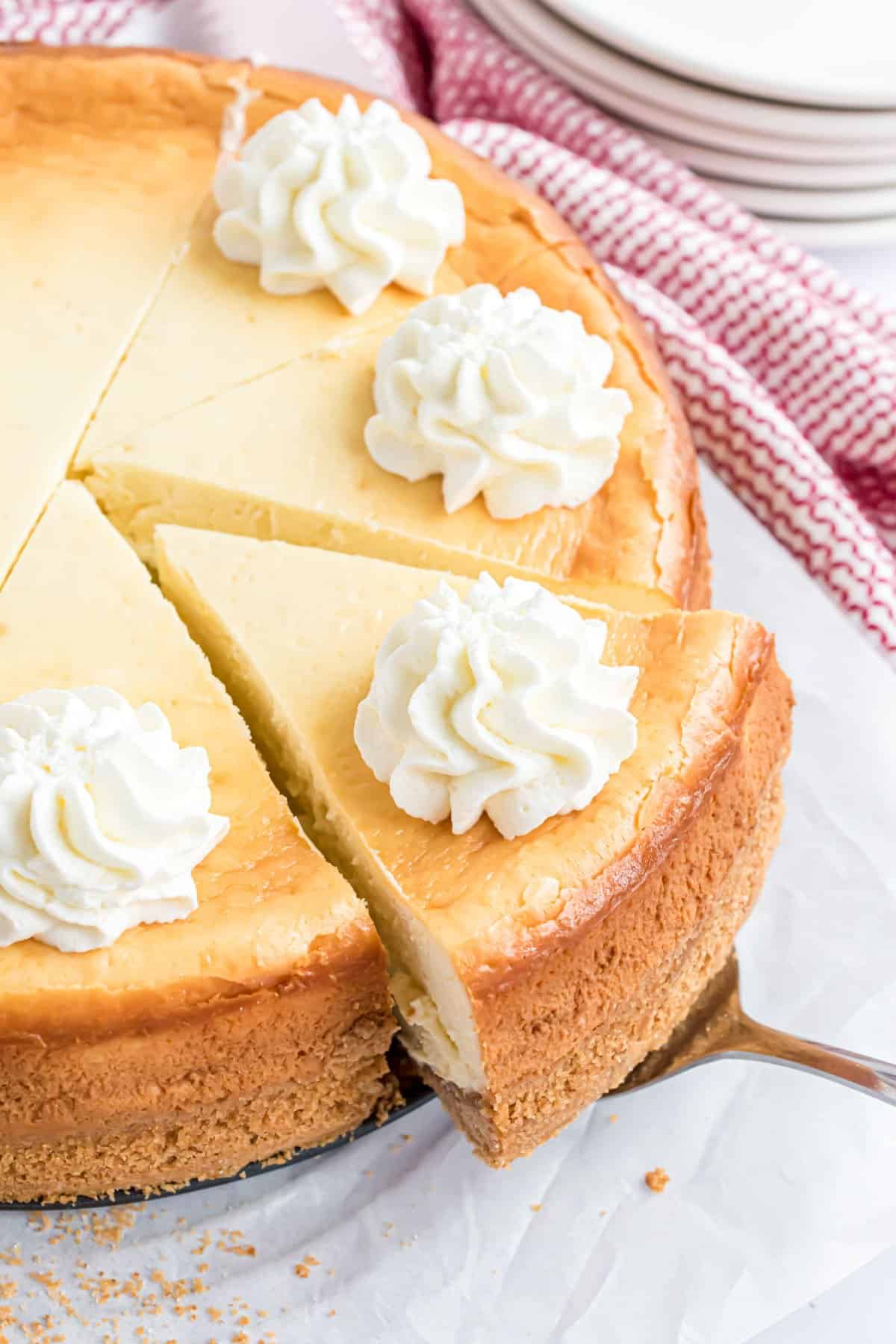 Cheesecake Tips and Tricks
Do not overbeat after adding the eggs. You want a creamy texture, not fluffy.
The cheesecake does not need to sit IN the water bath. The broiler pan full of water will go on the very bottom of your oven. The cheesecake will go on a center rack over the bath. This gives the oven the right amount of moisture necessary for baking smooth cheesecake.
Be careful not to overbake. The cheesecake will still be a little jiggly in the center when it's done. Remember it'll continue to set up as it cools. Overbaking can dry out the cheesecake and cause cracks.
Sometimes despite your best effort, your cheesecake will still crack. It happens! Don't stress: that's what toppings are for! Spread some cool whip or whipped cream over that crack and forget about it. No one will care when they're busy enjoying incredible cheesecake.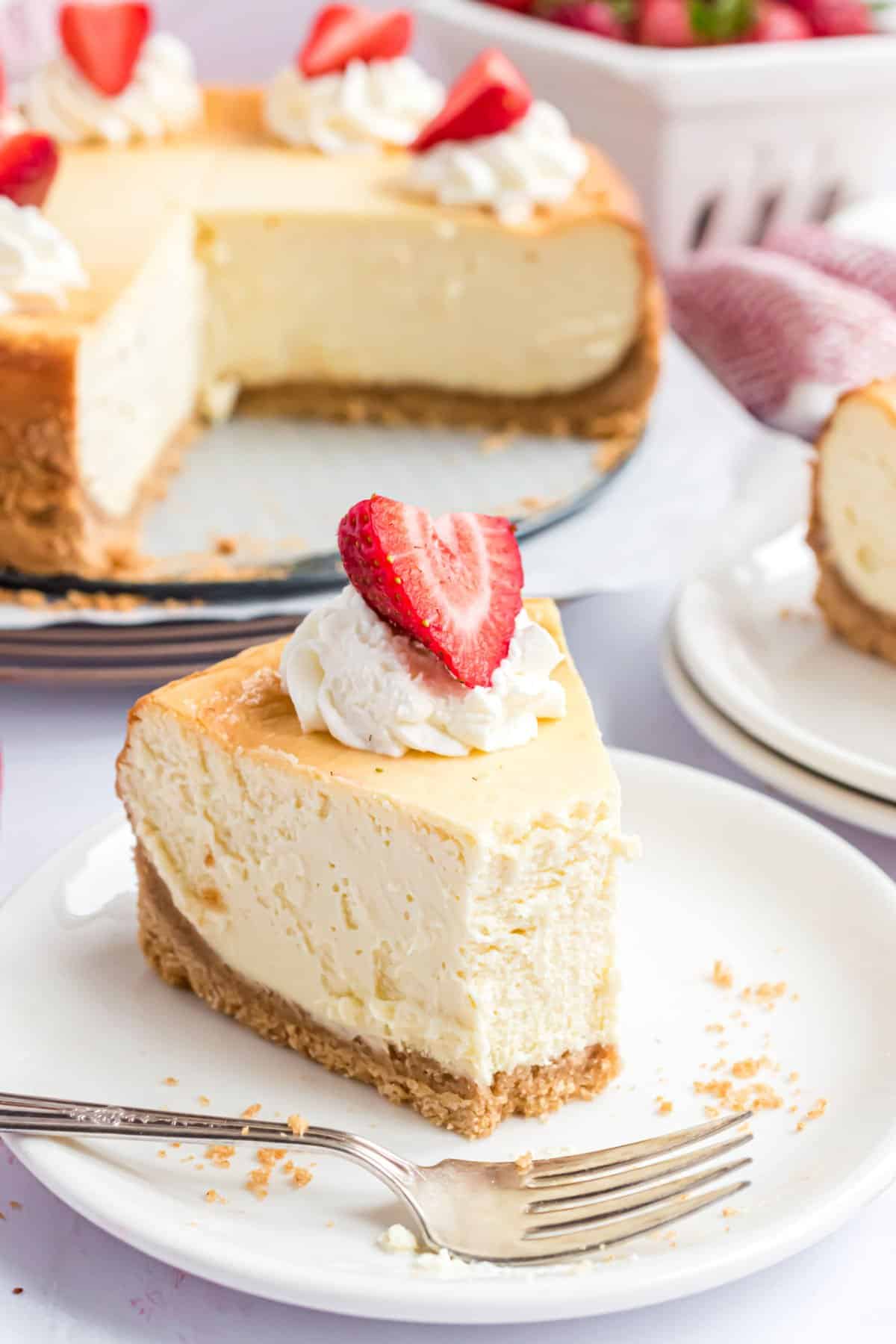 Recipe FAQs
Why does cheesecake crack?
Cheesecakes are delicate desserts prone to developing "cracks" on top before or after baking. There are a few common reasons why this happens.
Oven humidity and temperature are the most common culprits of cracked cheesecake. Using a water bath helps add moisture to the oven to keep the cheesecake from drying out and cracking.
Be careful not to open the oven door as the cheesecake bakes! Drastic changes in temperature can wreak havoc on this delicate dessert. That's why we let the cheesecake gradually cool in the turned off oven instead of removing it right away.
What can I use instead of vanilla bean paste?
If you don't have vanilla bean paste, you can substitute the seeds of one vanilla bean. Or just leave it out!
What other toppings taste good on this cheesecake?
The simplicity of vanilla cheesecake makes it the perfect canvas for all kinds of toppings!
Berries, pie filling, and caramel sauce are all delicious on vanilla cheesecake. Love lemon? Spread some lemon curd on top of your cheesecake. Any kind of chocolate drizzle would be amazing too, with or without the whipped cream.
How do you store cheesecake?
Store this cheesecake covered in the refrigerator. It's best enjoyed within one week.
More Cheesecake Recipes
Love this recipe? Please leave a 5-star 🌟🌟🌟🌟🌟rating in the recipe card below & a review in the comments section below!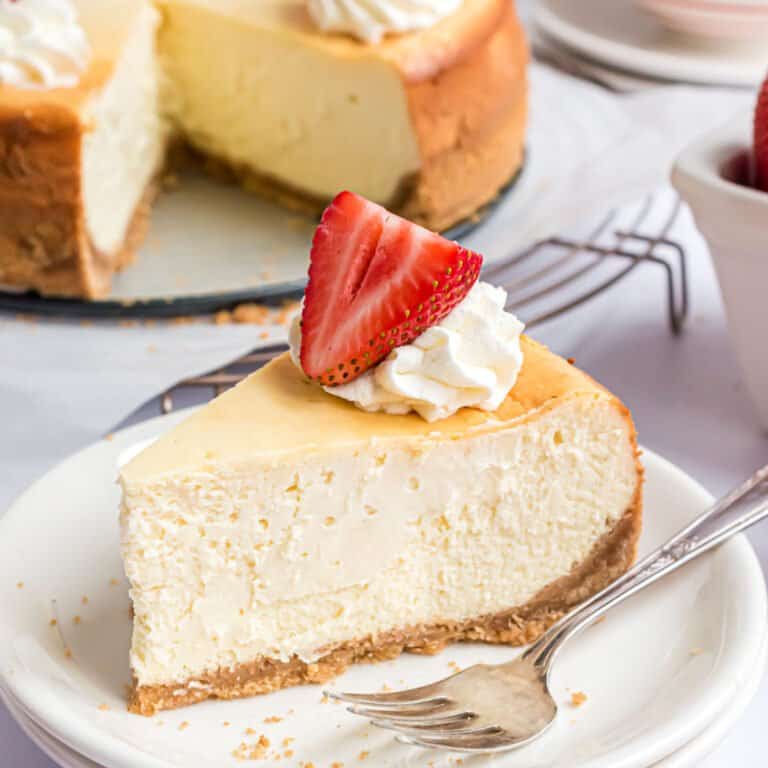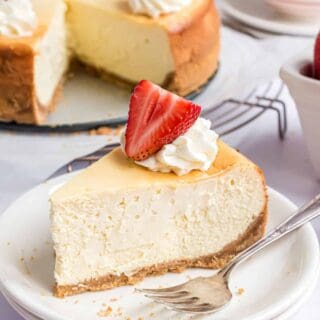 Cheesecake Recipe
Make the perfect cheesecake with this vanilla cheesecake recipe! This step-by-step tutorial has all of our tips and tricks for making the best ever cheesecake. Simple, creamy, and delicious!
Ingredients
FOR THE CRUST:
2

cups

graham cracker crumbs

about 18 full size crackers

8

Tablespoons

unsalted butter

melted

¼

cup

granulated sugar
FOR THE FILLING:
4

packages

cream cheese, softened

8 ounce each

1

cup

granulated sugar

1

cup

sour cream

2

teaspoons

vanilla extract

1

teaspoon

vanilla bean paste

optional

4

large eggs

room temperature
FOR THE TOPPING:
8

ounce

Cool Whip

thawed (or homemade whipped cream)

1

pound

sliced strawberries
Instructions
Prepare

9-inch springform

pan by lining the bottom with a piece of parchment paper. Set aside. Fill broiler pan with about 1-2 inches of water and place in BOTTOM of oven, on lowest rack. Preheat oven (with broiler pan of water) to 325°F.

To make crust, blend graham crackers in food processor until fine. Pour in melted butter and sugar, pulse several times until combined. Press crust into bottom and slightly up the sides of a 9-inch springform pan. Set aside.

For the filling, beat cream cheese and sugar for about 2 minutes. Add in sour cream and vanilla and beat for an additional 2-3 minutes, scraping down the sides of the bowl as needed.

Slowly add eggs, one at a time until mixture is smooth. Do not over beat. Pour into prepared crust and place cheesecake pan into the middle of the oven.

Bake 70 minutes in a 325 degree oven. Turn off oven, crack door open, and let sit undisturbed for about 15 minutes. Remove from oven and run a sharp knife gently along the edges to separate the cheesecake from the pan. Allow to cool on counter (in pan) for about 30 minutes, then place (in pan) in refrigerator for about 6-8 hours (or overnight).

Remove springform pan gently. Top with Cool Whip and sliced strawberries, slice and enjoy!
Notes
Don't over beat your cheesecake before baking it. Just stop it. You don't need FLUFFY….your goal should be CREAMY. Start with softened cream cheese (room temperature) in the first place!
Water bath. While it doesn't always PREVENT cracks, it does help add moisture to your dessert so the end result is melt in your mouth deliciousness EVERY time. And your springform pan doesn't need to SIT IT in the water bath. I just place a broiler pan in my oven on the bottom shelf with about an inch of water. It adds the right amount of moisture to the oven while cooking.
Once your cheesecake is done baking (as directed below), turn off the oven, crack open the door, and allow the cheesecake to "cool" for about 15 minutes in the oven. This slow cool process cuts down on the cracking!
Finally, once it's cooled and you released your cheesecake from the pan, and you notice you did everything right, yet there is still a crack. COVER IT UP. Yeah, you heard me. Top it with some whipped cream. Cool Whip. Berries. Pie Filling. Lemon Curd. It happens.
You can purchase Vanilla Bean Paste on Amazon, or substitute 1 vanilla bean, scraped. If vanilla beans are too expensive you can skip them completly.
Nutrition
Serving:
1
slice
,
Calories:
383
kcal
,
Carbohydrates:
40
g
,
Protein:
6
g
,
Fat:
22
g
,
Saturated Fat:
13
g
,
Polyunsaturated Fat:
7
g
,
Cholesterol:
103
mg
,
Sodium:
161
mg
,
Fiber:
1
g
,
Sugar:
31
g
If you only have room for one cheesecake recipe in your life, make it this one: a perfect vanilla cheesecake! Dress it up with your favorite toppings or enjoy it all on its own.