The best ever 7 Up Pound Cake recipe! You'll love how easy it is to make pound cake with the perfect texture, flavor and color. One bite and you'll agree—this 7-Up cake really is the BEST!
Whether you're looking to make the perfect chocolate cake recipe or trying to bake a batch of funfetti cupcakes, you'll love our tips and tricks with all our recipes!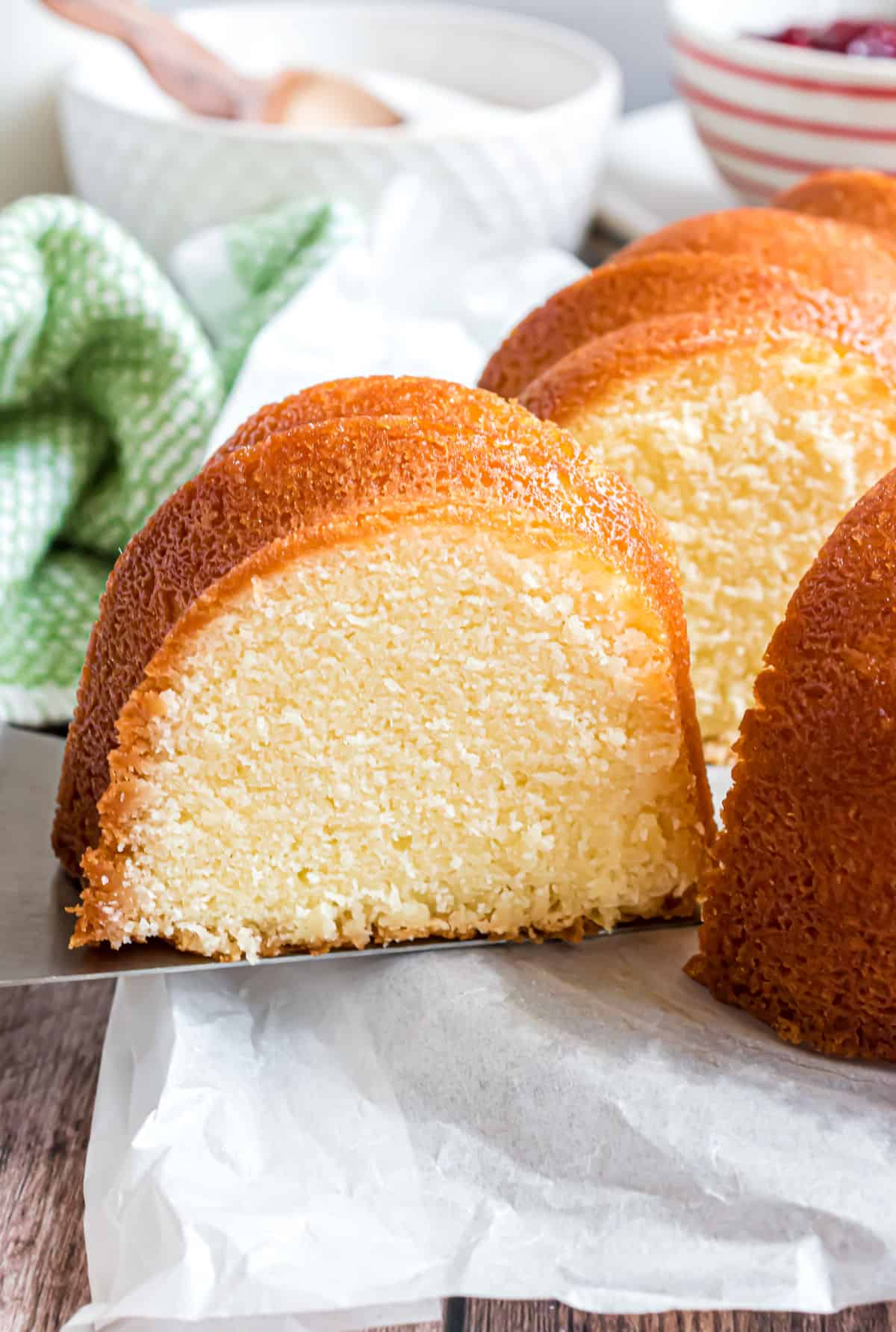 The Perfect Pound Cake
This is not just any ol' pound cake. This recipe is pure pound cake perfection.
Ever find yourself on the hunt for the "PERFECT" recipe. I mean, if you go on Pinterest, I'm sure you'll see lots of titles for "best ever" and "perfect" for whatever recipe it is you're looking for.
I can't help it, I'm guilty of it too!
I've titled a few things as the Best Strawberry Mojitos, Best French Onion Soup, and Best M&M Cookies.
Oh, and let's not forget the Perfect Vanilla Cheesecake, Perfect Rice Krispie Treats, and Perfect Chocolate Chip Cookies.
I try to not use the term lightly, although I stand by every single one of those recipes.
Today's pound cake recipe is THE BEST POUND CAKE ever.
Ingredient Notes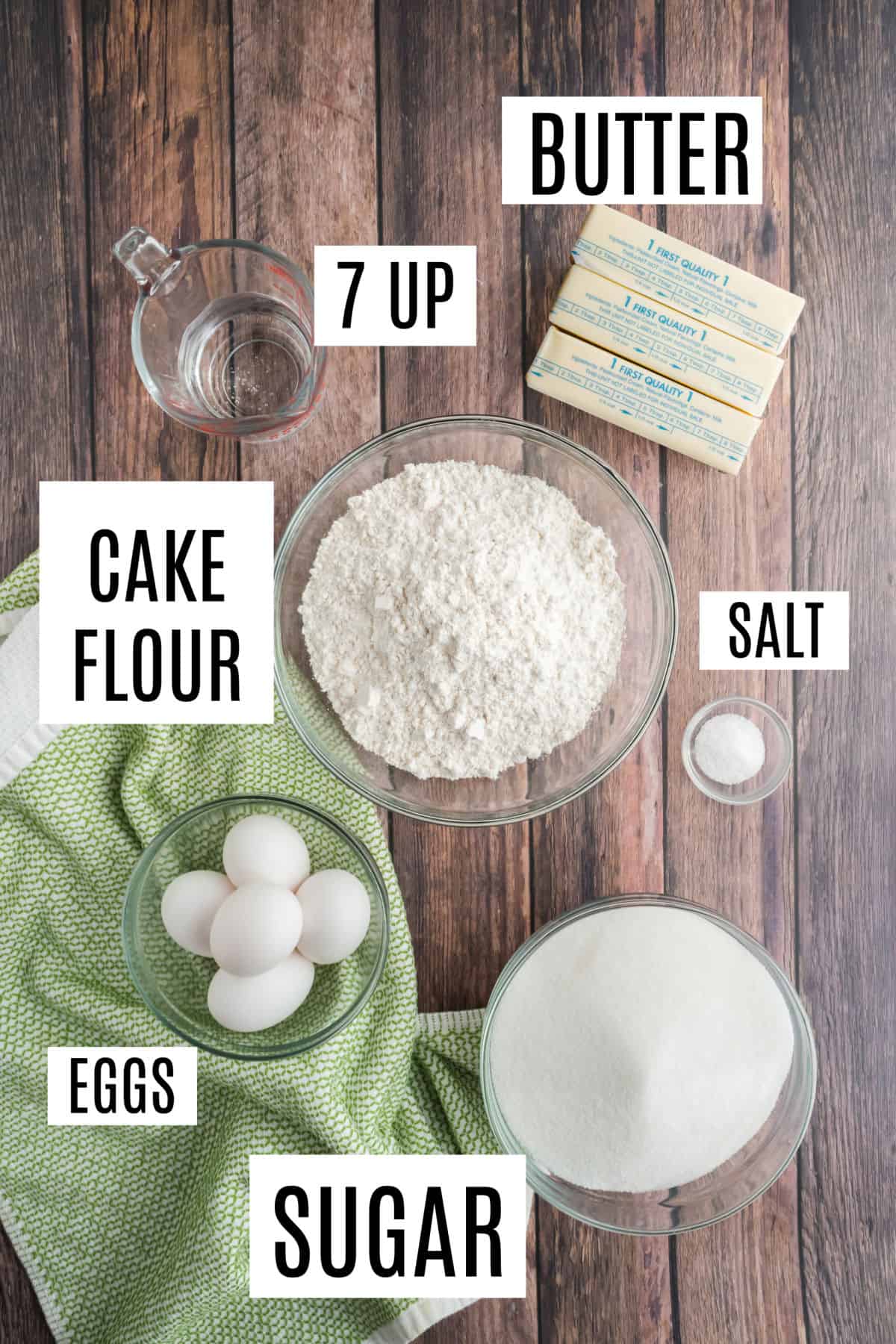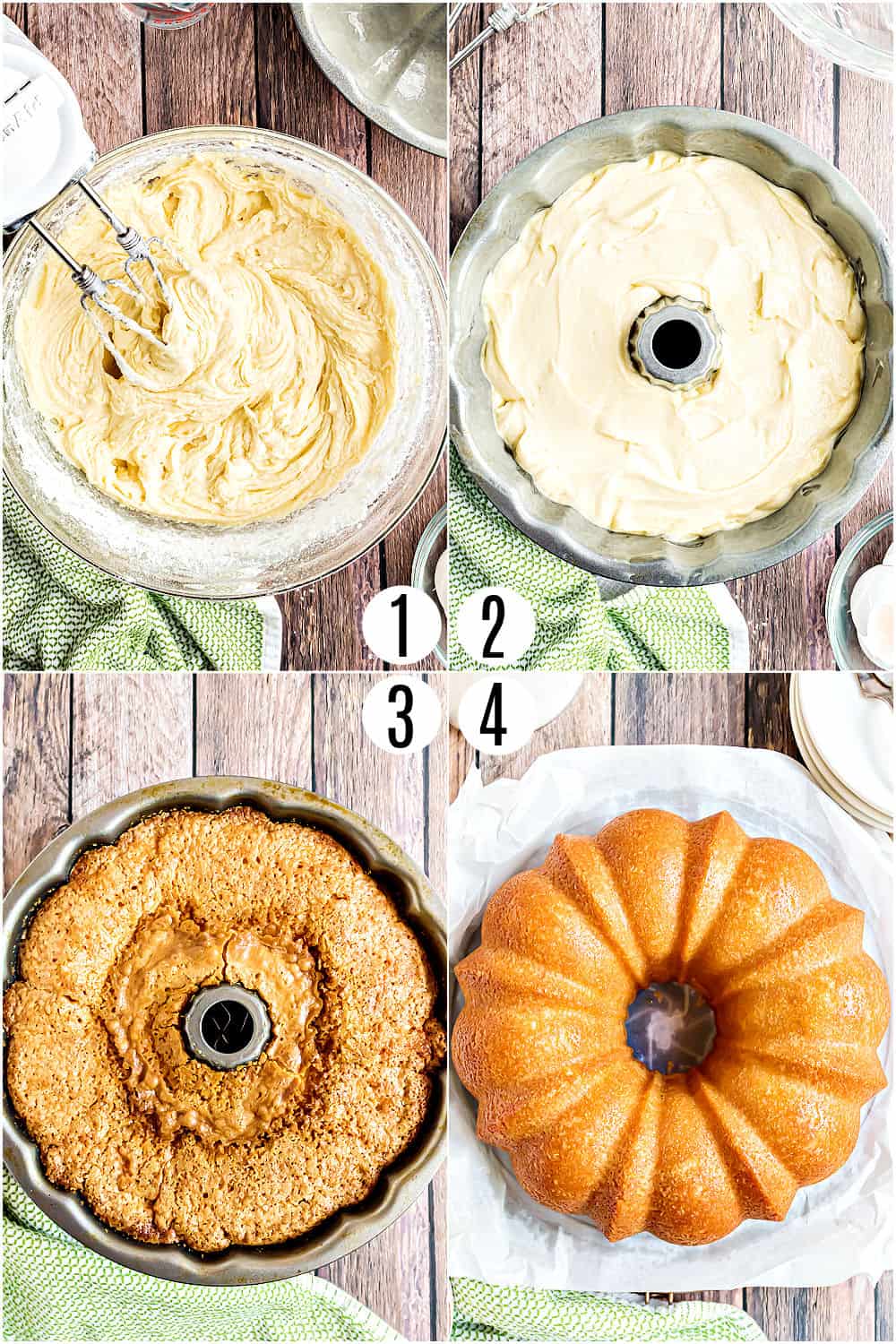 Tips and Tricks
The Cake Pan.
First, make sure you use a large bundt cake, or tube pan. This is a BIG pound cake, and it rises high, so make sure you're not using a pan that is too small. I once made it in a 12 cup bundt pan and it didn't overflow, but it rose way above the top. It was quite a sight!
2. The Butter.
Let it soften on your counter. (We have some great tips on how to soften butter quickly). When it's time to beat the butter, you want to do so for a good couple minutes, then add in the sugar and salt and beat an additional 5-7 minutes, using an electric mixer with a whisk attachment.
Scrape down the sides of the bowl periodically, and beat that butter until it's soft, smooth, and very pale in color!
3. Cake Flour.
I'm going to say it one more time: cake flour should ALWAYS be used for this pound cake recipe.
It creates the perfect texture and crumb when it comes to baking a cake.
4. Do not OVER BEAT.
Once you've added in your flour do NOT over beat. I mix JUST until the flour is incorporated, then I use a spatula and mix gently without the electric mixer.
5. Lower and Longer.
Bake at a lower temperature for longer. You've got to trust this, but it works and it's amazing. And after one bite of this cake, you'll say, "that's the best and most perfect pound cake ever!"
I made a similar version several years ago, using CHERRY 7up and a cherry glaze. It was so good.
You can also enjoy a Pina Colada Pound cake, as you dream of being on a tropical location!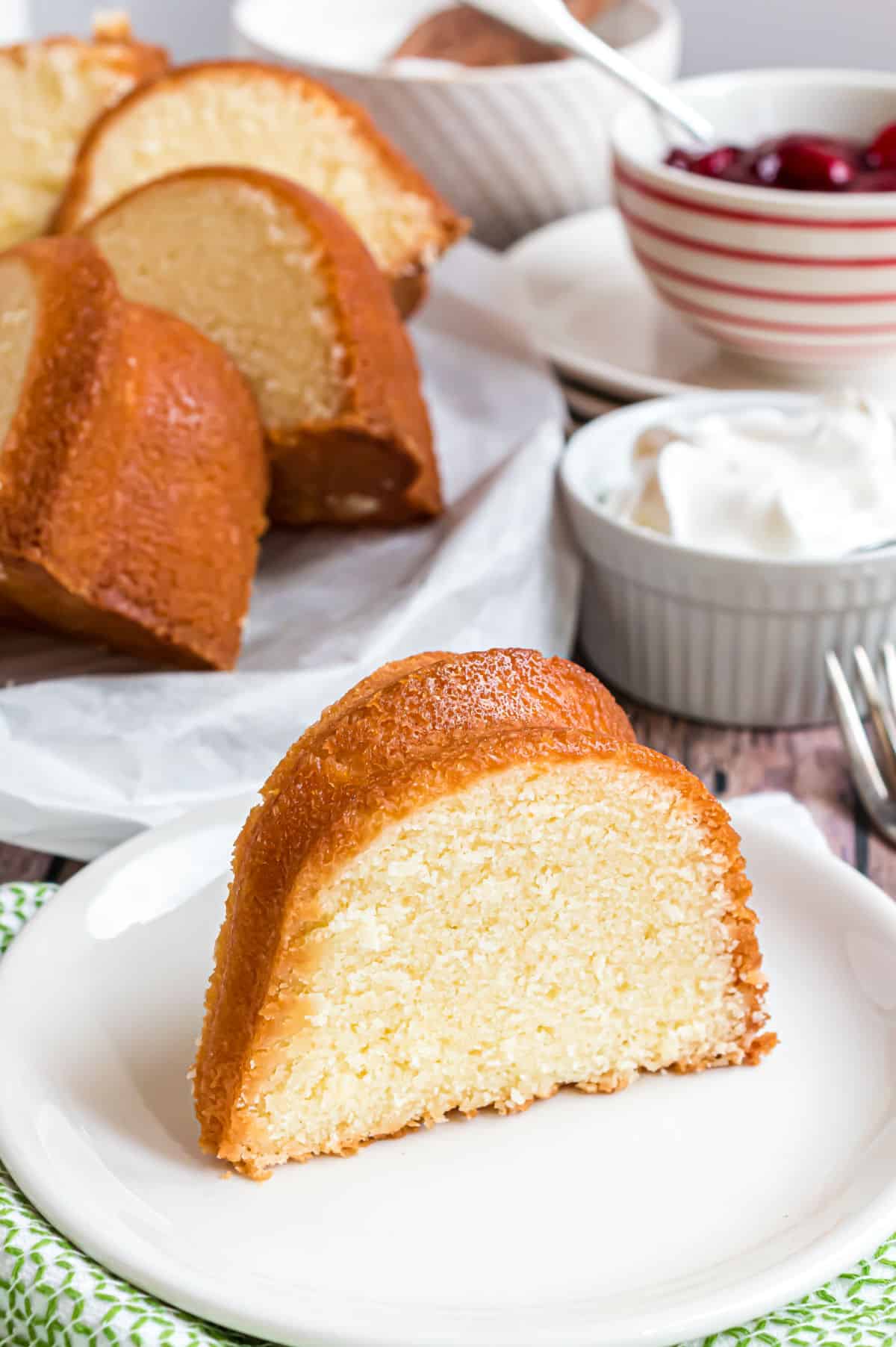 Recipe FAQs
Do I have to use a bundt pan?
Two loaf pans will work, or a tube pan.
What can I substitute for cake flour?
For cake flour, substitute 1 3/4 cup of all purpose flour and 1/4 cup cornstarch for 2 cups of cake flour.
How do I fix dry pound cake?
Make a simple syrup using equal parts sugar and water (1/2 cup each). Boil until sugar is dissolved. You can add fresh lemon zest for more flavor.
Why is my pound cake heavy?
Be sure to beat butter and sugar at medium speed. Do NOT over beat the flour, add slowly, and gently until combined.
How to Serve Pound Cake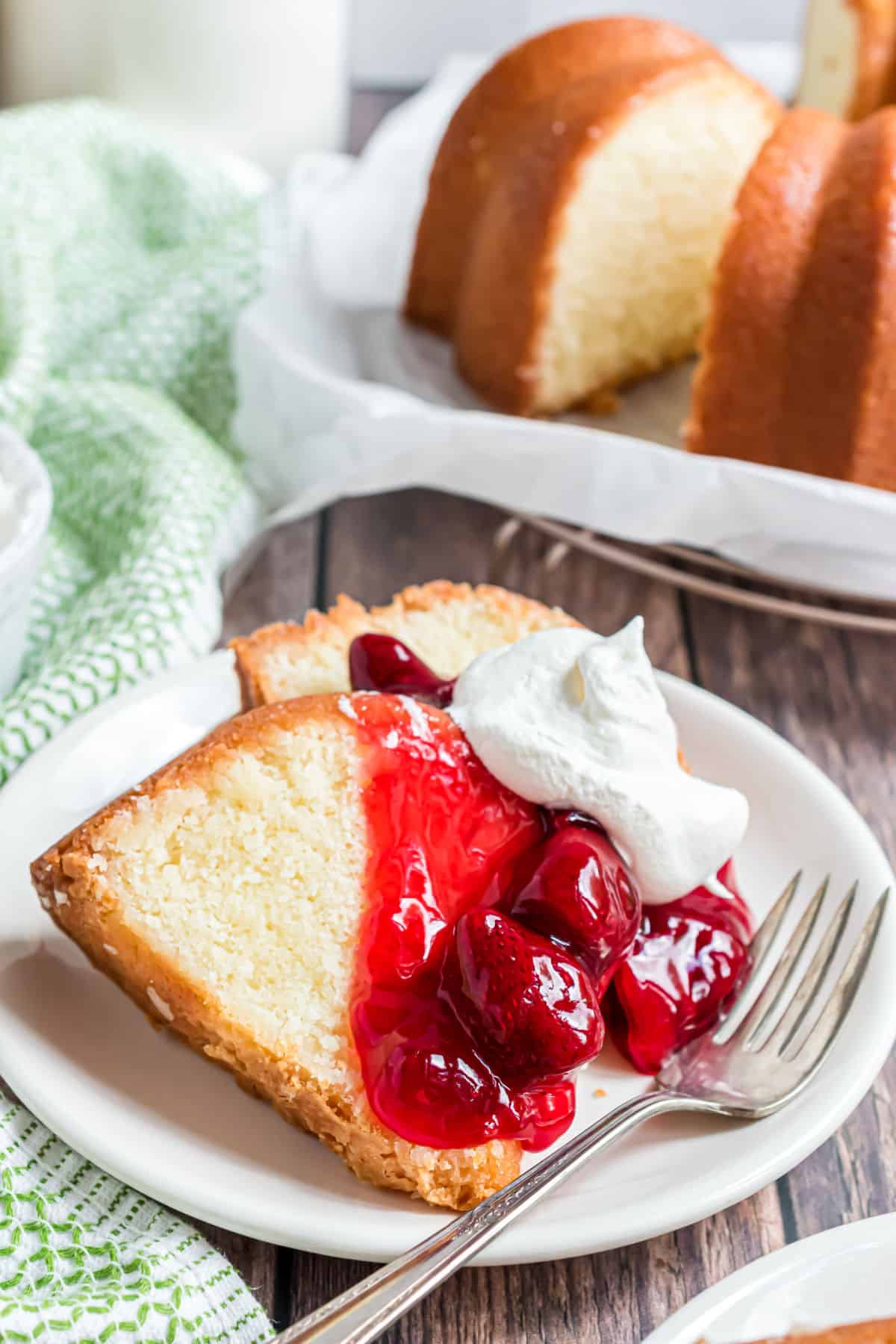 Once you know how to make 7 up pound cake, you can have fun serving it with all different toppings and additions.
Sometimes simpler is better when it comes to cake. This pound cake is no exception.
I love to dress up pound cake by serving it with some whipped cream (or homemade cool whip) and berries. Strawberries are my favorite but this time the strawberries at the store looked pretty pale and sad.
So I grabbed a can of strawberry pie filling and spooned that on top of each slice of pound cake instead. Delicious!
Here are a few other serving suggestions we love for pound cake:
Let the cake be your canvas. You'll never run out of new ways to top and serve this old-fashioned 7 up pound cake!