A delicious, from scratch, Funfetti Cupcake recipe with Chocolate Cream Cheese Frosting. Add a cute PEEP on top for a fun Easter treat!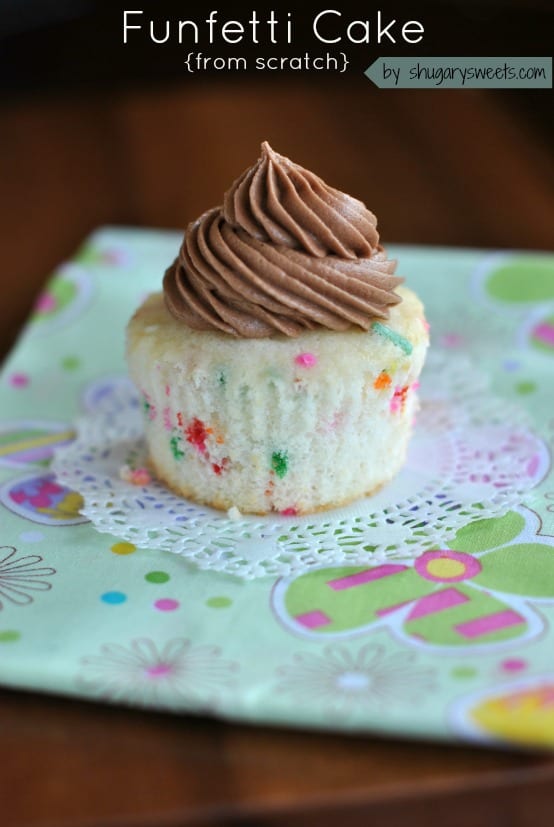 Today is a special day. My baby, my youngest baby, turns 9. As in, NINE YEARS OLD.
Did I mention she was my baby? My youngest? And next year that means she will be double digits.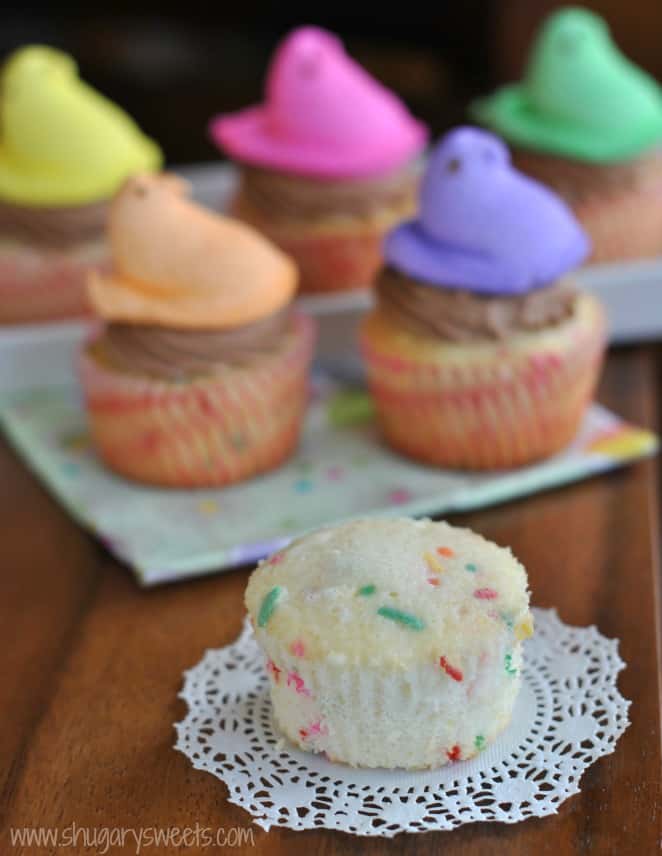 So we are celebrating with Funfetti Cupcakes! Most of the time, you will find me making cakes and cupcakes from scratch. It's not that I have anything against a cake mix, I love them. I just never think to buy them. So when the time comes for cupcakes, I rely on some of my favorite scratch recipes.
These are based off my vanilla bean cupcakes. Do you remember those? One of my favorites! I have tried many white cake recipes through the years, and this is hands down my favorite version! It's so moist, and the crumb is perfect. Seriously. This recipe uses cake flour, which to make the perfect white cake, it really is a must! I wouldn't make you buy it if I didn't think it was necessary!
I used to swear by Magnolia's white cake recipe, but I read a reviewer once say it tasted like corn muffins, and the next time I made it the same thought occurred to me! So, here you go, the perfect white cake recipe, with sprinkles!!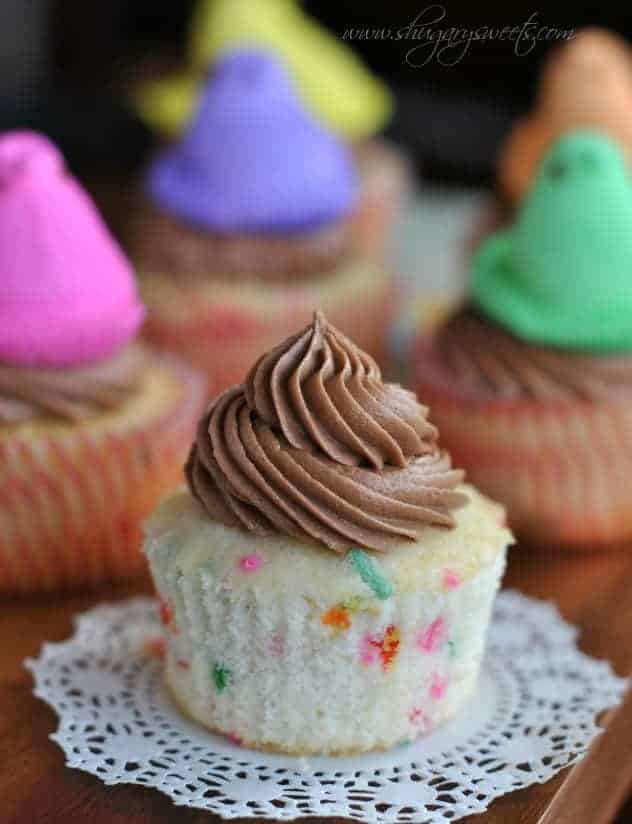 And to jazz these up a little bit we put some chocolate cream cheese frosting on top. I prefer the big high swirls of frosting.
But my little girl prefers the small swirl and a PEEP. And, since it's her birthday, she can have the moon, the stars and the PEEPS!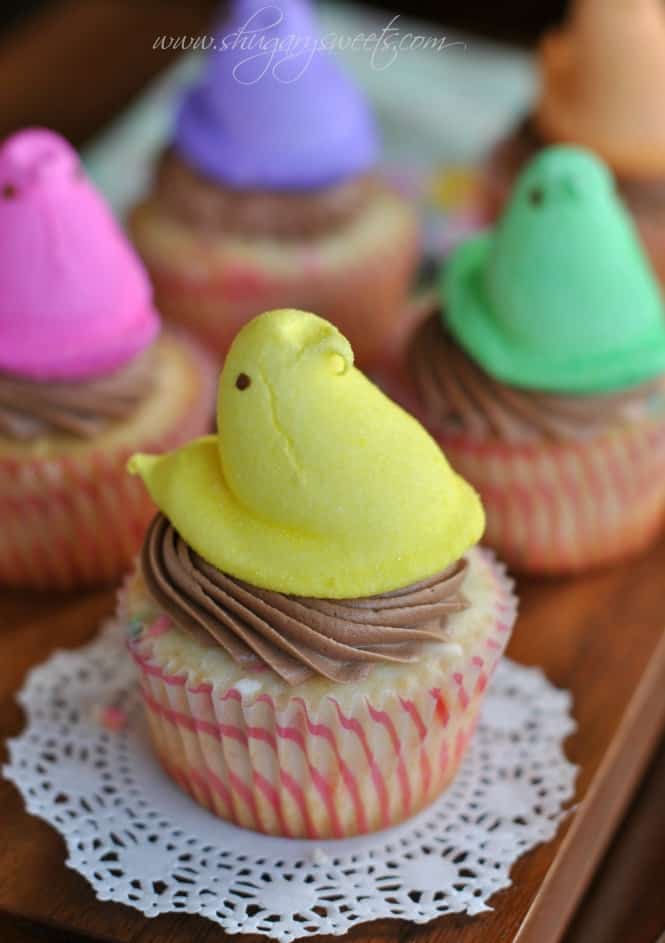 LOVE YOU CASSIDY!!
 Are you following me on Pinterest yet? 
See some inspiring Cakes and Cupcakes
Want some cookie ideas? Check out my Cookies, Brownies and Bars board
Be sure to check out Desserts-sweets and treats for your next recipe idea!
 Don't miss a single recipe: connect with Shugary Sweets!
Instagram | Facebook | Twitter | Google+ | Pinterest | Bloglovin'
Yield: 30 cupcakes
Funfetti Cupcakes with Chocolate Cream Cheese Frosting
A delicious, from scratch, Funfetti Cupcake recipe with Chocolate Cream Cheese Frosting. Add a cute PEEP on top for a fun Easter treat!
Ingredients
For the Cupcakes:
5 egg whites, room temperature
3/4 cup whole milk
3/4 cup unsalted butter, softened
1 3/4 cup granulated sugar
2 1/2 cup cake flour
1 Tbsp baking powder
1/2 tsp kosher salt
1/2 cup sprinkles
For the Frosting:
1/2 cup unsalted butter, softened
4 oz cream cheese, softened
4 cup powdered sugar
1/4 cup unsweetened cocoa powder
1 Tbsp chocolate syrup
1-2 Tbsp milk
30 PEEPS, for garnish, optional
Instructions
For the cake, whisk together the egg whites and 1/4 cup of the milk in small bowl until slightly combined. Set aside.
In mixing bowl, beat butter and sugar for 2 minutes on medium. Add in dry ingredients and mix until combined. Slowly in a steady stream add in the egg white mixture. Beat in remaining milk. Slowly fold in sprinkles.
Fill cupcake liners half full with batter and bake in a 350 degree oven for about 15-18 minutes. Remove and cool in pan 5 minutes then transfer to a wire rack. Cool completely before frosting.
For the frosting, beat butter and cream cheese for 3-5 minutes, until fluffy. Bean in powdered sugar, cocoa powder, chocolate syrup and 1 Tbsp milk. Beat for an additional 3-5 minutes, adding more milk to get desired consistency.
Frost cupcakes and top with a PEEP!
Want more versions of this delicious cupcake recipe? Yeah, I can do that!
These Lemon Cupcakes are one of my most popular varieties. Using the white cake base, I added fresh lemon to the cupcake and the buttercream. Aren't they gorgeous? They are delicious too!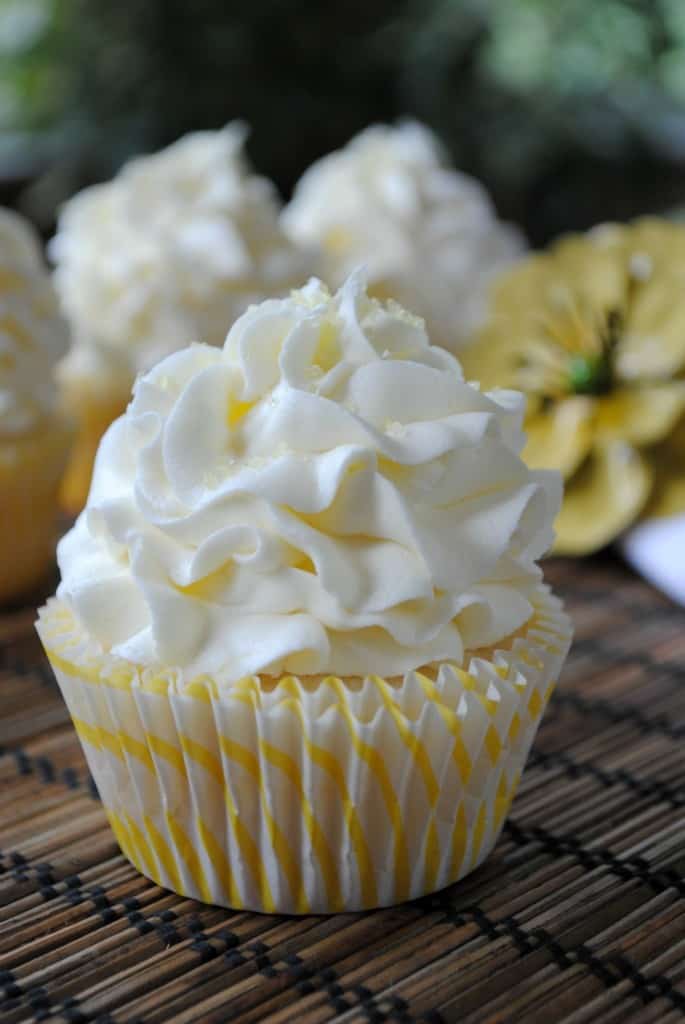 How about a traditional wedding cake flavor? Almond Cupcakes with Raspberry Filling. By adding almond extract to the white cake recipe (and to the whipped frosting), these will knock your socks off!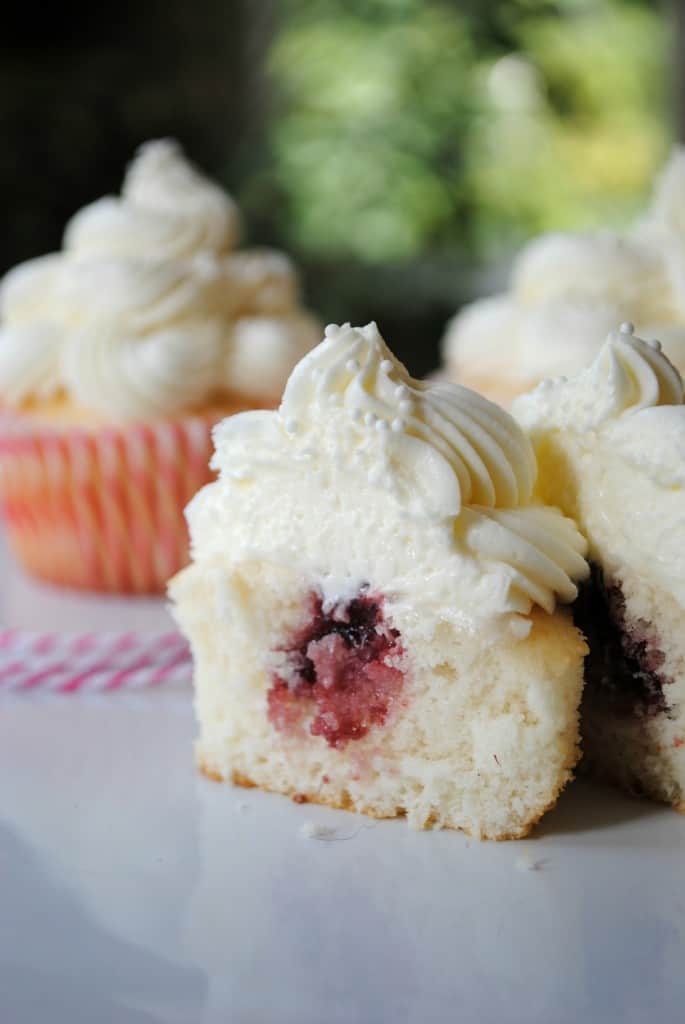 Of course, you may have seen the original Vanilla Bean Cupcakes with Vanilla Bean Buttercream Frosting. Classic and classy!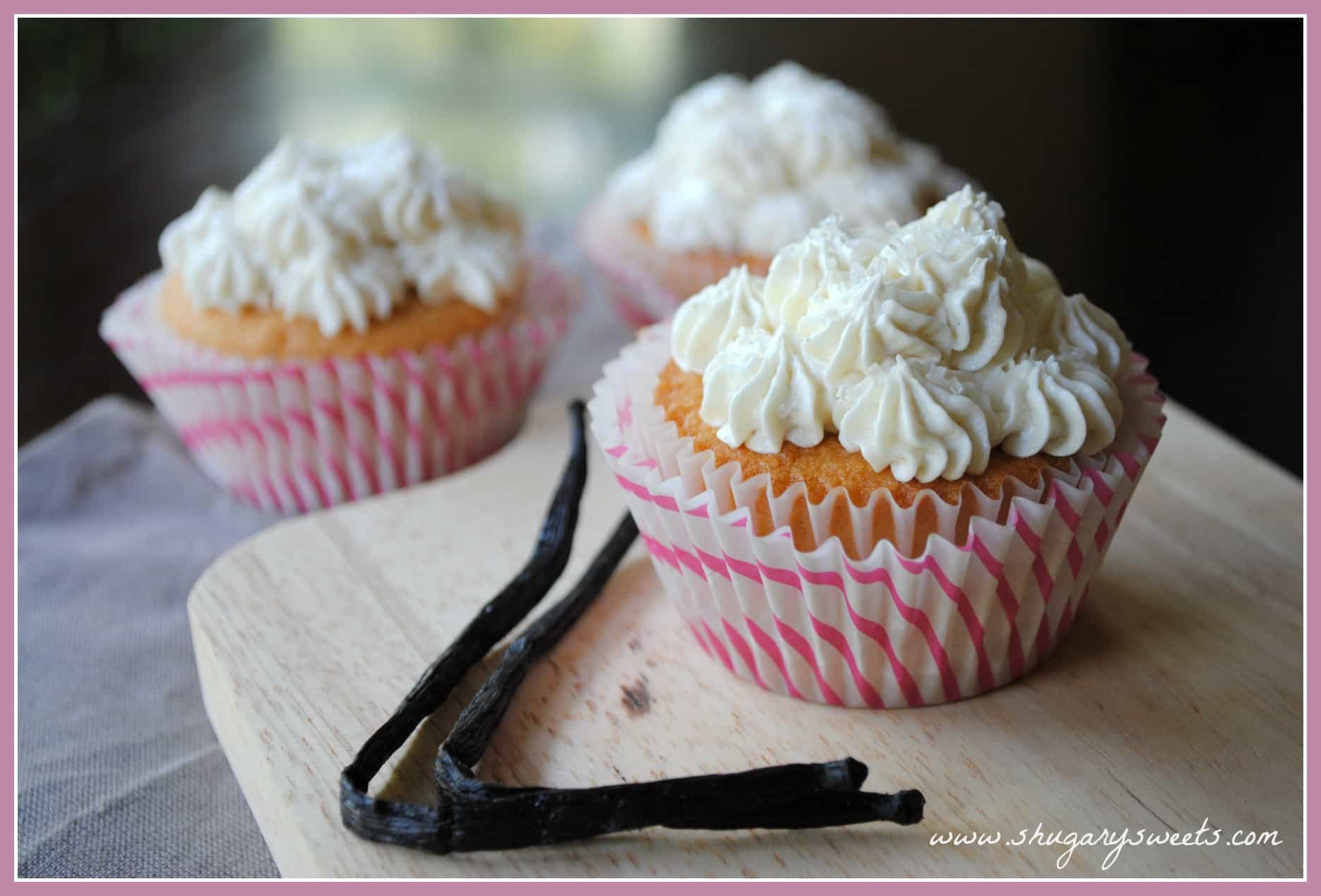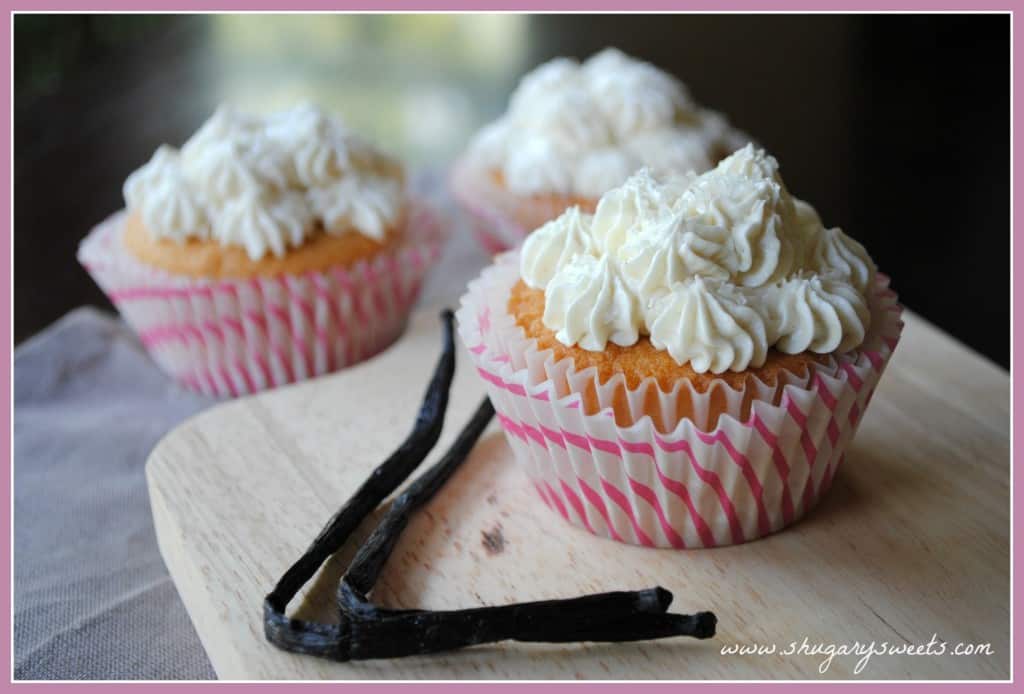 Still craving cupcakes? Here are a few of my favorites from some of my favorite bloggers:
Sugar and Spice Cupcakes from My Baking Addiction
Maple Cupcakes with Maple Frosting from Buns in my Oven
Easter Bunny Cupcakes from Confessions of a Cookbook Queen