A delicious, from scratch, Funfetti Cupcake recipe with Chocolate Cream Cheese Frosting. You don't have to be a kid to love these fun, colorful treats!
Serve these easy Funfetti Cupcakes at your next birthday celebration. Send your guests home with some Birthday Hot Cocoa Bomb favors and you'll be everyone's favorite host!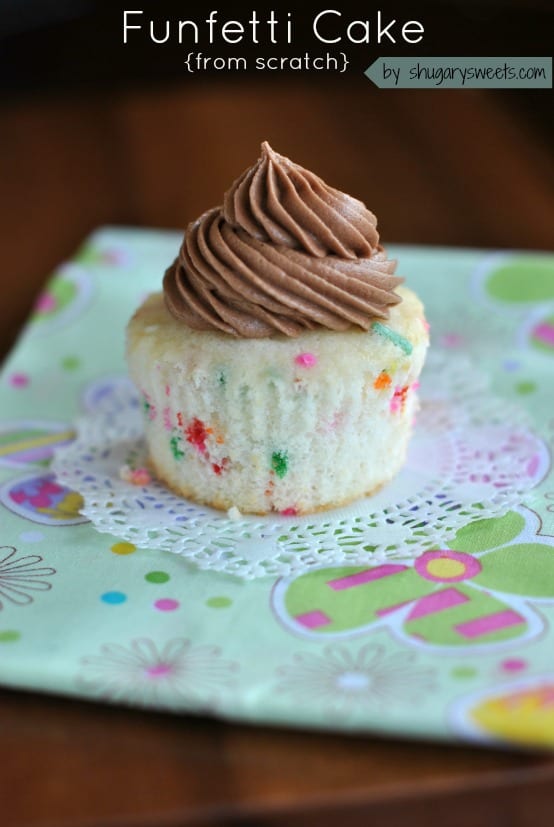 Sprinkles make every thing better!
Why These Cupcakes Are Best
Made from scratch! These have all the familiar festive color as the boxed version with a more heightened, fresh flavor you'll love.
Perfect for any holiday or occasion. We added cute marshmallow PEEPS to the top of each one to celebrate Easter.
Easy to make and serve. We love cupcakes for parties and potlucks because you don't need to worry about plates or silverware.
The best frosting. Creamy and rich chocolate cream cheese frosting takes the sweet vanilla funfetti cupcakes to a whole 'nother level!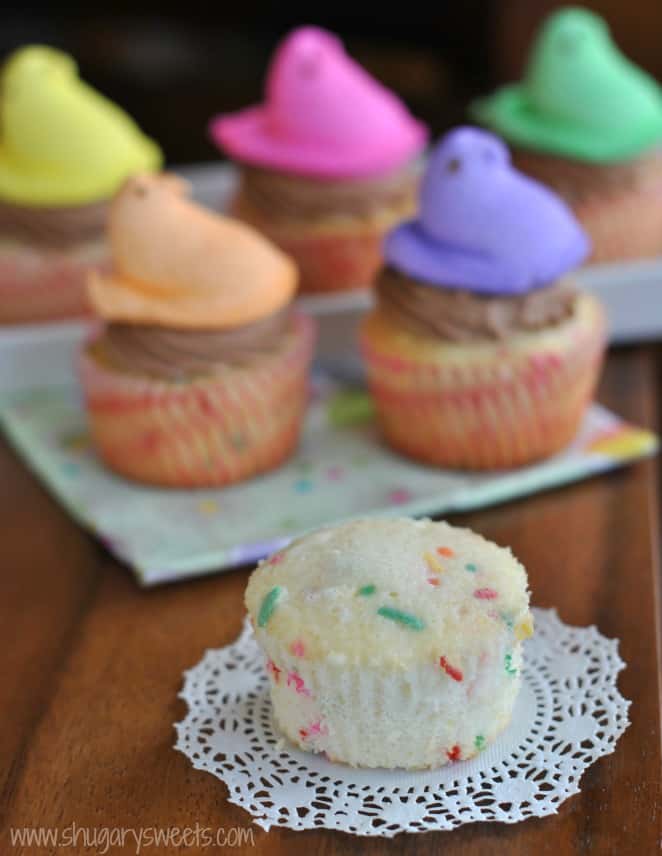 Ingredient Notes
Cake flour. The lower gluten content gives these cupcakes their fine, tender crumb.
Buttermilk. Adds moisture and acidity to the cupcake batter with very little fat for a moist, soft cupcake.
Vanilla. Use a pure vanilla extract for best flavor in this recipe. This homemade vanilla extract is my favorite for baked goods.
Sprinkles. Multi colored jimmies or round "confetti" sprinkles are perfect for making funfetti cupcakes.
Cream cheese. Make sure to use full fat cream cheese that comes in sticks for this frosting recipe.
Chocolate syrup. A spoonful is added to the frosting along with unsweetened cocoa powder for an extra luscious chocolate flavor. Any bottled ice cream sundae syrup (like Hershey's) can be used.
Frosting Ideas
Today, I chose chocolate cream cheese frosting for our Funfetti cupcakes.
There's no shortage of other incredible options for frosting your homemade cupcakes! The vanilla base of funfetti cake makes it ideal for pairing with just about any kind of frosting you can imagine.
Strawberry Buttercream Frosting is full of bright berry flavor with a rosy pink color. It's one of my favorite frostings for summertime!
If you're in the mood for chocolate but not a fan of cream cheese frosting, top your funfetti treats with this Chocolate Buttercream Frosting instead. Or give my Chocolate Sour Cream Frosting a try instead for something a little out of the ordinary.
Can't decide? This Chocolate Vanilla Swirl Buttercream Frosting Recipe let's you have two flavors in one!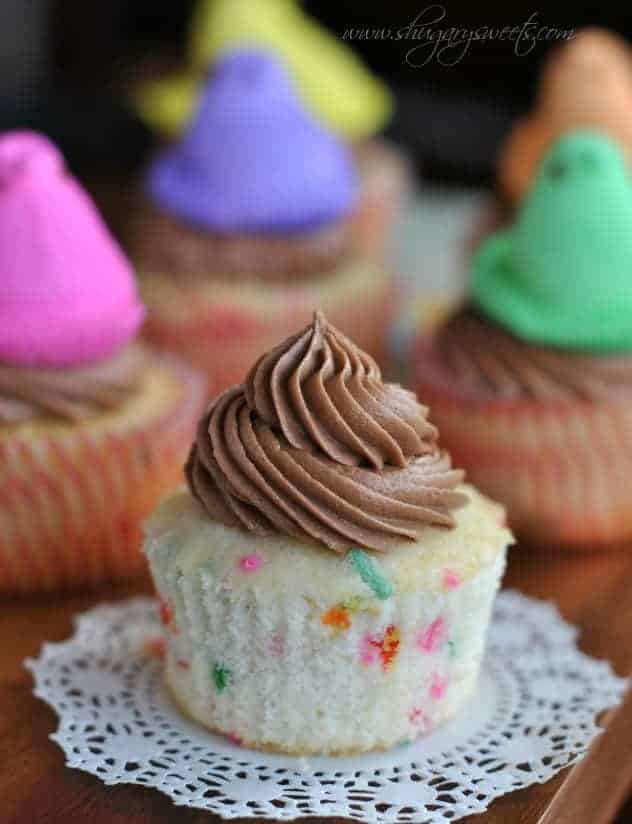 Tips and Tricks
Easter dessert idea: Press a marshmallow peep on top of each frosted cupcake like we did. So adorable!
Birthday garnishes: For birthday parties, garnish the funfetti cupcakes with more sprinkles and stick a cake candle in the center.
Buttermilk substitute: If you don't have buttermilk on hand, make your own with my easy buttermilk substitute recipe.
Recipe FAQs
What can I use if I don't have cake flour?

If you don't have cake flour, make your own with all purpose flour and cornstarch.
First, measure 2½ cups of all purpose flour into a bowl. Remove 5 tablespoons of the flour. Replace with 5 tablespoons of cornstarch. Mix well to combine, then add to the recipe in place of the cake flour.
Easy and effective!
Can I make this as a funfetti layer cake instead of cupcakes?
You sure can. This batter makes enough to fill two 8 or 9 inch layer pans. You will need to increase the baking time by about 10 minutes.
Do funfetti cupcakes freeze well?
I don't recommend freezing funfetti desserts. The cupcakes will release moisture as the thaw causing the sprinkles to bleed color into the white cupcakes for a less-than-appealing appearance.

For that reason, homemade Funfetti Cupcakes should enjoyed within 3-5 days of baking.
How do I make funfetti sheet cake?
To make this recipe as a sheet cake, follow the directions for making the batter as directed. Pour batter into a greased 9 x 13 pan. Bake at 350 degrees F until a toothpick inserted in the center comes out clean.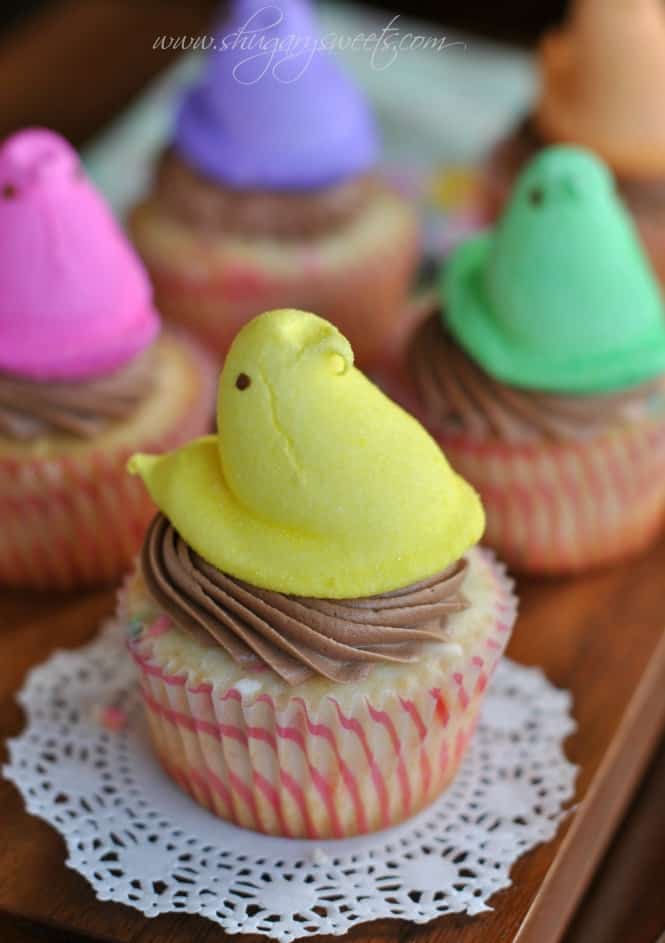 These are the best easy Funfetti Cupcakes with chocolate cream cheese frosting and a PEEP on top! A hit for Easter, birthdays or any celebration.