You're just one boxed mix away from having Cake Mix Cookies for dessert! Dotted with colorful sprinkles, these festive cookies are perfect for any occasion. Mix and match all your favorite cake flavors with fun add-in ingredients!
If you love easy cookies, give our favorite Chocolate Covered Oreos a try. Decorate for any holiday or birthday! Readers LOVE our delicious Snickerdoodle recipe too!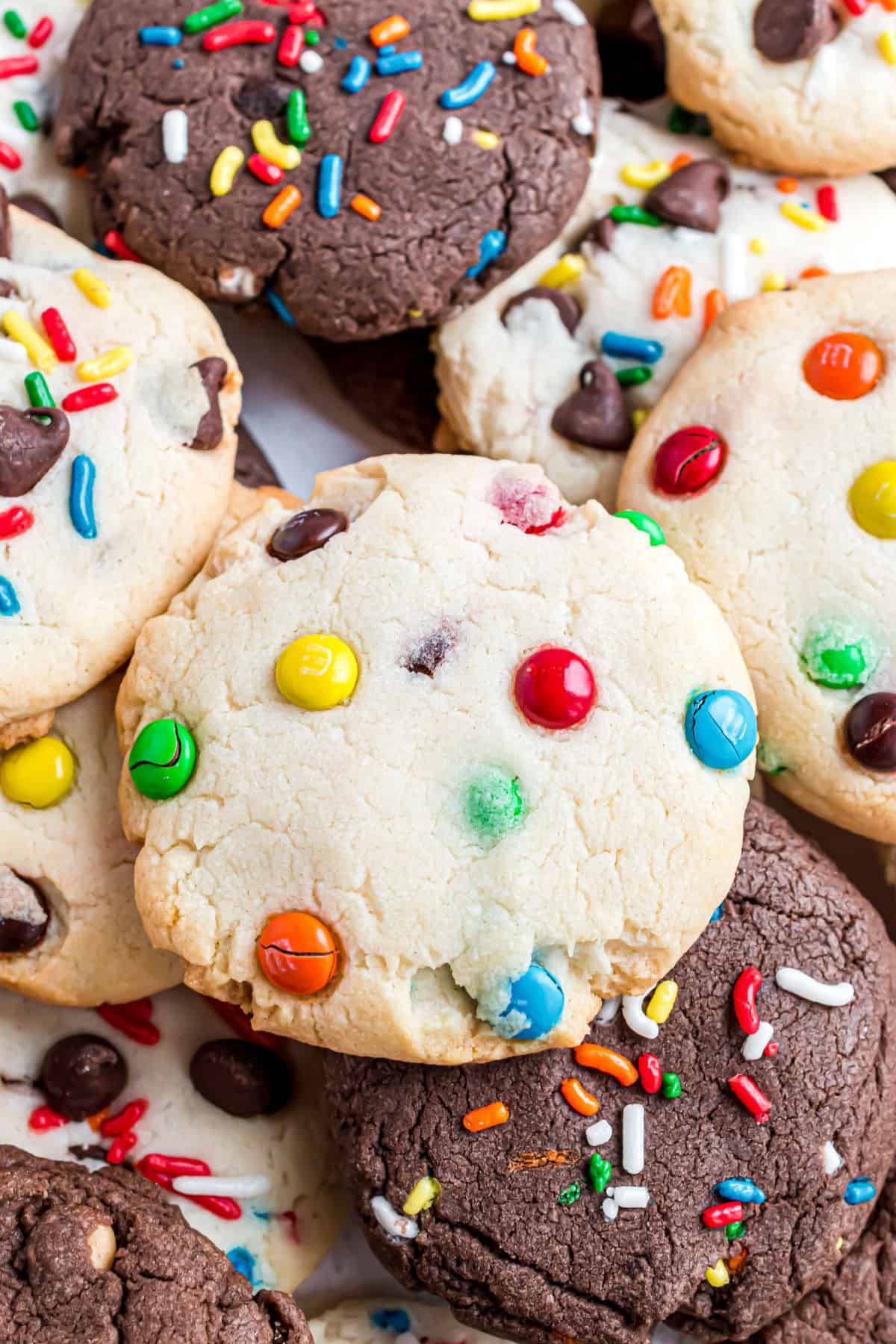 Why Use Cake Mix
Even the most rule-abiding among us need to break the rules sometimes. I admit to not having much of a rebellious streak. . .but I did feel the teeniest bit like a rebel when I used a cake mix to make cookies.
The cake mix in this cookie recipe works wonders. It makes them soft, sweet and even easier to make than your average drop cookie. I also love how pretty they look without the mess or hassle of frosting.
There are so many fun ways you could customize your Cake Mix cookies! From swapping the sprinkles to trying different flavors of cake mix, these cookies are adaptable, easy and always a hit.
One bowl for cookie dough. Fewer dishes to wash = more time to devote to eating cookies.
Ingredients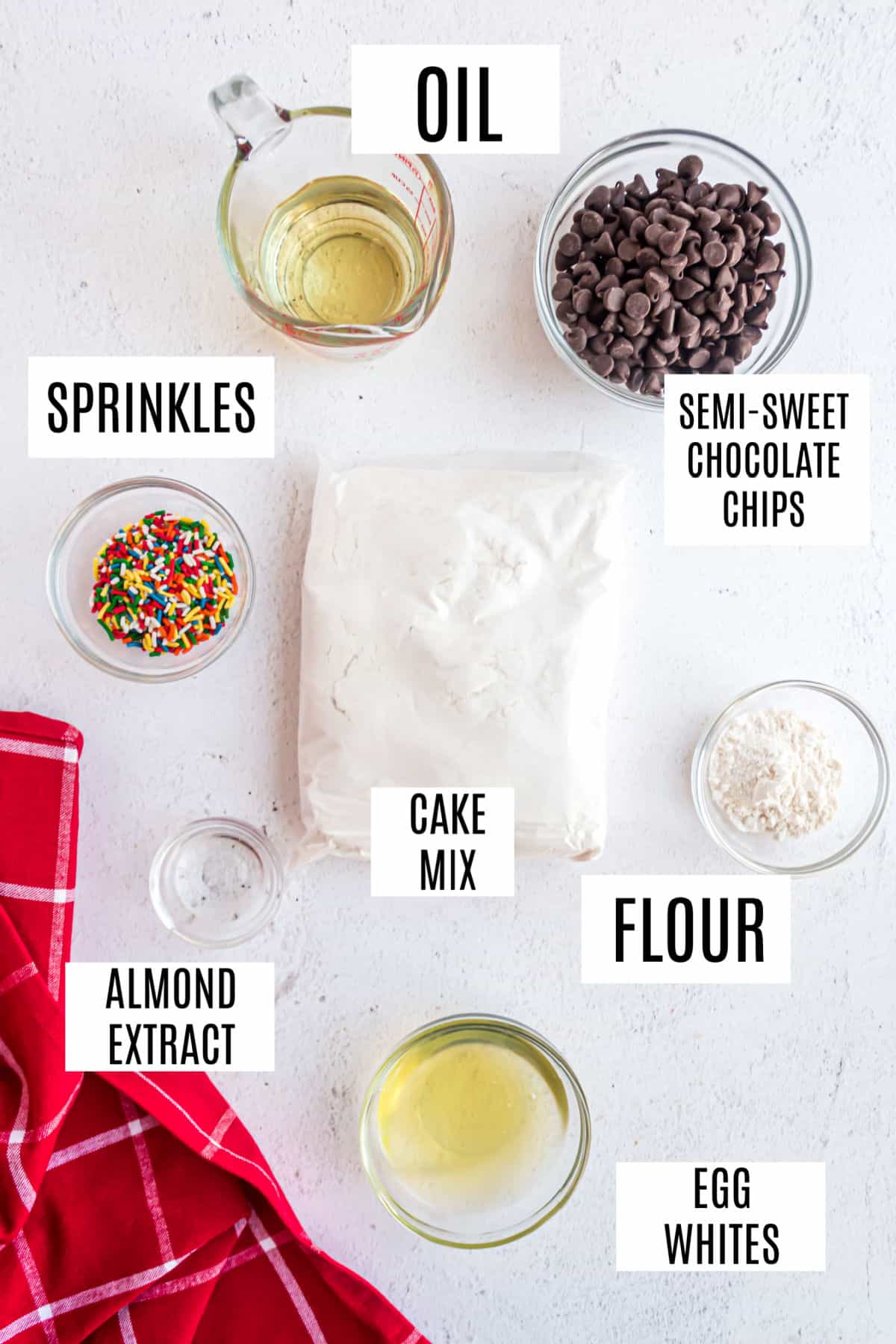 Cake Mix Cookies are designed to be versatile! You can substitute ingredients and customize them for any craving or occasion.
Cake mix – This recipe uses a basic white cake mix. Try different cake mixes to change up the flavor. Chocolate cake mix would create scrumptious double chocolate chip cookies! A yellow cake mix would work too if you don't mind the yellow color as opposed to white. Red velvet cake mix cookies are also incredible!
Sprinkles – You can use any kind of sprinkles you like in these cookies, or leave them out altogether. I used Christmas colors for a holiday theme. Use rainbow sprinkles for a funfetti look, red and pink for Valentine's Day or swap your school's colors for a graduation party. The possibilities are endless.
Chocolate chips – Try peanut butter chips, white chocolate chips, butterscotch morsels or any other variety of chocolate chip instead to swap out the flavors. If you're not feeling the chocolate at all, they can be omitted. I, personally, will never pass up an opportunity to add chocolate to my desserts!
Almond extract – Because the white cake mix already has plenty of vanilla flavor, I used almond extract to highlight the taste of the chocolate. You could swap it for more vanilla if you don't have almond or prefer not to use it.
How to Make Cake Mix Cookies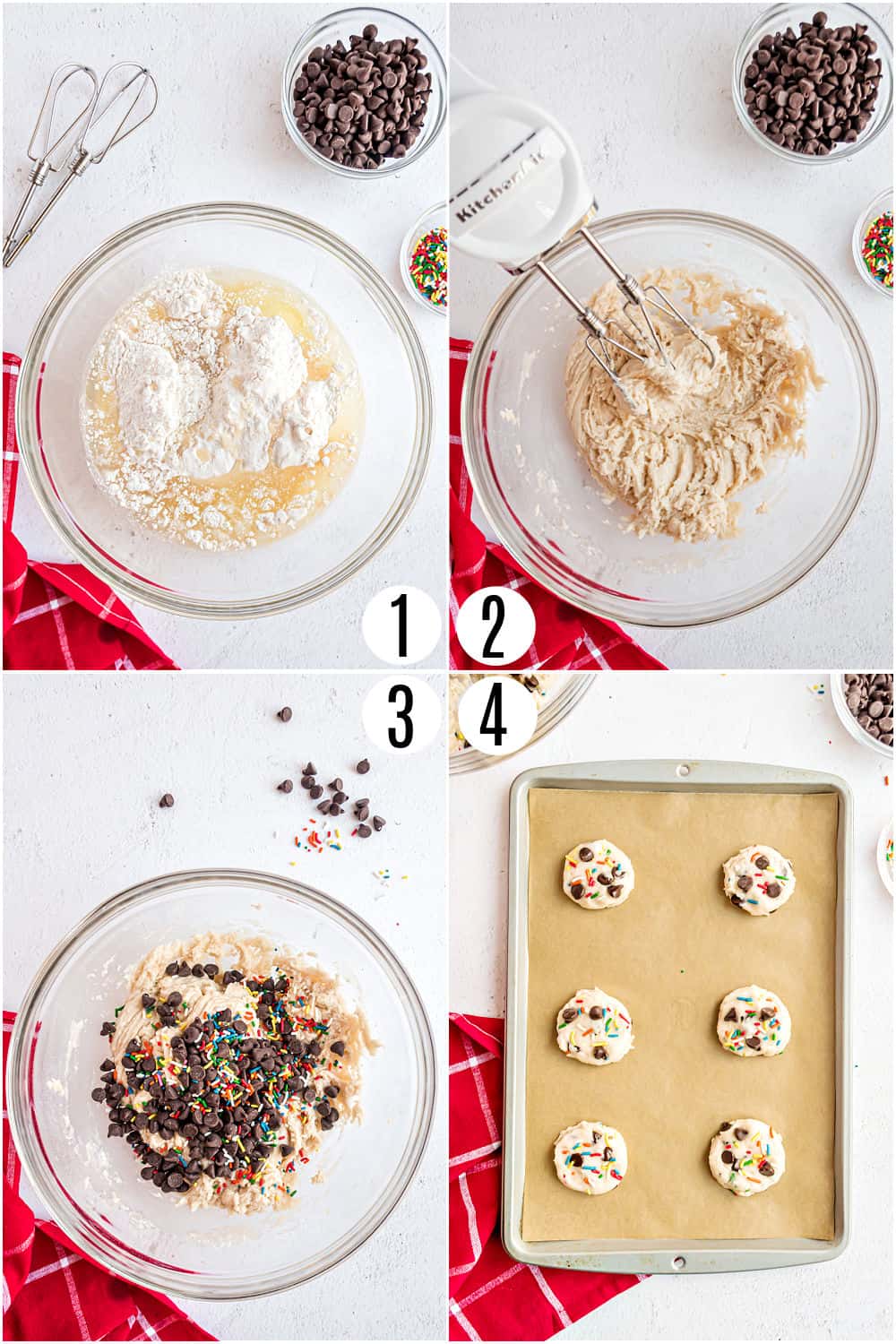 Mix. First, you need a box of cake mix (duh). Any white cake mix in a box will do perfectly! You'll also need some egg whites, flour, almond extract and oil.
Mix everything together in a bowl, then fold in chocolate chips and sprinkles.
Shape. Use your cookie scoop to drop balls of the dough onto a baking sheet, flatten them slightly with your hands then add MORE sprinkles and chocolate chips on top.
Bake the cookies for 10 minutes. They will look a little under done and doughy but don't worry. The cookies continue to set as they cool.
I like to leave mine on the baking sheet for a couple of minutes, then transfer them to a wire rack to continue cooling.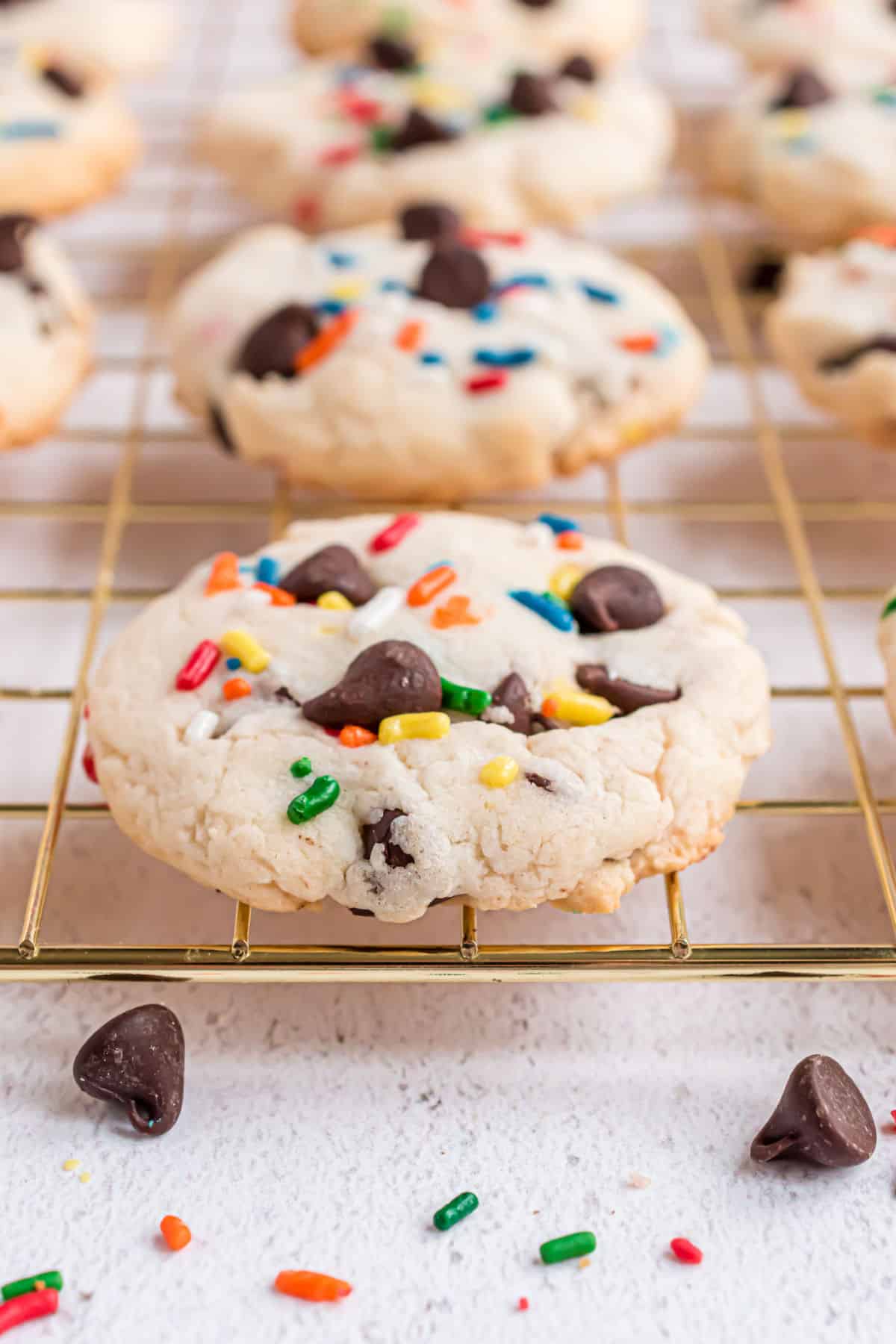 More Tips and Tricks
These cookies are easy enough for the kids to help make. They'll love helping you pick out which sprinkles to use, scooping the cookies on to the baking sheet and adding extra sprinkles on top.
I find that less is more with the sprinkles here, though, so be sure to monitor the kids to make sure they don't overload the cookies with jimmies. Too many will overwhelm the cookies and could create a sticky mess on your baking sheet.
Did you notice that this recipe happens to be dairy free? To be sure these are safe for your dairy allergic and lactose intolerant friends, just double check that your cake mix is dairy free (most brands are!).
Try this delicious Cheesecake Cookie recipe next time you want to take your cake mix to the next level. So soft and fluffy!
Use cake mix to create gooey cake mix brownies!
Freeze Cookies. Use my tips on how to freeze cookie dough for later.
Recipe FAQs
How do you store cake mix cookies?
Store baked cookies in airtight container at room temperature.
How long do cake mix cookies last?
Cake mix cookies stay soft and chewy if stored properly, for up to one week.
Can you freeze cake mix cookies?
Yes. Store cooled cookies in a freezer safe airtight container or ziploc bag for up to 3 months. Thaw on counter overnight (in container).
Cake Mix Cookie Flavor Combos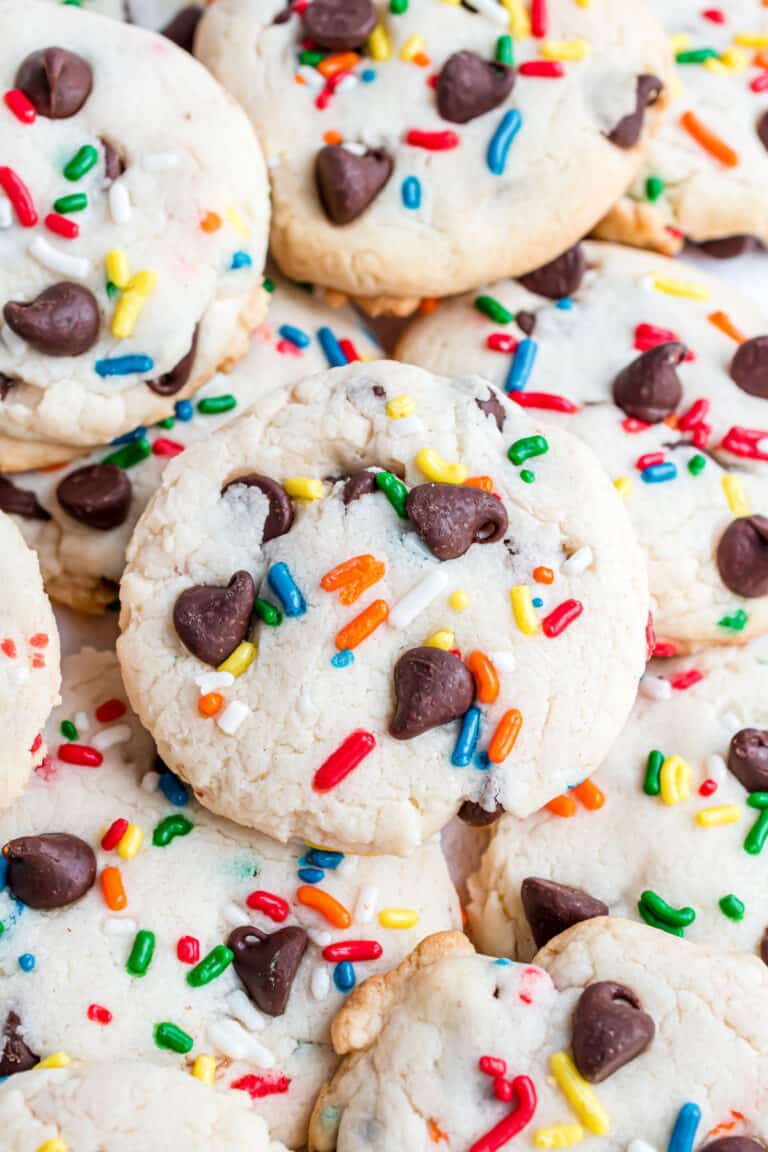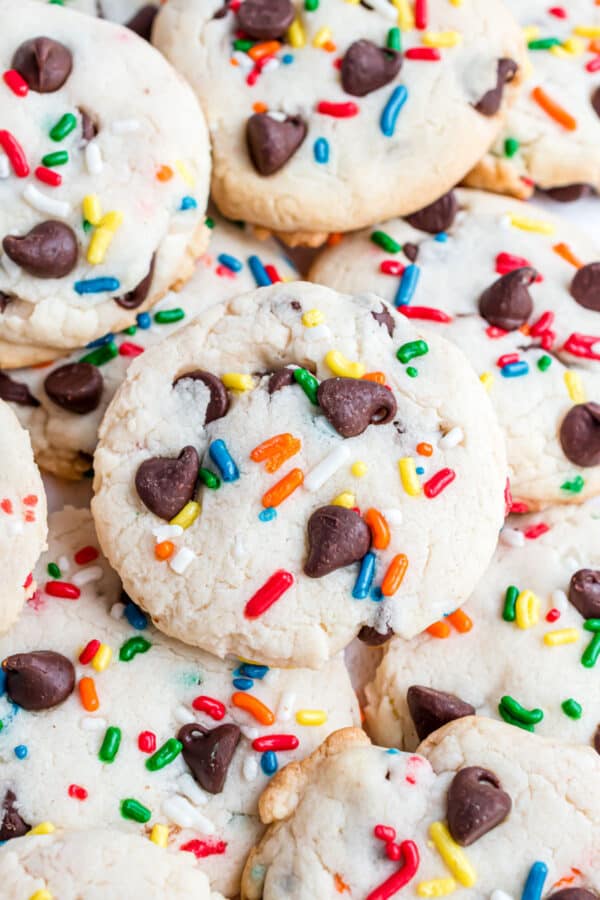 White Cake Mix + Chocolate Chips and Sprinkles
Chocolate Cake Mix + Peanut Butter Chips
White Cake Mix + M&Ms
Chocolate Cake Mix + Sprinkles
Red Velvet Cake Mix + M&Ms (white chocolate chips would be great too)
Chocolate Cake Mix + Holiday Candy
Lemon Cake Mix + White Chocolate chips
Spice Cake Mix + Cinnamon cchips
White Cake Mix + Chocolate Chips and Holiday Sprinkles (below)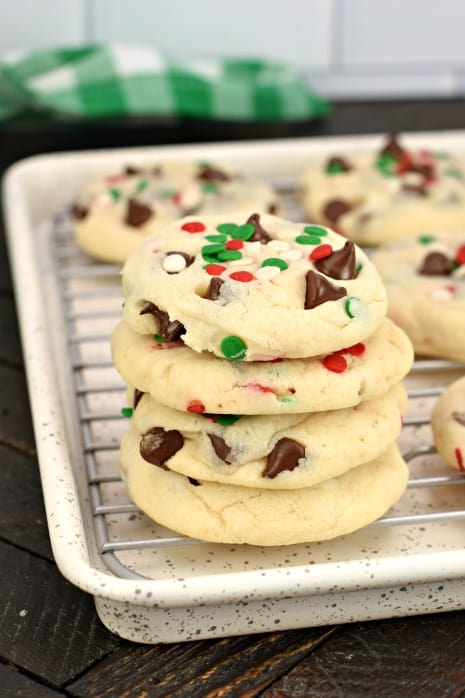 Save time and effort by using cake mix in your cookies this baking season! No one will ever know you bent the rules to make them. Cake Mix Cookies are a tasty and festive addition to your Christmas Cookie trays!