How do you make Oreos even better? Dip them in chocolate! Dress up milk's favorite cookie for any holiday or occasion with this guide for how to make Chocolate Covered Oreos.
For more easy kid friendly treats, have you tried our Chocolate Peanut Butter Grahams? Dunked and delicious! These holiday Cake Mix Cookies are easy and nobody needs to know they started with a boxed mix!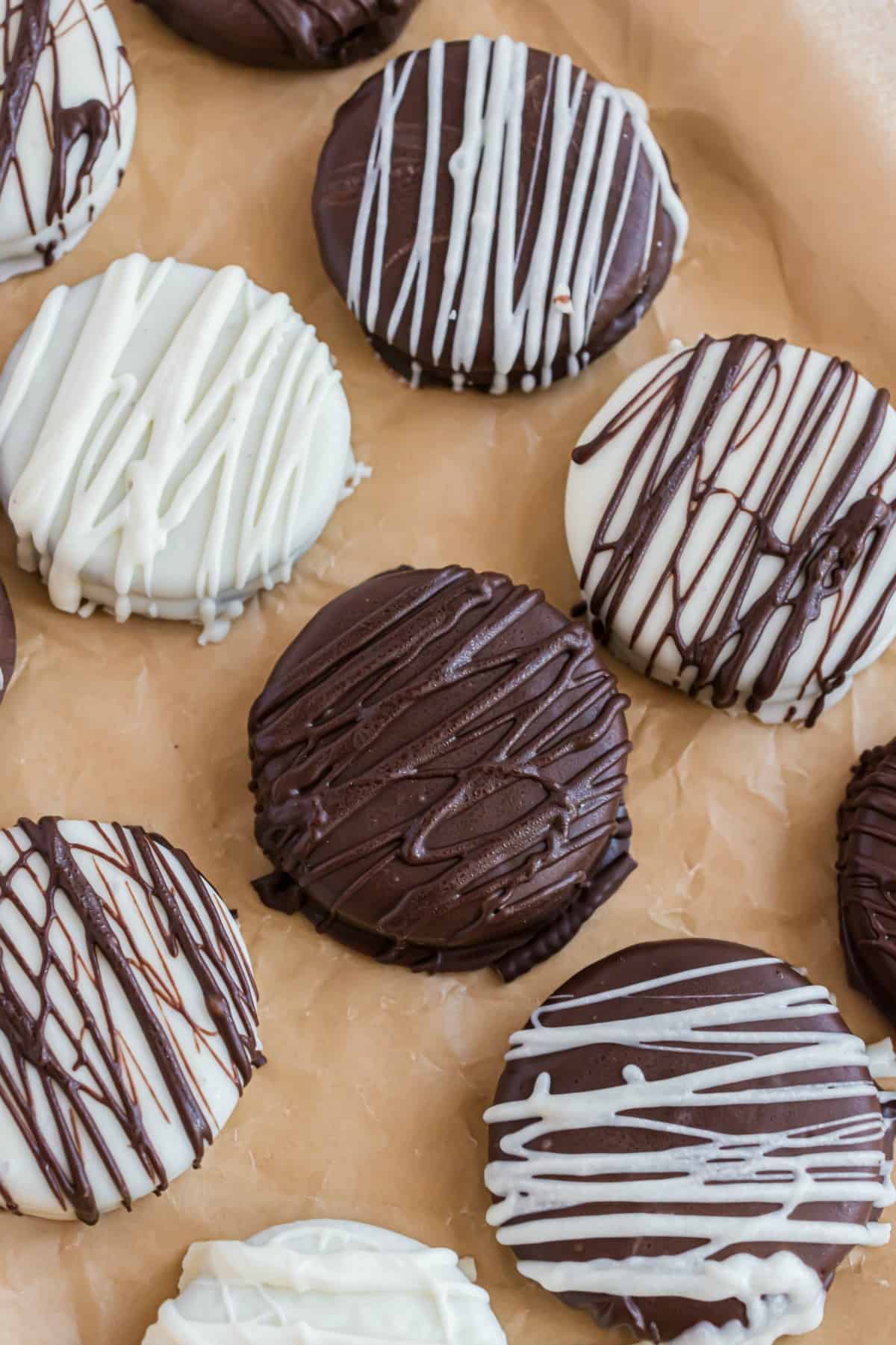 Everyone Loves Chocolate Dipped Oreos
That is a fact. It's science.
Well, almost. But seriously, can you imagine anyone who likes chocolate turning down a chocolate sandwich cookie that's been dipped in MORE chocolate?
People spend a lot of money at candy shops and holidays purchasing chocolate dipped oreos. But now, make them yourself at home!
Dipping the cookies in chocolate is just the beginning. You can also decorate them with so many fun additions from sprinkles to colored candy melts.
Match colors to the occasion or get creative making your own designs and variations. When you don't want to make cookies from scratch but still want a special holiday treat to share, Chocolate Covered Oreos are a perfect solution!
Love this easy recipe? Try our ritz cookies next. Easy ritz crackers filled with peanut butter and marshmallow cream then dunked in chocolate!
Ingredient Notes
Here's what I used to make the chocolate dipped Oreos:
Oreos – Try this with original oreos, double stuffed, golden, peppermint or any other variety you enjoy!
Chocolate melting wafers – Ghiradelli wafers melt perfectly and give the cookies a smooth and shiny finish.
Colored candy melts – Optional but fun for creating colorful designs on the cookies! Find them on Amazon or at craft stores.
Sprinkles or other holiday decorations – Add instant fun festivity to your chocolate covered cookies!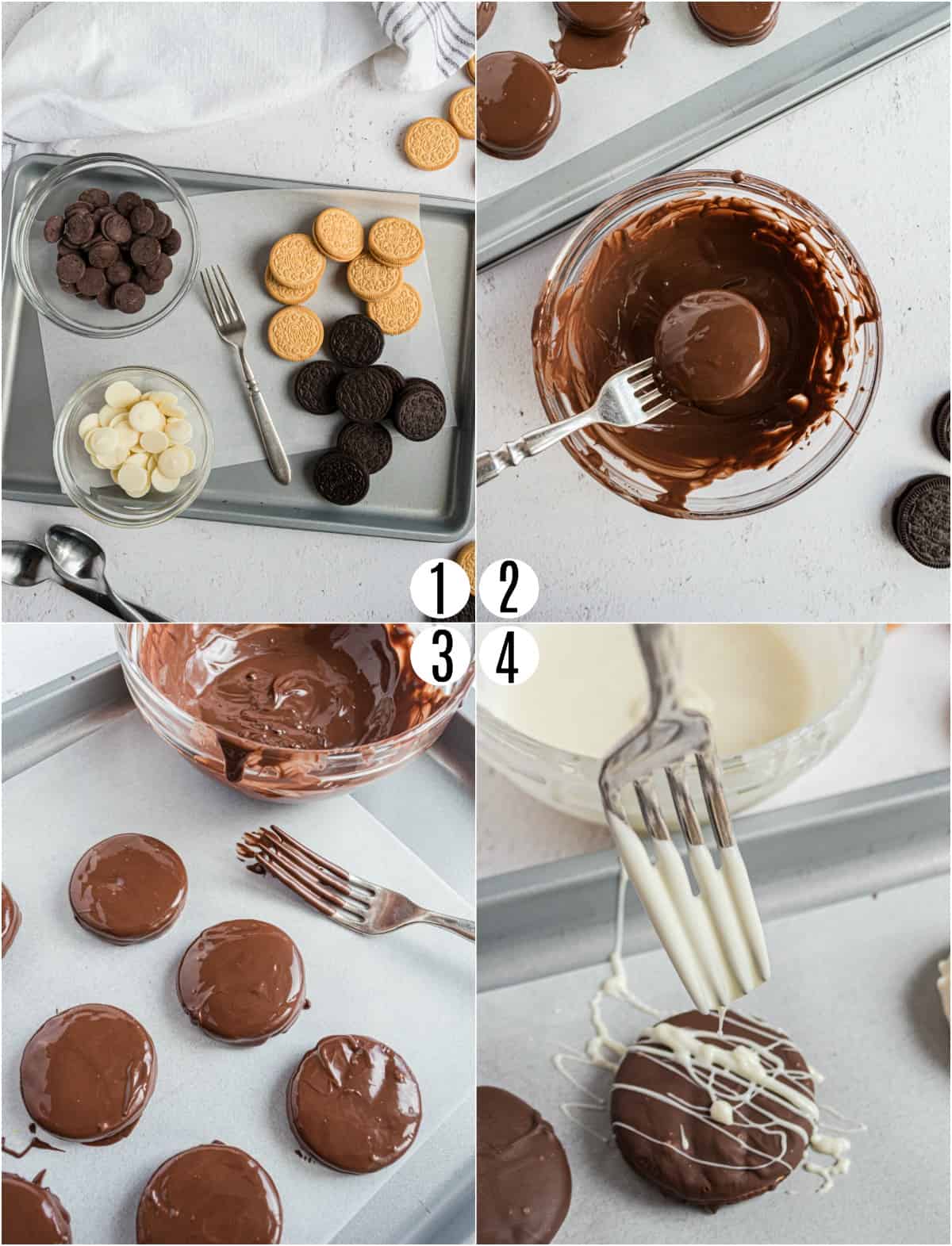 How to Make Chocolate Covered Oreos
You need two forks for mess-free dipping. Place the cookie flat on the fork and dip it into the chocolate. Use another fork to turn the cookie over, making sure the whole surface gets coated.
Lift the cookie out of the chocolate and tap off any excess chocolate on the sides of the bowl. Set it on a parchment lined cookie sheet and repeat with all the remaining Oreos.
Decorate with sprinkles and holiday decorations (if using) then let the chocolate set for about 30 minutes.
From here, you can drizzle the cookies with more melted chocolate or melted colorful candy wafers, if desired.
No time to decorate? Go ahead and enjoy your Chocolate Covered Oreos just as they are. Still delicious!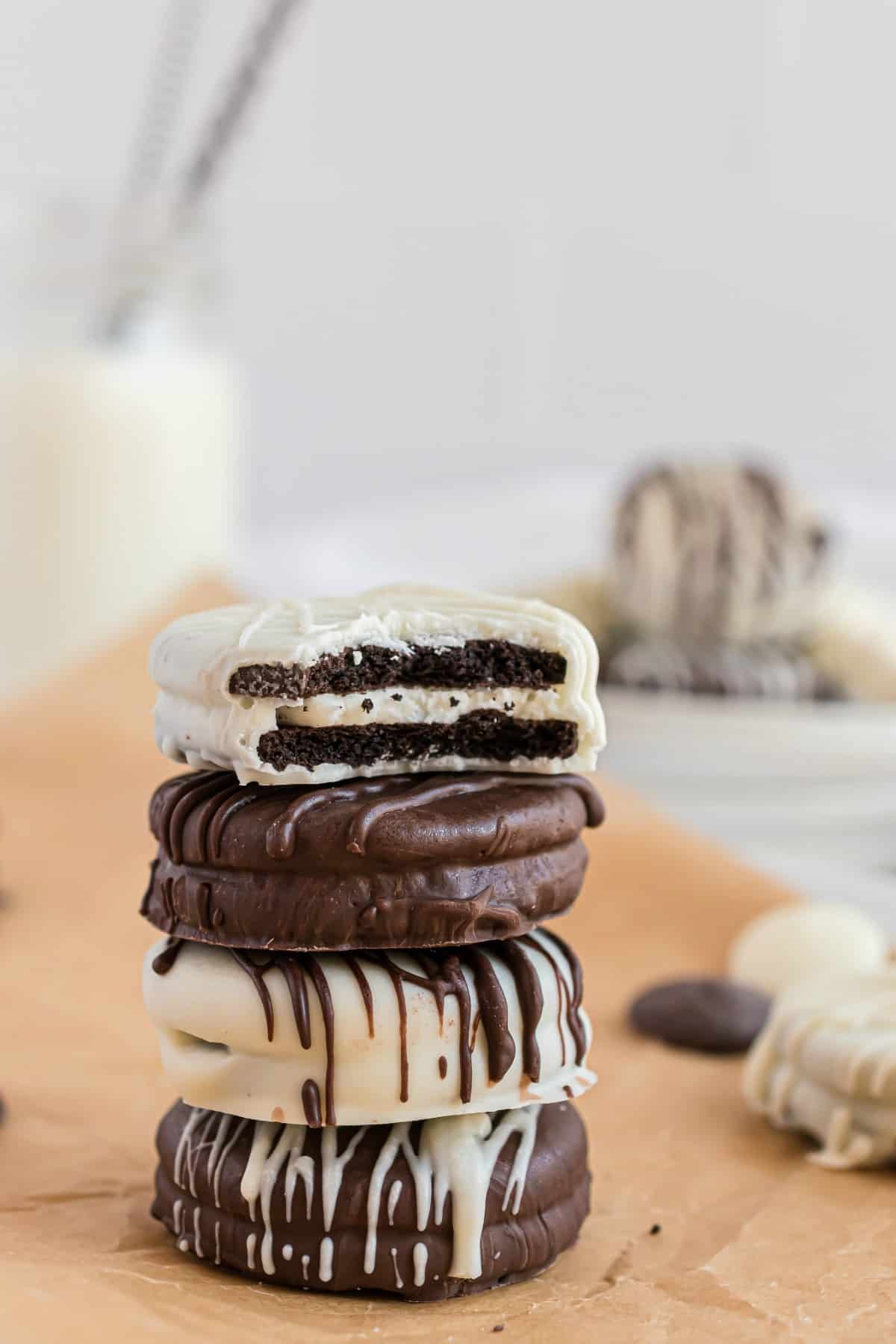 Tips and Tricks
If you're using candy melting wafers, transfer them to a ziploc bag after melting. Then, snip the corner of the bag with scissors and pipe the melted candy onto the cookies. The melted wafers are too thick to drizzle with a fork or spoon.
Do NOT pierce the cookie filling with the fork tines to dip them into the chocolate. When I tried that, my cookie fell apart.
For easier dipping, use your hand to dip just half off the cookie into the chocolate. It looks pretty this way too!
When it comes to sprinkles, I like jimmies and nonpareil (round) sprinkles best. You can use sugar sprinkles but they may melt slightly into the chocolate.
Place parchment paper or foil under your bowl of chocolate on the counter for catching any chocolate drips to make clean up easier.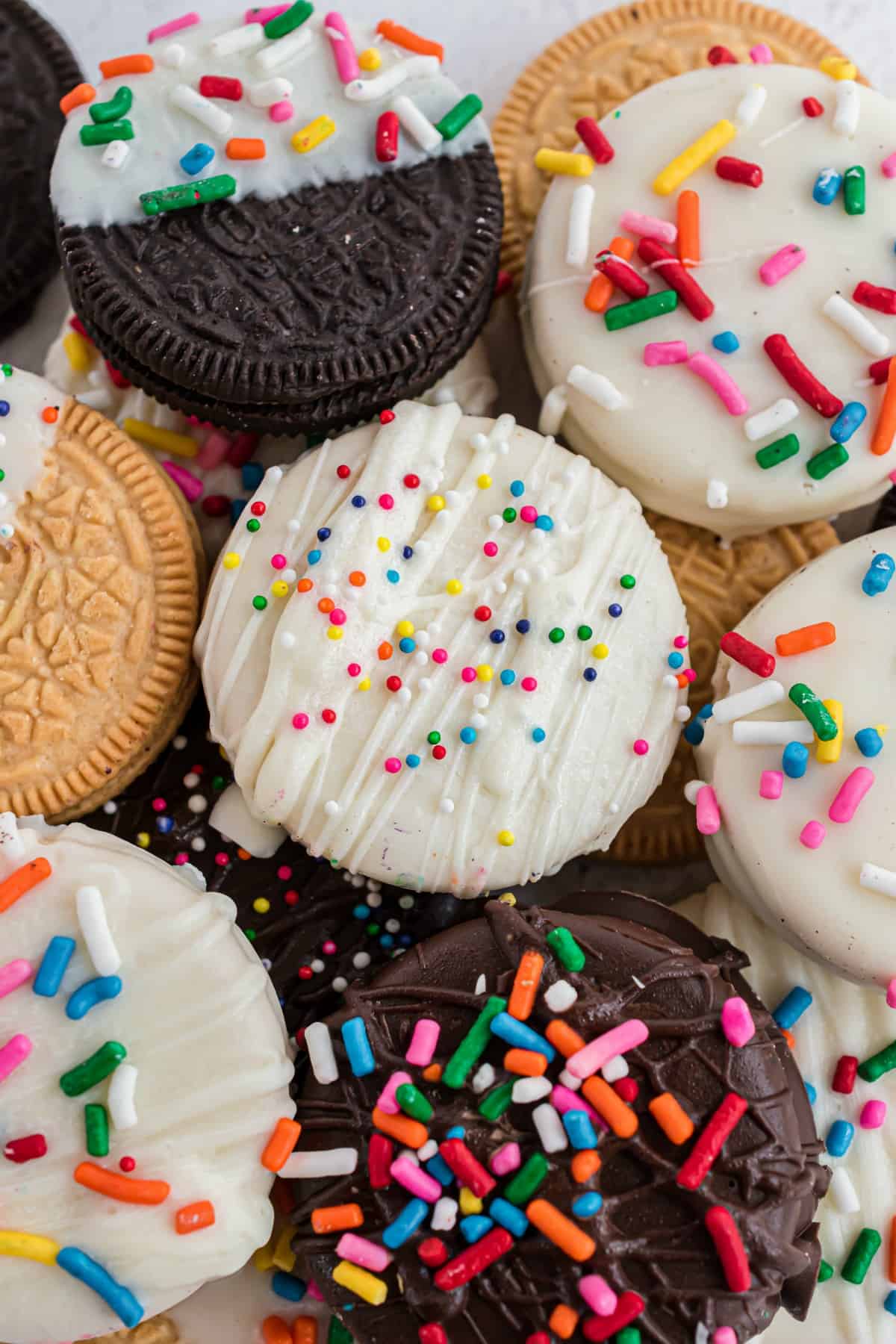 Recipe FAQs
How should you store Chocolate Covered Oreos?
Keep them in an airtight container in the refrigerator. They'll stay fresh and delicious for about 2 weeks.
Can you use milk chocolate instead?
Yes, milk chocolate melting wafers would work in this recipe too! I did a combination of both white and dark chocolate to have some variation.
How do you get the chocolate smooth and even?
Make sure to tap the dipped Oreos on the side or rim of the bowl to shake off an excess chocolate before letting it set. Any extra chocolate dripping off will clump as it sets, making the chocolate layer less smooth.
Holiday Dipped Oreos
No one can turn down a plate of Chocolate Covered Oreos. . . especially when they look this good!
Whether you are dipping Oreos for Christmas or any other holiday, these are great for gifting and sharing.
Use a variety of sprinkles and chocolates to create the perfect holiday treat.
Christmas- Dip Oreos in dark chocolate as well as white chocolate. Add holiday sprinkles. You can also melt green/red candy wafers and drizzle over the dipped cookies.
Halloween- Same as any holiday, dip in chocolate and white chocolate. Add fall sprinkles (great for Thanksgiving too) and add orange drizzle by using melted orange candy wafers.
Valentine's Day- Whether you are making these for Valentine's Day or an anniversary, dip and drizzle with pink/red candy melts and sprinkles!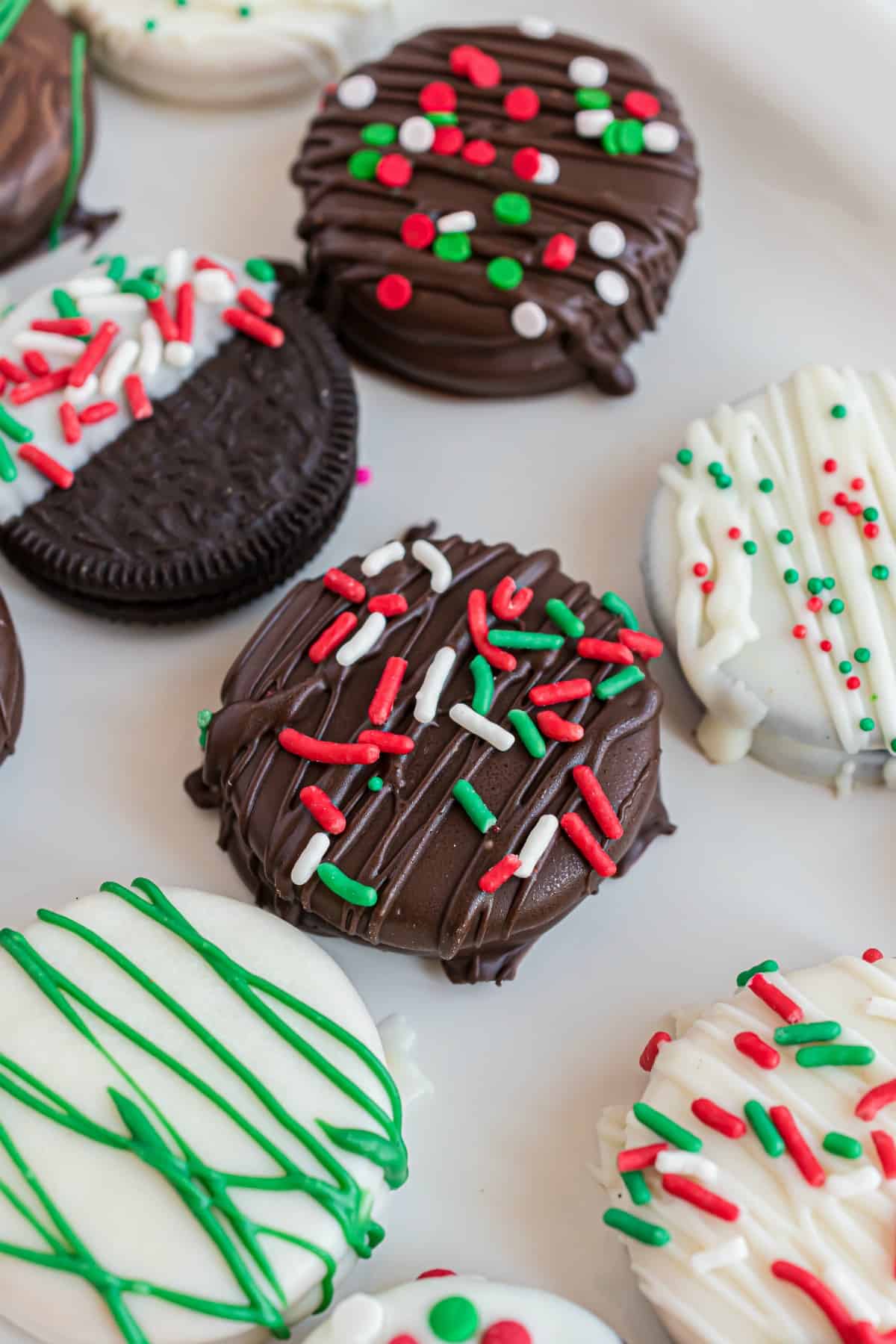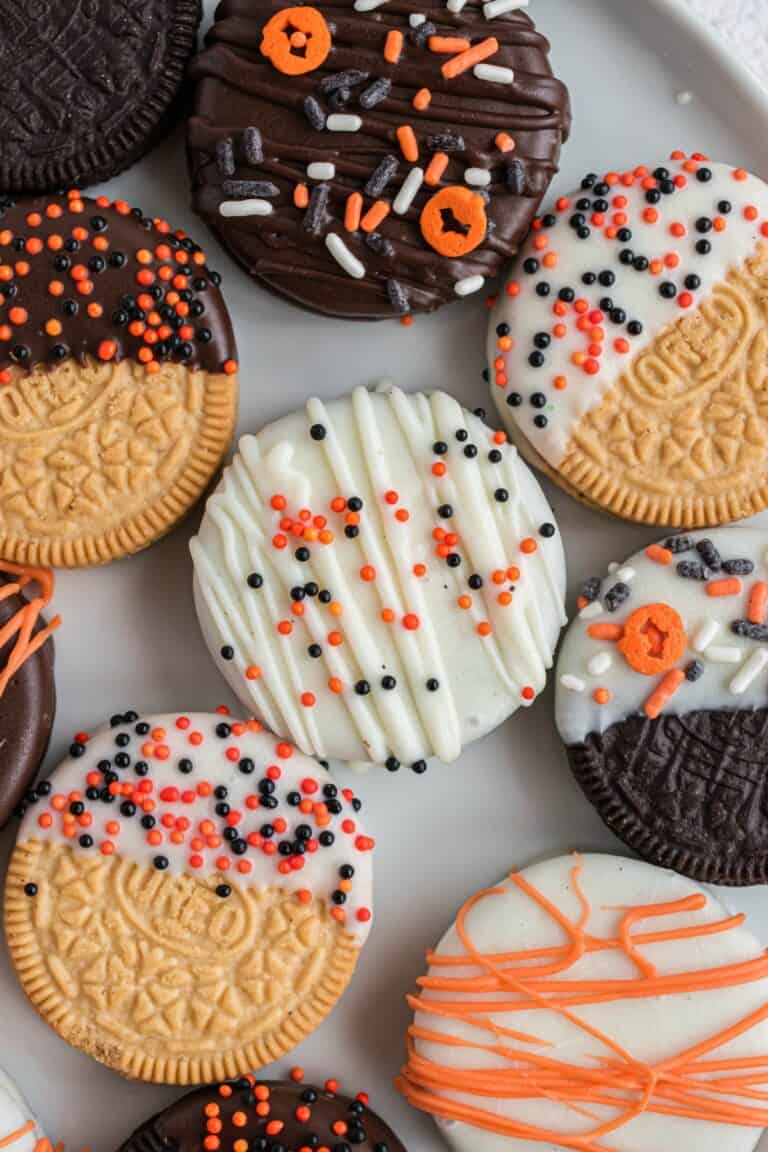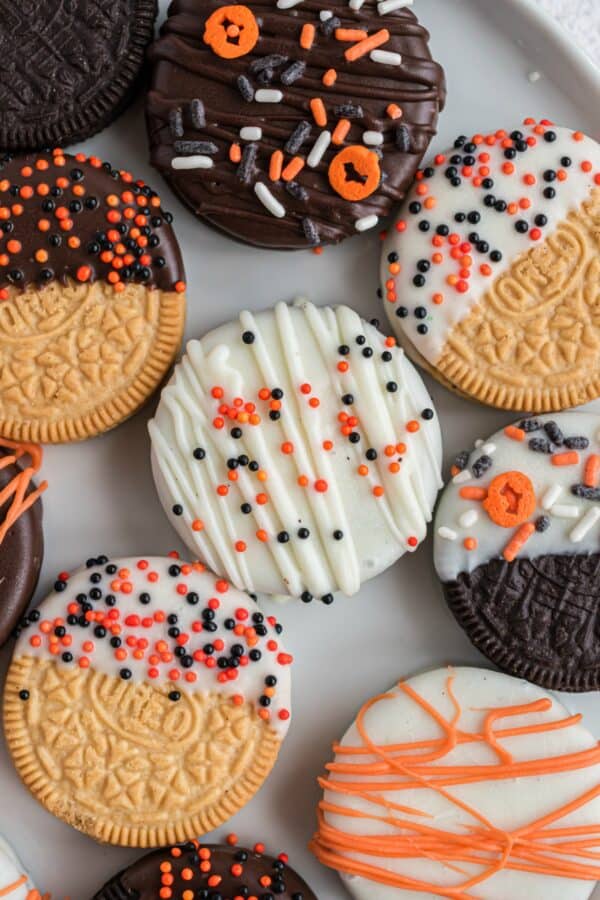 More Easy Desserts
You don't need to turn on your oven and spend all day baking to make festive cookies for Christmas, Valentine's Day or any other occasion. Open a package of Oreos, melt some chocolate and get creative with the sprinkles.