Hot chocolate is so much more fun when you make it with Hot Cocoa Bombs! Learn how to make hot cocoa bombs in all kinds of flavors to give as a gift with this easy-to-follow guide.
Whether you serve your hot cocoa bomb in steaming mug of milk or turn it into a mocha by pouring hot coffee over the top, kids and adults LOVE making and servings these sensational chocolate treats.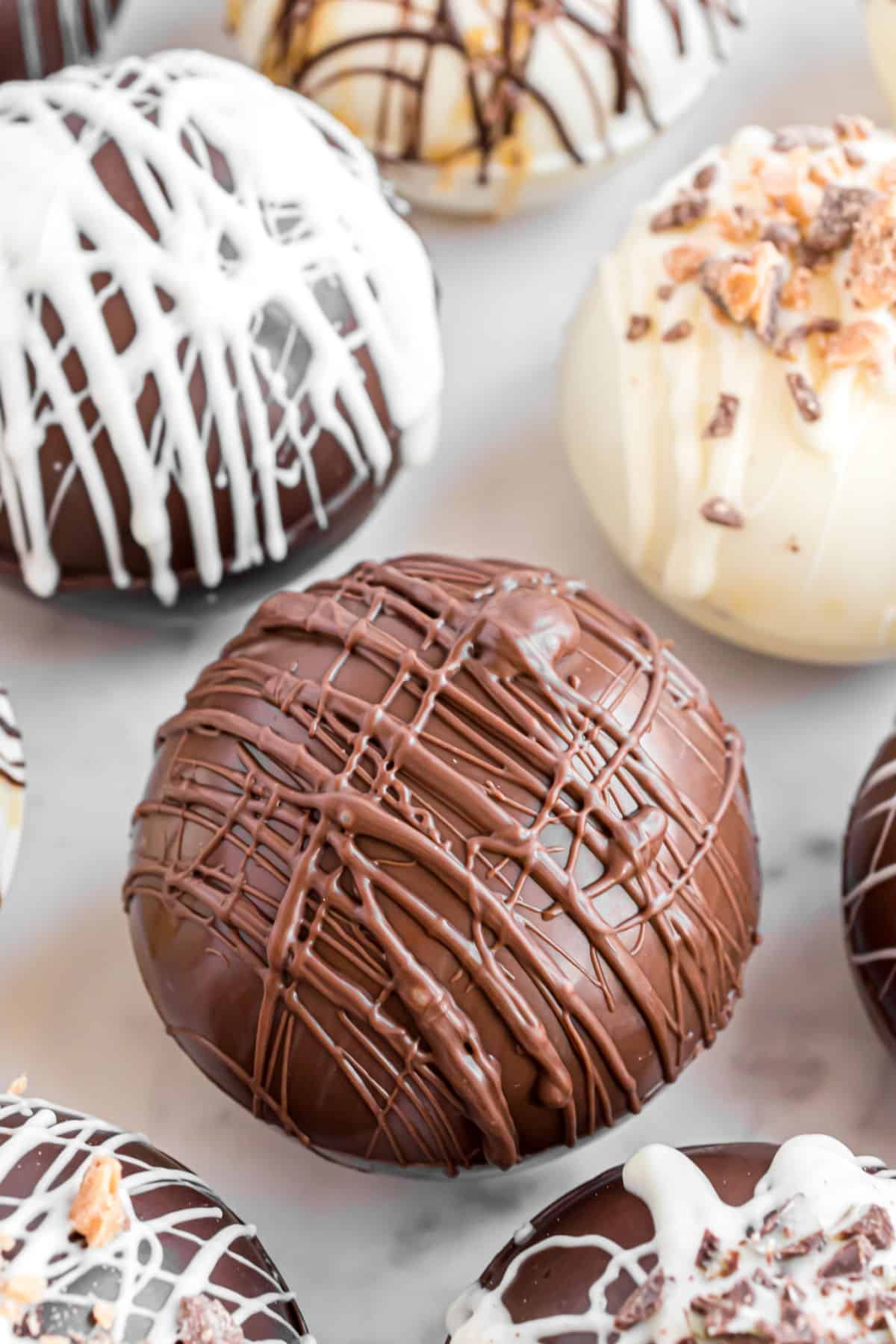 The Ultimate Hot Chocolate Bomb Guide
Have you discovered the joys of Hot Cocoa Bombs yet? These little spheres of pure chocolate bliss are my latest obsession.
You put them in a mug, pour hot milk over them and stir to create the perfect creamy homemade hot chocolate! It tastes so much better than just using plain powdered mix on it's own.
Using the hot cocoa bombs is fun, too. I find it ultra satisfying to watch the smooth chocolate bomb dissolve into the steaming milk!
With a little practice and the right ingredients, making homemade hot chocolate bombs is easier than you think.
Make a batch with your favorite hot cocoa flavors then give them as a gift to anyone who could use a little more chocolate in their life.
Scroll down for everything you need to know, from tools, ingredients and much more. I've even included a printable tag that you can attach to gift your cocoa bombs!
Top off your mug of cocoa with some peppermint marshmallows, made from scratch!
Ingredients and Tools Needed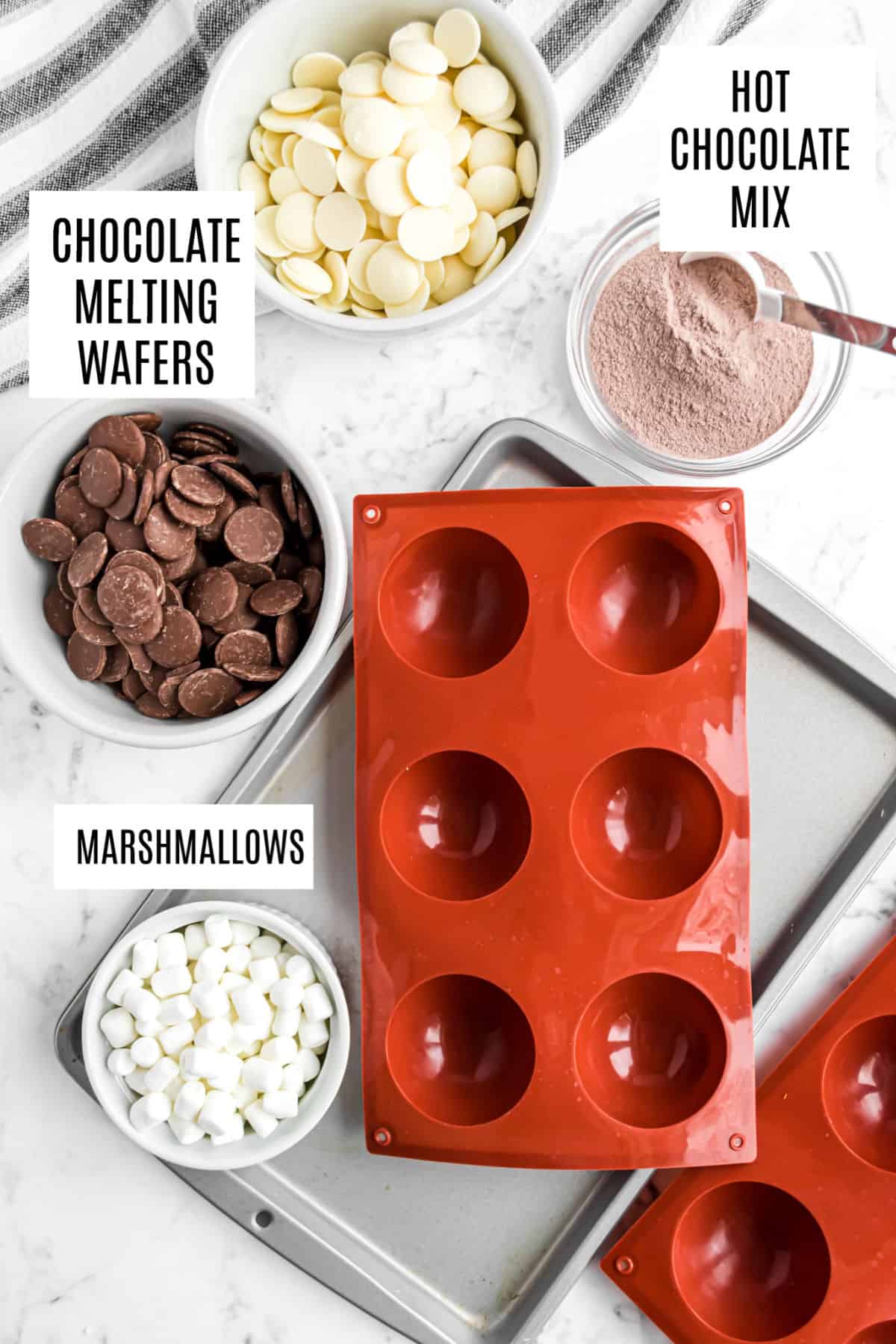 Before you start, make sure you have the right equipment.
You'll need:
Silicone Baking Mold
Larger molds work better. If the mold is too small, you'll have a harder time getting the cocoa mix into the chocolate bomb. I used this 2.5 inch diameter mold. Make sure the silicone pan has only been used for food (not bath bombs or other crafts).
Skillet or sauce pan -This will be heated and used to soften the chocolate. I find a skillet holds and distributes heat best. A warmed plate would also work.
Baking sheet – For supporting the silicone mold in the freezer and holding the finished hot cocoa bombs as they set.
Ingredient Notes
Ghirardelli Melting Wafers – Use milk, white or dark chocolate flavors depending on your preference.
Hot cocoa mix – Powdered – any flavor works!
Marshmallows – Mini marshmallows or dehydrated marshmallows. Lucky charms marshmallows work well too!
Optional fillings – See my notes below the instructions for easy fillers to make different flavors!
Step by Step Instructions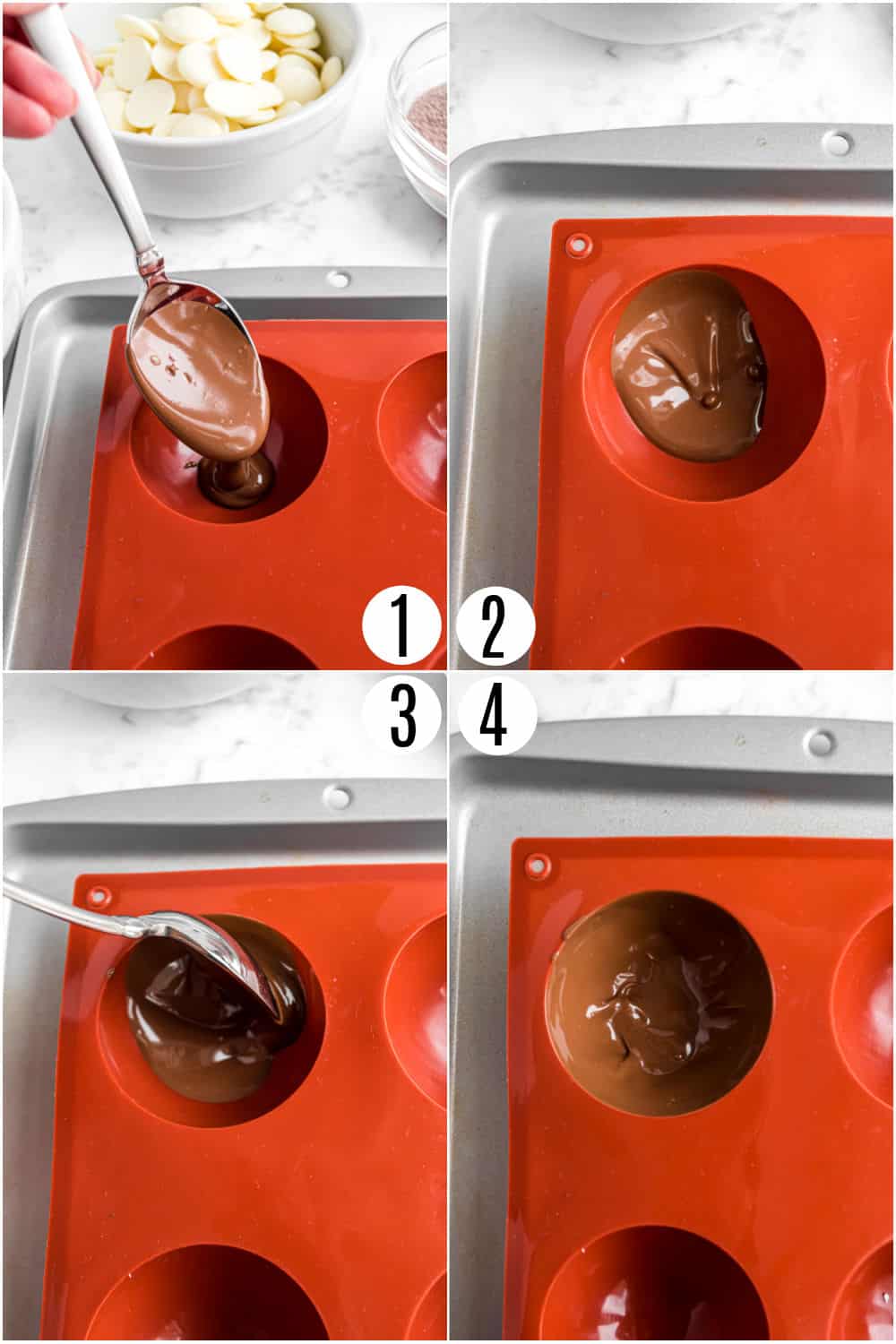 STEP 1. Melt the chocolate
Place the melting wafers in a microwave safe bowl and melt according to package directions.
Place the silicone mold over the baking sheet.
STEP 2. Fill the molds
Pour up to 1 tablespoon of the melted chocolate into the well of the mold.
Push the chocolate up the sides with a spoon to make sure it covers every surface of the mold.
You can even tilt the mold slightly to see the insides to check that it's completely covered. When I filled mine, I imagined the inside of the sphere as a clock face and tried to get chocolate over each "number."
This is the body of your cocoa bomb so you want to be sure it's completely filled and stable!
STEP 3. Freeze
Transfer the baking sheet with the mold to the freezer.
Let it chill for 10 minutes to set.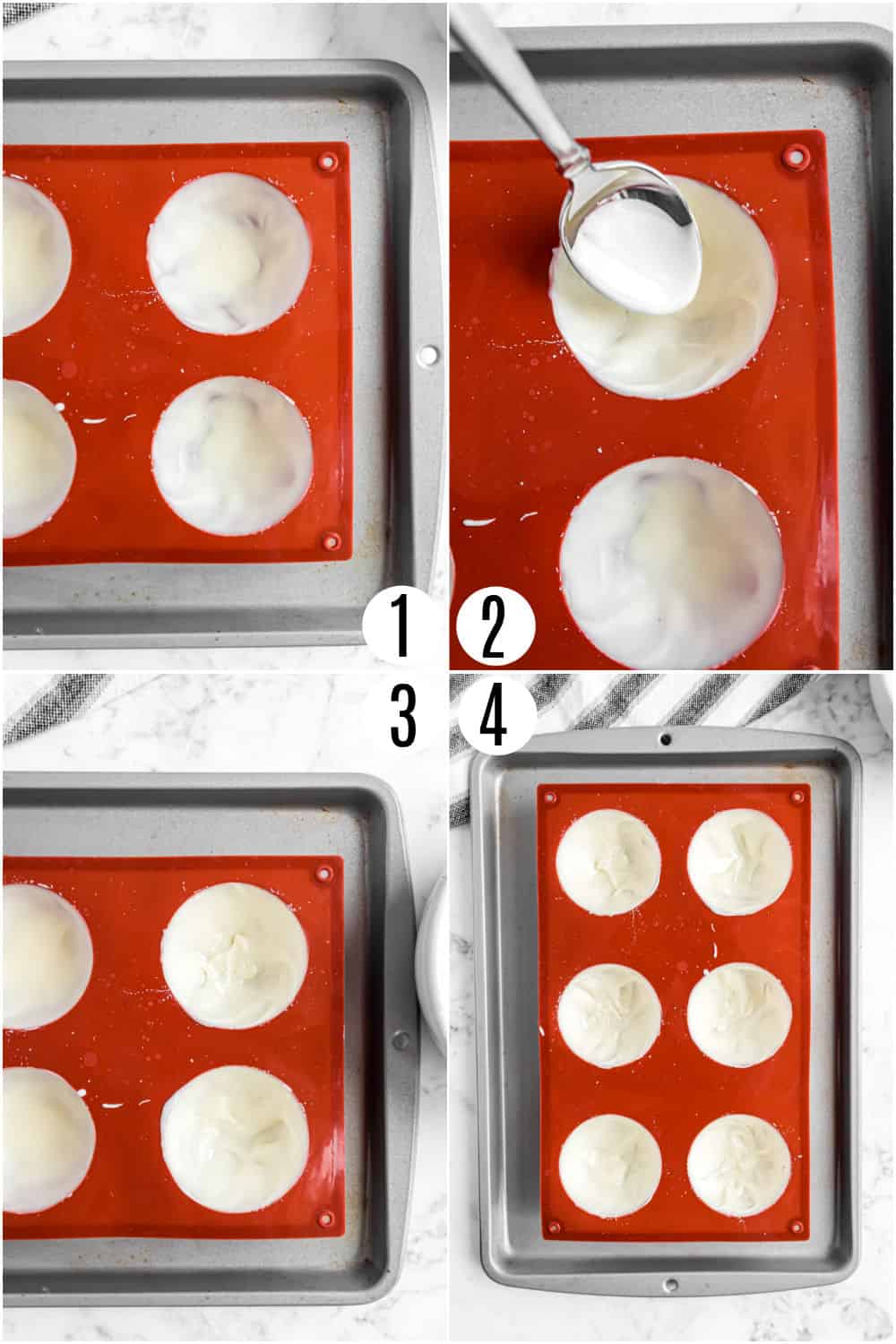 STEP 4. Second chocolate coating
Take the mold out of the freezer and check the insides.
If any parts of the chocolate edge look thin, add a second layer of chocolate using a small spatula, spoon or even a food safe paint brush. I found that the white chocolate version always needed a second coating.
Return to the freezer for another 5 minutes.
Tip: When in doubt it's better to do two thin coats instead of one thicker layer.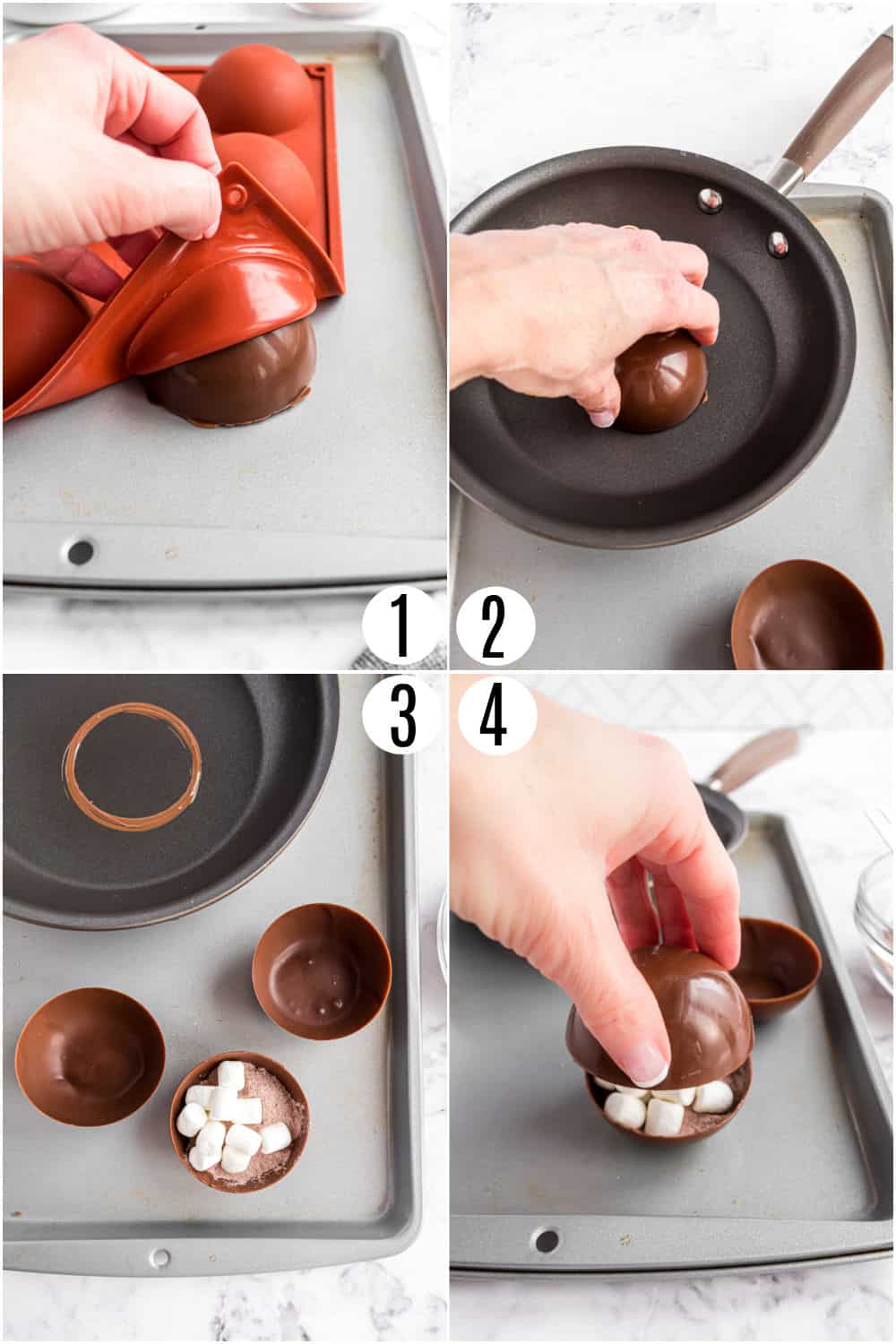 STEP 5. Remove from molds
Take the mold out of the freezer and flip it so the round side is facing up. Gently peel off the silicone from the hardened chocolate sphere.
You can press your finger into the well to help with this but be careful not to push too hard or the chocolate may crack. Each mold cavity will create two halves of a sphere.
STEP 6. Fill and Seal
Heat a skillet, sauce pan or plate just until warm, then remove from heat. Take one of the chocolate shell halves and place it (round side up) on the warm surface just until the edges begin to soften and melt.
I found that a heated skillet worked best for this because it held the heat longer than a sauce pan or plate.
Place the shell with the softened edge (open side up) on a cold cookie sheet and fill with 1 tablespoon of hot cocoa mix and a handful of mini marshmallows.
Warm another chocolate shell half on the hot surface, then place it on top of the filled shell. The melted edges will come together as a glue for sealing the hot cocoa bombs.
Tip: Keep the shells away from the heated surface when you're not using them. They're sensitive to heat and will begin to melt.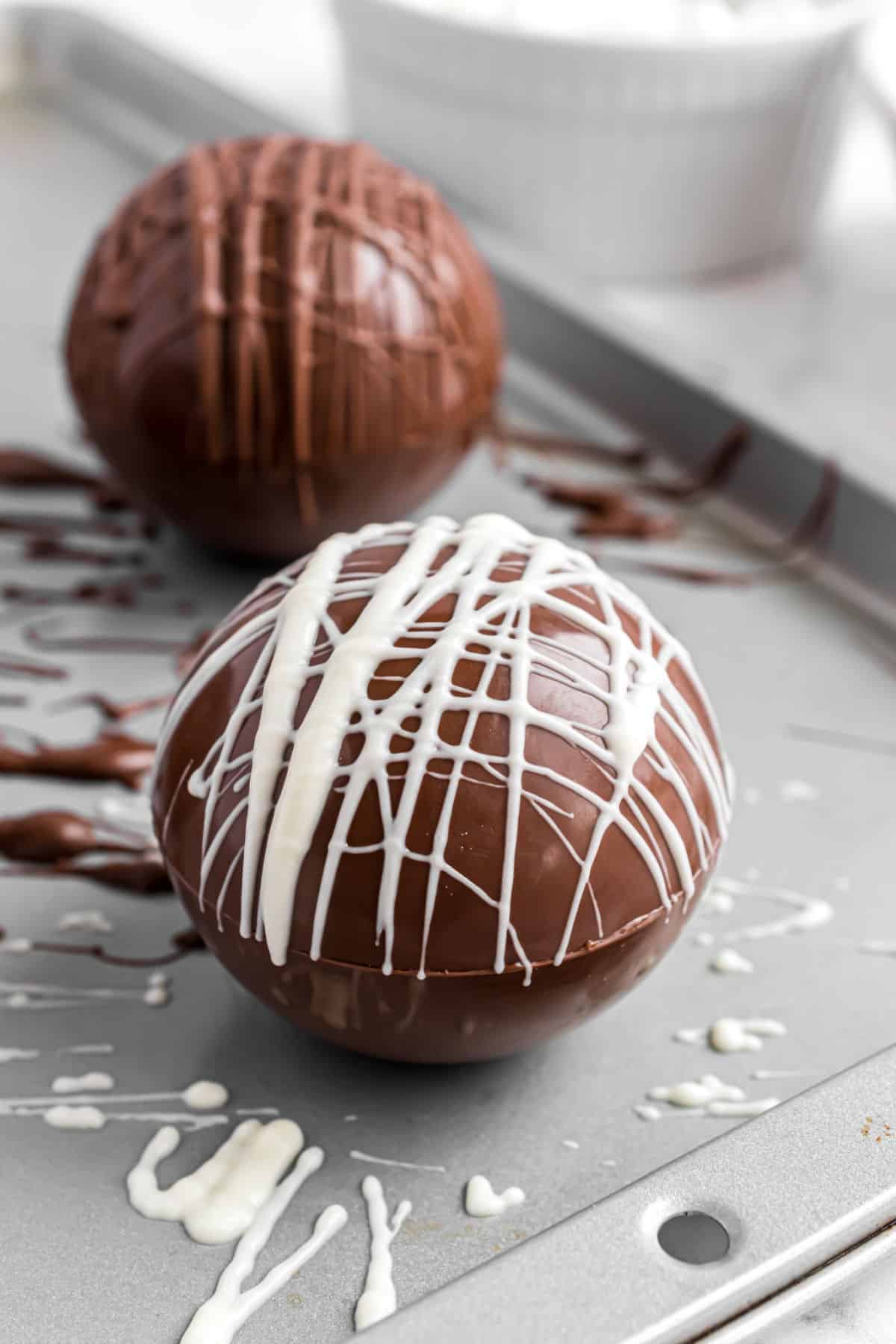 STEP 7. Decorate
Make your cocoa bombs look as good as they taste by drizzling melted chocolate on top. You can use chocolate that matches the shell or use a contrasting color to make pretty designs.
Let the melted chocolate set for a few minutes, then store your finished homemade hot cocoa bombs in sealed bags, jars or a plastic container at room temperature.
How to Use Hot Cocoa Bombs
Place one chocolate bomb in the bottom of a mug.
Pour 6 ounces of heated milk over it and stir until the contents are fully dissolved.
Enjoy the hot cocoa on its own or top with Whipped Cream for an extra special treat!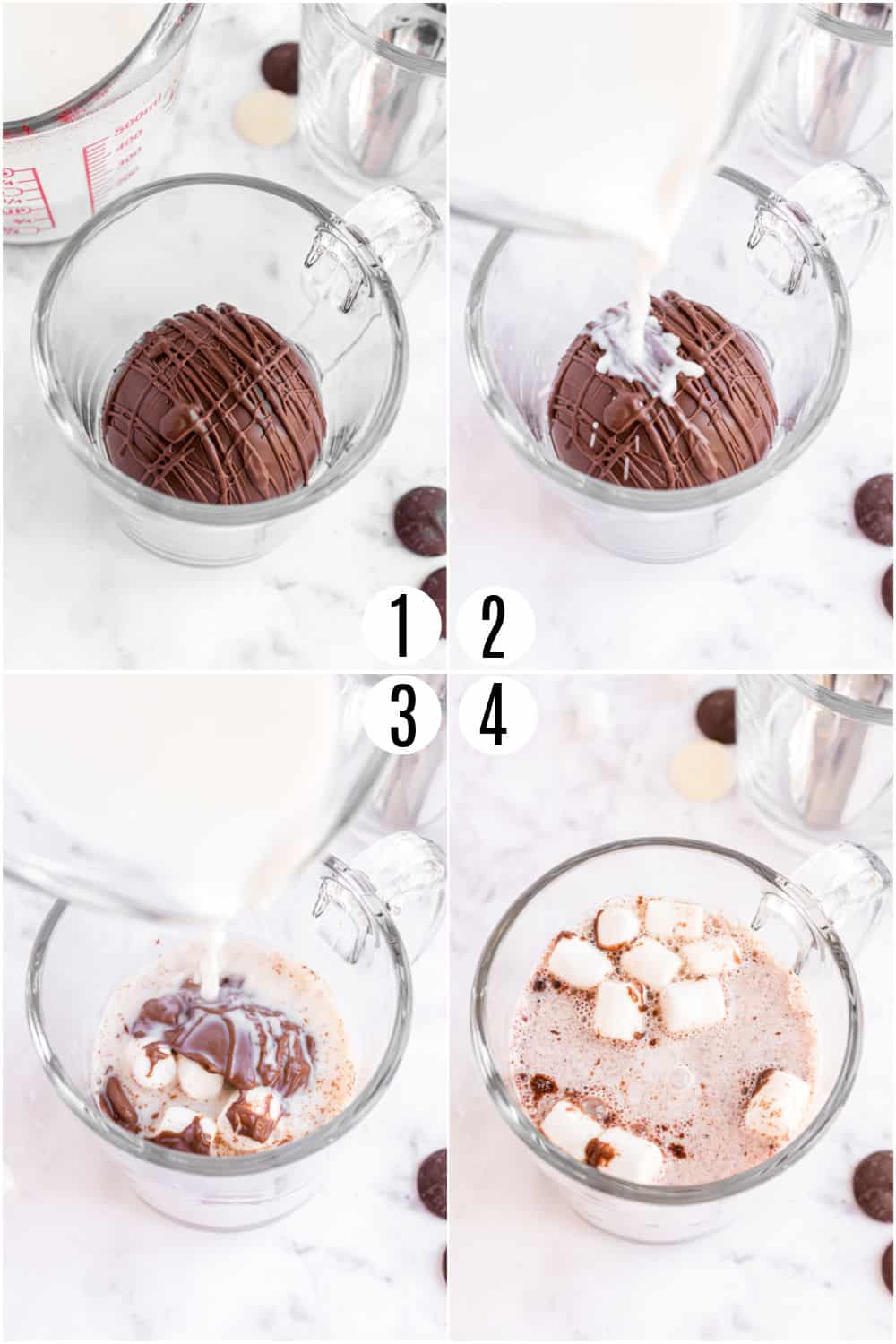 Flavor Options
Once you learn how to make hot cocoa bombs there's no limit to the variety of flavors you can create.
Every chocolate bomb needs one tablespoon of cocoa mix plus different fillings depending on the flavor you're going for. You can also change up the shell using white, milk or dark chocolate. Here are a few of my favorite combinations to get you started!
Classic Hot Chocolate Bomb
Mini marshmallows — plus more for topping!
Your choice of milk, white or dark chocolate melting wafers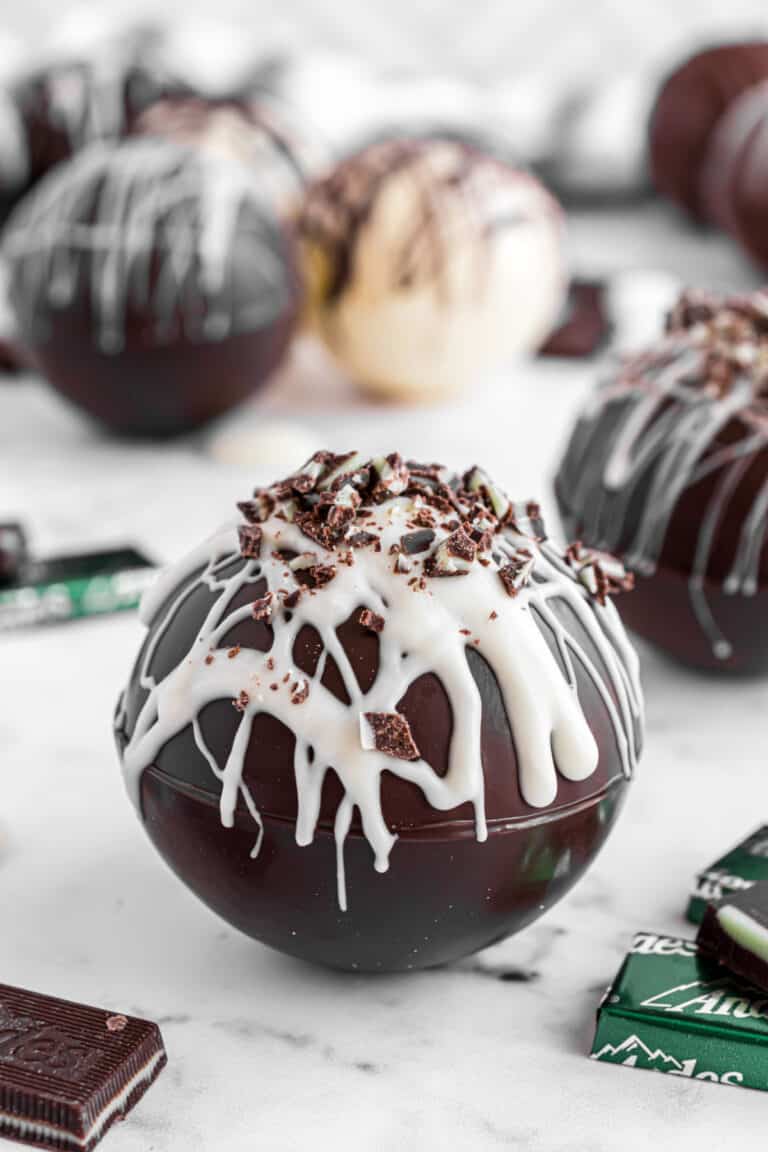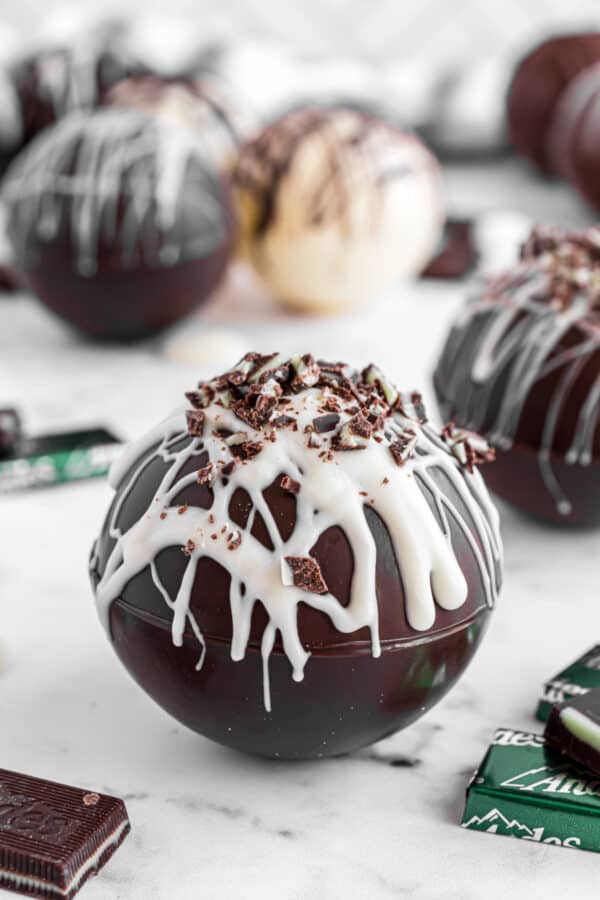 Mint Chocolate Bomb
Dark chocolate melting wafers
1 Andes mint. Chop the candy into fine pieces and place it inside the bomb, reserving extra for decorating the outside.
Peppermint Hot Chocolate Bomb
Dark OR White chocolate melting wafers
1 teaspoon crushed peppermint or candy canes (plus more for top)
Mini marshmallows
Amazing to give as a gift for Christmas!
Salted Caramel Hot Chocolate Bomb
Dark OR White Chocolate melting wafers
Caramel sauce. Placed inside the bomb plus more drizzled on top.
Coarse sea salt. Sprinkled on top of the bomb.
Chocolate curls or shavings. For decorating the top.
These need to be stored in the fridge.
White Chocolate melting wafers
White Hot Cocoa Mix
Sprinkles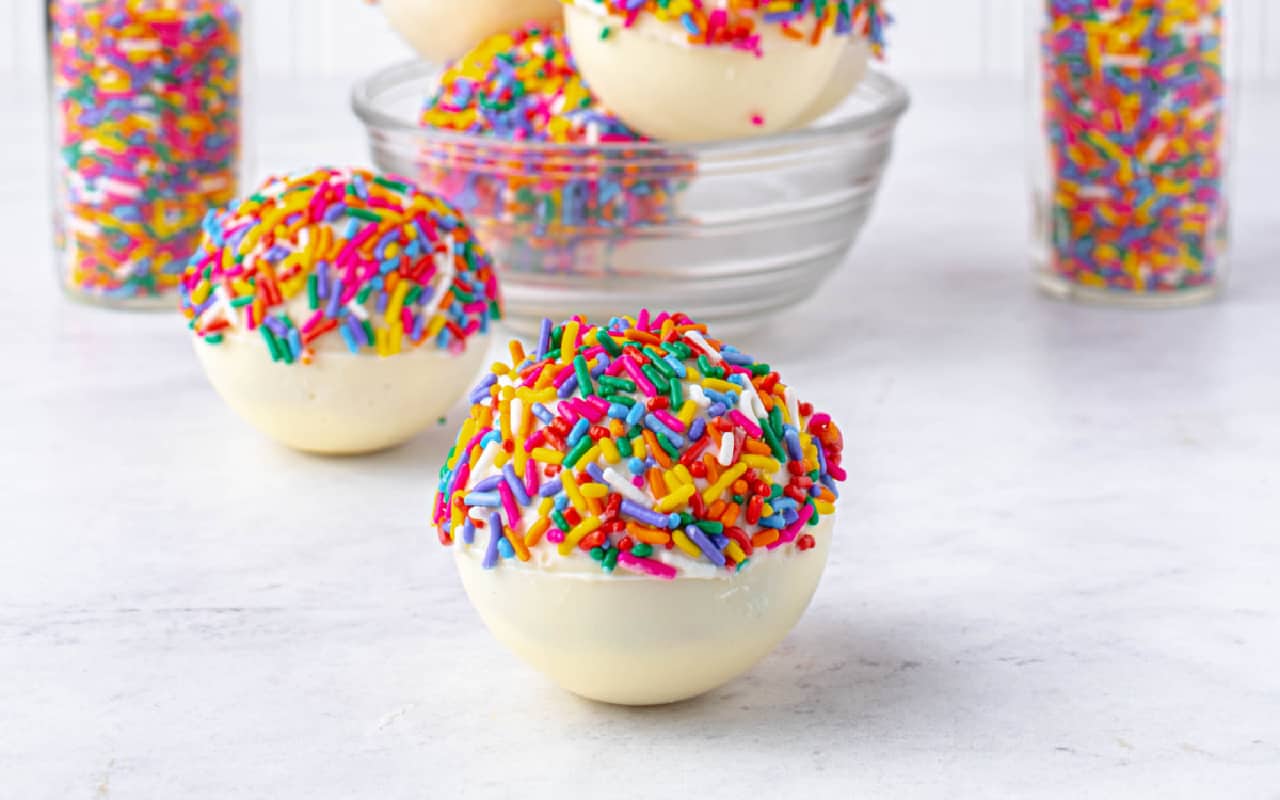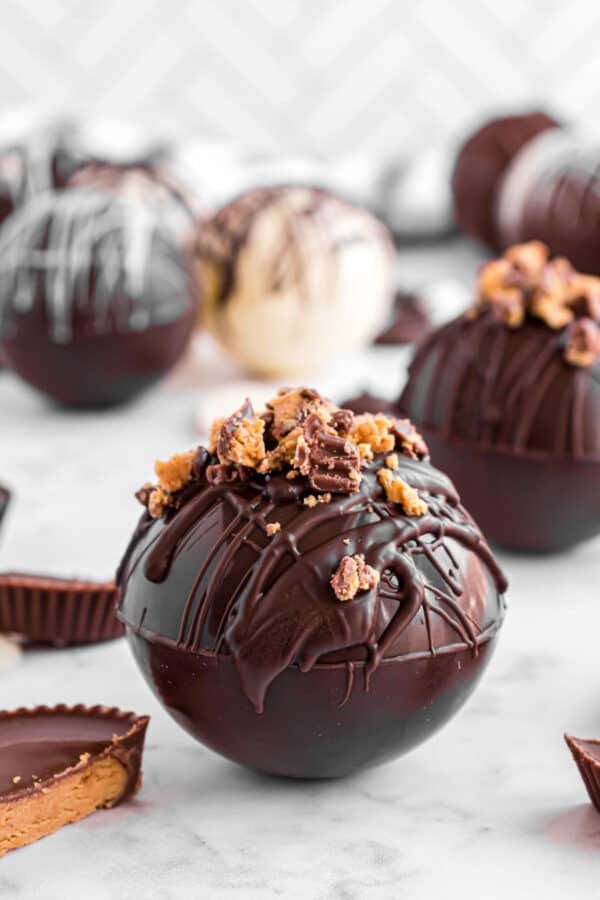 Chocolate Peanut Butter Bomb
Milk chocolate melting wafers
Half a Reese's peanut butter cup chopped up to fill the cocoa bomb.
Cookies and Cream Bomb
White Chocolate Melting Wafers
Crushed Oreos. Stir into the melted chocolate before coating the sillicone molds.
Oreo crumbs for decorating
English Toffee Bomb
Dark or Milk chocolate melting wafers
Heath toffee bits- For inside and more for topping.
Coffee Bomb
A mocha lover's dream
Instant coffee granules or espresso powder
Dark chocolate melting wafers
Pour 6 oz. of hot water over bomb instead of milk.
PRO TIP: Want to turn a classic hot chocolate bomb into a coffee flavored treat? Pour coffee over the cocoa bomb instead of milk!
Valentine's Day Hot Cocoa Bombs– whip up a fun batch of these heart shaped chocolate bombs!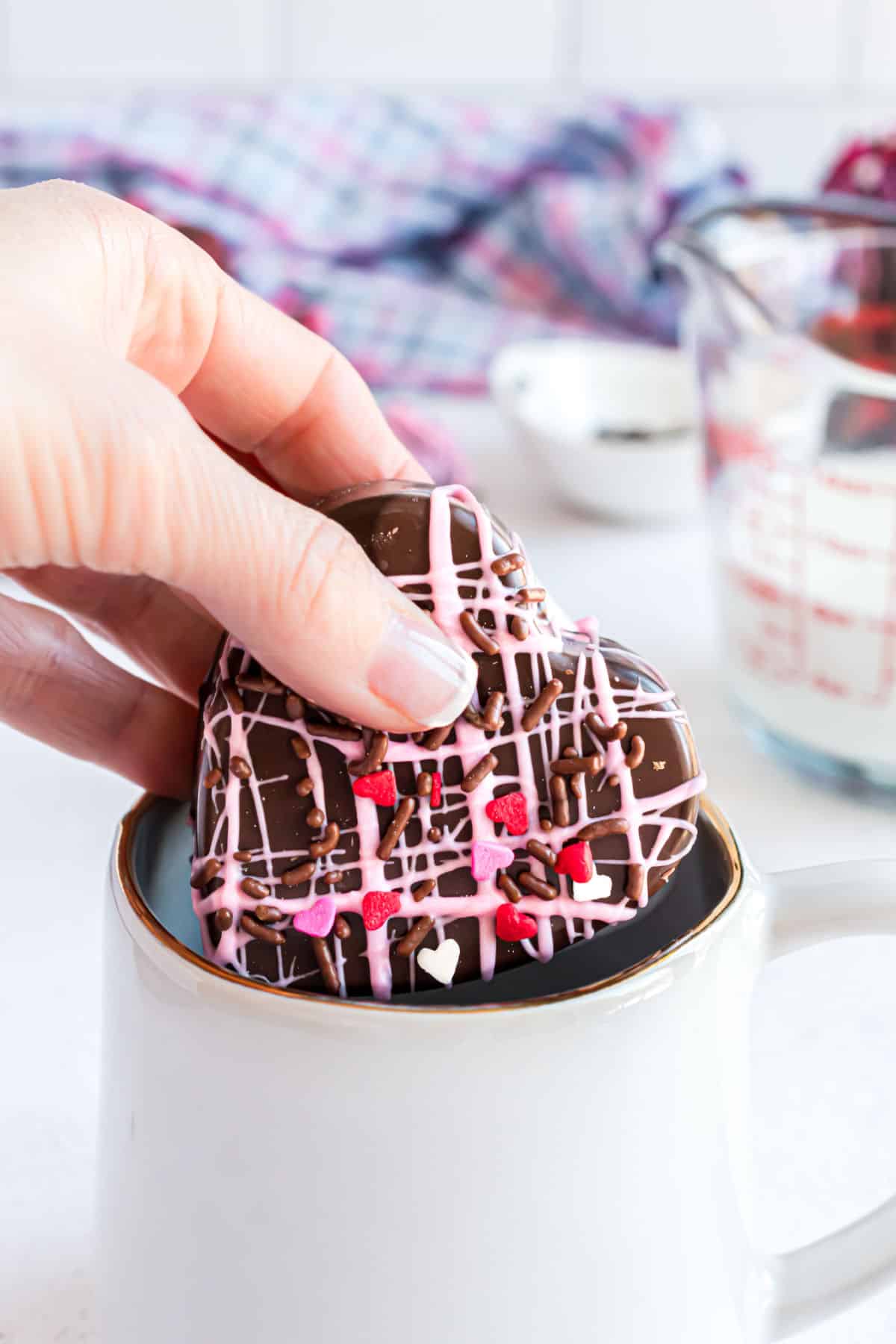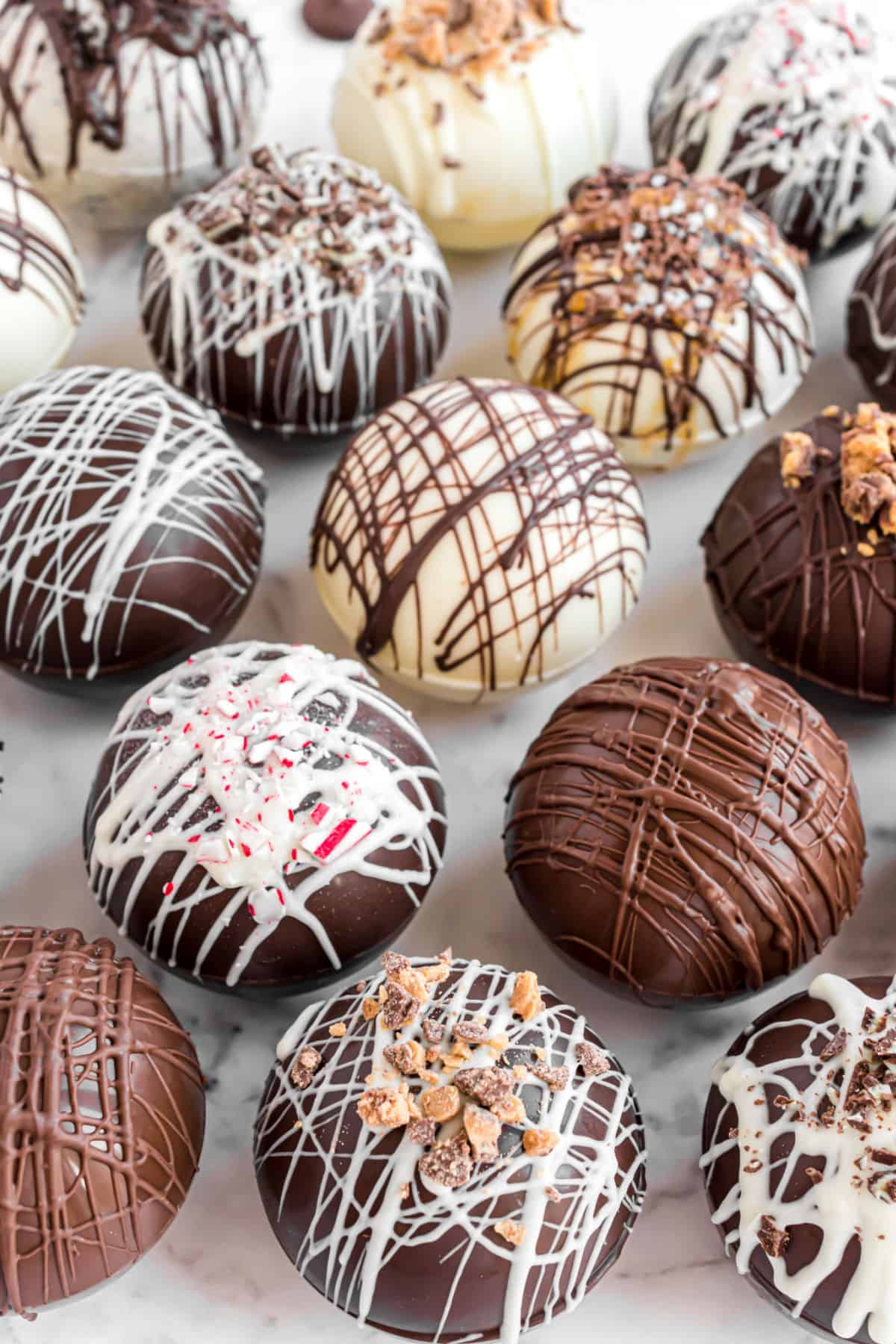 More Tips & Tricks
If you're making chocolate bombs with two or more colors of chocolate, make sure to wash and dry your molds between each color.
Make sure to chop up any added fillers finely so they melt with the chocolate when milk is poured on top.
It might take a couple of tries to create a smooth even seal. Keep trying; I got the hang of it after a few attempts.
Give as a Gift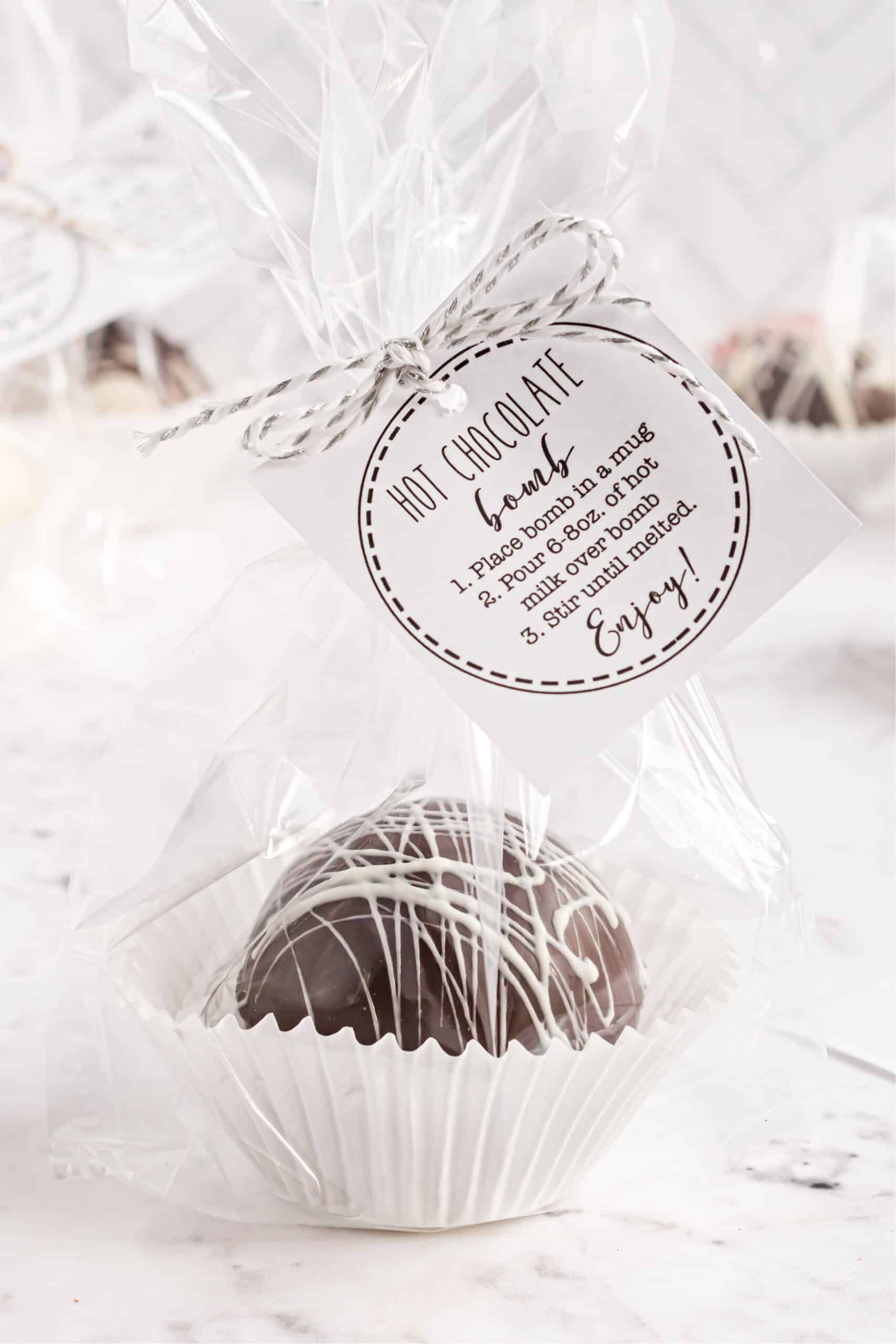 These make lovely personalized gifts for family friends, teachers or anyone on your list!
Place in mason jar tied with a ribbon or wrap the bomb in plastic and arrange it in a mug filled with tissue paper.
You could also place the hot chocolate bomb in a cupcake liner, slide into a clear plastic dessert bag and attach a cardstock label.
The printable labels I created can be printed on these Avery labels or you can just print on cardstock, cut them out and attach with a ribbon.
Now your recipient knows how best to enjoy their hot chocolate kit!
Download a sheet of FREE printable Hot Cocoa Bomb instruction labels below to attach to your hot chocolate bomb gift bags!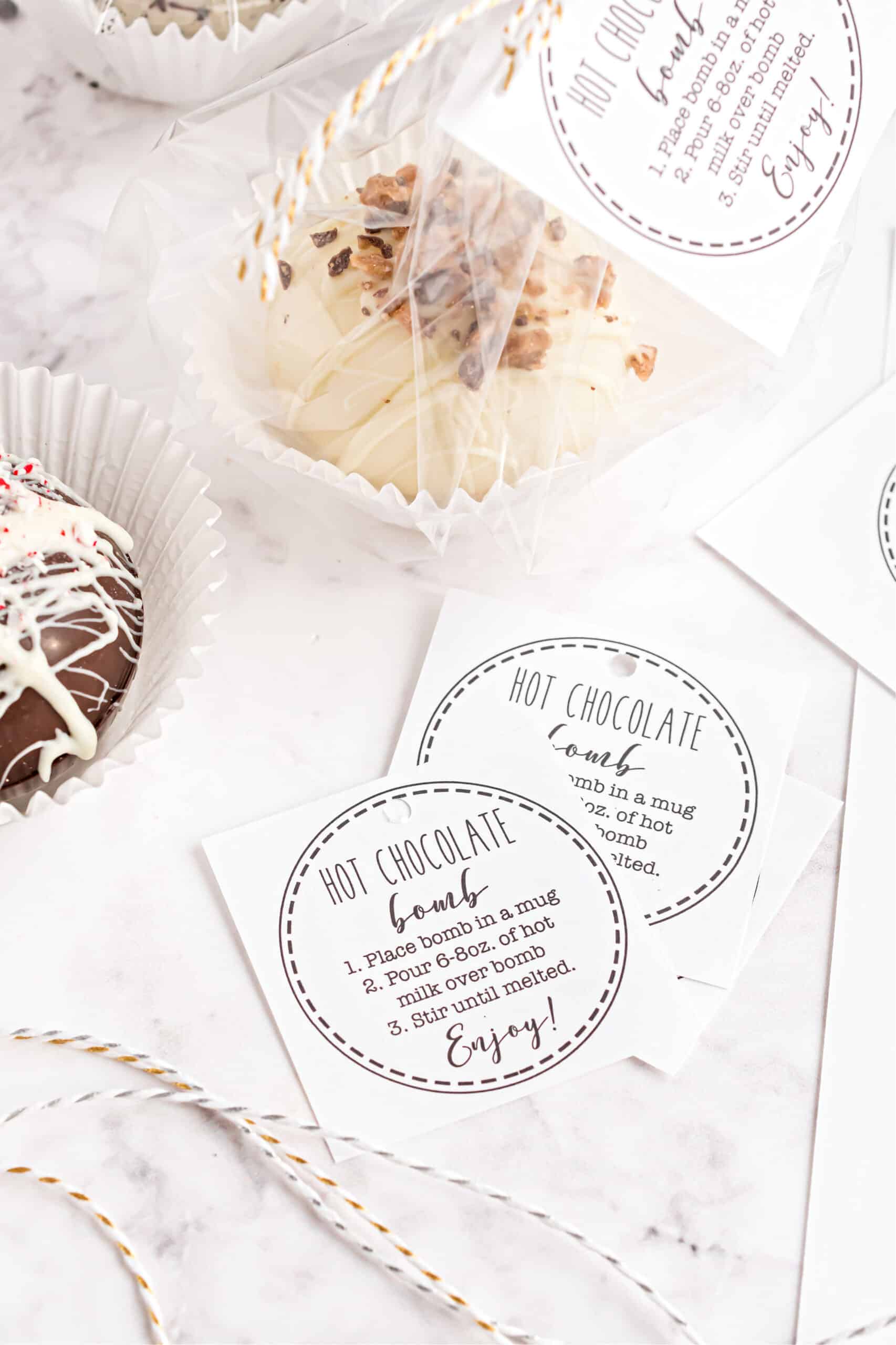 Recipe FAQs
Do you have to temper the chocolate first?
You do not need to temper the chocolate first with this recipe if using Ghriardelli melting wafers.
Can I make hot chocolate bombs with chocolate chips instead of melting wafers?
No, you can not make this with chocolate chips as a substitute for the wafers. They don't melt well and contain additives that affect the flavor of the finished chocolate bombs.
What should I do if the seal doesn't look good?
If you're not happy with the appearance of the seal on your hot chocolate bombs, I have great news: it's easy to disguise!
Place your bomb in a jumbo cupcake liner or drizzle chocolate over the "rustic" part. (There's nothing a little melted chocolate can't fix!).
How do you store hot chocolate bombs?
Most hot chocolate bombs can be stored at room temperature. You only need to keep them chilled if you add perishable fillings (like caramel sauce).
Can you freeze hot cocoa bombs?
No, you should not freeze hot cocoa bombs. The freezer will cause condensation to form on the balls, affecting the texture.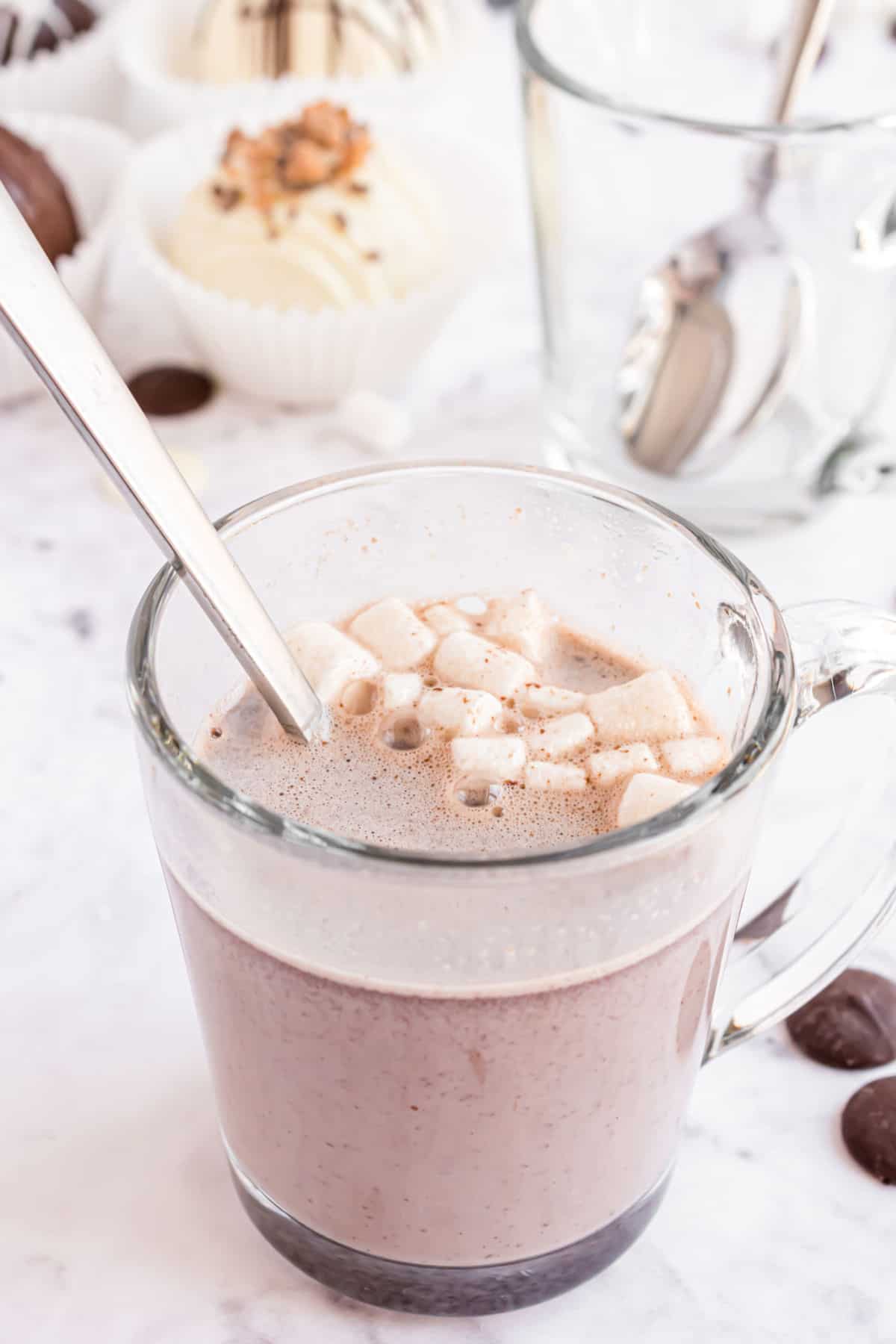 More Easy Food Gifts
Go have fun crafting your own beautiful and gift-able hot cocoa creations. Before you know it you'll be a Hot Chocolate Bomb pro!