Celebrate the big day with festive Birthday Hot Cocoa Bombs! Fun to make, these bombs create perfect hot chocolate filled with white hot cocoa and colorful sprinkles.
Whether you celebrate birthday with a classic Yellow Cake recipe, or something more fun like Birthday Cake Fudge. Happy Birthday!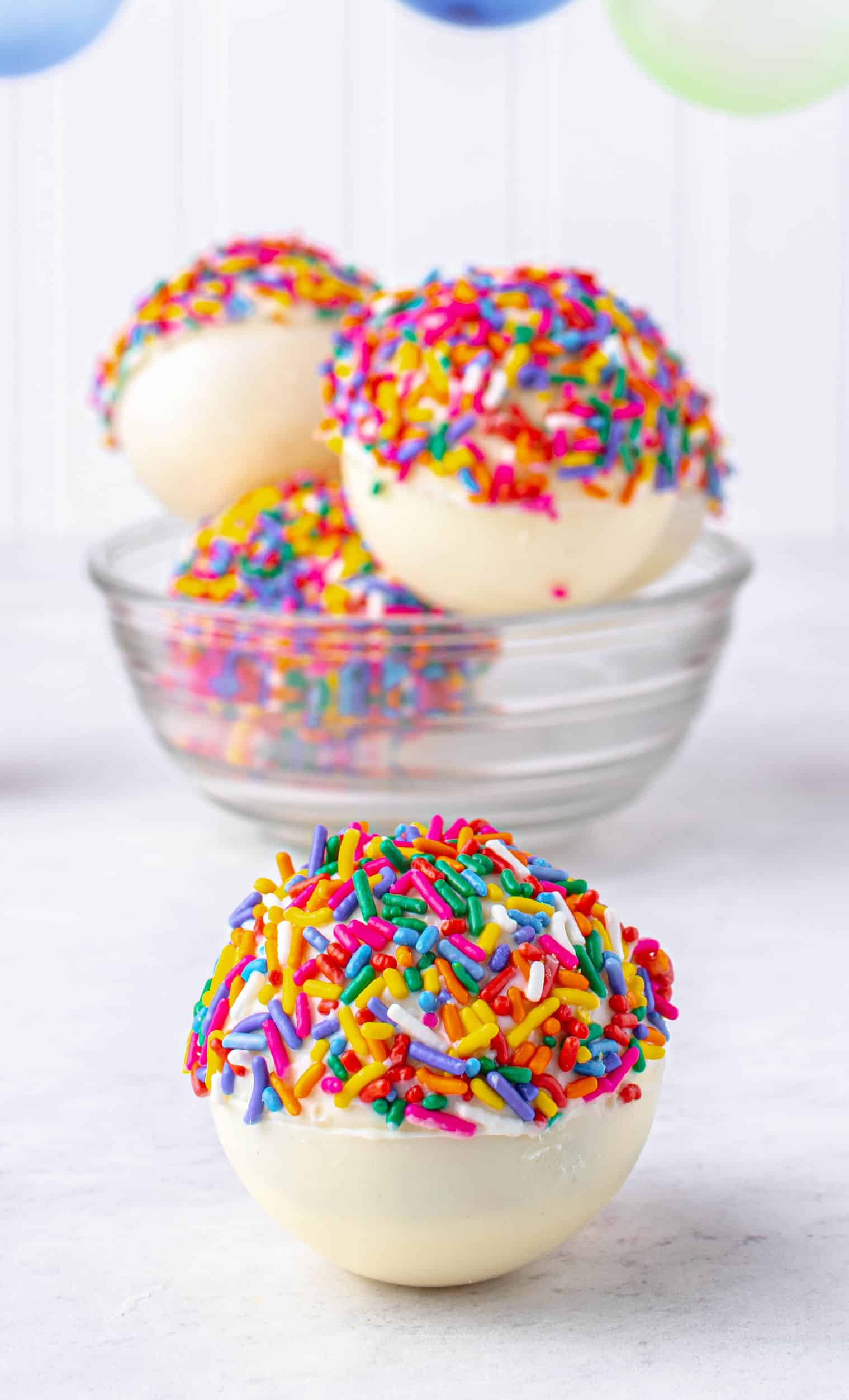 Why this Recipe Works
There's a lot to love about Hot Chocolate Bombs! These spheres of rich chocolate dissolve into hot milk to make deliciously creamy hot cocoa in one step.
My favorite thing about them though is how many different flavors and varieties you can make!
This spin on a classic white chocolate hot cocoa bomb is covered with confetti sprinkles. Perfect for a birthday party!
New to the cocoa bomb world? Take a look at my guide for How to Make Hot Cocoa Bombs and then give this birthday version a try.
This recipe isn't just for birthdays either. Make them as a party favor for any kind of celebration or mix up the color of the sprinkles for different holidays.
For a fun holiday treat, try our Valentine's Hot Cocoa bombs made with a heart shaped mold!
Ingredient Notes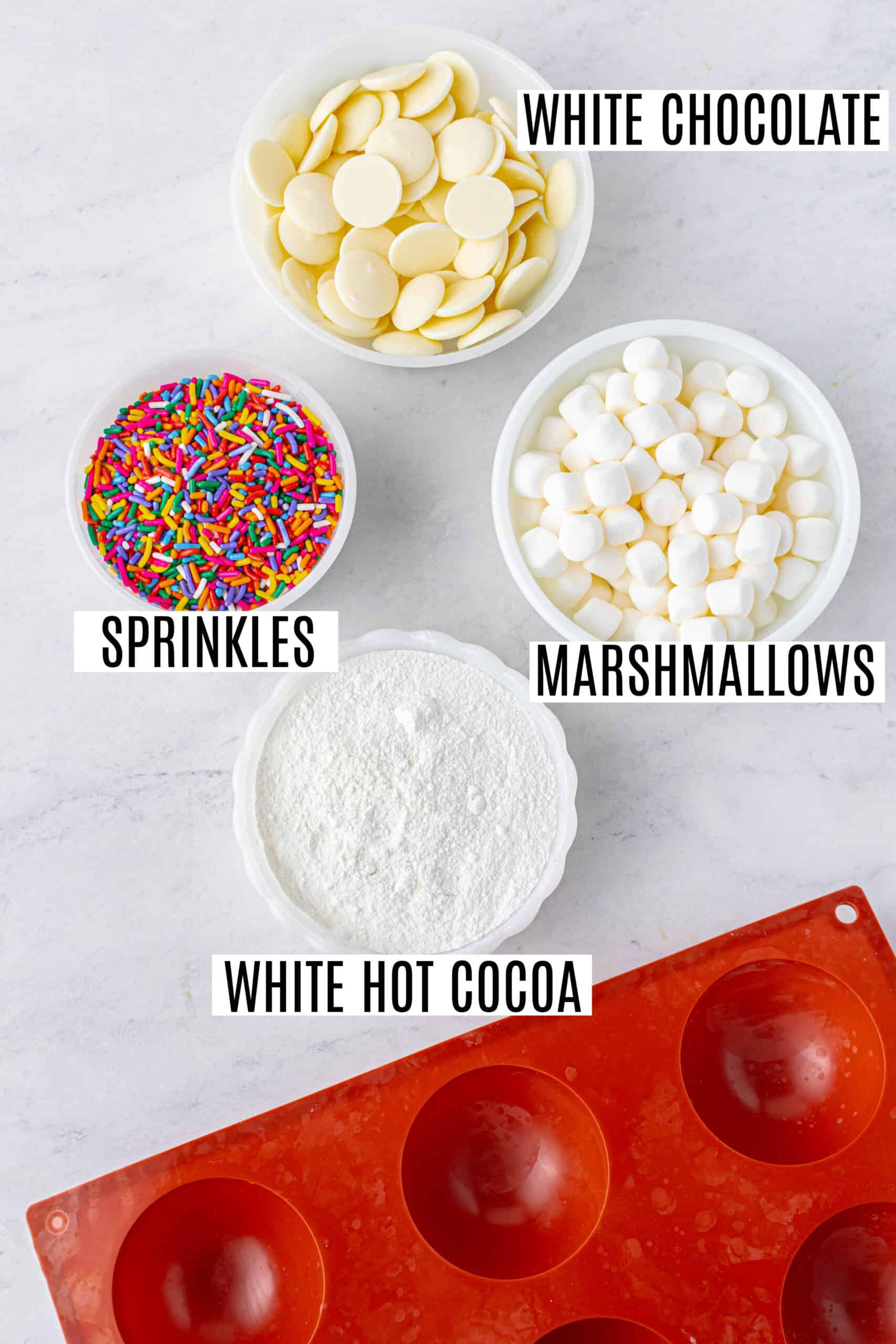 First, make sure you have the necessary tools to make Birthday Hot Cocoa Bombs:
Silicone baking mold – Larger molds work best. I use the 2.5 inch diameter ones.
Pastry brush – The back of a spoon can be used instead if you don't have one.
Microwave safe plate or warm skillet.
For ingredients, you'll need:
Ghirardelli White Chocolate Melting Wafers – Do not substitute other white chocolate or chocolate chips.
White Hot Chocolate Mix – Powdered; any brand you enjoy will do!
Multi colored sprinkles – Jimmies or nonpareil sprinkles are best.
Mini marshmallows – Optional but delicious
Step by Step Instructions
STEP 1. Melt chocolate
Melt half of the white chocolate in a microwave safe bowl. Stir every 30 seconds until the chocolate is smooth.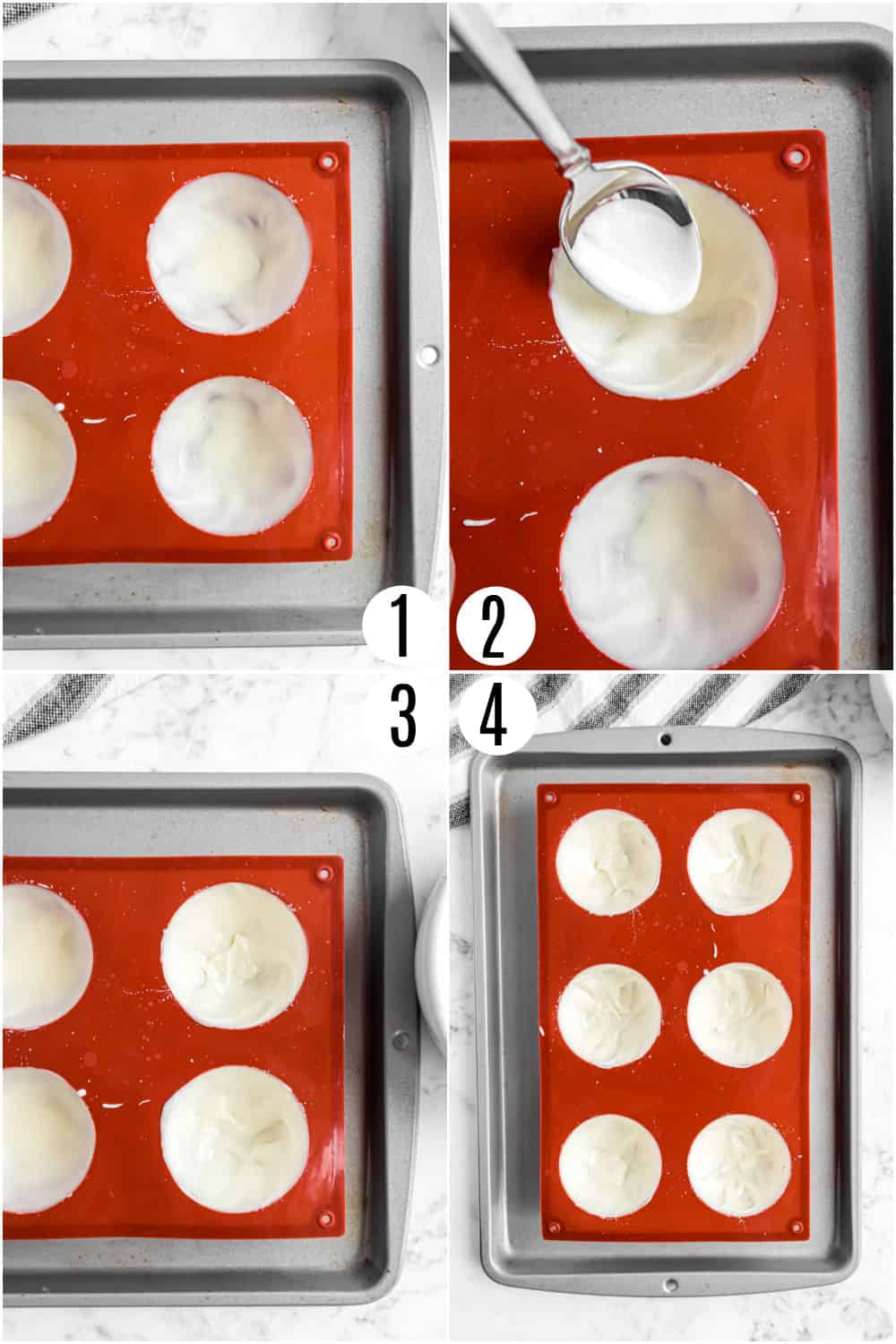 STEP 2. Fill molds
Use a pastry brush or the back of a spoon to brush the inside cavities of a silicon mold with the melted chocolate.
Let the filled molds set on the counter or in the fridge. Once the chocolate is hardened, check to make sure there are no gaps or thin parts of the chocolate shell. Brush more chocolate on any thin spots to ensure the mold is fully covered.
STEP 3. Cover with sprinkles
When completely set, carefully remove the molds from the chocolate shells.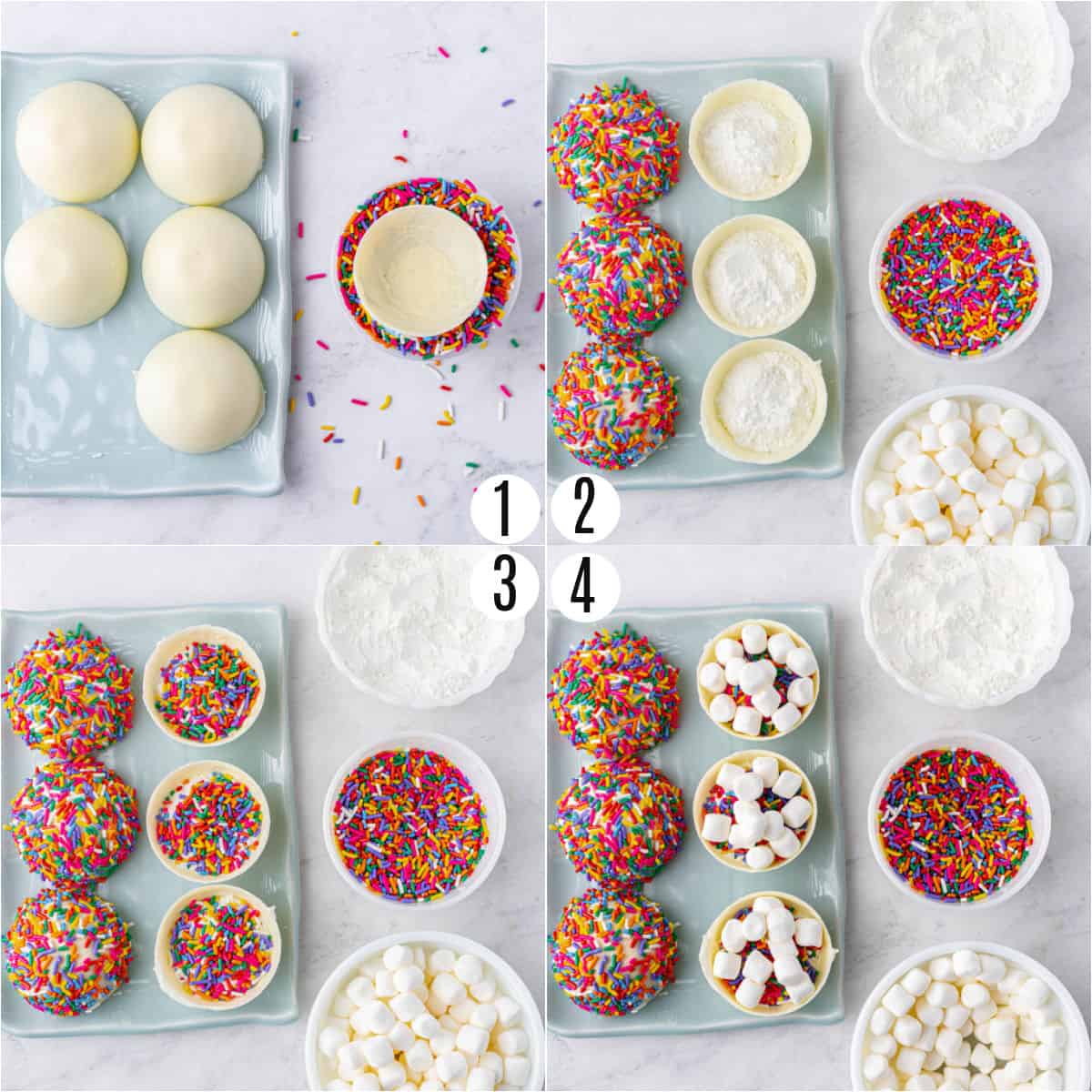 Melt the other half of the white chocolate in the microwave. Brush the half of the hardened molds with a layer of the melted white chocolate. Roll the shells in the sprinkles to coat entirely.
STEP 4. Fill and seal.
Fill the undecorated plain shells with hot cocoa mix and mini marshmallows.
Heat a plate in the microwave for 45 seconds to warm it. Set the decorated shells (open side down) on the plate to soften the edges, then press on top of the filled shell halves to make a sphere.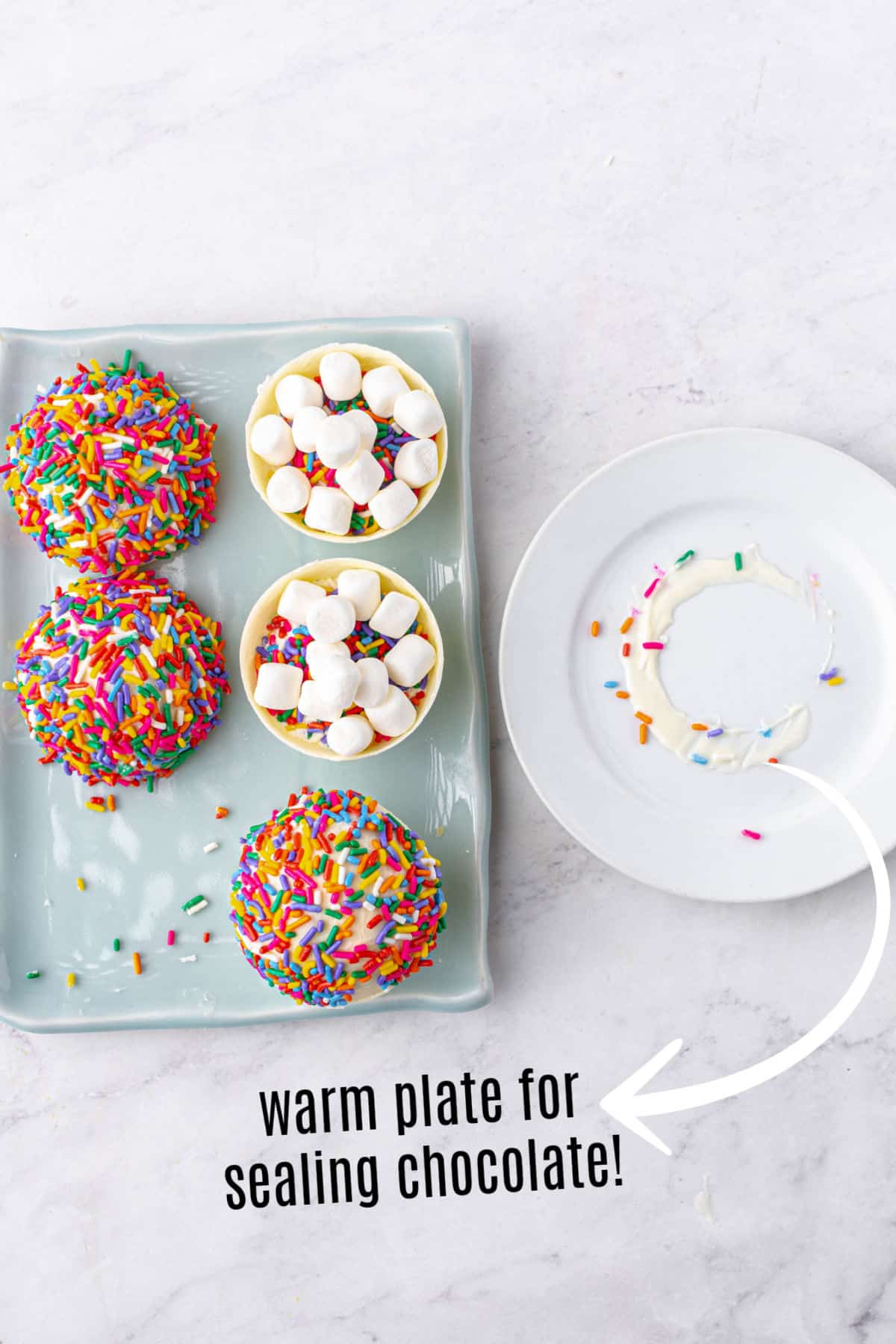 STEP 5. Serve
From here, you can package your Birthday Hot Cocoa Bombs to give as gifts or serve them right away!
How to make hot chocolate with a hot cocoa bomb:
Place one bottom in the bottom of a mug. Pour hot milk on top and let the cocoa bomb melt. Stir well to distribute the colors and flavors and enjoy!
Top with homemade whipped cream for a delicious treat!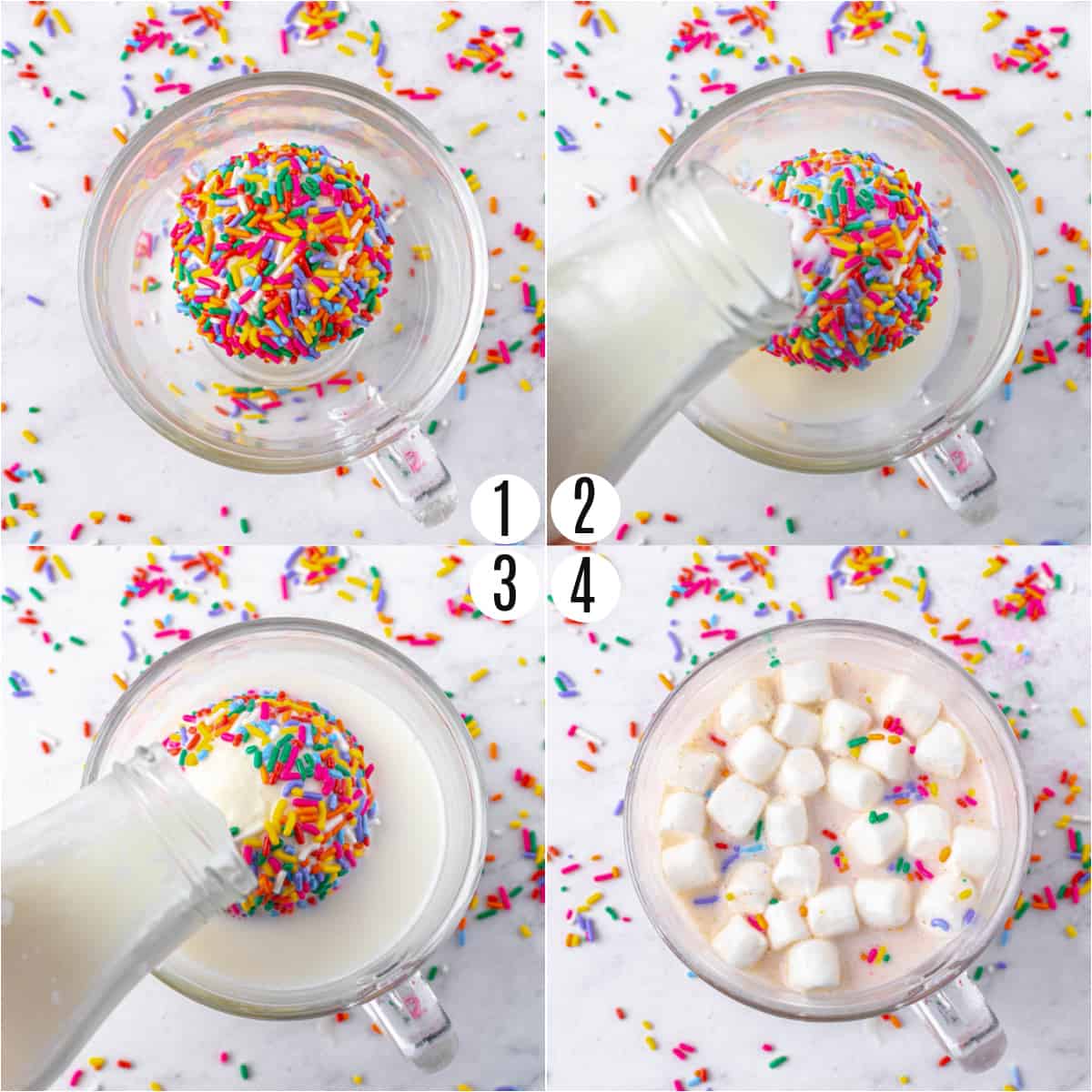 Tips and Tricks
Use melting wafers for this recipe! I cannot emphasize enough how important it is to use chocolate that is designed to be melted and molded. The Ghirardelli wafers create a smooth, shiny chocolate that tastes as good as it looks.
Keep the hardened chocolate shells away from heat. When you use the warm plate to soften the edges of the bombs, make sure to do this one at a time. All the other shells should be kept away from the heat so they don't melt and lose their shape.
Cleaning up the seals. Run your finger over the seam after pressing the two halves of the shells together to create a smoother finish.
Covering up mistakes. If you mess up your seal, cover up any sloppiness by brushing on more melted chocolate and rolling the edge in sprinkles! Sprinkles cover all sins.
White chocolate birthday mocha: Pour hot coffee (or half milk/half coffee) over your Birthday Hot Chocolate Bomb for a caffeinated birthday treat.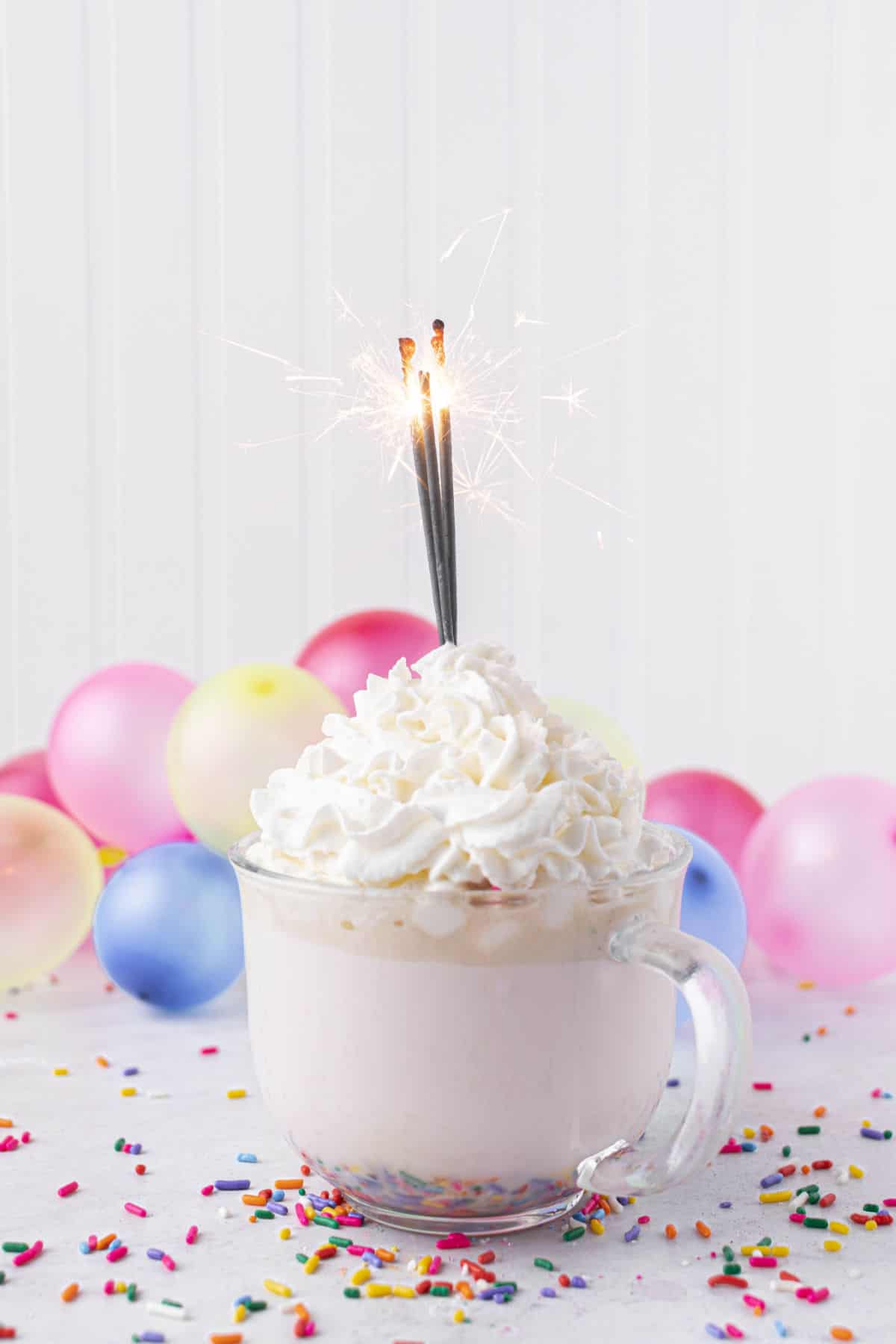 Recipe FAQs
What is the texture of these Hot Cocoa Bombs?
Hot Cocoa Bombs create a cozy beverage that is sweet, smooth and creamy. The white chocolate melts and sprinkles emulsify into the liquid so every sip is velvety and rich.
Can you freeze Hot Cocoa Bombs?
No, you should not freeze hot chocolate bombs. Condensation forms on the spheres in the freezer ruining the texture.
What kind of sprinkles are best?
I love these with jimmies (the long rectangular sprinkles).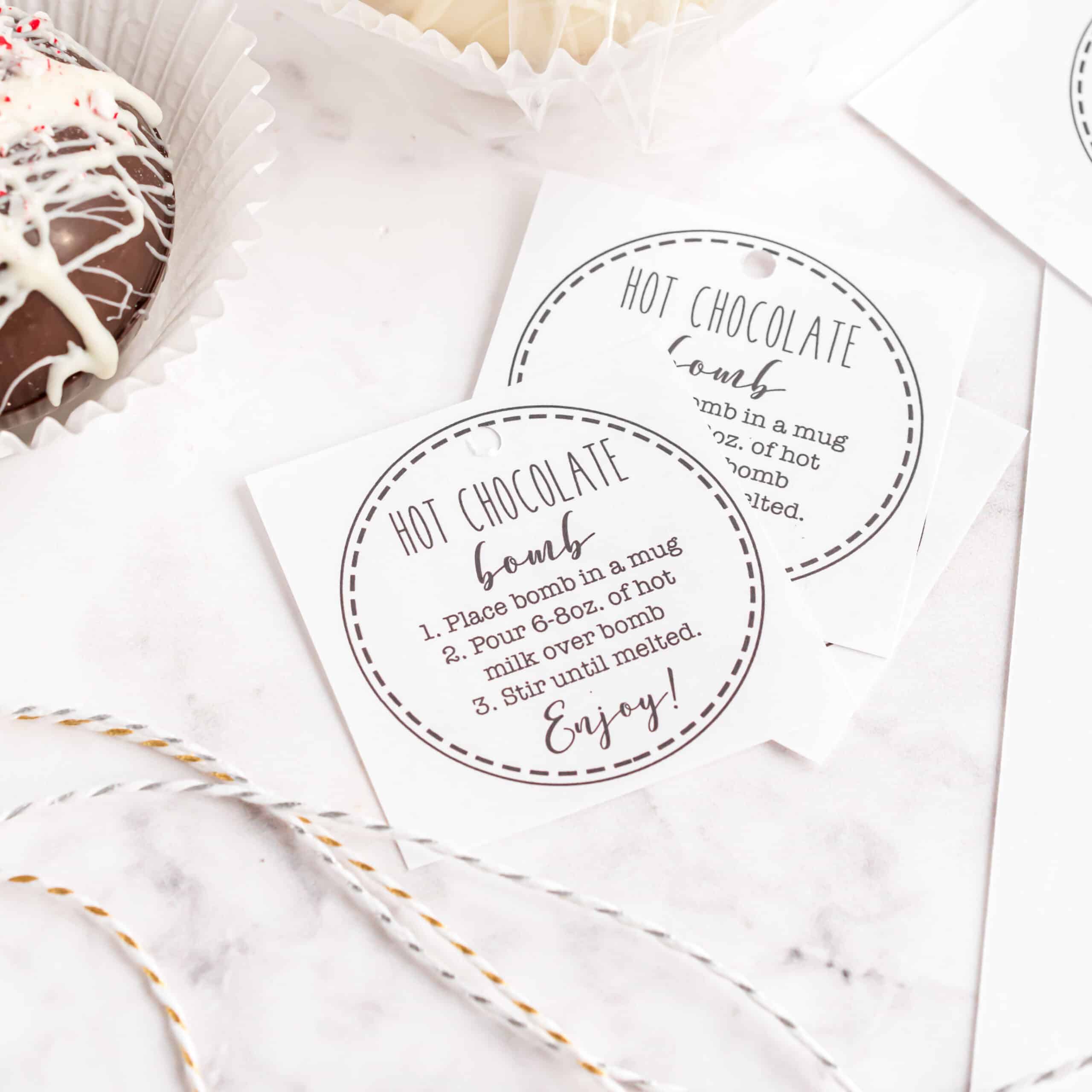 Give as a Gift
You could also place the hot chocolate bomb in a cupcake liner, slide into a clear plastic dessert bag and attach a cardstock label.
The printable labels I created can be printed on these Avery labels or you can just print on cardstock, cut them out and attach with a ribbon.
Now your recipient knows how best to enjoy their hot chocolate kit!
Download a sheet of FREE printable Hot Cocoa Bomb instruction labels below to attach to your hot chocolate bomb gift bags!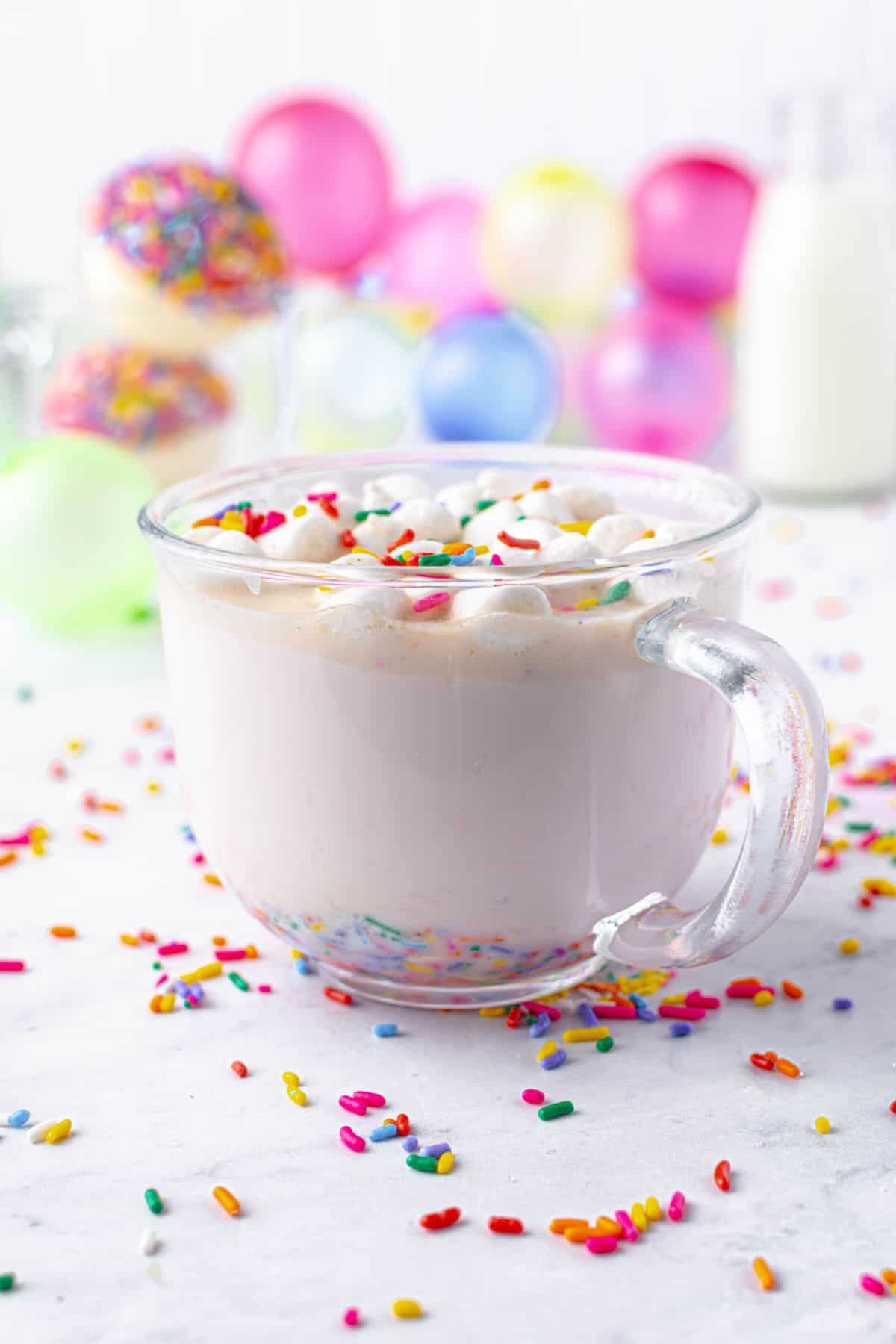 More Birthday Dessert Ideas
Served as a birthday beverage, a gift or a party favor, these whimsical Birthday Hot Cocoa Bombs put a smile on everyone's face.